As a college student, the internet is an integral part of your life on campus. It's how you write papers, do research, turn in classwork and stay connected with your friends and family. The ubiquity of the internet can make it seem harmless, but the online world can be a dangerous place, and the hyper-connectivity of college life breeds risk.
Online you're exposed to a number of different threats, from online harassment to computer viruses and school-specific sanctions. While the internet can seem like a private place to share your experiences, the proliferation of the internet has resulted in a tendency to overshare that can lead to serious consequences, online and off.
Below, you'll find a comprehensive guide for staying safe online, from basic computer safety tips to how to report online harassment.
1

Campus Internet Rules

Your college will have its own rules regarding how you're able to use the university's network and email system. It's important to understand your school's policies—and the consequences associated with breaking them.
Every college has its own specific rules regarding the campus network and university-issued email address. Learn them to know when you can expect privacy—and when you can't.
Understanding Campus Network Rules
Every college has policies regarding internet, network and device usage for students; it's likely that these policies will be included in orientation documents and should also be available on your college's website.
General policies may cover:
Downloading, uploading or peer-to-peer file sharing of copyrighted material
Torrenting
Students' responsibilities regarding their data
Installing software, drivers or other programs onto university computers
Adding, altering or deleting of files on university computers or servers
Using the network to bypass security functions or obtain classified information
Harassing others using the university's technological resources
Impersonating others online
Additionally, most colleges reserve the right to monitor or inspect any data on university computers or any data that is transmitted over the university network. This includes the browsing that you're doing, as well as your bandwidth. Many colleges also employ basic filters on their network, often to block torrenting and abuse.
While these rules should be explicitly stated in student agreements, and it's unethical for university employees to use your browsing information for their own gain or personal use, it's important that you review any internet agreements carefully in order to understand the terms you're accepting and how these terms affect your internet usage at school.

Understanding Campus Email Rules
In addition to general rules regarding using the school's network, most colleges will also have rules surrounding the use of your school email address.
This is the email address you're assigned when you enroll in the college; it is typically created automatically for you by the university, often based off your legal name as reflected in the school's records, and ends in ".edu."
These addresses are to be used for educational purposes only, including communication with professors and classmates, conducting research and homework assignments, and business and internship communication.
Similar to the rules regarding the data transmitted across the school's network, many schools have strict rules regarding how the data sent through your school email account can be accessed by the school, including reserving the right to monitor and/or record activity on your email account.
Generally, the university owns the email account you're provided with, including all the data transmitted or stored using the email account. Since this is the case, students cannot expect for the email messages sent through the account to be private.
You should review your college's specific email rules to understand your expectation of privacy regarding your messages and data.
2

Computer Security for Students

Follow basic computer safety to ensure you don't lose files when it matters most—like in the middle of finals.
Anyone online is vulnerable to computer attacks and viruses. In college, you'll feel this susceptibility even more, as your computer serves as one of your main means of communication and is the device that you'll use to store the vast majority of your schoolwork and files.
Nothing is quite as panic-inducing as having your computer crash in the middle of writing a term paper or studying for finals.
In order to ensure that your computer is protected from a malware attack or virus download, follow basic computer security, including:

Enable Automatic Updates for Your Device
Enabling automatic updates ensures that your software stays up to date, which is crucial to security. When updates aren't automatic, you have to manually download and install them, which leaves you open to potential security holes.
Learn how enable auto updates on the following devices:
How to Enable Automatic Updates on a Mac
To enable automatic updates on a Mac, go to the Apple Menu and choose System Preferences. Once in the System Preferences menu, click App Store. Once in the App Store, check the box labeled Automatically check for updates, as well as all the boxes below it. This will ensure that all updates, including app updates, security updates and operating system updates, happen automatically.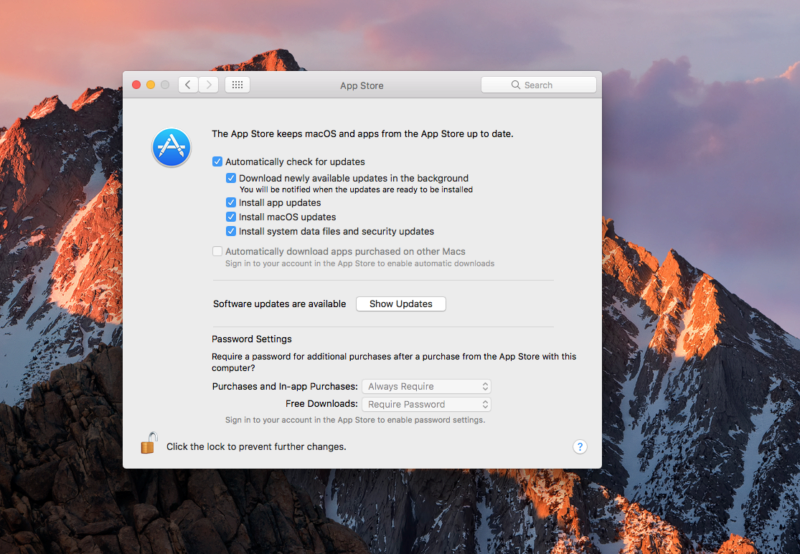 Learn more about automatic updates for Mac.
How to Enable Automatic Updates on a PC
Windows made auto updates mandatory for Windows 10, so PCs on this operating system will always automatically check for and install updates.
To enable automatic updates on a Windows device running on an OS below Windows 10, select the Windows/Start button and follow the path Settings > System and security > Windows Update.
From here, select Change settings. Under Choose how updates are installed, select Install updates automatically.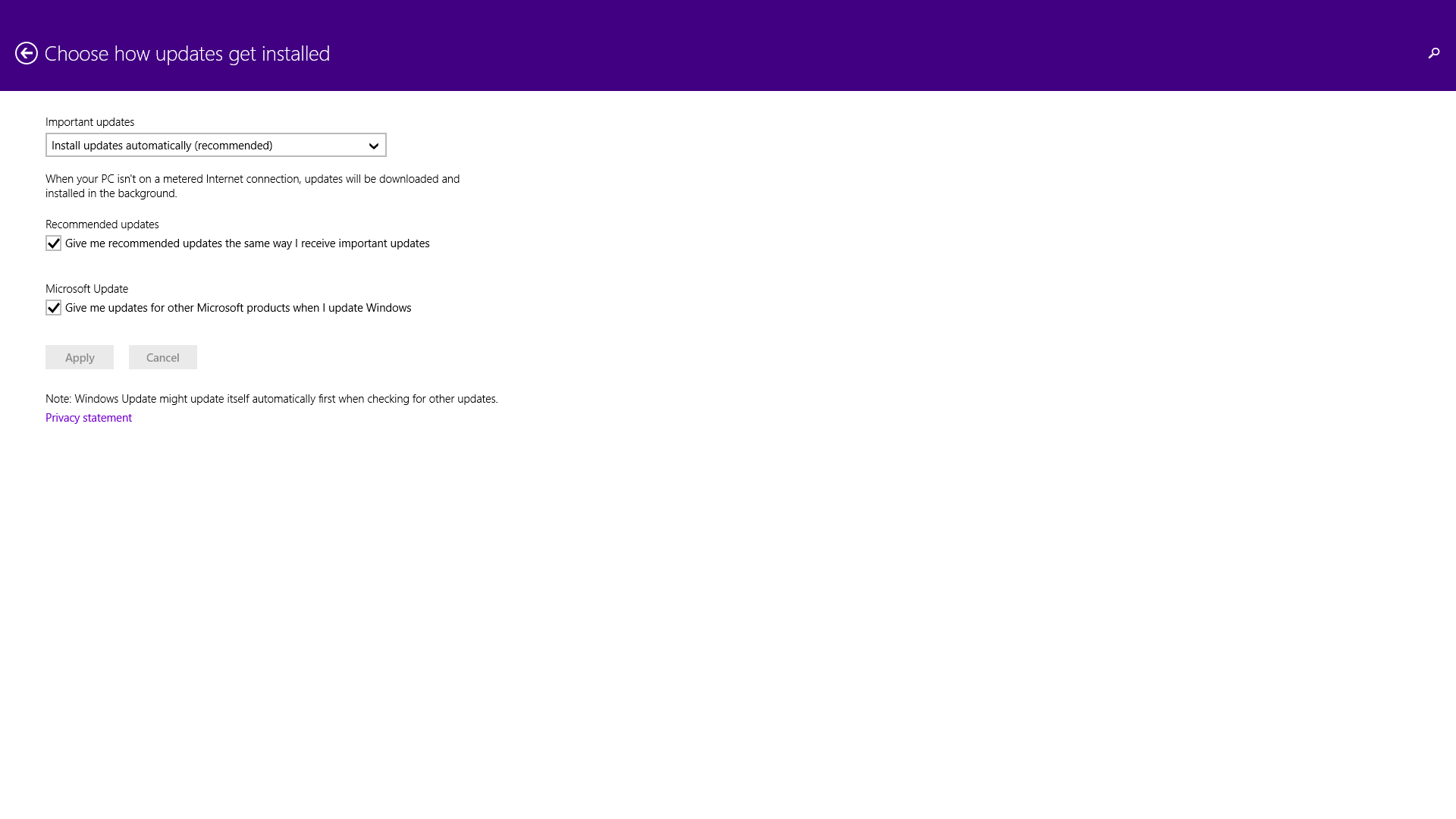 Learn more about automatic updates for Windows.
Invest in Anti-Virus and Spyware Protection
Anti-virus software is designed to proactively block, as well a defensively search for, detect and remove computer viruses. Basic anti-virus protection is the foundation of any good security strategy, regardless of what device you're using.
Anti-Virus Protection for PC
If you're operating a PC, anti-virus software is critical. Despite the growing popularity of Macs in recent years, the majority of the world's computers still run on Windows, making PCs much more likely to be targeted by malware. Although the updated PC operating systems have built-in security measures, they act as more of a baseline than a robust strategy. You should also invest in separate anti-virus software to keep your files and data safe from hard-to-detect and hard-to-kill viruses.
Subscription anti-virus software for PCs:
Free anti-virus software for PCs:
Anti-Virus Protection for Mac
One of the most common misconceptions about Macs is that they're immune to viruses. While it's more likely for Windows users to become infected with a virus, Mac malware does exist, and can infect your computer.
Subscription anti-virus software for Macs:
Check Websites for Encryption
When online, you should always check websites for encryption. You can check this by looking at the website's address and seeing if it begins with "HTTP" or "HTTPS."
"HTTPS," or Hypertext Transfer Protocol Secure, is the secure version of HTTP. The "S" at the end stands for "secure," and indicates that the data sent between your computer and the website or server is encrypted.
This is especially important when entering sensitive information online, like on banking sites or when online shopping, as it safeguards your data against "man-in-the-middle" attacks, which occur when a hacker intercepts data as it's sent from your computer to the website.
Backup Your Files
Frequently backing up your files is basic security protocol and is especially vital when you have a large amount of important information on your device, such as schoolwork or paperwork. Backing up your files will protect you against data loss in the event that your device gets a virus or dies unexpectedly.
You have a few options when it comes to backing up your files, including:
Keep your files on a flash drive: Keeping your files backed up on a USB drive is the most basic way to save them, but also one of the least secure. While a flash drive will certainly serve the needed purpose, there are a few drawbacks to this storage method. Flash drives are small, both in size and storage.

This makes them easy to lose and means that you may not be able to store all your data on one. Flash drives may be a good solution for storing one or two important files but are less-than-ideal for backing up all your data.

Use an external hard drive: Portable hard drives are a great option for backing up important files like documents, photos and videos. You manually upload files to an external hard drive; in the case that your original files are changed or deleted, you can re-upload the ones from the external hard drive.

Leading external hard drive manufacturers include:

Store files in the cloud: Arguably one of the safest ways to store your data is in the "cloud"—remote, secure, high-storage servers. It can take a few weeks to backup all of your initial files, but once the software is running your files are backed up continuously and are able to be accessed anywhere.

It's important to note that cloud backup software is not the same as cloud syncing services, like DropBox, Google Drive or iCloud. These services store certain folders or devices in the cloud, and allow you to access them across all devices, but are not designed to store and secure all data like cloud backup software is.

Online backup services include:
3

On- and Off-Campus Networks

As a college student, you're constantly on your devices and on the go. This means you'll be switching between networks—navigating from your dorm room or apartment to your classrooms, the school library and off-campus locations.
As such, there are two main components when it comes to college network safety: staying safe when connected to your college's network and staying safe when you're off of your college's network.
The on-the-go nature of college life means you'll be switching from your college's network to public Wi-Fi frequently. Know how to stay safe on both.
On-Campus Network Safety
More often than not, when you're on campus you'll be connected to your university's network. As mentioned in Section 1, it's important to understand the policies your college has with regards to monitoring and recording your network activity.
Additionally, it's important to understand the risks that come with downloading from unknown sources or clicking on potentially malicious links when connected to the university's network.
The Dangers of Torrenting
Torrenting—the process of downloading small pieces of files from different sources at one time—is popular at colleges because it provides access movies, music and games. While this may seem like a good way to access entertainment, if you download an infected file while connected to the university's network, it could spread to other devices connected to the network.
To keep a virus from potentially infecting the college's network, you should:
Follow basic computer safety, including installing anti-virus software
Avoid downloading any files, such as movies or music, from unknown or illegal sources
Avoid clicking on any suspicious links online or in emails
Set your computer to automatically update
If you believe that your computer has become infected by a virus, you should immediately remove it from the network and take it to your college's office of information technology.
Off-Campus Network Safety
When you're in a building that doesn't have access to the college's network, such as coffee shops, you'll need to access public, unsecured wi-fi networks.
The need to frequently switch between wireless access points (WAPs)—for example, when going from your dorm room to your classroom and then to the library and a coffee shop—can often lead to carelessness when connecting.
This careless connecting can be dangerous, particularly due to "evil twin" attacks—a common way that hackers extract sensitive information from devices. Evil twin attacks occur when a hacker creates fake WAPs with similar names to legitimate WAPs to trick users to signing onto them. After users connect to the the fake WAP, the hacker is able to intercept the unprotected data sent over the server.
To protect against these types of attacks, be sure that the WAP you're logging into is legitimate and take steps to minimize your risk.

Ask the Wi-Fi Provider for the Correct WAP
It's common for hackers to set up a fake WAP with a name that's very similar to the name of the legitimate WAP (for example, the legitimate WAP may be called "coffee shop" and the fake WAP may be called "coffee shop free"). If you're connecting to an unsecured WAP and there's more than one choice, ask an employee at the store to confirm which one is legitimate.
Additionally, when accessing a public Wi-Fi point, you should use a Virtual Private Network (VPN) for added security. A VPN acts as an encrypted tunnel, securing your connection and encrypting any information you're transmitting.
Avoid Entering Sensitive Information
Unsecured networks are frequently targeted by hackers, so you should avoid inputting any sensitive information when connected to one.
Avoid giving out sensitive information, including:
Credit card information
Debit card information
Online banking password
Social Security Number
Disable the Automatically Connect Feature
The automatically connect (or auto-join) feature enables your device to automatically connect to any network you've previously connected to. While this can be convenient for known, secure networks, you should disable the feature for unsecured WAPs.
Wireless access points in public places are often targeted by cyber criminals, so you don't want your phone automatically connecting to one without your knowledge. Plus, if you accidentally sign into a fake WAP, you don't want your phone to remember it and connect to it again.
Learn how to set disable the automatically connect feature on the following devices:
Disconnect Auto-Join on a Mac
To disconnect the auto-join feature on a Mac, click on the Apple Menu and choose System Preferences. Once in the System Preferences menu, choose Network. Then uncheck the box labeled Automatically join this network.
Disconnect Auto-Join on an iPhone
Disconnect the auto-join feature on your iPhone by going to the Settings menu and clicking Wi-Fi. Once in the Wi-Fi settings, click on the information button next to the network name and toggle the Auto-Join button off.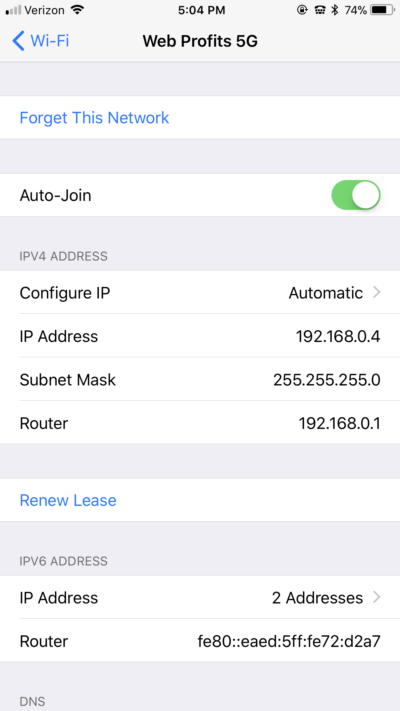 Disconnect Connect Automatically on Windows
To stop your device from automatically connecting in Windows, navigate to your Settings menu and choose Network & Internet. From here, choose Wi-Fi > Manage known networks. From here, click on the Wi-Fi connection you want to disable auto connect for and select Forget.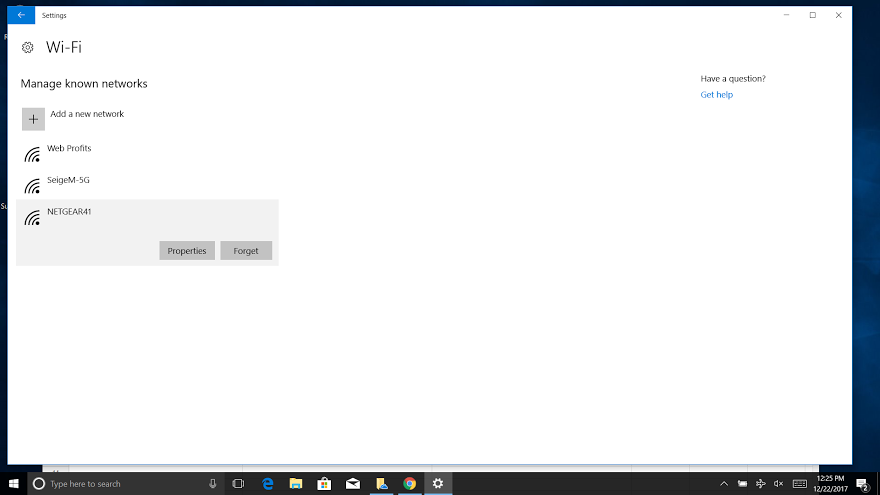 Disconnect Auto Reconnect on Android
To disable auto reconnect on an Android device, navigate to the Settings menu and choose Wi-Fi. From here, a list of saved networks will come up. Press and hold the saved Wi-Fi network you want to remove. Then select Forget.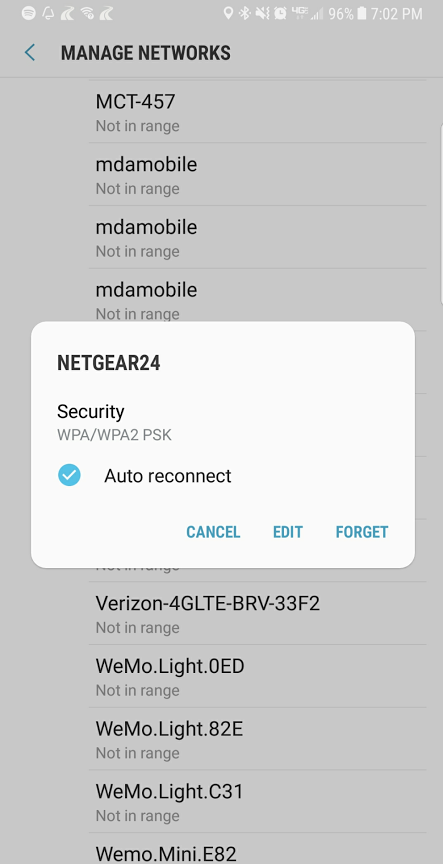 4

Social Media Safety

Social media plays a big role in today's society. While it can be a great resource to document life's moments and stay connected, it can also put you at risk for everything from online harassment to lost job opportunities.
As a college student with continuous access to the internet, it can be easy to forget that your online life doesn't exist in a vacuum—the internet is a public resource, and anything you put in a public online space exists for the world to see.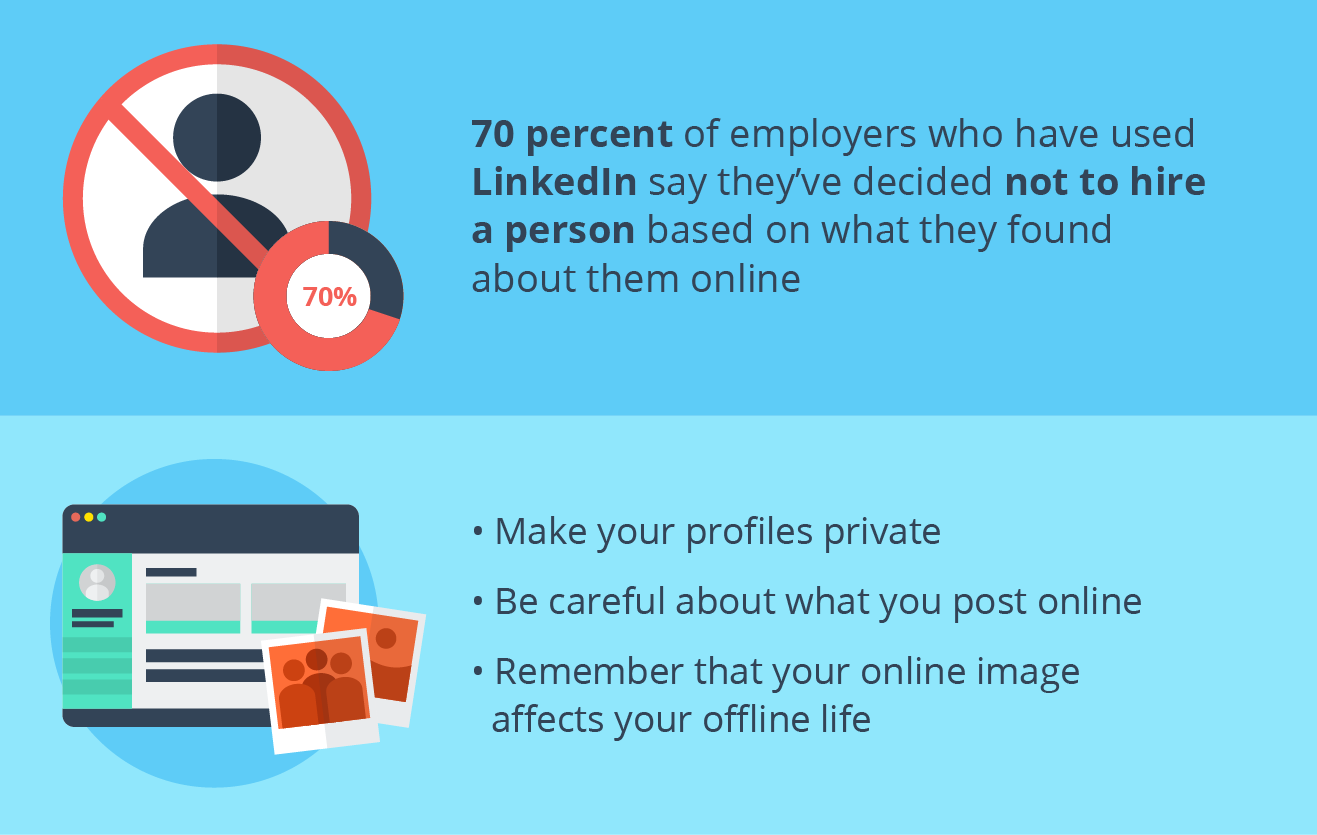 The Importance of Protecting Your Online Image
Your online image doesn't stay online. It carries over into your offline life, too.
One of the most important things to remember when going online is that your online image affects your offline life. This is especially true when it comes to looking for a job. Not only do the majority of recruiters run a preliminary online search when vetting candidates, 70 percent of employers who have used LinkedIn say they've decided not to hire a person based on what they found about them online.
One of the best ways to keep your private life out of your public persona is by making all of your social media accounts private, which limits who can see what you post.
Learn how to set your privacy settings on the following social networks:
Facebook | Twitter | Instagram | Snapchat
How to Make Your Facebook Private
To make your Facebook profile private, go to your General Account Settings and choose the left-hand navigation button labeled Privacy. From here, change the who can contact you and who can view your posts settings from Public to Friends.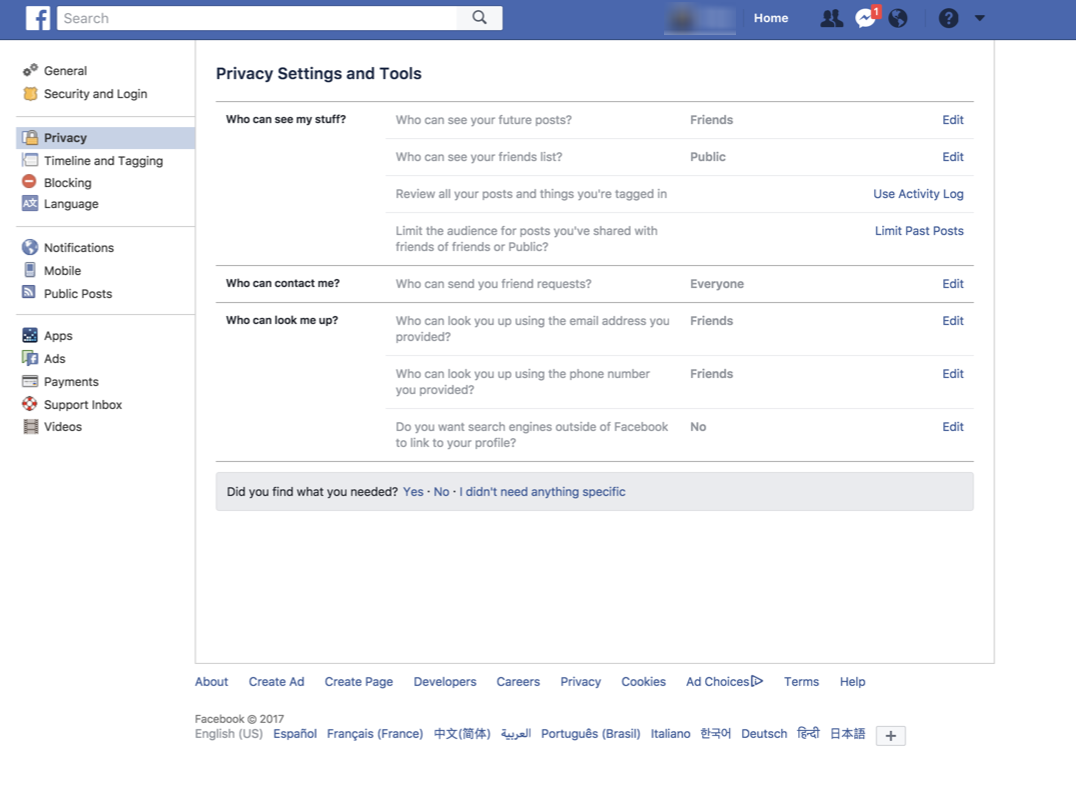 How to Make Your Twitter Private
To make your Twitter profile private, navigate from your profile to Settings and privacy. From here, click the Privacy and safety section on the left-hand side bar and select Protect your Tweets.

How to Make Your Instagram Private
To make your Instagram profile private, go to the Options section in your profile and toggle the Private Account option "on."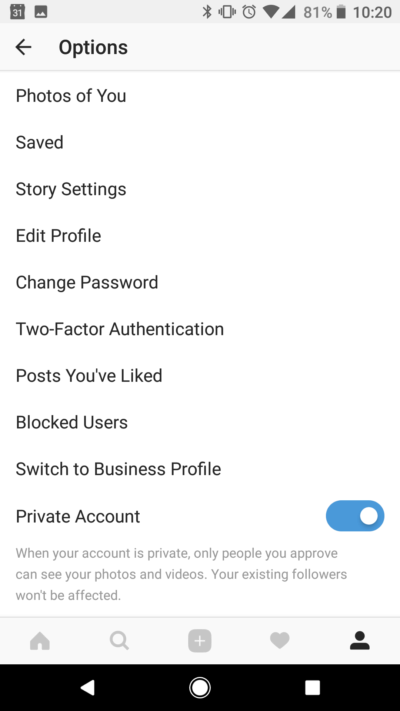 How to Make Your Snapchat Private
To make your Snapchat account private, navigate to the Settings menu and scroll to the Who Can section. Then, for View My Story, select My Friends.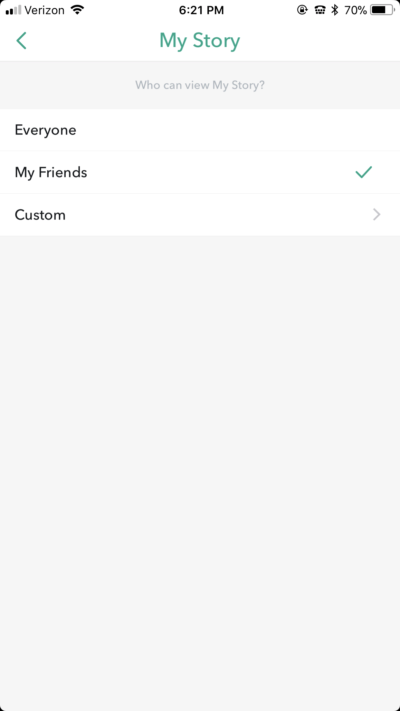 5

Online Harassment

Online harassment is a big issue on college campuses. According to the Pew Research Center's 2017 Online Harassment Study, younger adults are especially likely to encounter severe forms of online harassment. The study found that 67 percent of young adults between the ages of 18 and 29 have experienced some type of online harassment, with 41 percent reporting that they've experienced severe forms of online harassment.

Younger adults are especially likely to encounter severe forms of online harassment.
Most colleges have their own rules in place regarding campus safety and online harassment. While these policies will vary by school, the Cyberbullying Research Center has defined six primary elements that constitute an effective anti-bullying policy for schools, including:
Specific definitions of harassment, intimidation and bullying (including the electronic variants)
Graduated consequences and remedial actions
Procedures for reporting
Procedures for investigating
Language specifying that if a student's off-campus speech or behavior results in "substantial disruption of the learning environment," or infringes on the rights of other students, the student can be disciplined
Procedures for preventing cyberbullying
If you ever feel that you're being harassed online, report the harassment to the campus police. For emotional support, resources or to report online harassment to the federal authorities, use the resources below.
Cyberbullying Laws
Currently, there is no federal law against cyberbullying. Cyberbullying laws vary by state, and state laws may or may not cover:
Criminal sanctions for cyberbullying or electronic harassment
School sanctions for cyberbullying
Formal school policies around cyberbullying, on and/or off campus
You can see how cyberbullying laws apply to the state your college is in through this interactive map.
Revenge Porn Laws
Another form of online harassment is "revenge porn," or the nonconsensual release of nude photographs online. According to a Data Society study, one in 25 Americans has been a victim of revenge porn. In Pew's online harassment study, many commentators specifically referred to revenge porn as a way they've been harassed online.
As with cyberbullying, there is not currently a federal law covering revenge porn; you can see if the state your college is in has a specific revenge porn law here.
Social Media Resources
Each social media site has their own process for reporting online harassment. If you've experienced cyberbullying or other forms of harassment on social media, report it through their site-specific pages.
Here's how to report something on social media platforms:
Summary
The internet is an intrinsic part of your life as a college student. It's where you learn, communicate and connect. Unfortunately, today's hyper-connectivity and the ubiquity of the internet can make it easy to overshare, leading to potential consequences, both online and off.
The online world presents with many dangers from college students, from computer viruses to online harassment and lost opportunities. To stay safe online, you should first review and understand your school's specific rules regarding network and email safety. Then take steps to protect yourself, like installing anti-virus software, making your social media profiles private and reporting online harassment.
Sources
Weatherford College | CySecurity | Campus Safety Magazine 1, 2 | Student Caffe | Cyber Degrees | Online Universities | PCMag 1, 2, 3, 4 | Lifewire | Forbes | Backblaze