What Is Anonymous Browsing?
Anonymous browsing is a way of using the internet without revealing your identity or personal information to the websites you visit.
Browsing anonymously can protect you from targeted advertising, online tracking, and other forms of online surveillance.
It's typically achieved through a combination of software such as Virtual Private Networks (VPNs), The Onion Router (Tor), and private browsers. These tools work together to hide your IP address, browsing activity, location data, and other identifying information.
However, even the best privacy software has weaknesses. That's why you should layer your protection with a combination of privacy tools and strategies, ensuring that the websites you visit extract as little personal information about you as possible.
Anonymous browsing does not refer to your web browser's private mode — e.g. Chrome's Incognito mode or Safari's Private Browsing.
These do not help you achieve online anonymity, because your ISP can still view your browsing history. They don't prevent browser fingerprinting, either.
What's the Difference Between Online Privacy, Security & Anonymity?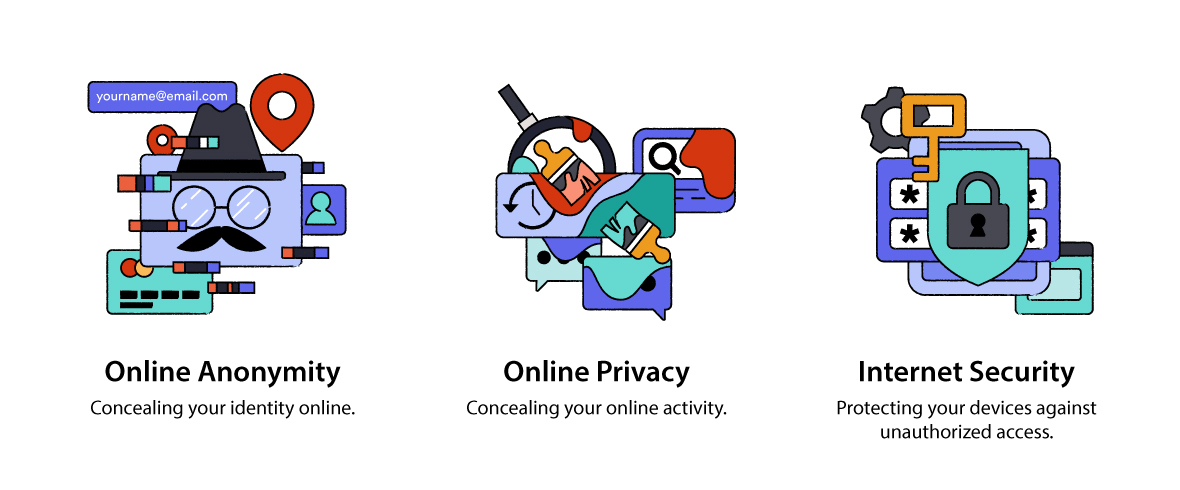 Online privacy, online anonymity, and internet security are related concepts that are often used interchangeably, but they actually have different meanings.
Here is a summary of the key differences:
Online anonymity means concealing your identity online. It involves using software to prevent third parties from tracking and identifying you using information such as your name, email address, location, or financial details.
Online privacy means concealing your activity online. It involves using encryption and other tools to prevent third parties from monitoring your browsing history or communication with others.Maintaining your online privacy also involves keeping personal information confidential, preventing unauthorized access to your data, and making sure that data isn't used for other purposes without your consent.
Internet security means protecting your devices and networks from unauthorized access, theft, or damage. To achieve internet security, you should use tools such as antivirus software, strong passwords, and multi-factor authentication to prevent and detect cyberattacks.
In summary, online anonymity is about concealing your identity, online privacy is about concealing your activity or controlling the information you share, and internet security is about protecting your devices against cyberattacks.
Can You Actually Achieve 100% Anonymity Online?
It is extremely difficult to achieve complete anonymity online. In fact, it's virtually impossible unless you can create your own server and router network, which is unrealistic for most people.
However, there are tools and techniques you can use to enhance your anonymity online and make it harder for your ISP, government, and others to track your online activity.
Here are some of the most common types of online tracking, and why they make achieving complete anonymity so difficult:
IP address: Your ISP assigns you a unique IP address, which can be used to identify you on the internet and track your browsing history.
Third-party cookies: Websites use third-party cookies, also known as persistent cookies, to track your activity across the internet. Advertisers then use this data to show you ads for products they think you'll be interested in.
Browser fingerprinting: Some websites use information about your device, such as its operating system and browser, to create a unique identifier that can be used to track your activity.
Pixel tracking: Advertisers use pixel tags in emails or on websites to collect data about your device, operating system, browsing activity, the clients you use (e.g. the browser or email program), and even your IP address.
Social media: Social media websites encourage you to share your personal information online. It's possible to gather a lot of data if you make these accounts public and share lots of personal details like your name and geographic location.
In summary, every time you access the internet, there's a third-party trying to track you. There are multiple ways these third parties can track your online activity — even when you've opted out.
The best way to stay anonymous online is to combat each one of these tracking methods individually.
Even if you have privacy tools enabled, any details you share online — e.g. financial information or a delivery address — can be traced back to you if you're not careful.