There are a number of dangers children face online, including the likelihood of cyberbullying, possible exposure to inappropriate content and vulnerability to online predators. Additionally, children who aren't educated about the internet are more likely to get malware infections or share personal information online.
These dangers can have serious consequences, ranging from computer infections and identity theft to emotional and psychological damage. As a parent, it's important for you to understand the risks and dangers posed by the internet, and how to best guide your children through them. Below, we've compiled a guide that will help educate you and your child about the best ways to stay safe online.
Online Child Safety Laws

The first step in understanding how to keep your child safe online is understanding the laws that regulate online child safety—and their flaws.
The main law that regulates children's safety on the internet is the Children's Online Privacy Protection Act (COPPA). Passed by Congress in 1998 and updated in 2012, COPPA aims to give parents more information and control regarding the websites that collect information about children under the age of 13.
To do this, COPPA imposes certain requirements on the operators of websites or online services that are either directed to children under 13 or that have direct knowledge that they are collecting personal information from a child under 13 years of age.
Websites covered by COPPA include:
Websites that collect information and are specifically directed to children under 13
Websites that are directed toward general audiences but that collect personal information (for example, a website that asks for a birthdate on the site's registration page)
Third-party services, like advertising networks or plug-ins, that collect information from users of a site directed to children under 13
Websites covered by COPPA must:
Post privacy policies
Provide parents with notice of their information practices
Collect verifiable parental consent before collecting a child's information
Despite COPPA's aim to protect children online, the law is hard to enforce and deeply flawed. Children can easily manipulate sites asking for birthdates to require entry or for registration by choosing a date that puts them over 13. Additionally, the law only covers up to age 13, leaving teens between the ages of 14 and 17—who can't legally enter into binding contracts, including online privacy policies—unprotected.
Despite COPPA's aim to protect children online, the law is hard to enforce and deeply flawed.
Additionally, websites don't have a reliable way to obtain parents' consent online and don't have an effective way of authenticating users' ages, meaning they often don't know they're dealing with children, despite the stipulations in pace for this purpose.
Finally, COPPA isn't extremely effective in protecting children from several of the real dangers of the internet, including subjection to graphic violence, sex or profanity, or exposure to cyber predators.
These flaws mean that parents are largely responsible for keeping their children safe online. In the next sections, we've compiled tips on how to keep your children safe online, from setting up their social media networks to using parental controls to monitor what they're able to access.
Set Parental Controls on Devices

One of the major steps in keeping your child safe online is setting the parental controls on all of the devices they have access to. These controls allow you to restrict what websites your child has access to, helping limit their exposure to inappropriate content. Depending on the device you use, you may also be able to monitor their online activity and set time limits for them.
Learn how to set parental controls on the following devices:
Mac | PC | iPhone | Android | Google Play Store
Device parental controls help you limit your child's exposure to inappropriate content.
How to Set Parental Controls for Macs
To access the parental controls on your Mac, navigate to the Apple menu and select System Preferences. From the menu, choose Parental Controls. If you already have your child set up on your computer, you will see their account in the left-hand sidebar of the menu; simply select their account and click Enable Parental Controls.
If you do not have your child's account on your computer, you will be prompted to create it.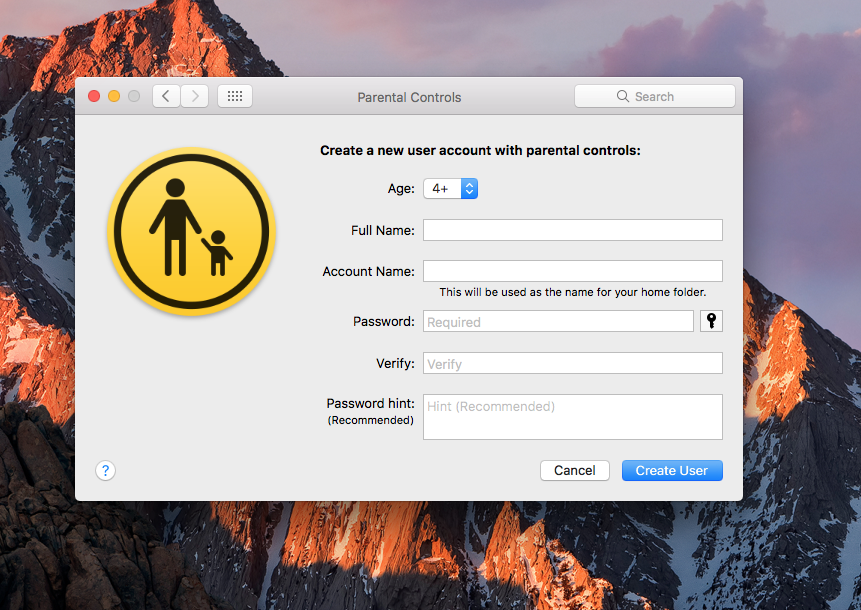 Once you've chosen your child's account or created one you'll be able to manage your child's online activity. Mac parental controls include:
Apps: Allows you to enable and disable apps, including limiting the use to specific applications.
Web: Allows you to limit what websites your child has access to, including restricting them to certain websites on an approved list.
Stores: Allows you to disable access to stores and restrict music and videos with mature ratings.
Time: Allows you to set weekday and weekend time limits for the device.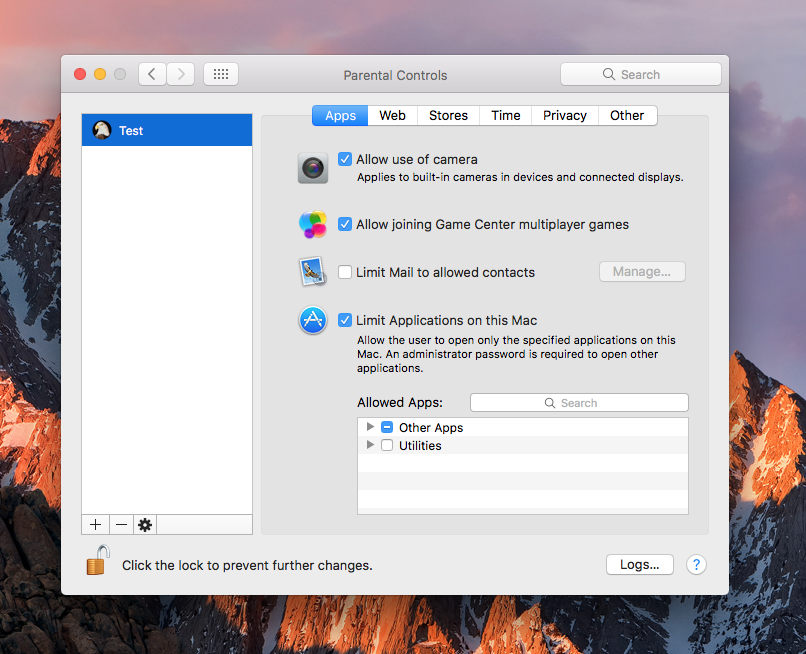 How to Set Parental Controls for PCs
To access the parental controls on your PC, navigate to the settings menu and click on Accounts > Family & other people.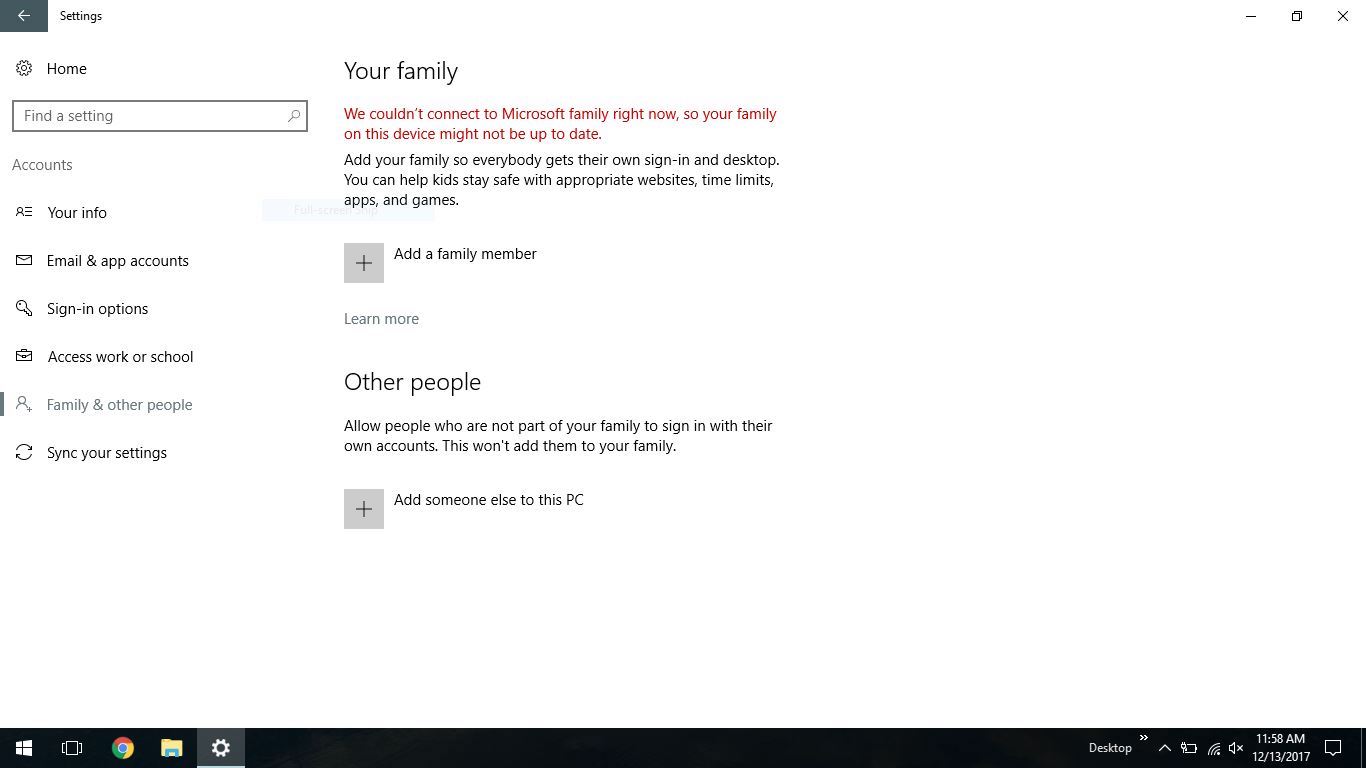 If your child's account is already set up on your computer, select their account in order to manage it.
If you need to add your child's account to your computer, select Add a family member > Add a child.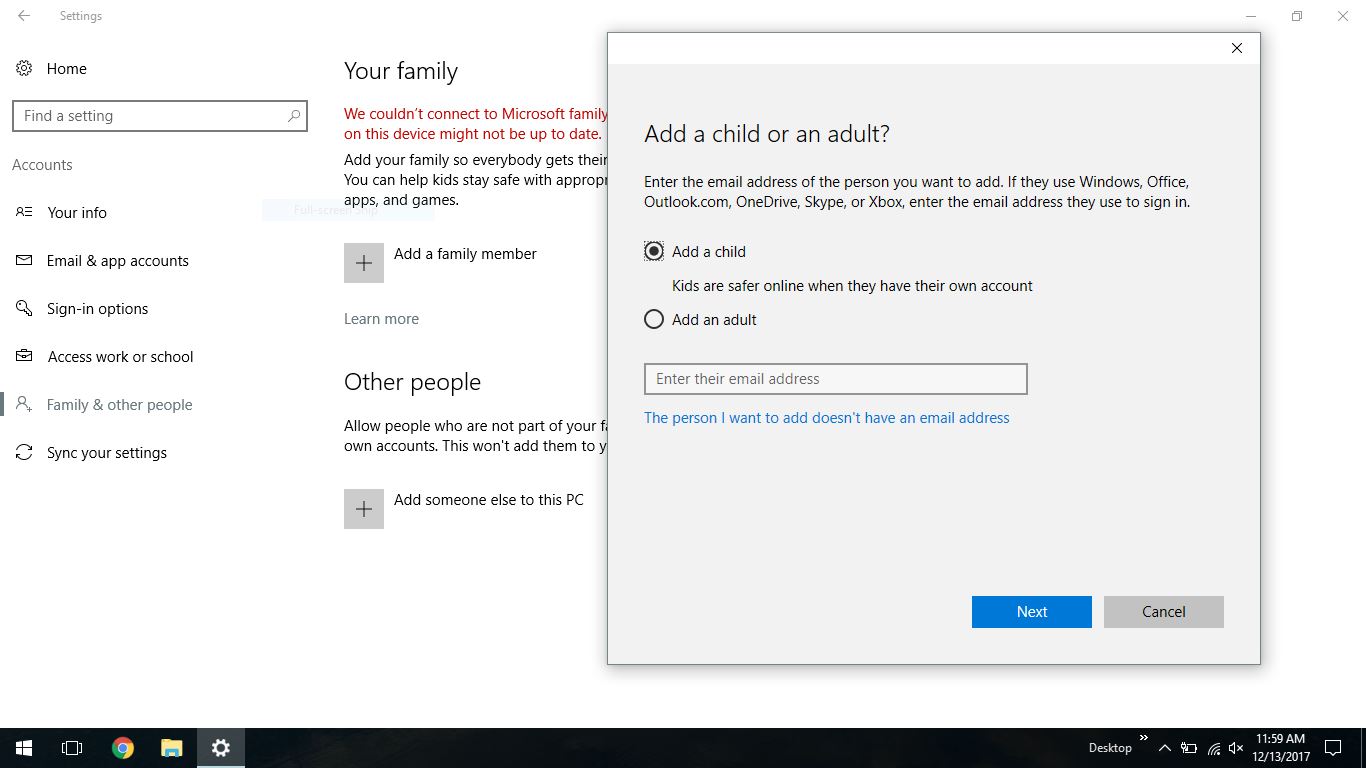 To set them up, you will either need to send them an invitation via email address or follow the instructions to set them up without an email address.
Once your child is set up and you've followed the instructions to verify and manage their account, you can manage their settings at https://account.microsoft.com/family/.
PC parental controls include:
Recent activity: Allows you to see what websites your child has been visiting, what apps they've been using and how much time they've been spending on the device.
Web browsing: Allows you to choose what websites your child can or can't see.
Apps and games: Allows you to limit what apps and games your child downloads from the Microsoft Store.
Screen time: Allows you to set the maximum amount of time your child can spend on the device.
How to Set Parental Controls for iPads, iPhones and iPods
To access the parental controls on your Apple device, first navigate to Settings and choose General.
Once in General, select Enable Restrictions.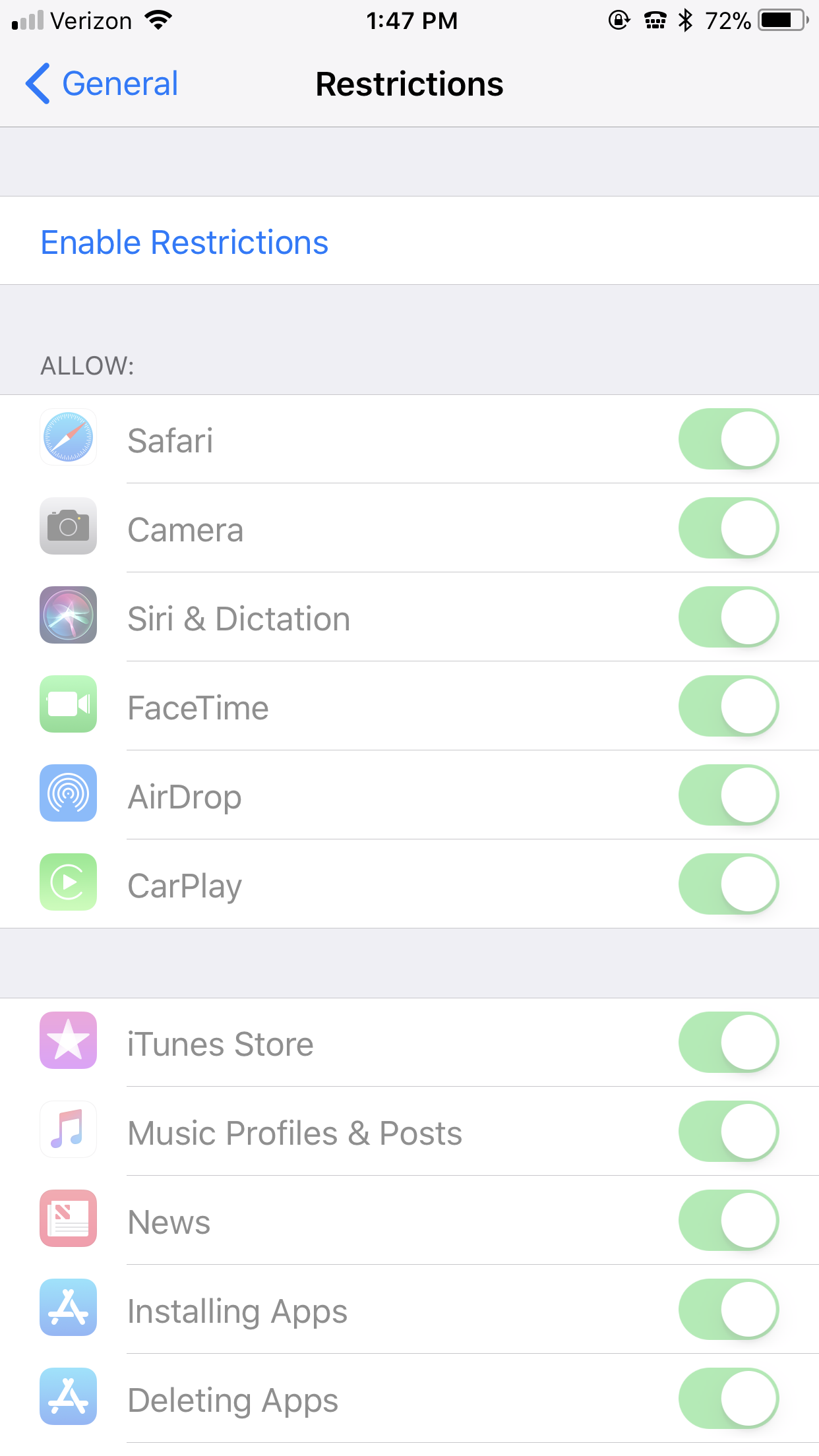 Once you've enabled restrictions, you'll be prompted to set a 4-digit passcode. You'll need this passcode to change your settings and turn off restrictions. If you forget the passcode, you'll have to erase your device and set it up from scratch.
After enabling restrictions, you can choose which apps and iPhone features you don't want your child to use, including Safari, FaceTime, News, Siri and others.
Learn more about parental controls on Apple devices.
How to Set Parental Controls for Android Devices
If your Android tablet is running on Android 4.3 or above, you're able to add restricted profiles that allow you to choose which apps and features the restricted user can see and use.
For Android phones, parental control capabilities vary by device. Google's Family Link app is one answer to Android parental controls; it allows you to manage the apps your child can use, monitor how they use their Android device and lock their device remotely. Family Link is available on any Android device running on Nougat 7.0 and on a limited number of devices running on Marshmallow 6.0.
Additionally, Samsung's Kids Mode app allows children to safely navigate Galaxy phones and tablets. The app allows you to set limits on your child's usage and restrict what content they can see. Additionally, you set the app up with a PIN, preventing them from leaving the app and accessing other files or content.
To find more Android-specific parental control applications, simply navigate to the Google Play Store on your Android device.
How to Set Parental Controls in Google Play Store
The second step in securing your Android device is setting up parental controls on Google Play. To set up parental controls on Google Play, open the Play Store app. Then, tap the menu icon in the top left corner and select Settings > Parental controls from the dropdown menu.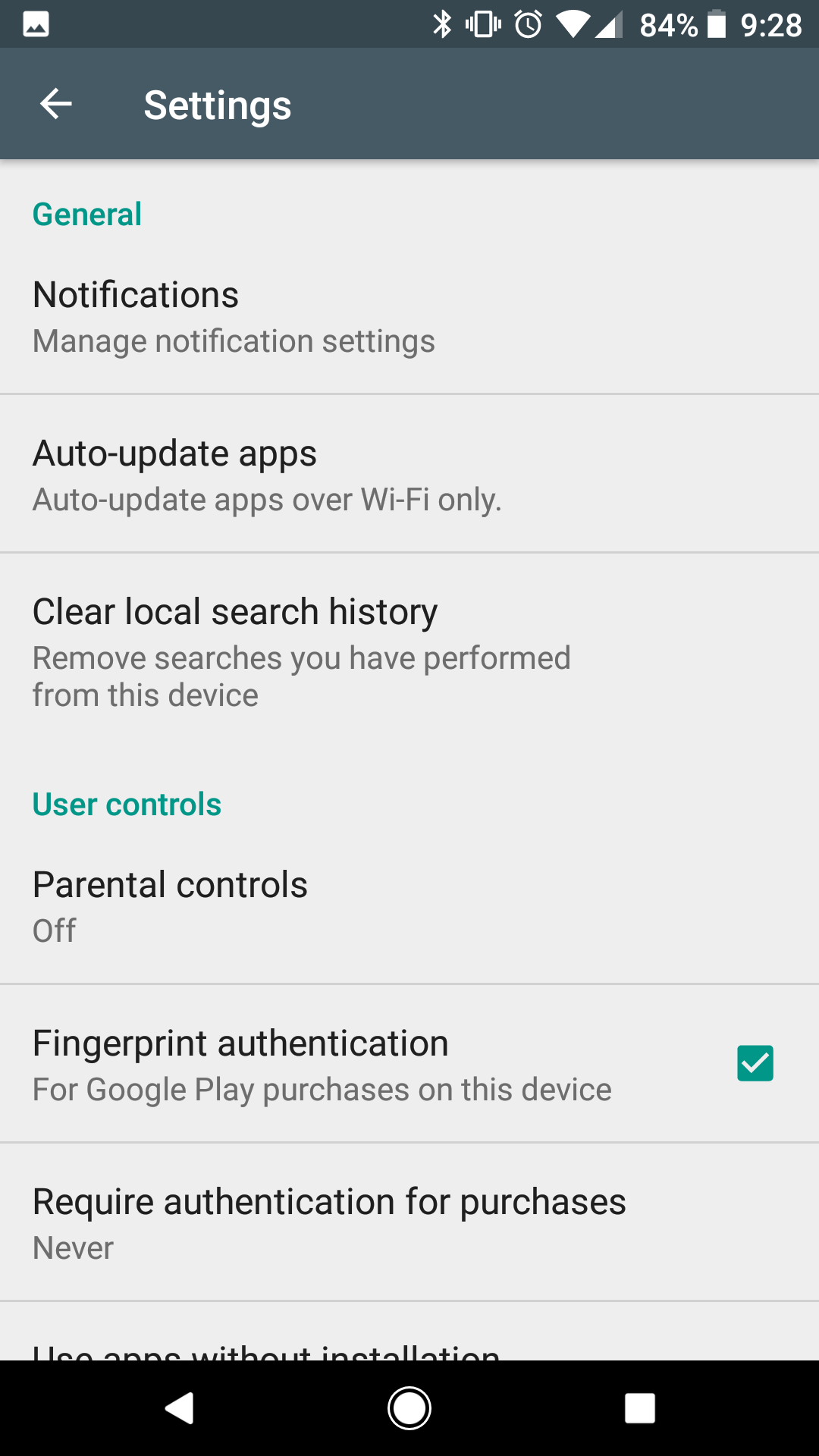 Toggle Parental controls on.
Once you've turned parental controls on, you'll need to create a PIN. This allows you to access and change the parental control settings when needed and ensures that your child can't access the parental control settings.
Set Parental Controls on Browsers


In addition to setting up parental controls on the devices your child has access to, you should also set up parental controls on the individual browsers that they use to further restrict access to inappropriate content.
Learn how to set parental controls for the following browsers:
Chrome | Safari | Firefox | Internet Explorer
How to Set Parental Controls for Chrome
You can set up a supervised profile in Chrome to manage and monitor your child's Chrome usage. A supervised account allows you to block certain websites, review the websites that your child visits and manage other settings, including blocking them from installing web apps or browser extensions. Additionally, you can enable Google SafeSearch to filter explicit results.
To set up a supervised account in Chrome: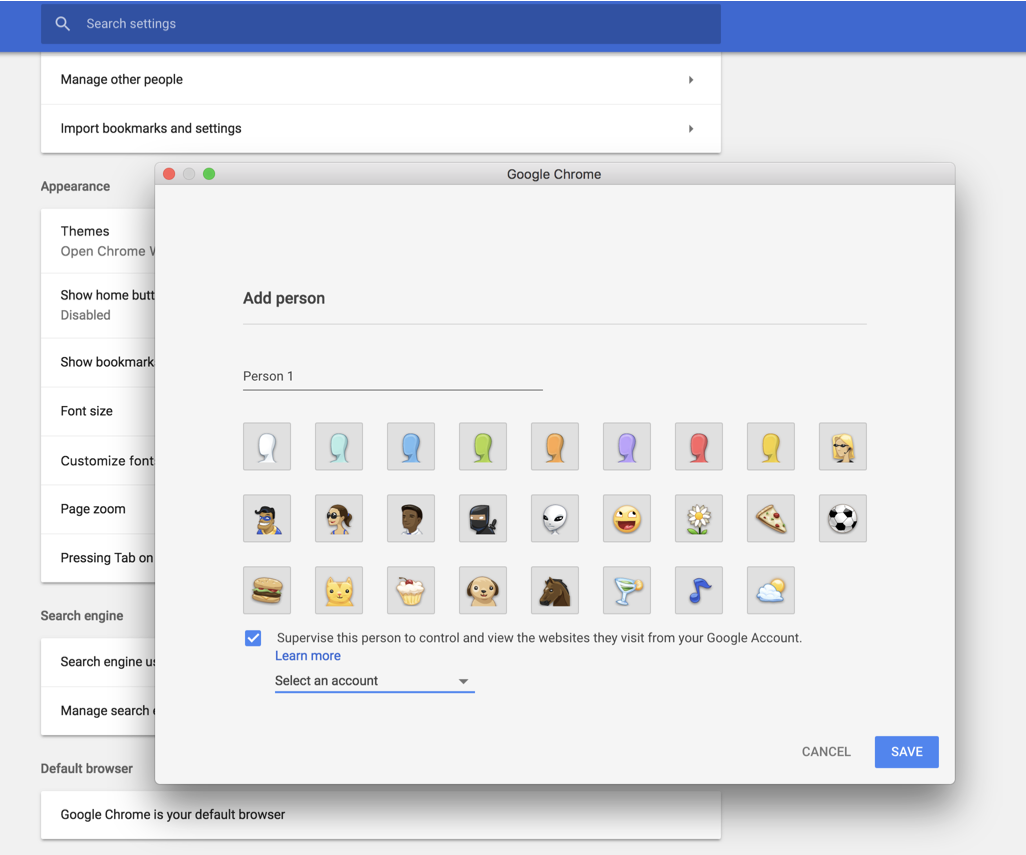 Navigate to Settings through the main menu or by entering chrome://settings into the Chrome browser
Sign into Chrome, if you haven't already
Click on the Manage other people section your below name.
Add Person to create the supervised account for your child. This will bring up a window with a checkbox that reads, "Supervise this person to control and view the websites they visit from your Google Account."
Check this box to create a supervised account.
When you want to give your child access to the computer, all you have to do is click your name in the upper right-hand corner of the Chrome browser and select your child's supervised account from the dropdown. This will open a new window for their supervised browsing.
Then, select Exit and child lock from the same dropdown in your browser. This will close and lock your account, so your child can't switch back to the unsupervised browser.
To review your child's online browsing once they've logged off, go to https://chrome.google.com/manage.
How to Set Parental Controls for Safari
Safari doesn't have a direct option for setting up parental controls; instead, you'll need to block websites on your computer or other device using their specific parental control settings.
How to Set Parental Controls for Firefox
To set parental controls in Firefox, you need a Mozilla add-on.
Navigate to https://addons.mozilla.org
Search "parental controls." This should come up with several options, both for free and paid.
Choose the add-on you want to user
Click Add to Firefox
Install it using the instructions that follow.
It's worth noting that savvy users can disable these controls, so you may want to use a browser with more advanced parental controls depending on the age and internet ability of your child.
How to Set Parental Controls for Internet Explorer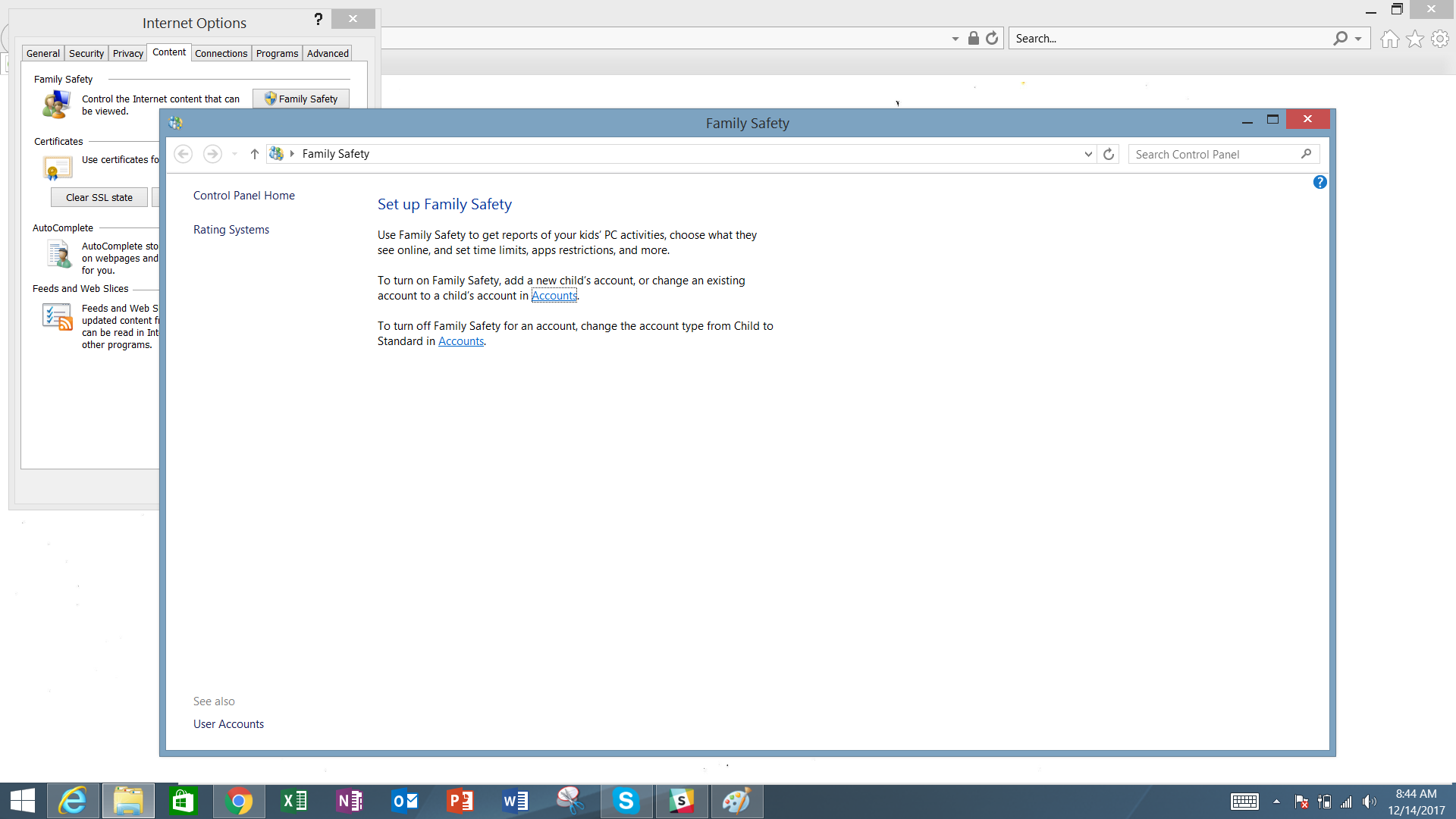 Click on the gear icon in the top right-hand corner of the IE browser
Select Internet Options from the dropdown menu and click on the Content tab
Select Family Safety and choose the user account you want to apply parental controls to.
Internet Explorer's parental controls allow you to set time limits for your child, block specific games and block specific websites.
Using Child-Safe Browsers
In addition to the standard browsers that are available, you can also download kid-friendly browsers.
These browsers are typically designed for younger children and have features like blocking pop-ups, only allowing one page to be open at a time and limiting the sites that children can visit (either set up by you or verified through the browser company). These browsers typically limit children to the browser, meaning they can't exit out of the program or access your files.
Browsers range by age and by price, so it's important to vet each to see which is a good fit for your child. Examples of child-safe browsers include:
Using Parental Control Software
Unlike the child-friendly browsers, which create a kid-friendly experience specifically within a browser, parental control software gives your children total access to computer applications and the Internet, including standard browsers like Chrome and Safari, while allowing you to impose certain limitations.
Parental control software allows you to monitor how your child is using the device, including their web usage, social media usage, search terms and more. Some software also filters content, blocks access to inappropriate websites or videos, and allows remote management and location monitoring.
Examples of parental control software include:
If you want all of your devices to operate under your parental control settings but don't want to manually install software on each of your devices, you can use a tool that works at the router level, affecting every device on your network. Examples include:
Email Security

It's not uncommon for children as young as 5 to have an email address; many parents use it as a way to communicate with long-distance family. As children grow older, they'll use it to connect and stay in touch with friends.
However, it's important to be wary—email scams are one of the most common ways for a computer to become infected. This is even more true when dealing with children, who are more likely to trust links and download email attachments.
If your child has an email address, it's important to teach them the basics of email security, such as not opening an email or clicking on an attachment from an unknown sender. For older children, you may also want to teach them how to look out for specific techniques spammers employ to get clicks.
Email scams are one of the most common ways for a computer to become infected.
It's also important that you monitor the emails that your child does receive, especially when they're younger. Some parental control software allows you to monitor your child's email activity; you can also set it up so that their emails get forwarded to your device.
For very young children, there's child-safe emailing services that limit who they can email and monitor messages for keywords that may indicate bullying or inappropriate content. Such services include:
Downloading and File Sharing

Downloading and sharing files of copyrighted material, such as music videos or movies, is illegal and punishable under the law. It also opens children up to a number of concerning online dangers, including:
Downloading and file sharing opens children up to a number of concerns, including viruses, data theft, exposure to inappropriate content, and legal issues.
Viruses and malware: Computer viruses can occur when children download material from a malicious source or click on a bad link. This malware could potentially affect your entire network, not just the computer your child downloaded the material to. Often, these malicious files are labeled as popular movies or video downloads.
Data theft: During file sharing your child could inadvertently give access to a malicious actor, who could steal the files on it.
Exposure to inappropriate content: Inappropriate content is often labeled as something else and your child could unknowingly download it.
Legal issues: If your child is downloading copyrighted information, they could be subject to copyright infringement laws.
Anti-Virus Software

The primary job of anti-virus software is to detect and remove any known form of computer virus, malware or spyware before it can do harm to the computer and its data.
Children are more likely to click on malicious links or downloads.
This software is important for all computer users, but is especially important for children, as they're often more susceptible to clicking on malicious links or downloading infected software.
In addition to protecting the data on your child's computer—which often contains sensitive, identifying information—anti-virus software blocks spam sites and, depending on the type you get, can serve as a monitoring tool for parents to track children's activity online.
Examples of Anti-Virus Software
There are a number anti-virus programs on the market that parents can use to protect their children, including:
Paid Subscription:
Free Download:
Setting up a VPN
Another way to protect your children online is by setting up a Virtual Private Network (VPN). A VPN creates a secure, encrypted tunnel over the internet between the device your child is using and the website that they're accessing, masking location and device identity and encrypting all the data your device is transmitting over the internet.
This type of secure connection ensures high levels of security and privacy and is particularly useful when you're accessing public WiFi hotspots.
Learn more about the top VPNs.
Online Dangers

One of the biggest dangers to children online isn't malware infections or exposure inappropriate content—it's other users.
The anonymity of the internet opens children up to a number of different vulnerabilities from other users, including cyberbullying and exposure to online predators.
Cyberbullying
Cyberbullying has been on the rise in recent years; according to a recent report from the National Academies of Sciences, Engineering, and Medicine, it affects up to 15 percent of children—and likely more, considering how many incidents go unreported.
Cyberbullying can lead to short- and long-term psychological damage, including depression, anxiety, and alcohol and drug use. Due to the seriousness of cyberbullying, it's important to be open with your children about it. Children need to know that they have a safe place to come to in the event that cyberbullying does occur.
Cyberbullying affects at least 15 percent of children, but most likely more.
If it does, take the appropriate measures to help your child and end the bullying. This includes saving all evidence of cyberbullying for the proper authorities, reaching out to help resources online and in the local community, and using the parental control settings and software mentioned above to monitor and curb cyberbullying whenever possible.
Sites with cyberbullying resources include:
The Dangers of Sexting and Sextortion
Sexting comes in a number of forms, but at its most basic level is the sending of nude or explicit photographs electronically. This can be dangerous to your child for a number of reasons.
Fundamentally, it puts them at the risk of cyberbullying and exposing themselves beyond their original intent. At a higher level, it puts them and the receiver at the risk of child pornography charges, including the production, distribution and possession of child ponography.
Sextortion—a crime that occurs when an adult pretends to be a child online with the intent of coercing them into sending explicit photos—is also on the rise.
According to the National Center for Missing and Exploited Children, reports of sextortion were up 150 percent during the first several months of 2016. Anonymous chat rooms make it nearly impossible to verify the actual age of the person your child is talking to, leaving them vulnerable to predators.
To protect against this, vet the sites and chat rooms your child is visiting before allowing them to log on, or use the software mentioned above to ensure that they're using kid-friendly chat rooms.
Be sure to educate your children so they know not to share their identity or any personal information online—especially with someone they don't know. Monitor your child's website and social media usage, and if you see that a user is harassing them, block them from their accounts. If you suspect anything illegal has occurred, document the evidence and send it to the proper authorities.
Internet Rules for Children

One of the easiest ways to help keep your children safe on the internet is setting up clearly communicated, enforced rules for when they're online, including:
Don't give out personal identifying information online, including home address and telephone number.
Go to a parent immediately if you receive any messages or come across any websites that make you feel uncomfortable or unsafe.
On social networking sites, don't befriend anyone you don't know.
Don't meet with someone you met online in person without explicit permission.
Get permission before posting any personal information or any personal pictures online.
Get permission before downloading or installing any software.
Don't share your password with anyone but a parent. Be sure to sign out of public computers.
Don't buy anything online without permission.
Don't send or respond to rude messages.
Never give out any information that identifies your location, like where you're going to be at a certain date or time.
Action Steps for Adults

In addition to the above rules, there are several actionable steps you can take to ensure that your child stays safe on the internet, including:
Place computers where you can see them for easy monitoring.
Educate yourself on computers and the internet, so you can better understand the dangers your children are facing.
Set and enforce computer time limits for young children.
Talk with and educate your children to ensure that you're both on the same page regarding internet safety.
Ensure that your children feel safe coming to you if they're ever exposed to cyberbullying or any information that makes them feel uncomfortable.
Set up the parental controls on all devices your child can access.
Friend or add your children on all applicable social media sites.
Use apps or parental control monitors to monitor your child's online activity as you feel appropriate.
Keep aware of your child's emotional state to watch for red flags of cyberbullying.
Install anti-virus and keep your child's software up to date.
Summary
Internet access can be very beneficial to children—it's where they learn, grow and connect. However, the prevalence of the internet and the hyper-connectivity of today's children also poses many serious risks.
Online, children are potentially exposed to a number of dangers, including cyberbullying, ransomware, online predators and inappropriate content. In order to keep your child safe online, it's critical that you follow several internet safety best practices, including setting their social accounts to private, installing parental controls, monitoring your child's online activity, employing anti-virus software and enforcing cyber safety rules.
About Us
Top10VPN.com is the world's largest VPN review website. We recommend the best VPN services to help protect consumers' privacy online. We also aim to educate the general public about digital privacy and cybersecurity risks through our free online resources and research.