Samantha Arinatwe's future is uncertain. The 25-year old mother of two, who sells clothes and shoes in Kampala, can no longer afford to pay the daily tax on the social media platforms where she reaches clients to market and sell her products online.
Her prospective customers are facing a similar struggle, with many abandoning the dozens of platforms where Arinatwe interacts with them, such as WhatsApp, Facebook, LinkedIn, Instagram and Twitter. Some had left these platforms soon after the social media tax was introduced by President Yoweri Museveni one year ago.
"My sales have deteriorated in the last several months because I can't easily access social media platforms to reach clients or market and sell my goods," says Arinatwe. "As a result, my daily income has seriously declined. I hardly manage to raise money from my business to pay monthly house rent, children's school fees, buy clothes, treatment and providing basic needs for the family."
Small businesses struggle
Since July 1, 2018, Ugandans have been expected to pay 200 Ugandan shillings (5 cents) per day to access so-called over the top (OTT) services, charged through their mobile phone provider. The tax is levied on 58 different social platforms, including Uber, Skype and Tinder. Internet service providers in Uganda block access to these apps until a user pays their social media tax on a daily, weekly, monthly, quarterly or annual basis.
As of February, the tax had cut off 5 million Ugandan internet users.
It could preclude many more from getting online in the future. For the eight million or 21.4% of Ugandans living in poverty – defined as less than $1.25 a day, about 4,500 shillings – a daily tax of 200 shillings comes to at least 4.5% of income, a deterrent for many. Young people who are unemployed or dependent on parents have also been turned off social media.
"The implementation of the controversial social media tax is not only perversely expensive for many users, the thought of having to pay a tax on the daily use of social media has driven many Ugandans – mainly the youth – to unsubscribe from the internet, and especially the popular social media platforms, for example, WhatsApp, Facebook, Twitter, Skype and Viber," says Roland Ebole, Amnesty International's Uganda and Tanzania researcher.
Arinatwe is one of Uganda's many small business owners who have been affected by the tax.
According to Moses Ariong, an Aspen Institute New Voices Fellow based in Kampala, the brunt of the OTT tax has been felt most by small businesses run by women and young people with limited access to credit.
"These are the majority of Uganda's business population," he says. "The economy is facing a hit as many small businesses collapse or [report] reduced profit margins due to the additional costs and hardships of running their businesses."
Taxing mobile money
Part of the challenge faced by small businesses has been the additional tax of 1% levied on money transactions using mobile phones – which is the de facto means of payment for many services, and a required means of payment for the OTT tax.
Following objections from its opposition MPs, the government has since reduced the tax to 0.5% to be collected on mobile-based cash withdrawals only, but with around 75-85% of retail transactions made with cash, many businesses continue to feel the brunt.
Patrick Mukasa, a mobile money commission agent in Kyaliwajjala in Uganda's central district of Wakiso says his company has been forced to lay off staff because of the tax on mobile transactions.
"We no longer have business. The data and mobile money transactions have dropped. Many young people dealing in mobile money services have lost their jobs as agents close [their kiosks]," says Mukasa. "With the drop in the transactions, the agents couldn't afford to pay the workers' allowances and salaries."
A lack of formal banking services in Uganda means many people rely on mobile phone companies to send money by text message, pay bills, or withdraw money from ATMs without a bank card.
According to the GSMA State of the Industry Report on Mobile Money, over 30% of the population use mobile money services, and over 200,000 jobs have been directly created by the industry. But just two months after the introduction of the tax, the value of peer-to-peer payments dropped by 50 percent, while the value of all transactions (such as payments made to companies) dropped by 25 percent.
The tax has hit small businesses, mostly run by women and young people with limited access to credit.
Many customers had reverted to cash and agency bankers or transferred smaller amounts to reduce the taxes paid, resulting in an earnings decline of 35-40 percent for about 100,000 mobile money agents and putting a further 30,000 agents out of business completely.
"Mobile money services used to be cheap and eased the purchase of goods and services since most small business owners are into informal banking. That is now gone and its effects are strongly felt by small businesses," says Ariong.
No longer a youth's game
Young people have been disproportionately affected by the taxes too, with many unable to afford the social media levy on top of cell phone subscriptions.
Four out of 10 young Ugandans are out of work while figures from the 2012/2013 Uganda National Household Survey suggest another 13% of youth between 18-30 are underemployed, earning less than the minimum wage.
Activists have expressed concern that these young people who would use social media to search for jobs have less chance of finding fulfilling employment now – a significant issue in a country where 70% of the population is under 24 years old.
"The tax locks out young people who are desperate to connect with opportunities in a country with high youth unemployment," says Rosebell Kagumire, a feminist writer and media specialist. "It is affecting young people's ability to associate. I see Facebook groups as a form of association in a country where we have no rights to protest and congregate outside religion."
With gatherings of five or more people requiring official approval, many young people are being excluded from their online political and social communities.
"The OTT tax has directly affected participation of young people in discussions that matter in the development of their country, since most young people depended on social media platforms to express themselves and connect with each other," Ariong says. "No wonder that there is increasing frustration among young people who are jobless."
Ugandans unevenly impacted
Across the country, the social media tax is widening the digital divide between Uganda's income classes. In the capital Kampala, the tax comes to an average of 2.4% of monthly income, while in one of Uganda's poorest regions, Bukedi, it comes to around 22%.
"Indeed the tax affected a lot of users who were already spending way more of their income [on phone plans] to access the networks," says Kagumire. "As a journalist and blogger who relies on the internet for my daily work, a social media tax may be an inconvenience but it has more dire consequences for Ugandans on the lowest income."
"The tax locks out young people who are desperate to connect with opportunities in a country with a high youth unemployment." – Rosebell Kagumire
Women, who already face higher barriers than men to internet access, are also hit harder by the tax. On average, Ugandan women earn some 30-50% less than men and have lower rates of digital literacy. For some, social platforms such as Facebook and WhatsApp comprise the internet experience, so an expensive tax on using these apps is a push off the internet entirely.
"The gender digital divide is really a reflection of inequalities in income and in gender roles in Uganda," said Kagumire. "So while this tax majorly affects the poor and the young, economically struggling population, within that population the impact is bigger on women and their chances of going online."
Falling short of revenue targets
In March 2018, President Yoweri Museveni pushed for a social media crackdown through the introduction of a tax on the use of platforms such as WhatsApp, Twitter and Facebook. The purpose, he noted in a letter to his Finance Minister, Matia Kasaija, was to help cope with the consequences of "olugambo" or online gossiping, as well as to drive revenue to fund public projects such as new roads.
To the people, the President also wrote that revenue generated by the social media tax would reduce foreign borrowing, and improve Uganda's low GDP-tax ratio, considered a marker of economic development.
In one of Uganda's poorest regions, Bukedi, the social media tax is 22% of average monthly income.
The 2018/19 budget speech, given on 14 June 2018, projected the new tax would generate up to 486 billion shillings ($131 million) per year by the fiscal year 2022/23, while officials claimed that in the first week after the tax was introduced, 2 billion shillings had been collected from 10 million internet users (the country had 16 million internet subscribers at the time).
However, figures from the government's telecoms regulator, the Uganda Communications Commission (UCC) showed that after the first month, 8 million people paid the OTT tax, falling to 6.8 million by the end of the third month. The regulator is yet to release new statistics, but separate figures from the Uganda Revenue Authority show that between September and December 2018, just 21.12 billion shillings was collected against a target of 135.21 billion.
"It is very clear from the fall in number of subscribers that the tax has not generated the revenue the government claimed it would. The tax is a clear attempt to silence dissent, under the pretext of raising government revenues," says Ebole.
Record of censorship
The president has a history of censoring social media. During the 2016 elections that saw the reelection of Museveni for his fifth five-year term, mobile money and social platforms were blocked at the request of the electoral commission, with the UCC claiming that people were using social media to bribe voters.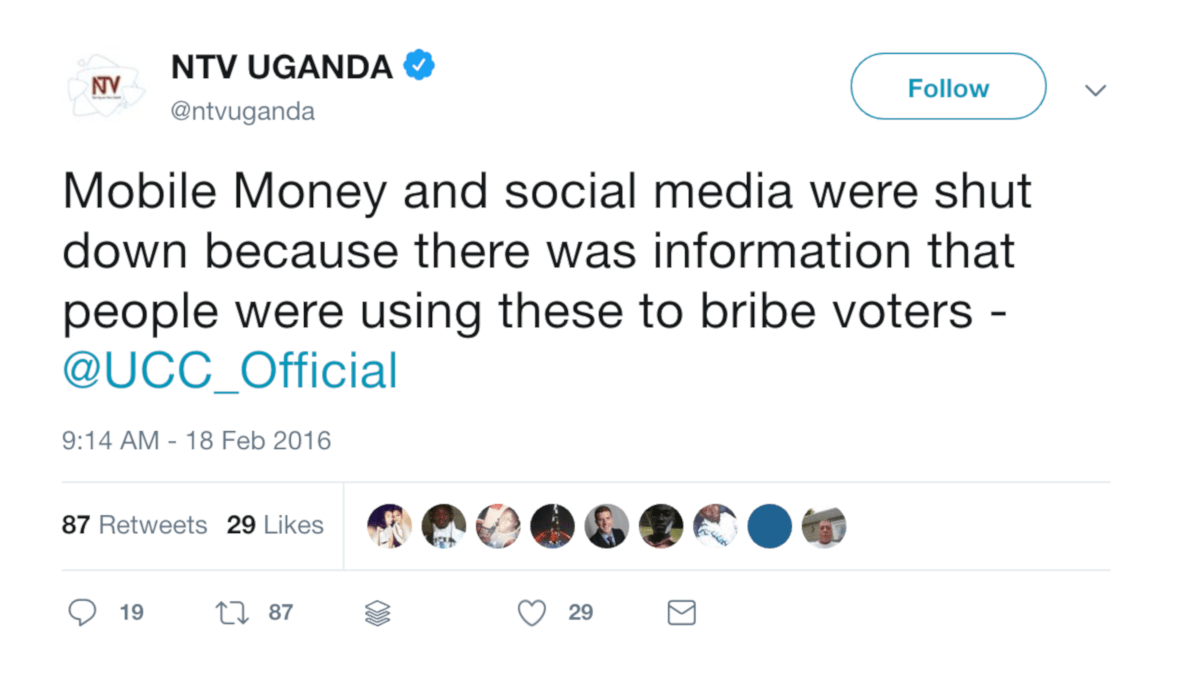 Social media was similarly blocked in the runup to the 2011 elections.
Many believe the OTT tax is part of a broader government effort to restrict access to news and quell political dissent ahead of the 2021 elections, particularly from the country's youth, a majority of whom are frustrated with the regime's policies and the country's high unemployment rates.
"The more you lock young people out of national conversations that are increasingly shared on Facebook and Twitter the more you can entrench your own view in state controlled media outlets," says Kagumire.
Target on freedom of speech
Activists and frustrated Ugandans have rallied against the tax and its threat on freedom of expression, but with limited impact.
Pop star turned politician Bobi Wine led a rally in Kampala in July 2018 to protest the social media tax. Despite the comparatively small gathering of 300 people, police and military forces used tear gas and live bullets fired into the air to disperse protestors, and several months later, Wine was charged with organizing an illegal public assembly and held at a maximum security prison before he made bail.
Also in July last year, a group of five young advocates under the Kampala based Cyber Law Initiative (U) Limited filed a lawsuit at Constitutional Court, challenging the unpopular social media tax and requesting the government "declare it as illegal, null and void." Uganda's Attorney General, Uganda Communications Commission and Uganda Revenue Authority are listed as respondents to the suit. One year on, no hearing date has been set.
"President Museveni introduced the tax on social media with the intention of curbing criticism against the ills committed by his government [and not to drive revenue]," says Joel Ssenyonyi, a spokesperson for People Power Movement, a Ugandan resistance group led by Bobi Wine.
Tech-savvy Ugandans
Many Ugandans who opposed the new tax have installed circumvention tools such as VPNs on their mobile phones to bypass the social media tax. Top10VPN data shows that in July 2018, the month the tax was introduced, the number of Uganda-based searches for VPNs more than tripled.
Telecommunication operators have threatened to crack down and block access to these tools, under the directive of the UCC.
"We have all the systems needed to block VPNs already here and the government will move anytime to effect it," Godfrey Mutabazi, the UCC's executive director, announced last year.
This hasn't deterred some netizens.
A Pollicy report on the impact of the tax after five months found that just 56% of internet users paid their social media tax, 38% chose to use VPNs, and 3.7% used open WiFi to access OTT services.
Government on social media
In a public statement soon after the introduction of the tax, Museveni liked social media to addictions such as tobacco and alcohol, calling it "a luxury that is costly to the country's economy". Yet the 74-year-old president, who has been in power since 1986, is regularly on Facebook and Twitter himself, using his social media accounts to connect with Ugandans, especially the young ones whom he refers as "Bazukulu", meaning grandchildren.
"He [Museveni] said the tax would help deal with what he termed as rumor mongers on social media, only for him to later become the rumor monger-in-chief," says Ssenyonyi. "He became a very active user of social media shortly after [the introduction of the tax], even releasing official government statements via social media. He realized social media is a phenomenon which can't be stopped."
In May of this year, the Uganda Parliamentary Commission even attempted to pass a bid for lawmakers' mobile internet and OTT fees to be paid for by taxpayers. But on 20 June, Rebecca Kadaga, Speaker of Parliament, ordered the cancellation of the contract. "On OTT, there's nothing to negotiate. I told the Clerk [to Parliament] we are not going to accept people paying for our OTT. We should pay it ourselves and there's no debate on that issue as far as I'm concerned," she said.
Internet in recovery?
Ibrahim Bbosa, a spokesperson for the UCC, says that despite the drop in mobile internet subscribers following the introduction of the OTT tax, the number of internet users is recovering again.
According to Bbosa in a phone interview with Top10VPN, the UCC saw 10.4 million mobile internet subscribers in the first quarter of 2018 before the tax was introduced, and 9.8 million in the second quarter, where the tax was introduced.
This was followed by a third quarter increase to 13.5 million users, and in the fourth quarter ending December 2018, internet mobile subscriptions stood at 14.3 million.
"The decline we see in the second quarter of 2018 could be attributed to social media tax. Taxes change people's behavior. Tax by its nature would have an impact on people's lifestyle and how they consume a product or service," Bbosa says. "However, we see recovery in the third and fourth quarter. So whether you are making the assertion that the social media tax has caused the decline, the numbers tell the different story."
A cross-Africa trend
The parliamentary committee for Information and Communication Technology has called for a review of the impact of the social media tax on the country's nascent digital sector, stating that the tax appears to be negatively affecting the use of internet services and products.
But even as Ugandans call for the scrapping of this tax, other African governments are enacting similar measures against online freedoms.
Taxation of internet-based services and regulations on online content were introduced in various African countries over the course of 2018, aiming to shrink the space for online discourse.
In April 2018, Tanzania introduced a $930 three-year license required by bloggers, owners of discussion forums, and radio and television streaming services, a decision being challenged by local activists in court. Zambia recently introduced a tax on internet calls over WhatsApp, Skype and Viber. In Benin, a proposed social media tax was cancelled after a 10-day protest attended by more than 500,000 people.
"President Museveni introduced the tax on social media with the intention of curbing criticism against his government." – Joel Ssenyonyi
"Restricting online speech in this information age violates Ugandans' rights to free expression and information, which also creates a chilling effect on other human rights," says Ebole. "It is backward to curtail the use of present-era technologies that have simplified human existence and favored connectivity across the global village."
In the wake of fewer than expected OTT payments, telecom companies such as Africell, Smile and Tangerine have introduced social media data bundles that integrate the tax in order to make it easier for their customers to pay.
"We have encouraged the telecom operators to come up with policy-friendly services, looking for ways to make it easier and more convenient for people to enjoy these [OTT] services," says Bbosa. "Our hope is that the country probably now understands that tax has come to stay. We have to live with it. It's a statutory tax."