A string of privacy scandals at the world's biggest tech companies is changing public attitudes towards social media – and could finally see a shift to privacy-centric social networks, which have long failed to compete with the likes of Facebook and Twitter.
On MeWe, a social network that launched in 2016, a Privacy Bill of Rights states that users own their personal information and content, targeted ads will never be shown, nor are third party tracking cookies allowed on the site. One of the platform's taglines is the hashtag Not4Sale, referring to the fact that users do not give up their data in exchange for the free service. Instead, the business model relies on users purchasing extra features such as additional storage for images or video, custom emojis, and subscriptions for end-to-end encrypted messaging.
If this all sounds refreshing, about two and half million people agree. MeWe experienced a 300% growth in its user base over the last year, adding one million users in the last few months alone. MeWe founder Mark Weinstein is projecting 19 million users in 2019 and 30 million users the following year.
While this is a drop in the ocean of Facebook's 1.49 billion daily active users, the cachet of the world's fifth-most valuable brand is showing signs of fading. This year has seen Facebook's smallest quarterly increase in global users since at least early 2011, while in Europe, the number of daily active users has fallen. In the US, UK, Europe and Australia, there have been more than double the number of search queries for how to delete a Facebook account. These figures follow 18 months of privacy scandals including the Cambridge Analytica data mining, missteps where censors took down war photojournalism, and the recent breach of 50 million user accounts.
When the censor says yes
MeWe's privacy credentials are not its only big sell – its newsfeed is. Visually, the platform is a cleaned up, minimalist Facebook down to the notification dots, user profile pages, and group pages with pop-up chat windows. But instead of a newsfeed personalised to a particular profile – thereby enhancing the contentious echo chamber most of us live in – posts are displayed reverse-chronologically and in theory, all a user's posts can be seen by all their friends and/or followers. (MeWe has some Twitter in its genes: users can befriend profiles of people they don't know and follow their posts.)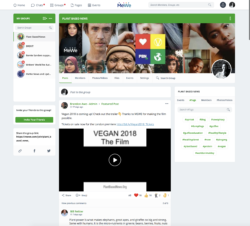 "We have no algorithmic bias for what posts are shown, no political filters and no way to censor any content," says Weinstein. Bars for content are set at the bare minimum "decency filters" as Weinstein calls it – no violence, porn or threats.
Online, this variety of free speech utopia has often attracted extremists, especially proponents of the alt-right peddling viewpoints such as anti-feminism and white nationalism. This isn't necessarily the case with MeWe, although a significant proportion of its users do move en masse when groups they participate in on Facebook or Twitter are censored or outright banned.
"We have constituencies of people who are moving to MeWe together," says Weinstein. "After the 2016 US election, it began to happen a lot more – first we saw Bernie Sanders supporters, then alternative medicine groups, vegans, and in general, groups of people interested in being able to talk freely in closed chats."
One such group is the 200,000-strong, female-only Australia-based Bad Girls Advice, repeatedly banned then reinstated on Facebook for graphic content, and posts that appeared to support bestiality. (Its MeWe page, however, explicitly disallows child pornography, violence and animal abuse.) Plant-Based News, a vegan news publication with nearly 375,000 subscribers to its Facebook page, also now runs a MeWe page; Weinstein says the title was "shadowbanned" on Facebook, a term that refers to posts being hidden from subscriber newsfeeds without alerting the poster. Although the practice is supposed to occur when social network filters detect potentially harmful content or fake articles, a number of right-wing pundits have accused Facebook and Twitter of shadowbanning conservative-leaning content (Twitter has denied it shadow bans at all, while Facebook says it demotes content reported to be false.)
"My concern is that it isn't the general user who will flock to these alternative social networks," says Dr Avelie Stuart, a postdoctoral research fellow at the University of Exeter. "People need a compelling reason to switch social networks – but does the general user, the demographic that would make up a critical mass, tend to get censored?"
Stuart researches the connection between the concept of privacy and identity, the ability for someone to feel they can "be themselves" and act freely. "I would think about a successful social network in terms of whether it allows you to be the kind of person you want be, and connect with the kind of person you want to connect with," she says.
A blockchain-based freedom of expression
It's a concern that's all too resonant. Social networks have a long-running problem with spam, fake news, bots and trolls who devalue the standard of communication. Facebook and Twitter have removed hundreds of accounts linked to "inauthentic" or "manipulating" activity, many of whom class themselves as alternative media sites that report the news ostensibly ignored by mainstream media.
Some of these accounts, which had millions of followers, are now setting up new homes. The Anti-Media and The Free Thought Project are two such media outlets now posting on Minds, a privacy-focused social network that promotes "a free and open internet where privacy is ensured". Content is not moderated unless it violates house rules: no doxing (revealing another user's personal information), no violence, and no harassment.
Around 1.25 million users are currently on the platform, including the hacktivist group Anonymous. 150,000 users joined between the end of June and start of August; 100,000 of these were Vietnamese netizens following the implementation of an internet censorship law that gives the government power to censor user content across the web and force service providers to potentially turn over vast amounts of customer data.
"We see waves of users join Minds on the backs of privacy breaches and censorship events," says Minds co-founder Bill Ottman. "Free speech is a big reason and we have users from across the political spectrum. People are unified in their desire to avoid the polarisation happening on the major social networks."
The platform is one of a growing crop of decentralized social networks built on blockchain technology, where content and data is encrypted in servers across the network, which offers a guarantee that posts are not censored – content can't be deleted when it is saved in multiple locations. It promises it does not track users or monetize their data – instead, it generates revenue through a blockchain-based token system, where users are encouraged to Wire payment to other users for content they like.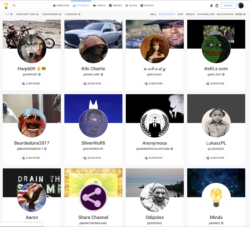 A channel is Minds lingo for a profile, aptly so, as the platform has a Tumblr-esque focus on content: high quality image and video, blog-style posts, and a discovery feature to find new creators. There are many artists, musicians and writers sharing their creations, as well as journalists – some who have been banned on mainstream social sites, some drawn by the concept and ideology of the platform.
However, browsing the most popular channels, which may have tens of thousands of subscribers and millions of views, it's hard to overlook xenophobic, gun-promoting, or other extremist posts that do, in fact, contain violent speech (in one thread, a user threatened to assault another user's wife).
When it comes to questions of whether this type of open discourse needs some moderation, Ottman is firmly in the school of thought that censorship can quickly spread extremism.
"Of course, there are challenges with regards to trolling, but that exists on every social platform," he says. "Yes, we do get a small percentage of extreme users, but studies show that censorship infuriates these people and it causes them to amplify their ideas – by going under different names, for example, or flocking to other networks, potentially like us."
Where the social networkers go
Minds and MeWe are not the only alternative social networks that find themselves inadvertent hubs for extremist users resentful of moderation by the likes of Facebook and Twitter. Gab, a would-be Twitter replacement that invites its users to #SpeakFreely, is hugely popular with far-right users. Shortly before a gunman opened fire on Pittsburgh's Tree of Life Synagogue, killing 11 people, he had allegedly been on Gab, penning anti-Semitic, violent posts. Upon this discovery, Gab's hosting provider shut down the site – and within a day, a satellite group had set up on MeWe.
Which makes Ottman's point – what is banned on one site easily sprouts on another – and highlights the challenge for those who want to leave the incumbent social giants. The attraction of a free speech-promoting site for extremists does mean that these otherwise commendable platforms might not exactly be where the everyday user wants to banter and post pet photos – especially when they're already all set up with friends and family on that other giant social network.
It would be a shame, because Minds and MeWe – and predecessors like Diaspora and Path – have a great offering: data privacy in the revealing arena of social network behaviour, at a time when tracking by tech companies and passive surveillance by governments have many people spooked.
"People are becoming far more aware of how their data is being used," says Nathalie Nahai, an expert in web psychology and author of Webs of Influence: The Psychology of Online Persuasion. "It is absolutely possible that people embark on a mass exodus from huge networks like Facebook. I think a couple things that will shape the viability of alternative social platforms are a focus on specific interest groups, whose popularity then attracts a wider demographic, as well as the clear respect for digital rights and privacy."
One potential killer app for Minds and MeWe is the improved reach: How many subscribers see a post. Facebook algorithms that rank newsfeed posts have made it significantly harder for companies as well as individuals to reach all their followers or friends. Twitter and Instagram similarly order the newsfeed by engagement – posts that are liked or commented on are more likely to be seen.
One of the incoming premium features on MeWe, MeWe Pages, is intended to be a direct competitor to Facebook's business Pages. Instead of paying to promote each post's position in newsfeeds, MeWe users can subscribe to Pages for $1.99/month. "100% of followers will see everything you post, in timeline order," Weinstein says.
On Minds, content is shown in chronological order, but creators have an extra option to "boost" their posts with tokens they either purchase or receive from other users, a model that rewards users already creating good content, while allowing the possibility for newcomers to get on the ladder.
"Everyone wants to be able to reach people who subscribe to them – this is the common thread whether you're a teen who loves memes or a digital rights activist. When algorithms affect our ability to even communicate, that's something everyone can get on board with," Ottman says.
The model of social media success
The privacy paradox goes that people are highly concerned about their privacy, yet rarely make any changes to their behaviour. This is especially true on social media, where the convenience of a well-worn Facebook or Twitter account makes a great case for not switching to a platform with a better privacy policy but hardly any of the friends.
Other privacy-first social networks haven't captured a critical user mass on ideological grounds – what's interesting is that networks like Minds and MeWe have launched with slick, powerful features for a new model of social network, their robust suites of privacy technology an under the hood feature for the savvy and security-concerned.
"Where other social media sites have fallen down in the past, they haven't advertised to particular interest groups, or sold themselves on that basis," Stuart says. "You need groups and communities to flock to a new site – and they need a good reason to flock in the first place."
Perhaps the key to usher in a new generation of social networks is to get back to the basic pull of the social platform: communication and being a great place for it – people-friendly privacy policy included.