Ookla's Speedtest app for Android and iOS devices now comes with a free VPN tool, a service that draws from NetProtect's VPN infrastructure.
NetProtect, parent company to various VPN services including Encrypt.me, IPVanish, SaferVPN, and StrongVPN, is a security brand belonging to the tech giant J2Global, which owns Ookla.
Before the most recent update, Speedtest encouraged users to download Encrypt.me to protect their data, providing a link to a two-week free trial of the premium VPN service from within the app.
It's unclear whether the new VPN tool uses Encrypt.me's infrastructure or any other NetProtect VPN servers.
Speedtest VPN, which is currently in beta phase, is integrated into the main Speedtest mobile apps, downloadable from the Google Play Store and Apple App Store.
It comes with 2GB of free data per month and automatically connects users to the VPN server location closest to their physical location with the lowest load.
According to Speedtest, there are over 40,000 shared IP addresses available to users.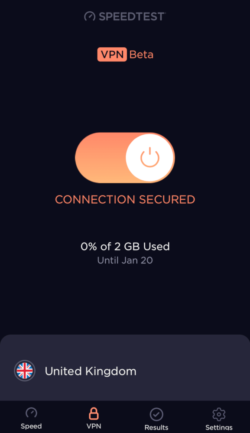 While there is currently no premium VPN service available, Speedtest VPN's data limit suggests that there will be a paid-for subscription tier in the future.
According to Speedtest's FAQs page, the Android app is based on the OpenVPN protocol, and the iOS app employs IKEv2. The encryption cipher used by either app is not disclosed.
Torrenting and P2P traffic appears to be permitted as Speedtest doesn't limit "any type of content accessed through [its] VPN."
Speedtest VPN claims to be zero-logs and states that it does not "collect, store or sell any online activity data … [including] sites you visit, your search history, and your app content."
However, it does associate your account with a unique device identifier and/or purchase receipt.
The VPN also tracks data usage to distinguish between free and paid users, and anonymous and aggregated crash report data and device type information to improve the service.
If you use the speed testing functionality while Speedtest VPN is enabled it also collects your device type and operator.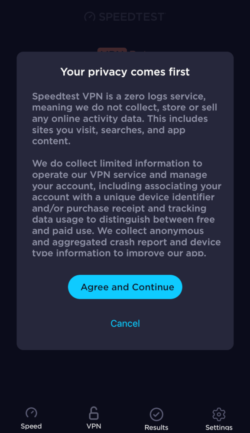 The VPN is only available for Android and iOS devices right now, but Speedtest promises that it will be rolling out the service to more devices in the future.