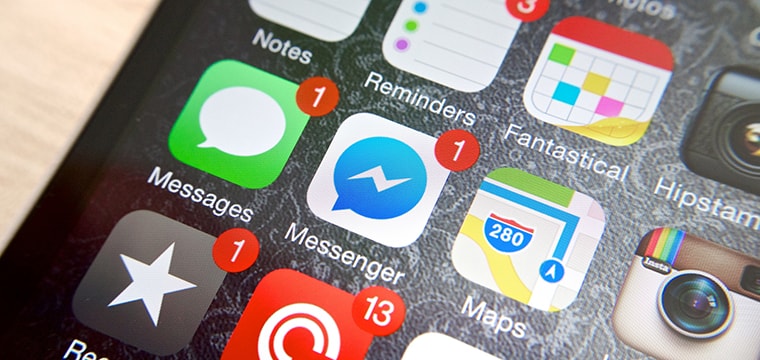 Why Facebook Messenger Kids Is A Bad Idea
Facebook doesn't have the best of reputations when it comes to making wise use of its users' data. And now it wants to come for your kids. Late last year, the social media giant announced Messenger Kids, a stripped-down version of its famous messaging app that is specialized for children under the age of 13. The app is currently available in the U.S. Apple App Store, and will soon launch in other platforms and geographical locations.
According to Facebook, the app "lets kids connect with people they love but also has the level of control parents want," and in its defense, Messenger Kids does a decent job protecting children from many of the ills that lurk in the dark recesses of online messaging platforms. Only parents can install and setup the app on their kids' devices. Parents also manage their children's contacts, which prevents predators from communicating with their kids. The app also provides kids with a rich set of tools to decorate their videos and selfies without exposing them to inappropriate content on the web.
And this is how Messenger Kids handles data and advertisement, the bread and butter of Facebook's revenue:
There are no ads in Messenger Kids and your child's information isn't used for ads. It is free to download and there are no in-app purchases. Messenger Kids is also designed to be compliant with the Children's Online Privacy and Protection Act (COPPA).
Sounds like a good bargain, right? Not quite. In fact, there's much more to Messenger Kids than Facebook openly admits, and as it happens, the social media giant gets a lot more out of its "free" app than parents do.
There's much more to Messenger Kids than Facebook openly admits
First, parents must have a Facebook account to register their children with Messenger Kids and to manage their contacts in the app. If those children have friends they want to communicate with, their parents also need to have Facebook accounts. This will give Facebook plenty of new users, parents who had kept their distance from social media but must create a Facebook to manage their kid's Messenger Kids account. Meanwhile, it will lock in existing users who now must stay on Facebook for the sake of their children. Facebook will have no constraints on collecting and monetizing the data of all the grown-ups that will be joining its platforms.
Second, while Facebook clearly states that "your child's information isn't used for ads," this doesn't mean that it's not collecting your child's data. In fact, according to its privacy policy page, Messenger Kids collects quite a lot of information about your kids, including registration information, content of communications and interactions with the app, and device information—basically everything they do on the app, and then some. (For some strange reason, there are no links to the privacy policy on the main blog post that introduces Messenger Kids. I had to find it from other sources.)
Is Facebook legally permitted to collect all this information? The company claims the product is designed to be compliant with COPPA, a law that puts strict limits on how companies like Facebook can collect and use the data of users under the age of 13. But those limits only apply until the company in question receives the consent of a parent or guardian. And that's exactly what you're doing when you use your own Facebook account to sign up your kid with Messenger Kids.
Facebook logs everything kids do on the app using parental consent to circumvent the law
Facebook CEO Mark Zuckerberg hasn't made a secret of his discontent with COPPA. In 2011, he said at an education summit that he would eventually challenge the regulation sometime and he wanted children under the age of 13 to join his data hungry online social network. He didn't succeed in changing the law. Instead he's using parents to circumvent it.
What does Facebook do with children's data? Messenger Kids' privacy page says it uses it to improve its services, promote safety and to respond to queries by parents and guardians. It will also share it with the "Facebook family of companies," which includes Facebook itself. This means that while law prohibits Facebook from displaying ads to children, nothing is preventing it from using their data to display relevant ads to their parents in its main platform. And it already knows who their parents are, remember.
Kids' data is shared among the "Facebook family of companies" with nothing preventing it being used to advertise to their parents
Moreover, with Messenger Kids, Facebook is trying to make sure that as children grow up, they become attuned to its culture and will eventually sign up with its main service of their own accord, especially as they already have a lot of friends in the platform. And when they do, it will already have a ton of data about them to start monetizing their experience instead of starting from scratch.
And let's not forget that while Messenger Kids is free from the dangers that exist in other messaging apps, it won't prevent children from using their device to sign up to all those other services, including Facebook's own social media network. Many children already register in those services before they're 13 years old by lying about their age.
Therefore, what parents get at best is a false sense of security and relief. What Facebook gets is a ton of data and new users to further expand its online empire.
If you're really concerned about your children's health and safety, how about spending some quality time with them in person instead of giving them devices that are bad for their mental health and putting them in the hands of a company whose very founders are worried about the adverse effects its creations have on children?
Image credit: Kārlis Dambrāns