Buffered could be a great beginner's VPN if it weren't for some intrusive – and under-publicized – data collection. It's fast, the apps are super user-friendly, and it offers some strong security extras.
Another reason to be a little wary of Buffered is its link to VPN comparison site BestVPN.com – they are owned by the same people.
BestVPN.com unsurprisingly rates Buffered very highly on its site – a 9.5 out of 10 to be exact – and a snippet of the review is displayed under 'VPN Critic Reviews' on Buffered's website. The connection isn't made clear on either site, though.
Having said that, Buffered is secure enough for protecting yourself from malicious third parties on public WiFi.
Pricing & Deals
Buffered is neither cheap nor expensive, at least when you opt for the two-year plan.
Paying month–by-month will set you back a costly $12.99 but you can save 68% if you choose to pay every two years, working out at a reasonable $4.12 a month.
There's also a 12-month plan at $6.59 a month, which is a little overpriced for what you get.
Buffered Coupon
Buffered
Get 68% off Buffered's 2-year plan
Buffered Pricing & Deals
Best Value Deal
2 Years
US$4.12/mo
Save 68%
Billed $99.00 every 2 years
12 Months
US$6.59/mo
Save 49%
Billed $79.00 every 12 months
1 Month
US$12.99/mo
Billed $12.99 every month
Buffered doesn't come with a free trial but it does offer a 30-day money-back guarantee with no strings attached – just make sure that you pay for the service on Buffered's website and not via a third party like the Apple Store or Google Play Store.
All you need to get in touch with the support team and provide a reason for requesting a refund. It will be processed "as soon as possible" but this can take up to 30 days.
Payment & Refund Options
Buffered accepts most popular payment methods including major debit and credit cards, PayPal, and Bitcoin.
Unfortunately, it doesn't currently accent any international payment methods such as AliPay.
Speed & Reliability
Buffered is fast – not just on local connections but internationally too. Sure, it's not quite as blisteringly fast as some of our top-tier providers but its performance won't let you down.
Local speeds reach a very quick 81Mbps down and 60Mbps up in the UK (where we test from), and were consistent throughout the rest of Europe. Speeds into the US East Coast were impressive too, at 42Mbps up down and 45Mbps up.
While connections to Japan struggled to reach 10Mbps up and down, we were pleasantly surprised with downloads to Australia, which reached 33Mbps. Bar Japan, all of these are plenty fast enough for HD streaming.
Latency was so-so, with same-country connections clocking at 10ms. It'll be speedy enough for most but gamers might notice some lag, in which case some VPNs offer ping times of under 1ms.
To read about our speed testing methodologies, please read How We Review VPNs.
Features
Server Locations
42
Countries
44
Cities
?
IP Addresses
Buffered has a middling server network with 42 countries on offer. Popular locations like the UK, US, Canada, and Australia are covered as well as plenty of countries in Western Europe.
Several options are provided for those in Asia, while South and Central America have just three. The whole continent of Africa is covered by just Egypt. If you need more coverage, we'd recommending taking a look at HideMyAss!, which offers 190 countries all over the world.
For a server network of this size, we'd expect there to be some city-level servers but the most you can do is choose between the East Coast, West Coast, and Midwest of the US. This will be frustrating for those who want to access state-specific content.
Platforms & Devices
Apps
Windows
Mac
iOS
Android
Linux
Router
Buffered offers custom apps for the usual popular devices – Microsoft Windows, MacOS, Linux, Android, and iOS – and you can use it on up to five at any given time.
We were disappointed to see a lack of native apps for streaming devices and games consoles, but the software is compatible with various router types, and Buffered providers loads of simple setup guides on the website to get you started.
You can also buy pre-flashed routers if you're not comfortable with manual config.
Once your router is setup with the VPN, all Internet-connected devices in your home will be protected.
Streaming & Torrenting
Buffered is a definitely no-go for fans of Netflix or BBC iPlayer. While we could watch US Netflix on occasion, it wasn't very reliable and we couldn't access BBC iPlayer at all. A lack of city-level servers means that you can't use trial-and-error to find one that works to access the popular services. You can read our VPN recommendations for streaming here.
There are no restrictions on P2P activity and uploads are quick local uploads, but an unclear privacy policy and the collection of detailed timestamps makes us hesitant to recommend it to torrenters.
Encryption & Security
While there aren't many configurable options available, Buffered does the security basics well.
It runs exclusively on OpenVPN, our preferred VPN protocol known for its balance between performance and privacy. While it'd be useful to have other protocol options for high-censorship countries, you do have control of choosing between UDP and TCP.
It has a VPN kill switch (though not for the mobile apps yet), which is an essential privacy feature that blocks internet traffic should the VPN connection drop, preventing any potential personal information leaks.
Buffered also owns its own DNS servers and comes with built-in DNS leak protection, which was working effectively during our independent leak tests.
There isn't much in the way of advanced features, but you can connect using Port 443, which is useful for bypassing censorship blocks.
Security
DNS Leak Blocking
First-party DNS
Supports TCP Port 443
VPN Kill Switch
Bypassing Censorship
While the Buffered website states that it is the "stealthiest and most efficient VPN for China", a support agent described providing access in the country as "an ongoing struggle". He said that while Buffered does sometimes overcome issues, the solution often doesn't last for long.
Buffered supports Port 443, which is useful as it generally goes under the radar to bypass censorship – but it may struggle to provide consistent connections during crackdowns. If you need a reliable VPN while you're there then you should check out our top recommendations for China.
Privacy
Logging Policy
Finding out what exactly Buffered does and doesn't log turned out to be a fairly laborious task.
There's a Logging Policy included in the FAQs that states "we don't log any of your online traffic", with just the "duration of your connection" being retained, but it gives no further details as to what this entails.
The Privacy Policy – a separate web page – doesn't mention anything about logging the "duration of your connection" but it does list a lot more information that's collected if you don't switch off the 'Report operational errors' feature from within the app.
These are stored for 30 days unless a "legal dispute" requires them to be kept for longer. This may include "but is not limited to":
IP addresses
Unique device identifier
Operating system's version
Language
Network information
User information on the operating system
Routing tables
DNS server addresses
Other filesystem information
It's concerning enough that Buffered may log your IP address, which can be used to identify you, but the fact that the above list isn't comprehensive makes switching off the error reporting feature absolutely essential.
After reading the Logging Policy, Privacy Policy, and the Terms and Conditions, we were still left a little confused, so contacted support to clarify exactly what is and isn't collected. The response: "We do not log anything other than the time spent on each server".
We then came across an option within our account section on the website labeled 'Download My Data'. We were shocked to find, alongside our name and full address, a complete list of timestamps with the country connected from and the server location we connected to (see image below). That's far more detailed than the "time spent on each server", which doesn't imply exact timings of connection and disconnection.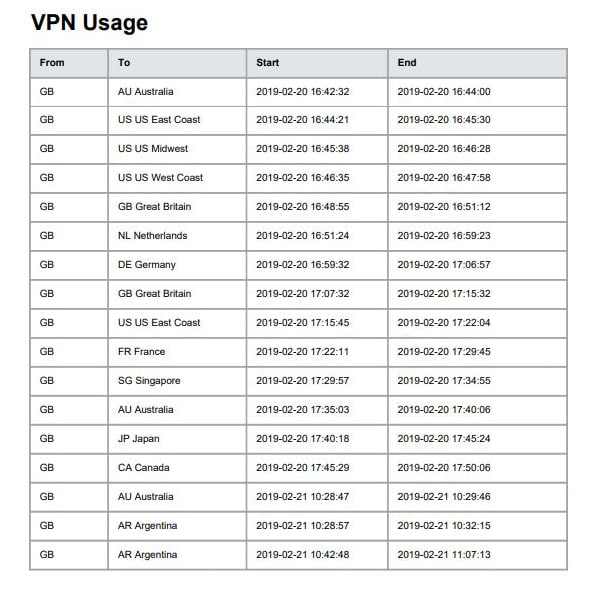 Buffered's logging policy is far more intrusive than it lets on to be.
Jurisdiction
Buffered is incorporated in Gibraltar, a jurisdiction that's technically outside of the Five Eyes intelligence-sharing alliance. However, it's a British Overseas Territory, which has led to some debate over how much influence the UK – a member of the alliance – has over it.
Buffered states that it will hand over your personal data in order to "comply with any legal obligation" or "to enforce or apply [its] Terms of Use and other agreements".
As Buffered takes intrusive logs, such as your IP address (if error reporting is switched on) and detailed timestamps, the lack of clarity – combined with its willingness to cooperate with law enforcement – is concerning.
Ease of Use
Buffered couldn't be much simpler to use, even if it comes at the detriment of configurability somewhat. The apps are sleek, modern, and intuitive, but we did experience a couple of connection errors when we first tried to connect.
The main screen shows a list of servers ordered alphabetically with the option to favorite your preferred ones so that you can easily access them each time you connect. We like the connection screen that gives you useful information such as your new IP address and total amount of data used.
The settings menu is fairly concise, but here you can toggle on the VPN kill switch and, most importantly switch off the 'report operational errors' setting, which prevents Buffered from accessing personal information such as your true IP address.
Getting Started
Buffered is really simple to set up on supported devices. Just download the relevant software from your account Dashboard on the website, click through the installation prompts, and log in. Just remember to use your username and not your email address.
Customer Support
While we missed live chat support, we found plenty of resources on Buffered's website. They are well-organized and accessible – it's clear that they have been written by people who have experience reviewing VPNs in plain English for beginners.
There are loads of FAQs, installation guides, troubleshooting tips, and a wealth of information about VPNs in general. You should be able to find what you're looking for but email support is helpful and quick to respond.
The Bottom Line
What we like
Very fast - peaks at 81Mbps down & 60Mbps up
First-party DNS servers & a VPN kill switch
Simple custom apps & manual workarounds
Connect securely to 42 countries
What we like less
Takes detailed connection logs
Access to Netflix unreliable
No city-level servers
No live chat support