Disclosure: Top10VPN is editorially independent. We may earn commissions if you buy a VPN through links on our site.
Our Verdict
CactusVPN is a no-logs VPN service with servers in just 22 countries. Though it's a decent choice for streaming and torrenting, the VPN leaks your DNS if not properly configured. CactusVPN is a respectable VPN, but there are better alternatives to choose from.
CactusVPN is fairly small, but it has managed to build a dedicated audience, so we set out to discover if it meets, or even exceeds these promises.
We've tested the VPN extensively for this CactusVPN review to find out where it excels and where it doesn't perform quite as well as the competition. We will answer questions including:
Is CactusVPN safe?
Can I use CactusVPN for torrenting?
Is this service of good value?
Where is CactusVPN based?
What is CactusVPN Smart DNS?
Keep reading to see just how well CactusVPN fares against the larger competition.
CactusVPN Pros & Cons
Pros
Works with US Netflix & BBC iPlayer

Strong no-logs policy

User-friendly apps

Good for torrenting

Quick, helpful customer service
Cons
Smart DNS does not encrypt traffic

Leak protection not enabled by default

Limited amount of server locations
CactusVPN Key Data
| | |
| --- | --- |
| Data Cap | Unlimited |
| Speed | 88Mbps |
| Logging Policy | No Logs |
| Data Leaks | Yes |
| Jurisdiction | Moldova (Privacy Haven) |
| Servers | 37 |
| IP Addresses | 37 |
| Countries | 22 |
| US Netflix | Yes |
| Torrenting | Unlimited |
| Works in China | Unreliable |
| Support | Online Resources, Email Ticket, Live Chat |
| Cheapest Price | $2.77/mo over 24 Months |
| Official Website | CactusVPN.com |
CactusVPN Category Ratings
We test and review every VPN in eight key areas. Here's how CactusVPN performs in each category:
Privacy & Logging Policy: 9.9/10
Encryption & Security: 7.2/10
Speed & Reliability: 7.6/10
Streaming & Torrenting: 4.1/10
Bypassing Censorship: 7.0/10
Ease of Use: 8.4/10
Customer Support: 9.0/10
Price & Value for Money: 7.0/10
To learn more about our methodology, read our full VPN testing process.
Who is CactusVPN?
About & Logging
Privacy & Logging Policy Rating: 9.9/10
CactusVPN is a small, independent VPN company, which has been incorporated in Moldova since it was founded in 2011.
The company originated as a startup and has now been in operation for nearly a decade.
While CactusVPN has never pushed through to the forefront of the VPN market, it has maintained a dedicated user base throughout this time.
Its jurisdiction in Moldova isn't too common among commercial VPNs, but appears to offer pretty good data privacy and protection.
Moldova isn't part of the EU, or part of the Five-, Nine-, or 14-Eyes data sharing allegiances. It also isn't part of any other known data sharing groups, like SIGINT.
Like all the best VPN jurisdictions, it also doesn't have any legal requirement on companies to keep data logs, or to hand those logs to the authorities.
Unlike many of these privacy havens, however, it also has pro-consumer data protection legislation which is approximately equivalent to GDPR, and gives users the right to request and delete any personal information kept on them.
Some of the strength of Moldova as a jurisdiction appears to come from a lack of legislative focus on data practices, though.
In the short term this is great news, as there is no law or precedent compelling CactusVPN to keep logs or hand over information to either domestic or foreign governments.
The flipside, though, is that the legal situation may change in the future.
Moldova has recently distanced itself from the EU, but maintains a relationship with both it and Russia.
The evolving political situation, and Moldova's still-in-development data law make it difficult to pin down just how good a region it is for privacy – we've called it a 'Privacy Haven' above, but there has been a history of (non-digital) surveillance in the country.
In any case, the precise legal situation of Moldova will be irrelevant if CactusVPN doesn't keep any logs in the first place.
Logging Policy
The following logging policy is laid out in CactusVPN's terms and conditions:

This is a really strong policy which, while short, gives us confidence in CactusVPN.
It doesn't keep records of your activity or any metadata, not even any hashed or anonymized metadata about your connection. This is about as good as it gets for VPN logging policies.
We would like to see CactusVPN carry out and publish a full audit of this policy in the near future, though, to confirm it is as good as it sounds.
Strong local speeds drop off globally
Speed & Reliability
Speed & Reliability Rating: 7.6/10
CactusVPN performed pretty well in our standardized speed tests – certainly well enough to stream HD video.
Latency isn't great, though, so you might struggle to play online video games due to high ping, even on a local connection.
Local Speed Test Results
Before using CactusVPN:
Download97

Mbps

Upload99

Mbps

Ping5

ms
When connected to CactusVPN:
Download88

Mbps

Upload91

Mbps

Ping19

ms
These are really good local speeds – right up there with the biggest VPNs, like ExpressVPN or CyberGhost.
This kind of performance should let you use the internet exactly as you normally would without noticeably reducing loading speeds or buffering times.
But can CactusVPN keep up on the international stage?
We test every VPN by measuring the speeds of its worldwide connections from our office in London, England. These were our results:
US: 14.14Mbps (download) & 9.67Mbps (upload)
Germany: 84.41Mbps (download) & 87.01Mbps (upload)
Singapore: 25.88Mbps (download) & 8.1Mbps (upload)
Australia: 4.17Mbps (download) & 4.06Mbps (upload)
Connections to Europe were fast, suffering only around a 10% drop in speed. Global connections were a different story, however, with connections to Australia, Asia, and the US experiencing at least a 70% drop in speed, with terrible latency.
Larger drops over long distances aren't at all uncommon. Only the best VPNs manage to keep a decent connection to places like Singapore and Australia – CactusVPN's results aren't bad, but they've fallen short of the top tier here, particularly with the US.
Small server network focused on Europe & the US
Server Locations
The network isn't huge, but gives good coverage of Europe and America in particular. There are 15 servers in Europe and eight across North America – good news if you live in one of these areas.
Asia and the Pacific have some coverage: five servers between them. Users across these regions may find their performance varies significantly based on their proximity to the server locations, though.
There are servers located in Seoul, Sydney, Tokyo, Singapore, and Faridabad (India). Anyone based too far away from these locations cannot expect the same performance.
There isn't any luck for those living in Africa, South America, or the Middle East either, since these locations have no VPN servers.
CactusVPN only operates 39 IP addresses, which isn't very many at all. While we haven't experienced any performance issues, this could cause bottlenecking at peak times.
Lots of options through Smart DNS, but none on the VPN itself
Streaming & Torrenting
Streaming & Torrenting Rating: 4.1/10
If you get the full package, CactusVPN is split into two halves. A VPN which offers good security but is pretty ineffective at getting around content blocks and a Smart DNS proxy service which doesn't offer any security but works exceptionally well at unlocking content.
We aren't huge fans of this way of doing things, since you won't be secured behind your VPN nor fully anonymous while streaming.
With some browser compartmentalization (where you split different kinds of activity between multiple browsers to confuse any onlookers) and a proactive approach to maintaining your privacy and security, though, it certainly isn't the worst method.
In all, Cactus VPN's Smart DNS service unblocks over 340 streaming sites. This includes US Netflix, BBC iPlayer, and Amazon Prime Video. You can see the full list of supported streaming services here.
Torrenting
CactusVPN only allows P2P traffic on certain servers, but they are well-labeled and easy to find online and in the app. They make up about a third of the total network.
When properly configured, there aren't any leaks, which is vital if you want to torrent safely and anonymously. Although it's a concern that configuration is necessary in the first place.
Its no logs policy is very good, so you can feel comfortable there won't be a record of your activity.
While CactusVPN's speeds aren't the very best we've seen, local performance is certainly good enough to download and seed large files with ease in Europe.
Users in the Pacific and North America might struggle to torrent, though, because all the servers which allow P2P traffic are located in Europe.
Mixed results in China
Censorship
Bypassing Censorship Rating: 7.0/10
According to CactusVPN, it currently does work in China for users with either the SoftEther VPN protocol or the OpenVPN protocol.
We've seen varied statements online about whether or not it does work in China. Most likely it doesn't work all of the time, and requires some fiddling to get going.
It does have some obfuscation technology in place, though, and allows you to route traffic via Port 433. This should help get your traffic past the censors in countries like Iran and Turkey more consistently.
For the best chance of connecting to the global internet from China, though, we recommend taking a look at our favorite VPNs for China.
A wide selection of custom apps
Platforms & Devices
Apps
Windows

Mac

iOS

Android

Linux

Router
Games Consoles & Streaming Devices
AppleTV

Amazon Fire TV

Chromecast

Nintendo

PlayStation

Roku

Xbox
Since you can install CactusVPN on a router – albeit with some fiddling – it is possible to use it with a large range of games consoles and streaming devices, including PlayStation 4, Xbox One, Nintendo Switch, and Smart TVs.
It also has a dedicated app for the Amazon Fire TV Stick and Amazon Fire TV, making it extra easy to set up on these devices.
Browser Extensions
Chrome

Firefox
CactusVPN produces browser extensions for both Firefox and Chrome. These are good options if you want lightweight access to location spoofing, but not actually a full VPN.
Like most "VPN browser extensions," these don't encrypt your data and only protect your in-browser activity.
There isn't an extension available for Safari, but the CactusVPN proxy can be set up manually.
Still, these extensions are popular and encouraging to see.
Leaks without configuration
Encryption & Security
Protocols

IKEv2/IPSec
L2TP/IPSec
OpenVPN (TCP/UDP)
PPTP
SoftEther
SSTP
WireGuard

Encryption

AES-128
AES-256

Security

DNS Leak Blocking
Supports TCP Port 443
VPN Kill Switch

Advanced features

Smart DNS
Split Tunneling
Encryption & Security Rating: 7.2/10
Using OpenVPN we found that every single server we connected to leaked our DNS information. This is a potentially serious flaw which can deanonymize you and make it clear that you're using VPN software.
This would be very damaging if it weren't easily fixable; you just need to navigate to the in-app settings menu and tick 'DNS leak protection'.
This begs the question, though: why isn't leak protection active by default?
It is a really simple oversight that radically decreases the security and privacy of CactusVPN for those who don't know how to fix it. Fortunately, you now know how.
We were especially disappointed by this flaw because CactusVPN otherwise offers a pretty secure service.
The app includes a functional kill switch, which prevents your computer from connecting to the internet if your VPN connection drops unexpectedly.
Without a kill switch you can't trust a VPN to never expose your data or give up your true IP address. With CactusVPN you don't need to worry about it.
It also supports routing through TCP Port 443 – the port used by most HTTPS traffic. This can help keep the fact that you are using a VPN secret from government and corporate censors.
Designed for novices
Ease of Use
How to Install & Set Up CactusVPN
Ease of Use Rating: 8.4/10
All the CactusVPN apps we've tried have worked well, with only a few minor snags.
The Smart DNS off/on button is in a different tab to the country select. We aren't sure why the app is set out like this – it's pretty confusing.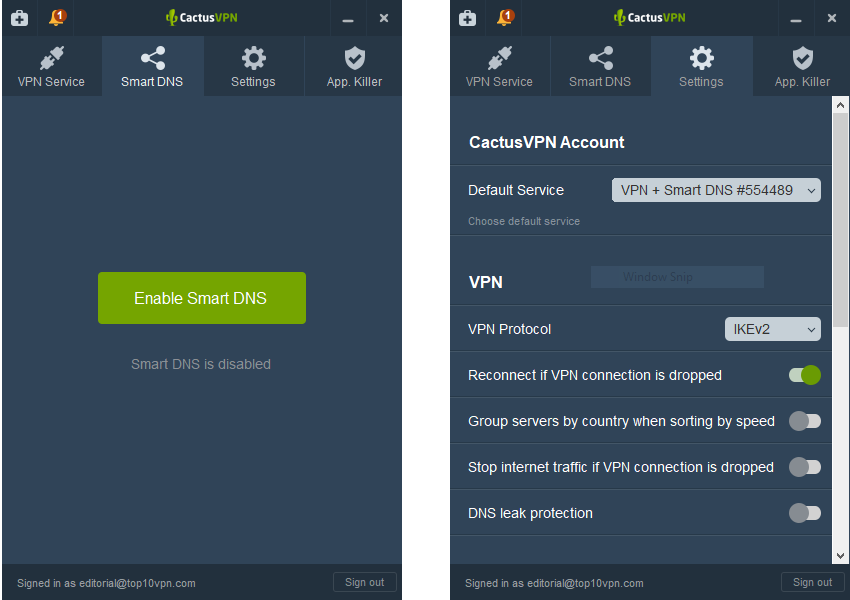 Other than that the apps are generally very intuitive and easily laid out. You do have to manually disconnect any Smart DNS or VPN connection before you can establish a new one, though, which can be awkward.
The country select is in an easy to navigate drop-down menu which you can sort by country or speed. There's no search, but there aren't really enough servers to warrent on, anyway.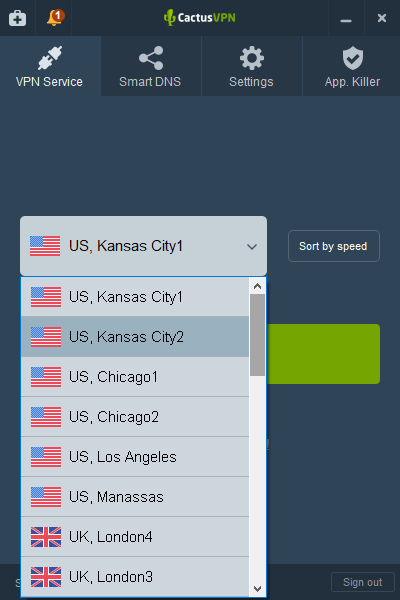 Expert help for most of the day
Customer Support
| | |
| --- | --- |
| Live chat Support | Yes |
| Email | Yes |
| Online Resources | Yes |
Customer Support Rating: 9.0/10
The CactusVPN customer support team is anything but prickly.
We found it responded to all our questions quickly and helpfully.
The online resources are pretty comprehensive too, if difficult to navigate at times.
Livechat isn't available 24/7, unfortunately, as CactusVPN has a fairly small team. It gets pretty close, though, with someone available to help 7am to 4pm and 6pm to 2am UTC, Monday to Friday.
The flipside of a small team is that help goes beyond the scripted responses of some larger, more corporate providers.
Competitively priced
Pricing
Price & Value for Money Rating: 7.0/10
There are a few different competitive pricing plans available from CactusVPN, ranging from one month to two years.
They all get you access to both the VPN and Smart DNS services.
The 2-year plan is the best value option available for CactusVPN, but the one and three month plans aren't terrible value either.
All plans have 30-day money-back guarantee
Payment & Refund Options
| | |
| --- | --- |
| Credit Card | Yes |
| PayPal | Yes |
| Bitcoin | Yes |
CactusVPN offers a great selection of payment methods.
It accepts major credit cards (Visa, MasterCard, and American Express) as well as online payment methods including PayPal, Alipay, Webmoney, Yandex.Money, Boleto Bancario, and Qiwi.
For the most private option, we recommend using Bitcoin or Altcoins, which are also accepted.
CactusVPN does offer a limited 30-day refund policy if the "service doesn't work as advertised." Ideally, we would really like to see this expanded to a no-questions-asked refund policy, so you can make sure CactusVPN is right for you.
Do We Recommend CactusVPN?
The Bottom Line
Yes.
CactusVPN is a good all round option from a smaller VPN provider in a decent jurisdiction.
There are better VPNs, but also much much worse VPNs, and Cactus VPN comes in at very good value.
The great customer service is a particular perk, too.
If you do go with CactusVPN, though, make sure you have DNS leak protection enabled.
Alternatives to CactusVPN
Windscribe
Windscribe is just marginally cheaper than CactusVPN, and offers a similar profile of features and custom apps. It has a dedicated following and is increasingly nipping at the heels of top providers with its user-friendly design. Read Windscribe review
AirVPN
For around the same price as CactusVPN, AirVPN offers a great, trustworthy service for the more technically inclined. It certainly isn't a starter VPN, but offers a huge array of advanced features, and has a very active forum and community to keep you updated. Read AirVPN review
---
User Feedback for CactusVPN