Disclosure: Top10VPN is editorially independent. We may earn commissions if you buy a VPN through links on our site.
Our Verdict
DotVPN is a mobile VPN for android and ios devices with a sensible privacy policy. It is pretty fast but lacks proper security on iOS and has no kill switch on any platform. It also lacks P2P support, cannot unblock streaming sites, and offers very few server locations. We recommend avoiding it, especially on iOS.
DotVPN claims to offer a "better way to VPN," but what does that mean? With millions of users choosing more popular and well established VPN brands, could this claim really be true? 
Are we overlooking a hidden gem in the VPN market? We wanted to find out, and address the thoughts and questions that prospective users are asking, like:
How good is DotVPN?

What does DotVPN do?

Does it have a browser extension?

How do you use DotVPN?
We'll answer those questions and more in this DotVPN review. But first let's take a quick look at a summary of DotVPN's pros and cons:
DotVPN Pros & Cons
Pros
Good privacy policy

Very fast speeds

Simple pricing plans

Some decent security features
Cons
Very small server list

No streaming access

Torrenting not allowed

Can't tackle censorship

Some questionable security

Better customer support required
DotVPN Key Data
| | |
| --- | --- |
| Data Cap | Unlimited |
| Speed | 47Mbps |
| Logging Policy | No Logs |
| Data Leaks | No |
| Jurisdiction | Hong Kong (Links with China) |
| Servers | Not disclosed |
| IP Addresses | Not disclosed |
| Countries | 12 |
| US Netflix | No |
| Torrenting | No |
| Works in China | No |
| Support | Message Service |
| Cheapest Price | $2.90 over 12 Months |
| Official Website | DotVPN.com |
DotVPN Category Ratings
We test and review every VPN in eight key areas. Here's how DotVPN performs in each category:
Privacy & Logging Policy: 7.9/10
Encryption & Security: 3.9/10
Speed & Reliability: 8.6/10
Streaming & Torrenting: 1.0/10
Bypassing Censorship: 4.1/10
Ease of Use: 5.2/10
Customer Support: 3.1/10
Price & Value for Money: 6.0/10
To learn more about our methodology, read our full VPN testing process.
Who is DotVPN?
About & Logging
Privacy & Logging Policy Rating: 7.9/10
We've been able to find a few facts about who operates DotVPN.
"DotVPN" is copyrighted by Smart Security Limited. 
The address on its website is listed as Unit 19, 7/F., One Midtown, No.11 Hoi Shing Road, New Territories, Tsuen Wan, Hong Kong.
Although Hong Kong has an independent jurisdiction and isn't subject to any data retention laws, in real terms it has a very close relationship with the worst country in the world for privacy: China.
It's unlikely DotVPN would not respond to data sharing requests coming from the Chinese government, although from a legal perspective there is no official obligation to do so.
This makes Hong Kong a tricky place to base a VPN. It's even attempted to ban some VPNs under executive order. With so many countries in the world, and so many VPNs to choose from, there's no need to settle for a location you're uncomfortable with.
Logging Policy
DotVPN's privacy policy is readable within the app, which is good to see. Not many VPNs offer that. 
We trawled over it and will say this: it's largely a good privacy policy. Here is all the information collected should you use DotVPN:
Email address & password

IP address (retained for 24 hours)

Information about payment dates

Data from tech support or comments on the website for up to two years
Now, we know what you're thinking, and naturally we were worried when we read that DotVPN collects your IP address, too. But overall this is actually a very sensible and reasonable privacy policy that poses no threat to your privacy.
It's very minimal, and the temporary IP address storage is "to prevent spam, fraud or other abuse of [the] site and [its] services." This is fair enough, and while we'd obviously like to see no IP address logging whatsoever, there's nothing it could be used in tandem with to identify you. 
Very fast connection speeds
Speed & Reliability
Speed & Reliability Rating: 8.6/10
We got some impressive speeds when using DotVPN. Check it out:
Local Speed Test Results
Before using DotVPN:
Download52

Mbps

Upload55

Mbps

Ping3

ms
When connected to DotVPN:
Download47

Mbps

Upload46

Mbps

Ping46

ms
A speed loss of 10% on local connections is very good. You probably won't even notice the difference when DotVPN is running compared to your normal internet. 
We went further to test its speed for international connections. Would it perform just as well?
From our testing lab in the UK, we measured DotVPN's average speeds connecting out to various locations worldwide. These were the results:
USA:

42.29Mbps

(download) &

28.33Mbps

(upload)

Germany:

42.56Mbps

(download) &

45.36Mbps

(upload)

Singapore:

5.1Mbps

(download) &

9.17Mbps

(upload)
We're impressed: these scores are pretty good, too. Particularly when connecting to the US, which is picking up speeds as fast as a connection to Germany despite the extra distance. 
Singapore is disappointing but not surprising, considering how far away it is – poor speeds are common. 
All in all, DotVPN is a surprisingly speedy VPN, not too far behind some of the best. 
If you'd like to know how we came to these scores, we talk all about how we test VPNs here.
Small server list for a paid VPN
Server Locations
Undisclosed number of
IP Addresses
DotVPN claims to have 700 servers on its website, but once you download the app you'll see that it has servers in just 12 different countries, with next to no choice for anywhere outside of North America or Europe.
The only servers outside of these continents are located in Singapore and Japan – we were incredibly surprised to see no DotVPN servers in Australia or South America. Africa is also lacking in any coverage.
There are no city-level servers, which will be frustrating if you live in a larger country like the US, as it means you could end up connecting to a server over a thousand miles away. It'd be great to see a choice between East and West coast at some point.
The browser extensions offer more server locations (30 countries) but these are only proxies and nowhere near as secure as the mobile apps. 
Not recommended for streaming Netflix
Streaming & Torrenting
Streaming & Torrenting Rating: 1.0/10
It's unfortunate that DotVPN is absolutely useless for streaming. 
We tested it for Netflix and BBC iPlayer and had zero success. It's been this way for a long time, so stay away if you want a VPN for streaming. 
We'd like to see DotVPN make moves to work with these streaming services as well as Amazon Prime Video, Disney+, and BritBox.
As it stands, that's not the case and there seems to be little indication that DotVPN are working diligently on it.
If you need a VPN for streaming purposes then our top five list of the best VPNs for streaming has you covered. Want to get more specific? We've also collected the best-rated VPNs for:
Torrenting
Torrenting is unavailable or banned on all of DotVPNs servers, the service stating: "DotVPN does not support torrents and P2P connections."
DotVPN goes on to say that "this feature will certainly be added, although we cannot provide the exact date."
It's been saying this for a long time now, so if you're signing up to DotVPN hoping it'll introduce torrenting sometime soon we say don't hold your breath.
Look elsewhere to tackle censorship
Censorship
Bypassing Censorship Rating: 4.1/10
The fact that DotVPN has no sort of additional obfuscation tools means it's not a reliable option for use in China or other high-censorship countries.
DotVPN states in the support section that it always tries its best to overcome any sort of online blocks, but "unfortunately, in some cases, to overcome the blockage is not possible."
There are more reliable options out there that do a much better job in China – we like Astrill.
If you need more options for censored countries, check out our recommendations for:
Mobile VPN with some extensions available
Platforms & Devices
Apps
iOS

Android
DotVPN is available on Android and iOS. It's primarily a mobile VPN, but it also has a Chrome add-on. It claims to be developing a desktop app for Windows and MacOS. It told us mid-2019 for a desktop release, but it still hasn't arrived as of August 2021.
As we've already seen, DotVPN throws a lot of promises around about future developments, but we've seen no progress since we've been monitoring it – which is a while now.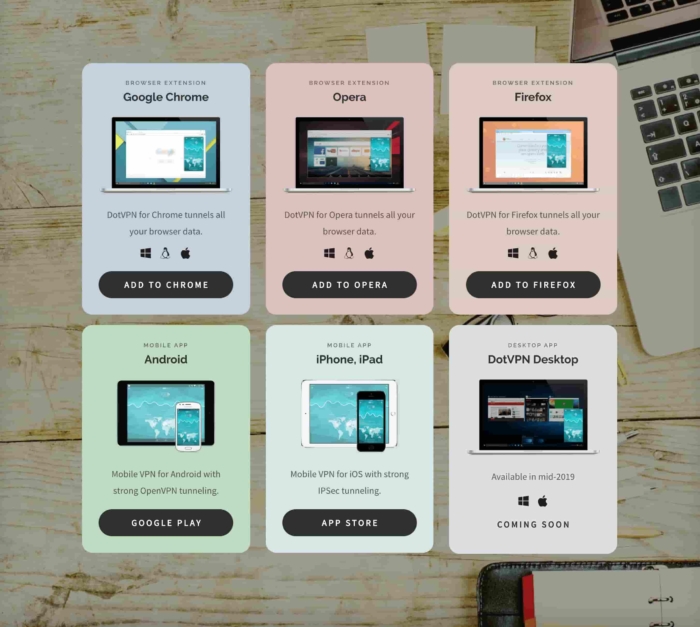 Games Consoles & Streaming Devices
There isn't a way of configuring DotVPN at router level. This means that you won't be able to protect all of your WiFi connected devices at once.
As there are no native apps for games consoles, it also means DotVPN can't work as a VPN for gaming. 
There are also no native apps for streaming services such as AppleTV or Amazon Fire TV. 
There are alternatives, though – you should consult our list of the best VPNs for gaming if that's your top priority.
If you're looking to protect yourself while using a streaming device, we've listed the best VPNs for the most popular devices on the market:
Browser Extensions
Chrome

Firefox
DotVPN has browser extensions available to install on Google Chrome, Opera, and Mozilla Firefox. 
It's important to remember that these aren't full VPNs, but proxies that work to spoof your IP with no additional security to speak of. 
Any other programs or background services (such as Netflix or Spotify) will operate outside of the VPN tunnel.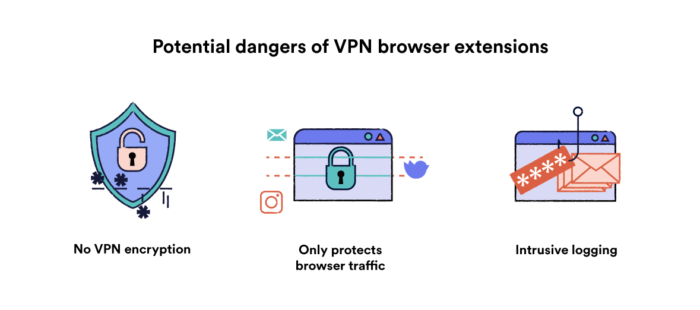 For everyday web browsing an extension is handy, and it certainly doesn't hurt to see DotVPN include one.
If you need a VPN for desktop, check out our recommendations for Windows and Mac.
Is DotVPN safe?
Encryption & Security
Protocols

L2TP/IPSec
OpenVPN (TCP/UDP)
SSL VPN

Encryption

AES-256

Security

Advanced features

Ad Blocker
TOR via VPN Server
Encryption & Security Rating: 3.9/10
The level of security on offer with DotVPN depends on which version of the software you use. 
The Android app offers the highest level of protection, using the OpenVPN protocol and AES-256 encryption.
Its iOS app comes with the same level of encryption but uses the less secure IPSec protocol.
IPSec should be secure when used in union with AES-256 encryption, but it's vulnerable to hacker attacks and is potentially compromised by the NSA. 
For this reason, we recommend using DotVPN with Android, should you have the choice. If you're an iPhone user then there are some much betterfree VPNs for iPhone and iPad out there.
DotVPN has a number of toggle options in the app, including 'Tracking Protection', 'Block Analytics', 'Firewall' and 'AdBlock'. It's nice to see such features, especially when they can be so easily turned on and off. 
DotVPN also claims to use its own DNS servers, an investment which helps to protect users privacy more considerably. More so, DotVPN lets you browse your favorite .onion websites with Tor via VPN server. 
We didn't detect any DNS or IPv6 leaks when using DotVPN, either. 
There is, however, no kill switch. This presents a big red flag in terms of security, as a kill switch prevents your true IP from being revealed should your internet connection cease working for whatever random reason (and we all know it happens). 
How about DotVPN's browser extensions? Are they any good?
Well, the extensions use 4096-bit RSA encryption, which has been hacked multiple times. DotVPN don't seem to have got that memo as it promotes itself as using "stronger encryption than our competitors or even governments use."
It also creates a tunnel using SSL-proxy, which is somewhat outdated. This mix is bad for security, but great for speed. Just don't expect it to fortify your device. 
Think about using an extension if you just want to browse the web a bit more privately. Anything other than that and use the full DotVPN app. 
Overall, DotVPN is mostly secure but could use improvement. It's got some worthwhile security features but needs to cover the fundamentals more extensively with the inclusion of a VPN kill switch and better encryption for its iOS app. You can browse securely with DotVPN, but there are safer alternatives available.
Simple mobile applications
Ease of Use
How to Install & Set Up DotVPN
Ease of Use Rating: 5.2/10
DotVPN looks professional, with a well put together site that includes information about both the service and the company, with multiple corporate email addresses. 
Its app is equally well put together, if slightly on the tech side for our liking. It'll only take a few minutes before you're used to it, though.
The settings menu is limited, though, allowing you to toggle on and off the security features and ad blockers. 
There's not a lot of customization but with that comes greater simplicity. It's quite obvious how to connect and disconnect to secure servers – a foolproof experience. 
Customer support is limited
Customer Support
| | |
| --- | --- |
| Email | Yes |
| Online Resources | Yes |
Customer Support Rating: 3.1/10
The customer support option in the app is made up of a simple subject and message box. You type in your problem and send the message – easy.
There is no FAQ available in the app, but you get a few on the website. These cover the basic issues, and there aren't any setup guides for beginners. 
There is no live chat available despite the promise of an 'around-the-clock' help desk.
We waited for 24 hours before we got a response to our message. 
The very best providers (like IPVanish) do a much better job of helping their customers. DotVPN has some work to do.
Simple, affordable pricing
Pricing
Price & Value for Money Rating: 6.0/10
DotVPN has a very simple pricing structure, which is refreshing to see.
You can either pay monthly or annually.
A single month is more expensive at $4.99 per month, but that's still extremely cheap for a single month of VPN. 
All plans have 30-day money-back guarantee
Payment & Refund Options
| | |
| --- | --- |
| Credit Card | Yes |
| PayPal | Yes |
| Bitcoin | Yes |
| AliPay | Yes |
DotVPN allows you to pay with a number of cryptocurrencies including:
Bitcoin

Ethereum

GiroPay

Litecoin
These are some of the most private ways to make financial transactions (just shy of cash), which will naturally appeal to VPN users. 
The usual payment methods are also made available, including credit card, debit card and PayPal, plus AliPay and EasyPay.
Do We Recommend DotVPN?
The Bottom Line
DotVPN is a decent mid-range VPN service that gets a lot right, a few things wrong, but overall lacks the punch and benefits of the very best VPNs.
We were impressed by its speed but less so by its inability to stream or torrent. At least when using DotVPN you'll know your internet browsing is safe and private.
It needs to streamline its service before we can fully recommend it. Should it get access to China and streaming services, we'd be more inclined to speak positively. But this is easier said than done and, as it stands, there are much better choices out there.
Additional research by Liam Mullally
Alternatives to DotVPN
NordVPN
NordVPN is the second best VPN on the market - and it's almost as cheap as DotVPN. If you're interested in DotVPN, you should consider spending a few cents more per month and upping your VPN game to one of the best. Read NordVPN review
ExpressVPN
Or you could just go all-out and get the best of the best. ExpressVPN is more expensive than DotVPN, but it'll do everything you hoped DotVPN could do and then some. Read ExpressVPN review
---
User Feedback for DotVPN