Disclosure: Top10VPN is editorially independent. We may earn commissions if you buy a VPN through links on our site.
Our Verdict
Encrypt.me is a poor VPN service. Although it does offer a 14-day free trial and sometimes works with iPlayer, the VPN lacks essential features. It logs IP addresses, doesn't have DNS leak protection, and blocks torrenting activity. In a nutshell, Encrypt.me is a bad VPN and you should avoid it.
Encrypt.me calls itself the "super simple VPN that you can trust." At least one part of this statement is correct. But which is it?
You'll find out right here, in our in-depth, unbiased review of Encrypt.me VPN. We leave no stone unturned in answering all the questions we get asked about it, such as:
How does Encrypt.me work?

Is Encrypt.me good?

Who owns Encrypt.me?

Is it safe?
These are all very important questions that get to the root of the issue: should you pay to download Encrypt.me or not?
Before going in-depth, here's a quick summary of Encrypt.me's pros and cons:
Encrypt.me is not available for new subscribers anymore.
New potential signups are directed to the website of StrongVPN. Current Encrypt.me subscribers still have access to the app, but its days are numbered.
Encrypt.me VPN Pros & Cons
Pros
Unblocks BBC iPlayer

Fast speeds

Good amount of server locations

14-day free trial available
Cons
Privacy-invasive logging policy

Doesn't allow torrenting

Doesn't bypass censorship

Weak security

Too many pricing plans & too expensive

Can only pay via debit & credit card
Encrypt.me VPN Key Data
| | |
| --- | --- |
| Data Cap | Unlimited |
| Speed | 82Mbps |
| Logging Policy | Intrusive Logging |
| Data Leaks | No |
| Jurisdiction | US (Five-Eyes Member) |
| Servers | 132 |
| IP Addresses | Not disclosed |
| Countries | 49 |
| US Netflix | Yes |
| Torrenting | No |
| Works in China | No |
| Support | Online Resources & Email |
| Cheapest Price | $8.33 |
| Official Website | Encrypt.me |
Encrypt.me Category Ratings
We test and review every VPN in eight key areas. Here's how Encrypt.me performs in each category:
Privacy & Logging Policy: 2.5/10
Encryption & Security: 6.0/10
Speed & Reliability: 7.2/10
Streaming & Torrenting: 6.0/10
Bypassing Censorship: 3.0/10
Ease of Use: 7.0/10
Customer Support: 6.0/10
Price & Value for Money: 4.5/10
To learn more about our methodology, read our full VPN testing process.
Who is Encrypt.me VPN?
Logging Policy & Jurisdiction
Privacy & Logging Policy Rating: 2.5/10
Encrypt.me was founded in 2011, as Cloak VPN, by Microsoft veterans Dave Peck, Nick Robinson, and Peter Sagerson. They worked on Microsoft's Mac apps before moving into the VPN business.
Nick Robinson left the company after Cloak VPN was bought by Stackpath in 2017 and renamed Encrypt.me. In April 2019, j2 Global acquired StackPath's VPN brands, including IPVanish and StrongVPN.
It now has offices in Dallas, Guadalajara, Orlando, and Seattle. It's good to have a transparent base of operations, but the US is one of the worst places to choose for a VPN, considering its intrusive anti-privacy laws and snooping capabilities.
As you'll see in a moment, Encrypt.me shows absolutely no indication of resisting cooperation with the US government. Read on to see why we don't recommend using Encrypt.me for privacy.
Logging Policy
Encrypt.me is clear and open about the fact that it "keep[s] minimal logs, for at most 16 days, after which they are securely deleted."
We're tired of VPNs claiming to be 'no logs' when it doesn't take much to discover the opposite. At least Encrypt.me is upfront and honest on the matter.
The problem is Encrypt.me's privacy policy is very privacy-unfriendly. It details what it logs in its Policies page alongside a rationale in a privacy policy (which hasn't been updated since 2013).
We know that Encrypt.me logs:
The number of bytes sent and received

The length of time connected

The IP address connected from and the (virtual) IP it assigns

The source port of the outgoing connection with start and end times

"General behaviors" when using the Android app
We don't like the ambiguity and tone of the phrase 'general behaviors'. What even is 'general behavior'?
Nothing about a VPN privacy policy should be general. Encrypt.me should get specific and avoid this sort of language. 
While Encrypt.me says that it deletes information after 16 days, it also stores some data indefinitely.
This includes:
Record of lifetime bytes sent and received and time connected

Aggregate usage metrics for monitoring and analysis

Aggregate statistics for regional IP address blocks
This is a shocking privacy policy. The only thing it doesn't log is what actual sites you visit. 
Frankly, Encrypt.me's attitude stinks. It doesn't seem dedicated to protecting user privacy, and seems enthusiastic about cooperating in data handovers.
Above-average speeds
Speed & Reliability
Speed & Reliability Rating: 7.2/10
We picked up fast speeds using Encrypt.me. Check it out:
Download speed without Encrypt.me: 98.45Mbps
Download speed with Encrypt.me: 81.85Mbps
Our download speed loss when Encrypt.me is running: 6%
Local Speed Test results before using Encrypt.me VPN:
Download Speed: 98.45Mbps
Upload Speed: 97.07Mbps
Ping: 8ms
Local Speed Test results with Encrypt.me VPN:
Download Speed: 81.85Mbps
Upload Speed: 81.99Mbps
Ping: 24ms
Download speed loss when Encrypt.me VPN is running: 17%
This is a very minimal speed loss on local connections and high download speeds. 
Same country connections won't affect your performance much at all.
How about when connecting across longer distances?
We consider that too, and work out the average speeds you can expect when connecting out to these locations through a scientific speed testing process. Here are Encrypt.me's scores:
US:

54.94Mbps

(download) &

17.47Mbps

(upload)

Germany:

64.19Mbps

(download) &

57.12Mbps

(upload)

Australia:

33.35Mbps

(download) &

16.27Mbps

(upload)
These are strong speeds, too. Encrypt.me isn't a bad choice for an international VPN if download speeds are your main priority.
Nice list of locations but could use more
Server Locations
Undisclosed number of
IP Addresses
Encrypt.me has VPN servers in 49 countries. It's far from competing with the top VPN services, but you'll likely find a nearby server to connect to.
There are a number of city-level servers for the likes of Australia, Canada, US, and UK (55 in total) and at least one server on every continent.
African and South American users will have to be content with just the one option in South Africa and Brazil respectively, though.
Encrypt.me's website specifies that it maintains 132 servers, but has no mention of individual IP addresses – we can only assume it's one per server.
Effective at unblocking streaming services
Streaming & Torrenting
Streaming & Torrenting Rating: 6.0/10
Encrypt.me works with BBC iPlayer. We had no problems at all using the London and Manchester servers to unblock the popular British streaming service.
We also managed to unblock US Netflix with the Nashville, Tennessee server. Netflix doesn't work on all of Encrypt.me's servers, so you might need to spend some time testing them out.
The situation wasn't good with Disney+, though, which didn't work on any US, Australia, or other Disney+ region server. 
Torrenting
Encrypt.me emphasizes the fact that it's not a VPN designed to protect 'elicit' activity and that it is "subject to federal, state, and local laws and we will absolutely uphold them."
It reiterates this multiple times, sounding a bit like Judge Dredd: 
"Should it ever become necessary to respond to a legal request, we will do so. We will always strive to both protect our users and uphold the law of the land."
This attitude is likely stated to deter anyone from using Encrypt.me to torrent illegally. But it seems perfectly legal P2P activity is discouraged too – we were throttled to the point of it being useless.
Not going to beat censorship
Bypassing Censorship
Bypassing Censorship Rating: 3.0/10
An audit by security firm Security Innovation revealed that Encrypt.me's Android VPN application came with no obfuscation, therefore it "heightens the risk of a user being identified as VPN customer in countries where a VPN may be banned."
Security Innovation detailed the risk as such:
This makes the Encrypt.me Android app compromised when trying to bypass censorship in China, Russia, UAE, Turkey, and others. 
Encrypt.me is open about this, stating: "we are aware of connection problems in mainland China." 
Encrypt.me is also completely blocked in Iran. 
Available on standard platforms
Platforms & Devices
Apps
Windows

Mac

iOS

Android
Encrypt.me VPN has apps for Windows, MacOS, iOS, and Android.
Encrypt.me is also available on Amazon Fire TV Stick, which isn't as common as you'd think – very useful if you're one of the millions who uses the Amazon Fire TV family of devices to stream your favorite shows and movies.
There's no support for Linux, though. Linux users should head over to our Mullvad VPN review, which has a fully-featured Linux app.
Encrypt.me lets you use its VPN app on "as many devices as you like." That's great, but it asks "you keep it to one account per person," so no sharing it with your family or housemates. Not only that, but we also suspect that it does not allow you to use it on more than one of your own devices at a time.
This is because Encrypt.me also sells subscriptions under the 'Families' deal, which allows up to five devices to be used at once – and costs an extra $50 per year, which is an awful lot for such a basic extra.
Basic security with flaws
Security & Features
Protocols

IKEv2/IPSec
OpenVPN (TCP/UDP)

Encryption

Undisclosed

Security

DNS Leak Blocking
WebRTC Leak Blocking

Advanced features

None
Encryption & Security Rating: 6.0/10
Encrypt.me is safe, but it's the bare necessities.
It had an independent audit conducted in 2017 by a third-party firm called Security Innovation. It conducted "a service-wide code-open penetration test" and then had a follow-up audit in 2019 that "found zero sensitive customer information leak risk."
However, there were some issues raised.
Encrypt.me's independent audit states that the app is vulnerable to DLL hijacking attacks, meaning "an attacker can create, modify, or delete any data the application can access."
That's far from great, but it requires a skilled hacker to perform.
The only additional feature that Encrypt.me includes is DNS leak protection, automatically turned on from startup and easily toggled off.
There's barely any other security features to discover and choose from when using the Encrypt.me app.
Encrypt.me does have a VPN kill switch called 'OverCloak', though, which is important and always welcome.
We know that it uses a solid protocol, too – OpenVPN, the best around. It allows you to choose between UDP and TCP variants, the difference being explained briefly too, which is helpful.
Needs more features
Ease of Use
How to Install & Set Up Encrypt.me VPN
Ease of Use Rating: 7.0/10
There isn't much to the Encrypt.me app in terms of its design and visual appeal. 
It's essentially a window with the option to 'Encrypt Me'. To change servers you click the location indicator in the top right and a list appears. These are organized alphabetically, including city servers. This is annoying as cities in the same country can be very far away from each other on the list.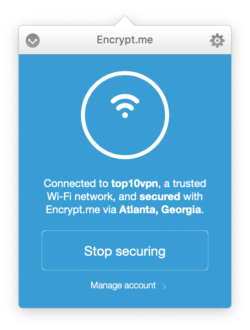 Other than that, you can select the settings cog which opens a new window for information and options regarding 'Account', 'Networks' 'Transporter', 'Support', and more. 
In 'Advanced' you can find a toggle option to 'Enable DNS Leak Protection'. 
This is all very sparse and you wonder what exactly you're paying for other than the most basic stuff, although this will likely suit your average user and newcomer.
It's also odd that the window is green when you are not connected to a VPN server and blue when you are.  This is very confusing and not intuitive at all.
24/7 live chat would go a long way
Customer Support
| | |
| --- | --- |
| Email | Yes |
| Online Resources | Yes |
Customer Support Rating: 6.0/10
To contact support, you can fill out a message form that asks you to list your 'Type of Problem' and a description of the problem.
This is found in the settings window of the app.
There's also a link here that connects you to the help page of its website. There's a few helpful resources here, including quick start guides, app specific support and information about its technology.
There is a chat option on the Encrypt.me website, which is a good feature to see. If you type, a bot responds with suggested help articles. If it can't help you, you can tell it you still need help and eventually get to a real human live chat agent.
The problem is, Encrypt.me live chat is not 24/7. When we attempted to contact it (during the middle of the British working day) all of its services were offline.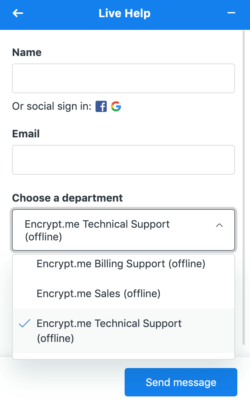 Only available with card payment
Price & Value for Money
Price & Value for Money Rating: 4.5/10
Encrypt.me is available on two pricing plans – one for a month and another for a year. 
You save 17% on the monthly cost if you go for the longer-term offer, which is paid in one large $99.99 fee ($8.33 per month). 
The one month service is priced at $9.99. Most premium VPN services fall just under $10 on its short term subscriptions, so this is about standard.
However, we think Encrypt.me is way too expensive when you consider the standard of VPN on offer.
Encrypt.me does also have a 'Mini Plan' priced at $2.99 a month – with the catch that it only gives you 5GB of data per month. We would recommend that under no circumstances do you pay for that. 5GB won't even last you a day, depending on how heavy your internet usage is.
Want a better alternative? Check out our list of the best cheap VPNs.
Encrypt.me also allows you to purchase a 'Pass' for one week ($3.99), one month ($9.99) or one year ($99.99). These are just like normal subscriptions, except they don't automatically renew.
There's also 'Families', for multiple devices. This costs $12.99 per month or $149.99 per year – even more expensive. 
Many VPNs allow individual subscription to be used simultaneously on a number of devices without paying extra, so it's a shame to see a VPN charge more for a feature that is commonly standard.
Encrypt.me should think about simplifying all this. 
There is, however, a 14-day free trial to take advantage of. We recommend you do try it if you're still interested. 
All plans have 30-day money-back guarantee
Payment & Refund Options
Encrypt.me is an odd one when it comes to payment methods as it doesn't even allow you to use PayPal.
Encrypt.me VPN only accepts credit and debit cards and you can forget about paying with cryptocurrencies. 
Cryptocurrencies are the most private method of payment (after cash), so naturally it appeals to plenty of VPN users – perhaps you're one of them. Not having this option is a drawback, but if you care that much about your privacy then it's obvious at this point that Encrypt.me isn't for you, anyway. 
It does offer a 30-day money-back guarantee, but only if you've purchased through the website. It states:
If you've purchased service directly through one of the Encrypt.me apps, we are (unfortunately) unable to directly refund your purchase. 
If you buy Encrypt.me through iTunes you have to contact them for this refund and not Encrypt.me. 
Do We Recommend Encrypt.me VPN?
The Bottom Line
No – not with this privacy policy. 
While we may like Encrypt.me's honesty and transparency on most things, we don't like what we see. This VPN stores too much data for too long and even permanently. It's also got some security issues and a bad jurisdiction.
We know for a fact that you can find better than this.
Alternatives to Encrypt.me VPN
ExpressVPN
ExpressVPN is actually a lot cheaper than Encrypt.me and it's our number one recommended service. We've seen nothing but solid evidence that ExpressVPN works to protect you and your privacy, so it's certainly worth checking out. Read ExpressVPN review
NordVPN
If you don't want to pay what it costs to get ExpressVPN, NordVPN is much cheaper and almost as highly rated. It's our number two overall VPN, so certainly worth consideration. Read NordVPN review
---
User Feedback for Encrypt.me VPN