Disclosure: Top10VPN.com is reader-supported. We may earn commissions if you buy a VPN through links on our site.
F-Secure Freedome Review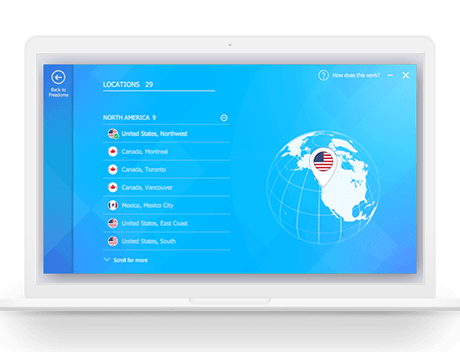 Overview
F-Secure Freedome VPN makes big promises for quality, claiming "30 years of experience," a "simple, elegant interface," and "fast servers." But can it live up to its claims?
We tested F-Secure Freedome VPN thoroughly to find out how effective this VPN service is, and to answer these questions below:
Is F-Secure Freedome VPN any good?
Does F-Secure Freedome VPN keep any logs?
Is F-Secure Freedome VPN safe?
Can you torrent using F-Secure Freedome?
Is Freedome a fast VPN?
Does F-Secure's VPN work with Netflix?
We'll go into more details to answer all of the above shortly but first, take a look a F-Secure Freedome's pros and cons:
F-Secure Freedome Pros & Cons
Fast VPN speeds
Strong encryption
VPN kill switch
Simple custom VPN apps for four popular platforms
No IP/DNS/WebRTC leaks
Retains detailed user logs incl. IP addresses
Unreliable access to Netflix & BBC iPlayer
No router or Linux support
Very small server network (23 countries)
Doesn't work in China
F-Secure Freedome Key Summary
| | |
| --- | --- |
| Data Cap | Unlimited |
| Speed | 73Mbps |
| Logging Policy | Intrusive Logging |
| Data Leaks | No |
| Jurisdiction | Finland (EU Member) |
| Servers | Not disclosed |
| IP Addresses | Not disclosed |
| Countries | 23 |
| US Netflix | Yes |
| Torrenting | Restricted |
| Works in China | No |
| Support | Live Chat |
| Cheapest Price | $4.24/mo over 24 Months |
| Official Website | F-secure.com |
Now that you know what the positives and negatives are, we'll go into more depth about every aspect of F-Secure Freedome VPN, starting with its speed.
Who is F-Secure Freedome?
About & Logging
F-Secure Freedome is part of the F-Secure Corporation, with its VPN service initially released in 2013.
F-Secure is based in Helsinki, Finland, meaning it's subject to intrusive EU data retention laws. That's bad news for privacy.
What's worse: F-Secure Freedome's privacy policy states that it will share user data if necessary to comply with "lawful warrants and court orders of the jurisdictions applicable to [it]," and it has enough data to identify an individual user.
Logging Policy
F-Secure Freedome's logging policy is intrusive and far from privacy-friendly.
The VPN service collects detailed VPN connection logs, which include:
Your originating country and IP address
Duration of your VPN session
Total amount of data transferred per VPN session
Your device ID
Host name (VPN gateway) from where the VPN client connects to its service
Your IP address can be used to identify you, which renders this VPN service a bad choice for those with stringent privacy needs.
Even worse, all of this information is stored for 90 days or year before being permanently deleted, depending on the purpose of the logs. This is a very long time to store such personally identifiable information.
F-Secure Freedome states that this information is necessary for troubleshooting purposes, as well as to monitor the service for misuse, but many other VPNs manage to maintain a quality service without such intrusive data logging. We're not fooled.
And it gets even worse.
While F-Secure Freedome doesn't store DNS requests for VPN-only users, if you use the Tracker Mapper service – which is automatically enabled when you first use the VPN – it logs all the URLs you visit while connected!
These logs are permanently deleted after three days. But the privacy risks that come with Tracker Mapper far outweigh the advantages provided by the feature.
You should disable Tracker Mapper before you start using F-Secure Freedome and also opt out of sending 'non-personalized usage data' upon installing the software.
Fairly quick on nearby servers
Speed & Reliability
F-Secure Freedome VPN isn't as fast as our top rated VPNs, but it's still quite quick on nearby servers.
On same-country connections you can expect F-Secure to bring your internet connection down by around 20% (the fastest VPNs record drops of less than 10%).
That should be more than fast enough for HD streaming with very little buffering. We got speeds of 74Mbps down using the F-Secure Freedome's UK VPN server (we test from the UK) starting on a 100Mb connection.
Local Speed Test Results
Before using F-Secure Freedome:
91.59

96.62

Ping

ms

3
When connected to F-Secure Freedome:
73.91

64.58

Ping

ms

14
Download speed without F-Secure Freedome: 91.59Mbps
Download speed with F-Secure Freedome: 73.91Mbps
Our download speed loss when F-Secure Freedome is running: 19%
Over long-distance VPN connections F-Secure Freedome cuts down your download speeds by about 60% (the UK connecting to the US), a far cry from the speeds of our fastest VPN services.
Here are our speed test results connecting from the UK to various F-Secure Freedome VPN servers:
USA: 38Mbps (download) & 57Mbps (upload)
Germany: 71Mbps (download) & 69Mbps (upload)
Singapore: 38Mbps (download) & 47Mbps (upload)
Australia: 37Mbps (download) & 11Mbps (upload)
F-Secure's upload speeds are pretty good (a 33% drop on same-country connections), but its intrusive logging policy should be more than enough to put off torrenters.
Latency-wise, F-Secure Freedome's ping times are higher than gamers would tolerate. We've listed our top VPNs for gaming here.
If you're interested in knowing more about how we test VPN speeds please read our How We Review VPNs page.
Very small server network covering 23 countries
Server Locations
23
Countries
29
Cities
Undisclosed number of
IP Addresses
F-Secure Freedome has a very small server network with only 23 countries to choose from across the world.
The majority of F-Secure's VPN servers are located in Europe and North America – popular locations like the UK, the US, Canada, and Australia are covered.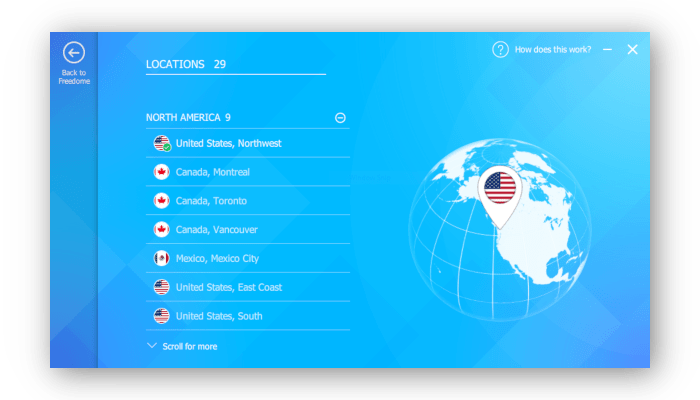 F-Secure Freedome provides three VPN server options in Asia:
Hong Kong
Japan
Singapore
However, there are no VPN servers at all in Central and South America, and Africa.
If you live far away from one of the countries provided, you're better off choosing another VPN service that provides more options, such as NordVPN.
We didn't expect to be able to drill down to city level in any country considering F-Secure Freedome's server network is tiny, but you can in Canada, which has three city options (Montreal, Toronto, and Vancouver).
F-Secure Freedome also provides regional options in the US, which is split into five regional servers with labels like East Coast, West Coast, South, and so on.
Connecting to the closest region will help you to experience the fastest speeds.
While F-Secure Freedome doesn't disclose the number of individual VPN servers in its network, the customer support team confirmed that the network consists of bare-metal physical and virtual VPN servers.
Some of the servers are owned by F-Secure Freedome, some are leased, which is common practice among VPN services.
Unreliable for streaming & torrenting is restricted
Streaming & Torrenting
We don't recommend F-Secure Freedome VPN for streaming due to its very small server network.
During our most recent tests, we could watch BBC iPlayer while connected to Freedome's UK VPN server, and US Netflix through US West Coast. However, access has been very hit-and-miss over the past few months.
The lack of dedicated streaming servers means that F-Secure could get blocked when popular streaming services crack down on VPNs – which happens quite often.
If you're mainly going to be watching Netflix and the likes while connected to the VPN then check out our top VPN picks for streaming here.
Torrenting
F-Secure VPN isn't a good (or safe) VPN choice for torrenters as is prohibits P2P activity on over half of its VPN servers, including those in the US, UK, and most of Europe.
Here's a list of all servers that you're not allowed to torrent on:
Australia
Belgium
Canada
France
Germany
Hong Kong
Italy
Japan
Mexico
Netherlands
Poland
Singapore
United Kingdom
United States
If you attempt to torrent in any of these locations, F-Secure will temporarily block the user's network connection for a few hours.
If that's not enough to put you off of F-Secure Freedome VPN for torrenting, it's intrusive logging policy will.
Not a reliable VPN for China
Censorship
F-Secure Freedome VPN isn't reliable for China, or other high-censorship countries like Iran, Russia, or Saudi Arabia.
Not only does F-Secure have a tiny VPN server network but it also lacks additional obfuscation tools or 'stealth' protocols which mask VPN traffic to beat the censors. In other words, blocked content will remain blocked.
F-Secure is useless as an anti-censorship tool.
To learn more, read our dedicated guide to using Freedome VPN in China. Alternatively, you can see the top VPN recommendations for China here.
Custom apps for four popular platforms, no router support
Platforms & Devices
Apps
Games Consoles & Streaming Devices
Browser Extensions
Does the basics well but lacks configurable options
Encryption & Security
Protocols

IKEv2/IPSec

OpenVPN (TCP/UDP)

Encryption

AES-256

Security

DNS Leak Blocking

First-party DNS

IPV6 Leak Blocking

VPN Kill Switch

Advanced features

Ad Blocker
Please see our VPN Glossary if these terms confuse you and would like to learn more.
F-Secure Freedome will be secure enough for most everyday users, but it doesn't have many configurable options.
The Windows, MacOS, and Android custom VPN apps run exclusively on our preferred VPN protocol OpenVPN, which gives the best balance between performance and privacy.
The iOS app operates on IKEv1/IKEv2 (selectable by the user), the latter of which is second-best to OpenVPN, but still very safe.
Encryption is via AES-256, a top cipher that's considered to be 'unhackable'.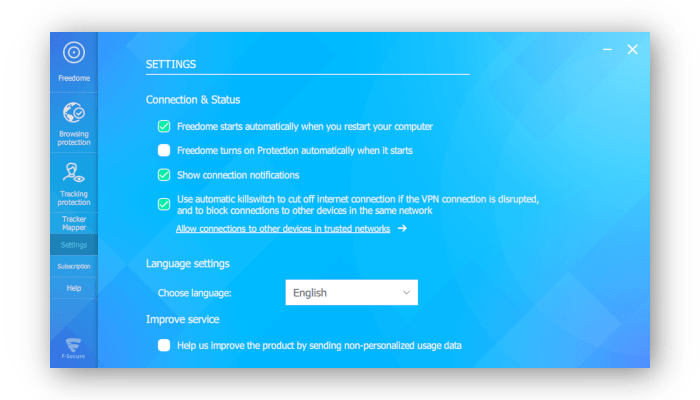 F-Secure Freedom comes with the essential VPN kill switch feature, which cuts off all web traffic in case of a VPN connection drops to prevent your true IP address from being leaked.
The VPN service also operates its own DNS servers, further protecting your personal information, and we didn't find it to be leaking our DNS or WebRTC requests either.
F-Secure Freedome VPN doesn't have any other configurable options, though, so there's no split tunneling, port control, or VPN servers optimized for Tor.
Quick and easy setup with simple custom apps
Ease of Use
How to Install & Set Up F-Secure Freedome
F-Secure Freedome VPN is really easy to download and install on your device, requiring no manual configuration or prior VPN knowledge.
Once set up, F-Secure Freedome's custom VPN apps are great for inexperienced VPN users or those looking to 'click and forget'.
The home screen is incredibly simple, and there's a 'How Does This Work?' prompt in the top-right corner that explains how virtual locations work and where you should connect for the best possible performance, which is a nice little touch for VPN newbies.
More tech-savvy users will be disappointed with the lack of manual configuration on offer, though.
Live chat support and community forum
Customer Support
| | |
| --- | --- |
| Live chat Support | Yes |
| Online Resources | Yes |
F-Secure's customer support is good, if a little difficult to navigate. Because the company has so many different products, and even different VPN packages, you have to do a bit of digging to avoid getting lost in irrelevant content.
As well as some useful online resources and a community forum, there's also a live chat feature that's available during normal working hours (the service hours are listed on the website) with friendly, helpful agents that were willing to answer all of our questions in detail.
It's refreshing to see that F-Secure also includes contact telephone numbers for those that would rather speak to a human being – this isn't very common with VPN providers, but we think it's a really valuable feature that will be appreciated by a lot of people.
Reasonable prices & 30-day money-back guarantee
Pricing
F-Secure Freedome Pricing Plan
F-Secure Freedome has VPN subscriptions that vary in the different number of devices you can use the VPN on at one time. The more devices you choose to protect, the more cost effective it is.
The biggest savings can be found on the 7-device subscription, which will set you back $7.25 each month on the 12-month plan and $4.66 per month on the two-year plan. Even then, it's still fairly pricey.
All plans have 30-day money-back guarantee
F-Secure Freedome accepts a limited range of payment methods:
Major credit and debit cards
PayPal
Wire transfer
Unlike many VPN services, you can't pay using cryptocurrencies like Bitcoin for more privacy, nor can you use international methods like AliPay.
F-Secure comes with a five-day free trial – you don't have to provide any personal details or payment information, so there's no risk of auto-renewal. The free trial allows you to test out the full-featured software with no data or speed restrictions.
F-Secure also has a 30-day money-back guarantee, which is completely no-questions-asked. This means you don't need a specific reason to request a refund – just contact the support team for your money back even if you just change your mind.
Do We Recommend F-Secure Freedome?
The Bottom Line
While F-Secure Freedome is easy to use, making it attractive for those with little technical knowledge, we don't recommend it due to its intrusive logging policy.
F-Secure Freedome logs your true IP address for 90 days, in addition to a bunch of other connection logs, and it doesn't even work reliably with popular streaming services like Netflix. There are far better, cheaper, and safer VPNs available at the same (or even lower) price point.
Alternatives to F-Secure Freedome
CyberGhost is a cheap VPN that's simple to use for beginners. It works with Netflix, BBC iPlayer, torrenting, and more. Best of all, it's trustworthy and safe to use. Read CyberGhost review
ExpressVPN is a little more expensive than F-Secure, but it provides a far, far better VPN service. Not only can you connect to over triple the number of countries (94) but you can also install it on streaming devices and Linux, which isn't possible for F-Secure. It works with streaming, torrenting, and in China, too. Read ExpressVPN review
---
User Feedback for F-Secure Freedome