Disclosure: Top10VPN is editorially independent. We may earn commissions if you buy a VPN through links on our site.
Our Verdict
Hidester is a mediocre VPN service that fails to excel in any area. It logs connection metadata, has poor customer support, and offers consistently slow speeds. Though torrenting is allowed on some servers, it doesn't unblock any streaming sites and its server list is small.
Hidester is a VPN that promotes itself as "Secure. Private. Fast."
We've seen identical claims from other VPN providers and often been disappointed. So we decided to put Hidester through our intensive testing process and find out the truth.
In this Hidester VPN review, we answer the questions that people want the honest answers to, like:
Is Hidester safe?
Is Hidester a good and reliable VPN?
Does Hidester come with a proxy extension?
How much does Hidester cost?
Before we jump into our detailed review, here's a quick look at Hidester's pros and cons.
See our review of ExpressVPN, our best-rated VPN
Hidester VPN Pros & Cons
Pros
Good logging policy

Bypasses Chinese censorship

Good level of security

Torrenting supported

Based in Hong Kong
Cons
Doesn't work with Netflix or other streaming sites

Poor long-distance speeds

Failed our streaming tests

High ping/latency

Poor app design
Hidester VPN Key Data
| | |
| --- | --- |
| Data Cap | Unlimited |
| Speed | 80Mbps |
| Logging Policy | Some User Logs |
| Data Leaks | No |
| Jurisdiction | Hong Kong (Privacy Haven) |
| Servers | Not disclosed |
| IP Addresses | Not disclosed |
| Countries | 35 |
| US Netflix | No |
| Torrenting | Restricted |
| Works in China | Yes |
| Support | Email & Online Resources Only |
| Cheapest Price | $3.99/mo over 12 months |
| Official Website | Hidester.com |
Hidester VPN Category Ratings
We test and review every VPN in eight key areas. Here's how Hidester VPN performs in each category:
Privacy & Logging Policy: 7.5/10
Encryption & Security: 6.9/10
Speed & Reliability: 5.1/10
Streaming & Torrenting: 4.3/10
Bypassing Censorship: 9.0/10
Ease of Use: 5.6/10
Customer Support: 4.5/10
Price & Value for Money: 6.0/10
To learn more about our methodology, read our full VPN testing process.
Who is Hidester VPN?
About & Logging
Privacy & Logging Policy Rating: 7.5/10
Hidester is incorporated in Hong Kong, and has been since October 2016.
We haven't been able to find much more about Hidester than that, and we really tried. 
We couldn't even find the name of the boss in charge. We always prefer transparency with VPNs — it builds greater trust. 
Still, Hong Kong is a good place to base your VPN as no data retention laws exist. Hidester won't be forced to hand over sensitive personal details.
This, coupled with its minimal-logging policy, in theory makes Hidester a good choice for anyone looking to hide their IP address and browse public WiFi safely. 
Because of its vague privacy policy, we can't recommend it for anyone looking for the absolute highest levels of privacy.
Logging Policy
Hidester claims to be a 'zero-logs' VPN but it clearly collects connection metadata. This data includes:
Your connection country (but not your IP address)
VPN server location (but not its IP address)
Date of connection (but not the exact time)
Total amount of data transferred per day
Hidester does not log any websites you visit while connected to the VPN, which is standard for all good VPN services.
What's much less reassuring is what Hidester doesn't tell you – this is one of the shortest privacy policies we've seen – just one paragraph relates to the use of the Hidester's VPN service.
There is no clear policy around how long that data is stored for before it is deleted.
There is reference to "diagnosis data" that is shared with a "third party analytics provider" with no clear definitions of what that data contains. We would like to see a much more exhaustive list of things that Hidester VPN does and doesn't do before being able to fully recommend it for privacy.
Slow long-distance connection speeds
Speed & Reliability
Speed & Reliability Rating: 5.1/10
We found Hidester's overall speed performance to be acceptable. Connecting to a nearby server will produce speeds fast enough to browse without much interruption, but connecting to distant servers will reduce your speeds dramatically.
If you're looking to get an IP address in a country far from your real location, we recommend using a different VPN.
Local Speed Test Results
Before using Hidester VPN:
Download98.11

Mbps

Upload97.9

Mbps

Ping3

ms
When connected to Hidester VPN:
Download80.33

Mbps

Upload63

Mbps

Ping23

ms
Download speed without Hidester: 98.11Mbps
Download speed with Hidester: 80.33Mbps
Our download speed loss when Hidester is running: 18%
As you can see, we recorded fast speeds when connecting to a local Hidester server — a loss of 18% when connecting to the UK (where we test from) and 30% when connecting further away in Germany. 
These results aren't threatening high-end VPNs for speed, but you won't have any problems with most online tasks with Hidester.
The real problem with Hidester is its distant connections, which are painfully slow.
From our location in the UK, we tested average speeds connecting out to various locations worldwide while connected to Hidester. These are the results we got:
USA:

14Mbps

(download) &

8Mbps

(upload)

Germany:

68Mbps

(download) &

26Mbps

(upload)

Singapore:

6Mbps

(download) &

0.3Mbps

(upload)

Australia:

6Mbps

(download) &

3Mbps

(upload)
A speed decrease when connecting across continents and oceans is normal and we take that into account, but a 93% speed loss in Singapore and a 94% speed loss in Australia is not good, at all.
In the case of Singapore, we even had a 99% decrease in upload speeds. 
Most surprising of all, though, is how much speeds dropped when connecting to the East Coast of the US. If you want to watch US Netflix from a location outside of America Hidester likely isn't fast enough to do that without some buffering.
Ping times also underperformed across the board of servers. Locally, where you expect latency to be at its lowest, we clocked 23ms. If you're a gamer reading this and looking for a VPN, Hidester isn't it.
Unless you're solely interested in short-distance connections, Hidester isn't fast enough.
Cannot unblock streaming services
Streaming & Torrenting
Streaming & Torrenting Rating: 4.3/10
We tested Hidester VPN against the proxy detectors of US Netflix. Running all the available US servers, we had zero success unlocking the service.
That's disappointing, but how about BBC iPlayer? Nope. Hidester's UK VPN server didn't unlock that, either. 
Needless to say, Hidester isn't a good VPN for streaming. We recommend that you consult this list of top options for streaming, if this is what you need from your VPN service.
Torrenting
Good news: Hidester allows you to torrent. 
It's not available on all servers, but Hidester marks up the ones that are compatible with P2P. There are 20+ options – around half of all available servers – with a decent global spread.
These servers for torrenting include:
Austria

Belgium

Canada

Greece

Hong Kong

Hungary

Iceland

India

Israel

Luxembourg

Malaysia

Mexico

Morocco

Portugal

Romania

Russia

South Africa

South Korea

Sweden

Switzerland

Taiwan

Thailand

Ukraine
With its torrent-friendly approach, Hidester is worth considering as a VPN for use with Kodi. 
Hidester's poor upload speeds may pose a problem, but it's nothing that would bother most users.
There's also the important inclusion of a kill switch, which is there to kill your internet connection should the VPN cut-off for any reason. It's a security measure, and one torrenters want to know is available.
Basic encryption and security
Encryption & Security
Protocols

OpenVPN (TCP/UDP)

Encryption

AES-256

Security

DNS Leak Blocking
First-party DNS
VPN Kill Switch
WebRTC Leak Blocking

Advanced features
Encryption & Security Rating: 6.9/10
Hidester ticks some important boxes when it comes to encryption and security. But it's got some work to do if it wants to compete with top-tier providers. 
You can choose between two protocols: OpenVPN, which we recommend using whenever possible as it offers the best balance between privacy and performance, and Hidester's own protocol CamoVPN. 
It should be noted that the app defaults to CamoVPN on startup, so unless you're connecting from a high-censorship country, be sure to change it.
Encryption is good quality too: top cipher AES-256.
The all-important VPN kill switch is appreciated, too, even if it has to be manually activated. The integrated DNS and WebRTC leak testing is also a plus.
While Hidester runs its own DNS server network, reducing the potential of IP leaks, these servers can be unreliable, often falling back to third-party DNS servers, such as those owned by your ISP or Google.
Beware of the third connection method – a web proxy and called CamoWeb (not to be confused with CamoVPN). Using CamoWeb is good if you need to access a blocked site since it promises faster browsing, but it doesn't encrypt your connection meaning your privacy isn't protected.
Small VPN server network
Server Locations
Undisclosed number of
IP Addresses
Hidester VPN has 45 servers in 41 cities across 35 countries.
That's not a whole lot to cover the globe, and it's falling behind competitors, but Hidester is increasing its numbers — slowly but surely. 
There are city-level choices in two countries: the US and France. 
The US is well represented, with eight cities covering a decent spread of the country, although it tilts in favour of the West Coast – California in particular. 
Hidester's US servers include:
Fremont, CA

Los Angeles, CA

Silicon Valley, CA

Atlanta, GA

Miami, FL

Chicago, IL

Monmouth, NJ

Dallas, TX
We couldn't connect to the Dallas server, and we've experienced similar difficulties with Miami and Hidester's sole Canadian server.
We were left questioning Hidester's reliability. 
In France, you have the options of connecting to:
Hidester doesn't reveal the number of IP addresses it has to offer, which is another concern. We were informed by the support team that:
"Depending on the load [the number of IP addresses] will change"
This at least shows that they are taking user experience into consideration. 
Those residing in the Asia-Pacific region (including Australia), Africa, South America and the Middle East will be hard-pressed to find fast and reliable connections with limited servers in those regions.That's a huge amount of the planet left poorly-supported by Hidester, though. If you're one of the billions of people affected and want a good alternative then stop reading here and move on to our review of CyberGhost instead.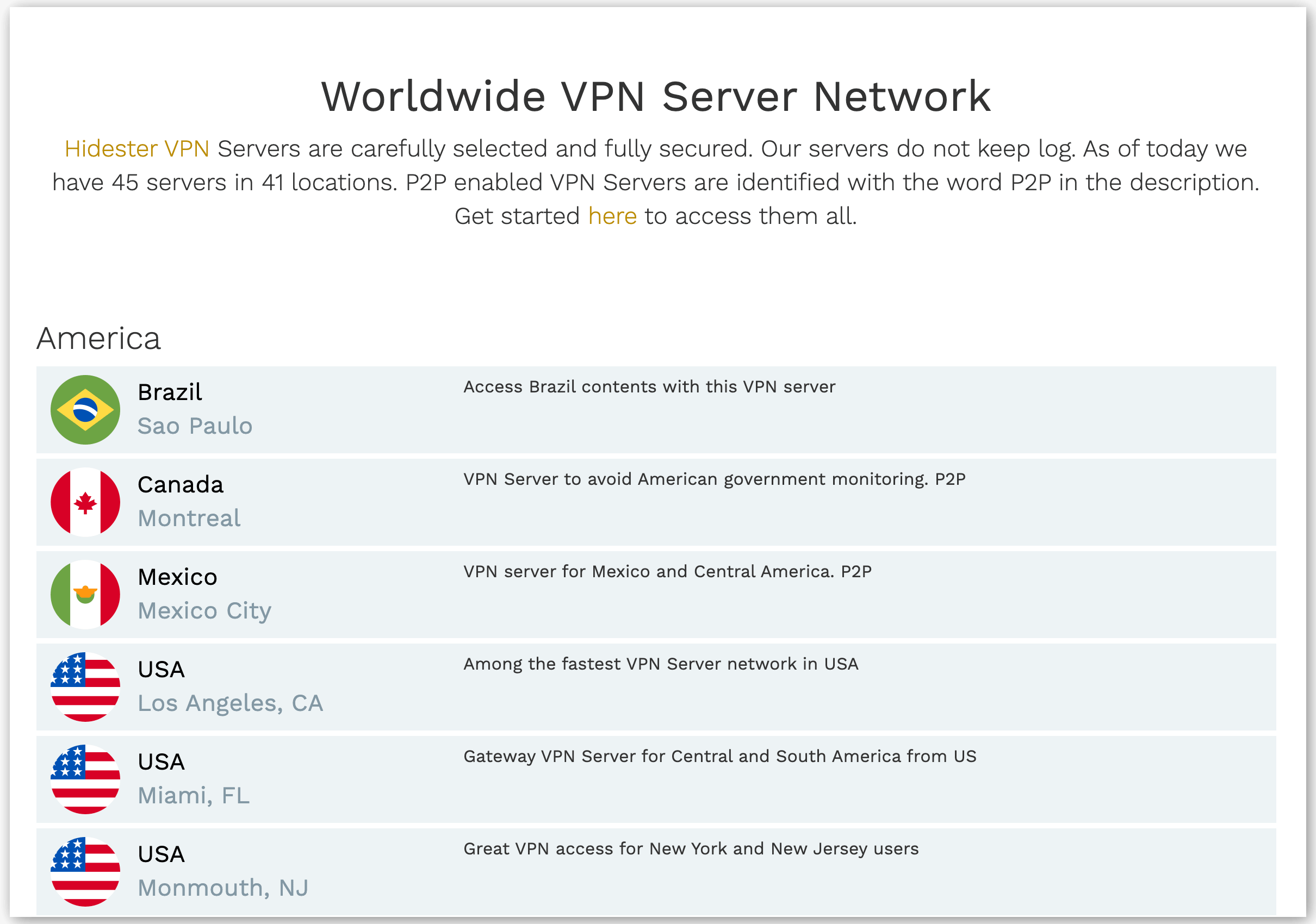 Some servers only work with Hidester's proprietary protocol too, meaning that if you want to exclusively use OpenVPN (our favorite), your server choice is limited even further. 
It's also worth knowing that, in the past, we experienced the service connecting us to servers that we didn't select. But, in our most recent round of tests, Hidester seems to have sorted that out.
Bypassing Censorship Rating: 9.0/10
As a lesser known VPN, Hidester seems to be flying under the radar in China. It continues to work there despite the ban and the enforcement of the Great Firewall.
This is good news for those in China, or travelling there, looking to keep their information private against a very real invasion. 
Hidester is doing this via its exclusive, proprietary protocol: CamoVPN. This is essentially an extra layer of obfuscation added to OpenVPN, and it allows users of Hidester to access blocked content within the country.
Think it's not important? These are just some of the URLs blocked in China:
Facebook

Google

YouTube

Twitter

Vimeo

Soundcloud

Yahoo!

DuckDuckGo
However, that's not to say Hidester won't get blocked in the future, especially as it grows to be more well-known. This is, unfortunately, natural when it comes to VPNs in China. 
As it sits now, Hidester has a guide on how to use its app in China, which is well worth reading.
The fact that there are a limited number of nearby servers and a lack of additional protocols, such as LT2P/IPSec, means that the censors in China – or indeed Turkey, Iran, or Russia – could come to recognize Hidester's unique protocol and successfully block it.
The decent value one-month subscription does make Hidester VPN an appealing back-up for a trip to a high-censorship country, should unrestricted access to the internet be critical for you.
Because it works in China, Hidester is also very likely to work within other censored or authoritarian regimes, including:
Iran

Iraq

Russia

Turkey

UAE
Available on popular platforms but lacking manual configuration
Platforms & Devices
Apps
Windows

Mac

iOS

Android

Linux
Hidester is available to use with the most popular platforms, including: 
Microsoft Windows

MacOS

iOS

Android

Linux
It also claims to be increasing its compatibility with other operating systems. 
Although setup on these devices is pretty self-explanatory, Hidester offers simple, step-by-step guides in the support section of its website should you need them.
Games Consoles & Streaming Devices
Hidester currently doesn't have dedicated apps or easy setup for consoles and streaming devices and we haven't come across any simple guides for manual configuration either. There are also no
Hidester currently does not offer any dedicated streaming devices or setup for gaming consoles like Xbox or PlayStation. 
To play video games while being protected by a VPN, you have to connect the VPN to your home router. We haven't come across any simple guides for manual configuration that tell you how to do this with Hidester.
We also don't like the fact that you are required to buy a separate subscription for each individual user, including family members, or risk suspension.
This is something we've not seen with any other providers, who normally let you use as many devices as you like on one account, with the only limit being the number of simultaneous connections (for Hidester that's five).
Browser Extensions
Hidester does not currently offer any dedicated browser extensions, which is fine if you aren't a heavy browser user.
However, if you would like a more lightweight experience, many providers offer at least proxies, if not full-featured VPN extensions.
ExpressVPN has the best VPN browser extensions on the market – you can read our review of ExpressVPN here. 
Does the job, but lacks intuition
Ease of Use
How to Install & Set Up Hidester VPN
Ease of Use Rating: 5.6/10
Hidester offers a simple user experience but we found the app to be unintuitive. 
The main screen is clutter-free, with a large connect button in the center and your chosen server location beneath. 
You can easily change the VPN protocol by clicking 'advanced' in the bottom left-hand side of the app, and it's simple to navigate the other advanced settings in order to configure the kill switch and DNS servers. 
The fact that you have to manually activate Hidester's kill switch every time you log on is very annoying, plus a big privacy risk. 
However, once activated, if the connection drops you are clearly notified at the bottom of the desktop app with a bright blue banner clearly stating so.
Customer support needs improvement
Customer Support
| | |
| --- | --- |
| Email support via an online form | Yes |
| Online Resources | Yes |
Customer Support Rating: 4.5/10
Despite claiming to offer 24/7 support, Hidester has no live chat function. The online form is highly unreliable, too. 
We resorted to emailing the support team directly, only to receive an impersonal and incomplete response hours later.
Hidester will need to improve its customer support if it wants to compete with the highest-scoring VPN providers. 
Hidester's website does, however, offer installation tutorials, information about particular software features, and a comprehensive blog. This could be improved with some video content, but step-by-step posts are enough to help with basic setup queries and troubleshooting. 
Better value for money is available
Pricing
Price & Value for Money Rating: 6.0/10
Hidester's pricing is straightforward: there are three plans to choose from, and they get cheaper the longer you sign up for. 
With no differences in the VPN features offered for each plan, it's just a matter of how long you'd like to stick with the service.
For a 30-day rolling contract, the full price is $9.99 — cheaper than most VPN services. 
Hidester offers a 49% discount for its 12-month plan, which works out at $3.99 per month. $46.80 for a year of Hidester is a mid-range price in the VPN market, but there are better value options out there.
All plans have 7-day money-back guarantee
Payment & Refund Options
| | |
| --- | --- |
| Credit Card | Yes |
| PayPal | Yes |
| Bitcoin | Yes |
Hidester accepts popular forms of payment such as major credit/debit cards and PayPal. 
If you would like a little more anonymity, you can also pay using Bitcoin. 
However, a 12-month commitment is required to use this form of payment and you will not be eligible for a refund.
Over a dozen other cryptocurrencies are accepted, including:
Monero

Ethereum

Litecoin

Dash

Nav

Neo

Qtum

Stratis

USDT

Waves

Monero

Verge

Ripple

Zcash
Hidester does not currently accept international payments options, such as Alipay and UnionPay.
Hidester's refund policy differs depending on the price plan you opt for. Committing to one or six months gives you a measly three-day money-back guarantee, which extends to seven days for the 12-month plan.
Although this may be sufficient time to fully test out the VPN, this is much less generous than the policies of our top-tier providers.
Worse, Hidester's guarantee does not cover change of mind as a reason to get your money back. Within the refund period, you only get a refund if Hidester doesn't work on your device and the support team can't fix it. 
Outside the guarantee period, refunds are at the provider's discretion even if the service doesn't work. 
Bitcoin purchases are non-refundable, period.
Do We Recommend Hidester VPN?
The Bottom Line
Hidester is a decent VPN service, but it does not excel in any area. The VPN is not reliable for China, it logs connection metadata, and it's not very fast. Though it does allow torrenting on some of its servers, it doesn't unblock any streaming sites and its server list is small.
Overall, we recommend you don't use Hidester and opt for another VPN provider. There are far better alternatives available within the same price range.
Alternatives to Hidester VPN
PrivateVPN
PrivateVPN is better than Hidester in every way. It works reliably in China, it unblocks Netflix libraries from around the world, and it has easy-to-use apps on all platforms. It's available for as low as $1.98a month, too, giving you much more for a lower price than Hidester. Read PrivateVPN review
CyberGhost
With CyberGhost you can connect to a much larger number of countries than Hidester. The VPN has 6,900 servers located in 91 countries, which is a massive increase of 56 countries over Hidester's network. Read CyberGhost review
---
User Feedback for Hidester VPN