Disclosure: Top10VPN.com is reader-supported. We may earn commissions if you buy a VPN through links on our site.
ibVPN Review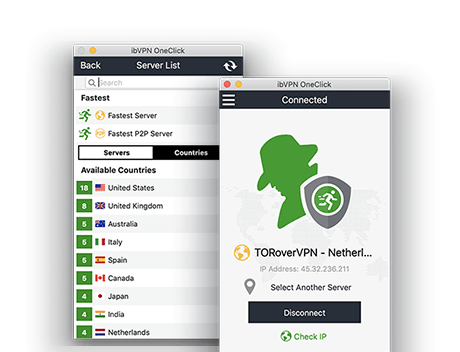 Overview
A small, independent, and established VPN, ibVPN (which stands for 'Invisible Browsing VPN') is likely an unfamiliar name.
But is ibVPN a hidden gem being wrongfully overlooked? Should you be considering it alongside industry powerhouses like NordVPN and IPVanish?
At a glance ibVPN's privacy policy looks good, as does its extensive list of features. We go into both of those in much greater detail in our full review, as well as answering big questions like:
Is ibVPN safe?
How good is ibVPN's extension for Chrome?
What is DoubleVPN?
Does ibVPN slow down your internet?
Plus everything else you want to know about ibVPN, including how easy it is to use, whether or not it unblocks Netflix, and just who's behind it.
ibVPN Pros & Cons
Trustworthy and impressive zero-logs policy
AES-256 encryption & OpenVPN connections
Servers in 82 cities worldwide
Stealth protocol for high-censorship countries
Apps for most devices
Excellent 24/7 customer support
Poor and confusing app design
Unreliable for streaming and Netflix
Poor long-distance speed performance
ibVPN Key Summary
| | |
| --- | --- |
| Data Cap | Unlimited |
| Speed | 56Mbps |
| Logging Policy | No Logs |
| Data Leaks | No |
| Jurisdiction | Romania (EU Member) |
| Servers | 180 |
| IP Addresses | 2,000+ |
| Countries | 50 |
| US Netflix | Yes |
| Torrenting | Restricted |
| Works in China | Unreliable |
| Support | 24/7 Live Chat |
| Cheapest Price | $4.83/mo over 12 Months |
| Official Website | IbVPN.com |
Above, you'll find our key takeaways on ibVPN. There are some eye-catching figures in there, but they're all meaningless if you can't trust the VPN itself.
Let's take a look at who runs ibVPN.
Who is ibVPN?
About & Logging
ibVPN has a nice, transparent About Us section on its website to help you get to know the company better and to foster trust.
It's important that your VPN doesn't try to hide anything from you, and we certainly like that there's a picture of the ibVPN team front-and-centre.
One figure that stood out to us is that ibVPN has existed since 2003, which is a pretty long time in VPN terms. Even if its VPN product wasn't first released until 2010, that's still a good number of years in an industry that is generally quite young.
Amplusnet is the name of the company that owns ibVPN. Its website is pretty sparse (in fact it's just a landing page with a meaningless graphic and some contact info), but that's most likely because it simply exists as a holding company for the VPN brand.
The LinkedIn page for Amplusnet says that it has a varied portfolio of IT products and solutions, although, frankly, we can't find proof that any actually exist outside of ibVPN.
Dan Gurghian is Amplusnet/ibVPN's co-founder, owner, and CEO – he even held an AMA (Ask Me Anything) Q&A session on Reddit in 2015 for anyone curious about VPNs and online privacy.
Gurghian, along with the rest of the ibVPN team, is Romanian, which is also where ibVPN is based.
Romania is a member of the EU so, while it may not be the worst country in the world for privacy, that connection is always something to be aware of.
Logging Policy
ibVPN keeps a no-logs policy. We're comfortable to call it that, as it spells out what it doesn't log within its privacy policy.
There's no traffic logged, nor how the VPN or any of its services are used. ibVPN promises that it cannot relate any specific activity with any particular user and, not only that, but it doesn't store any sort of payment information as they're all handled by a third party service – something quite rare for a VPN.
We only have two small issues with ibVPN's logging policy.
The first issue is that it's very short. While the overall terms and conditions and rambling legal speak may be quite long, all that's really said on the matter of logging is this:

Ideally we'd like to see a little more detail than that, just to really put our minds at ease.
Secondly, there's the issue of ibVPN's Romanian jurisdiction.
ibVPN confidently states that, should any servers be viewed by the authorities, they would be blank. While that may be true, it would be even better if ibVPN were located somewhere that EU powers couldn't get their hands on servers at all.
Average VPN speeds
Speed & Reliability
When it comes to speeds, be they uploads or downloads, ibVPN is completely unremarkable, sitting squarely in the middle of the market.
You could of course do a lot worse, but you can also do considerably better than ibVPN.
Local Speed Test Results
Before using ibVPN:
89.83

98.67

Ping

ms

7
When connected to ibVPN:
56.21

79.66

Ping

ms

26
What's far more noteworthy than the raw numbers recorded in our testing of ibVPN is the difficulty we had trying to find the fastest servers to test from.
Selecting ibVPN's 'Fastest Server' option (as we normally do when testing a VPN) actually connected us to a Tor Over VPN server in the Netherlands. Not only do we test from London, UK, but even if we were based in the Netherlands there's no way that a Tor Over VPN server would be the fastest one available.
The number you see above are after we did some manual experimentation and connected to a UK server – and even then, the download speeds were rather erratic. They're still more than good enough for almost anything you plan on doing online, though.
International speeds connecting to servers up to around 600 miles away are fairly good, but there was a serious drop off when we connected to the US East Coast – ibVPN really let itself down, especially considering it's such an important, popular location to connect to.
A solid global spread with lots of P2P, Tor, and DoubleVPN options
Server Locations
50
Countries
82
Cities
2,000+
IP Addresses
Aside from the issues with ibVPN's flat-out broken 'Fastest Server' tool, we're quite impressed with its assortment of servers and locations.
As is often the case, ibVPN is sorely lacking in servers in Africa (with South Africa being the only choice). It manages to cover the rest of the planet nicely, though, with servers not just in popular locales, but also often-neglected regions like Central America (Panama) and Southeast Asia (Indonesia, Malaysia, Singapore, Vietnam).
ibVPN also offers city-level VPN server selection in:
Australia
Canada
France
Germany
India
Israel
Italy
Netherlands
Russia
Spain
Switzerland
Turkey
UK
Ukraine
US
If that seems like a long list, that's because it is – the 180 ibVPN servers and 2,000+ IP addresses accompanying it are a bit closer to the norm, but there should be no way you're caught short of options.
Poor for streaming & restrictive for torrenting
Streaming & Torrenting
The ibVPN app also has a smart 'Connection Wizard' feature that automatically configures different settings optimized for streaming.
Frustratingly, both the US and UK streaming options completely failed to unlock any sort of streaming service.
BBC iPlayer and UK Netflix both got the better of ibVPN (none of the three UK streaming servers worked), but we were at least able to access US Netflix via the 'DoubleVPN – NL2US' server.
Just beware, though, that DoubleVPN can have a big impact on your internet speeds. We could still stream smoothly on it with our 100Mbps fibre connection, but if your internet is less capable it could struggle.
Torrenting
The good news is that ibVPN has a number of clearly-labelled P2P-optimized servers for torrenting.
The bad news is that there might not be one in your country. ibVPN has P2P servers in:
Bulgaria
Canada
Finland
Hong Kong
Lithuania
Netherlands
Russia
Switzerland
Ukraine
It's an odd selection, and it means that if you want to use ibVPN for torrenting in Australia or South America you're going to have to connect over a long distance, sacrificing speed in the process.
We asked an ibVPN support agent for more information, and they helpfully informed us that torrenting is permitted on all ibVPN servers, but you'll likely experience terrible performance on servers that aren't specialized for it.
Has all the technology to feasibly work in China
Censorship
China's internet is the most censored in the world, and it's only getting harder to find a VPN that works within its borders.
ibVPN could work in China, but it's not guaranteed.
ibVPN has ShadowSocks and StealthVPN protocols – the two most reliable (and necessary) tools required to successfully access outside internet from within China. It also has a wizard setting for bypassing censorship (on Windows) which does all of the configuration for you.
ibVPN used to have servers based in China, including DoubleVPN China to Europe and China to US options, but those have been recently removed – something which will definitely impact its ability to beat the Great Firewall.
Apps for loads of devices, plus three browser extensions
Platforms & Devices
Apps
Windows
Mac
iOS
Android
Linux
Router
ibVPN offers the usual range of custom apps for various devices including Microsoft Windows, MacOS, iOS and Android.
The setup section of the ibVPN website is super helpful, providing detailed instructions (including video presentations) on how to install the apps.
A word of warning to users who won't be downloading the Windows version of the app, though – ibVPN for Windows is by far the most complete version of the VPN. It may not look all that great, but it has more features and protocols than any other platform.
The MacOS version, for example, doesn't have the connection wizard, nor several of the protocol options.
Games Consoles & Streaming Devices
AppleTV
Amazon Fire TV
Chromecast
Nintendo
PlayStation
Roku
Xbox
Don't be fooled – ibVPN doesn't have a dedicated app for Amazon Fire TV Stick. It also doesn't have an app on any other streaming device or games console, but that's normal – no VPN does.
What ibVPN does have, though, is the ability to be configured via router. If you do that, it will cover and protect every device connected to your home network at once.
You can also use ibDNS, ibVPN's own media DNS service, to unlock different streaming content on devices like your Apple TV. Be warned, though: ibDNS is not a VPN. It won't encrypt and protect your device, and should only be used when you just want to unblock content.
Browser Extensions
ibVPN offers proxy extensions for Google Chrome, Mozilla Firefox, and Opera browsers, all of which can be downloaded and added to your browser in a matter of seconds.
The ibVPN extensions allow you to access blocked content, keep you safe from third-party tracking cookies, and protect you from WebRTC leaks, which isn't something offered by many other VPN providers.
Another warning, though: these are proxies rather than full VPNs. This means that while they encrypt your browser traffic, they don't offer the same level of security as the desktop apps, so should be seen as useful bonus features rather than complete substitutes.
An impressive number of security extras
Encryption & Security
Protocols

IKEv2/IPSec

L2TP/IPSec

OpenVPN (TCP/UDP)

PPTP

SSTP

Encryption

AES-256

Security

DNS Leak Blocking

First-party DNS

IPV6 Leak Blocking

VPN Kill Switch

WebRTC Leak Blocking

Advanced features

Ad Blocker

Double VPN

Smart DNS

SOCKS

TOR via VPN Server
Please see our VPN Glossary if these terms confuse you and would like to learn more.
ibVPN actually surprised us with just how many advanced options it has.
For starters it has all of the protocols we look for, specifically IKEv2 and OpenVPN (both TCP and UDP), as well as a few others that we wouldn't recommend you use (although if you're a Mac user you only get the choice of IKEv2 or IPSec).
Then there's Shadowsocks and StealthVPN to help beat particularly tricky censorship and web blocks. These are essential if you want to have any chance of getting a VPN to work in a country like China.
All the while, ibVPN is encrypting everything via AES-256, which is the industry standard and as secure as you can get.
There's plenty of extra features, too. We've already mentioned ibDNS, the Smart DNS setting, which gives you much more consistent access to foreign streaming content (useful, even if it doesn't encrypt all of your data), and there's a built-in ad-blocker, too.
We've also briefly mentioned the DoubleVPN servers. The way these work is by routing all of your traffic to a VPN server in an intermediary country before then passing it on to your chosen destination.
All of these servers are clearly marked, although their names aren't terribly clear. 'DoubleVPN – SG2NL', for example, routes your traffic to the Netherlands via Singapore.
It makes you harder to be traced, but it also brings your speeds way down.
Finally, there's Tor Over VPN. ibVPN has three of these servers (in the Netherlands, Singapore, and the US) which will handle all of your traffic via Tor. This gives you yet another layer of security, but it will also take a huge toll on your speeds.
If you want to find out more about what is quite a complex topic, we've put together a simple explainer on VPN and Tor here.
Cluttered apps that could scare off beginners
Ease of Use
How to Install & Set Up ibVPN
Most people will probably find ibVPN's Windows app a little dated and very cluttered – it's definitely a little confusing to look at.
Experienced VPN users or proper tech geeks, on the other hand, might well have a soft spot for its crazy, overcrowded dashboards, as they have tons of settings to fiddle with and more connection info than almost any other provider we've seen.
You can find the settings menu along the left-hand side of the app. It's fairly well-organized, but would benefit from being separated into individual tabs, as right now feels like a little bit of an information overload. However, we do really like having all the options to play with and the flexibility to choose protocols, connect to servers with extra encryption or access to streaming services or configure the kill switch.
We love the traffic light system in place on the server list, which lets you know which locations are almost at capacity. The search feature is also really helpful, as it means you don't have to scroll through the entire list to find the country you're looking for.
The only major downside is the design, which (on Windows at least)  would benefit hugely from a complete overhaul to make it more streamlined and accessible to VPN newbies.
It's worth noting that the MacOS, iOS and Android apps are much sleeker, but as a result lack the configurable elements of the Windows app. In fact, the MacOS app swings too far the other way – it's super simple to use, but it's missing many of the features that we appreciate so greatly from the Windows version.
Browser Extensions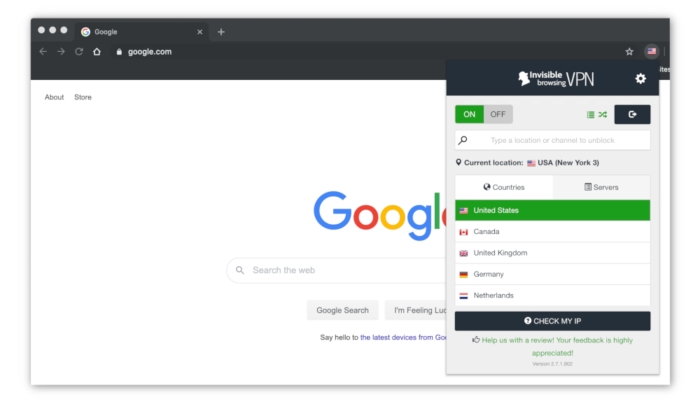 ibVPN's browser extensions are just as easy to use as you'd hope.
It takes one click to add them to your browser (either Chrome, Firefox or Opera), then one click more to connect to any of 46 countries (or you can choose an individual server if you prefer).
As always, though, we're obliged to remind you that ibVPN's browser extensions are not full VPNs. They are just proxies, so will only spoof your location – use them alongside the full VPN app for total protections.
Great round-the-clock support & helpful online guides
Customer Support
| | |
| --- | --- |
| 24/7 Live chat support | Yes |
| Email | Yes |
| Online Resources | Yes |
ibVPN has 24/7 live chat support to help you with any issues or questions you might have. Whenever we've reached out for help we've found responses to be quick, friendly, and helpful.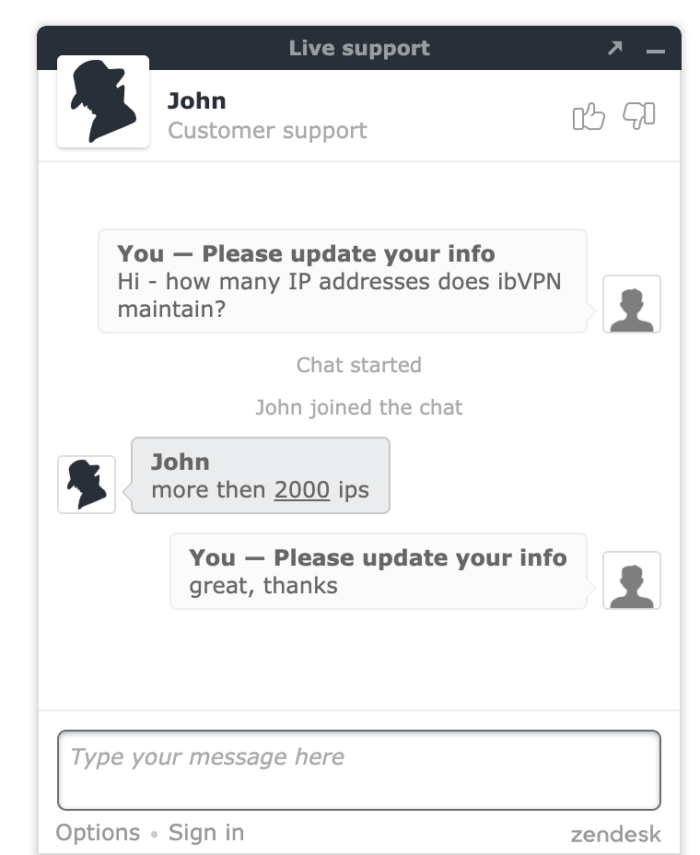 A recent website makeover has improved the quality of the FAQs and support pages, plus a much-needed search function is now in place to help you find what you need quickly. We love the recent edition of video tutorials too.
Email support is speedy but made up mostly of copy-and-pasted answers which can be frustrating if you've already tried to solve the problem by yourself.
It's not quite perfect, but you won't find much better support in the VPN industry than what you get with ibVPN.
Four different plans at multiple price points
Pricing
ibVPN Coupon
ibVPN Pricing Plan
There are four different plans you can take out with ibVPN. This review is based on the Ultimate VPN package.
It's the most expensive option, but it's also the only plan that gives you access to all of ibVPN's features, plus a five simultaneous connection limit.
All plans have 15-day money-back guarantee
ibVPN offers both a 24-hour free trial and a 15-day money-back guarantee.
The free trial allows you to test out the full functionality of the service for 24 hours. You do have to sign up and provide a name, email address and password in order to use the service, however we like that you don't have to provide any payment details, meaning you can't be automatically upgraded to a paid subscription.
The money-back guarantee is genuinely no-questions-asked with no hidden data caps or restrictions, simply contact the support team within 15 days if you aren't 100% satisfied with the service.
Outside this period, if you have any technical issues that can't be solved by the technical team within seven days, ibVPN will process a full or partial refund, which isn't something you see from many other providers.
ibVPN accepts a broad range of payment methods including most major credit and debit cards, plus several different cryptocurrencies:
Bitcoin
Blackcoin
Dash
Dogecoin
Ethereum
Litecoin
MaidSafeCoin
Namecoin
Peercoin
Ripple
Tether
Vertcoin
There's also lots of international options such as Webmoney, Alipay and Qiwi Wallet via Paymentwall.
Do We Recommend ibVPN?
The Bottom Line
ibVPN has genuine potential to challenge the best VPNs on the market, thanks to a solid backbone of security and a privacy-first mentality, which makes it easy for us to recommend.
It's undeniably let down by average connection speeds and poor reliability for streaming and torrenting, though. ibVPN is good, but there's not much reason to subscribe to it when so many other great options exist.
Alternatives to ibVPN
PrivateVPN is one of the very best VPNs for streaming right now. It's also significantly cheaper than ibVPN. Read PrivateVPN review
It's our number one VPN for plenty of reasons, but if you want unbeatable, reliable speeds around the world then ExpressVPN is in a league of its own. Read ExpressVPN review
---
User Feedback for ibVPN