Disclosure: Top10VPN is editorially independent. We may earn commissions if you buy a VPN through links on our site.
Our Verdict
We can't recommend Le VPN. It's based in Hong Kong and has an awful logging policy that invades your privacy. It manages pretty fast speeds, servers in a 120 countries, and unblocks the BBC iPlayer. But you should not surrender your personal data in exchange for those perks.
Le VPN calls itself the "most advanced in the world." We see a lot of this marketing talk, and rarely do VPN services meet these standards.
But we go in open minded to each and every VPN we test, and hope to discover truth to such claims. So we're going to answer the questions that people have about Le VPN, like:
How good is Le VPN?

Does Le VPN work with BBC iPlayer?

Is Le VPN better than NordVPN?
Before we move on to that, here's a quick summary of Le VPN's pros and cons:
Le VPN Pros & Cons
BBC iPlayer access

Operates own DNS servers

Large server list (120 countries)

Available on lots of platforms

Plenty of security features
Logs too much data

Server disconnections

Mediocre speeds

No Netflix

Limited torrenting

Minimal support
Le VPN Key Summary
| | |
| --- | --- |
| Data Cap | Unlimited |
| Speed | 69Mbps |
| Logging Policy | Intrusive Logging |
| Data Leaks | No |
| Jurisdiction | Hong Kong (Links with China) |
| Servers | Not disclosed |
| IP Addresses | 800+ |
| Countries | 120 |
| US Netflix | No |
| Torrenting | Restricted |
| Works in China | No |
| Support | Email support |
| Cheapest Price | $4.95 |
| Official Website | Le-VPN.com |
Read on if you want to get into the details and learn how we came to this summary, starting with the company behind Le VPN and an answer to the question: can Le VPN be trusted with your privacy?
Who is Le VPN?
About & Logging
Le VPN is operated by VTNV Solutions Limited. It's a company based in Hong Kong.
 It's debated whether Hong Kong is a good or bad place to base a VPN provider, considering its close links with the number one offender against privacy – China. But it is, officially speaking, free of any intelligence sharing agreement and has no legal obligations. 
Hong Kong is unlikely to be a problem if the VPN provider in question has a strong no-logs privacy policy. However, Le VPN collects more than enough to make us comfortable about its jurisdiction. 
We reveal all the data Le VPN collects below. 
Logging Policy
Le VPN collects a lot of information from you, including:
IP address

Timestamps

Amount of data transmitted

IP address of the VPN server being connected to

Username, email address & account password 

First & last name, company name, phone number & postal address
Le VPN states that it collects this data for as long as you have an account with it, and "up to five years after that."
This is utterly atrocious. Most of this isn't required to maintain a good service and prevent fraud, as Le VPN claims.
What Le VPN does not view or store is "private information about any individual user's activities on [its] network, such as emails, chats, VOIP calls, websites visited, etc." That's good, we suppose, but isn't that the whole point of a VPN?
Knowing your IP address and the IP address your connecting to, as well as how much data you use and what time you used it is far too much to us. Anyone who got their hands on Le VPN's logs could easily identify you.
Below average speeds
Speed & Reliability
Le VPN's speeds are poor, too. 
Check out our speed test on same-country connections:
Local Speed Test Results
Before using Le VPN:
98.64

98.12

7
When connected to Le VPN:
68.53

93.56

11
Download speed without Le VPN: 98Mbps
Download speed with Le VPN: 68Mbps
Our download speed loss when Le VPN is running: 31%
This amount of speed loss on location connections fails to impress us. It's decent enough for streaming, but it's not competing with the best premium services. 
It's long distance connections where it really struggles, though.
We put all the VPNs we test through a scientific speed testing process, determining the likely average results you'll get when connecting out to these locations:
USA:

13Mbps

(download) &

45Mbps

(upload)

Germany:

15Mbps

(download) &

0.10Mbps

(upload)

Singapore:

21Mbps

(download) &

6Mbps

(upload)

Australia:

12Mbps

(download) &

13Mbps

(upload)
Le VPN is a premium service, but these aren't speeds worth paying for. If you want to watch US Netflix content you might not even be able to get a smooth HD stream.
Ping time, or latency, is also consistently disappointing; we got as high as 579 ms connecting to Australia. Even for such a distant country, this is too much. Le VPN won't suit gamers at all. 
A lot of countries, but few city-level options
Server Locations
Le VPN has a whopping 120 countries to connect to. Le VPN even has a useful interactive server map here.
What's more impressive is that many Le VPN servers are available in underserved regions such as Africa, the Middle East, and South America. We've seen countless VPN services that barely pay attention to to these continents at all, but not Le VPN. 
It's also has a strong East Asian representation, with Thailand, Hong Kong, Malaysia, and Indonesia all available alongside more. 
As is usually the case, Europe and North America have the best coverage, but it's good to see that Le VPN is looking to serve users outside these regions well. 
However, the US and the UK are the only city level servers. In a network this size we really want to see more – if you're in a large country but there's only one location to connect to, it might end up being hundreds or even thousands of miles away. 
We also often had difficulty securing connections with many servers, while other times connections were slow. 
We suspect this is probably due to servers reaching capacity, which suggests that Le VPN needs to invest in its network in order to ensure that all locations are available to connect to 24/7. 
Le VPN has a large list of locations, but it needs to work on the details to ensure connections are available, quick, and closer to users.
BBC iPlayer access & Amazon Fire Stick app
Streaming & Torrenting
Maybe you just want a VPN to do some streaming, and you're not that interested in the privacy benefits.
Could this be the role Le VPN was born to play?
We discovered that Le VPN works with BBC iPlayer on its UK servers. It's been shaky in the past, and there's no guarantee it will work forever, but currently you can get your fix of top British TV.
Le VPN uses its own in-house protocol HybridVPN DNS, which is designed to work with popular streaming services at the expense of added privacy. Unfortunately it failed to work with Netflix. If you need a VPN for Netflix, best check out our list of the best. 
Le VPN also has Amazon Fire TV Stick app. This app works with both Netflix and BBC iPlayer, giving you secured access to the best of streaming right on your TV. 
We're not shy to say, though: it's a terrible user experience, forcing you to click through every single available country in alphabetical order until you get to the US or the UK right near the bottom. It still works, though, and many other VPN Fire TV Stick apps have similar issues. 
Torrenting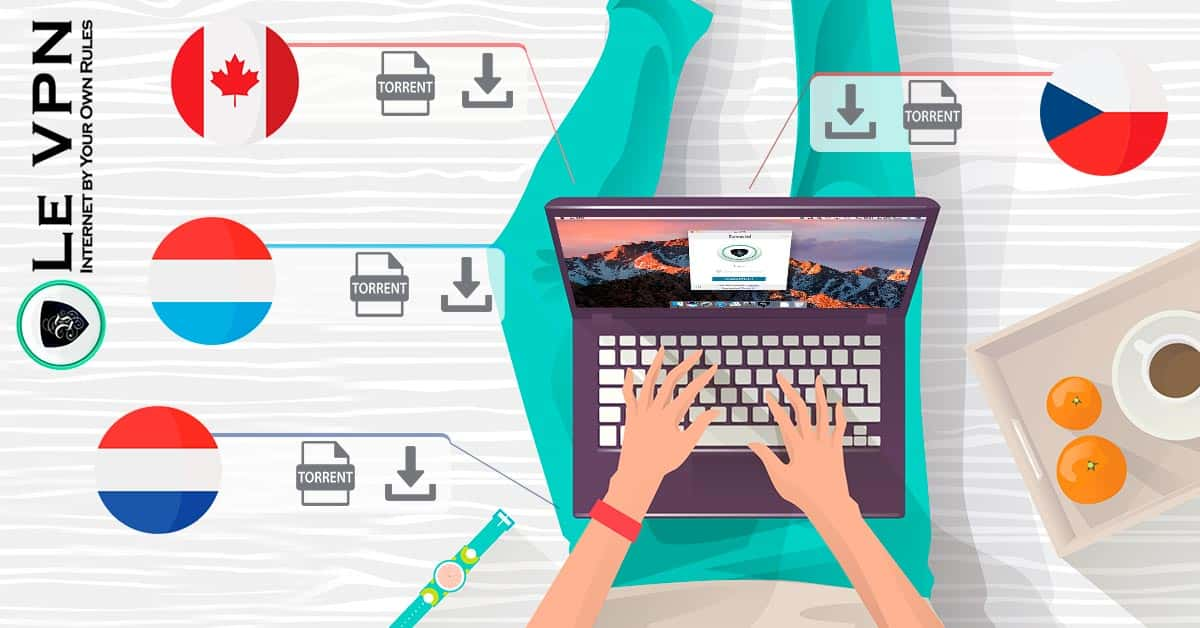 Torrenting on Le VPN is limited to four countries – we don't know why. 
These countries are:
Canada

Czech Republic

Luxembourg

Netherlands
Le VPN try to spin this limitation as being in your interest, suggesting that these countries are available for torrenting as it is "regarded as normal and perfectly legal" there. While not untrue, this is pretty misleading as torrenting is legal in just about every country. 
We'd like to see more options available. More so, when it comes to P2P traffic a VPN with good uploads is a plus. As you saw in our speed tests, Le VPN massively underperforms.
Germany, for example, clocked an abysmal 0.10Mbps in upload speeds. 
Unlikely to work in China
Censorship
Due to a lack of additional obfuscation tools, we couldn't recommend Le VPN as a VPN for users who are going to be connecting out from China. 
Le VPN would have to invest in a 'stealth' protocol, something that evades the censors and bypasses the Great Firewall. It does this by making your VPN connection appear as normal web browsing traffic.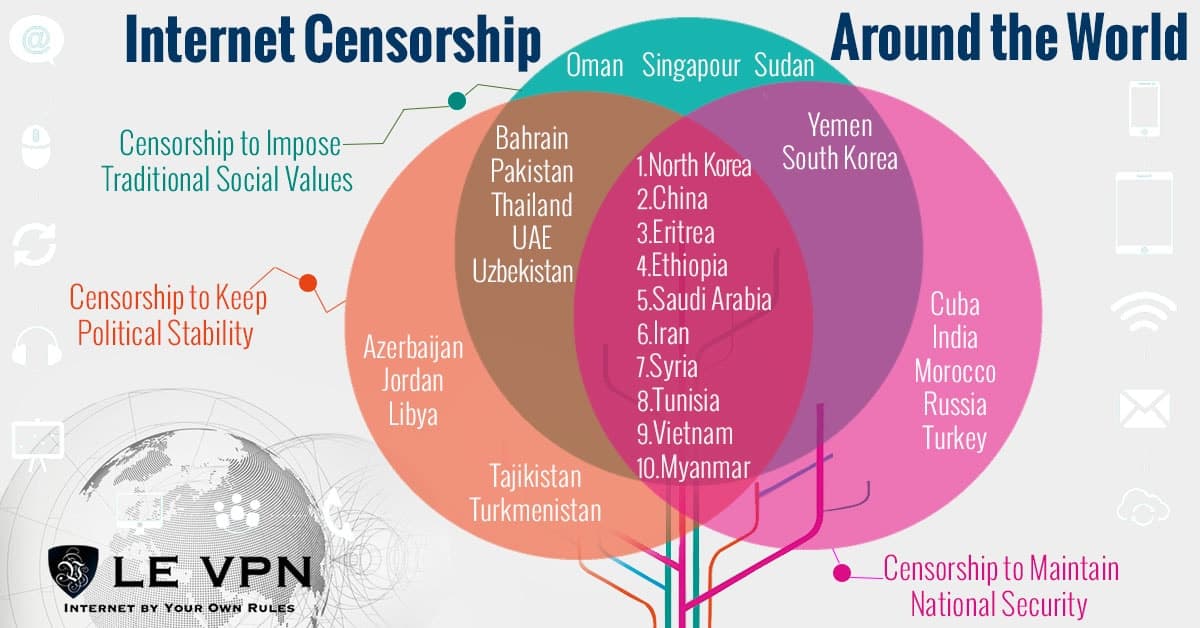 You might use Le VPN in other high-censorship countries such as Turkey and UAE, as censorship in these countries is less sophisticated than in China, but it wouldn't be one of our top picks. 
If you want to see our best picks, you can see our highest-reviewed recommendations for:
It's true that Le VPN's large server network really works in its favor, however as other governments begin cracking down on VPN providers, connecting via OpenVPN simply isn't going to cut it anymore. 
Works on popular platforms and then some
Platforms & Devices
Apps
Windows
Mac
iOS
Android
Linux
Router
Le VPN is available on the most popular operating systems like Windows, Mac, Android, and iOS.
It has also partnered with FlashRouters to offer routers with the Le VPN software pre-installed, so you can protect all of the internet-connected devices in your home without having to install individual apps on each one.
Le VPN also provides detailed setup guides for your devices that lack native VPN app support, like Linux, Google Chromebook, and Windows Phone. These contain step-by-step instructions as well as loads of useful screenshots to make the process as simple as possible, even for VPN newbies. 
You can also manually configure the software on DD-WRT routers but, unfortunately, no other models are currently compatible.
Le VPN allows you to download its software to "an unlimited number of devices" but this is limited to five simultaneous connections. With this, you can cover as many devices as you want, including your phone, laptop, desktop computer, and TV. 
Games Consoles & Streaming Devices
AppleTV
Amazon Fire TV
Chromecast
Nintendo
PlayStation
Roku
Xbox
If you're a gamer there are plenty of reasons to use a VPN, and a VPN like Le VPN can cover all your consoles and devices through router-level installation.
To do this, you can either buy a pre-flashed router or install it yourself (DD-WRT only). This will protect all of the internet-connected devices in your home simultaneously.
However, as we mentioned earlier in the review, you probably shouldn't use Le VPN for gaming. The speeds over long distance are so poor that you'll likely suffer game-ruining lag and latency.
It should be fine for covering your streaming devices like Apple TV and Amazon Fire TV Stick, though.
It's also worth taking a quick look at the various advantages and disadvantages of VPN routers: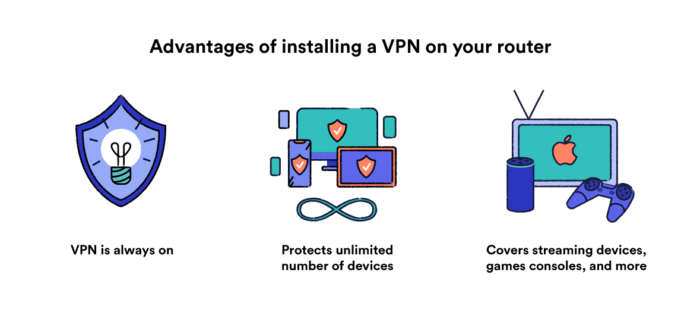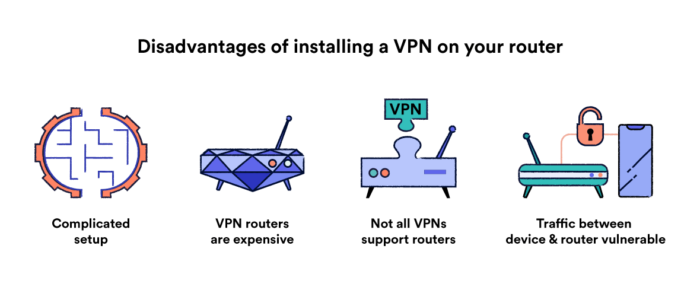 Good enough for most
Encryption & Security
Protocols

L2TP/IPSec

OpenVPN (TCP/UDP)

Encryption

AES-256

Security

First-party DNS

Supports TCP Port 443

VPN Kill Switch

Advanced features

Smart DNS
It's important that your VPN is encrypted and secure, keeping you private. How does Le VPN fare?
It's secure enough for most users, but isn't the best choice for those seeking the closest possible thing to online anonymity. 
Le VPN's desktop app defaults on startup to OpenVPN, the most secure protocol. However, our testing found that a bunch of servers won't work with this protocol and instead automatically connect you via L2TP. 
This isn't terrible, as LT2P still offers decent protection, but it's a bit frustrating that you can't always choose. 
Encryption is via AES-256, the cipher said to be 'unbreakable' to the extent that it is favored by the US federal government. 
Le VPN also operates its own DNS servers, meaning there's no risk of web traffic being routed through less-secure third-party servers. This is a very good thing, as you won't be connecting to servers owned by your ISP or Google and therefore are protecting your personal data. It's impressive to see a VPN company of this size offering such a great feature.
Initially we couldn't find Le VPN's kill switch. At least, not by that name. Le VPN informed us that ticking the option in settings to 'Block internet connection while reconnecting' does the same job. 
We've haven't experienced any connection dropouts while using it, which is reassuring, but blocking the internet connection while reconnecting isn't exactly the same as blocking the internet connection should the VPN stop working. 
It also makes a big deal about about a feature called HybridVPN: "An awesome mix of the fastest VPN service and a SmartDNS." It has a page of information about the protocol on its website. This proprietary protocol combines the "security and reliability of a VPN" with "the ease of use of a SmartDNS." This means that your traffic first passes through the VPN tunnel and then through Le VPN's SmartDNS servers, providing you with the best balance of speed and security. 
We'd only really recommend using this to access media streaming sites, but it's a nice added bonus to have.
A simple & transparent app
Ease of Use
How to Install & Set Up Le VPN
Le VPN's app is okay, if a little clunky and slightly outdated.
It's a mostly standard affair, with a big button to connect and disconnect. What's frustrating is that to connect to another server you have to first click 'Disconnect' and then 'Select Another Location' rather than being able to go straight to the server list and have it connect automatically when you select one. 
These small user experiences make a world of difference. 
What we like about Le VPN's app is its transparency. If you go to 'Options' you can see 'Logs' and if you're connecting to a server and connection fails, the app tells you that it's attempting to change protocols in order to better establish a connection. 
Some VPNs just take matters into their own hands and fail to inform the user of what's going on behind the scenes, so this extra communication is helpful. 
Le VPN also has a comprehensive and transparent website, much to its credit. It has plenty of pages with information on things like protocols, refunds, internet privacy and router VPNs.  
Limited support available
Customer Support
| | |
| --- | --- |
| Email | Yes |
| Email support via an online form | Yes |
| Online Resources | Yes |
Le VPN has a lot of really useful information on its website. 
If you're seeking information or assistance, you're likely to find something useful. It could be organized in a clearer manner though.
Failing that, you can always 'Send a Message' from the website. It's not 24/7 live chat support, so if a Le VPN agent isn't online it directs you to a support ticket. 
After speaking to someone from Le VPN, we were informed that there are customer support agents available to speak to twice a day during peak times for website visitors (morning and evening European time). Fair enough, although it would have been nice if this information was actually displayed somewhere.
Le VPN Coupon
Le VPN Pricing Plan
Le VPN have a simple three-tier pricing plan to choose from. 
You can select a one month, six month, or 12 month service. Each plan offers the same level of service and protection. 
All plans have 7-day money-back guarantee
Should you decide to purchase Le VPN, you can pay for it in a number of different ways. 
Your usual payment methods are covered, including credit card, debit card and PayPal, but Le VPN also accepts Bitcoin and a number of international options, including:
Boletol

CashU

Diners Club International

Discover Network

JCB

OneCard

Openbucks 

OXXO

Qiwi Wallet
Le VPN has a seven-day money-back guarantee should you want a refund after trying it out. There are more generous refund time periods, some over a month, but at least you have seven days to see if you like it. 
There are lots of restrictions as to who is and isn't eligible for a refund, though. If you pay via any 'alternative' payment methods such as QiWi, CashU or Openbucks, you won't be able to get your money back. 
Nor will you be able to if you purchase the service by "mobile payment methods (for instance through App Store or iTunes)." 
You should also know that refund requests are only processed during working hours Monday to Friday. This means you should make sure you don't get caught out and leave your refund request till the last minute. 
Le VPN aims to return your money to your account within seven days of receiving confirmation of the refund via email, but it says it often takes much less time than that.
Do We Recommend Le VPN?
The Bottom Line
We can't recommend Le VPN. It provides a decent enough service, but it's not cheap enough or impressive enough when there are many other, better VPNs out there.
Alternatives to Le VPN
CyberGhost
CyberGhost is a reliable, streaming-friendly service that has a better logging policy than Le VPN - and a better price tag. We 100% recommend you take a look at this instead. Read CyberGhost review
NordVPN
We rate NordVPN even higher than CyberGhost, and it's still an affordable service. It's great for torrenting, and Chrome users, too. Read NordVPN review
---
User Feedback for Le VPN