Disclosure: Top10VPN is editorially independent. We may earn commissions if you buy a VPN through links on our site.
Our Verdict
My Expat Network is an streaming focused VPN which underperforms in all areas. While it unblocks TV well in 12 countries, it also logs far too much personal user data and simply isn't focused on privacy. Slow speeds and a limited server network also hold this VPN back, and prevent it from competing with other VPNs in the same price range.
My Expat Network is the kind of VPN you might well have heard about in real life, not just online.
Its tight focus on streaming sites in just a few countries has made it hugely popular among European expats living abroad, particularly those from the UK.
But can it stand up against the more privacy-focused competition?
We put My Expat Network through our rigorous, standardized testing process to see just how good it is, answering this and other questions like:
Is My Expat Network a good VPN for the UK?
Just how good it it for streaming?
Is My Expat Network a legit VPN?
Is it safe and legal to use My Expat Network?
Does My Expat Network really work?
My Expat Network Pros & Cons
Pros
No IP, DNS, or WebRTC leaks

The widest range of streaming sites we've seen

Fast, friendly customer service

Cheaper than some competitors

Stealth protocol will work in some censored regions
Cons
Not focused on privacy

Unnecessary data logging

Pretty slow speeds

Fairly limited network
My Expat Network Key Data
| | |
| --- | --- |
| Data Cap | Unlimited |
| Speed | 44.19Mbps |
| Logging Policy | Some User Logs |
| Data Leaks | No |
| Jurisdiction | Hong Kong (Under Pressure from China) |
| Servers | 120 |
| IP Addresses | Not disclosed |
| Countries | 12 |
| US Netflix | Yes |
| Torrenting | Restricted |
| Works in China | No |
| Support | Email Ticket, Online Resources |
| Cheapest Price | $6.00/mo over 24 Months |
| Official Website | My-expat-network.com |
My Expat Network Category Ratings
We test and review every VPN in eight key areas. Here's how My Expat Network performs in each category:
Privacy & Logging Policy: 4.9/10
Encryption & Security: 5.6/10
Speed & Reliability: 4.6/10
Streaming & Torrenting: 8.5/10
Bypassing Censorship: 3.9/10
Ease of Use: 4.1/10
Customer Support: 7.5/10
Price & Value for Money: 5.0/10
To learn more about our methodology, read our full VPN testing process.
Those are the headlines, but there's much more to learn about My Expat Network. Find out more below.
Who is My Expat Network?
About & Logging
Privacy & Logging Policy Rating: 4.9/10
My Expat Network is run by My Expat Network Ltd., which was incorporated in Hong Kong in March 2011.
Its focus has always been on providing expats with access to streaming services from their home nations – this differs from most commercial VPN services, which put an equal if not greater focus on privacy and security.
We used to rate Hong Kong as one of the best places on Earth for privacy, but unfortunately the reality of the situation is now more complex.
Hong Kong itself has very liberal data laws which have historically been ideal for running a VPN, but its proximity to and volatile relationship with mainland China have made it difficult to predict whether this will continue to be the case in the future.
Recently, Hong Kong Chief Executive Carrie Lam oversaw the blocking of at least one VPN service in the region. We can't guarantee that My Expat Network, even with the best of intentions, won't be compromised or banned in the future.
Logging Policy
You can really tell that privacy isn't the focus of My Expat Network. We weren't able to find any logging or privacy policy for the VPN online – only one for the website.
After talking to customer service we have discovered that My Expat Network doesn't log user activity, but does log:
Your IP address
The time and date of connection
Server location of each connection
My Expat Network keeps this data for up to two years.
This is too much data collection – it builds a detailed picture of your online activity and would totally de-anonymize you were anyone to access these logs. It goes far beyond what is necessary to run the service.
We also think that VPNs should provide transparent reports of what they do with their customer data as a matter of practice, even if its main focus isn't privacy – as is the case here.
Underwhelming for a streaming-focused provider
Speed & Reliability
Speed & Reliability Rating: 4.6/10
As a streaming focused VPN we were hoping that My Expat Network would have consistently good speeds, especially when connecting to nearby servers.
Sadly, this wasn't the case.
Local Speed Test Results
Before using My Expat Network:
Download98.73

Mbps

Upload98.37

Mbps

Ping7

ms
When connected to My Expat Network:
Download44.19

Mbps

Upload87.94

Mbps

Ping55

ms
Our download speed loss when running My Expat Network: 55%
Ping was surprisingly bad – 55ms on a same city connection – so we wouldn't recommend gaming while connected to this provider.
The only server with latency low enough to game with anything like good ping was the Netherlands at 14ms.
Globally, speeds were pretty underwhelming, and often not enough to stream video without at least some buffering:
USA: 22.27Mbps (download) & 44.57Mbps (upload)
Germany: 34.63Mbps (download) & 90.96Mbps (upload)
Norway: 28.7Mbps (download) & 68.1Mbps (upload)
Australia: 6.29Mbps (download) & 21.9Mbps (upload)
The best speeds we saw were in the Netherlands which saw a 34% drop in download speed and the worst were in Australia which saw a 94% drop.
Overall, these speeds have the potential to cause a pretty unsatisfactory streaming experience, particularly if you want to watch 4K, or even HD, content.
Limited to Europe, North America and Austrailia
Server Locations
Undisclosed number of
IP Addresses
The My Expat Network server network is focused on giving access to streaming services in just 12 countries.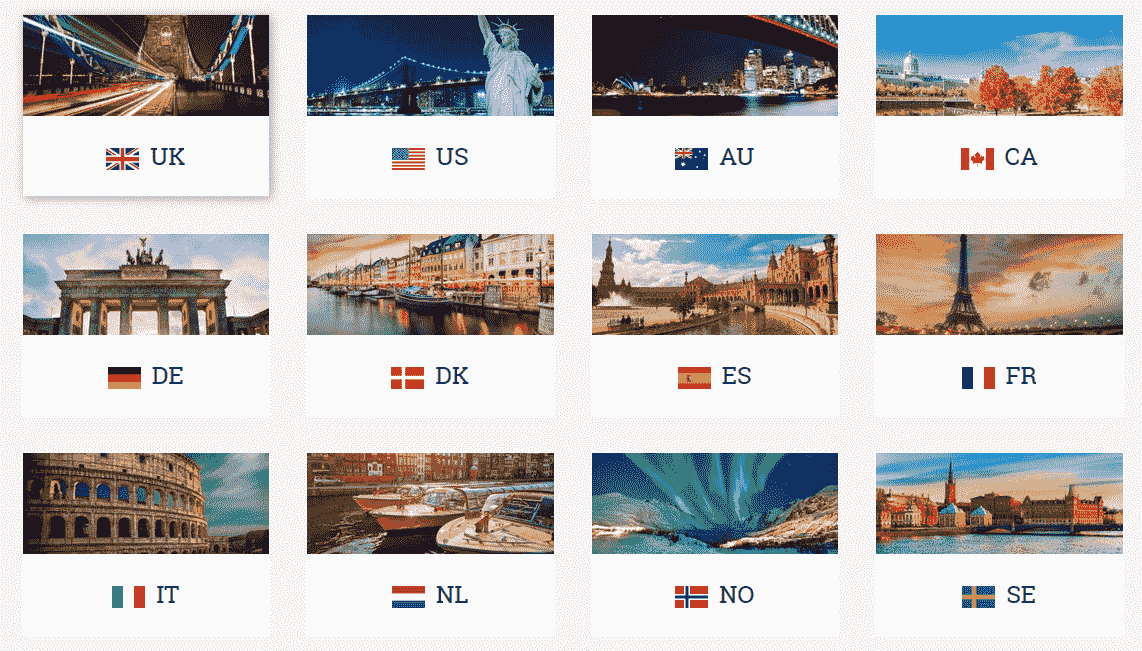 It serves these countries well, but offers nothing outside of them. This means that the further you get away from these regions, the slower speeds you can expect.
That said, if you only want to access a VPN server in, say, the UK, your VPN provider having lots of servers near you won't make any difference to your performance. Since My Expat Network's sole focus is allowing you to stream content from certain countries, it makes sense that their server network is limited.
It would still be nice for its network to grow in the future, though, and there is nothing stopping it from adding additional servers in those 12 countries.
At the moment My Expat Network claims to have only 120 servers across these 12 countries, with no public statement on how many different IP addresses it maintains.
Pretty much every streaming service you can image, only one torrenting location
Streaming & Torrenting
Streaming & Torrenting Rating: 8.5/10
Given its specific focus, this is where we really expected My Expat Network to shine.
And we weren't at all disappointed with what we saw.
We got access to favourites like BBC iPlayer and US Netflix without any problems at all, but My Expat Network goes way beyond these basics.
Its website has a TV Guide with the full suite of streaming services you can access from the UK, the US, Australia, Canada, Sweden, Norway, Denmark, the Netherlands, Spain, France, Italy and Germany.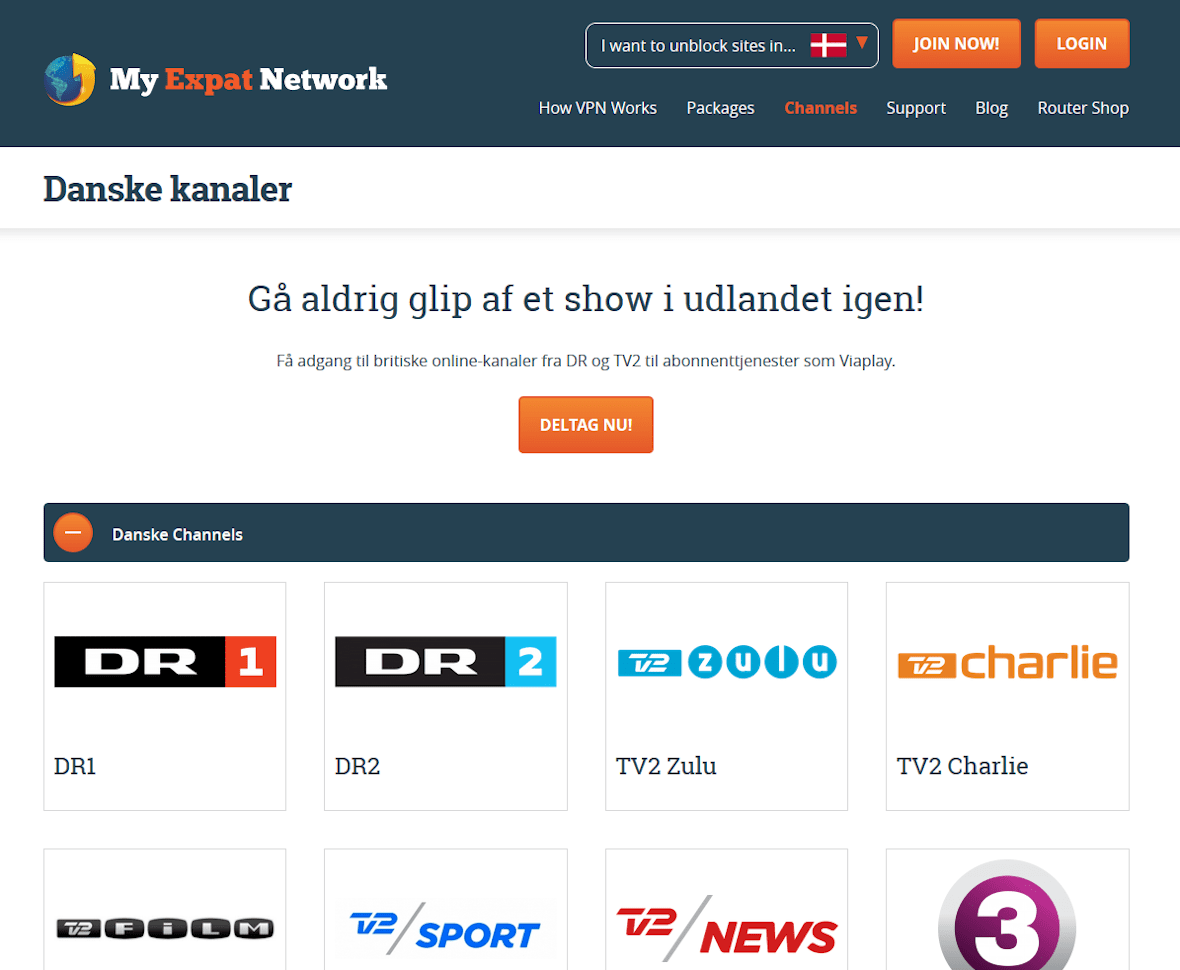 The selection is exceptional.
The only thing which lets My Expat Network down here are its speeds, which prevent you from watching all this in Full HD a lot of the time.
Torrenting
P2P traffic is allowed on My Expat Network's Netherlands servers.
If you try to torrent on any other server, the service ends your connection without warning. Since My Expat Network does not have a kill switch, this leaves you dangeriously exposed.
Combined with its unnecessary logging practices, this means we we don't recommend torrenting with My Expat Network.
The slow speeds aren't ideal for downloading or seeding large files, either.
Stealth protocol won't always work in China
Censorship
Bypassing Censorship Rating: 3.9/10
My Expat Network includes a stealth option for all of its servers – great news if you want to watch TV while living in, working in, or visiting a region with restricted internet.
According to customer services, the stealth protocol works in some regions of China, some of the time, but not everywhere.
We haven't been able to find much customer testimony of it working in restricted regions, either.
If you already have My Expat Network it might be worth giving it a go in China, but if you want to guarantee access to the free internet we would recommend using a more reliable VPN for the country.
Another thing to bear in mind is that My Expat Network's stealth protocol is not available on iOS.
Router support is a big bonus
Platforms & Devices
Apps
Windows

Mac

iOS

Android

Linux

Router
All the basics are covered by My Expat Network. It has custom apps for Windows, Mac, iOS, Android, and Linux.
You won't find any browser extensions for My Expat Network. Still, the suite of apps available cater to the vast majority of phones and computers.
Best of all, My Expat Network can be installed on your home router. It even has comprehensive guides to help you do it. We'll get back to why this is good later in the review.
Games Consoles & Streaming Devices
AppleTV

Amazon Fire TV

Chromecast

Nintendo

PlayStation

Roku

Xbox
There is a dedicated Amazon Fire TV app, which is ideal on its own or for use with media apps like Kodi or Roku.
As we've already mentioned, My Expat Network can also be bought on a pre-configured router.
This is great as it allows you to run the VPN simultaneously on all your devices – potentially giving your whole home a direct connection the internet of your home country.
Using a router is also the best way to set up a VPN on lots of media devices which don't have support for VPN applications. This includes Apple TV and games consoles like the Xbox One, PlayStation 4, and Nintendo Switch.
Depending on the payment plan you choose, My Expat Network only allows you to connect either one or five devices at a time, but if you install it on a router you can connect as many as you want.
No IP, DNS, or WebRTC Leaks
Encryption & Security
Protocols

IKEv2/IPSec
L2TP/IPSec
OpenVPN (TCP/UDP)

Encryption

AES-256

Security

DNS Leak Blocking
VPN Kill Switch

Advanced features
Encryption & Security Rating: 5.6/10
My Expat network makes use of AES-256, which is some of the strongest encryption available and currently unbroken, a great sign from a security perspective.
The protocol being used varies depending on which device you use. Windows and MacOS both make use of OpenVPN – a well trusted and versatile protocol. iOS is on IKEv2 which is also great, and our preferred protocol for mobile connections.
The Android app uses L2TP, though, which is an outdated standard. There are worse protocols out there, but we'd like to see My Expat Network move over to IKEv2 for Android as well.
The app does feature a kill-switch, although it can be difficult to find. This means if your connection to the VPN server drops your IP will be protected.
We didn't see any DNS, IP, or WebRTC leaks, either, which is a good sign for both your privacy and security.
Tray App Is Outdated but Functional
Ease of Use
How to Install & Set Up My Expat Network
Ease of Use Rating: 4.1/10
It's 2021: we expect more than a tray app from a paid VPN service.
Unfortunately this is all My Expat Network have to offer on Mac and PC.
The tray app (menu bar app on Mac) can be confusing to users who aren't expecting it and it also unnecessarily raises the learning curve. We find it a particularly odd choice given My Expat Network's less tech-savvy target audience.
Once you get the hang of the client it is easy enough to use, though. We've certainly seen worse interfaces.
The menus are pretty limited, but this more down to a lack of features than poor design.
If you have the single country subscription package, your account will be limited to just one device, whereas the all countries and devices package will allow you to connect up to five devices at once.
The single country package will also limit you to either Mac/PC/router or to tablet/mobile, so make sure you get the right one before trying to install.
Limited resources but quick, helpful responses from support
Customer Support
| | |
| --- | --- |
| 24/7 Email support | Yes |
| Online Resources | Yes |
Customer Support Rating: 7.5/10
There are online resources available, but they don't cover everything and can be confusing to navigate, which makes direct interactions with customer support all the more likely.
My Expat Network doesn't offer live-chat, which means you need to rely on an old-school email ticketing system.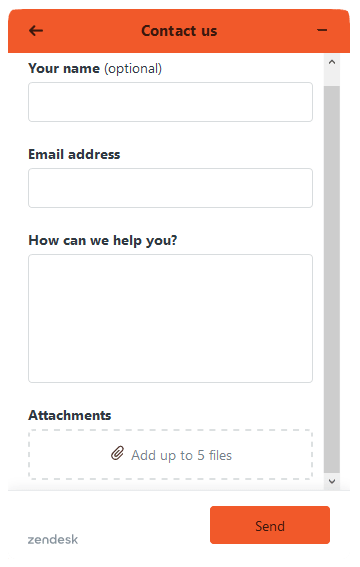 Overall, though, our experience of this email system was pretty good. Answers to our questions always came within hours and often came within minutes, and generally we found them to be very helpful.
Live-chat would be easier for everyone involved, but My Expat Network's support team does pretty well without it.
Lots of payment options, decent value
Pricing
My Expat Network Coupon
Price & Value for Money Rating: 5.0/10
My Expat Network has simplified it's plans recently, and brought prices down – both great news.
The two year plan remains the best value at $5.49 a month, but it is a long commitment.
If you opt for the one year plan you'll get a good balance between value and commitment. It's also where My Expat Network has made the biggest reduction to its prices, now just $6.79 a month. This isn't the cheapest VPN you'll find, but it's not unusually expensive either.
All plans have 30-day money-back guarantee
As for payment options, My Expat Network doesn't accept anything exceptional; you can pay with major credit and debit cards (no American Express), or with PayPal.
It does have a no questions asked 30-day money-back guarantee, though, which we really like.
Do We Recommend My Expat Network?
The Bottom Line
For most users we do not recommend My Expat Network.
A certain niche may find My Expat Network a good (or sometimes even the only) choice.
Its focus on access to streaming sites is unparalleled, particularly if you're looking for access to less common streaming sites, or non-English language streaming sites in any of its 12 countries.
However, you can get more private providers with better speeds, a bigger server network, and good streaming options for far cheaper.
Additional research by Liam Mullally
Alternatives to My Expat Network
PrivateVPN
On top of great value and reliable speeds, PrivateVPN is one of the best VPNs we've seen for streaming. It works reliably with BBC iPlayer, Netflix, Hulu, Amazon Prime Video, ESPN, and Sky, with dedicated streaming servers for Netflix in 19 different countries. Read PrivateVPN review
Windscribe
Windscribe has dedicated servers for streaming from the UK and the US, and much better speeds than My Expat Network. Its full suite of features and its no logs policy make it both private and secure. It doesn't have quite the variety or consistency of streaming options as My Expat Network, though. Read Windscribe review
---
User Feedback for My Expat Network