Disclosure: Top10VPN is editorially independent. We may earn commissions if you buy a VPN through links on our site.
Our Verdict
Private Tunnel suffers from slow speeds, an intrusive logging policy, no kill switch, bad customer support, unreliable streaming access and a lack of support for P2P traffic. Private Tunnel might be cheap, but there are better options at the same price point.
Owned by the company that developed OpenVPN, Private Tunnel leans on the world renowned protocol's number one place in the VPN industry.
It claims to be the "legacy in action" of that protocol.
With all of the history and experience of its creator, we had high expectations for Private Tunnel entering our testing. We left no stone unturned in an attempt to find out the answers to these key questions (and more):
Is Private Tunnel any good?
Does it keep any user logs?
Is Private Tunnel free?
Does it support streaming & torrenting?
How fast is Private Tunnel?
We'll go into deeper detail later, but if you're in a hurry you can take a look at the VPN's most important pros and cons.
Private Tunnel Pros & Cons
Pros
Simple custom VPN apps for popular devices

Very cheap monthly prices
Cons
Intrusive logging policy & US jurisdiction

Slow VPN speeds

Unreliable for Netflix & no torrenting allowed

No VPN kill switch

Very small VPN server network

Poor live chat support
Private Tunnel Key Data
| | |
| --- | --- |
| Data Cap | Unlimited |
| Speed | 52Mbps |
| Logging Policy | Intrusive Logging |
| Data Leaks | No |
| Jurisdiction | US (Five-Eyes Member) |
| Servers | Not disclosed |
| IP Addresses | Not disclosed |
| Countries | 12 |
| US Netflix | No |
| Torrenting | No |
| Works in China | No |
| Support | Live Chat |
| Cheapest Price | $3/mo for 12 months |
| Official Website | PrivateTunnel.com |
PrivateTunnel Category Ratings
We test and review every VPN in eight key areas. Here's how PrivateTunnel performs in each category:
Privacy & Logging Policy: 3.5/10
Encryption & Security: 6.4/10
Speed & Reliability: 4.1/10
Streaming & Torrenting: 3.0/10
Bypassing Censorship: 4.2/10
Ease of Use: 8.0/10
Customer Support: 4.1/10
Price & Value for Money: 5.5/10
To learn more about our methodology, read our full VPN testing process.
Who is Private Tunnel?
About & Logging
Privacy & Logging Policy Rating: 3.5/10
Private Tunnel is owned by OpenVPN Inc., the people behind the gold standard of VPN protocols.
OpenVPN is an open-source VPN protocol that's used in loads of commercial VPN services. It was written by James Yonan, who is now the company's CTO, and first released in May 2001.
Private Tunnel shares the same management as OpenVPN, with Francis Dinha as the CEO. It was first released in 2011, according to Wayback Machine.
It's based in California, USA, which is one of the worst jurisdictions for a VPN company to be under.
The US is not only subject to intrusive surveillance laws but it's also a key member of the Five-Eyes intelligence-sharing alliance. There's no way to say for sure just what it would do with any of your personal data that it collects.
Logging Policy
Like pretty much all VPN services out there, Private Tunnel claims to not log users' online activities. The privacy policy also says that it's a 'zero-log' service provider.
That is a lie.
In fact, Private Tunnel's logging policy is very intrusive.
It collects all this data:
Your originating IP address
Your chosen VPN server IP address
VPN connection timestamps
The amount of bandwidth used per session
These are stored for 14-30 days and are kept "to use with billing issues, troubleshooting, service offering evaluation, TOS issues, AUP issues, and for helping to prevent criminal activity performed over the service."
Considering that your IP address is a personally identifiable piece of information, it's very misleading of Private Tunnel to call its service "zero-log."
Even worse, the policy states that "OpenVPN [and by extension Private Tunnel] cooperates fully with law enforcement agencies when presented with a valid subpoena issued through a competent court of law."
Coupled with its US jurisdiction, Private Tunnel is far from private.
Slow speeds, even on same-country connections
Speed & Reliability
Speed & Reliability Rating: 4.1/10
Private Tunnel is really slow, even if you connect to a VPN server located within the same country as you.
Our download speeds dropped by around 50% over short-distance connections and by almost 90% connecting from the UK to the US.
If that sounds like a lot, that's because it is.
Local Speed Test Results
Before using Private Tunnel:
Download97.15

Mbps

Upload97.52

Mbps

Ping6

ms
When connected to Private Tunnel:
Download51.65

Mbps

Upload92.53

Mbps

Ping21

ms
Upload speeds were much faster than downloads were when we connected to nearby servers, but that alone doesn't make Private Tunnel any good for torrenting (read more about that here).
While Private Tunnel is fast enough for basic browsing, it won't cut it for more performance-reliant activities – like gaming or 4K streaming.
Tiny VPN server network - just 12 countries
Server Locations
Undisclosed number of
IP Addresses
Private Tunnel provides just 50 physical VPN servers in 12 countries:
Canada
France
Germany
Hong Kong
Italy
Japan
Netherlands
Spain
Sweden
Switzerland
UK
US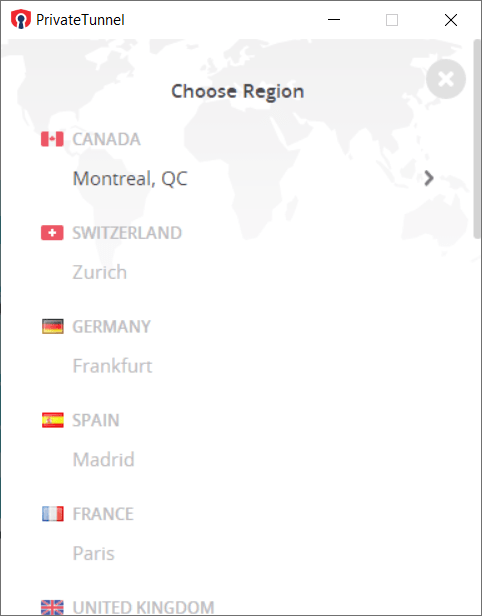 There are no servers in Africa or South America, and the one server location in Asia-Pacific (Hong Kong) actually dishes out a US IP address.
While the server network is undoubtedly small, there is city-level choice within the US, with 11 locations in total. If you're in the US you can connect to the nearest possible server for better speeds, as well as unlock state-specific content.
If you're located outside of Europe or North America, you should choose a different VPN provider with more server options, though.
In our review of ExpressVPN we cover off how it has servers in over 90 countries, for instance.
Unreliable for streaming & not secure enough for torrenting
Streaming & Torrenting
Streaming & Torrenting Rating: 3.0/10
Private Tunnel doesn't actively try to get around VPN blocks on streaming services.
It admits as much on its website.
During our most recent tests we found US Netflix to be blocked on all of Private Tunnel's servers, and it's only worked on rare occasions in the past.
We couldn't watch BBC iPlayer through Private Tunnel's lone UK server.
There are some VPN services that go to great lengths in order to provide reliable access to Netflix, Hulu, and the like. We think it's a pretty important feature of a VPN – you can find out which VPNs are best for streaming here.
Torrenting
We don't recommend Private Tunnel for torrenting, either – not that our recommendation even matters much. Private Tunnel flat-out doesn't allow P2P activity on any of its VPN servers.
Even if it did, Private Tunnel is neither private nor secure enough to protect torrenters.
As we've seen from the privacy policy, Private Tunnel keeps extensive user logs every time you connect to the VPN servers. It's also willing to hand over that information to the police.
To make things worse, Private Tunnel doesn't come with a VPN kill switch, which would leave your personal data exposed should the VPN connection suddenly drop.
This is not what you want in a VPN for torrenting. Try one of these VPNs instead.
Doesn't work in China
Censorship
Bypassing Censorship Rating: 4.2/10
Private Tunnel openly admits it doesn't work in China, or other high-censorship countries including Iran, Oman, Saudi Arabia, Turkmenistan, and the UAE.
That doesn't come as much of a surprise as Private Tunnel doesn't have any special obfuscation tools – any VPN hoping to beat Chinese censors needs them.
If you need a VPN for China, we've listed our recommendations here.
Custom apps for most popular platforms
Platforms & Devices
Apps
Windows

Mac

iOS

Android

Linux

Router
Private Tunnel has custom VPN apps for the four most popular platforms:
Microsoft Windows
Apple MacOS
Android
iOS
You can manually install the software on Linux and routers, too, but there are no browser extensions.
The standard package allows you to use the VPN service on up to 100 devices at once.
Games Consoles & Streaming Devices
AppleTV

Amazon Fire TV

Chromecast

Nintendo

PlayStation

Roku

Xbox
Private Tunnel does have a VPN app listed on the Amazon app store, but a member of the live chat support team told us that it doesn't work on Fire TV Stick, so we're not really sure what the point of it is.
If you want to protect your Fire TV Stick or any other streaming device for that matter, it's best to install the VPN software on a supported router (DD-WRT or OpenWrt), which would protect all devices connected to it.
Private Tunnel includes instruction for this setup on its website.
Lacks fundamental security feature
Encryption & Security
| | |
| --- | --- |
| Protocols | OpenVPN (TCP/UDP) |
| Encryption | AES-128 |
| Security | Supports TCP Port 443 |
| Advanced features | |
Encryption & Security Rating: 6.4/10
As is to be expected, Private Tunnel uses OpenVPN as its one and only VPN protocol.
OpenVPN is our favorite, too – it's safe, secure, and fast. Coupled with strong AES-128 encryption, Private Tunnel does the basics well.
You can toggle between TCP and UDP within the app too – these are communication protocols used with OpenVPN. UDP is quicker than TCP, but can be less stable. If you'd like the app to select for you, choose "Adaptive" as the protocol.
There are a couple of other protocol configurations within the app settings – HTTP Proxy and OBFS Proxy – which Private Tunnel explains may be more effective behind a restrictive firewall. However, the lack of technical information given about these configurations means you should stick with either TCP or UDP.
Private Tunnel is missing one fundamental security feature: a VPN kill switch. This is an essential tool that blocks internet traffic in the case of a sudden drop in VPN connection.
Without it your personal data is at risk of being exposed.
For that reason alone, we have to drop Private Tunnel's score for security.
Private Tunnel doesn't have its own DNS servers, either, and instead routes traffic through third-party servers, which isn't ideal for security and privacy.
We didn't experience and IP, DNS, or WebRTC leaks during our tests:
There are no advanced security features like split tunneling or manual port selection, either.
Simple custom apps, sometimes unresponsive
Ease of Use
How to Install & Set Up Private Tunnel
Ease of Use Rating: 8.0/10
Private Tunnel's custom VPN apps are really easy to set up and use as there are no complicated settings to configure.
It's a case of selecting your preferred server location from the list and clicking the connect button. Once connected the app shows your new IP address.
There is a very limited settings menu, where you can opt for the VPN to auto start when you switch on your computer and you can choose between the various protocol configurations provided, but that's it.
We did, however, find the buttons to be unresponsive at times, which made for a fairly clunky experience overall.
Really poor live chat support
Customer Support
| | |
| --- | --- |
| Live chat Support | Yes |
| Email | Yes |
| Online Resources | Yes |
Customer Support Rating: 4.1/10
Private Tunnel's customer support is some of the worst we've ever experienced.
There is a 24/7 live chat feature (as well as an email ticketing system), but the agents seemed clueless. They told us incorrect information in response to pretty much every question we asked, from the logging policy to app compatibility.
There are some setup guides and basic troubleshooting tips on the support section of the website, but our conversations with the live chat support team make us doubt the credibility of the site in general.
There's also email support, which seemed a little more reliable and helpful.
Cheap, but you get what you pay for
Pricing
Price & Value for Money Rating: 5.5/10
Private Tunnel is very cheap at just $6.00 per month, but we feel that the price is reflected in the low quality of the service you receive.
There's a 12-month plan, too, for those wanting a more long-term subscription, and that comes with a 50% discount.
Private Tunnel accepts a very limited range of payment methods – just debit cards, credit cards, and PayPal.
There are no options to pay with Cryptocurrency, nor international methods like AliPay.
Both plans come with a seven day free trial – which we like. They require card or PayPal details as well, though – which we don't like. If you want to get around giving your details to PrivateTunnel you can set up a PayPal account on a burner email.
There's also refund period beyond this though, so make sure you cancel before 7 days if you don't want to carry on with the subscription.
Do We Recommend Private Tunnel?
The Bottom Line
No, we don't. We had high hopes for OpenVPN's commercial VPN service, only to be left bitterly disappointed.
Private Tunnel collects intrusive user logs, doesn't come with adequate security features, and is pretty slow to top it all off. The VPN server network is tiny and customer support is awful, too. It's definitely one to avoid.
Additional research by Liam Mullally
Alternatives to Private Tunnel
Surfshark
Another budget VPN is Surfshark, but this one doesn't compromise on user privacy and security. It's also a great choice for streaming and torrenting. Read Surfshark review
Private Internet Access
If you need super fast speeds, Private Internet Access is the ideal choice. It also works with Netflix and comes with a no-logs policy (for real, this time). Read Private Internet Access review
---
User Feedback for Private Tunnel