Disclosure: Top10VPN is editorially independent. We may earn commissions if you buy a VPN through links on our site.
Our Verdict
VPNHub is a fast, free VPN with simple applications and a good selection of advanced features. The VPN has a limited choice of servers, collects a large amount of aggregated data, and lacks effective customer support, but it's a safe choice for casual users looking to stream US Netflix and browse privately.
See the best free VPNs we've reviewed
A VPN designed, operated, and owned by the popular adult website Pornhub, VPNhub was created with the intention of protecting the anonymity of its users.
You don't have to be watching adult content to make the most of it, though – VPNhub can be used just like any other VPN, describing itself as "the only free VPN you can trust."
We never trust statements of this kind without first doing the research. This VPNhub review puts the app under our expert microscope in order to ask some important questions, like:
Is VPNhub safe and secure?

Who made VPNhub and is it legit?

Can you torrent with VPNhub?
People want to know the answers to these questions, and we don't blame them. Because the free version of VPNhub is by far the most popular, that's what this review will strictly be addressing – not the paid version.
Before we answer them in depth, here's a brief overview and summary of our findings:
VPNhub Free Pros & Cons
Unlimited free data

Good security features

Works with Netflix

Quality app with nice features
Single US server

Logs aggregate data

Bad jurisdiction

Won't work against censorship

Poor customer support
VPNhub Free Key Summary
| | |
| --- | --- |
| Data Cap | Unlimited |
| Speed | 23Mbps |
| Logging Policy | Anonymous Server Usage Data |
| Data Leaks | No |
| Jurisdiction | US |
| Servers | Not disclosed |
| IP Addresses | Not disclosed |
| Countries | 1 |
| US Netflix | Yes |
| Torrenting | Unlimited |
| Works in China | No |
| Support | Email & Online Resources |
| Official Website | Vpnhub.com |
Canada-based VPN
About & Logging
VPNhub is owned by Pornhub, a Canada-based private company that provides online pornography. It's headquarters are in Montreal, meaning the Canadian government has legal jurisdiction to demand information from the company.
Pornhub was established in 2007 and is a subsidiary of MindGeek, which retains a monopoly on the porn industry – owning and operating plenty of other adult content distribution websites. You wouldn't know it from its website, which makes absolutely no reference to porn whatsoever.
The owners of MindGeek are Feras Antoon and David Marmorstein Tassillo.
In 2016, Antoon was investigated for insider trading with bank accounts blocked by the Autorité des marchés financiers – Québec, Canada's financial regulation body. In the book Planète Porn, it is said: "More than 800 million dollars would have been illegally pocketed" [translation from French].
MindGeek has offices in London, Dublin, Hamburg, Bucharest, Miami, Los Angeles and other places. It is headquartered at 32 Boulevard Royal, 2449 Luxembourg.
Luxembourg was an original member of the European Union and remains so, making it subject to intrusive European surveillance.
To build VPNhub, Pornhub had to partner with a company called AppAtomic. AppAtomic Limited is based in Nicosia, Cyprus, but its servers are in the US. 
The US is where VPNhub user data will be processed, which is bad news: the US is one of the worst countries on earth when it comes to online snooping. 
Whichever way you look at it, these are bad jurisdictions for privacy-conscious VPN users. 
Logging Policy
VPNhub is no zero-log VPN — it keeps aggregated activity data.
What does this mean?
Well, it collects certain data from your device before you connect to VPNhub, and other types of data when you do. 
All together, VPNhub collects:
Usage data

Unique mobile ID

Operating system & platform

Browser type & version

Network information

IP address for the duration of session ("pseudonymized" & "encrypted")
This isn't good but it's not the worst practice we've seen as VPNhub deletes your IP after the session ends. None of this is 'identifiable', meaning: there's nothing to identify you specifically or what websites you visit.
To this extent, VPNhub is a safe VPN. Although many will be disturbed by the amount of aggregate data it does collect, which it is quite open about.
VPNhub is also able and willing to share and sell your data to advertisers, stating:
We may also collect, use and share your data to produce and share aggregated data that do not identify you and therefore not considered as Personal Information.
It's also worth knowing that if you visit the VPNhub website, it records other websites that you visit before and after.
None of this comes close to being a no logs VPN service.
Decent speeds for US connection
Speed & Reliability
As VPNhub only allows us to connect to one server location, we could only test its speeds when connecting to the US.
But these results were quite impressive, featuring minimal speed loss for such a long distance connection – 9% loss of download speeds, and 12% loss in upload speeds (we test from London, UK).
Download speeds of 23Mbps and upload speeds of 45Mbps is pretty decent, enough for streaming with ease, torrenting or browsing. 
One server location only
Server Locations
The free version of VPNhub allows you access to the US only. All other countries are inaccessible unless you pay for a premium account. 
VPNhub claims to have over 500 servers within the US for free users, but that's not true: we were only allowed to connect to its Houston location. Although an IP check told us we were connected to Las Vegas.
Needless to say, this is extremely limiting.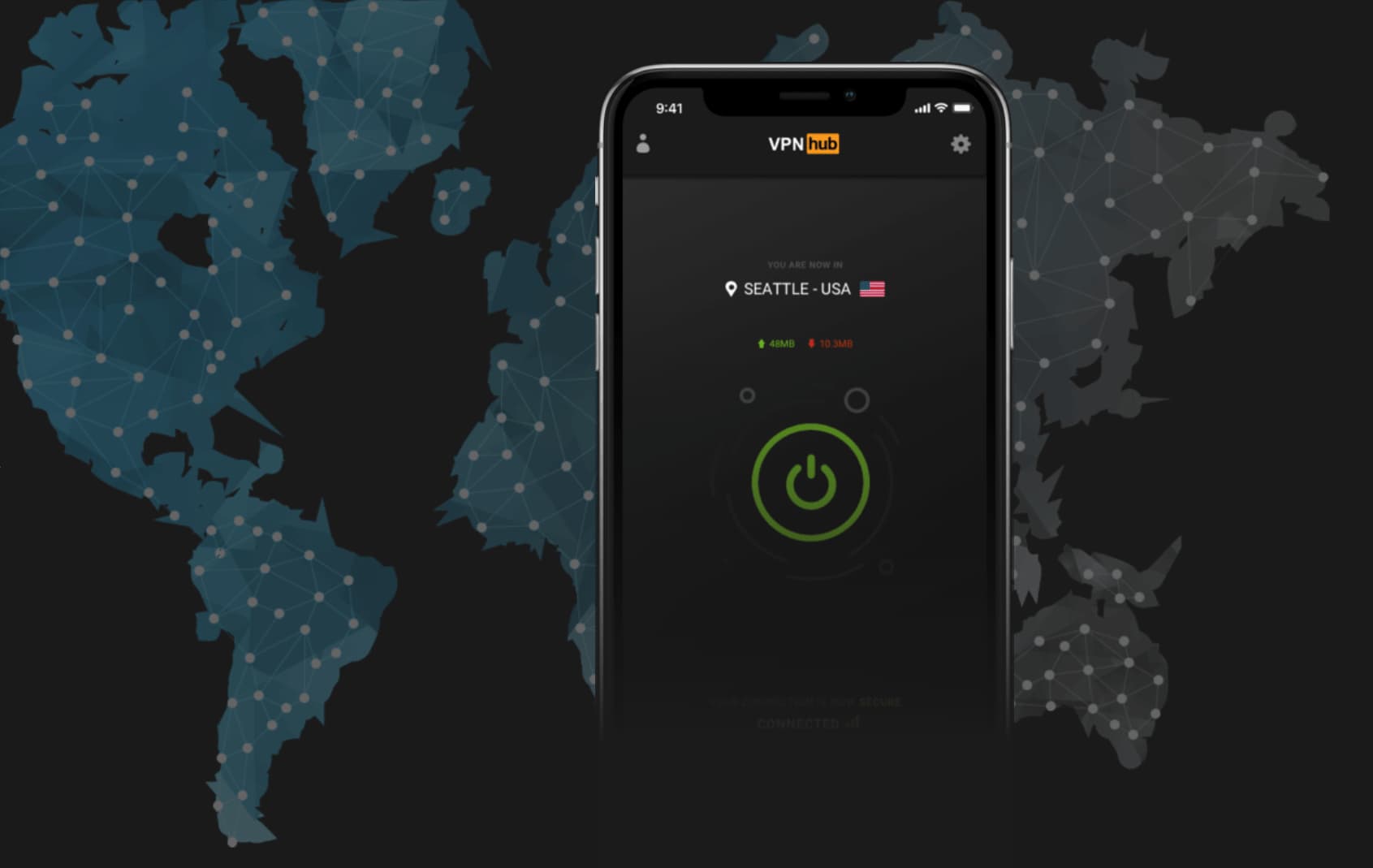 Good for Netflix
Streaming & Torrenting
If you like watching Netflix on your phone, then you might consider VPNhub.
It accessed the popular streaming service with ease and streamed content quickly. 
VPNhub also works to get access to Disney+, just as long as you can download the mobile app through a US-registered account on Google Play store or App Store. You can read how to do this in our page for Disney+.
VPNhub won't work for BBC iPlayer, at least on its free version, as it doesn't give you the option for a UK server connection. 
Torrenting
You can torrent with VPNhub. You should bear in mind, however, that it's not the quickest. 
We also don't like its privacy stance, making it less than ideal as a VPN for torrenting. 
P2P users should avoid.
Not an anti-censorship VPN
Censorship
VPNhub won't work in China, alongside a roster of other countries, including:
Cuba

Egypt

Iran

Myanmar 

North Korea

Qatar

Saudi Arabia

Sudan

Syria

UAE
VPNhub is quite open about this, stating:
"While we cannot say that it's impossible to connect in these countries, there are a few challenges to overcome."
We're not surprised by any of this.
VPNhub does come with an 'Obfuscate Connection' option, but that seems pointless if it doesn't work against state surveillance. 
Free version is mobile-only
Platforms & Devices
Apps
iOS
Android
VPNhub is a mobile-only VPN app. 
You need a premium subscription to use the app on Windows or Mac. 
There are no manual workarounds if you're keen to use it for games consoles or routers. 
This is a case of getting what you pay for. 
Not bad for a free service
Encryption & Security
Protocols

IKEv2/IPSec

L2TP/IPSec

OpenVPN (TCP/UDP)

PPTP

SSTP

Encryption

AES-256

Security

VPN Kill Switch

Advanced features
VPNhub claims to support a number of protocols: 
IKEv2
L2TP/IPSec
OpenVPN (TCP and UDP)
PPTP
SSTP
There are a lot of protocols here, but you can't manually select which ones you prefer. That means you may end up connecting to a protocol as insecure and outdated as PPTP. Our favorite is OpenVPN, which is much safer. 
We asked VPNhub and it told us IKEv2 is used for iOS and OpenVPN for Android. 
We sought out more details and were told the app uses AES-256 encryption. This cipher is considered virtually unbreakable, which is good news for security.
VPNhub includes a kill switch. This is an essential feature that protects against your real IP address being exposed should the VPN disconnect for whatever reason.
It also has a split tunneling feature, an option to 'Obfuscate Connection' (designed to bypass censorship and VPN blocks), and you can turn off the option to 'Allow Data Collection (GDPR)'.
We didn't experience any DNS or IPv6 leaks and, while VPNhub doesn't own its servers, it uses those owned by StackPath, the cloud giant used by the popular no-logs VPN, IPVanish. 
All in all, this is a pretty good free VPN when it comes to security. 
Nice apps with simple settings
Ease of Use
How to Install & Set Up VPNhub Free
We'll give VPNhub this: it's perfectly simple. 
You don't need any technical know-how at all with VPNhub.
It's little more than a main screen with a settings option. It also doesn't feature incessant and annoying pop-up ads like most free VPNs do. 
It doesn't skimp on settings or additional features either, making complex things simple 'On' and 'Off' switches – good for newbies. 
The very minimal settings menu allows you to opt out of sending your advertiser ID to VPNhub, although we wish that that was standard and didn't require manual toggling off. 
You can also choose a 'discreet icon' for your handset's home screen, if you don't want onlookers seeing its standard branding (which is near identical to that of Pornhub).
Basic, slow, and unhelpful
Customer Support
| | |
| --- | --- |
| Email | Yes |
| Online Resources | Yes |
VPNhub has a basic FAQ on its website and a better one in the app itself – but it's still limited.
There are no guides or troubleshooting tips, and there's little information about any of the technical details of the app. 
There is a customer support email hidden in its privacy policy, but we'd like to see it more obviously advertized. It uses the popular customer support platform Zendesk, which automatically responds to requests and issues a ticket. 
We waited three days for a short, impersonal response that lacked depth or detail.
This isn't good enough.
There's also the option to 'Report a problem' in the 'User profile' menu, which directs you to a VPNhub email automatically, but that's not much use when you want to ask a simple question and not report a problem. 
Do We Recommend VPNhub Free?
The Bottom Line
We can't wholeheartedly recommend VPNhub, but we don't think it's an awful VPN either.
VPNhub is likely to do a good job of protecting your privacy as your browse the web, and it'll also work to access US Netflix. 
As a free VPN, it is far from being the worst that we've come across. In fact, it's actually one of the better ones. 
But its one location server puts some serious barriers to its overall usefulness. Its servers being based in the US is also bad news for privacy, and its woeful customer support is a problem.
Alternatives to VPNhub Free
Windscribe
Windscribe's free app comes with 10 server locations which gives it far more options than VPNhub. We rank it as the number one free VPN service, so if you aren't looking to spend, we'd suggest you take a look at Windscribe Free. Read Windscribe review
Ivacy
Ivacy is cheap ($1.34 per month) but it ranks highly. There's a lot more you can do with this app, including reliable access to streaming services and a decent server network. We'd recommend paying a slight amount and reaping the rewards. Read Ivacy review
---
User Feedback for VPNhub Free