VPNhub Free Review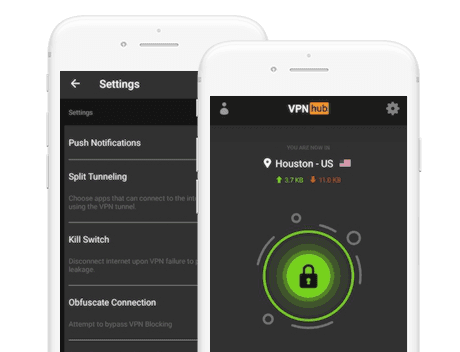 Streaming
VPNhub only works with US Netflix
VPNhub is a good option if you like watching Netflix or Disney+ on your mobile phone. Our tests show that VPNhub's US server unblocks US Netflix, and that it's a good free VPN for accessing the Disney+ Star hub.
But, it won't work with Amazon Prime Video. When testing VPNhub on Prime Video, the VPN was detected and we couldn't unblock any geo-restricted video content.
Moreover, VPNhub is neither a HBO Max VPN nor a Hulu VPN we can recommend. We couldn't unblock either US streaming service.
For the simple reason that it has no UK servers, you won't be able to watch BBC iPlayer, or any other content from across the globe.
Overall, VPNhub is a good free VPN to watch US Netflix on mobile phones.
Remember, VPNhub doesn't have a free desktop app or European servers, and it won't unblock many other streaming services. But, for no cost, it's a viable free streaming VPN.
Torrenting
Single VPN server isn't optimized for torrenting
While you can torrent on VPNhub's US server, its imperfect privacy policy means we caution against using it.
It does have a kill switch but its server is not P2P-optimized, and the speeds aren't the fastest for file sharing.
In our VPN torrenting tests, we recorded a very disappointing average bitrate of 1.5MiB/s. We expect at least 5.0MiB/s (from a 10.0MiB/s benchmark).
Privacy & Logging Policy
Not zero logs, but safe enough
VPNhub Free doesn't require any account information to register, but it still collects some activity and device information. This includes:
Unique mobile ID
Operating system and platform
Browser type and version
Network information
Most worryingly, VPNhub collects your IP address. However, this is pseudonymized, encrypted, and lasts only for the duration of your VPN session.
We'd rather your IP address is never collected, but VPNhub's security methods are risk-free, so we're not too concerned about it.
They also log aggregated activity data. But none of this is associated with the websites you visit and you cannot be identified.
While this isn't a zero logs VPN service and you may be put off by the amount of aggregated data it collects, VPNhub anonymizes and deletes this data appropriately and safely.
Most concerning, VPNhub is able and willing to sell your data to third-party advertisers. Its privacy policy reads:
"We may also collect, use and share your data to produce and share aggregated data that do not identify you and therefore not considered as Personal Information."
It's also worth knowing that if you visit the VPNhub website, it records other websites that you visit before and after.
None of this comes close to being a no logs VPN service. But it's mostly private and far from the worst free VPN privacy policy that we've seen.
Operates from privacy-unfriendly countries
VPNhub is owned by Pornhub, a Cyprus-based private company that provides online pornography. It's headquarters are in the Cypriot city of Limassol, meaning the Cypriot government has legal jurisdiction to demand information from the company.
Pornhub was established in 2007 and is a subsidiary of MindGeek, which is owned by Feras Antoon and David Marmorstein Tassillo. MindGeek is headquartered at 32 Boulevard Royal, 2449 Luxembourg. Luxembourg is an original member of the European Union, making it subject to intrusive European surveillance.
To build VPNhub, Pornhub had to partner with a company called AppAtomic. AppAtomic Limited is based in Nicosia, Cyprus, but its servers are in the US.
The US is where VPNhub user data will be processed, which is bad news: the US is one of the worst countries on earth when it comes to online snooping.
Whichever way you look at it, these are bad jurisdictions for privacy-conscious VPN users.
Security & Technical Features
Industry-standard protection
| Protocols | Available in VPNhub Free |
| --- | --- |
| IKEv2/IPSec | Yes |
| L2TP/IPSec | Yes |
| OpenVPN (TCP/UDP) | Yes |
| PPTP | Yes |
| SSTP | Yes |
| WireGuard | No |
| Encryption | Available in VPNhub Free |
| --- | --- |
| AES-128 | No |
| AES-192 | No |
| AES-256 | Yes |
| Blowfish | No |
| ChaCha20 | No |
| Security | Available in VPNhub Free |
| --- | --- |
| DNS Leak Blocking | No |
| First-party DNS | No |
| IPv6 Leak Blocking | No |
| Supports TCP Port 443 | No |
| VPN Kill Switch | Yes |
| WebRTC Leak Blocking | No |
| Advanced Features | Available in VPNhub Free |
| --- | --- |
| Ad Blocker | No |
| Dedicated IP | No |
| Double VPN | No |
| Smart DNS | No |
| Static IP | No |
| SOCKS | No |
| Split Tunneling | No |
| Tor over VPN Server | No |
| Tracker Blocker | No |
VPNhub claims to support a number of security protocols, including:
IKEv2
OpenVPN (TCP and UDP)
L2TP
IPsec
SSTP
PPTP
That's a lot of protocols. But you can't manually select which one you want, and you can't find out which is protecting your data through the free app.
For all you know VPNhub could be encrypting your data with PPTP, which VPNhub should retire as it's very outdated at this point.
We asked VPNhub and it told us that IKEv2 is used for iOS and OpenVPN for Android. Both are strong protocols, but OpenVPN is the best of the bunch.
We were also told that the app uses AES-256 encryption. This is a great cipher, virtually unbreakable, which is great news for security.
There's also the all-important kill switch. This is an essential feature that protects against your real IP address being exposed should the VPN disconnect for whatever reason.
We didn't experience any DNS or IPv6 leaks and, while VPNhub doesn't own its servers, it uses those owned by StackPath, the cloud giant used by the popular no-logs VPN, IPVanish.
All in all, this is a pretty good free VPN when it comes to security. We'd like to see more transparency and customization, but as a free security package, VPNhub hits the mark.
Bypassing Web Censorship
Doesn't bypass internet censorship blocks
VPNhub's free service has no obfuscation tools to get around strict internet blocks in highly-censored countries.
In all our tests using our test server in Shanghai (China), the VPN didn't unblock a single website. In other words, VPNhub Free is useless as an anti-censorship VPN.
Server Locations
One US server location only
1Country
1City
Not DisclosedIP Address
VPNhub Free only has one country available on its free server network: the US.
This is referred to as its 'Free Optimal Server,' but the city changes with each new connection.
VPNhub claims to have over 500 US city-locations available to its free users.
We can't be sure how true that is, but during our testing we did connect to many different cities including Atlanta, New Orleans, New York, Seattle, and more.
If that number is correct it represents a very generous city-level server network and avoids user congestion.
But you can't choose which of these cities you connect to. VPNhub connects you to whichever city it feels like.
Overall, access to US servers only is very limiting, even for a free VPN. In comparison, our TunnelBear review details how the Canadian VPN service operates free servers in 47 countries.
Speed
Acceptable speeds connecting into USA
As VPNhub only lets you connect to one server location, we could only test its long-distance speeds when connecting to a randomly assigned city in the US (we test from London, UK).
But these results were not bad, featuring minimal speed loss for such a long distance connection – 27% loss of download speeds, and 12% loss in upload speeds.
Before using VPNhub we recorded a 70Mbps download and 18Mbps upload connection.
Here were our average speed test results when connected to VPNhub:
USA:

Download: 52Mbps
Upload: 16Mbps
Ping: 146ms
Download speeds of 52Mbps and upload speeds of 16Mbps is quite good, enough for torrenting or browsing with ease. For a free service, VPNhub's speeds are impressive.
Device & OS Compatibility
Free on iOS and Android only
Apps
iOS

Android
VPNhub is only available for free on mobile apps. You can find and install it from the Google Play Store and App Store.
In other words, there isn't a free PC VPN app nor a free Mac VPN client.
There are no workarounds if you want to use it on games consoles, or on your home router, either. This is obviously extremely restrictive.
There is a premium version of VPNhub that is available across more devices, including desktop and Fire TV Stick.
But if you're going to pay for a VPN, there are much better ones available. Our latest ExpressVPN tests and NordVPN analysis confirm they are still the best VPNs available.
Ease of Use
Super simple sign up and app
How to Install & Set Up VPNhub Free
To VPNhub's credit, it couldn't be easier to download, sign up for, or use.
Simply download the app from the Google Play Store or App Store and install it onto your device. Once you skip some tutorial slides and refuse the premium account, you'll be directed to the home screen.
As there's only one server available, VPNhub is idiot-proof. You really only need the connect/disconnect button. It also doesn't feature annoying pop-up ads like most free VPNs do.
There's no advanced features, either, which are completely removed from the free version (even aesthetic customization is off limits).
This is obviously bad for personalization and security, but it does streamline the app even further, which is great for newbies.
Customer Support
Basic, slow, and unhelpful support
| Customer Support | Available in VPNhub Free |
| --- | --- |
| 24/7 Live Chat Support | No |
| 24/7 Email Support | No |
| Chatbot | No |
| Live Chat Support | No |
| Email | No |
| Email Support via Online Form | Yes |
| Tutorial Videos | No |
| Online Resources | Yes |
VPNhub's customer support is lacking. It's not entirely surprising given that it's a wholly free VPN service, but we would like to see something more than an FAQ.
There is no live chat, guides, or troubleshooting tops.
There's zero information about any of the technical specifications of the app, or any means to ask a simple question.
The FAQ in the app is much better than the website one, but both are still lacking in detail or assistance.
Under 'Support' you can report technical issues through an online form, with the option to add screenshots. But we found the response time to be slow.
We waited three days for a short, impersonal response that lacked depth and detail.
This isn't good enough.
The Bottom Line
A safe, free VPN for US Netflix
There are many better VPNs out there, paid and free, but VPNhub is a good VPN for US Netflix access and safe browsing.
One of VPNhub's strongest qualities is just how easy it is to download, install, and use. You don't need to insert any credit card information at all. You don't even need to create an account. This ease of access will tempt people looking for a quick fix to browse and stream safely.
It's far from a zero logs VPN, but it's anonymization and protection methods are sound. There's very little risk of your VPN activity being associated with you, even though its US legal jurisdiction is one of the worst places you can base a VPN.
For a free VPN there are an unsurprising amount of limitations. The US-only server network is very restrictive, and while you connect to many different US cities, you can't choose any of them.
More worrying is the complete absence of security options. You can't change protocols and there's certainly no advanced features of any kind. There's a kill switch, but you wouldn't know unless you ask VPNhub (like we did).
We recommend VPNhub for light browsing and easy, free access to US Netflix only. Torrenting is too risky, and there's many more streaming sites and devices VPNhub just won't work with.
As free VPNs go, it's certainly not the worst. But there are better ones out there, too.
Alternatives to VPNhub Free
Windscribe
Windscribe has an excellent free app. It comes with many more free server locations and is a great free VPN for streaming. Read Windscribe review
VyprVPN
VyprVPN is very cheap ($1.66 per month) but it ranks highly. There's a lot more you can do with this app and it's much safer. We'd recommend paying a slight amount and reaping the rewards. Read VyprVPN review
---
User Feedback for VPNhub Free