Top10VPN is reader-supported. We may earn commissions if you buy through links on this page. Learn how we make money.
VPNShazam: Ranked #71 out of 99 VPNs that we tested
Quick local downloads: 59Mbps
Access to over 140 worldwide server locations
Pretty cheap on longer subscriptions
DNS & WebRTC leaks detected
Some connection errors using OpenVPN
Clunky custom apps
Website lacks clarity and contains contradictions
Speed & Reliability
Fairly quick local downloads with unreliable uploads
Speed results from our physical location in London (100Mbps fibre optic connection) to a London test server.
Before using VPNShazam:
99.77

90.99

Ping

ms

6
When connected to VPNShazam:
59.16

28.55

Ping

ms

27
Download speed without VPNShazam: 100Mbps
Download speed with VPNShazam: 59Mbps
Our download speed loss when VPNShazam is running: 41%
VPNShazam produced mediocre speeds in our tests – it's neither exceptionally fast nor slow.
Local downloads on VPNShazam are quick enough for HD streaming on multiple devices at once, but uploads were inconsistent across the board, which will put off torrenters.
Downloads reached 33Mbps to the US (from London) and 20Mbps to Australia, both of which are decent.
VPNShazam isn't suited to gamers, though, with latency coming in high on all connections.
Considering we experienced so many connection failures using OpenVPN, we conducted our speed tests using the next best VPN protocol available – IKEv2.
Because of this, it's not fair to directly compare VPNShazam's results to other VPNs we've tested as IKEv2 is generally quicker.
Server Locations
1,800 servers across 140 countries worldwide
140
Countries
160
Cities
300,000
IP Addresses
VPNShazam has one of the biggest server networks of all the VPNs we've tested. It operates 1,800 servers in more than 140 countries worldwide.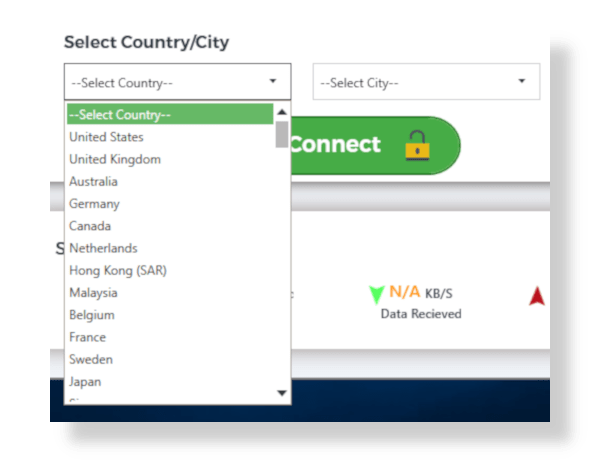 No matter where you are in the world, there will be a VPNShazam server nearby to connect to for optimal performance.
15 city-level servers in the US is a highlight, but there are also loads more countries with a handful of city-level options, including the UK, Australia, Canada, and Germany
Even more impressively, VPNShazam maintains over 300,000 individual IP addresses – that's a big help to ease congestion and maintain speeds during peak times.
Streaming & Torrenting
Not ideal for streaming, and torrenting restricted
VPNShazam doesn't offer servers dedicated to streaming, and while there is plenty of server choice in the US and US, none of the city-level options worked with Netflix.
VPNShazam did unlock BBC iPlayer through the London and Manchester servers, though.
Torrenting
VPNShazam doesn't permit torrenting/P2P filesharing on servers in the UK, US, Canada, Australia, or any other countries where it is "illegal by law".
We should clarify that torrenting is in fact perfectly legal in all of the above countries, so long as the material being downloaded or shared is not stolen on copyrighted.
Customer support confirmed that users can use VPNShazam to torrent on the following servers: Turkey, Sweden, Romania, Luxembourg, the Netherlands, Germany, and Russia.
In addition to this, unreliable uploads and lack of a working kill switch make VPNShazam a poor choice for heavy torrenters. Take a look at our best recommended VPNs for torrenting here.
Bypassing Censorship
Works in China with some manual config
VPNShazam offers "special" servers for users in China, however you need to email support in order to get them, and waiting for a response can take some time.
VPNShazam customer support emails users comprehensive instructions for each device, but all of them require some form of manual configuration.
If you want a simpler option for China our top pick is ExpressVPN, which works in China without any special configuration.
Platforms & Devices
Limited range of custom apps, manual config possible for most devices
Apps
Windows
Mac
iOS
Android
Linux
Router
VPNShazam offers custom apps for Microsoft Windows and Android – all you need to do is download the software from the site and connect.
VPNShazam will also work with MacOS, iOS, Linux, and various routers, but this requires some manual configuration.
While VPNShazam doesn't have any native apps for games consoles or streaming devices like the Amazon Fire TV you can still protect them by connecting each device to a configured router.
VPNShazam allows up to five simultaneous connections per subscription, so you can protect multiple devices at once.
Games Consoles & Streaming Devices
AppleTV
Amazon Fire TV
Chromecast
Nintendo
PlayStation
Roku
Xbox
Encryption & Security
Limited security features, and DNS & WebRTC leaks
Protocol

IKEv2/IPSec

L2TP/IPSec

OpenVPN (TCP/UDP)

PPTP

SSTP

Encryption

AES-256

Security

First-party DNS

Advanced features

Ad Blocker
Please see our VPN Glossary if these terms confuse you and would like to learn more.
VPNShazam's website may have the seal of approval from the likes of Norton Symantec and SiteLock, but is the VPN service itself safe to use?
The app gives you the option between several different VPN protocols. Our preference is OpenVPN for its balance between performance and privacy, but we found that it didn't work on many servers. Instead we resorted to IKEv2, which is second best to OpenVPN.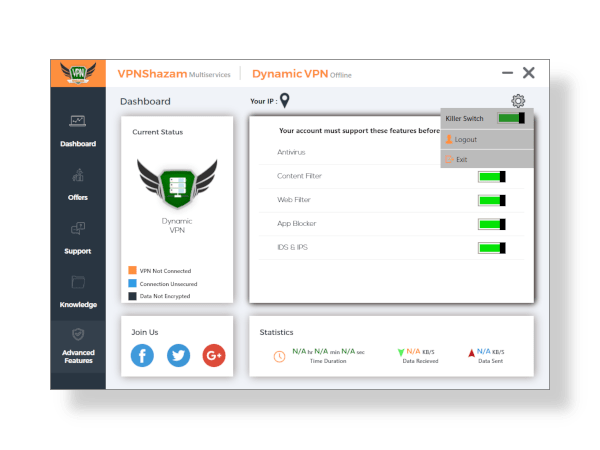 With little information on the website, a quick email to customer support confirmed that VPNShazam uses AES-256 encryption, a cipher considered unbreakable.
Customer support also told us that VPNShazam uses its own DNS servers, which would be a big advantage if we hadn't found it to be leaking DNS requests to our ISP while using the IKEv2 protocol. This privacy flaw allows snooping third parties to see your browsing activities.
We experienced some WebRTC leaks using VPNShazam, too – a browser issue which exposes your true IP address. The VPNShazam Windows app doesn't protect you against IPv6 leaks either.
Another cause for concern is that VPNShazam's Windows app appears to come with a VPN kill switch, but customer support told us that it's "still not active", giving users a false sense of security.
We must stress that by claiming to offer a VPN kill switch but in fact not, VPNShazam is being dangerously dishonest.
With this in mind, VPNShazam is not particularly safe to use even for securing public WiFi, as your personal details could be left exposed to hackers.
Logging Policy
Unsatisfactory logging policy in a privacy-unfriendly jurisdiction
VPNShazam doesn't have a stand-alone privacy or logging policy; they're tied in with the Terms and Conditions, and it's not all that clear what data VPNShazam collects when you connect to the VPN.
VPNShazam's Ts & Cs state that "any personal information received will only be used to fill your order" and that it doesn't "sell or redistribute your information to anyone."
It continues to say that VPNShazam monitors a user's IP address "ONLY when ordering our services in order to manage and reduce the fraudulent orders."
However, we noticed that VPNShazam also recorded our IP address when we submitted a support ticket. When we asked customer support about this, an agent told us "our support and billing system is the same one," which makes us question what else the Ts & Cs leave out.
What's more, if you break any of the terms that "involve criminal activities" VPNShazam says that "you will forfeit all the privacy and confidentiality privileges that our service provides."
While this is disconcerting, customer support assured us that VPNShazam does not "keep any clients logs," but we'd like this to be written clearly in a dedicated privacy policy that explicitly mentions VPN usage.
Jurisdiction
VPNShazam is based in Palestine, in the city of Ramallah, which is governed by the Palestinian National Authority.
Palestine is not a privacy-friendly jurisdiction. The 2017 Cybercrime Law penalizes the use of VPNs to access blocked websites, and prohibits the encryption of data without explicit legal authorization.
Ease of Use
Easy to set up but Windows app is clunky
How to Install & Set Up VPNShazam
VPNShazam's apps look pretty simple, but as soon as we tried to connect the service went downhill.
We experienced loads of connection errors and failures using OpenVPN with many VPNShazam servers on the Windows app, and were forced to connect through alternative VPN protocols.
VPNShazam's apps feel quite clunky in general. For example, the server location list is not ordered alphabetically, so you have to scroll through dozens of locations to find the one you're looking for, and changing servers takes too many steps.
Customer Support
Website contains contradictory info but support is helpful
| | |
| --- | --- |
| Live chat Support | |
| Email | |
| Online Resources | |
VPNShazam's customer support is fairly basic. There are some FAQs on the website as well as
simple setup guides with helpful screenshots for manually installing the VPN.
However, VPNShazam's website content has lots of errors, with outdated and conflicting information on some pages.
There is very intermittent live chat support available when you're logged into your account. The agents are helpful but have pretty limited technical knowledge.
For more technical questions, email support is more useful, but we were left waiting 24 hours-plus for a reply on occasion.
Pricing & Deals
Lost-cost VPN with different package options
VPNShazam Coupon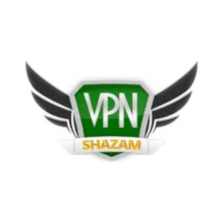 VPNShazam
Get 75% off VPNShazam's Dynamic VPN 2-year plan
VPNShazam Pricing Plan
VPNShazam is pretty cheap, even on short-term plans.
The Turbo Dynamic VPN package offers servers in more than 140 countries, five simultaneous connections, and a dynamic IP address, which means that you get a new IP address each time you connect.
The Dedicated IP VPN comes with all the same features plus a dedicated IP address. This is an IP address that stays the same each time you connect and is not shared with any other user.
You can choose to have an IP address associated with one of the following countries: the US, UK, Canada, Australia, Singapore, and Germany.
Both of the packages offer plans of varying lengths. The longer the plan, the less you pay on a monthly basis.
For instance, if you opt for the Dynamic VPN it will cost you $8.99 per month, but you can save 72% by committing to the two-year plan, which works out at a cheap $2.50 per month.
Like the majority of VPNs, VPNShazam doesn't offer a free trial. Instead, it offers a seven-day cooling off period. However, VPNShazam's money-back guarantee comes with a catch.
Refunds will be processed within one business week as long as you haven't used more than 1.95GB of data, which you could easily burn through in an hour of Netflix.
You've read our expert review - read on for reviews from real users.
User Reviews
No reviews yet
5 star

()

4 star

()

3 star

()

2 star

()

1 star

()
Share your thoughts to help others