Disclosure: Top10VPN is editorially independent. We may earn commissions if you buy a VPN through links on our site.
Our Verdict
Yoga VPN is a free, mobile-only VPN that isn't safe to use. It has weak encryption, invasive advertising, and a vague privacy policy. There are no security features, it doesn't support P2P, and it leaks DNS data. In short, Yoga VPN is slow and dangerous.
Yoga VPN has no website, but its Google Play Store listing makes some bold claims, including: "unlimited speeds", "anonymous", "no logs", and more.
Claims like these are made by VPNs no matter how good or bad the service is, so it's important to look beyond the marketing and find out if these statements are true.
We have produced this full Yoga VPN review to answer all the questions you may have about this mysterious VPN service, including:
Who owns Yoga VPN?
Is Yoga VPN safe?
Which platforms does the VPN support?
Can it be hacked?
What's the best alternative to Yoga VPN?
We recommend Windscribe to protect your online privacy and security for free
Yoga VPN Pros & Cons
Pros
Average server network

Unblocks BBC iPlayer
Cons
Weak security

No privacy policy

Chinese-linked ownership

One of the slowest VPNs

Confusing server system

Bad app with no support
Yoga VPN Key Data
| | |
| --- | --- |
| Data Cap | Unlimited |
| Speed | 8Mbps |
| Logging Policy | Intrusive Logging |
| Data Leaks | Yes |
| Jurisdiction | Hong Kong |
| Servers | Not disclosed |
| IP Addresses | Not disclosed |
| Countries | 5 |
| US Netflix | No |
| Torrenting | No |
| Works in China | No |
| Support | Online Resources |
| Official Website | YogaVPN.com |
Yoga VPN Category Ratings
We test and review every VPN in eight key areas. Here's how Yoga VPN performs in each category:
Privacy & Logging Policy: 0.1/10
Encryption & Security: 1.5/10
Speed & Reliability: 0.3/10
Streaming & Torrenting: 3.0/10
Bypassing Censorship: 1.0/10
Ease of Use: 7.0/10
Customer Support: 0.1/10
To learn more about our methodology, read our full VPN testing process.
Who is Yoga VPN?
About & Logging
Privacy & Logging Rating: 0.1/10
Yoga VPN was developed by LANPIPER PTE LTD and is owned by Yolo Net Technology. The company is incorporated in Hong Kong and has another address in China – one of the least privacy-friendly countries in the world.
Yolo Net Technology describes itself as "focusing on developing small and beautiful mobile applications," but there's no mention of Yoga VPN on its website.
The company secretary is named Brilliant Corporate Services Limited (智尚秘書服務有限公司).
It is incorporated at this address: Unit C, 4/F, China Insurance Building, No.48 Cameron Road, Tsim Sha Tsui, Kowloon, Hong Kong.
It also has a Chinese address in Guangzhou (redacted but available on public record). Chinese national Hang Dong (董航) is the director and sole shareholder.
In short, this is a Hong Kong-registered VPN with an extremely opaque company structure and links to mainland China. We do not recommend trusting this company with your browsing data or personal information.
Logging Policy
Yoga VPN's privacy policy is 371 words long. It's extremely vague and contains almost no specific information about the user data that is collected when you use its VPN service. These specifics are super important when it comes to choosing a safe and private VPN.
The privacy policy is linked to via text dump-hosting site Pastebin, a site popular with hackers for sharing stolen data as there is no requirement for registration. 
Hosting a privacy policy on Pastebin does very little to inspire trust in the provider.
You don't have to read for long before coming across this:
"We collect your non-personal information when you visit our website, including your device information (device ID excluded), operation system, logs."
This looks to be in reference to the use of the website, and not specifically to the use of the VPN app. 
There is no information whatsoever about how user privacy is protected on the VPN app, and the entire policy appears to be generic text that could apply to any website.
That alone rules out Yoga VPN as a viable service in our eyes.
It means that you are trusting it with all your web searches and data, making it available to anyone Yoga VPN feels compelled to share it with, which it will: 
"We will access, use or disclose your information with other organizations or entities for reasons that required [sic] by any applicable law."
We recommend consumers absolutely avoid using a VPN with such an obvious disregard for user privacy and such limited transparency about its practices.
A dangerous VPN with weak security
Encryption & Security
Protocols

OpenVPN (TCP/UDP)
Undisclosed

Encryption

Undisclosed

Security

Advanced features
Encryption & Security Rating: 1.5/10
Yoga VPN is extremely opaque when it comes to details about its encryption and security offering.
We asked the company to tell us exactly how it encrypts and protects its users. We received no response.
It makes hardly any reference to any of the important details about protocols and hardware in any of its marketing materials – there isn't even a vague promise of security.
It does mention in its play store listing that all traffic is encrypted with UDP/TCP, which are two types of OpenVPN protocol. This is a solid foundation if true, but it's not nearly enough information to inspire faith in the VPN.
It doesn't have basic security features such as a VPN kill switch, and there are no additional security tools or configuration options whatsoever.
Our original tests detected DNS and WebRTC leaks which would reveal users' real identity if examined. We notified Yoga VPN of these leaks, which they claimed to have fixed, but our most recent testing found that the service still leaks DNS requests.
Our research update into free VPNs also classifies Yoga VPN as 'risky' – it has links to mainland China, executes unsafe functions, and demands intrusive permissions to users' last known location, IMEI number, and phone number.
Overall, Yoga VPN is a dangerous application that should be avoided at all costs. It leaks user data, requests access to sensitive personal information, and fails to protect your browsing activity with weak encryption.
The slowest VPN we've tested
Speed & Reliability
Speed & Reliability Rating: 0.3/10
Yoga VPN is amongst the slowest VPN services we've ever tested. We measured a staggering speed loss when connecting to nearby servers and download speed losses of over 90% when connecting to global server locations.
This is an extremely slow VPN that performs consistently poorly. With speeds as low as 2.77Mbps you will not be able to stream content or browse the internet without significant buffering and loading times.
Here are our latest speed test results:
Local Speed Test Results
Before using Yoga VPN:
Download80

Mbps

Upload93

Mbps

Ping5

ms
When connected to Yoga VPN:
Download2.77

Mbps

Upload2.57

Mbps

Ping11

ms
Download speed without Yoga VPN: 80 Mbps 
Download speed with Yoga VPN: 2.77 Mbps 
Our download speed loss when connecting to Yoga VPN: 97%
Ping times were not quite as diabolical, but still underperforming at 11ms on same-country connections.
These are the average speeds you can expect when connecting out from the UK to these locations:
USA:

2.9Mbps

(download) &

0.57Mbps

(upload)

Germany:

8.33Mbps

(download) &

2.57Mbps

(upload)

Singapore:

3.98Mbps

(download) &

2.23Mbps

(upload)
As you can see, these results are pretty shocking. YogaVPN is not just a shady VPN. It's a shady and slow VPN.
Curious to know how we got these results? Take a look at how we test VPNs.
30 Proxy Server Locations
Server Locations
Undisclosed number of
IP Addresses
Yoga VPN offers approximately 30 server locations split into three 'levels'. Each level provides an increased number of servers in different international locations, paid for by an in-app currency called 'points', which are distributed randomly.
Though unique, this system is unconventional and makes using the VPN service unnecessarily confusing.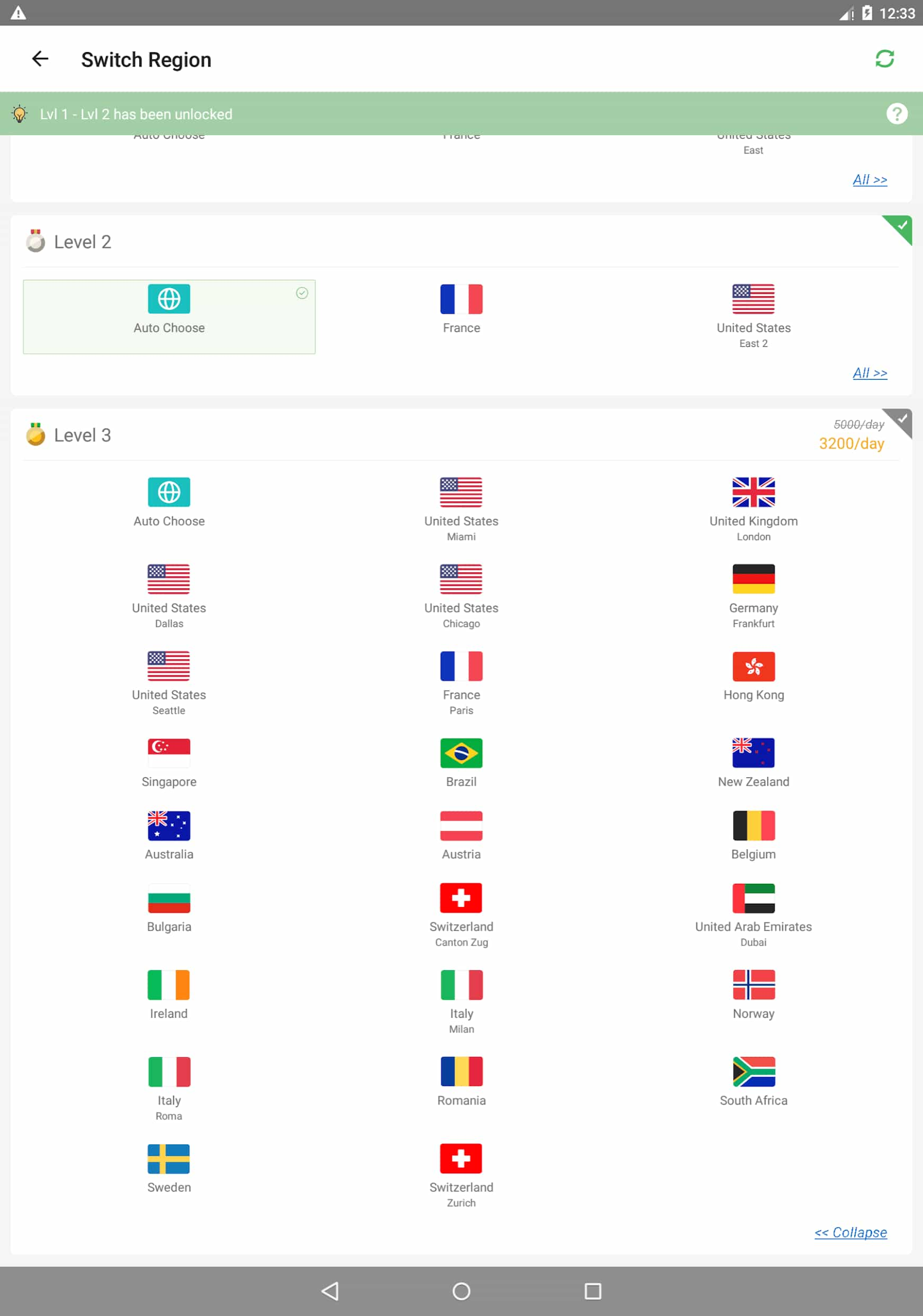 Level 1, 'Basic' servers, only offers you five servers in five countries:
Canada

France

Germany

United Kingdom

United States
Level 2 offers 15 total servers, with some regional options made available, including:
Germany Stable

Germany For Mid Asia

Germany Fast

United States West – Fast

United States West – Stable

United States East – Fast

United States East – Stable
What exactly Yoga VPN means by 'Stable' is anyone's guess, presumably it means the performance is consistent, which really any good VPN should be. 
This is unnecessarily confusing. 
Level 3, described as 'Worldwide and Stablest', has a fairly impressive 27 distinct servers, with some city-specific locations, including:
Frankfurt

London

Paris

Silicon Valley
Level 3 offers some more international options too, including:
Australia

Estonia

India

Japan

Russia
This approach is unconventional and unique if we're being kind, but it's mostly just off-putting.
Even stranger, there is a 'cost' to accessing each server, and the price increases as you ascend the tiers. This is paid for via an in-app currency called 'points'. 
There's no way to exchange real currency for these 'points', which is a relief, but the downside is that you get given a random allocation every day in the form of a gift. 
This means you likely won't be able to afford a Level 3 server all day, every day. 
In short, server availability with Yoga VPN is completely dependent on the random allocation of an imaginary in-app currency. This means it's very difficult to navigate the app and even harder to ensure you can connect to a server location of your choice. This is a difficult and confusing system that complicates an already poor VPN service.
Unblocks BBC iPlayer but doesn't work with Netflix
Streaming & Torrenting
Streaming & Torrenting Rating: 3.0/10
We were pleased to see that Yoga VPN worked to unblock BBC iPlayer. It accessed the service quickly and streamed with no buffering.
However, the service does not work with US Netflix or other international Netflix libraries.
If you're looking to stream British TV then Yoga VPN might work occasionally, but we do not recommend taking the associated risks to your privacy and online safety.
If you're looking to stream content with a VPN for free, we recommend checking out our list of the best free VPNs for Netflix.
Torrenting
Yoga VPN makes it clear that "P2P or BitTorrent is not allowed". 
It reiterates twice: "Please don't use BitTorrent with VPN and it will get account blocked" [sic].
Even if torrenting were permitted, we would not recommend using Yoga VPN for torrenting or P2P activity. The speeds are slow, privacy is poor, and there is no VPN kill switch to protect your IP address if your internet connection drops.
Will not work to beat internet censorship
Censorship
Bypassing Censorship Rating: 1.0/10
Bypassing heavy censorship in countries like China or UAE is incredibly difficult for even the most trustworthy VPN services. As a result, it's highly unlikely that Yoga VPN will work against censorship.
Its gaping security concerns, leaks, and almost non-existent privacy policy mean Yoga VPN would be a dreadful choice anyway, even if it did. 
If you're looking to find a VPN that works in China, its best to consult our list of the best VPNs for the country. 
Apps for iOS and Android Only
Platforms & Devices
Apps
iOS

Android
A mobile-only VPN, Yoga VPN is available for both Android and iOS.
This does mean that you'll have to pick up a different VPN if you want to protect the rest of your devices (or your home network at large). 
Annoying advertising & poor user experience
Ease of Use
How to Install & Set Up Yoga VPN
Ease of Use Rating: 7.0/10
It's a good thing that Yoga VPN doesn't require bank details in order to sign up: it takes more than enough payment in the form of your personal data.
Using the app you'll quickly get annoyed by the flood of ads with timers that interrupt your use – it's bad, even for a free service.
There are no extra features or settings either. Yoga VPN might be free but it is incredibly frustrating to use. Pop-up ads frequently interrupt navigation and the server layout is confusing.
No customer support provided
Customer Support
Customer Support Rating: 0.1/10
Yoga VPN uses a personal Gmail address for support rather than a corporate address, which is highly unprofessional but not out of character for a low-quality VPN service like this one.
There's an in-app FAQ with generic questions like "Is Yoga VPN free and safe?"
It answers by saying: "It would not steal any user's information."
There is absolutely no other resource if you want to get customer support – we tried the email but didn't even receive a response.
In short, Yoga VPN offers absolutely zero customer service or support. If you have any problems using the application you're on your own.
Do We Recommend Yoga VPN?
The Bottom Line
Yoga VPN is at the bottom of the barrel. It offers a complete lack of security, no privacy, and a complicated user experience. It does not support torrenting traffic or streaming services like Netflix, and it's far too slow to unblock websites even on a casual basis.
We do not recommend using Yoga VPN at all. Its applications are unsafe, ineffective, and not enjoyable to use.
Don't let Yoga VPN put you off altogether, though – you still should get a trustworthy VPN.
Additional research by David Hughes
Alternatives to Yoga VPN
FastestVPN
FastestVPN is a super-cheap option, coming in at $0.83 per month on a five-year deal. It may not be reliable with streaming services, but it's a secure, beginner-friendly VPN. Read FastestVPN review
Windscribe
Windscribe Free is an option to consider if you really don't want to pay a bill. It's our number one recommendation for free services and oftentimes works for streaming. Read Windscribe review
---
User Feedback for Yoga VPN