Disclosure: Top10VPN.com is reader-supported. We may earn commissions if you buy a VPN through links on our site.
Our Verdict
ZenMate is an average VPN service that covers the basics well. It will hide your IP address and provide reasonable connection speeds for casual users. Though it is a reliable choice for beginners on a budget, Zenmate doesn't provide any exceptional VPN features for advanced or even regular users.
ZenMate is a popular VPN service available for MacOS, Windows, Android, and iOS. While it offers average speeds on local connections, it's much slower when connecting to long-distance servers. 
Its international speeds are slow and ZenMate disappoints when it comes to streaming. Although it comes with a selection of optimized servers for streaming platforms such as Netflix, BBC iPlayer and Disney+, we encountered a number of problems accessing geo-restricted libraries. 
There is some evidence you can trust ZenMate: it doesn't record user activity, uses strong AES-256 encryption, and we recorded zero data leaks of any kind. However, its privacy policy is vague and we had to contact the support team for more information. The service is also based in Germany, which is a jurisdiction subject to EU data surveillance. 
ZenMate VPN is lacking in customization options or advanced features – what you see is what you get. This makes it super easy to use, but also means you cannot even change your connection protocol on Mac and iOS, or select city-level servers. While torrenting is permitted, not all servers are optimized for P2P traffic either, so this isn't the best choice for torrenting.
ZenMate has chosen to prioritise usability, which means you can protect your traffic with just one click. For this reason, it's a simple choice for those new to VPNs. 
A competitive price tag of $2.22 per month also makes it one of the most affordable VPN providers on the market, but it needs to improve what's on offer before this ZenMate review can recommend it above other premium services.
ZenMate Pros & Cons
Good level of security
Affordable subscription cost
Zero IP, DNS, WebRTC leaks
Very easy to use
Helpful, easy-to-install browser extensions
Vague privacy policy
Basic apps with no customization options
Servers lack city-level options
IKEv2 protocol on Mac only
Unreliable streaming servers
Based in privacy-unfriendly Germany
ZenMate Key Summary
| | |
| --- | --- |
| Data Cap | None |
| Speed | 89Mbps |
| Logging Policy | No Logs |
| Data Leaks | No |
| Jurisdiction | Germany (14-Eyes member) |
| Servers | 3,700 |
| IP Addresses | Not disclosed |
| Countries | 74 |
| US Netflix | Yes |
| Torrenting | Unlimited |
| Works in China | No |
| Support | Live-Chat, Email & Online Resources |
| Cheapest Price | $2.22/mo over 18 Months |
| Official Website | Zenmate.com |
Is ZenMate Private?
About & Logging
We've analysed ZenMate's privacy policy in detail to see whether it collects any potentially compromising data on its users. We found that it's a safe VPN service, but its privacy policy is vague and confusing. 
ZenMate's 5,000 word privacy policy mentions "VPN" only once: 
The above-mentioned Personal Data is not, at any point, associated with any kind of activity done by the user inside the ZenMate VPN tunnel, which is NOT recorded, logged or stored at all.
This sounds good, but it's not specific. Most of the privacy policy addresses information collected when using the ZenMate website or registering for an account, which includes:
Name

Address

Email 

Username

Payment information

Website usage information

IP address (stored in anonymized format)

Approximate location (country only)

Transaction information (billing method, price paid, items purchased)
ZenMate says that it doesn't log any of this information when using the VPN. This isn't quite the same as ZenMate detailing what it does log. This ambiguity makes it suspicious.
People consult a privacy policy to know the specifics of what they are signing up for and what they are allowing – or even whether a VPN is lying in its marketing claims. ZenMate has simply written a blanket no-logs statement that almost every VPN on the market claims.
This leaves many unanswered questions, such as: does ZenMate collect metadata? Or timestamps? We spoke to a ZenMate representative to clarify this situation and got these responses to our questions:
Q: Does ZenMate store metadata? If yes, how long is this stored for?
A: ZenMate does not keep any logs of metadata
Q: Does ZenMate collect timestamps? If yes, how long is this stored for?
A: No.
Q: Does ZenMate know which VPN server is being used by its users?
A: No. We know that we have for example 10k users who are using our servers in Romania, we don't know who these users are. 
Q: Does ZenMate collect the originating IP address of its users?
A: 100% no.
Q: Does ZenMate know of the amount of data transferred at any given use?
A: Not by user specifically.  We do however know that we had for example 1TB of data transferred through a specific server last month.
Q: Does ZenMate know the dates and/or times when users are connected to the VPN?
A: No.
Based on these replies, we can say with relative certainty that ZenMate is a private VPN and is safe to use, with extremely minimal information known or stored by the service provider. Knowledge about the amount of data transferred through specific servers and the amount of people using servers does not compromise the anonymity of any individual user, which is great for privacy. 
That said, this information needs to be put into the privacy policy before we can recommend it with 100% certainty. It's the privacy policy you're agreeing to, after all, not our exchange with ZenMate. 
Better yet, ZenMate should commission an audit like many of its competitors have done, such as ExpressVPN and NordVPN. The current  level of uncertainty is not acceptable for a top VPN, and an audit would confirm Zenmate's claims. 
Who Owns ZenMate?
When you use a VPN you're trusting it with your most sensitive data. For this reason, it's important to know about the company behind the VPN service and where it is based. We delve into every VPN provider's corporate background and history to ensure there's no threat to your privacy.
ZenMate is based in Berlin, Germany at the registered address: ZenGuard GmbH at Ritterstraße 12 10969. The holding company ZenGuard is also merged with Mobile Concepts GmbH, which is based in the town of Übach Palenberg, Germany. This means that the VPN service falls under jurisdiction of a major player in the European Union; this is bad news for privacy as the EU has intrusive surveillance and data retention laws.
Germany is also part of the 14-Eyes Alliance, also known as 'Sigint Seniors', which includes almost every major European power and other countries such as the US, Canada, and New Zealand.
A German jurisdiction is less of an issue if the provider has a verified no-logs privacy policy.  While ZenMate appears to be private, we'd suggest a logging audit to confirm this. Another useful tool is a Warrant Canary like Surfshark VPN has, which notifies users of any gag orders, warrants or national security letter received. 
ZenMate is quite transparent about its team and make-up – the "ZenDogs," as they refer to themselves. There are friendly corporate videos that introduce you to the international team. 
ZenMate has a good level of transparency. The parent company ZenGuard has a website, Twitter page, Facebook page, and LinkedIn. But we can find no evidence of regular transparency reports that detail any legal requests that the company has received. This is a very common practice among VPN providers and ZenMate could benefit from releasing them. 
We're also concerned that the European Union is listed as an investor and/or partner in ZenMate. 
In 2018, ZenMate was purchased by Kape Technologies. Kape also owns a number of other internet security businesses including two other reputable VPNs: CyberGhost and Private Internet Access. 
Kape has a controversial history, which we go into in more detail in our CyberGhost review, but the company has since taken great strides to prove itself as a legitimate internet privacy company.
Does ZenMate Unblock Netflix?
Streaming & Torrenting
ZenMate is a big disappointment when it comes to unblocking region restrictions on streaming services. It presents specially-optimized servers that are intended to grant access to various platforms like Netflix, Amazon Prime and BBC iPlayer, but we experienced very little success using them.
ZenMate lists servers that are apparently optimized for:
7TV

Amazon Prime

Android TV (Germany, US)

ARD

BBC iPlayer

CBS

Disney+

Fox Sport

Hulu

ITV

NBC

Netflix (FR, DE, IT JP, US)

ORF

SlingTV

Yle

Zattoo DE



But we encountered numerous problems when testing these servers. When trying to unlock the five Netflix libraries listed, these are the results we got:
Two out of five is not a good result. When we tested the French server, we were connected to Netflix Romania and it was the UK library being shown. The German server wouldn't even load the website, and the Italy server also showed the UK Netflix library.
As it stands you can access US and Japanese Netflix, but it's clear that ZenMate is an unreliable VPN for streaming. We also found that considerable buffering was required to stream Japanese Netflix from our UK base. Its US performance was better, though, will Full HD available with barely any waiting time.
Sometimes ZenMate wouldn't connect to any of the optimized streaming servers, including for BBC iPlayer and Disney+. It would remain in stasis trying to establish a connection, but failing to do so.
ZenMate doesn't offer a dedicated app for Amazon Fire TV. ZenMate says that it is looking into developing one, but "cannot guarantee that it will be available in the near future." If you want to use a VPN to unblock content on your Firestick, you will have to install ZenMate at router level or check out our selection of the best VPNs for Fire TV Stick.
In summary, ZenMate is a bad VPN when it comes to streaming. It only unblocks two Netflix libraries – far less than promised – and it's often buggy. There's no Smart DNS tool or Amazon Fire TV app. It's not a viable option for streaming, especially when there are so many better ones around.
Is ZenMate Good for Torrenting?
ZenMate is a leak-free VPN that will hide your IP address and anonymize your browsing activity, keeping your online activities safe from ISP snooping. This makes it ideal for torrenting. ZenMate has made P2P traffic and file-sharing fully permissible on all of its servers. In addition, 60 of ZenMate's servers are specially optimized for torrenting, which should improve performance if you want to share large files.
P2P-optimized servers are easily identified by the label 'For downloading' in the ZenMate app. There's also a label for server load, which indicates the servers that are most congested at any given time. There are enough of these optimized servers spread across the globe to ensure smooth seeding.
Not all of ZenMate's servers are fully optimized, but the vast majority are, and you can still torrent on its other servers.
Those servers not optimized for torrenting include:
Argentina

Australia

Brazil

India

Israel

Russia

Singapore

South Africa

South Korea

Taiwan

Thailand

Ukraine

US

Vietnam
While ZenMate has a good number of optimized servers, it's disappointing to see that a hugely popular server location like the US isn't optimized for P2P traffic, and that many Asian servers haven't been made more torrent friendly either.
While ZenMate has a good number of optimized servers, it's disappointing to see that a hugely popular server location like the US isn't optimized for P2P traffic, and that many Asian servers haven't been made more torrent friendly either.
ZenMate will work with torrent clients like BitTorrent, Deluge, uTorrent, and Transmission, and its strong AES-256 encryption goes a long way to ensuring torrent protection. It also has an automatic  kill-switch called 'Secure Connect', which will cut your entire internet connection to prevent data leaks should the VPN fail. There's no need to toggle it on or off as many VPNs require you to do, so protection is guaranteed. 
ZenMate doesn't include any malware or ad blockers in its applications, which are useful when torrenting, but the ZenMate browser extensions are designed to block malware, phishing and trackers. 
ZenMate's P2P-optimized servers, reliable encryption and reasonable speeds should be enough for the average user looking to torrent on occasion. However, the service could benefit from integrated malware and ad blockers on desktop apps and a clarified privacy policy before we can recommend it above faster and more private VPN providers like IP Vanish and PrivateVPN.
Disappointing speeds across the board
Speed & Reliability
ZenMate's speeds disappoint. We measured an average local download speed of 47Mbps, which is a 52% speed loss compared to not using a VPN at all. You won't have any problems browsing the web or streaming content, but it has a long way to go before it can compete with the fastest VPNs of 2020.
Performance suffers even more on long distance connections. Testing ZenMate's speeds when connecting to the US, Australia, and Singapore from our UK base, we were left unimpressed. Some speed loss is expected when connecting to a distant server, but ZenMate's results fall below normal expectations, with a speed loss of 90% connecting to Australia and 80% when connecting to the US. Put in context, Surfshark VPN records only a 41% speed loss when connecting to the US.
ZenMate's ping or 'latency' is also consistently high, which rules it out for gamers looking for a fast VPN. Overall, ZenMate isn't anywhere near competing with the fastest providers like ExpressVPN and Private Internet Access, whose speeds you can compare with our speed testing comparison tool. 
Local Speed Test Results
We experienced a speed loss of 52% when running ZenMate on a local connection. This is calculated on a London to London connection using OpenVPN protocol when possible. For more information you can take a look at how we come to our speed test scores, which is based on a thorough and scientific process.
This is a bad result — we expect to see speed losses over 50% when testing long-distance connections, not same-country ones. Here's a closer look at Zenmate's speeds:
Download speed without ZenMate: 98Mbps
Download speed with ZenMate: 47Mbps
Download speed loss when ZenMate is running: 52%
Before using ZenMate:
97.9

99.59

Ping

ms

1
When connected to ZenMate:
46.89

9.85

Ping

ms

15
You'll be able to browse, stream and even torrent with these speeds, but ZenMate is far from the quickest service — and the slower your connection to begin with, the more noticeable the loss will be. 
Its performance was much better connecting to Germany, with a speed loss of only 9%. It's not clear why the German server provided much better performance than a local UK one, which tells us that ZenMate isn't the most reliable service when it comes to speed. You may experience a sudden and unexpected drop in performance.
Overall, ZenMate offers poor speeds on local connections. You will be able to perform normal browsing tasks, but those who prioritise fast VPNs should take a look at Private Internet Access.
Long-Distance Speed Test Results
ZenMate's speeds over long-distance connections also fell below our expectations, dragging its overall performance down even further. We connected to ZenMate servers in the US, Australia, Singapore, and Germany from our London base and measured our connection speeds before and after using the speed test tool by Ookla.
Here are Zenmate's average speeds when connecting to multiple locations across the globe:
US: 19Mpbs (download) & 78Mbps (upload)
Germany: 89Mbps (download) & 92Mbps (upload)
Australia: 10Mbps (download) & 21Mbps (upload)
Singapore: 11Mbps (download) & 32Mbps (upload)
As you can see, German scores are still performing strongly, but the speeds across continents are very bad. US and Australia scores come in at a disappointing 19Mbps and 10Mbps respectively. Singapore is equally bad, recording a speed loss of 86% with 11Mbps.
This might present a problem if you want to watch US Netflix, for example, which could require extensive buffering or struggle with HD or 4K UHD. This is particularly disappointing for a VPN that is so effective at unblocking Netflix. For improved long-distance connections, we recommend a provider like Hotspot Shield or ExpressVPN.
Overall, ZenMate's speeds disappoint across the board. It records sub-par local speeds and it gets even worse when you connect to countries further away. While these figures aren't good, it's worth noting that we experienced very little buffering, load times or problems when testing the service across streaming, web browsers and torrenting services. It's German connection is also exceptional when compared to ZenMate's other servers.
ZenMate's speeds are quick enough for most casual online activity, but the numbers aren't remarkable: this is not a fast VPN. If you're the sort of person looking to use a VPN for long-distance connections, like a student abroad or an expat, we'd certainly warn against ZenMate.
3,700 servers in 74 countries, but no city-level servers
Server Locations
74
Countries
84
Cities
?
IP Addresses
ZenMate offers 3,700 servers in 74 countries around the world. This is a well-sized network that tops high-scoring providers like NordVPN when it comes to number of countries on offer, but it doesn't compete with the 89 offered by CyberGhost, or the 94 by ExpressVPN. Even though it's not the absolute best in terms of quantity, It's unlikely you'll be dissatisfied with the amount of servers ZenMate offers.
These server locations are spread out well across the globe, including countries in North Africa, the Middle East, and South America. Like most VPNs there is a European/North America bias, but what's here is diverse compared to many other VPN providers.
ZenMate has come a long way in a short period of time, increasing its 1,500 servers to 3,700 servers across the globe, which is a good number that should avoid congestion. Of these servers, some are physically located and others are virtual server locations. Those which are physically located are identified as such on the ZenMate website, but not in the app itself. 
ZenMate claims to own all of its server network, meaning it doesn't rent any of these servers. These distinctions can get complicated, so we wrote a helpful guide to explain all the different types of servers. The most important thing is that ZenMate owns its network, which is good for your privacy, as your data isn't being handled by any third parties. 
The big problem with ZenMate's server list is that you can't select city servers. Where it lists countries with more than one city available, ZenMate automatically selects the city server for you and you can't decide for yourself. We were quite surprised by this but had it confirmed by ZenMate support agents:

The countries where you may be connected to more than one city include:
Australia (Melbourne, Sydney)

Canada (Montreal, Toronto)

Germany (Berlin, Frankfurt)

UK (London, Manchester)

US (Chicago, Los Angeles, Miami, New York, Phoenix, Washington)

Vietnam (Hanoi, Ho Chi Minh City)
When using ZenMate, you can choose servers optimized for torrenting, servers optimized for downloading, and regular country servers.
There's no choice for anyone who lives in a large country such as Australia or the US, though. The distance between New York City and Los Angeles, for example, is huge. ZenMate has attempted to resolve this by having six US city servers spread coast-to-coast, but the ability to decide for yourself would be a huge improvement. There were times when we couldn't unblock Netflix from a foreign region, and the inability to choose a specific server meant we couldn't find one that worked.
ZenMate defends this inability to select servers by saying that it runs a Dynamic IP system so that you can't connect to the same IP address more than one time when using the VPN. This means every connection is unique, which is very good for privacy.
Overall, ZenMate's server locations are well spread and well protected. It claims to own them, which is impressive, and the Dynamic IP system adds to its privacy offering, too. However, the inability to choose city-level servers takes a lot of power away from the user. If you're an experienced VPN user looking for advanced features and the ability to curate your experience, ZenMate is not for you. 
How Secure Is Zenmate VPN?
Encryption & Security
Protocols

IKEv2/IPSec

OpenVPN (TCP/UDP)

Encryption

AES-256

Security

DNS Leak Blocking

IPV6 Leak Blocking

VPN Kill Switch

WebRTC Leak Blocking

Advanced features

Ad Blocker
Please see our VPN Glossary if these terms confuse you and would like to learn more.
ZenMate is a secure VPN service that comes with AES-256 encryption, Perfect Forward Secrecy, an automatic kill switch, and absolutely no data leaks that could compromise your security.
However, while ZenMate's Windows and Android apps come with advanced configuration options and the OpenVPN protocol by default, its MacOS and iOS apps are limited to the less secure IKEv2 protocol. ZenMate needs to balance the offerings available on all of its apps to offer a wholly secure package. 
ZenMate's MacOS app uses the IKEv2 protocol by default, which cannot be changed without manually installing OpenVPN. ZenMate should integrate protocol options on Mac or at least upgrade its entire package to OpenVPN or the WireGuard protocol, which are much safer.
ZenMate's Android and Windows apps do come with the more secure OpenVPN as their default protocol. You can switch between UDP and TCP connections and even change protocols entirely, which is impossible on the Mac and iOS apps.
On Android and Windows you can also use random port (port forwarding) to manually configure your firewall, which can be useful for gamers and torrenters, but it's not recommended as good security practice.
You can also toggle a DNS leak protection feature and disable IPv6 connections when connected to the VPN on Windows. All these features come with helpful descriptions explaining their function. 
All the ZenMate apps use AES-256 encryption, which is a top-level cipher that ensures robust protection from snoopers. ZenMate also uses Perfect Forward Secrecy (PFS) to make its service resistant to hackers. 
A kill switch is implemented across all apps too. This is built into the MacOS app as 'Secure Connect', so there's no need to turn it on. For Windows it's automatically on but can be switched off in the settings menu — but we don't recommend doing this.
It would be good to see ZenMate invest further into things like an ad blocker, Smart DNS, SOCKS, Double VPN, or obfuscation tools. That would elevate its appeal and strength as a service. Without these features, ZenMate remains basic and unsophisticated when compared to providers like Mullvad and ExpressVPN.
As it stands, ZenMate has got the basics right: it's a secure VPN that guarantees protection and online anonymity through solid top-level encryption. It needs to upgrade its Mac and iOS protocol settings to level the service, though, as it's currently more secure on Windows and Android. We'd also like to see special attention paid to adding to what's offered so that it can compete with more advanced VPNs.
Data Leak, Virus & Tracking Tests
We put ZenMate through a series of security tests to ensure that it's as safe as any VPN should be. We first tested ZenMate with the εxodus tool to see what permissions and trackers it installs on your Android device. Here's what we found:
None of these trackers are considered dangerous or out of the ordinary — they function to maintain the app operations and alert the user to any app crashes. Likewise its permissions include things like access to your phone's vibration and WiFi state, which is normal.
There's nothing of concern here, although we do always value a VPN that has as few trackers and permissions as possible. Astrill, for example, has no trackers at all — so it can be done!
We also ran all of ZenMate's installation software through a virus scanning system to ensure it presents no threat to your device. There are many illegitimate VPNs out there designed to inject malware and viruses, but, as you can see below, ZenMate is not one of them. It's a perfectly safe and virus-free VPN.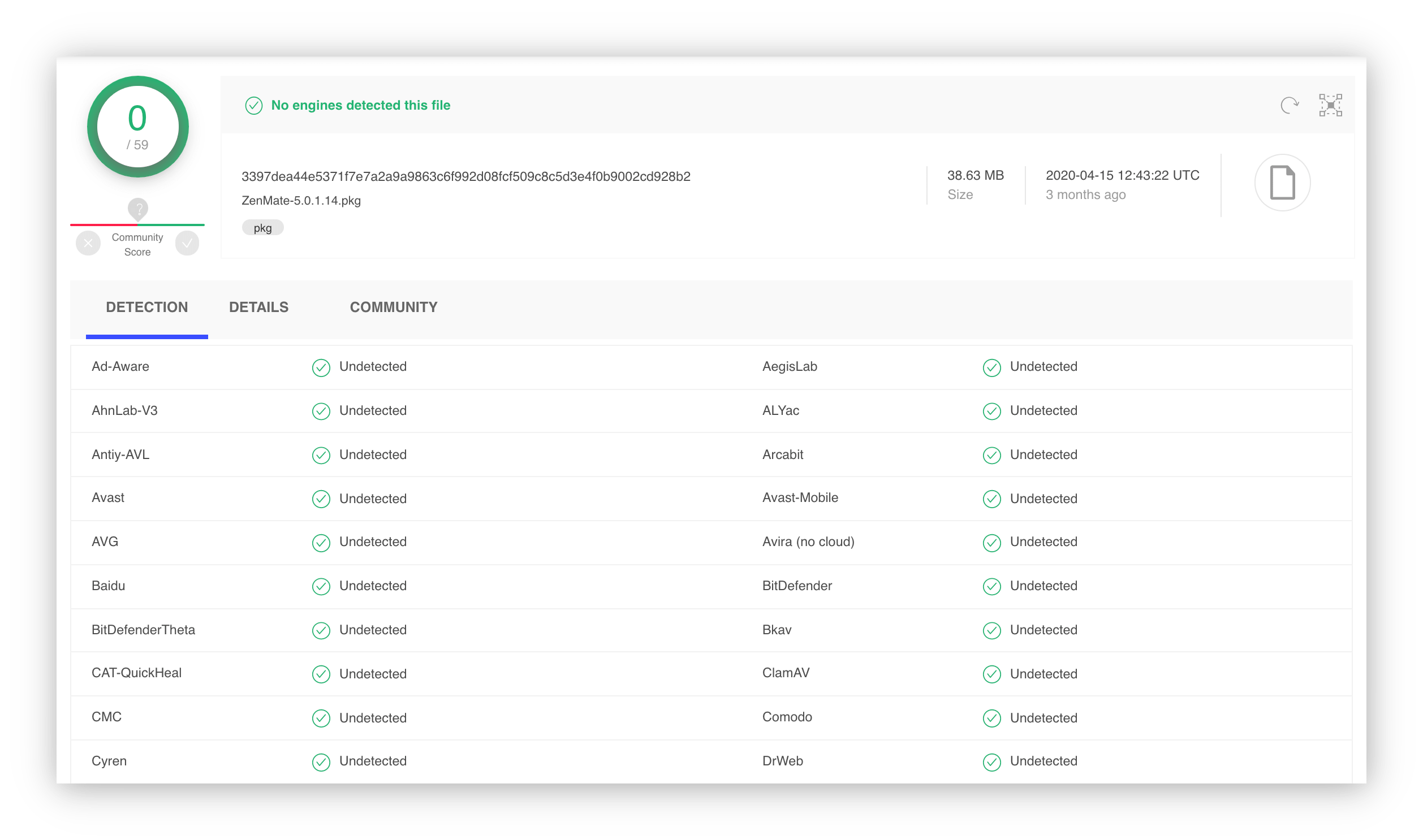 Finally, we tested to see whether we recorded any sort of compromising leak when using the ZenMate apps, such as an IP leak or DNS leak. Using its Miami server, these are the results:
All these results show a clean VPN service, with no DNS, IP or WebRTC leaks. 
All together, compared to a provider like Surfshark, which has a GPS spoofing feature, split tunneling, MultiHop, its own private search engine and obfuscation tools, ZenMate's security package is quite basic. But it's still a reliable no-frills service and there's zero evidence that it's an insecure VPN. 
ZenMate has got the necessary AES-256 encryption cipher, a reliable kill switch to protect from any loss of connection, and we recorded no leaks. It's secure but it needs to level its Mac and iOS clients before we can fully recommend it across all devices, as ZenMate has stronger protocol options on Windows and Android.
ZenMate doesn't work in China
Censorship
ZenMate VPN does not work in China and hasn't for a few years, ever since the Chinese government started cracking down on VPN use. The company is aware and open about this fact and doesn't even sell its apps in China for this reason: "Because, unfortunately, we cannot guarantee that the product will work reliably." 
ZenMate does still operate servers in Hong Kong and confirmed to us that its service is still working there, even as providers like TunnelBear and Private Internet Access have removed servers following the introduction of new authoritarian laws. Keeping these servers isn't without risk, however, as the Chinese government may now get access to Hong Kong ISPs and snoop on your online activity. 
ZenMate also cites Saudi Arabia and Iran as locations it's not likely to work in and recommends that you don't subscribe to a premium account if you're using a VPN in these countries. ZenMate's honesty about its limitations is refreshing, but its inability to get around The Great Firewall and other censorship apparatus is still disappointing. 
ZenMate does imply that its service is working in Turkey, Pakistan, and UAE by listing ISPs that are known or suspected to be blocked. However, this page was last updated two-years ago, so the situation is very likely to be different today. 
Simply put, ZenMate is too unreliable to recommend as an anti-censorship tool. It doesn't come with any obfuscation features or the choice to use SoftEther connections that may conceivably get around state censorship.
EXPERT TIP
If you are looking to use a VPN in a highly censored country, we suggest that you take a look at our recommendations for:
The VPNs recommended on these pages, including ExpressVPN, Astrill, and VPN.ac, are known to include sophisticated anti-censorship tools that bypass heavy internet censorship. 
Custom apps for Windows, MacOS, Android, iOS and Smart TVs
Platforms & Devices
Apps
ZenMate is available to download as a native application on all major platforms: Windows, MacOS, Android, iOS, and Android Smart TV. It can also be installed on routers, but it doesn't have a custom app for Amazon Fire TV or Linux. There are setup guides on the ZenMate website for the various custom apps on offer.
ZenMate offers an unlimited number of devices under one subscription, which is as generous as it gets, allowing you to protect as many devices in your household as you want. Surfshark also offers this, but very few other high-quality VPNs do. 
ZenMate also sells business VPNs which come with dedicated account manager support and a management dashboard. This is useful for businesses looking to share confidential information and ensure protection from malware and cybercriminals at a time when corporate hacks are frequent. ZenMate has a team dedicated to this and can offer you a quote based on your business needs.
Games Consoles & Streaming Devices
Amazon Fire TV
Nintendo
PlayStation
Xbox
VPNs don't tend to offer custom-made apps for games consoles, but ZenMate is available to install on a router, which will encrypt the traffic from all the devices connected to your home network. This means that you can game more securely when using ZenMate, whether it be on your home PlayStation, Nintendo, or Xbox.
A VPN can protect gamers from DDoS attacks or ISP throttling and even unblock geo-restricted content. However, it's only possible to do this with ZenMate on DD-WRT routers via manual OpenVPN configuration. ZenMate has an installation guide for this process but states "You need to have at least some technical understanding."
By  contrast, providers like Hide.me are compatible across many routers and provide ample setup guides and information. If you're determined to install ZenMate on a router, it's worth checking out our own step-by-step guide.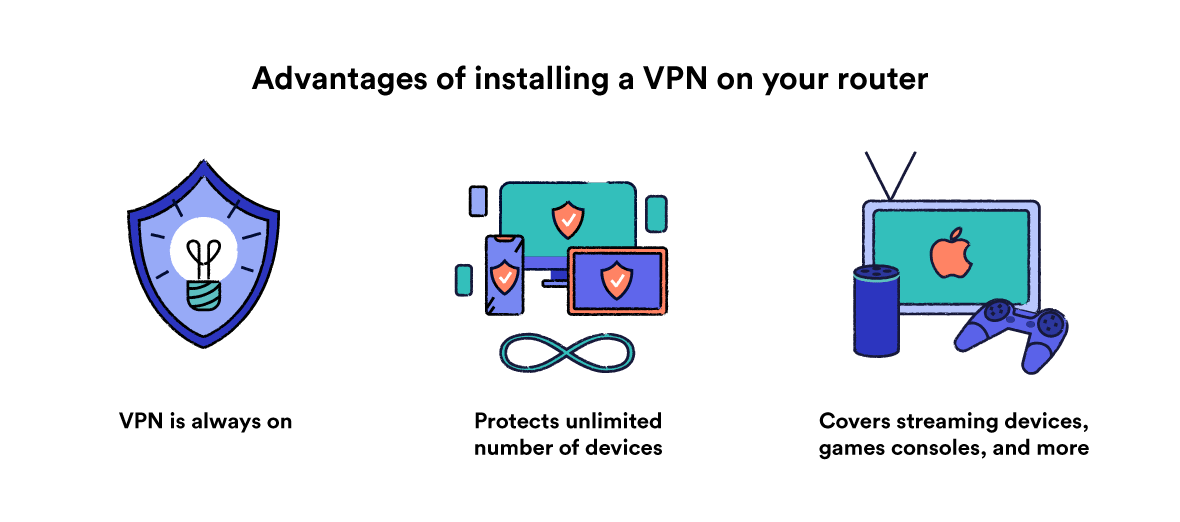 ZenMate's slow international speeds and high ping means we can't recommend it for gaming regardless. Gamers need super-fast speeds and low ping, or ideally a Smart DNS feature, like the VPNs in this list – none of which this VPN provides. If you use ZenMate when gaming, it's highly likely you'll experience lag and connection drops. 
ZenMate doesn't offer a native app for Amazon Fire TV. It advertises itself as a good option for Fire TV Stick and Prime content based on the fact that it can be installed on your router, which isn't the same as a bespoke custom app that allows for easy IP changes like those offered by IPVanish and PrivateVPN. You can see our list of the best VPNs for Firestick, along with lots of other information, on this page.
The same applies to its compatibility with Linux. There's no Linux-based app available and it otherwise requires manual installation. NordVPN, on the other hand, does have a custom GUI (Graphical User Interface) for Linux.
When it comes to using ZenMate for games consoles and streaming, it requires a lot of manual work and helpful information or guides aren't easily found. This is very disappointing. You can see our recommendations for the best VPN for gaming here.
Browser Extensions
ZenMate is available on a number of easy-to-install browser extensions for Chrome, Mozilla Firefox, Microsoft Edge, and Opera. Most VPNs settle for Chrome and Firefox so it's good to see it cater towards alternative browsers. 
The extensions themselves are even more simple than the full VPN apps, and come with a 'Quick Tour' on installation.
These extensions can be added to your browser immediately via the ZenMate website. However they are not free, but come included as part of your subscription. VPNs such as CyberGhost offer browser extensions completely free to anyone, even without an account. 
Browser extensions look like VPNs but they're not the same. They will hide your IP address and protect your browser traffic like a web proxy, but they won't protect your entire device with encryption like a full VPN service does.
ZenMate's browser extensions come with tracking blockers, malware blockers and WebRTC leak protection. They also come with the same number of available servers to connect to as the VPN app. 
The encryption protocol used is AES-128 bit, which is less secure than the desktop and mobile VPN apps. They're worth installing if you want to browse the web lightly, but we recommend using the full VPN service to ensure full protection and anonymity. 
Extremely basic VPN apps designed for simplicity
Ease of Use
How to Install & Set Up ZenMate
ZenMate's applications are extremely basic, designed for functionality and simplicity. That's great for newcomers, but if you're looking for advanced technical features you should consider a VPN with more customization options, like Surfshark. 
As it stands, ZenMate is a little too basic – there's very little you can do with the service other than select servers. You can't criticize it for being too complex or difficult, though – which makes it a solid choice for beginners.
Between all the ZenMate apps, its Windows client is by far the most advanced and best performing. It gives the user a choice of protocol, extra security features, and optimized servers for streaming and torrenting. It's worth taking a look at the comparison table below:
MacOS
ZenMate's MacOS app is intuitive and easy to navigate. There are no design flaws or technical problems, but it's simple and easy to use because of its complete lack of settings and features.
The app is made up of three windows including the home screen with the main connect button, a menu to change servers found via home screen arrows, and a mostly useless settings menu with information about your account and links to the ZenMate privacy policy and knowledgebase. You can 'Run at startup' and 'Automatically check for updates', but that's about it. Customer support and FAQs also function as external links that take you to the ZenMate website.
There is strength in simplicity, particularly in the way that ZenMate organises its server options in distinct categories for streaming, torrenting, all servers and favorites.
Via the settings cog, you find options for:
Preferences

Account

Send Feedback

ZenMate Help

FAQ
Clicking 'Preferences' will take you to the settings window. Here you can find links to ZenMate's knowledgebase, privacy policy, terms of service, and company imprint. You can also 'Report a problem', which opens a separate window to submit a help form. This is the same window that opens if you select 'Send feedback' from ZenMate's cog menu.
In terms of customization, about the only thing you can do on the MacOS app is choose to run ZenMate on device start-up or not. You can also deselect the option to 'Automatically check for updates'. 
Via the account option in the top menu you can see your username, ZenMate plan, renewal date and the number of 'active devices' – those with ZenMate installed. This is the same information when you click 'Account' via the cog menu.
'ZenMate Help' via the cog menu also links you to the website knowledgebase, and the 'FAQ' to its website guides. 
ZenMate is almost identical to CyberGhost and Private Internet Access in its interface and design arrangement, which is good as both are user-friendly. But it's lacking those VPNs' advanced features and capabilities. 
Windows
ZenMate on Windows is slightly more complex and advanced than its MacOS counterpart, but still simple to use and well-designed. It's identical in the way the interface is arranged and the servers organised, but its settings menu offers more diverse options, including the ability to change your security protocol, auto-connect on start-up, use random-port to connect, and disable IPv6 connections when connected to the VPN.
Its central home screen consists of a big connect button and the option to change server location by selecting the arrows on the left hand side. It also includes servers optimized for streaming, torrenting, and regular servers. 
The settings menu falls under two categories: 'General' and 'Connection'. In general you'll find simple toggles, switches, and drop down menus for:
Auto-start

Auto-connect on start-up

Automatic server selection

Language

Automatic kill switch
These options come with small explainers, which make the technical aspects of ZenMate easier to understand. 
Click on 'Connection' and you'll see that ZenMate on Windows allows you to:
Change protocol

Use TCP instead of DCP

Use random port to connect

DNS leak protection

Disable IPv6 connections when connected to the VPN
The Windows app defaults to OpenVPN and, unlike on MacOS, you can easily change protocol via a drop down menu. But the only other option is IKEv2, so the choice is limited. OpenVPN is the best and most secure option of the two, but IKEv2 is good if you want to prioritize speed. You can read more about the differences between VPN protocols in our guide.
TCP and UDP are two types of OpenVPN communication protocol. UDP is faster but TCP is more reliable and better at bypassing censorship. 
Using a random port to connect is sometimes called a Dynamic Port or Ephemeral port. It makes it harder for ISPs to track and block VPN use. ZenMate's DNS leak protection also avoids any DNS requests from accidentally falling outside the encrypted VPN tunnel and going via your ISP instead. 
Disabling IPv6 connections also works as an anti-leak tool. IPv6 is a fairly niche type of internet traffic and as a result, a lot of VPNs don't direct it through their encrypted tunnel. Connecting via a network that supports IPv6 could mean that your request is handled by your ISP instead of the VPN, which is why it's best to disable connections entirely on the Windows app.
As you can see, ZenMate on Windows is more advanced, and safer, than MacOS. We'd recommend using it on Windows devices more than any other. 
Android
ZenMate's Android app is very basic too. Its home screen is identical to the other ZenMate apps and it comes with the same cog symbol to access a settings page, which is very bare. From here, you can choose to deselect the sending of anonymous usage data, which is automatically toggled to 'yes'. If you want more privacy, we recommend toggling this switch to 'no'.
There are further options to:
Use random port
Use TCP instead of UDP
Contact support
Help
Like with the MacOS app, most of its options, including 'Help', 'Terms of use', 'Privacy policy' and 'Imprint' are links to the ZenMate website.
When clicking to 'Contact support' there are two options to 'Report a bug' or 'Suggest an improvement'. Both options take you to an identical window, which asks you for an email and a detailed explanation of the problem or suggestion. You can fill out a form from inside the app and attach screenshots if you want to.
This doesn't appeal to the need for customers to ask basic questions or enquire about technical issues, but there's always the website live chat for this.
On the home screen you can click the country to change your server. This will take you to the server lists where servers have been separated between the regular 'Countries' option, those optimized for 'Streaming', and your favorites. There is no selection 'For torrenting' like there is on the MacOS and Windows app.
Design wise, the Android app is slightly different and more unsightly than its counterparts. Its blue background is darker and the font lighter, which makes for a less visually appealing app.
iOS
ZenMate on iOS is identical in arrangement to its Android counterpart but lacks any of the additional settings, making it more like the threadbare MacOS app.
Again, it's incredibly simple to use and has been arranged so that you can select servers easily. You can choose between 'All', 'Streaming', and 'Favorites' but, like on Android, there are no P2P-optimized servers available.
There's a cog symbol on the home screen to access another stripped-back settings menu. This includes information about your account, such as your ZenMate plan and username, active devices, and renewal date, and links for FAQ and privacy policy – as with the other apps. 
The only action you can take on the ZenMate iOS app is to decline 'anonymous statistics', which you should do for added privacy, and 'Analyze connection issues'. Other than that, there's really nothing to it.
Mostly helpful live chat and online resources
Customer Support
| | |
| --- | --- |
| Live chat Support | Yes |
| Email | Yes |
| Online Resources | Yes |
When it comes to customer support, ZenMate offers 24/7 live chat support, an online knowledgebase, website FAQ, and in-app ticket system. ZenMate's support system has come a long way from when it had no live chat, unhelpful support bots, and slow email responses, but there are still improvements to be made. 
Our experience with ZenMate's customer support was mostly positive. It runs a relatively new and friendly 24/7 live chat support system with polite agents. Sometimes we were made to wait a considerable amount of time for a response, especially during anti-social hours when we tested it, but the wait was a matter of minutes – not hours. 
When the agents did respond, they answered our questions competently but often in as little detail as possible. We became used to simple 'Yes' and 'No' responses to our questions. They also weren't very tech-savvy, often linking us to explainers on the website or disappearing to find the answer to questions, presumably via its own website. In other words, ZenMate's live chat is still lacking an expert angle and human touch.
ZenMate's knowledgebase is fairly limited, too, made up of installation guides and troubleshooting FAQs. While there appears to be plenty of online resources, many of these pages are not very detailed at all and very often out-of-date – sometimes as long as two-years. It covers the basics, but more technical, expert questions are non-existent.
Questions like this are best directed towards the ZenMate support email support@zenmate.com, who are slower than live-chat but provide answers that are more likely to be in-depth and useful. There's also the semi-interesting ZenMate Academy which is more of a general discussion forum for topics in internet privacy.
ZenMate doesn't come close to the exceptional support of other major providers like CyberGhost, but you can tell it's got ambitions to compete. Support agents need to show their knowledge and the website pages need more detail.
It would be useful to read about things like what types of servers ZenMate uses, its infrastructure, logging policy, or the details of its features. Finding information about ZenMate proved to be a difficult task because it provides so little of it. As it stands, the support is passable.
One of the cheapest VPNs available
Pricing
ZenMate Coupon
ZenMate Pricing Plan
ZenMate is a very affordable VPN at just $2.22 per month on its 18-month plan. That's $39.96 for 18-months of protection – which is a really good deal. It's got a 7-day free trial and 30-day money-back guarantee, so you can test it entirely free for up to a month. There's even a student discount. 
ZenMate's 18-month deal saves you up to 80% compared to its one-month plan, which comes in at $10.99 per month. We don't think the short-term plan is worth paying.
If you're uninterested in a long-term commitment, ZenMate's six-month deal works out at $5.39 per month, a 50% saving at $32.34 every six months.
ZenMate runs a student discount for UK users through StudentBeans, which is a good scheme and something we haven't seen much of – and would like to see more of from other providers.
While ZenMate is cheap, it isn't the cheapest VPN available. There are other VPN services that are just as good and often better than ZenMate that come with a smaller price tag. They can be found in our list of the cheapest VPNs for the best value for money.
While the cost of ZenMate is low, we think it is appropriately priced for the relatively small number of features on offer. A service like ExpressVPN is more expensive due to the array of features and labour invested into maintaining and updating its service. 
Frankly, ZenMate doesn't have the same capability. Its last major update, called ZenMate 5, occurred about a year ago. While it made major improvements, including the addition of live-chat support and revamped apps, it needs to continue innovating its service before it represents real value for money.
All plans have 30-day money-back guarantee
You can purchase ZenMate through PayPal or Credit Card (Visa, MasterCard, American Express). There's also Sofort Banking. 
These options are fairly limited – some competing VPN services offer payments via cryptocurrency or cash to maintain user privacy. For a privacy-focused app, it's worth offering BitCoin or other private payment options.
ZenMate comes with a 30-day money-back guarantee, which means you can sign up to any of these plans and get a full refund within the timeframe. It's a 'no questions asked' refund, so you don't need to worry about any hidden conditions. This is generous but standard practice that allows you to thoroughly test the ZenMate experience before committing further.
You can also download a seven-day free trial, available on MacOS, Windows, Android and iOS. This way you can avoid the initial payment that comes with a 30-day money-back guarantee. 
To activate the trial you have to set-up a ZenMate account and follow instructions. Or just talk to live-chat and they can guide you through it. It doesn't automatically upgrade you to a paid subscription if you forget to cancel, either. 
If you're interested in other VPNs with good free trials, take a look at our list of the best free trials on offer.
Do We Recommend ZenMate?
The Bottom Line
ZenMate is a basic VPN service that will protect your data from ISP snooping. It's got reasonable enough speeds for casual users and a decent level of security. But it doesn't offer anything standout for advanced or regular users.
ZenMate's security is robust enough, with AES-256 encryption, automatic kill switch, OpenVPN (on Windows and Android), and zero leaks. But the MacOS and iOS apps don't come with the same level of protection, lacking anti-leak tools or the option to select OpenVPN. We were also left in considerable doubt about ZenMate's vague privacy policy, especially as it's based in privacy-unfriendly Germany.
ZenMate should level its service across apps and offer a consistent package. At the moment, we don't recommend using ZenMate on anything other than Windows. Having said that, the browser extensions are well-made and may prove useful for those looking to browse the web casually. 
ZenMate is extremely easy to use, which is great, but this comes with an absence of advanced or proprietary features. The support system is lacking in technical knowledge, and there's very little information about the ZenMate infrastructure generally.  
Simplicity isn't always a bad thing, especially if you're just looking to stream US Netflix or torrent safely. Newcomers or casual users looking for a functional 'click-and-protect' service running in the background should take a look at ZenMate, particularly as its one of the most affordable VPNs on the market. 
The inability to select city-level servers, change protocol on Mac or iOS, or customize your experience are generally the worst aspects of this VPN. It also fails to impress when it comes to speed or stand out as a VPN for tackling censorship.
Overall, ZenMate doesn't warrant any serious recommendation over other top-tier VPNs in the market.
Alternatives to ZenMate
Surfshark does everything that ZenMate does but better and cheaper. It's faster, more secure, just as effective at unblocking streaming, and offers all the advanced features that ZenMate is lacking. Read Surfshark review
ExpressVPN is our #1 overall recommendation. It's a super-safe, extremely quick service that does everything you could ever want a VPN to do. If you're prepared to spend a bit more, you won't regret avoiding all doubt and going straight to the top of the pile. Read ExpressVPN review
---
User Feedback for ZenMate