Our Reviews are Always Unbiased
Unlike other review sites out there, our reviews are 100% impartial and free from outside influence. We never take compensation in exchange for positive coverage, and providers will never have a say in how we rate the products we review.
Our team of VPN experts run each product through the same in-depth test program, ensuring that all results you see are directly comparable, with no favoritism or bias. We do everything in our power to make your buying decision as easy as possible, and your needs always come first. We are honest and open 100% of the time.
If you'd like to learn more about how we can afford to maintain such high editorial standards, you can find out more on How We Make Money.
Our 10-Step Process
Every product we test goes through the unique Top10VPN.com methodology – no exceptions. This is what happens when we decide to test a VPN:
1

Purchasing the VPN

No press samples and no freebies, we want to make sure we get the exact same experience as the average user at home. The only way to guarantee that we're receiving an official retail version of a VPN is to buy one ourselves – so that's exactly what we do for every VPN we test.

We have a running subscription for every single VPN currently listed on our website. The cost is well worth it to give us constant access and the ability to update our reviews at the drop of a hat.

Purchasing and maintaining our own subscriptions means that we can keep track of which VPNs represent good value for you in today's market – and which ones are ripping you off.
2

Installing and testing on multiple devices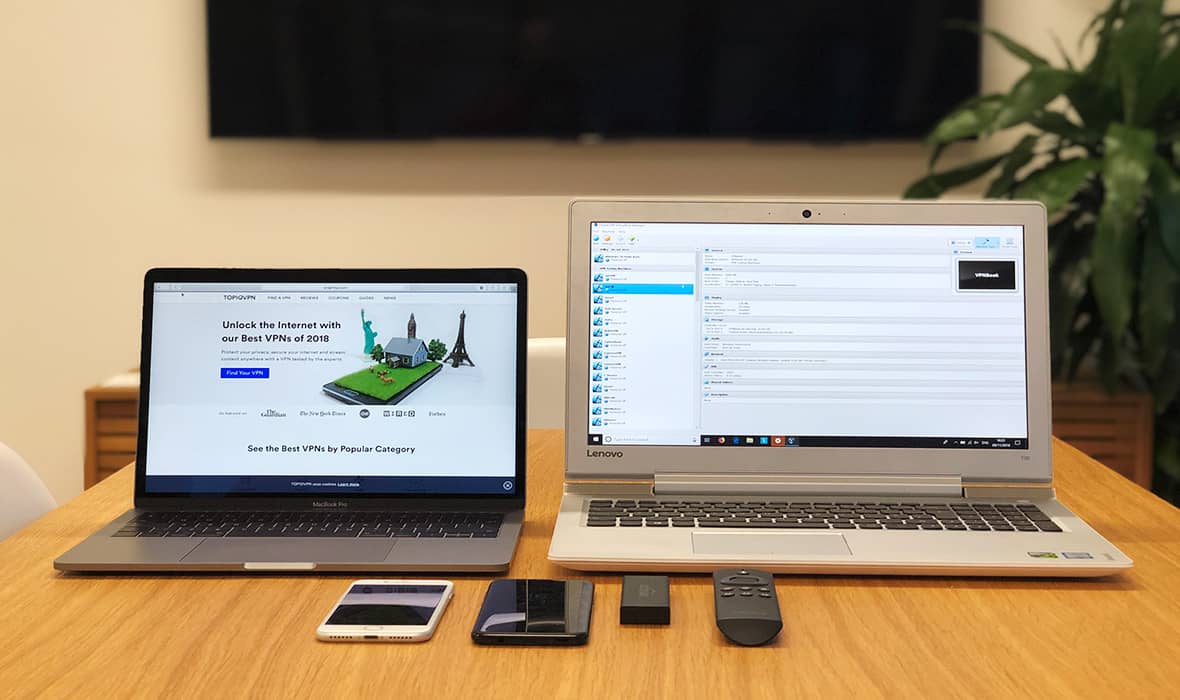 We have a trusty, dedicated test laptop with virtual machines installed, ready and waiting to run the latest VPN on test. We also have a 2017 Apple MacBook Pro, Apple iPhone 7, Apple iPad, Samsung Galaxy S8 and Amazon Fire TV Stick set aside especially for VPN testing, each one wiped clean after every review.
We highlight how widely-available each VPN is, and whether or not it has dedicated apps for a variety of popular devices. No native support for your phone, computer or streamer of choice means you could risk less-than-total protection.
3

Can we quickly find what we want?

Are the menus all clearly labelled? Does each button do what you'd expect it to do? Does it help you find a server for the specific service you're after, like Netflix? Is there a walkthrough to installing it on your router?

We go through the exact same processes that a user at home would, making sure there are no nasty surprises when you fire up your new VPN for the first time.
4

Does it have all the necessary features?

In this day and age there are certain features that we consider essential to a top VPN – features like a kill switch, automatic public WiFi protection and AES-256 encryption. Beyond that, though, we also look for any useful extras that may be included like split-tunneling, browser extensions or Tor compatibility.

Some will offer dedicated servers just for certain services, like Netflix or BBC iPlayer, while others will give you a connection optimized for torrenting.
5

Does it protect your privacy?

An obviously crucial part of any VPN test, your privacy is of the utmost importance. We wouldn't be doing our job properly if we didn't ensure that every recommended VPN properly protects your privacy.

We check every VPN for DNS leaks, IP leaks, WebRTC leaks, and any other red flags that may jeopardize your online privacy.
6

How fast is it?

This is where we really get our hands dirty. Speed and connection strength are the backbone of any worthwhile VPN, so we knew that we had to find a way to test them as rigorously as possible.

We have developed a global testing infrastructure that tests VPN speeds throughout each day, in order to deliver accurate and up-to-date figures. The locations we currently test are:

• Amsterdam, NL
• Frankfurt, DE
• London, UK
• New York, US
• Paris, FR
• San Francisco, US
• Singapore
• Sydney, AU
• Tokyo, JP
• Toronto, CA
• Vancouver, CA

Our testing tool, made in-house by our engineering team, runs automated tests both between and within every city on that list to give you a strong idea of how a VPN will perform for you all around the world.

We use our tool to automatically test the following popular VPNs:

• ExpressVPN
• NordVPN
• IPVanish
• Cyberghost
• HideMyAss!
• PrivateVPN
• VyprVPN
• SaferVPN
• Hide.me
• PIA
• PureVPN

We strongly believe that results and figures for these providers are the most reliable you'll find on the web, with the the latest speed data figures updated every Monday morning. We're not done yet, though, with more server locations and more VPNs to be added in the future.

For VPNs that are currently not compatible with our proprietary tool, we perform speed tests using a different method. This involves launching the VPN, connecting to the desired range of countries – Australia, Canada, France, Germany, Japan, Netherlands, Singapore, UK and US – and measuring speed metrics using Ookla's internet speed checker.

All speed data you see will be from the testing on the OpenVPN protocol where possible, in the interest of keeping results between providers comparable. Where applicable we will also run tests on other available protocols.
7

Does it work with all the most popular services?

With the technical analysis complete we can put the VPN to test with accessing the most popular services out there. Does it let you access Netflix remotely? Can you watch the UK-exclusive BBC iPlayer? How about torrenting – is it permitted on all servers? If the answer to all of these is 'no' then you're looking at a very limited product.
8

Can it bypass censorship

VPNs are vital tools in combating government censorship. Whether you live under a digitally-oppressive government or will just be passing through, we check to see if every VPN we test can still be relied upon to deliver free and open internet access.
9

What is its privacy and logging policy like?

The penultimate stage to our testing, but one of the most important. If a VPN isn't protecting your privacy then you may as well not be using one at all – but we've found some privacy policies that left us speechless.

The very best VPNs will offer 'no-logs' policies which, when executed properly, will store zero identifiable data on the user. Plenty of providers have used that term with little proof to back it up, though. While it can be very hard to know for sure whether a provider is logging or not, we pore over every privacy policy and grill every provider to find out exactly how private each VPN really is.

We also do our due diligence and carry out thorough research into who owns and operates each VPN company. We also look at where the company is based – we've seen plenty set in privacy-unfriendly jurisdictions such as the UK or US, which can be a serious issue if a provider's logging practices aren't watertight.

We make sure to stay on top of the latest news and developments in the VPN sphere, ensuring that we're always fully informed and well-equipped to provide relevant and timely advice.
10

How good is the customer support?

Now that we've seen everything the VPN has to offer, and know exactly what its shortcomings are, we get in touch with customer support to see if it can help us fill in the blanks. We ask a mixture of simple and technical queries to see how well it really knows its own product – and whether or not it will be able to help you should you encounter a problem.

You know our process, now why not read through our VPN reviews or check out our top VPN recommendations.