How We Test & Review VPN Services
We put every VPN we review through an extensive and fair testing process. Here you'll learn exactly how our experts test VPNs, how our rating system works, and why you should trust our process.
Why You Should Trust Our VPN Reviews
All 56 VPNs on our website have been put through an extensive and fair testing program, ensuring that every VPN is treated exactly the same. We've designed this system to make sure we only recommend the very best VPN services.
| | |
| --- | --- |
| Total Hours of Testing | 30,000+ |
| Weekly Speed Tests | 3,000+ |
| VPN Services Reviewed | 56 |
| Streaming Platforms Tested Daily | 12 |
| IP & DNS Leak Tests Performed | 9,500+ |
| How Much We've Spent On Testing | $25,000+ |
Full Editorial Independence
At Top10VPN.com we pride ourselves on genuine, 100% editorial independence. What does that mean?
We will never accept money to review a VPN.
We will never accept money to improve the review rating of a VPN.
We will never accept a test account from a VPN service.
No conflict of interest
We are independently-owned and entirely separate from every commercial VPN and the broader companies which own them. There are no conflicts of interest due to parent companies, and there is no pressure from financial stakeholders to alter reviews.
Dedicated to VPNs
We are also entirely focused on VPN services and issues of online privacy and security. We have no interest in reviewing or covering products in other tech areas. This means that we can dedicate all of our time and resources towards creating the best possible VPN reviews and advice for you.
We buy our own subscriptions
In the interest of total impartiality we also purchase our own subscriptions to every VPN we test. Since the company was founded in 2016, Top10VPN.com has spent over $25,000 on VPN subscriptions alone.
Funded by our readers
We are completely funded by you, our readers. We've provided an in-depth, transparent explanation of how we make money if you want to know all the details.
Quality Standards
We are constantly looking to improve our reviews and advice while adhering to rigorous editorial standards of accuracy and honesty.
Every page on Top10VPN.com is compiled by a dedicated editorial team and checked by two or more editors before publishing. Every claim we make can be backed up with cataloged independent research.
We do not rehash or share information from other sites or outlets unless they are a primary source which can be fact checked. We perform all our own research and communicate directly with the VPN services themselves to obtain first-hand information.
All of our research and writing is produced exclusively by our in-house team of VPN researchers, whose work is edited and fact-checked by our VPN experts. The reviews and advice you see on the website is the result of their combined efforts.
Over 30,000 Hours Spent Testing VPN Services
The process of testing a VPN never really ends. Once we select a VPN to review, the work has only just begun.
Every VPN review we publish is continually updated on a weekly basis for the rest of its lifespan. An initial review may involve upwards of 40 hours of testing, but every month will see many more hours spent updating it.
Our VPN experts are intimately familiar with every VPN reviewed on the website. They are constantly retesting VPN speeds, checking if they can still unblock streaming services, updating key information and pricing plans, and dozens more data points.
It's not just test results that get updated, either. We also regularly assess and update our testing methodologies to ensure they are in line with the fast-changing VPN industry.
Our Tools & Testing Environment
When testing, our main priority is to emulate the results that you would likely get at home. That means we use standard hardware that is readily available to consumers.
Here's a complete list of all the test devices we use, plus the operating system versions we run:
Lenovo T480 & Lenovo T480s (Windows 10 & Ubuntu Linux 20.04)
Apple iMac 2017 Core i5 (macOS Monterey)
Apple MacBook Pro 2017 Core i5 (macOS Monterey)
Samsung Galaxy S9 & Samsung Galaxy A8 (Android 12)
Apple iPhone 8 (iOS 15)
Apple iPhone 11 (iOS 16)
Amazon Fire TV Stick 3rd Generation
Apple TV 4K 1st Generation
Google Chromecast with Google TV
Microsoft Xbox One
Sony PlayStation 4
Nintendo Switch
Sony KD65XE
We ensure that every device is kept up to date with the latest available stable OS release. We also routinely refresh our device range when they begin to grow out of date.
These devices are all completely standard, as-sold, with no modifications, hacks, or upgrades. Having our team of experts share this collection of hardware eliminates some of the variables that could otherwise arise between testers. It also means that all VPNs are running on identical hardware, to ensure maximum comparability.
Virtual Machines
On our Mac, Windows, and Linux test devices, every VPN is installed inside its own independent virtual machine instance.
Installing them all straight onto the base machine would mean clogging the hard drive up with dozens of different VPNs, potentially risking clashes and performance issues.
By using virtual machines we ensure that every VPN is given a neutral, unbiased playing field of a completely vanilla OS install. This improves consistency and comparability between test results.
With regards to virtual machine software, for Windows we use Microsoft Hyper-V, for macOS and Linux we use VMWare Fusion, and for our server in China we use VirtualBox.
Our Testing Software
We also use a suite of bespoke testing software. They are designed to test the performance and specific features of each VPN we review. Here's an overview of the software we use and how they work:
Wireshark

Wireshark is a packet inspection software which allows us to analyze web traffic traveling to or from a specific device.

Wireshark allows us to say for certain if a VPN is encrypting your traffic or not. Unencrypted traffic will appear legible in Wireshark, while encrypted VPN traffic will be illegible.
VPN & Torrenting Leak Test Tool

We've created our own tool to test VPNs for leaks.

It is able to accurately pinpoint IP, DNS, WebRTC, and geolocation leaks, plus IP and DNS leaks while torrenting.

We also use the third-party ipleak.net and dnsleaktest.com to verify the findings from our own tool.
Remote Testing Server in China

VPNs are extremely popular in countries where the internet is suppressed or censored – China being perhaps the most notorious for this.

We rent and have remote access to a server based in Shanghai, China. We are able to install VPNs on it and perform weekly tests to definitively see if they are capable of beating state-mandated censorship.
Kill Switch Test Tool

We've also created an entirely unique VPN kill switch testing tool – there is nothing else like it anywhere else on the web.

It allows us to check for IP leaks when changing VPN servers or in the event of a sudden internet disconnection. A good VPN kill switch will prevent any leaks and pass our test.
Ad & Tracker Blocker Test Tool

Many VPNs now offer either an ad blocker, tracker blocker, or both. To test their efficacy we use d3ward's excellent open source test tool on GitHub.

It runs dozens of tests to determine what ads and trackers a VPN can block, and which it can't. It then provides a percentage score to let us know how well the blocker works.
εxodus

εxodus is a privacy auditing platform for Android apps. We check every VPN Android application with it to discover how many trackers and permissions the VPN requires. εxodus also specifies what the permissions are capable of doing and how dangerous they are.

While some may be absolutely necessary to the functionality of the VPN service, others often aren't. The ideal Android VPN will have as few privacy-invading trackers and permissions as possible.
Speed Testing Tools

We use two different tools to test VPN speeds:

speedtest.net

The first is simply via speedtest.net, the world's most popular internet speed testing tool. It monitors your connection to tell you your download and upload speeds, plus ping time.We use this to measure the difference in speeds between our internet connection with a VPN and without, just like a regular VPN customer would.

Our own speed test tool


We also use our own VPN speed test tool. It runs a permanent, perpetual speed testing network for some of the most popular VPNs we've reviewed.

We rent a network of 113 servers in 11 locations all around the world and run 15 VPNs on them 24/7, collecting speed data multiple times a day. This information is expressed in the live graphs, allowing us to compare up to five VPNs at once across any connection.
Virus Checks

We use virustotal.com to check that each VPN installer is safe to run.

VirusTotal analyzes any file you give it, checking its contents against a comprehensive database of known viruses and threats.
How We Test VPN Services
Across all of our reviews and some of our best VPN lists you'll see ratings assigned for VPNs in various categories. Here is a comprehensive overview of how we test each of those categories.
Privacy & Logging Policy
Minimum Requirement: No personal data retained and all aggregated data deleted ASAP.
We Recommend: A strict zero-logs policy with absolutely no activity or connection logs.
A VPN's logging policy is one of its absolute most important attributes. We read every word of every one to fully understand exactly what each VPN logs, where it's stored, and how long for.
If too much of your data is logged then you could be exposed if a hacker or court gains access to your VPN's servers.
We want to see as little data logged as possible, especially nothing which could be used to personally identify a user. Aggregated server metadata, for example, is largely fine as it's far too generic to ever be connected to a user.
Your originating IP address, though, would be unacceptable as it is a direct link between your browsing activity and your real identity.
RAM-based servers are preferable, as they do not store data of any sort beyond the duration of the VPN session. If they are not in place, we like to see logged data deleted as soon as possible, and not being retained for any more than a month.
We also dig into the companies behind each VPN to discern where in the world they're based, as national laws and jurisdictions can have huge implications for data privacy.
Speed & Reliability
Minimum Requirement: Fast enough for HD streaming on local connections.
We Recommend: Less than 20% speed loss on local connections or 40% on distant ones.
Our speed testing methodology is simple enough for you to replicate it at home.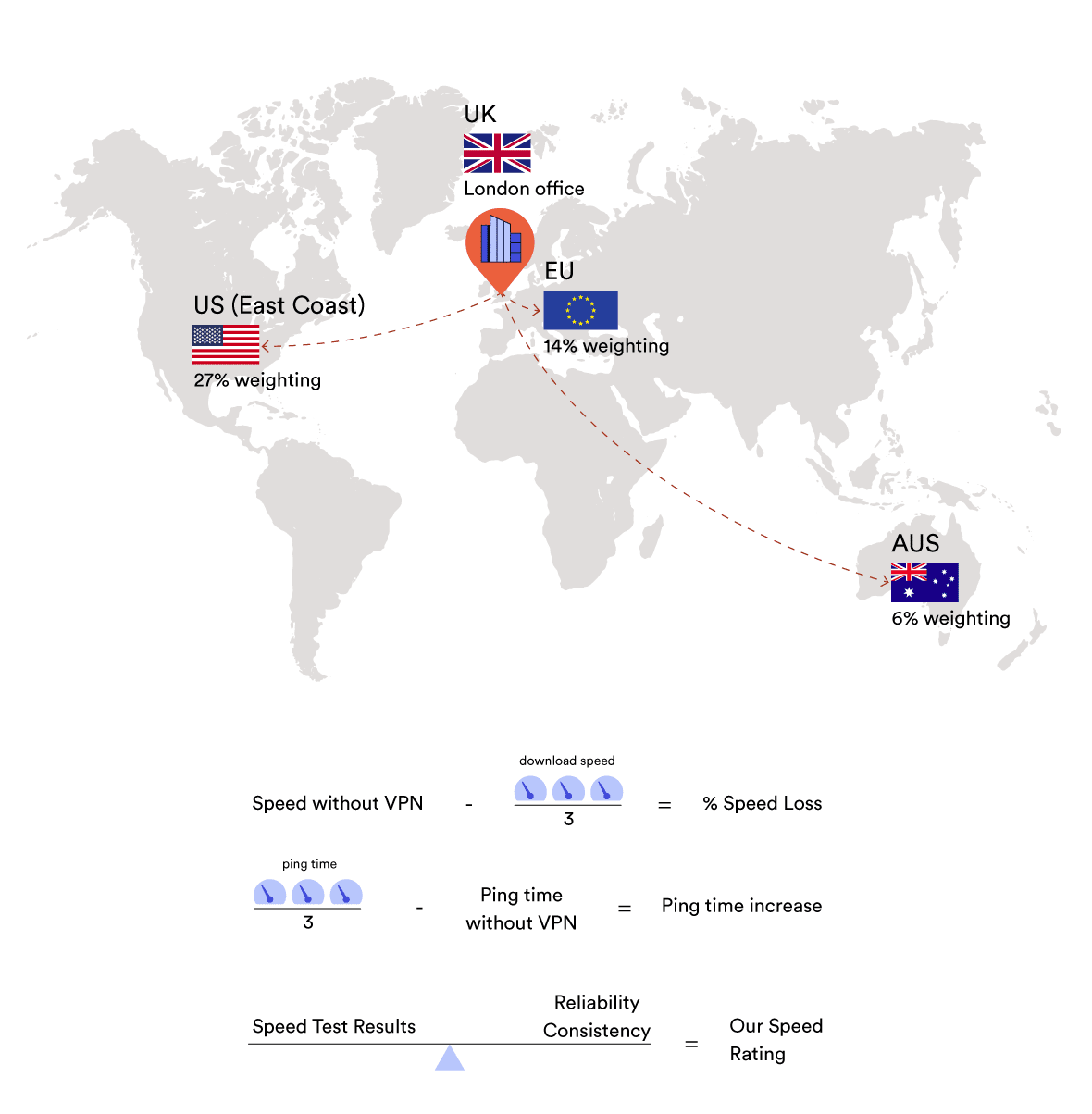 These tests are always performed in uniquely instanced virtual machines to ensure as much consistency and comparability as possible.
First, we test our dedicated 100Mbps office connection three times using speedtest.net. We use this to determine a control download speed (Mbps), upload speed (Mbps), and ping time (ms).
We then repeat this process with the VPN connected in four locations spread around the world: UK, Germany, East Coast US (ideally New York or Massachusetts), and Australia. We perform three tests per country to create a set of averages.
In the event that servers are not available in those regions we will look for suitable alternatives. If there are no alternatives the VPN has its speed rating capped.
The logic behind this selection is that it gives a full range of distances around the world. You can extrapolate our results to understand how a VPN's speeds may vary depending on where you're located and the server you may want to connect to.
We calculate the total loss in download and upload speeds (plus increases to ping time) and convert it into a percentage. We then subtract marks from the speed rating depending on how drastic the speed loss is.
Shorter-distance connections are weighted higher than long distance ones. Reliability and consistency of the connection is also factored in as a variable.
☝️
NB: We also use our in-house automated speed test tool, but only for our list of the fastest VPNs. Reviews exclusively use the manual testing method outlined above.
Features, Encryption & Security
Minimum Requirement: AES-128 encryption, 100 servers, internet kill switch.
We Recommend: All the above, plus extra security features and obfuscation tools.
A broad and complex category, lots of individual criteria make up this score – most of them relating to the technical side of the VPN.
Wireshark

We test VPN connection protocols and encryption using the Wireshark tool: AES-256 encryption is the industry standard, although AES-128 is acceptable, too.

For protocols, OpenVPN or the newer WireGuard are the safest and fastest, but IKEv2 is also a good alternative.

When turned on, a VPN should show nothing but encrypted traffic within Wireshark. If anything else is discoverable, then at some point the VPN has failed.
In-House IP & DNS Leak Test Tool

We also use our VPN leak test tool to make sure that the VPN is functioning correctly, then cross-reference those results with a third party website for accuracy (like ipleak.net or dnsleaktest.com).
In-House VPN Kill Switch Test Tool

While we test plenty of auxiliary features, only one is a must have – the VPN kill switch. We test this using our in-house tool. It absolutely must work to prevent IP leaks when a connection to the internet is unexpectedly lost.

Gaps in protection when changing server locations are not ideal, but can be excused if there is prior warning within the VPN app.
Server Network Metrics

VPN server networks are assessed based on both the number of servers and their global spread. It's important that no major geographic regions are left uncovered.

The overall number of servers determines how bad congestion can be – too many users on one server can result in slower speeds. You can see our methodology for this metric in the image above.
Testing Censorship in China

You'll see a 'Bypassing Censorship' rating on reviews, too – it is a contributing factor to the overall Features, Encryption & Security rating.

We test a VPN's ability to beat internet censorship using our rented server in Shanghai, China. It's designed to function exactly as if we were in China ourselves: we install a VPN on it, then see if it can access websites known to be censored in the region (e.g. YouTube, Instagram, or Wikipedia).

We test each VPN with all available protocols, plus any additional obfuscation tools like SOCKS5, Obfsproxy, or StealthVPN. We perform weekly tests to create a running reliability record of each VPN in China over a monthly, quarterly, and yearly basis.
Streaming
Minimum Requirement: Works with US Netflix.
We Recommend: Unblocks multiple streaming services and regional content libraries.
Streaming tests are very simple and reflect the exact experience you would get at home as a typical user.
We have paid subscriptions to multiple popular streaming services from around the world. To test a VPN's access, we simply connect to a server in the necessary region and try to log in and watch content.
We'll try a multitude of server locations, protocols, and platforms before coming to a conclusion. When creating a streaming score we weight specific streaming services differently based on popularity. You can see our full streaming rating methodology above.
Here is a list of all the streaming services we have active test subscriptions for:
All 4

Amazon Prime Video US

BBC iPlayer

Disney+

HBO Max

Hotstar

Hulu

ITV Hub

Line TV

Netflix (multiple international libraries tested)
Torrenting
Minimum Requirement: Allows unrestricted P2P traffic on multiple servers worldwide.
We Recommend: Allows torrenting on all servers, with no restrictions and no logs retained.
We judge VPNs for torrenting based on five key criteria. The most important is speed – the less our download bitrate is affected by the VPN, the better.
1

Speed

We measure our download bitrate on our 100Mbps test connection using our dedicated 1GB test file. We then see how the speed drops off when downloading the same file with a VPN connected.It's the same logic as with our speed testing, only we test solely from a local server connection.

We use qBittorrent as our torrenting client, and we download our own custom-made 1GB test file from a fixed-speed host to keep our results consistent.
2

Encryption & Security

We also need to be confident that a VPN can protect and anonymize your torrenting traffic before recommending it. We use our torrenting leaks tool here to make sure that there are no IP and DNS leaks throughout the test.
3

Logging Policy & Past Behavior

The third factor is a VPN's logging policy and past behavior. A VPN should record as few logs as possible and be based in a private jurisdiction in order for us to entrust it with our torrenting data. This rating is taken straight from the Privacy & Logging Policy section of the VPN review.
4

Server Network & P2P-Friendly Attitude

We then look at the VPN's server network, and how P2P-friendly it is. Torrenting policies are categorized as either unlimited, permitted, restricted, or not allowed.

Here's a breakdown of what these categories mean:
Unlimited requires a VPN to allow torrenting with no data caps on every single server in its network.
Permitted is as above, but with perhaps a handful of servers or countries which do not permit torrenting. We will also consider the locations in which torrenting is permitted – there should ideally be a global spread leaving no nation without a realistic option.
Restricted means that torrenting is allowed, but only on a small minority of servers in the VPN network.
Not permitted means that you cannot use the VPN for torrenting at all.
5

Relevant Extra Features

Finally we consider the VPN's relevant extra features. A kill switch and port forwarding feature are the two most important, but anything else that could be considered useful for torrenters (such as SOCKS5 proxy) are also taken into account.
Ease of Use
Minimum Requirement: Easy installation and intuitive apps on most major platforms.
We Recommend: All of the above, plus clear in-app labels and apps for unusual platforms.
We always strive to review VPNs with scientific rigor and objective metrics. However, some things can't be expressed in sums and formulas.
This part of our testing covers off all of the intangibles: how does a VPN feel to use? Is it easy to navigate? Are labels clear and straightforward? Are there quality of life features like pre-categorized servers, sorting options, or favorite lists?
We take this into account across every single platform we test on – that's desktop, mobile, streaming devices, and router. Desktop and mobile are weighted the heaviest due to their popularity, but every device is taken into consideration.
We address all of the differences between platforms, too, so that you know whether a VPN is right for you and your individual setup.
We try to maintain a consistent level of expectation and a mutual understanding of which features are good and which features are bad across the entire testing team.
Customer Support
Minimum Requirement: A support email address and online troubleshooting guides.
We Recommend: All of the above, plus 24/7 live chat support and in-depth FAQs.
Online resources (like an FAQ or knowledge center) are the bare minimum for a VPN. They can vary wildly in quality, but simply having something available to help users with troubleshooting is the least we expect.
Alternatively, email or telephone support without online resources to back it up can also be considered the entry level for VPN customer support.
A combination of both is what we want to see most VPNs achieve. We consider the extensiveness of online resources, and the promptness and helpfulness of support agents when testing the VPN here.
We consider live chat to be the pinnacle of customer support. Being able to get a tailored response from a real human (ideally available 24/7) is what separates the best VPNs from the competition.
We put forward real requests to support agents, and we test and fact check all of the solutions they offer.
How We Rate VPN Services
Across Top10VPN.com you'll see two different types of ratings for VPNs: overall ratings and use case ratings.
In this section, we'll explain how our testing data is translated into these numerical ratings, how important we consider each category, and what separates a decent VPN from a great one.
Use Case Ratings
When you want to see the best VPNs for a specific purpose, device, or region, our experts create a specific methodology just for that page.
We consider the most important decision-making factors specifically for that purpose, and assign them a weighting that reflects how much they matter. These subcategory ratings combine to create a unique overall rating for that use case.
Don't worry if that all sounds a little confusing – you can find a full testing methodology on every best VPN list.
Overall Ratings
An overall rating, which you see on all 56 VPN reviews, is what this page is dedicated to explaining.
Our experts calculate this rating based on a fixed set of testing categories that are important for all VPNs, no matter how you plan on using them. These ratings are formed from years of impartial, first-hand testing data.
Here are the seven key areas that we award ratings to on every VPN review, along with the proportion they contribute towards a VPN's overall rating:
Privacy & Logging Policy: 30%
Speed & Reliability: 25%
Features, Encryption & Security: 20%
Streaming: 10%
Torrenting: 5%
Ease of Use: 5%
Support: 5%
We also rate every VPN in three other areas: 'Price & Value for Money', 'Bypassing Censorship', and 'Server Locations'.
Price & Value for Money does not factor into the final overall rating. We believe that price is entirely subjective – what is expensive for one user is affordable for another. The subcategory rating is simply there so that you can compare one VPN to another.
Bypassing Censorship and Server Locations are also not given their own individual weighting. That is because they are a contributing factor to the 20% allocated to 'Features, Encryption & Security'.
We highlight it and give it its own subcategory rating, though, as to some readers it is considered an extremely important feature.
Read on to find out how our ratings are calculated and how you should interpret each one.
1

Privacy & Logging Policy: 30%

Every logging policy starts off at a 9.9 rating. As we comb through the relevant documents on the VPN's website, we then subtract points for each negative point we can find.

Some things, such as logging your ISP or country, will only cost 1 point or so. Other more serious logs, like connection timestamps or total bandwidth consumed, will detract more. The absolute worst logs, such as DNS requests or your true IP, will instantly drop the rating to 1.0.

Other factors will apply a modifier to the rating. This includes the VPN jurisdiction, how long logs are retained for, and whether the logged data can be personally tied to your account or not.

Finally, if the VPN has received a third party audit or proven its policy in a court of law, it will receive a flat bonus to its overall rating.

👍

Highest Scoring VPNs (9.9/10): FastestVPN, Private Internet Access, Perfect Privacy, VyprVPN, IPVanish, CactusVPN, StrongVPN, AzireVPN

Lowest Scoring VPNs (0.1/10): Hola VPN, Yoga VPN
What Do These Ratings Mean?

0.1 – 3.0: Logs too much personally identifiable data – your anonymity could be seriously at risk with this VPN.

3.1 – 6.0: Too much data is logged and it is retained for too long. If the VPN has a particularly poor choice of jurisdiction then your anonymity could be at risk.

6.1 – 7.9: We are not entirely comfortable with the data being logged, the way it is stored, or how long it is stored for. The jurisdiction may be sub-optimal and the VPN is unlikely to have been audited or have proven itself in a court of law.

8.0 – 9.5: This is a trustworthy, minimal logging policy. The VPN is likely based in a privacy haven and may have even been audited to prove the statements laid out in its privacy policy.

9.5+: This is a virtually flawless logging policy, with only very top-level metadata retained (if that) for a very short period of time. It is either based in a safe jurisdiction, operated on RAM-only servers, has had multiple third party audits, or has proven itself in court.
2

Speed & Reliability: 25%

Every VPN starts with a speed rating of zero. We add points to it depending on how it performs in each region. Download speeds equal 75% of the total rating (40% on the local connection, 20% to the US, 10% to Germany, 5% to Australia), upload speeds 20% (10% local, 5% US, 4% Germany, 1% Australia), and ping times 5% (local 3%, US 2%).

We then calculate the percentage speed loss between the connection with and without a VPN, plus the added ping time in milliseconds. The greater the loss in speed or increase in ping, the less the VPN's speed rating increases by.

You can see what our formula sheet looks like above. Every VPN is subjected to this exact same process, with discretionary points awarded or subtracted by the tester depending on consistency and reliability.

👍

Highest Scoring VPNs (9.8/10): Hotspot Shield, Proton VPN, Atlas VPN

Lowest Scoring VPNs (0.2/10): Psiphon
What Do These Ratings Mean?

0.1 – 3.0: This VPN suffers from incredibly slow download speeds, upload speeds, and ping times no matter where in the world you connect to. It also may not have servers available in enough locations to perform a full range of speed tests. Simply browsing the web while using it will be noticeably slower.

3.1 – 5.0: This VPN suffers from very slow download speeds, and most likely slow upload speeds and long ping times, too. Torrenting files will take much longer, and streaming high quality video (4K or maybe even Full HD) will be interrupted by buffering, depending on the speed of your base internet connection.

5.1 – 7.0: The lowest acceptable rating for speed, local connections may not be too badly affected. You'll likely experience slower downloads and the occasional stutter while streaming. Long-distance international connections will be slow, limiting what you can do effectively while connecting to another country.

7.1 – 9.0: This is a very fast VPN. Connecting to a server in your own country should barely affect your day-to-day internet usage. One or two long-distance connections we test will be too slow for demanding usage, like torrenting, 4K streaming, or competitive gaming.

9.1+: A near flawless connection, using VPNs that attain this rating will be virtually indistinguishable from your connection without a VPN. You can turn it on and leave it running 24/7 as you go about doing everything you normally would online, uninterrupted.
3

Features, Encryption & Security: 20%

We have a checklist of must-haves in this category which heavily influence its category rating. This includes the presence of OpenVPN or WireGuard, a functioning kill switch, functioning leak prevention, and AES-128 or -256 encryption.

We also check for a range of additional features and bonuses, including (but not limited to): ad blocking, tracker blocking, dedicated IP, Double VPN, Smart DNS, SOCKS, split tunneling, and Tor over VPN.

The server network rating also factors into this section. You can see how we rate it above. The number of countries, the spread of countries, and the number of servers are all factored in.

Finally, we consider its ability to unblock censored internet. We create a rating by assessing the VPN's consistency on our Shanghai server over the past year. If it does not work at all in China, we consider its additional features (like obfuscation) to assess whether it could feasibly work in a less strictly-censored country (like Russia or the UAE).

👍

Highest Scoring VPNs (9.8/10): Surfshark, NordVPN

Lowest Scoring VPNs (0.8/10): VPN Proxy Master
What Do These Ratings Mean?

0.1 – 3.0: This VPN cannot be trusted to secure and anonymize your data. It either leaks your IP or DNS requests or does not work to encrypt your traffic on a fundamental level. It has no important extra features, like a VPN kill switch, or they also simply do not work.

3.1 – 5.0: This VPN may get some fundamentals right, but cannot be trusted to reliably encrypt your connection. It may use out of date protocols, fail specific leak tests, or not connect you to the server it claims to. It will be very light on extra features.

5.1 – 7.0: A VPN that we would still only recommend in part, services rated here will at least be a functioning product. It's unlikely it will have a choice of protocols, cutting edge encryption, or a good selection of servers, though. It won't work in China, but it will have a functional kill switch.

7.1 – 9.0: Most reputable VPNs will place here. They use standard protocols (like OpenVPN, WireGuard, or both), AES-256 encryption, suffer no serious leaks, and have a good selection of servers around the world. The kill switch will work, and there may even be some helpful added features like split tunneling or obfuscation. Some of these VPNs will work in censored countries like China.

9.1+: These VPNs can do it all, and with consistency. A wide selection of the safest and fastest protocols, watertight encryption, a huge server network, and can be used to access the open internet in highly-censored regions. They either have a host of extra optional features, or have their benefits integrated by default.
4

Streaming: 10%

Streaming services are not weighted equally. We consider US Netflix and BBC iPlayer to be the most valuable based on their popularity, therefore they are weighted higher.

After that, we consider a variety of Netflix libraries or a selection of other, less popular services to be equally valuable. The Netflix libraries we test for include the UK, France, Germany, Italy, Japan, and Australia. The other streaming services we test are listed here.

The absolute highest-scoring VPNs will be able to consistently unlock a good number of streaming services in a wide variety of geographical regions.

👍

Highest Scoring VPN (9.9/10): ExpressVPN

Lowest Scoring VPNs (0.0/10): Touch VPN
What Do These Ratings Mean?

0.0: Is entirely incapable of unblocking any streaming service we test for.

1.0 – 4.0: Can unblock US Netflix or BBC iPlayer, but nothing else.

4.1 – 7.0: Can unblock both of the above, or can unblock multiple Netflix libraries (including the US).

7.1 – 9.0: Unblocks US Netflix and BBC iPlayer, and either multiple other Netflix libraries or a variety of other services like Amazon Prime Video US and Disney+.

9.1+: Can unblock all of the above. That means the most popular services like Netflix US and BBC iPlayer, a variety of international Netflix libraries, plus a selection of other services from around the world.
5

Torrenting: 5%

Torrenting ratings are arrived at through a purely mathematical equation.

We measure our download bitrate on our 100Mbps test connection using our dedicated 1GB test file. We then see how the speed drops off when downloading the same file with a VPN connected. This is worth a maximum of 3 points, depending on download speed loss.

The encryption and security rating of the VPN is scaled down to equal two points of the overall torrenting rating. The logging policy and past behavior of the service is also worth up to 2 points.

The array of torrenting-friendly servers is worth a maximum of two points. The fewer available across the VPN's network, the lower the rating. The global spread of these servers is also considered.

The additional features available that aid with torrenting make up the final two points. The kill switch and port forwarding are the highest-weighted.

👍

Highest Scoring VPN (9.7/10): Private Internet Access

Lowest Scoring VPNs (0.0/10): VPN 360, ZPN Free, VPNBook, Betternet Free, Norton VPN, ProtonVPN Free, Yoga VPN, Touch VPN, DotVPN, VPN Proxy Master, Snap VPN, McAfee VPN, PrivateTunnel, Encrypt.me, Hola, Stream VPN, Turbo VPN, Atlas VPN Free
What Do These Ratings Mean?

0.0: This VPN does not allow torrenting on its service. Attempts to do so will either fail or result in the termination of your account.

0.1 – 3.0: Torrenting is either very slow, very unsafe, or only permitted on a narrow selection of servers (often as low as just a single one).

3.1 – 6.0: Torrenting may be safe and widely available, but it will be much slower than you're used to. Alternatively, the VPN may produce great download speeds but will have either an excessive logging policy or insecure encryption.

6.1 – 9.0: These VPNs are often fast, but are let down by a poor track record with user data, an unsatisfactory logging policy, or a lack of torrent-friendly extra features (like port forwarding).

9.1+: These VPNs are flawless for torrenting. They provide download speeds almost indistinguishable from what you're used to, they have a functioning kill switch, can be trusted with your sensitive data, and may even offer port forwarding.
6

Ease of Use: 5%

Most VPNs perform well in this category as, fundamentally, VPNs are simple apps that tend to largely resemble one another.

To lose substantial points in this category, our VPN testers will have to experience difficulty installing or signing up to the service, struggle to work the app in day-to-day use, or encounter regular bugs.

To gain substantial points the VPN will have to be extremely intuitive to use across a broad range of platforms. Having an app for Windows, macOS, iOS, and Android is the bare minimum – there should also be apps for Linux, Fire TV, or router.

We will always provide plenty of screenshots in this section so that you can better understand any points we make about the VPN's appearance and usability.

👍

Highest Scoring VPN (9.9/10): ExpressVPN

Lowest Scoring VPN (1.0/10): VPN Proxy Master
What Do These Ratings Mean?

0.1 – 3.0: These VPNs are extremely difficult to use. They are unintuitive, unresponsive, or simply do not work as intended.

3.1 – 6.0: These VPNs are far more difficult to use than they should be. They either overcomplicate things, are severely lacking in features, or suffer from major glitches and bugs.

6.1 – 9.0: Most VPNs on the market will fall here. At worst they are usable but a little clunky – at best they're slick, well-designed, and satisfy both beginners and experts alike. Higher scoring VPNs will have a greater range of apps available, run smoother, have clearer labeling, and include extra features to make the user's life easier (like a favorites list for servers).

9.1+: These VPNs are the pinnacle of design. They have a consistent style between apps, with everything adequately labeled and located where you would expect it to be. It can be used effectively as-is, or advanced users can tinker in a detailed settings menu. It has apps available for almost every platform, including streaming devices or even Smart DNS support.
7

Customer Support: 5%

We break customer support down into five different tiers as described below.

Within those tiers it is up to our VPN testers to decide which precise rating the service should receive depending on the quality of the support team's responses. Slow and inaccurate responses will receive a lower rating than responses which are received promptly and with lots of helpful information.

Just like everything else we test, we routinely quiz VPN support agents to make sure that standards aren't slipping. We ask them deliberately technical questions that we already know the answer to so that we can accurately assess them.

👍

Highest Scoring VPN (9.9/10): ExpressVPN

Lowest Scoring VPNs (0.1/10): Yoga VPN
What Do These Ratings Mean?

0.0: The VPN offers no support of any kind. As of March 2023 there are no VPNs on the website that fall into this category, but it is theoretically possible.

1.0 – 5.0: The VPN will offer online resources only. This usually comes in the form of an FAQ section, knowledge base, or even a forum – which can vary in terms of helpfulness. It has no direct, person-to-person form of customer support.

Alternatively, the VPN has either email support or, in rare instances, telephone support. The rating will vary depending on how quick you can get a reply and how accurate the help received is. There are no additional online resources to help you. This criterion has a minimum rating of 2.0 rather than 1.0 as we deem it to be slightly more helpful.

5.1 – 8.5: The VPN will have the aforementioned online resources, plus either email or telephone support.

8.6+: The VPN has everything from the previous rating tier, with the addition of live chat support. In the very best cases this live chat will be available 24/7, too. As always, there is room for the rating to vary depending on how prompt and knowledgeable the support received is.