How We Test & Review VPN Services
We put every VPN we review through an extensive and unbiased testing process. In this guide you'll learn about our testing lab, how we evaluate VPNs, how our rating system works, and why you should trust our process.
Why You Should Trust Our VPN Reviews
All 65 VPNs on our website have been thoroughly tested using our extensive and fair testing program, ensuring consistency and comparability of our results.
We've designed this system to make sure we only recommend the very best VPN services.
We selected these 65 VPNs after analyzing mobile app store data to identify the most popular VPNs, and by considering those frequently referred to by other industry experts.
Our VPN testing process is fully transparent. Each VPN review includes its rating in every category. Our findings are also reproducible; by following our testing process, you can replicate our findings yourself.
1. Fully Independent
At Top10VPN.com we pride ourselves on genuine, 100% editorial independence. What does that mean?
We will never accept money to review a VPN.
We will never accept money to improve the review rating of a VPN.
We will never accept a test account from a VPN service.
No conflict of interest
Unlike many other VPN review websites, we are independently-owned and entirely separate from every VPN service. There's no potential for conflicts of interest and there is no pressure from financial stakeholders to alter reviews.
Singular focus on VPNs
We are entirely focused on VPN services and issues of online privacy and security. We have no interest in reviewing or covering products in other areas. This means that we can dedicate all of our time and resources towards creating the best possible VPN reviews and advice for you.
Our subscriptions are self-funded
In the interest of total impartiality we also purchase our own subscriptions to every VPN we test. Since the company was founded in 2016, Top10VPN.com has spent over $25,000 on VPN subscriptions alone.
Supported by our readers
We are completely funded by you, our readers. We've provided an in-depth, transparent explanation of how we make money if you want to know all the details.
2. Expert Reviewers
Our VPN reviews and guides are all written by our on-staff VPN experts, who have years of experience and in-depth knowledge of the VPN industry.
Here's a brief description of our authors and their experience in the VPN industry:
Simon Migliano, whose cybersecurity research has been featured in dozens of leading news publications. His ongoing research into internet shutdowns is regularly cited in public policy documents and academic papers.
JP Jones, who has over 25 years of software engineering and networking experience. His extensive knowledge of VPN protocols and network security has been shared in several online publications.
Callum Tennent, who has years of experience in product testing, having supervised and conducted unbiased testing on a range of tech products and coordinated product testing for a range of global publications.
We also have an in-house team of product review experts, including engineers, data analysts, and web censorship specialists, who gather data and assist with content production. The reviews and advice you see on the website are the result of their combined efforts.
3. Original Research
Unlike many other VPN review websites, we conduct our own testing and research to evaluate a VPN's performance. Our reviews are the result of extensive hands-on testing and analysis using a range of primary and third-party tools.
For example, we use our custom-built VPN kill switch testing tool to stress test every VPN's kill switch. Our findings from this research have been adopted by many VPNs, including PrivateVPN, to enhance their product security.
You can find more information on our VPN testing methodology in the dedicated section of this page.
4. Up-to-Date Information
A VPN's performance can vary significantly over time. For example, even if it unblocks US Netflix one week, it may not work the following week. Additionally, VPN services are constantly adding new features to respond to new security threats.
To ensure our VPN reviews remain accurate and relevant, our team is continually retesting VPN services and updating our content. Every VPN review we publish is updated on a weekly basis for the rest of its lifespan. An initial review may involve upwards of 40 hours of testing, but we spend many more hours each month updating it.
Our VPN experts are intimately familiar with every VPN reviewed on the website. They are constantly retesting VPN speeds, checking if they can still unblock streaming services, updating key information and pricing plans, and dozens of other data points.
5. Consistent Testing Environment
To ensure that our VPN reviews are both fair and directly comparable, we conduct all of our tests in a consistent environment. This means that every VPN is tested hands-on from New York using standardized hardware, running the latest OS release.
Additionally, every VPN is tested in an independent virtual machine to prevent interaction with other installed software and limit the potential for inaccurate results. This approach improves the consistency and comparability of our test results.
Here's a list of some of the test devices we use, plus the operating system versions:
Lenovo T480 & Lenovo T480s (Windows 10 & Ubuntu Linux 20.04)
Apple MacBook Pro 2017 Core i5 (macOS Ventura)
Samsung Galaxy S9 & Samsung Galaxy A8 (Android 12)
Apple iPhone 11 (iOS 16)
Amazon Fire TV Stick 3rd Generation
Apple TV 4K 1st Generation
Google Chromecast with Google TV
Sony PS5
Using this standardized collection of devices allows us to control for any variables relating to the performance of the device being used. Instead, any performance differences we record can be attributed solely to the VPN.
VPN Test & Rating Methodology
We use two categories of ratings for VPN services: overall ratings and use case ratings.
Overall ratings evaluate a VPN service based on a standardized set of criteria that's applicable to all users. While use case ratings are tailored evaluations for specific requirements, such as a particular device or region.
Overall Ratings
An overall rating, which you see on all VPN reviews, is based on a fixed set of nine testing categories. You can see a quick overview of each category, along with its respective weight in percentage terms, in the chart below: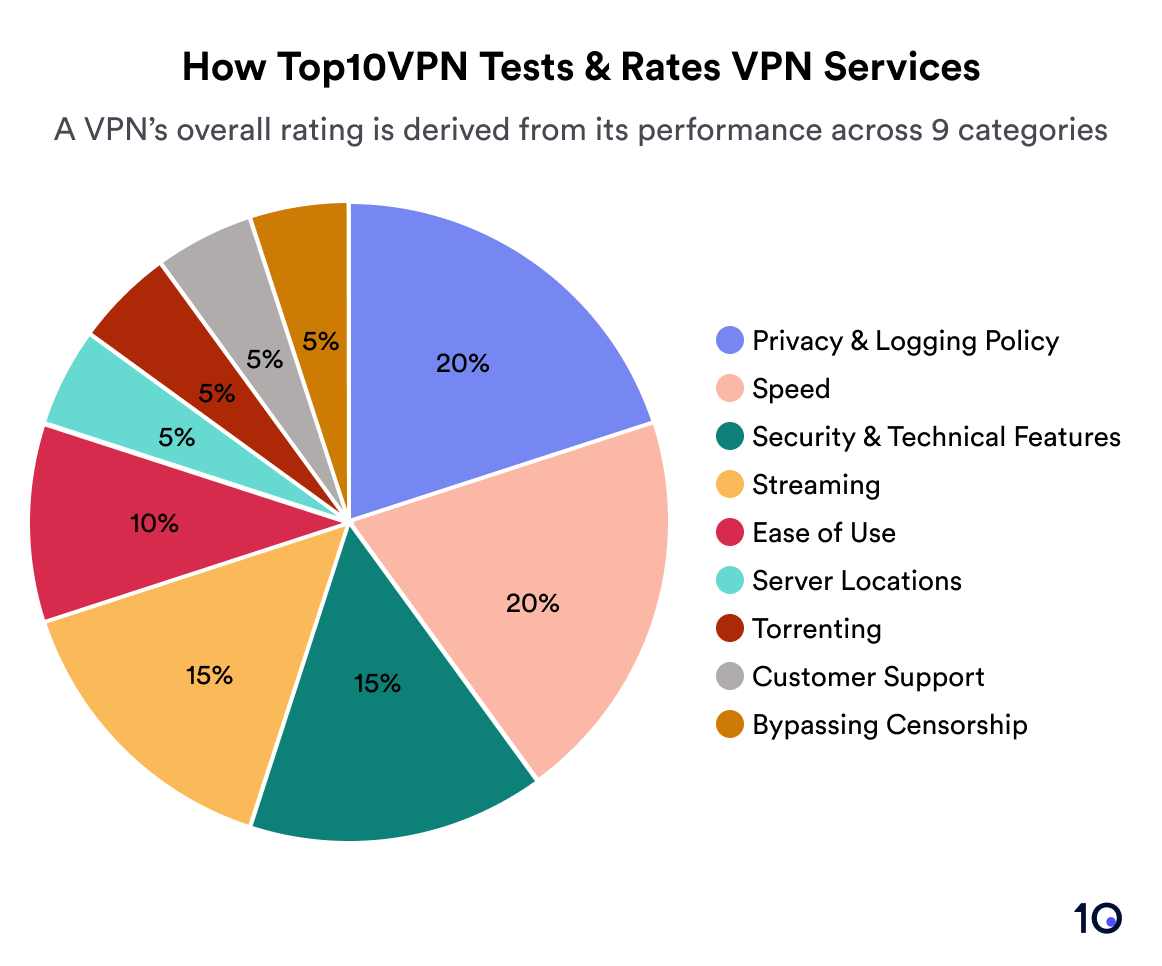 We also rate every VPN for its Price & Value for Money, but this does not factor into the final overall rating. We believe that price is entirely subjective – what is expensive for one user is affordable for another. The category rating is simply there so that you can compare VPNs.
In the sections below we describe in detail how we rigorously test VPN services in each of our nine testing categories. We'll also provide information on how our research findings are converted into a numerical rating out of 10.
1. Privacy & Logging Policy (20% of Overall Rating)
A VPN's logging policy is one of its most important attributes. If too much of your data is logged then you could be exposed if a hacker or court gains access to your VPN's servers.
How We Test
We read every word of a logging policy to fully understand exactly what each VPN logs, where it's stored, and how long for.
Each data point is listed and sorted into a category for how long it's retained, ranging from just the session duration to indefinitely.
Then, we note the VPN's jurisdiction, any past controversies, and whether it has any features that help maintain a user's privacy. The most important of these is diskless servers, as they do not store data of any sort beyond the duration of the VPN session.
To maintain consistency, we have multiple testers independently examine the policy to minimize the possibility of human error.
How We Rate
We use a custom-built calculator to provide accurate and objective ratings.
The logging policy and privacy category is divided into the following subcategories:
Data Logged: 60%
History: 20%
Jurisdiction: 10%
Trustworthiness: 5%
Privacy-Enhancing Features: 5%
Every logging policy begins with a 10/10 rating. As we enter the logged data into the calculator, it automatically subtracts points depending on the severity of the issue. For example, account information that cannot be linked to online activity results in a deduction of only 0.1 points.
However, connection timestamps or total bandwidth consumed are considered more serious and will detract 0.5 points. The worst types of logs, such as indefinitely retaining DNS requests or your true IP address, will instantly drop the rating by 9.9.
Our comprehensive privacy and logging policy rating calculator can't be entirely detailed on this page, but the following ranges give a general overview of what a rating means:
0.1 – 3.0: Severe privacy concerns. The VPN logs substantial amounts of personally identifiable information, putting your anonymity at serious risk.
3.1 – 5.9: Significant privacy concerns. The VPN logs more data than desirable and retains it for too long. A poor choice of jurisdiction may further increase the risk to your anonymity.
6.0 – 7.9: Medium privacy concerns. The amount of data logged, the way it's stored, and how long it's stored for are not perfect. The jurisdiction may not be optimal for privacy, and there may be insufficient evidence of its privacy commitments, such as audits or court records.
8.0 – 9.4: High degree of privacy. The VPN maintains a minimal logging policy and is likely to operate in a privacy haven. It may have undergone audits or provided evidence in court to validate its privacy policy claims.
9.5+: Best-in-class privacy measures. The VPN has an exceptional logging policy, retaining only very minimal metadata, if any, for a short duration. It either operates under a private jurisdiction, uses diskless servers, has undergone multiple third-party audits, or has demonstrated its privacy commitments in court.
2. Speed (20% of Overall Rating)
A VPN's speed is a measurement of how quickly it can download and upload data to and from the internet. A fast VPN allows you to access web pages and stream videos more quickly and without interruption.
How We Test
We measure a VPN's speeds using a proprietary speed test tool. We don't use any third party tools, as these can produce inaccurate results.
Using our 100Mbps connection, we record the speed when connected to VPN servers in eight countries across five continents. These servers are located in: West and East Coast US, Australia, Brazil, Canada, Germany, Japan, South Africa, and the UK.
We manually perform these tests three times a week for a month, totaling 12 results per server location. We then calculate the average speed to reduce the impact of any anomalous results.
How We Rate
The rating for this is based entirely on the data we collect. We input the raw speed figures into our custom-built calculator, which automatically calculates an overall speed rating out of 10.
This category is divided into the following subcategories:
Download Speed: 80%

Local (US East Coast): 40%
US (West Coast): 10%
UK: 10%
Australia: 5%
Brazil: 5%
Canada: 5%
Japan: 5%

Upload Speed Local (US East Coast): 10%
Ping: 10%

Local (US East Coast): 6%
UK: 4%
Download speed has a higher weighting as it impacts the vast majority of web activity, like streaming video. We also give higher importance to local connections, as they are used most often.
For each location, a VPN starts with a speed rating of zero and we award points based on its performance.
For example, a VPN can earn the maximum of 40 points for its local server speed if its speed is above 95Mbps, 36 points between 94-90Mbps, 32 points between 89-85Mbps, and so on. A VPN won't get any points for this location if its speed is below 25Mbps.
Our comprehensive speed rating calculator can't be entirely detailed on this page, but the following ranges give a general overview of what a rating means:
0.1 – 3.9: Extremely poor performance with both download and upload speeds significantly reduced (80% or more below baseline connection speeds) across all tested servers. Ping times are also consistently high (over 200 ms).
4.0 – 4.9: Poor performance characterized by a severe reduction in download and upload speeds (60-80% below baseline connection speeds) on most tested servers. Ping times may be moderately high (between 150-200 ms).
5.0 – 6.9: Average performance where download and upload speeds are reduced (30-60% below baseline connection speeds). Ping times are acceptable (between 100-150 ms).
7.0 – 8.9: Good performance with minor speed reduction (10-30% below baseline connection speeds). Ping times are low (below 100 ms) on most tested servers.
9.0 – 9.8: Excellent performance. Speed reduction is negligible (less than 10% below baseline connection speeds) across all tested servers. Ping times are extremely low (below 50 ms).
9.9 – 10.0: Outstanding performance. Almost no detectable speed reduction (less than 5% below baseline connection speeds) and extremely low ping times (below 10 ms) across all tested servers.
3. Security & Technical Features (15% of Overall Rating)
One of a VPN's primary functions is to provide an encrypted connection that prevents unauthorized monitoring of your network activity. Insufficient security measures could expose you to various risks, including data breaches and man-in-the-middle attacks.
How We Test
We use the following tools to assess the security and technical features of a VPN:
Wireshark

We test VPN connection protocols and encryption using the Wireshark tool: AES-256 encryption is the industry standard, although AES-128 is acceptable, too.

For protocols, OpenVPN or the newer WireGuard are the safest and fastest, but IKEv2 is also a good alternative.

When turned on, a VPN should show nothing but encrypted traffic within Wireshark. If anything else is discoverable, then at some point the VPN has failed.
In-House IP & DNS Leak Test Tool

We also use our VPN leak test tool to make sure that the VPN is functioning correctly, then cross-reference those results with a third party website for accuracy (like ipleak.net or dnsleaktest.com).
In-House VPN Kill Switch Test Tool

While we test plenty of auxiliary features, only one is a must have – the VPN kill switch. We test this using our in-house tool. It absolutely must work to prevent IP leaks when a connection to the internet is unexpectedly lost.

Gaps in protection when changing server locations are not ideal, but can be excused if there is prior warning within the VPN app.
Ad & Tracker Blocker Test Tool

Many VPNs now offer either an ad blocker, tracker blocker, or both. To test their efficacy we use d3ward's excellent open source test tool on GitHub.

It runs dozens of tests to determine what ads and trackers a VPN can block, and which it can't. It then provides a percentage score to let us know how well the blocker works.
How We Rate
We have a checklist of essential features that significantly affect a VPN's rating in this category. The most critical is the availability of OpenVPN or WireGuard protocols and an option of either AES-256 or ChaCha20 encryption.
Based on our test findings, we award significant points to VPNs that successfully encrypt all web traffic as proven by Wireshark, prevent IP leaks during connection drops, and block malicious URLs from loading in our ad and tracker blocker test.
In addition to these, we evaluate a range of other technical features, including dedicated IP addresses, multi-hop servers, split tunneling, and Tor over VPN.
Our comprehensive security and technical features rating calculator can't be entirely detailed on this page, but the following ranges give a general overview of what a rating means:

0.1 – 3.0: Severe security concerns. Fails to encrypt data, leaks IP or DNS requests, and lacks critical security features like a VPN kill switch.
3.1 – 5.9: Substantial security concerns. May use outdated protocols, fail leak tests, and have only a basic selection of security features.
6.0 – 7.9: Moderate security. Functional but lacks advanced features such as diverse protocols and advanced encryption. Includes a working kill switch.
8.0 – 9.4: Robust security. Uses open-sourced protocols and either ChaCha20 or AES-256 encryption. The VPN will have passed leak tests and include working features like a kill switch and split tunneling.
9.5+: Exceptional security. These VPNs are best-in-class, consistently providing a wide array of the safest and fastest protocols and unbreakable encryption. They often come with integrated beneficial features or offer a range of optional extras and have open-sourced applications for transparency.
4. Streaming (15% of Overall Rating)
Streaming performance measures the ability of a VPN to consistently access geo-blocked content platforms, such as Netflix, BBC iPlayer, and Hulu.
How We Test
To test streaming performance, we simply connect to a VPN server in the necessary region and attempt to watch content. We ensure that the video loads properly, the audio and video are in sync, and there is no interruption before qualifying it as a successful result.
We have accounts with 97 popular streaming services from around the world.
We follow a set schedule where each VPN is tested weekly with the most popular services, like US Netflix and BBC iPlayer, whereas less popular services are tested once a month.
We use this data to track each VPN's percentage success rate over the last three and 12 months. This gives us a measurement of how reliable the VPN is with each particular streaming service.
Here is a list of all the streaming services we regularly test:
Channel 4

Prime Video

BBC iPlayer

Disney+

HBO Max

Hotstar

Hulu

ITVX

Netflix
How We Rate
Here is the scoring system we use to calculate a VPN's streaming rating:
0.1 – 0.9: Doesn't work with any streaming service
1.0 – 3.9: Works with US Netflix or BBC iPlayer
4.0 – 6.9: Works with both US Netflix and BBC iPlayer
7.0 – 8.9: Works with multiple streaming services, such as Hulu, HBO Max, and Prime Video
9.0 – 9.8: Works with all tested services
9.9 – 10.0: Consistently works with every service
Our scoring system allows our testers to evaluate the VPN's performance using qualitative metrics, such as video quality, load time, and buffering, and award points within a range.
5. Ease of Use (10% of Overall Rating)
Ease of use is a measurement of how simple, user-friendly, and intuitive the experience of using a VPN's software is.
How We Test
All of the testing for ease of use is conducted while using the VPN in everyday contexts. Given the nature of the metric, we do not perform a specific test to measure its performance.
During our 40+ hours of initial testing, we document various intangibles that affect the overall user experience, including how the VPN feels to use, how easy it is to navigate, server sorting options, and the clarity of labels.
With this rating, we capture how enjoyable it is to use the VPN across multiple platforms, including desktop, mobile, streaming devices, and routers.
How We Rate
Unlike every other category, ease of use does not rely on a data-based calculator. The scoring methodology is primarily qualitative, based on our testers' hands-on experience and judgment of the product. However, to minimize the risk of bias, multiple testers are used.
We incorporate some measurable metrics, too, including setup time, number of clicks required for common tasks, and number of CAPTCHAs encountered while web browsing. We also reward VPNs that provide a helpful onboarding experience.
To gain substantial points, the VPN will have to be extremely intuitive to use across a broad range of platforms. Having an app for Windows, macOS, iOS, and Android is the bare minimum – there should also be apps for Linux, Fire TV, or router.
To score low in this category, we'd have to have difficulty installing or signing up to the service, struggle to work the app in day-to-day use, or encounter regular bugs.
6. Torrenting (5% of Overall Rating)
In our torrenting tests, we measure the ability of a VPN to securely and reliably hide your P2P file-sharing activity from your ISP and other third parties, while providing quick download speeds.
How We Test
To assess a VPN's torrenting ability, we conduct a controlled test. Using our fixed 10MiB/s internet connection and a Windows virtual machine, we download a 1GB torrent file from a private torrent tracker while connected to the nearest VPN server.
We use qBittorrent as our torrenting client, and we download our own custom-made 1GB test file from a fixed-speed host to keep our results consistent.
How We Rate
To evaluate a VPN's torrenting performance, we use a purely mathematical equation that takes into account five key criteria.
Here is our scoring system for calculating a VPN's torrenting rating:
Speed (Awarded up to 3.0 points): We measure the VPN's average bitrate on a 10MiB/s test connection after downloading a 1GB test file. This value, on a scale of 0 to 10, is divided by 3.33 to account for its 30% weighting.
Security & Features (Awarded up to 2.0 points): This rating is taken straight from the Security & Technical Features section of the VPN review. We then divide it by 5 to account for its 20% weighting.
Logging Policy & Past Behavior (Awarded up to 2.0 points): This rating is taken straight from the Privacy & Logging Policy section of the VPN review. We then divide it by 5 to account for its 20% weighting.
Server Network & P2P-Friendly Attitude (Awarded up to 2.0 points):

Rating of 10: All servers permit P2P traffic.
Rating of 7.5: P2P servers are available in almost every country.
Rating of 5.0: Limited P2P support with regional servers, like one or two servers for the entire Europe region.
Rating below 2.5: Few P2P servers in the network or absence of P2P servers in specific regions, such as Asia.

We then divide it by 5 to account for its 20% weighting.

Relevant Extra Features (Awarded up to 1.0 points):

Rating of 1.0: VPN provides both a kill switch and port forwarding.
Rating of 0.5: VPN offers one of the two features.
Rating of 0: VPN lacks both a kill switch and port forwarding.
7. Server Locations (5% of Overall Rating)
Server locations judges the availability and diversity of IP address locations provided by the VPN. Being able to connect to more countries directly influences your ability to access region-specific content and to maintain fast connection speeds.
How We Test
To test a VPN's server network, we examine the server list on its website and within its apps. Then, we document how many total servers it has, how many countries you can connect to, and how many city-level locations it offers.
All this data is compiled into a table separated by continents, giving us a view of how well distributed the servers are around the world.
How We Rate
Here is our scoring system for calculating a VPN's server locations rating:
0.1 – 0.9: Single fixed server location.
1.1 – 1.5: Single dynamic server location.
1.6 – 5.9: 2-6 country locations.
6.0 – 6.9: 6-12 country locations.
7.0 – 7.9: 12-20 country locations.
8.0 – 8.9: 21-40 country locations.
9.0 – 9.9: More than 40 countries, up to 20 city-level locations, up to 1,000 total servers.
9.9 – 10.0: More than 40 countries, more than 20 city-level locations, more than 1,000 total servers.
Our server location rating methodology is based on quantifiable metrics, such as the number of countries and total count of servers.
However, we maintain a small level of flexibility within each scoring range to incorporate qualitative factors based on the personal judgment of our team. These include the relative popularity of the locations, and the balance between physical and virtual server locations.
8. Customer Support (5% of Overall Rating)
Given the advanced and technical nature of many VPN features, it's important to have access to helpful and responsive customer support. Our customer support rating indicates how likely a VPN can provide adequate assistance when you need it.
How We Test
To test a VPN's customer support, we directly contact its support team through all communication channels and measure the accuracy of the responses.
When available, we initiate live chat sessions with real human agents. We measure the speed of their response, their ability to understand and address our request, and the overall accuracy of their responses.
Similarly, to test its email or telephone support, we send real support requests. We analyze the clarity and simplicity of the responses received and follow the exact instructions to rate its accuracy.
Finally, we manually examine the availability and quality of online resources, like FAQs and instructional documents. We use a standardized set of five common user queries, including tasks like VPN router setup, to evaluate the accuracy and simplicity of the information provided.
How We Rate
Here is our scoring system for calculating a VPN's customer support rating:
0.1 – 0.9: Doesn't offer any support options.
1.0 – 5.0: Support is available through a single channel, such as online resources, email, or telephone.
5.1 – 8.5: Provides a combination of two support channels, such as online resources and email, or online resources and telephone.
8.6 – 9.5: Offers live chat as well as a combination of two support channels, such as online resources, email, and telephone.
9.6 – 10.0: Offers excellent support through online resources, email, and live chat, with consistently knowledgeable and accurate agents.
Our methodology for evaluating a VPN's customer support is based mainly on measurable qualities, like time-to-respond, accuracy, and availability of resources.
We also allow some flexibility in each category to capture qualitative metrics in our rating, such as how punctual and knowledgeable the support agents are.
9. Bypassing Censorship (5% of Overall Rating)
Bypassing censorship assesses how well a VPN can access blocked websites or apps, such as YouTube in China.
How We Test
We test each VPN's censorship tools by manually testing it in China. All the information we use is derived from our first-hand test results, with no reliance on any third-party information.
To conduct this test, we connect to a Windows 10 PC installed on a server in Shanghai. Then, we connect to a VPN server and record whether we can access a standardized list of blocked websites: YouTube, Instagram, and Wikipedia.
We monitor the success rate of each VPN over the past three and 12 months to record any fluctuations in its ability to bypass state censorship in China. Each VPN is tested weekly, giving us a precise reliability score.
How We Rate
Here is our scoring system for calculating a VPN's bypassing censorship rating:
Success Rate in China (Awarded up to 8.0 points): This subrating is based on the VPN's percentage success rate over the last 12 months. For example, a VPN with a 75% success rate will score 7.5 out of 10. This is then divided by 1.43 to account for its 70% weighting
Nearby Servers to China (Awarded up to 1.0 points): On a scale of 0 to 10, we rate how many servers the VPN has in nearby regions. We award the most points to VPNs with servers in Hong Kong, US West Coast, Singapore, Japan, and Thailand. We then divide it by 10 to account for its 10% weighting.
Obfuscation Technology (Awarded up to 1.0 points): On a scale of 0 to 10, a VPN will be rated depending on the number of obfuscation features it has, like stealth protocols, obfuscated servers, and proxy options. The rating will also consider the effectiveness of the obfuscation technology, based on our tests. We then divide it by 20 to account for its 5% weighting.
Our scoring system is based on quantifiable data points and presents a comprehensive picture of a VPN's capacity to circumvent internet censorship. A VPN's success rate in China takes up the vast majority of the scoring as it's the main purpose of this category.
However, it is not the only variable taken into account. For instance, we factor in average speed as internet censorship often uses bandwidth throttling, which can lead to server timeouts and error messages. As a result, a VPN's connection speeds play an important role in its overall usability for bypassing censorship.
Use Case Ratings
When you are looking for the most suitable VPN for a specific purpose, device, or region, our experts create a bespoke testing and rating methodology just for that page.
We consider the most important decision-making factors specifically for that purpose, and assign them a weighting depending on their importance. These category ratings combine to create a unique use case rating for that specific purpose.
These categories are varied, but include such factors as:
Mac App
Streaming Device Compatibility
Success Rate in China
US Netflix Reliability
In scenarios where use case ratings are applied, we explain the testing and scoring methodology directly on the page.