Identity Theft Trends 2018
Your entire online identity could be worth less than $1,200 to hackers, according to our research into the illicit sale of stolen personal data on the dark web. While it may be no surprise to learn credit card details are among the most traded items of personal data, we also found that fraudsters are hacking Uber, Airbnb and Netflix accounts and selling them for less than $10 each.
We also found that for someone in the UK, the value of the online identity was little more than £800.
See all our research into darknet market prices for hacked personal data
Everything has a price on the dark web it seems. Paypal accounts with a healthy balance attract the highest prices ($247 on average). At the other end of the scale though, hacked Grubhub or Walmart online store accounts sell for less than $10. Would-be scammers can easily spend more on their lunchtime sandwich than on buying up stolen customer log-ins for online stores like Costco ($5) and ASOS ($2).
It's a similar story for online accounts for UK users, with Paypal the most valuable at £280 and hacked Deliveroo and Tesco user accounts changing hands for less than £5. Online shopping accounts like Argos (£3) and ASOS (£1.50) were even cheaper still.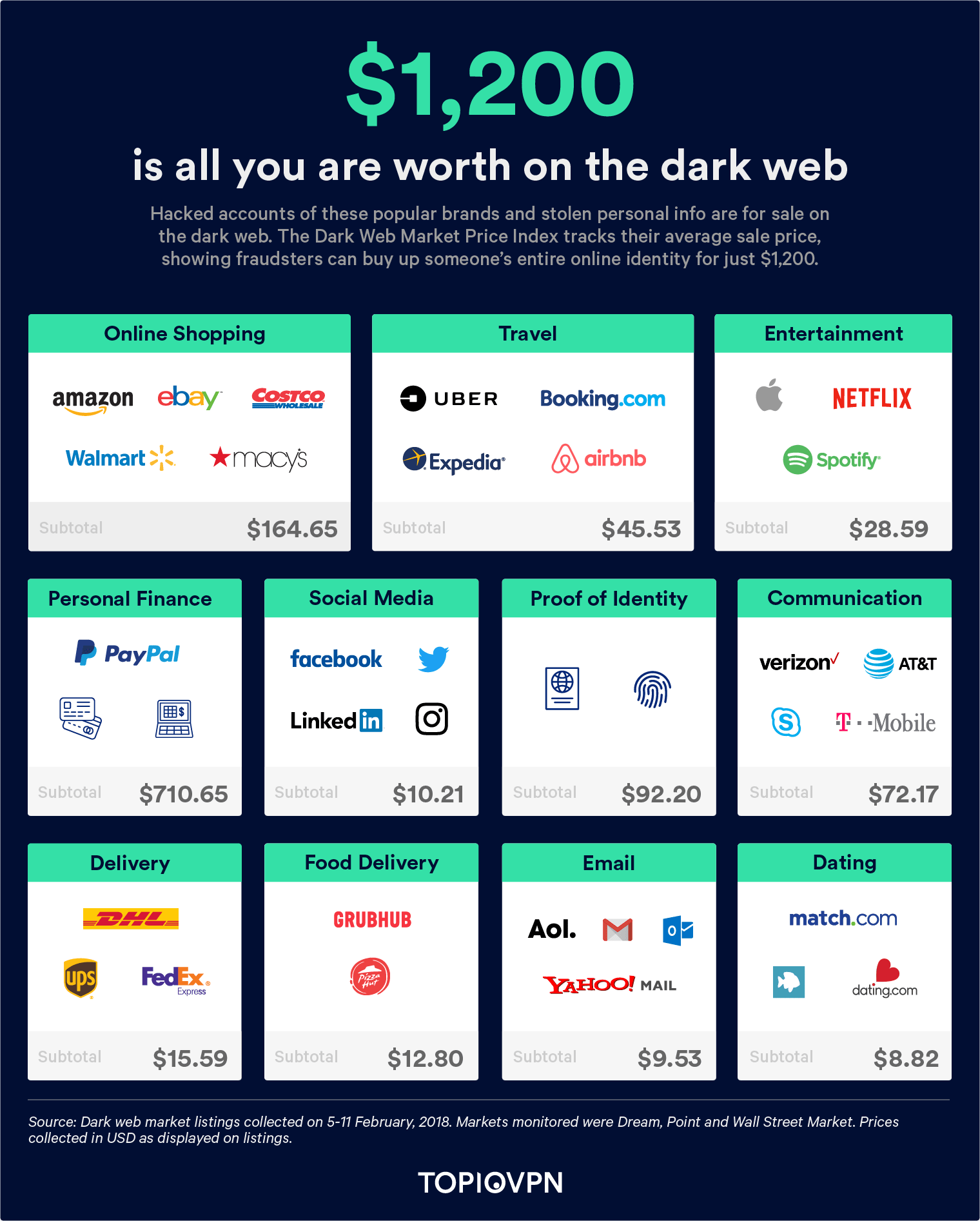 The average person has dozens of user accounts that form their online identity, all of which can be hacked and sold — putting themselves at risk of the consquences of identity theft.
Our team of security experts reviewed tens of thousands of listings on three of the most popular darknet markets: Dream; Point and Wall Street Market. These encrypted websites, which can only be reached using the Tor browser and ideally using a VPN (Virtual Private Network) for additional privacy, allow criminals to anonymously sell stolen personal data, along with all sorts of other contraband, such as illicit drugs and weapons.
We focused on listings featuring stolen ID, hacked accounts and personal data to create the Darknet Market Price Index. We calculated average sale prices for items relevant to U.S. consumers and found that $1,170 is all it would cost to buy up someone's entire online identity if they were to have all the listed items. This figure was £820 for UK consumers.
We did this research to help the public understand just how much their personal data is worth. Our hope is that by raising awareness, it will encourage people to improve their day-to-day online security practices.