If you want to ensure complete privacy while you're online, a good quality VPN offers all-round protection. VPNs are flexible, too; you can opt for the desktop application to encrypt all of your traffic, or use a browser extension if you're concerned more about private browsing.
Browser extensions use the same VPN credentials as your main VPN app, but they allow you to quickly toggle the connection on and off within the browser window. You can change server locations just as you would normally, without minimizing your browser to access those controls.
What You'll Need
We recommend that you begin with a trial account for a well-known, reputable VPN provider. Although there are numerous free options, you're better off paying a small monthly fee to ensure that your data isn't going to be harvested and sold on. We have put together a list of our top VPN picks for both Chrome and Firefox to help you decide which provider is best for you.
You'll also need a compatible browser: Chrome, Firefox, or Safari (if you're on a Mac).
How to Install Your VPN Browser Extension
Installing a VPN in your browser is simple and should only take a matter of minutes.
Google Chrome
In this example, we'll use Google Chrome to install the NordVPN extension. If you sign up for a free trial, you can test NordVPN straight away to see if it works for you.
To quickly connect:
Navigate to the Google Chrome Store at https://chrome.google.com/webstore/category/extensions
Search for NordVPN and locate the official extension
Click the blue Add to Chrome button
In the pop-up, review the permissions for the extension; click Add Extension if you're happy to proceed
Click the NordVPN icon at the right-hand side of the URL bar
Enter your credentials and click Sign In
Click Auto Connect to connect to NordVPN
With Auto Connect enabled, your browser will automatically connect to the VPN when it's open.
If you wish, you can choose a specific server location by clicking Change location. If you don't do this, NordVPN will connect you to the best available server in your location.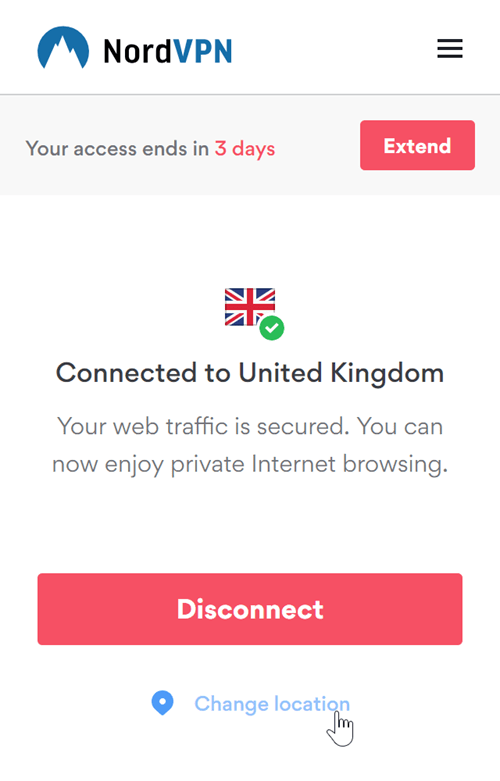 Firefox
Adding a VPN extension in Firefox is also really simple. We'll use ExpressVPN in this example:
In the Firefox URL bar, type about:addons
Click Extensions on the left-hand side
Search for ExpressVPN
Select the official ExpressVPN extension from the list
Click the blue Add to Firefox button
After the extension has been downloaded, review the permissions it requires and click Add if you're happy to proceed
You'll be prompted to install the desktop application and sign in to your ExpressVPN account
We've produced a separate guide on installing a VPN application on your desktop.
Safari
Some VPN providers' extensions are listed in the Safari extensions repository. If yours isn't, you'll need to locate it on your provider's site and install it manually.
This is a quick and easy process:
In Safari, head to the download page for your VPN extension, for example https://expressvpn.com/get-browser-extension/safari
Click the download or install button to download the file to your Mac
Locate the extension file in your Downloads folder and open it
When prompted, click Trust to add the extension to Safari
You'll need to install the desktop version of the ExpressVPN application for your Safari extension to work. Follow the procedure in our VPN desktop install guide for Mac.
Desktop or Browser: Which is Better?
Having a VPN button in your browser is an easy way to quickly toggle your VPN on and off. It also allows you to change the server location within the browser window, which is handy if you need a convenient way to try different spoofed locations in full-screen mode. Both of the extensions we've covered offer this.
You'll also notice that there were two different methods in the steps above. With NordVPN, we only installed a browser extension, but the ExpressVPN browser extension also requires the desktop application to run in the background. Extensions like NordVPN are called proxy extensions because they only run in the browser and don't affect traffic outside it.
If you prefer a browser-only VPN solution that's lightweight and doesn't require extra software to be installed, a proxy extension like NordVPN's Chrome extension will be perfect for you. However, for all-round protection of all internet traffic, we recommend you choose a service that uses the desktop application in the background.