4 Security Tips to Stay Safe on Public WiFi
Below are four simple steps to reduce your chances of being hacked and having your data stolen on a public WiFi connection.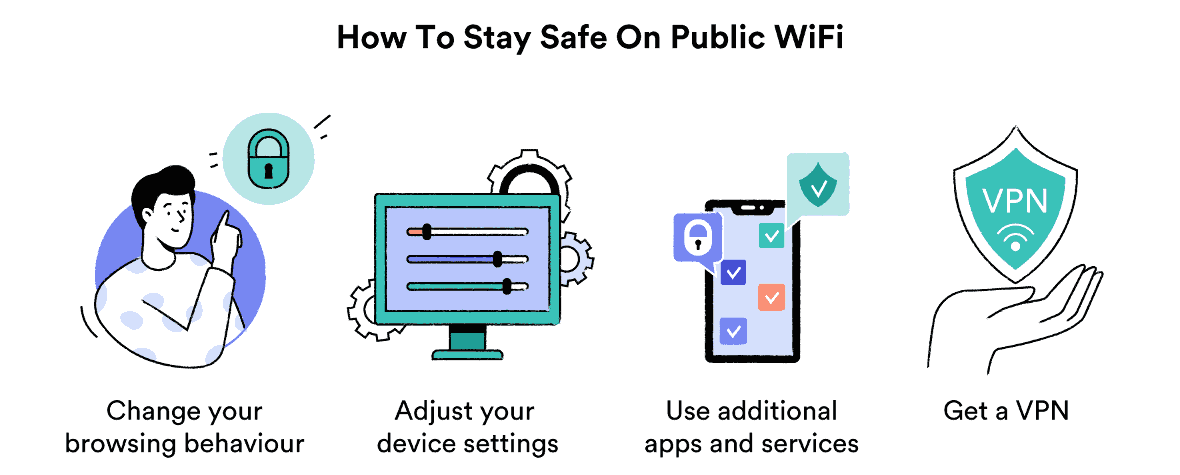 1

Use a Virtual Private Network (VPN)

If you use public WiFi networks regularly, then a virtual private network (VPN) is the best investment you can make toward security and peace of mind.

VPNs create a secure tunnel between your device and a private VPN server. This server then forwards your traffic on to the website or application you're accessing.

Using a VPN stops internet service providers (ISPs) from tracking your internet activity, and also prevents hackers and third parties from intercepting your traffic.

If someone is monitoring your internet connection, all they'll see is a meaningless combination of letters and numbers.

In short, a VPN keeps your browsing secure by encrypting your internet traffic, routing it through a secure tunnel, and masking your true IP address.

However, a VPN can still be hacked through vulnerabilities in its servers or connection protocols. It is important to choose a secure and reliable VPN effectively tackles all the potential threats we've mentioned in this guide, regardless of the network you're on.
2

Change Your Browsing Behavior

The most dangerous public WiFi networks are those that don't require a password to join.

We tend to gravitate toward these networks because they're common and super convenient, but they hugely increase your risk of being hacked.
If you have to use public WiFi, choose a network that is password protected.
If you can't find an open network that you trust, consider using your mobile data plan instead. This option is much more secure and can be found in the Settings menu on your device. Apple and Android both have helpful guides explaining how to do this.
If it's absolutely necessary to connect to an open network, be sure to limit your activity to avoid any kind of behavior that might involve your personal data.
Avoid online banking or shopping on sites like eBay or Amazon. Steer clear of submitting your personal details as you risk exposing your account details to third parties. Instead, make sure to always use your home or workplace WiFi for financial transactions.
To avoid fake hotspots, it's also good practice to ask a member of staff what the WiFi name is if you're in a restaurant or hotel. This is especially important if there are a number of networks with similar names in the vicinity.

3

Change Your Device Settings

There are some simple adjustments you can make to your devices that will make them far less susceptible to attacks.
1. Turn Off Automatic WiFi Connection
One of the first things you can do is turn off automatic connections. This will stop your device from connecting to random open hotspots.
To turn off automatic WiFi connections on Windows:
Navigate to the Settings menu.
Click Network & Internet > Wi-Fi > Manage Known Networks.
Right-click on any network you don't want to automatically connect to.
Select 'Properties' and uncheck the option labeled 'Connect Automatically When in Range'.
To turn off automatic WiFi connections on a Mac:
Navigate to the System Preferences menu.
Select 'Network'.
On the left side, select any network you don't want to automatically connect to.
Uncheck the box next to "automatically join this network".
Click "Apply".
To turn off automatic WiFi connections on an iPhone:
Navigate to the Settings menu.
Tap on the 'WiFi' option.
Select any network you don't want to automatically connect to.
Toggle the "Auto-Join" switch to prevent automatic connection.
It's good to get into the habit of deleting public WiFi networks from your device. Keep a lean WiFi history to avoid the possibility that you'll connect to a fake access point later.
It's also best to turn off file sharing, Bluetooth and AirDrop on your device unless you intend to use them. Having them on all the time is unnecessary and increases the risk of malware-infected files finding their way into your system.
2. Enable Your Firewall
A firewall is a network security feature that monitors the traffic flowing to or from your network. It allows or blocks traffic based on a set of predefined security rules.
The firewall will work to prevent unauthorized or malicious access to your device.
Most computers now come with a firewall built-in.
If you're not sure whether your firewall is on or off, it's worth checking.
To enable the firewall on a Mac:
Open the System Preferences menu.
Choose 'Security & Privacy'.
Select the 'Firewall' tab at the top of the page.
Unlock the window by clicking the lock in the bottom-left corner.
Click 'Turn On Firewall' to enable the firewall.
To enable the firewall on Windows:
Open the Start menu and navigate to Settings.
Choose 'Security & Privacy'.
Choose 'Update & Security'.>
Select 'Windows Security' and then 'Firewall & Network Protection'.
Make sure the firewall is on.
3. Software Updates
It's important to keep your computer, laptop, or phone as up-to-date as possible. Fortunately, most software updates are enabled automatically.
Software updates usually contain security patches. Staying up-to-date will protect you against known vulnerabilities that hackers can easily exploit.
It's possible to trigger a fake software update on your computer if you're on a public network. For this reason, you should never download software updates over public WiFi — particularly if the alert box pops up while you're on that hotspot.
Make sure to disconnect and check for updates when you're on a secure and private connection.
4

Use Security Applications & Browser Extensions

Beyond your device settings, there are private and secure browser extensions, applications and services we recommend downloading to enhance your security on public WiFi networks.

HTTPS Everywhere is a great free browser extension. It's available on Chrome, Firefox, and Opera and will push websites to use secure HTTPS connections wherever possible.

If you're using Firefox, enable DNS over HTTPS in the browser's 'Network' settings. We've verified that DNS requests are still exposed during HTTPS connections, so DNS over HTTPS (DoH) covers over those cracks by encrypting your DNS queries.
We also recommend installing trusted security software, too. Products like MalwareBytes offer real-time virus and ransomware protection, as well as malware and spyware cleanup tools.
Enabling two-factor authentication (2FA) on your online accounts also goes a long way to protect you against data theft.
With 2FA enabled, even if a hacker manages to get hold of your usernames and passwords, they won't be able to log in to your accounts without additional verification codes.