How Can I Access Blocked Websites in China?
The easiest way to access censored websites in China is to use a Virtual Private Network (VPN).
VPN software lets you connect to a server located outside of the country you're in, temporarily replacing your IP address and encrypting all your traffic.
By using an effective VPN, the Great Firewall of China will be unable to monitor and block your connection requests.
Alternatives to VPNs exist, however they're not as effective. For instance, web proxies are slower and less reliable than VPNs.
Also, the Tor network is blocked in most of China, so you can't rely on it to regularly unblock censored websites and services.
Unlike these alternatives, a reliable VPN will have a dedicated application for each of your devices, and your download speeds will only be slightly affected. It's usually cost effective, too.
Which VPNs Work to Unblock Websites In China?
Not every VPN works in China. Over the years we've tested hundreds of VPNs and found that the hardest task for them all is consistently bypassing the Great Firewall of China.
The Great Firewall is constantly detecting and blocking VPN traffic. The only VPN services that work are those that invest serious time and money into bypassing the Firewall.
Anti-censorship VPNs often use specialized obfuscation technology, and specific encryption to trick China's web censors.
In other words, the Great Firewall is extremely sophisticated, and only the very best VPNs for China will beat it.
Our testing confirms that Astrill is still the most reliable VPN for China. Over the last year of testing, it has worked with a 100% success rate, which no other VPN has managed.
This success is mostly down to Astrill's StealthVPN protocol – just select that before browsing and all of China's blocked websites become accessible. It has servers in nearby Hong Kong and Japan, too, so its average download speeds stay fast.
Here's a video of us testing Astrill VPN in China: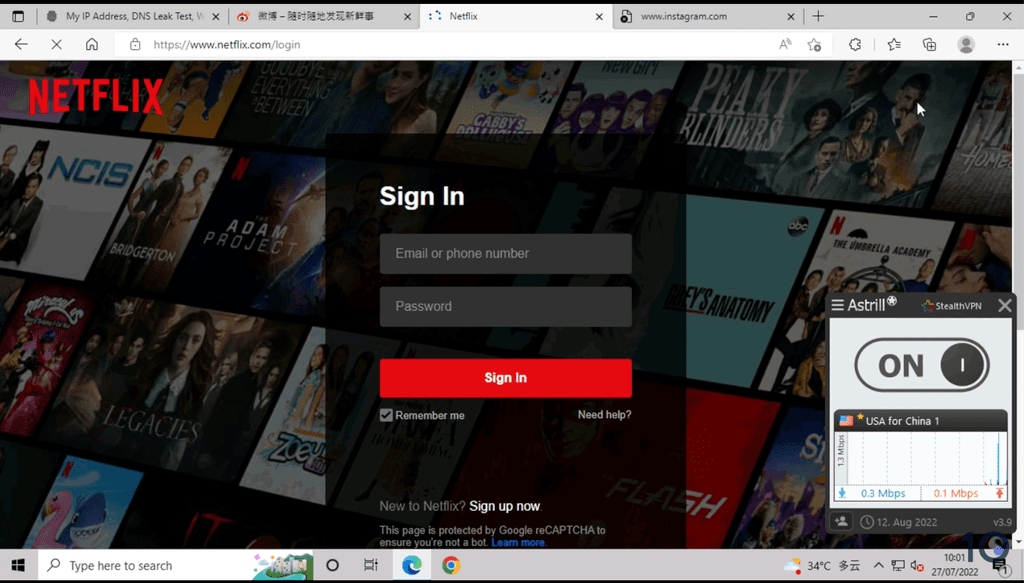 We also recommend Windscribe as the best free VPN for China. It has only faltered a couple of times in China over the last year.
However, Windscribe slows your internet connection down more than Astrill does, and its free app only has one server close to China (Hong Kong).
It's a high-rated free VPN for a reason, and we love that it includes both StealthVPN and WStunnel options for both free and paid users.
Below is a video of us using Windscribe in China: