Disclosure: Top10VPN is editorially independent. We may earn commissions if you buy a VPN through links on our site.
Our Verdict
Windscribe is a safe VPN with excellent free and paid apps. All versions include secure AES-256 encryption and excellent streaming capabilities. Windscribe Free is also the best free VPN of 2021, unblocking US Netflix and BBC iPlayer. Customer support and international speeds both need work, though.
Windscribe offers both a free and paid VPN service. While the paid subscription (Windscribe Pro) is better, the free plan offers a generous 10GB data allowance, and we consider it the best free VPN currently available. In this Windscribe review, we put both versions through our rigrous testing process.
Both versions of Windscribe VPN provide reliable same-country speeds, a diverse network of server locations, and a good selection of applications for Windows, Android, iOS, and Linux. On the premium version you'll even get unlimited data.
Windscribe Pro is a great choice if you're looking to torrent, stream US Netflix, and maintain good internet speeds for a reasonable price. The company behind Windscribe is also very transparent about its logging practices, although we would like to see an independent audit to verify its privacy and security offering.
Windscribe Pro has a few weaknesses that prevent it from taking a top position in the market: we found issues with long-distance speeds and customer support. The free version is absolutely as good as a free VPN gets, though.
We've run both versions of Windscribe through our comprehensive review process to discover if this VPN is a serious contender amongst more established VPN services.
Windscribe VPN Pros & Cons
Premium account unlocks 42 Netflix libraries

P2P & torrenting permitted on most servers

Safe & secure with no user web logs

Works in China & other censored regions

Unlimited simultaneous connections

Free version is the best free VPN
Slower long-distance speeds

No human live chat

No independent no-logs audit

Based in Canada (Five Eyes nation)
Windscribe VPN Key Data
Data Cap
Speed
Logging Policy
Data Leaks
Jurisdiction
Servers
IP Addresses
Countries
US Netflix
Torrenting
Works in China
Support
Cheapest Price
Official Website
Premium
Free
None
10GB
95Mbps
54Mbps
Anonymous Server Usage Data
Anonymous Server Usage Data
No
No
Canada (Five-Eyes Member)
Canada (Five-Eyes Member)
Not disclosed
Not disclosed
Not disclosed
Not disclosed
63
10
Yes
Yes
Permitted
Permitted
Unreliable
Unreliable
Email & Online Resources Only
Email & Online Resources Only
$4.08/mo over 12 Months
Free
Windscribe.com
How Do Other VPN Reviews Rate Windscribe?
We looked at the most popular Windscribe reviews available to see how our expert opinion matches up against other big names in the industry.
Most alternative reviews also recommend Windscribe as a quality VPN service, though they all experienced similar issues with its lack of customer support.
We also found some outdated information when it comes to Windscribe's streaming support. VPNMentor, for example, claims that Windscribe is incapable of streaming Netflix outside of the US. By contrast, our experts found that it is able to unblock over 40 international Netflix libraries.
You can find our remaining test results in the full Windscribe review below.
Windscribe only keeps minimal usage logs
Logging & Jurisdiction
Windscribe does keep minimal logs for maintenance purposes, which isn't ideal. We know other providers are able to work with less, and we'd like to see Windscribe do the same.
That said, the data kept by Windscribe cannot be used to identify you, or retroactively match your activity back to you.
Windscribe logs the following information:
The amount of data transferred in the past 30 days
A timestamp of your last activity on the Windscribe VPN network
The number of simultaneous connections on your account
Your OpenVPN or IKEv2 username (until the end of your session)
The time you connected (until the end of your session)
Windscribe collects this information to ensure that its VPN service runs smoothly. However, there is nothing in the above data that could be used to personally identify you once you have disconnected from the server.
According to Windscribe, your username and connection time are also stored in the server's RAM, which means they will be deleted by design as soon as you end your session.
Windscribe does not log:
Your originating IP address
Browsing activity data
Yegor Sak, the company's co-founder, has published a detailed explanation that covers exactly what data is collected when you use the Windscribe VPN apps – a nice gesture to transparency.
You can also find more information in Windscribe's privacy policy.
With an independent external audit, we would find this explanation wholly satisfactory.
Based in Canada
Windscribe is located in Canada, which is part of the Five Eyes data-sharing alliance. It has a public PO address, but has kept the exact location of it's Toronto office private.
The CSIS (Canadian Security Intelligence Service) collects frightening amounts of personal user data to track and identify people of interest. Under the Copyright Modernization Act, Canadian ISPs must log user data for six months, although it is not clear if VPN providers have been compelled to adopt similar practices.
Usually, this would be very concerning, but because of Windscribe's minimal VPN logging policy it's much less worrying.
Windscribe greatly downplays the importance of a VPN's jurisdiction. While we agree with several points raised by Windscribe, it's still much safer for a VPN company to be based in a jurisdiction that isn't legally obliged to hand over company information to authorities, particularly foreign ones like the US.
Nevertheless, Windscribe maintains a page documenting the DMCA requests and law enforcement data requests it has received since 2018.
This is a positive step towards transparency, but means nothing without an independent external audit of the process.
Windscribe claims that it only stores connection information in the server's RAM, and that that information is lost by design whenever a session ends.
Beyond this, it claims, since no browsing history, timestamps, or IP addresses are stored, it would be impossible for Windscribe to hand over information to companies or governments.
We only have Windscribe's word that it doesn't log more (inadvertently or on purpose), and if it were to, it would be conceivable that the Canadian authorities might get access to that data.
If the server setup is as Windscribe describes, and the data published on its transparency is accurate, we will be much more positive about Windscribe's logging policies.
But for now – without an audit or any evidence beyond some graphs on its website – Windscribe's claim that "exactly zero requests were complied with due to lack of relevant data" is meaningless.
How fast is Windscribe?
Speed & Reliability
Windscribe is one of the fastest VPNs available for a same-city connection. However, its international speeds are less impressive.
We saw a drop from 100.45Mbps to 94.72Mbps download speed when connecting to a same-city server from our London connection when using OpenVPN. This is a drop of around 5%, which is very fast.
Local Speed Test Results
Before using Windscribe VPN:
100.45

98.45

1
When connected to Windscribe VPN:
94.72

93.04

12
By comparing our connection speeds before and after connecting to a nearby VPN server, we're able to see exactly how much Windscribe slows our connection when connected to local server.
The speed results were positive, some of the best we've seen, with an average speed loss of just 5%. This is the type of performance you can expect when connecting to a Windscribe server near your physical location.
Here are the full local speed test results:
Download speed without Windscribe: 100.45Mbps
Download speed with Windscribe: 94.72Mbps
Our download speed loss when Windscribe is running: 5%
It's also very reliable VPN service – we didn't experience any connection drops while connected to the servers, and speeds were very consistent from one test to the next.
This means that Windscribe should comfortably handle anything you're planning on doing online, even with multiple devices connected to the VPN at once.
It isn't quite the fastest VPN we've tested, though. If you want the absolute fastest VPN out there, though, then you should consider choosing an option from our list of the fastest VPNs.
Ping times on short-distance connections of 12ms isn't the best we've seen, either. This means there might be better choices available for gamers, particularly in online games where low ping is really important.
On the other hand, Windscribe's maximum upload speeds of 93Mbps should keep torrenters satisfied, allowing them to seed easily.
We currently test speeds using the OpenVPN protocol, as this is widely available among VPN services and therefore helps us maintain a high level of consistency in our results.
Windscribe's apps, however, default on startup to IKEv2, which it claims is the best protocol, so you could see slightly faster speeds if you connect this way.
If you'd like to know more about how we test VPN performance, take a look at our VPN speed testing methodology.
Global Speed Tests
In addition to local speeds, we tested the speed of the connection between our office in London and Windscribe VPN servers world-wide.
The results were less consistent than our local tests: Windscribe performed fine, but simply didn't match up to the very best long-distance providers.
These are the average speeds you can expect when connecting out from the UK to these international locations with Windscribe:
USA: 68Mbps (download) & 73Mbps (upload)
Germany: 85Mbps (download) & 86Mbps (upload)
Singapore: 4Mbps (download) & 14Mbps (upload)
Australia: 9Mbps (download) & 24Mbps (upload)
These speeds will be enough for most users, but don't expect to be streaming video from Asia in Europe without issues.
How Fast Is Windscribe Compared to Other VPNs?
The results that follow are taken from our custom VPN speed test tool.
We run speed tests automatically four times per day on a standard 100Mbps connection (a standard speed for home internet).
Here are our results from the last eight weeks on our New York server.
Use our Speed Test Tool to compare Windscribe's speeds across different cities.
Windscribe hasn't performed as fast as top competitors recently. On our New York to New York connection it caused a 30% download speed drop, compared to under 10% from NordVPN.
Is Windscribe safe?
Encryption & Security
Protocols

IKEv2/IPSec

OpenVPN (TCP/UDP)

WireGuard

Encryption

AES-256

Security

DNS Leak Blocking

IPV6 Leak Blocking

Supports TCP Port 443

VPN Kill Switch

WebRTC Leak Blocking

Advanced features

Ad Blocker

SOCKS

Split Tunneling
Windscribe is a solid choice for VPN security with no evidence of any faults occuring in the company's past. It comes with lots of extra features and customization options too, great for novices and experienced users alike.
It is encrypted with top cipher AES-256 and includes our preferred VPN protocol, OpenVPN, so your IP address remains hidden at all times.
There's also a secure SHA512 authentication key and 4096-bit RSA encryption for the handshake, all considered the very best in security and privacy.
In the five years it's been running, there is no evidence that Windscribe's security has ever been compromised, server or client-side.
It also operates Perfect Forward Secrecy, a standard we want more VPN providers to adopt.
This means that encryption keys aren't reused between sessions; even if someone got their hands on your private key, it becomes useless as soon as you disconnect.
Windscribe lets you choose between UDP and TCP OpenVPN connections. Each of these protocols comes with its own advantages. UDP is faster but less reliable, but TCP offers the most consistent connection.
If you're gaming or making video calls, we recommend UDP. If you're aren't doing these things and you experience stability issues we recommend changing to TCP.
By default, Windscribe uses the IKEv2 protocol on all platforms. We like IKEv2 as a choice for mobile connections, but it is a proprietary protocol without the same tested security as OpenVPN.
Generally we prefer OpenVPN for desktop platforms, but IKEv2 isn't a terrible default either. It's pretty easy to change protocols in all the apps' settings menus, too, which is good.
There's also now an option to use WireGuard, which we consider to be a great alternative to OpenVN.
SOCKS5 is also on offer, an old favourite of torrenters but not a protocol we would recommend using.
We like Windscribe's 'Firewall' feature, which serves the same purpose as a VPN kill switch, so you're also protected against DNS and IP leaks in case your internet connection drops. It operates in three modes: automatic, manual, and always on.
The applications boast lots of advanced security features including WebRTC protection (dubbed the "WebRTC slayer"), port forwarding, and double hop – which makes your Windscribe connection even more secure by bouncing it between two different VPN servers (at the cost of speed).
In addition to this, Windscribe also includes a split tunneling feature – dubbed "Split Personality" – which lets users route certain apps inside/outside of the VPN. This convenient feature is thankfully becoming more and more standard, as it helps keep users in direct control of their data flow.
Ultimately, Windscribe is an extremely safe VPN. We'd even go as far as to say it's one of the most private and secure VPN services on the market.
IP, DNS, & WebRTC Leak Tests
Why should you just trust that it's safe? You shouldn't.
We've put Windscribe through a leak test so you can see for yourself that it doesn't leak.
This was the result when we connected to a US server from our office in London, UK. The DNS, WebRTC, and IP address all show up as being in Boston, US.
There is no way that this information could be used to detect we are based in the UK, let alone our actual IP address.
R.O.B.E.R.T: Windscribe's Security Suite
Windscribe provides its own ad-tracker and malware blocker called "R.O.B.E.R.T.," which is integrated into its custom VPN apps. R.O.B.E.R.T. includes eight different blocklists, making it easy to customize your VPN profile to your needs.
R.O.B.E.R.T. is basically a DNS-level malware and ad blocker – an increasingly common offering from VPN providers. If you're a fan of these things, Windscribe was one of the first to integrate such a service with its VPN.
It lets users choose from a list of content they'd like to block, including advertisements, trackers, and cryptominers. You can also block social networks, sexually explicit content, gambling websites, and more.
The system isn't without problems, though: the "fake news" blocklist includes a few well known parody sites like The Daily Mash, despite explicitly claiming not to block satire.
There's more than a little irony in having a VPN service mistakenly block content.
You don't have to turn-on the fake news block, of course. Generally we have found the other R.O.B.E.R.T. filters to function as expected.
At the risk of sounding flippant, though, all this isn't really what VPN services are about. The functionality doesn't hurt, but it also really isn't necessary, and becomes little more than bloatware once turned off.
We generally recommend using established open-source add-ons to protect your browser from third party trackers and malware.
Similar in this regard is secure.link, a free URL shortening service offered by Windscribe. It's a handy tool, but it doesn't really have anything to do with the VPN service.
Malware & Tracking
VPNs process huge amounts of data coming in and out of your device, so it's really important they aren't loaded up with any dangerous malware or viruses. To make sure Windscribe is clean, we ran the desktop application through a full virus and malware test.
Here are the results we got from Malwarebytes:
Windscribe came out 100% virus and malware free. This is a great result, and another piece of evidence that Windscribe is a trustworthy provider.
To double check the security and privacy of Windscribe across all platforms, we also ran it through the εxodus tool, which produces reports on the  trackers and permissions present in Android apps.
We found that the Android app has two trackers: Google CrashLytics and Google Firebase Analytics. Neither of these are necessarily too concerning, they are both event-based data collection tools which will help Windscribe know how users interact with the app, and respond to issues like crashes. They also aren't completely private, though.
To put both this in context, Windscribe has fewer trackers than the NordVPN app, the same number as in the ExpressVPN app, but more than the Astrill app, which has none.
Windscribe comes out well here – Free VPN by FreeVPN.org contains a truly horrifying 28 trackers – but we think all VPN providers should aspire to minimise or completely remove the trackers in their apps.
The εxodus report also reveals that the app asks for 14 permissions, two of which – GPS and network-based location – are considered 'dangerous' or 'special' in Google's protection levels.
These could be explained as part of the fastest server function, but many other VPN apps with similar functions do not ask for such information. This is one area where Windscribe could earn trust by making their app open-source.
Unblocks BBC iPlayer and 40+ Netflix Libraries
Streaming & Torrenting
One of the biggest benefits of a VPN like Windscribe is that it can get you around geographical restrictions on content. It does this by masking your true IP address with one from the country you want to access.
This is great news for expats and fans of foreign TV or cinema alike.
Platforms like Netflix have caught on to this loop-hole, though, and made it more difficult for VPNs to connect to their services. In 2021, only the very best VPNs can consistently pull it off.
Windscribe does offer dedicated VPN 'Windflix' servers for streaming in various countries around the world. These servers are labelled as Windflix in the server selection menu, and can be found in the US, the UK, and Canada.
These specific servers are now mostly redundent, though. After a recent update, all Windscribe servers can be used for streaming – including the free servers. Which makes Windscribe the only truly free VPN that works well with Netflix.
It works in all 10 free server locations, too. This is better than many paid VPNs.
We've tested streaming services, including Netflix, iPlayer, and YouTube, across all four of Windscribe's streaming server locations.
We found that Windscribe reliably unblocks Netflix in all four Windflix countries: both the US and UK, as well as Canada and Japan (two locations we're not used to seeing VPN providers commit to).
We've never had any issues testing Windscribe with Netflix UK or US, meaning you can watch these Netflix libraries in buffer-free Full HD. Moreover, we recently found that Windscribe can unblock over 40 international Netflix libraries, making Windscribe one of the very best VPNs for Netflix right now.
To give you a good idea of what you can expect we've carried out special speed tests on all the Windflix servers from the UK.
The absolute value we are getting is not as important as the drop in speed we experience when using the server. This is because our 100Mbps connection has greater bandwidth than many home internet connections. Here are our results:
For reference, Netflix's official internet speed recommendations are 3Mbps for SD quality, 5Mbps for HD quality and 25Mbps for Ultra HD quality.
We don't think these are 100% accurate  – they're a bit low – but they do offer an indication of the quality you can expect.
Using Windscribe from our location in London we can expect to stream in HD or Ultra HD from the US, UK, and Canada libraries, and at least in SD from the Japanese Netflix library.
Windscribe's US servers also work well for hassle-free access to Hulu and Amazon Prime Video, though.
Unfortunately, we haven't been able to get Disney+ running on the US servers, so fans of the Mandalorian should look at an alternative VPN like Surfshark.
We also tested Windscribe to see if it offers access to BBC iPlayer. We found that the browser proxy will get you access to BBC iPlayer, but the full VPN won't always.
Even Windscribe's dedicated server can't always achieve this; it's been on and off for a while now, but looks to be improving. Read our guide to the best VPNs for BBC iPlayer for a more reliable solution to streaming BBC videos.
The VPN unblocks geo-locked content on YouTube, though, which is a plus. We also found that Windscribe was the most effective VPN for unblocking DAZN. Out of all the popular regions we tested, it was the only VPN to work with all 9 libraries.
All in all, Windscribe Pro is a solid streaming VPN, if not the best.
Uniquely, this doesn't only apply to the Pro version. Since its recent update, Windscribe's free VPN has also been successful at unlocking content.
We've also been successful in getting the free app to unblock geo-blocked YouTube videos, and we've found the free browser add-on pretty consistently unlocks BBC iPlayer, too.
Torrenting works well (but beware of Canada)
Windscribe is a good VPN for torrenting, too, as P2P activity is allowed on the majority of Windscribe's servers worldwide, although not all servers are P2P-optimized. Servers which won't work are marked with a "P2P" icon.

The speeds are consistently good enough for torrenting, too, which is really important. What's key here is that Windscribe distributes its P2P servers around the world, which maximizes your chances of getting good upload and download speeds.
This means you can seed as well as leech – just make sure you keep Windscribe active if your torrent client continues seeding in the background.
With a trustworthy logging policy and high-end security (like the all-important kill switch) Windscribe won't only ensure your downloads complete quickly, but securely, and anonymously, too.
If you're new to torrenting, Windscribe has guides to setting up a SOCKS5 proxy with uTorrent, Deluge, qBittorrent, and VUZE. These are useful, but both we and Windscribe recommend using the full desktop VPN client in conjunction with your torrent client for maximum privacy.
Another thing to stay aware of is Canada's aggressive copyright laws. Fines for copyright infringement in Canada can be up to $5000 – so it's a good idea to make sure you never fall foul of them.
When thinking about jurisdiction it's always a good idea to keep in mind:
The location of the server you're connected to
The jurisdiction under which your VPN provider operates
We haven't seen any examples of copyright trolls getting their hands on Windscribe user data, but you should be aware that Canada is a country in which they have the upper hand, legally speaking.
When you do torrent using Windscribe, we definitely recommend against connecting to servers in Canada, the US, or the UK.
110 server locations in 63 countries
Server Locations
Undisclosed number of
IP Addresses
Windscribe has a diverse VPN server network of 110 cities in 63 countries. This is a big number which includes almost every region in the world.
East Asia is especially well represented, which is uncommon – there are Windscribe VPN servers in Japan, Singapore, South Korea, Thailand, and more.
Altogether Windscribe offers over 110 individual VPN locations, meaning you get city-level choice in a number of different countries. There are multiple servers in a number of locations, but you can choose your city within:
Australia (Brisbane, Melbourne, Perth, Sydney)
Canada (Halifax, Montreal, Toronto, Vancouver)
France (Marseilles, Paris)
India (Chennai, Indore, New Delhi)
Israel (Ashdod, Jerusalem)
Italy (Milan, Rome)
Russia (Moscow, Saint Petersburg)
Spain (Barcelona, Madrid)
UK (London, Manchester)
US Central (Atlanta, Dallas, Detroit, Louisville, New Orleans, Salt Lake City)
US East (Boston, Charlotte, Chicago, Miami, New Jersey, New York, Philadelphia, Washington DC)
US West (Las Vegas, Los Angeles, Oregon, Phoenix, Portland, San Francisco, Santa Clara, Seattle)
Turkey (Bursa, Istanbul)
Unsurprisingly, there's very good coverage of Canada here, with servers on both the East and West coast of the country.
We're a little disappointed that Windscribe refuses to reveal the total number of individual VPN servers or IP addresses it maintains, though, and a number of its servers are rented rather than owned outright – which could mean Windscribe play less of a role in their security than we would like.
We can presume that there are at least 110 of each, though.
Windscribe does claim that all of its servers are actually located where they say. Surprisingly, this often isn't the case when VPNs have large server networks. HideMyAss!, for instance, has the largest server network we've seen, with "servers" in all but five of the world's countries, but a huge number of them are actually located in the US and UK.
In Windscribe's case, at least one of its servers lies about its locations: pinging the Troll Station, Antarctica server reveals it is actually physically located in Canada. We think this is probably a one-off, though – the server is called "Fake Antarctica," after all.
The Windscribe website includes a neat page with real-time updates of server status and capacity. This is great when you're trying to find a quick server or want to troubleshoot a slow connection.
There's also static IP addresses available in 13 different locations, which can make it easier for you to get consistent access to streaming services. With Windscribe this IP will be shared with about 10 other users.
A static IP connects you to the same IP every time you connect. This comes with a few benefits like reducing the chance of websites blacklisting your IP.
You can also choose between a datacenter or residential IP. The residential IP is more expensive, but really improves the chance of streaming services working properly.
Since a residential IP makes you look more authentic, it also stops you seeing unnecessary captchas around the web.
An example where this comes in handy is Amazon Prime Video, which will log you out on desktop every time your IP address changes. With a residential IP your streaming experience becomes more seamless.
"Stealth VPN" feature works in China
Bypassing Censorship
China and other countries with privacy-hostile censorship regimes are increasingly using technologies like deep packet inspection (DPI) to identify and block VPN traffic – preventing people from accessing the global internet.
Many VPNs – including Windscribe – have pushed back at this censorship but employing obfuscation technologies, which make it harder for censors to identify VPN traffic.
Windscribe uses a "Stealth protocol" to avoid detection by the censors. This protocol uses the open-source algorithm Stunnel, to route your OpenVPN traffic through an additional TLS tunnel.
We've seen this protocol working first-hand in China, using our Shanghai server. Windscribe allowed us to break out of China's firewall without much issue. We can't measure performance, though, so it's hard to say how smoothly the VPN will run in China.
We were even able to use Windscribe Free in China, by connecting to the Hong Kong > Victoria server.
If this doesn't work, there's also a Wstunnel mode which wraps OpenVPN in WebSocket instead of TLS. It's nice that Windscribe gives you the ability to play around with which form of obfuscation you use – particularly as what works in China is known to change so frequently.
The Stealth protocol isn't available at all on iOS, which we would like to see change in the near future. This means you won't be able to use your iPhone in China with Windscribe.
If you do try Windscribe in China, you'll need to make sure you have it pre-installed on all your devices before you travel, though, as it's blocked for download inside the country.
In other high-censorship countries with less effective censorship apparatus – like Saudi Arabia, the UAE or Turkey – Windscribe also looks to be a an effective solution.
Using Windscribe with Tor
If you are worried about your communication being surveilled by a government, employer or corporation, or you are looking to overcome censorship at any level (from your network administrator, ISP, or government), Tor can be a very useful tool.
It works by routing your traffic through three random servers, giving you total anonymity – even from the Tor network itself.
Windscribe doesn't have explicit Tor compatibility, but a basic Tor over VPN setup – where you open the Tor browser on a computer – is possible.
This comes with two benefits:
Your ISP or network manager won't be able to see you're accessing the Tor network, potentially helping you get around any government, workplace or campus bans
Were anything to go wrong with the Tor network, it would be Windscribe's IP that would be exposed, not your own
But it also has some downsides – namely that using Tor with a VPN is not as totally anonymous as using it alone.
Custom apps & browser extensions
Platforms & Devices
Apps
Windows
Mac
iOS
Android
Linux
Router
Windscribe has a custom VPN app for almost every platform and OS you could think of, and they're all very user-friendly. The mobile apps have also recently undergone an update, and a good one too.
Apps for Windows, MacOS, Android, and iOS are all available, plus apps for more niche platforms like Linux and Android TV, too. There are helpful setup guides for all of these devices on Windscribe's website.
As is often the case, the iOS app is more limited than the others. We'll go over every app in detail in our Ease of Use section.
Importantly, Windscribe allows unlimited simultaneous connections, meaning you and your family can all have the VPN running at the same time – a fairly unique offering among VPNs who generally impose device limits.
However, Windscribe doesn't allow sharing your account with friends (or even strangers), and the company will ban users that violate its terms of use.
Connecting on a variety of platforms is easy, and Windscribe even has its own Config Generators tool – which automatically gives you the exact information you need for manual setups.
This is ideal if you want to connect a platform that isn't officially supported by an app, including:
Amazon Fire TV
Kodi
Nvidia Shield
There's currently a beta version of Windscribe 2.0 available, too. It has a visual overhaul and some new features. We don't recommend everyone move ahead of the standard release, but it's an option for more advanced users.
Games Consoles & Streaming Devices
AppleTV
Amazon Fire TV
Chromecast
Nintendo
PlayStation
Roku
Xbox
You can also install Windscribe VPN on your router – or buy a preconfigured router – to protect all the internet-connected devices in your home at the same time. This includes devices such as Apple TV, Microsoft Xbox One, Sony PlayStation 4, and many more.
There are dedicated Windscribe VPN apps for the Amazon Fire TV Stick and Kodi, too, which is still fairly rare to see.
The Fire TV Stick app has a good array of features, including Windscribe's full range of VPN servers and the ability to favorite your most used locations, plus some extra technical settings.
Browser Extensions
Chrome
Firefox
Windscribe has revamped its hugely popular (almost 1,000,000 installs) browser extension, and we're impressed by the results.
This more comprehensive extension supports city-level server selection and malware and phishing blocks among other security extra like WebRTC blocking, location API spoofing, and website notification blocking.
Like most VPN browser extensions, this is strictly speaking a proxy not a VPN – but Windscribe is upfront about that fact, which we like. These extensions provide a quick and simple way to connect to Windscribe from your browser window.
Quick setup and user-friendly apps
Ease of Use
How to Connect to a Server with Windscribe
How to Change Settings in Windscribe
Windscribe's custom apps are incredibly easy to use and do not compromise on the need for specific features that cater to serious VPN users.
The Windscribe home screen is simple on both desktop and mobile, with a big on/off button and a list of VPN server locations. The advanced options are tucked away in their own menu, with users warned not to touch them "unless you know what you're doing," which we quite like.
Windows
The Windows app is exceptionally well presented and easy to use. A central power button connects or disconnects the VPN, and you're clearly shown which server you've connected to, alongside its IP address.
There's a country search bar, which is a must have feature for usability with a VPN that has as many options available as Windscribe does.
Advanced options are easy to find, too, in a drop-down menu at the top-left of the app.
Windscribe offers lots of space for customisation. You can toggle the latency display between a performance bar or specific ms measurement. There's also 25 language options available, which is a welcome option for accessibility.
You can toggle the app between window and tray, too, which we like (although we really prefer the window mode). You can also customise notifications and the order in which countries are listed within the app.
We've been told split tunneling is soon to be added to Windows, Mac and Linux; it will be a welcome addition.
MacOS
The Mac app differs slightly from the Windows app. It's a menu bar app, rather than a standalone window.
Don't mistake that for simplicity or poor design, though. The MacOS looks pretty similar to the Windows app, and has several of the same features – with the only notable absence being the "always on" option on PC.
Again, there's a broad range of customization options available within the app. You can change the location order, toggle notifications on and off, and alter the appearance of server latency.
Unique to the MacOS app, you can hide the Windscribe icon from the dock – allowing the app to feel like it's running passively in the background. This is a nice platform-specific touch.
Android
The Android app is the most complete of all of Windscribe's apps. The only major feature it's lacking is the "Firewall" kill switch. Although this is a significant omission, which we would like to see added.
The app includes a network whitelisting option, which allows you to select certain networks for Windscribe not to activate over – such as your home network or other trusted network. We really like this addition for mobile, where you don't always notice your phone moving between networks.
There are also Windscribe's standard customization options: location order (which is particularly welcome on mobile), latency display, language choice and notification.
Unique to mobile, Windscribe has also included a dark/light mode toggle, although the impact of this is really minimal.
iOS
Like all of Windscribe's apps, the iPhone and iPad app is easy to use and nicely laid out.
You'll get all the same customization options on iOS as on Android: location order, latency display, notifications, language and light/dark mode.
What you won't get, however, is many of the advanced features available on the other apps. There isn't a split tunneling feature, or the ability to set the app to "always on", for instance.
There's no stealth protocol, either, so you won't be able to use the iOS app from censored regions.
Unlike the Android app, though, there is an all important kill switch, which means you don't need to worry about being exposed if your VPN connection drops out.
Browser Extensions
We really like Windscribe's browser add-ons. They come with an unusually large suite of features including ad and malware blocking, advanced leak protection and city level server selection (for Pro accounts).
As we've already mentioned, the Windscribe browser add-ons for Firefox and Chrome aren't strictly speaking VPNs, they're proxies.
Being proxies, these extensions won't fully protect your data like a desktop VPN would, and they will only redirect the traffic from your browser window.
What it can do, however, is successfully spoof your location. There's a long list of city or country level servers on offer, too.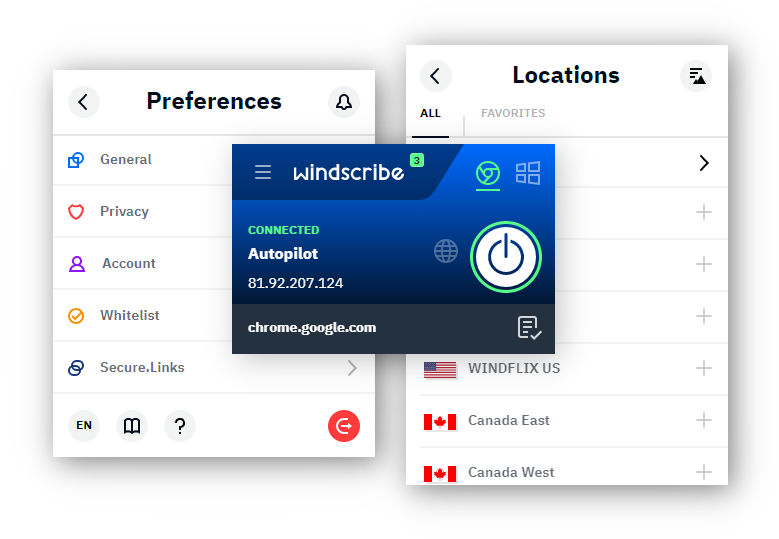 The add-on comes with plenty of browser features, like the R.O.B.E.R.T. ad blocker, a firewall, and tools to prevent you from being tracked by advertisers online, such as "Cookie Monster" which keeps tabs on and even deletes first and third party cookies based on your preferences.
There are some advanced tools to help you spoof GPS location (Location Warp) and browser time (Time Warp), too.
You can even randomly allocate your user agent to prevent your browser from determining what OS and browser you are using.
This is a great suite of privacy- and security-focused tools which are easy to use thanks to a lightweight and intuitive user interface.
In theory, R.O.B.E.R.T. is what really distinguishes Windscribe's browser plug-ins from those offered by competing VPNs. Very few can say they offer malware and phishing and ad protection, alongside the ability to add custom filters to control your internet experience.
The reality is, though, that you can get more utility from an open source add-on like uBlock Origin. Windscribe may beat out some other providers' add-ons with its security features, but it doesn't come close to dedicated free software.
There is also some limited integration with the desktop app – allowing you to view the status of, but not change, your device-wide VPN. We're hoping Windscribe will move towards more complete integration in the future.
For now, though, if you're looking for the best in privacy and security we still recommend using the desktop app alongside a privacy-first browser setup.
Smart TV
Windscribe also maintains a smart TV app for Android TV or Amazon Fire TV Stick.
Let's start with the obvious: it's ugly.
Compared to all of Windscribe's other apps, the TV app looks bad and can be fiddly to use. You can filter locations down to just the Windflix servers, though – a good call for a TV VPN.
The app includes a split tunneling feature – called "split routing" – which we like. It allows you to apply the VPN to only certain apps on your smart TV.
In general, it comes with more features than we expected. You can toggle on/off LAN connections to other local devices or set it to connect when you boot your TV.
The app keeps local logs, which you can choose to send to Windscribe – presumably with troubleshooting in mind. We understand the value of this, but don't love it from a privacy perspective.
By default it runs on OpenVPN UDP over port 443, and you can also connect via OpenVPN TCP, Stealth, and IKEv2.
This app clearly hasn't been prioritized, though.
We don't recommend picking Windscribe for this app specifically – see our list of the best VPNs for Fire TV Stick – but it's a bonus if you already have your heart set on Windscribe.
Comprehensive resources but no live chat
Live Chat & Support
| | |
| --- | --- |
| Email | Yes |
| Online Resources | Yes |
Customer support is an area where Windscribe sometimes falls behind the competition.
Windscribe's customer support is missing live chat – it's something we always look for in a top VPN (ideally it will be 24-hour, too). Instead, Windscribe has a seriously extensive online library of guides, FAQs, and even its own subreddit and discord server.
Windscribe also provides an online support ticket submission and an automated chat agent, Garry, although we'd recommend you don't waste your time with the latter as it generally isn't that helpful.
It also only understands English, which is pretty underwhelming. At least a basic understanding of languages like Spanish or Mandarin Chinese would go a long way to helping Windscribe's international audience.
When you get stuck with the chatbot it will offer you the chance to "Talk to a Human." This just puts you through to a ticket system, though.
Response time could be better, we found Windscribe generally got back to us within a day, though.
Cheap monthly price on a 12-month plan
Pricing
Windscribe VPN Coupon
Windscribe VPN Pricing Plan
Windscribe is a pretty good value VPN, particularly on the one year deal. It comes in cheaper than most the top-tier providers without having to sacrifice quality.
You have two options with Windscribe: pay for a month or pay for a year. The $9.00 cost of a single month is rather steep, but it comes all the way down to $4.08 per month on a 12-month deal.
There's also a 'Build-a-Plan' option, which allows users to purchase Windscribe server locations for $1 each per month. This means that if you only need to access one or two VPN servers, you can keep the monthly cost down to just a couple of dollars – an extra dollar gives you access to unlimited data and the full R.O.B.E.R.T. feature, too.
You get the same extensive set of features and servers regardless of how you choose to pay, as there's only one tier of paid subscription: Windscribe Pro.
On top of this there's a customizable package called ScribeForce available. This is essentially a corporate plan that allows you to build a subscription of a "per seat" basis for 5 or more team members, at a rate of $3.00 per seat, per month.
We really like that Windscribe has so many bespoke options available.
Of course, if you opt for the free plan you won't need to pay anything at all – and you don't need to enter payment details, either. Great for anonymity.
All plans have 3-day money-back guarantee
Payment & Refund Options
| | |
| --- | --- |
| Credit Card | Yes |
| PayPal | Yes |
| Bitcoin | Yes |
Windscribe accepts the usual range of payment methods including most popular credit and debit cards, PayPal and Bitcoin, as well as several international options through its partnership with Paymentwall.
Once you've signed up for a paid subscription, the refund period is just three days, and you're only eligible if you've used more than 10GB of bandwidth, which isn't all that much.
Windscribe can also take up to 30 days to refund your money into your account. This is a really restrictive returns policy. Our advice is to test out a free account before you subscribe to the service, instead.
Windscribe Free
As we mentioned right at the top of this review, Windscribe also has a free plan available.
Its free plan is one of the best we've seen, and a great way to try out Windscribe before commiting to a subscription.
The plan comes with servers in 10 of Windscribe's 63 countries and a 10GB monthly data cap.
Using a free Windscribe account you can connect to:
Canada
France
Germany
Hong Kong
Netherlands
Norway
Romania
Switzerland
UK
US
The data cap is actually pretty generous for an ad-free, free VPN. This is one of the reasons Windscribe's free plan is our favorite free VPN.
You might find the performance isn't quite as good on the free version, either. When we tested, the free app consistently performed slightly slower than the Pro alternative, even when connected to the same server.
The free version of R.O.B.E.R.T. only gives you access to the Malware block list, but this is the most useful feature in the blocking suite anyway.
Beside these absent advanced features, though, you get access to the same service as the paid version. The biggest drawback is that you won't be able to access Windscribe's streaming Windflix servers.
Depending on your needs you might even be able to use Windscribe Free long term, but we expect most users will want to upgrade to the premium subscription for faster servers, streaming, unlimited data and all Windscribe's advanced features.
Do We Recommend Windscribe VPN?
The Bottom Line
With just a few tweaks Windscribe Pro could be one of the best VPNs on the market – but as things stand it falls slightly short.
Windscribe free is definitely the best free VPN we've seen, and we can recommend it enthusiastically.
For the premium version to compete with the very best VPNs, we need to see Windscribe open itself up to independent audits (and ideally make all its apps open source), reduce the amount it logs even during the VPN session, offer more comprehensive support and achieve faster, more reliable international speeds.
There is still a lot that Windscribe does well. All its apps are intuitive, and maintain good standards of security. Even though Windscribe might not have the very best speeds, its local speeds in particular are more than adequate for many users; certainly, its streaming servers hit the mark for streaming US, UK, Canadian, and Japanese content.
The pricing is reasonable, too: in line with what we expect to see from a provider of Windscribe's calibre.
Even when Windscribe's public presence can be grating at times, the team behind the product are clearly passionate about what they do and their vision of privacy, which is something we respect.
We recommend Windscribe Pro as a good value VPN – even if it isn't the very best product out there right now.
Editorial Policy & Sources
Top10VPN.com has strict editorial guidelines. Our VPN reviews rely on first-hand research by our team of in-house experts; our findings are completely impartial and rely on a consistent 10-step testing program.
We avoid using tertiary sources – all of the information you find our reviews is sourced directly from our expert testing or from the VPN service provider themselves.
We don't accept payment to conduct a VPN review or provide positive coverage, and providers will never have a say in how we rate products. You can learn more about how we ensure our reviews are accurate and current by reading our review process, or find out exactly how we make money here.
Sources
Alternatives to Windscribe VPN
ProtonVPN
ProtonVPN is another provider which operates under a free/ premium structure. It has a more limited server network available than Windscribe free, but has fully audited and open-sourced all of its apps. Read ProtonVPN review
ExpressVPN
ExpressVPN has what we believe to be the best customer support in the VPN industry. It's available 24/7, and is always manned by friendly and knowledgeable support staff. Read ExpressVPN review
---
User Feedback for Windscribe VPN