Top10VPN is reader-supported. We may earn commissions if you buy through links on this page. Learn how we make money.
Windscribe: Ranked #21 out of 99 VPNs that we tested
"Browse the web privately as it was meant to be" – sounds good, right?
That's what Windscribe VPN promises to grant you on its homepage, but it's no small task. Does Windscribe have what it takes to deliver such a service?
We tested Windscribe thoroughly and impartially to find out:
What is Windscribe?
Is Windscribe any good?
Does Windscribe have a kill switch?
Is it safe to use Windscribe?
Does Windscribe allow torrenting?
We answer all that, plus a host of other questions. You can find our most important takeaways just below here, followed by our full review.
This page is dedicated to our review of the premium, paid-for Windscribe VPN app. You can see our review of Windscribe Free here.
Fairly fast same-country speeds
Unlocks Netflix
Very secure and safe
Torrenting permitted on most servers
Minimal logging policy
Instant setup on lots of popular devices
No live chat
Unreliable global speeds
Based in privacy-unfriendly Canada
Scarcely works in China
Works with
Netflix, Amazon Prime Video, Hulu, Sky, Now TV, HBO, SlingTV, Torrenting, Kodi
Keep reading to find out more information – plus the in-depth results of our extensive Windscribe VPN test.
Speed & Reliability
Pretty quick same-country speeds
In our most recent tests, our download speeds dropped by just over 30% when connected to the VPN compared to without it, which is very promising.
This means that Windscribe should comfortably handle anything you're planning on doing online, even with multiple devices connected to the VPN at once.
If you want the absolute fastest VPN out there, though, then you should consider choosing an option from our roundup of the fastest VPNs.
Speed results from our physical location in London (100Mbps fibre optic connection) to a London test server.
Before using Windscribe:
94.69

98.64

Ping

ms

2
When connected to Windscribe:
63.6

47.8

Ping

ms

18
Download speed without Windscribe: 94.69Mbps
Download speed with Windscribe: 63.60Mbps
Our download speed loss when Windscribe is running: 33%
Ping times on short-distance connections of 18ms aren't too impressive, so gamers may want to look elsewhere, but Windscribe's maximum upload speeds of 70Mbps should keep torrenters more than satisfied.
It's also a very reliable VPN service – we didn't experience any connection drops while connected to Windscribe's servers, and speeds were very consistent from one test to the next.
These are the average speeds you can expect when connecting out from the UK to these locations:
USA: 32Mbps (download) & 32Mbps (upload)
Germany: 62Mbps (download) & 69Mbps (upload)
Singapore: 22Mbps (download) & 14Mbps (upload)
Australia: 13Mbps (download) & 8Mbps (upload)
If you'd like to know more about how we test VPN performance, take a look at our VPN speed testing methodology.
Server Locations
110 server locations in 58 countries
58
Countries
110
Cities
?
IP Addresses
Windscribe's VPN server network of 58 countries is a very solid number and includes almost every region around the world. East Asia is especially well represented, which is uncommon – there are Windscribe VPN servers in Japan, Singapore, South Korea, Thailand, and more.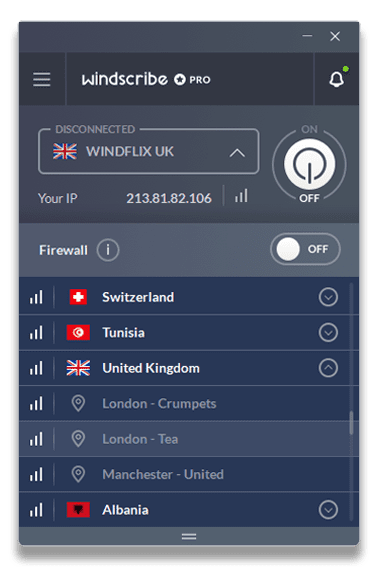 Altogether Windscribe offers over 110 individual VPN locations, meaning you get city-level choice in a number of different countries. There are multiple servers in a number of locations, but you can choose your city within:
Australia (Brisbane, Melbourne, Perth, Sydney)
Canada (Montreal, Toronto, Vancouver)
France (Marseilles, Paris)
India (Chennai, Indore, New Delhi)
Israel (Ashdod, Jerusalem)
Italy (Milan, Rome)
Russia (Moscow, Saint Petersburg)
Spain (Barcelona, Madrid)
UK (London, Manchester)
US East (Boston, Charlotte, Chicago, Cleveland, Miami, New Jersey, New York, Philadelphia, Washington DC)
US West (Las Vegas, Los Angeles, Oregon, Phoenix, Portland, San Francisco, Santa Clara, Seattle)
Turkey (Bursa, Istanbul)
We're a little disappointed that Windscribe refuses to reveal the total number of individual VPN servers or IP addresses it maintains, though, and a number of its servers are rented rather than owned outright. We can presume that there are at least 110, of each, though.
There's also residential static IP addresses available in 13 different locations, which can make it easier for you to get consistent access to streaming services (among other things – Windscribe does a good job of explaining it here).
There are no dedicated IPs though, as that would spoil your anonymity.
Streaming & Torrenting
Easily unlocks Netflix & speedy torrenting
Windscribe's dedicated 'Windflix' servers mean that Windscribe unblocks Netflix in both the US and UK, as well as Canada and Japan (two locations we're not used to seeing VPN providers commit to).
We've never had any issues in all our testing, meaning you can watch all four Netflix libraries in buffer-free Full HD.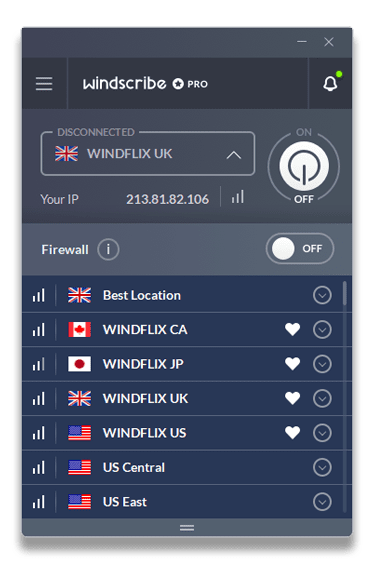 Windscribe doesn't unlock BBC iPlayer, though, even through its dedicated server, which has been the case for a long while in our tests. Read our best VPN services for BBC iPlayer if access to this service is important to you.
Windscribe's US servers work well for hassle-free access to Hulu and Amazon Prime Video, though.
Torrenting
Windscribe is a good VPN for torrenting, too, as P2P activity is allowed on the majority of Windscribe's servers worldwide.
With a trustworthy logging policy and high-end security (like the all-important kill switch) Windscribe won't only see your downloads complete quickly, but securely and anonymously too.
Bypassing Censorship
Not very reliable in China
Windscribe has been rendered considerably less useful in China after the government's recent crackdown on VPN services.
Windscribe VPN may work in China, but it's inconsistent at best. To have any hope of using it to overcome the Great Firewall you'll need to have Windscribe pre-installed on all your devices, as it's blocked for download inside the country.
Even then, and despite the Stealth protocol, user reports of how well Windscribe VPN works in China are mixed.
In other high-censorship countries, like Saudi Arabia or Turkey, however, Windscribe is an effective solution.
Platforms & Devices
Compatible with a long list of devices
Apps
Windows
Mac
iOS
Android
Linux
Router
Windscribe has a custom VPN app for almost every platform and OS you could think of, and they're all sleek and user-friendly following a recent update.
Favorites like Windows, MacOS, Android and iOS are all covered, plus more obscure platforms like Linux and Android TV, too. There are helpful setup guides for all of these devices on Windscribe's website.
Games Consoles & Streaming Devices
AppleTV
Amazon Fire TV
Chromecast
Nintendo
PlayStation
Roku
Xbox
You can also install Windscribe VPN on your router, meaning you can protect all the internet-connected devices in your home at the same time. This includes devices such as Apple TV, Microsoft Xbox One, Sony PlayStation 4, and many more.
There are dedicated Windscribe VPN apps for the Amazon Fire TV Stick and Kodi, too, which is still fairly rare to see.
The Fire TV Stick app has a good array of features, including Windscribe's full range of VPN servers and the ability to favorite your most used locations, plus some extra technical settings.
Browser Extensions
Chrome
Firefox
There's Windscribe VPN browser extensions for Google Chrome (over 1,000,000 downloads), Mozilla Firefox and Opera as well. They're quick to download, easy to use, and do a good job of keeping you safe – they're full VPN extensions, too, not just proxies.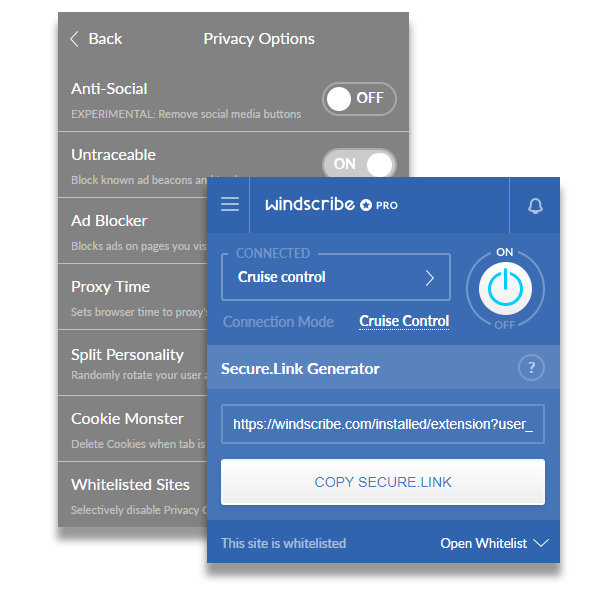 Windscribe's VPN browser extensions also work as ad and tracker blockers. The Split Personality feature even randomly rotates your user agent to make it harder for your browser to determine what OS and device you're using, thus making you harder to track.
Encryption & Security
One of the safest VPNs you can choose
Protocol

IKEv2/IPSec

OpenVPN (TCP/UDP)

Encryption

AES-256

Security

DNS Leak Blocking

IPV6 Leak Blocking

Supports TCP Port 443

VPN Kill Switch

Advanced features

Ad Blocker

SOCKS
Please see our VPN Glossary if these terms confuse you and would like to learn more.
Windscribe is an extremely safe VPN. We'd even go as far as to say it's one of the most private and secure VPN services on the market.
Windscribe is encrypted with top cipher AES-256 and uses the safest VPN protocol, OpenVPN, so your IP address remains well and truly hidden at all times. We like Windscribe's 'Firewall' feature too, which serves the same purpose as a VPN kill switch, and you're also protected against DNS and IP leaks while connected.
There's also port forwarding and double hop – which makes your Windscribe connection even more secure by bouncing it between two different VPN servers (at the cost of speed).
Windscribe also provides its own ad-tracker and malware blocker, 'R.O.B.E.R.T', which is integrated into its custom VPN apps. You can read more about this feature here.
Logging Policy
Minimal logging, based in Canada
Windscribe logs the following information:
The amount of data transferred in 30 days
A timestamp of your last activity on the Windscribe VPN network
The number of simultaneous connections on your account
Your OpenVPN or IKEv2 username (until the end of your session)
The time you connected (until the end of your session)
Windscribe collects this information to ensure that the VPN service runs smoothly – there is nothing here that could be used to personally identify you.
Jurisdiction
Windscribe was founded in 2016 in Richmond Hill, Ontario, Canada, where it is still based today – independently owned and operated.
Canada is a part of the Five Eyes data-sharing alliance. Usually, this would be more of an issue, but because of Windscribe's minimal VPN logging policy, it's much less of a problem.
If law enforcement were to seize any of Windscribe's VPN servers, they'd leave empty-handed.
Ease of Use
Speedy setup and user-friendly apps
How to Install & Set Up Windscribe
Windscribe's custom apps are incredibly easy to use, without compromising on the need for specific features that serious VPN users are looking for.
The Windscribe home screen keeps it simple on both desktop and mobile, with a big on/off button and a list of VPN server locations. The advanced options are tucked away in their own menu, with users warned not to touch them "unless you know what you're doing," which we quite like.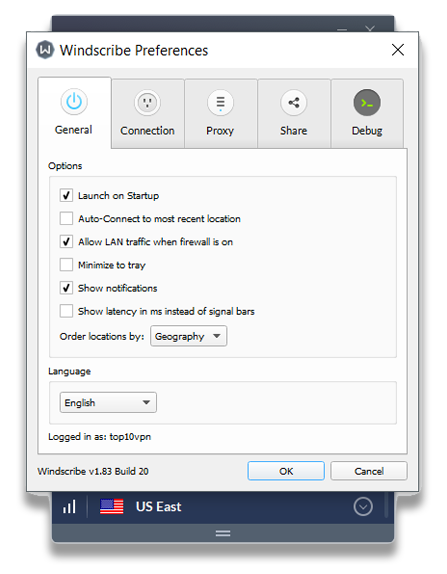 That said, Windscribe's desktop apps run a little laggier than we'd like, and the mobile apps lack some of the advanced VPN settings – something to be improved on for sure.
Browser Extensions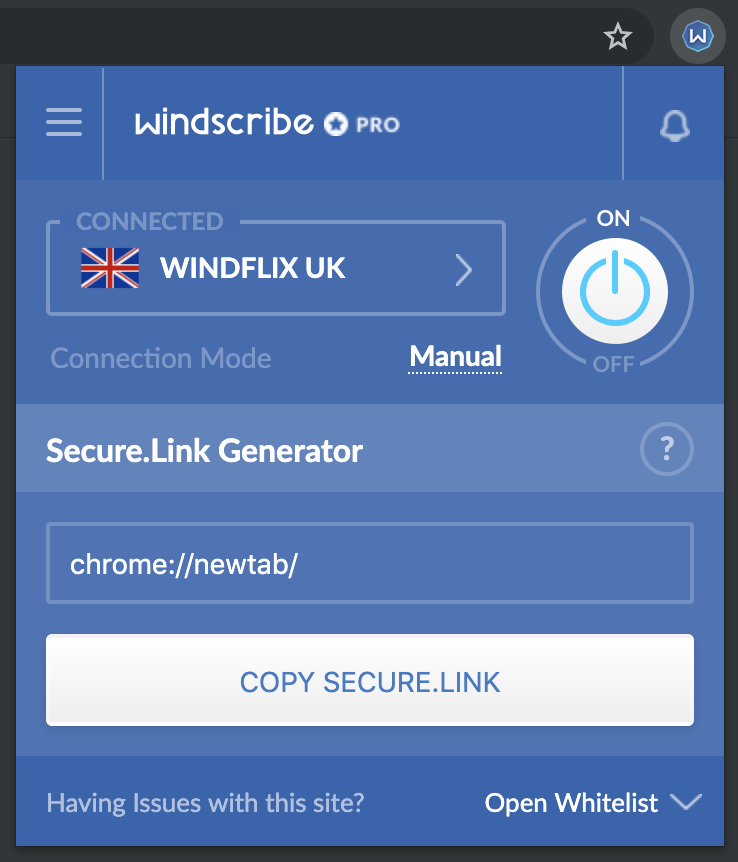 Windscribe's browser extensions are just as simple to use as the main app – log in, select a server, and you're ready to browse safely.
Customer Support
Comprehensive resources but no live chat
Windscribe's customer support is missing live chat – it's something we always look for in a top VPN (ideally it will be 24-hour, too). Instead, Windscribe has a seriously extensive online library of guides, FAQs and even its own subreddit.
Windscribe also provides an online support ticket submission and an automated chat agent, although we'd recommend you don't waste your time with the latter it as it isn't much help at all (as seen below).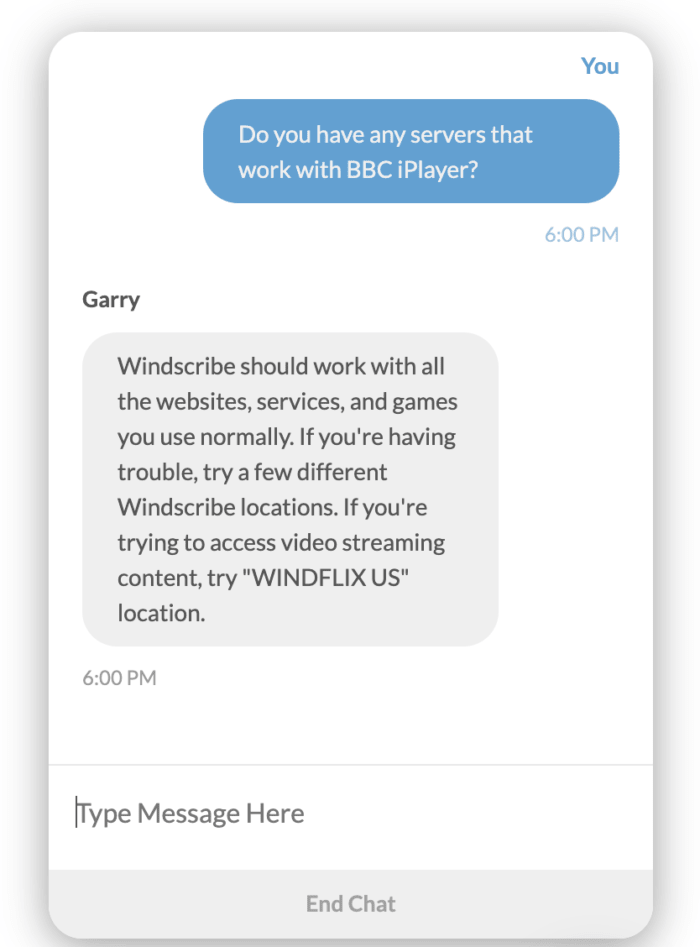 Pricing & Deals
Pretty cheap on the 12-month plan
Windscribe Coupon
Windscribe
Get 55% off Windscribe's 12-month plan
Windscribe Pricing Plan
You have two options with Windscribe: pay for a month or pay for a year. The $9.00 cost of a single month is rather steep, but it comes all the way down to $4.08 per month on a 12-month deal.
You get the same extensive set of features and servers regardless of how you choose to pay, as there's only one tier of paid subscription: Windscribe Pro.
All plans have 3-day money-back guarantee
Payment & Refund Options
Windscribe accepts the usual range of payment methods including most popular credit and debit cards, PayPal and Bitcoin, as well as several international options through its partnership with Paymentwall.
There's no free trial as such but Windscribe does encourage potential buyers to check out its free VPN service to see if it will meet their needs before signing up to a paid plan.
Once you've signed up for a paid subscription, the refund period is a very stingy 3 days, and you're only eligible if you've used more than 10GB of bandwidth, which isn't all that much. Windscribe also gives itself up to 30 days to refund your money into your account.
You've read our expert review - read on for reviews from real users.
User Reviews
Based on 1 review
5 star

(1)

4 star

(0)

3 star

(0)

2 star

(0)

1 star

(0)
Share your thoughts to help others
Price is great and is a reliable VPN overall. Also works well with most streaming services including Netflix. Would highly recommend.