Privacy & Logging Policy
Windscribe only keeps minimal usage logs
Windscribe keeps a minimal amount of logs for maintenance purposes. This isn't ideal, and other VPN services work just fine with fewer logs, so Windscribe should be able to do the same.
That said, the data Windscribe keeps can't be used to identify you, or retroactively match your activity back to you.
Windscribe logs the following information:
The amount of data transferred in the past 30 days
A timestamp of your last activity on the Windscribe VPN network
The number of simultaneous connections on your account
Your OpenVPN or IKEv2 username (until the end of your session)
The time you connected (until the end of your session)
The service collects the above information to ensure its VPN service runs smoothly.
The good thing is that none of the above data can be used to personally identify you once you have disconnected from the VPN server.
According to Windscribe, your username and connection time are also stored in the server's RAM, which means they will be deleted by design as soon as you end your session.
Windscribe does not log:
Your originating IP address
Browsing activity data
Yegor Sak, the company's co-founder, has published a detailed explanation of what data Windscribe collects.
With an independent external audit, we would find this explanation wholly satisfactory.
Windscribe is based in privacy-unfriendly Canada
Windscribe is located in Canada, which is part of the Five Eyes data-sharing alliance. The company has a public PO address, but has kept the exact location of its Toronto office private.
The CSIS (Canadian Security Intelligence Service) collects frightening amounts of personal user data to track and identify people of interest.
Under the Copyright Modernization Act, Canadian ISPs must log user data for six months, although it's unclear if VPN services are compelled to adopt similar practices.
It's very concerning when a VPN company is based in a country with intrusive data relation laws. But, because of Windscribe's good VPN logging policy, it's much less worrying in this instance.
Also, Windscribe maintains a page documenting the DMCA requests and law enforcement data requests it has received since 2018.
No logging policy audit
Transparency reports are always welcome, but we want to see an independent audit of Windscribe's traffic logging policy.
The company claims it only stores connection information in the server's RAM, data which is then lost by design whenever a session ends.
Beyond this, it claims, since no browsing history, timestamps, or IP addresses are stored, it's impossible for Windscribe to hand over information to companies or governments.
We only have Windscribe's word that it doesn't log more (inadvertently or on purpose).
Without an audit, or any concrete evidence, Windscribe's claim that "exactly zero requests were complied with due to lack of relevant data" can't be verified.
Speed & Reliability
How fast is Windscribe?
Windscribe is one of the fastest VPNs available for a same-city connection. However, its international speeds are less impressive.
We saw download speeds decrease from 100Mbps to 94Mbps connecting to a same-city servers using WireGuard. This is a drop of only 6%, which is very fast.
Local Speed Test results before using Windscribe VPN:
Download Speed: 100Mbps
Upload Speed: 100Mbps
Ping: 1ms
Local Speed Test results with Windscribe VPN:
Download Speed: 94.06Mbps
Upload Speed: 92.58Mbps
Ping: 6ms
Download speed loss when Windscribe VPN is running: 6%
Not only is Windscribe very fast on nearby connections, it's also very reliable. And while it isn't the fastest VPN we've tested, it comfortably handles intensive internet activity.
Speeds were very consistent from one test to the next. We also didn't experience any connection drops while connected to Windscribe servers.
Ping times on short-distance connections of 6ms is impressive, too. This puts it among the best gaming VPNs, which all register local ping times of 10ms or less.
International speed tests
In addition to local speeds, we tested the speed of the connection between our office in London and Windscribe VPN servers worldwide.
The VPN's international speeds were less consistent than short-distance ones. Windscribe performed fine in our tests, but it can't match the very best long-distance VPN services.
These are the average download speeds we recorded connecting from the UK to Windscribe's international server locations:
USA:

Download: 72.99Mbps (27% slower)
Upload: 50.64Mbps (49% slower)

Germany:

Download: 88.21Mbps (12% slower)
Upload: 81.51Mbps (18% slower)

Singapore:

Download: 50.46Mbps (50% slower)
Upload: 9.53Mbps (90% slower)

Australia:

Download: 45.31Mbps (55% slower)
Upload: 9.53Mbps (90% slower)
Windscribe's long-distance speeds have improved drastically of late.
Since the last time we tested it, we recorded over a 4x faster download speed on the Australia and Singapore servers.
That said, Windscribe still has a long way to go. Some top fast VPNs, like Hotspot Shield, don't have any perceptible speed loss on any of its servers.
EXPERT TIP: Windscribe's fastest servers are labeled with a 10Gbps badge in the app. Connect to these for the best speed performance.
Windscribe's speeds compared to ExpressVPN and NordVPN
The results that follow are taken from our own VPN speed test tool.
We run speed tests automatically four times per day on a standard 100Mbps connection (a standard speed for home internet).
Here are our results from the last eight weeks on our New York server.
Security & Extra Features
Despite some security issues, Windscribe is safe
| Protocols | Available in Windscribe VPN |
| --- | --- |
| IKEv2/IPSec | Yes |
| L2TP/IPSec | No |
| OpenVPN (TCP/UDP) | Yes |
| Proprietary | No |
| PPTP | No |
| SoftEther | No |
| SSL VPN | No |
| SSTP | No |
| TLS VPN | No |
| WireGuard | Yes |
| Encryption | Available in Windscribe VPN |
| --- | --- |
| AES-128 | No |
| AES-192 | No |
| AES-256 | Yes |
| Blowfish | No |
| ChaCha20 | Yes |
| Security | Available in Windscribe VPN |
| --- | --- |
| DNS Leak Blocking | Yes |
| First-party DNS | No |
| IPv6 Leak Blocking | Yes |
| Supports TCP Port 443 | Yes |
| VPN Kill Switch | Yes |
| WebRTC Leak Blocking | Yes |
| Advanced Features | Available in Windscribe VPN |
| --- | --- |
| Ad Blocker | Yes |
| Dedicated IP | No |
| Double VPN | No |
| Smart DNS | No |
| SOCKS | No |
| Split Tunneling | Yes |
| Tor over VPN Server | No |
| Tracker Blocker | No |
Until recently, Windscribe was a solid choice for VPN security. Importantly, we never detected any serious security faults in our battery of security tests.
We've particularly always appreciated the VPN's extra security settings, which we'll detail later in this section.
However, a 2021 server seizure revealed a vulnerability that could have allowed some users' traffic to be monitored. This has impacted how secure we grade Windscribe's software.
Windscribe server seizure and OpenVPN vulnerability
On 24th June 2021, Ukrainian authorities seized two of Windscribe's OpenVPN servers as part of an ongoing investigation.
These seized servers were running an outdated configuration, with unencrypted OpenVPN server configuration and key.
In the very unlikely situation Ukrainian authorities also had control of a user's network, and that user was running a legacy DNS resolver and using a manual configuration, rather than an official Windscribe app, the authorities could've decrypted and monitored the user's OpenVPN traffic.
As far as we know, no Windscribe user traffic was monitored. However, this OpenVPN server vulnerability was identified years ago, and the outdated configuration should have been fixed immediately upon discovery.
Windscribe has stated that: "Although we have encrypted servers in high-sensitivity regions, the servers in question were running a legacy stack and were not encrypted."
This incident occurred as a result of Windscribe's negligence. While there is no evidence the vulnerability affected users, it reflects poorly on the VPN service. As such, we've downgraded the VPN's Encryption and Security rating.
At least, Windscribe has taken measures to repair the vulnerability, primarily by updating its OpenVPN certificate authority to match industry best-practice.
Windscribe has previously expressed an intent to carry out security audits, and we see this as necessary to regain full trust in the service.
In our TunnelBear review, you can read how the VPN used external audits to identify vulnerabilities and fix them before they could be used to jeopardize the privacy and security of its customers.
Windscribe's highly encrypted connections
Beyond this incident, Windscribe's security is what you would expect from a top-tier VPN.
The VPN software is equipped with many security settings, AES-256 encryption and a choice of the OpenVPN, IKEv2 and WireGuard protocols.
The software uses a secure SHA512 authentication key and 4096-bit RSA encryption for the handshake. Both are considered the best in security and privacy circles.
Furthermore, the VPN operates Perfect Forward Secrecy (PFS), which ensures encryption keys aren't reused between sessions. Even if someone got their hands on your private key, it becomes useless as soon as you disconnect.
In the case of the Ukrainian server seizures we mentioned above, PFS blocked them from accessing historic VPN user traffic.
Windscribe uses secure VPN protocols
Windscribe lets you choose between UDP and TCP OpenVPN connections. UDP is faster but less reliable than TCP, which offers the most consistent connection.
If you're gaming online, or making video calls, we recommend UDP. If you aren't doing either and you experience stability issues, we recommend switching to TCP.
By default, Windscribe uses the IKEv2 protocol on all platforms. IKEv2 is a good choice for mobile connections, but for desktop we recommend either OpenVPN or WireGuard.
Windscribe's unique Firewall setting
Windscribe's "Firewall" setting in the Windows and macOS software stood out during our review process. This feature is very similar to a typical kill switch, but even more effective.
In fact, the Firewall blocks all connections outside the VPN tunnel. With a normal kill switch, the VPN program has to detect a VPN connection drop, and during that time, small data packets can potentially leak.
The Firewall provides greater protection against DNS and IP leaks in case your internet connection drops. It operates in three modes: automatic, manual, and always on.
Wide range of security features to choose from
Windscribe's Firewall is just one of many advanced security tools that Windscribe offers.
You can also take advantage of "double hop," which bounces your VPN connection between two different VPN servers for added security (at the cost of speed).
There is also a split tunneling setting. Not so much a security setting as such, but split tunneling lets you route certain applications and services inside or outside of the VPN tunnel.
Windscribe doesn't suffer from IP or DNS leaks
We've put Windscribe's software through numerous leak tests so you can see for yourself that it doesn't leak your IP address or DNS credentials.
The screenshot above shows the result of connecting to a US server from our office in London, UK. The DNS, WebRTC, and IP address all show up as being in Boston, US.
In terms of WebRTC protection specifically, Windscribe's "WebRTC slayer" setting works well to prevent your IP address from being exposed.
R.O.B.E.R.T: Windscribe's security suite
"R.O.B.E.R.T." is Windscribe's own ad-tracker and malware blocker.
R.O.B.E.R.T. is basically a DNS-level malware and ad blocker integrated into the VPN apps.
The blocker includes eight different blocklists, so you can choose the type of content you want to block.
For example, you can block advertisements, trackers, cryptominers, social networks, sexually explicit content, gambling websites, and more.
The system isn't without problems, though: the "fake news" blocklist includes a few well known parody sites like The Daily Mash, despite explicitly claiming not to block satire.
There's more than a little irony in having a VPN service mistakenly block content.
You don't have to turn-on the fake news block, of course. Generally we have found the other R.O.B.E.R.T. filters to function as expected.
Windscribe contains no malware and very few trackers
VPNs process huge amounts of data coming in and out of your device, so it's crucial they don't contain dangerous malware or viruses.
To make sure Windscribe is clean, we ran the desktop application through a full virus and malware test.
Here are the results from our latest Malwarebytes scan:
Windscribe came out 100% virus and malware free. This is a great result, and further evidence that Windscribe is a trustworthy provider.
We went further and put the Windscribe Android app through the εxodus tool, which detects trackers and permissions in Android applications.
We found that Windscribe's Android app contains two trackers: Google CrashLytics and Google Firebase Analytics.
We're not particularly concerned by these two trackers. In essence, they help Windscribe respond promptly to app bugs and crashes. They aren't completely private, though.
To put this in context, Windscribe has fewer trackers than the NordVPN app, the same number as the ExpressVPN app, but more than the Astrill app, which has none.
However, the εxodus report does reveal the app asks for 14 permissions, two of which – GPS and network-based location – are considered 'dangerous' or 'special' in Google's protection levels.
These two permissions are probably needed by the VPN's "Fastest Server" function, but many other Android VPN apps with similar functions do not ask for such information.
If Windscribe made its Android app open source, it would be much easier to verify what these permissions are being used for.
Streaming
Unblocks BBC iPlayer, DAZN and 32 Netflix regions
One of the biggest benefits of using Windscribe is that it bypasses geographical content restrictions rather easily.
The VPN beats these streaming geo-blocks by masking your true IP address with one from the country you want to appear in.
Sadly, platforms like Netflix have made it more difficult for VPNs to access their services. Only the very best streaming VPNs can still consistently unblock content platforms.
Luckily, Windscribe is one of these VPNs, and all Windscribe servers now work for streaming, including the free servers.
Windscribe's free VPN is so good for streaming it's one of the best free VPNs for Netflix.
In our latest tests it unblocked 6 Netflix regions, including the UK, France, and Germany. Its free Canada VPN servers also accessed the Canadian library.
However, unlike the premium version, the free VPN no longer works with American Netflix.
We've tested all of Windscribe's server locations and Windscribe Pro unblocked 32 international Netflix libraries, including Netflix US, Netflix UK and Netflix Japan.
Our weekly streaming tests continue to demonstrate how Windscribe is one of the very best VPNs for Netflix right now. Its speeds and performance with BBC iPlayer also makes it a top VPN for streaming the World Cup, as well as being one of the best VPNs for the UK.
Windscribe works with 9 DAZN libraries
Another standout feature of Windscribe Pro is how many DAZN libraries it unblocks.
In our latest streaming tests, the premium VPN accessed 9 regions, the most out of all DAZN VPNs, we've tested
Windscribe's UK servers stream BBC iPlayer
We also tested Windscribe to see if it still works with BBC iPlayer. While we found that the web browser proxy unblocked BBC iPlayer every time, the full VPN software was less consistent.
Windscribe works with every streaming platform
Windscribe's US servers work with all popular streaming services whenever we test it.
Overall, Windscribe Pro and Free worked with the following platforms:
Amazon Prime Video
DAZN
Disney+
HBO Max
Hulu
ITVHub
Now TV
Paramount+
Peacock
Sky
YouTube
How does Windscribe compare to other VPNs for streaming?
The table below compares Windscribe to four of the other best VPNs for streaming:
Torrenting
Torrenting works well (but beware of Canada)
Windscribe is a good VPN for torrenting. It allows P2P traffic on the majority of its servers, although not all servers are P2P-optimized.
Windscribe servers that won't work for torrenting are marked with a "P2P" icon.

The speeds are consistently good enough for torrenting, too, which is really important. We recorded an average download bitrate of 7.2MiB/s in our VPN torrent tests.
What's key here is that Windscribe distributes its P2P servers around the world, which maximizes your chances of experiencing good file-sharing speeds.
With a trustworthy logging policy and high-end security (like the all-important kill switch) Windscribe won't only ensure your downloads complete quickly, but securely, and anonymously, too.
Windscribe's port forwarding tool
Serious torrenters, especially seeders, will benefit from the VPN's port forwarding setting. Port forwarding can significantly increase upload (and download) file-sharing speeds.
Torrenting laws in Canada
Given Windscribe's jurisdiction, we can't ignore Canada's aggressive copyright laws. Fines for copyright infringement in Canada can reach CAD 5,000, so it's a good idea to never fall foul of them.
When thinking about copyright laws in various countries, you must keep in mind:
The location of the server you're connected to
The jurisdiction under which your VPN service operates
We haven't seen any examples of copyright trolls getting their hands on Windscribe user data, but Canada is a country in which they have a legal upper hand.
When you do torrent using Windscribe, we definitely recommend against connecting to servers in Canada, the US, or the UK.
Server Locations
110 server locations in 68 countries
Windsribe's large server network puts it among the best VPNs for global coverage.
East Asia is especially well covered, which is uncommon. There are Windscribe VPN servers in Japan, Singapore, South Korea, Thailand, and more.
Altogether Windscribe offers over 110 individual VPN locations, with city-level choice in a number of different countries. There are multiple servers in a number of locations, but you can choose your city within:
Australia (Brisbane, Melbourne, Perth, Sydney)
Canada (Halifax, Montreal, Toronto, Vancouver)
France (Marseilles, Paris)
India (Chennai, Indore, New Delhi)
Israel (Ashdod, Jerusalem)
Italy (Milan, Rome)
Russia (Moscow, Saint Petersburg)
Spain (Barcelona, Madrid)
UK (London, Manchester)
US Central (Atlanta, Dallas, Detroit, Louisville, New Orleans, Salt Lake City)
US East (Boston, Charlotte, Chicago, Miami, New Jersey, New York, Philadelphia, Washington DC)
US West (Las Vegas, Los Angeles, Oregon, Phoenix, Portland, San Francisco, Santa Clara, Seattle)
Turkey (Bursa, Istanbul)
We're somewhat disappointed that Windscribe refuses to reveal the total number of individual VPN servers or IP addresses it maintains, though, and a number of its servers are rented rather than owned outright – which could mean Windscribe play less of a role in their security than we would like.
We can presume that there are at least 110 of each, though.
Windscribe does claim all its servers are actually located where they say. Surprisingly, this often isn't the case when VPNs have large server networks. HideMyAss!, for instance, has the largest server network we've seen, with "servers" in all but five of the world's countries, but a huge number of them are actually located in the US and UK.
In Windscribe's case, at least one of its servers lies about its locations: pinging the Troll Station, Antarctica server reveals it is actually physically located in Canada. We think this is probably a one-off, though – the server is called "Fake Antarctica," after all.
The Windscribe website features a page with real-time updates of server status and capacity. This is great when you're trying to find a quick server or want to troubleshoot a slow connection.
There's also static IP addresses available in 13 different locations, which can make it easier for you to get consistent access to streaming services. With Windscribe this IP will be shared with about 10 other users.
A static IP connects you to the same IP every time you connect. This comes with a few benefits like reducing the chance of websites blacklisting your IP.
You can also choose between a data center or residential IP. The residential IP is more expensive, but really improves the chance of streaming services working properly.
Since a residential IP makes you look more authentic, it also stops you seeing unnecessary captchas around the web.
An example where this comes in handy is Amazon Prime Video, which will log you out on desktop every time your IP address changes. With a residential IP your streaming experience becomes more seamless.
Bypassing Web Censorship
"Stealth VPN" feature works in China
Countries with privacy-hostile censorship regimes, like China, are increasingly using technologies like deep packet inspection (DPI) to identify and block VPN traffic – preventing people from accessing the free internet.
Many VPNs for China, including Windscribe, have countered this censorship by employing obfuscation technologies that make it harder for censors to identify VPN traffic.
Windscribe uses a "Stealth protocol" to avoid detection by the censors. This protocol uses the open-source algorithm Stunnel, to route your OpenVPN traffic through an additional TLS tunnel.
We've seen it working first-hand in China, using our test Shanghai server. Windscribe bypassed China's firewall 100% of the time over the past 3 months.
Morevoer, Windscribe's free software also worked in China by connecting to the Hong Kong > Victoria server.
You can see us using Windscribe Free to access blocked websites from China in the video below:
If Windscribe doesn't work for you in China, try the Wstunnel mode. This setting wraps OpenVPN in WebSocket, instead of TLS.
The Stealth VPN protocol isn't available on the iOS app, though. This means you won't be able to use your iPhone in China with Windscribe.
Windcribe VPN is also effective at beating internet filters in other high-censorship countries like Saudi Arabia, the UAE and Turkey.
EXPERT ADVICE: Download and setup Windscribe before you travel to a high-censorship country. Windscribe's website is blocked in these countries, and its apps have been removed from app stores.
Using Windscribe with Tor
If you're worried about your communication being spied on by a government, or you want to overcome strict web censorship, Tor can be a very useful tool.
Tor works by routing your traffic through three random servers, giving you total anonymity – even from the Tor network itself.
Windscribe doesn't have explicit Tor compatibility, but a basic Tor over VPN setup – where you open the Tor browser on a computer – is possible.
This comes with two benefits:
Your ISP or network manager won't be able to see you're accessing the Tor network, potentially helping you get around any government, workplace or campus bans
Were anything to go wrong with the Tor network, it would be Windscribe's IP that would be exposed, not your own
But it also has some downsides: firstly, using Tor with a VPN is not as anonymous as using Tor alone. Secondly, using Tor slows down your internet speed significantly.
Device & OS Compatibility
Good native applications and browser extensions
Apps
Windows

Mac

iOS

Android

Linux

Router
Windscribe has a custom VPN app for almost every platform and operating system. Both the VPN's desktop and mobile applications are very user-friendly.
Apps for Windows, macOS, Android, and iOS are all available, plus apps for more niche platforms like Linux and Android TV, too.
As is often the case, the iOS app is more limited than the others. We'll go over every app in detail in our Ease of Use section.
Importantly, Windscribe allows unlimited simultaneous connections, meaning you and your family can all have the VPN running at the same time.
Unlimited device connections at once is a fairly unique offering among VPN services, which generally impose device limits.
However, Windscribe doesn't allow sharing your account with friends. The company will ban users that violate its terms of use.
Connecting on a variety of platforms is easy, and Windscribe even has its own Config Generators tool, which automatically gives you the exact information you need for manual setups.
This is ideal if you want to connect a platform that isn't officially supported by an app, including:
Amazon Fire TV
Kodi
Nvidia Shield
Games Consoles & Streaming Devices
Apple TV

Amazon Fire TV

Android TV

Chromecast

Nintendo

PlayStation

Roku

Smart TV

Xbox
You can also install Windscribe VPN on your router – or buy a preconfigured router to protect all the internet-connected devices in your home at the same time.
Because Windscribe doesn't include Smart DNS functionality, setting up the VPN on your router is the only way to use it on your Apple TV or games console.
Windscribe does offer a separate DNS service called Control D, but it requires a separate subscription, which is a shame.
There are dedicated Windscribe VPN apps for Android TV and Amazon Fire TV Stick, too.
The Fire TV Stick app has a good array of features, including Windscribe's full range of VPN servers and the ability to favorite your most used locations.
Control D Is Superb but Costs Extra
Windscribe has a DNS service, called Control D. It costs $20 a year for paying Windscribe customers, or $40 a year for everyone else.
With Control D, you can access geo-blocked streaming services on devices that don't allow VPN apps, like Smart TVs and games consoles. But it still works on every other device, including Windows, macOS, Android, and iOS.
Control D is by far the best Smart DNS service we've tested. You can choose a different proxy server for each streaming service, without having to reconnect. For example, you can configure it to use a US server for HBO Max and Hulu, but a UK one for BBC iPlayer and ITV Hub.
Control D also supports manual configuration, so you can use it to unblock any website or content platform. We programmed it to work with a sports streaming service that isn't supported by any other VPN or Smart DNS service.
All of the other Smart DNS tools we've tested, like ExpressVPN's MediaStreamer, don't allow you to change server location or manually configure services. As a result, they only work with US Netflix and a few other sites.
That said, we do wish that Control D was included with every paid Windscribe subscription.
Browser Extensions
Chrome

Firefox
Windscribe has revamped its hugely popular (almost 1,000,000 installs) web browser extension, and we're impressed by the results.
The VPN's more comprehensive extension supports city-level server selection, as well as malware and phishing blocks.
Other security extras include WebRTC blocking, location API spoofing, and website notification blocking. All these settings worked as intended in our browser tests.
Like most VPN browser extensions, Windscribe's Chrome and Firefox extensions are proxies. They spoof your geo-location, but they won't encrypt your web traffic.
Ease of Use
Quick setup and user-friendly apps
How to Connect to a Server with Windscribe
How to Change Settings in Windscribe
Windscribe's custom apps are incredibly easy to use and do not compromise on the need for specific features that cater to serious VPN users.
The Windscribe home screen is simple on both desktop and mobile, with a big on/off button and a list of VPN server locations. The advanced options are tucked away in their own menu, with users warned not to touch them "unless you know what you're doing," which we quite like.
Windscribe's Windows client
The Windows app is exceptionally well presented and easy to use. A central power button connects or disconnects the VPN, and you're clearly shown which server you've connected to, alongside its IP address.
There's a country search bar, which is a must have feature for usability with a VPN that has as many options available as Windscribe does.
Advanced options are easy to find, too, in a drop-down menu at the top-left of the app.
Windscribe offers lots of space for customisation. You can toggle the latency display between a performance bar or specific ms measurement. There's also 25 language options available, which is a welcome option for accessibility.
You can toggle the app between window and tray, too, which we like (although we really prefer the window mode). You can also customise notifications and the order in which countries are listed within the app.
Unlike the Mac app, the Windows client also comes with split tunneling. Using this, you can selectively route some traffic outside of the VPN tunnel.
Windscribe's macOS application
The Mac app differs slightly from the Windows app. It's a menu bar app, rather than a standalone window.
Don't mistake that for simplicity or poor design, though. The macOS looks very similar to the Windows app.
Again, there's a broad range of customization options available within the app. You can change the location order, toggle notifications on and off, and alter the appearance of server latency.
Unique to the macOS app, you can hide the Windscribe icon from the dock – allowing the app to feel like it's running passively in the background. This is a nice platform-specific touch.
We've been told split tunneling is soon to be added to Mac; it will be a welcome addition.
Windscribe's Android application
The Android app is the most complete of all of Windscribe's apps. The only major feature it's lacking is the "Firewall" kill switch. Although this is a significant omission, which we would like to see added.
The app includes a network whitelisting option, which allows you to select certain networks for Windscribe not to activate over – such as your home network or other trusted network. We really like this addition for mobile, where you don't always notice your phone moving between networks.
There are also Windscribe's standard customization options: location order (which is particularly welcome on mobile), latency display, language choice and notification.
Unique to mobile, Windscribe has also included a dark/light mode toggle, although the impact of this is really minimal.
Windscribe's iOS application
Like all of Windscribe's apps, the iPhone and iPad app is easy to use and nicely laid out.
You'll get all the same customization options on iOS as on Android: location order, latency display, notifications, language and light/dark mode.
What you won't get, however, is many of the advanced features available on the other apps. There isn't a split tunneling feature, or the ability to set the app to "always on", for instance.
There's no stealth protocol, either, so you won't be able to use the iOS app from censored regions.
Unlike the Android app, though, there is an all important kill switch, which means you don't need to worry about being exposed if your VPN connection drops out.
Windscribe's Linux GUI app
Windscribe is one of only a few VPN services to provide a GUI app for Linux. The app is much easier to use than many other VPN apps on Linux, such as ExpressVPN and NordVPN.
Impressively, you can configure the app to connect to non-Windscribe servers. For example, we were able to connect to a VPN server we set up ourselves within the Windscribe app.
The app is compatible with all popular Linux distros. We tested it on Ubuntu and didn't experience any issues.
Windscribe's Browser Extensions
We really like Windscribe's browser add-ons. They come with an unusually large suite of features including ad and malware blocking, advanced leak protection and city level server selection (for Pro accounts).
As we've already mentioned, the Windscribe browser add-ons for Firefox and Chrome aren't strictly speaking VPNs, they're proxies.
Being proxies, these extensions won't fully protect your data like a desktop VPN would, and they will only redirect the traffic from your browser window.
What it can do, however, is successfully spoof your location. There's a long list of city or country level servers on offer, too.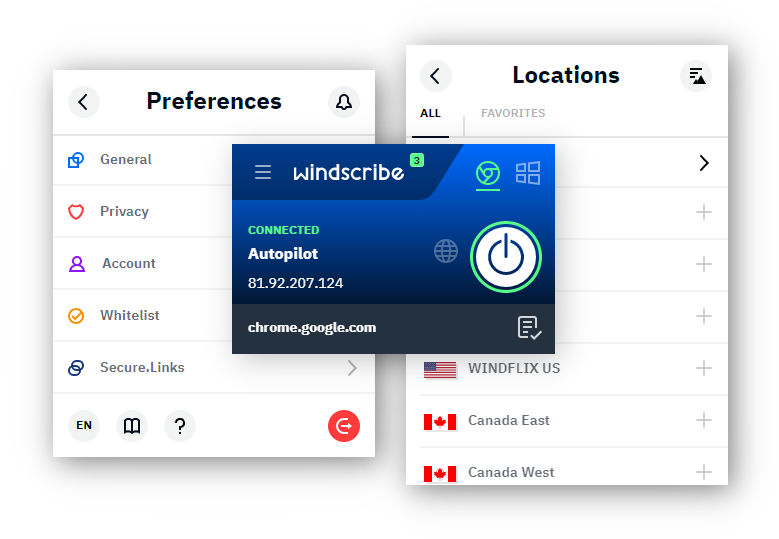 The add-on comes with plenty of browser features, like the R.O.B.E.R.T. ad blocker, a firewall, and tools to prevent you from being tracked by advertisers online, such as "Cookie Monster" which keeps tabs on and even deletes first and third party cookies based on your preferences.
There are some advanced tools to help you spoof GPS location (Location Warp) and browser time (Time Warp), too.
You can even randomly allocate your user agent to prevent your browser from determining what OS and browser you are using.
This is a great suite of privacy- and security-focused tools which are easy to use thanks to a lightweight and intuitive user interface.
In theory, R.O.B.E.R.T. is what really distinguishes Windscribe's browser plug-ins from those offered by competing VPNs. Very few can say they offer malware and phishing and ad protection, alongside the ability to add custom filters to control your internet experience.
The reality is, though, that you can get more utility from an open source add-on like uBlock Origin. Windscribe may beat out some other providers' add-ons with its security features, but it doesn't come close to dedicated free software.
There is also some limited integration with the desktop app – allowing you to view the status of, but not change, your device-wide VPN. We're hoping Windscribe will move towards more complete integration in the future.
For now, though, if you're looking for the best in privacy and security we still recommend using the desktop app alongside a privacy-first browser setup.
Windscribe's Android TV and Fire TV app
Windscribe also offers a smart TV VPN app for Android TV and Amazon Fire TV Stick.
Unlike Windscribe's other apps, the TV app is ugly and is fiddly to use.
At least the app includes split tunneling – called "split routing" – which is rare in VPN TV apps. It lets you apply the VPN to only certain apps on your smart TV.
In general, it comes with more features than we expected. You can toggle on/off LAN connections to other local devices or set it to connect when you boot your TV.
The app keeps local logs, which you can choose to send to Windscribe – presumably with troubleshooting in mind. We understand the value of this, but don't love it from a privacy perspective.
By default it runs on OpenVPN UDP over port 443, and you can also connect via OpenVPN TCP, Stealth, and IKEv2.
This app clearly hasn't been prioritized, though.
We don't recommend picking Windscribe for this app specifically – see our list of the best VPNs for Fire TV Stick – but it's a bonus if you already have your heart set on Windscribe.
Customer Support
Comprehensive resources but no live chat
| Customer Support | Available in Windscribe VPN |
| --- | --- |
| 24/7 Live Chat Support | No |
| 24/7 Email Support | No |
| Live Chat Support | No |
| Email | Yes |
| Email Support via Online Form | No |
| No Support Available | No |
| Tutorial Videos | No |
| Online Resources | Yes |
Windscribe's customer support is missing live chat – it's something we always look for in a top VPN (ideally it will be 24/7, too).
Instead, Windscribe has a seriously extensive online library of guides, FAQs, and even its own subreddit and discord channel.
There's also an online support ticket submission and a chatbot, Garry. We suggest you don't waste your time with Garry, as it is generally unhelpful. It also only understands English, which is disappointing for an automated agent.
When you get stuck with the chatbot it will offer you the chance to "Talk to a Human." This just puts you through to a ticket system, though.
Response time could be better, we found Windscribe generally got back to us within a day, though.
Price & Value
Cheap monthly price on a 12-month plan
You have two options with Windscribe: pay for a month or pay for a year. The $9.00 cost of a single month is cheaper than comparable VPNs, but its annual subscription price is quite expensive at $5.75.
There's also a 'Build-a-Plan' option, which allows users to purchase Windscribe server locations for $1 each per month. This means that if you only need to access one or two VPN servers, you can keep the monthly cost down to just a couple of dollars – an extra dollar gives you access to unlimited data and the full R.O.B.E.R.T. feature, too.
You get the same extensive set of features and servers regardless of how you choose to pay, as there's only one tier of paid subscription: Windscribe Pro.
On top of this there's a customizable package called ScribeForce available. This is essentially a corporate plan that allows you to build a subscription of a "per seat" basis for 5 or more team members, at a rate of $3.00 per seat, per month.
We really like that Windscribe has so many bespoke options available.
Of course, if you opt for the free plan you won't need to pay anything at all — and you don't need to enter payment details, either. Great for anonymity.
Payment & Refund Options
American Express

Bitcoin

Mastercard

PayPal

Visa
Windscribe accepts the usual range of payment methods including most popular credit and debit cards, PayPal and Bitcoin, as well as several international options through its partnership with Paymentwall.
Once you've signed up for a paid subscription, the refund period is just three days, and you're only eligible if you've used more than 10GB of bandwidth, which isn't all that much.
Windscribe can also take up to 30 days to refund your money into your account. This is a really restrictive returns policy. Our advice is to test out a free account before you subscribe to the service, instead.
Windscribe Free
As we mentioned right at the top of this review, Windscribe also has a free plan available.
Its free plan is one of the best we've seen, and a great way to try out Windscribe before committing to a subscription.
The plan comes with servers in 11 of Windscribe's 63 countries and a 10GB monthly data cap.
Using a free Windscribe account you can connect to:
Canada
France
Germany
Hong Kong
Netherlands
Norway
Romania
Switzerland
Turkey
UK
US
The data cap is actually pretty generous for an ad-free, free VPN. This is one of the reasons Windscribe's free plan is our favorite free VPN.
You might find the performance isn't quite as good on the free version, either. When we tested, the free app consistently performed slightly slower than the Pro alternative, even when connected to the same server.
The free version of R.O.B.E.R.T. only gives you access to the Malware block list, but this is the most useful feature in the blocking suite anyway.
Besides these absent advanced features, though, you get access to the same service as the paid version. The biggest drawback is that you won't be able to access Windscribe's streaming Windflix servers.
Depending on your needs you might even be able to use Windscribe Free long term, but we expect most users will want to upgrade to the premium subscription for faster servers, streaming, unlimited data and all Windscribe's advanced features.
The Bottom Line
We rate Windscribe highly
On one hand, with just a few tweaks Windscribe Pro could be one of the best VPNs on the market. But, as things stand, it falls slightly short.
On the other hand, Windscribe free is definitely the best free VPN we've seen, and we highly recommend it.
There is still a lot that Windscribe Pro does well. All its apps are intuitive, and maintain good standards of security. Its local speeds are more than adequate and its Netflix streaming capabilities are excellent.
However, to compete with the very best VPNs, the paid VPN service needs to reduce the amount of data it logs, even during the VPN session, and achieve faster, more stable international speeds.
Overall, we recommend Windscribe Pro as a good value VPN.
Additional research by Luke Williams
Alternatives to Windscribe VPN
Proton VPN
Proton VPN also operates a free and a premium tier. The VPN has a more limited server network than Windscribe's free plan, but it allows unlimited data usage. Read Proton VPN review
ExpressVPN
ExpressVPN has what we believe to be the best customer support in the VPN industry. It's available 24/7, and is always manned by friendly and knowledgeable support staff. Read ExpressVPN review
Was this content helpful?
---
User Feedback for Windscribe VPN