Disclosure: Top10VPN.com is reader-supported. We may earn commissions if you buy a VPN through links on our site.
Overview
IVPN presents itself as a privacy-first VPN service. It claims that it's all about keeping you secure and anonymous with a 'no logs, no leaks' VPN service.
The good news? Our testing found that IVPN is just that. It's a trustworthy and secure service with a very private logging policy.
But we didn't stop there – we had other questions about IVPN. Questions like:
Where is IVPN based?
How do you use IVPN?
Does IVPN work in China?
Plus a whole load more. We also discovered that, while IVPN is a strong choice for security, it's far from perfect.
IVPN Pros & Cons
Transparent no-logs policy
Apps are open-source & audited
Loads of extra security features
Easy-to-use apps for most devices
Helpful live chat & great resources
Slow long-distance speeds
Small list of servers & individual IPs
Doesn't work with most streaming services
No browser extensions
IVPN Key Summary
| | |
| --- | --- |
| Data Cap | Unlimited |
| Speed | 59Mbps |
| Logging Policy | No Logs |
| Data Leaks | No |
| Jurisdiction | Gibraltar (EU Member) |
| Servers | 76 |
| IP Addresses | 225+ |
| Countries | 29 |
| US Netflix | Yes |
| Torrenting | Restricted |
| Works in China | Unreliable |
| Support | Live Chat |
| Cheapest Price | $8.33/mo over 12 Months |
| Official Website | IVPN.net |
Read on to our full IVPN review to find out why is missing from this capable service. Let's start with getting to know the company behind the VPN, and whether or not it's to be trusted.
Who is IVPN?
About & Logging

IVPN is a relatively small but fairly transparent operation, incorporated in Gibraltar.
Gibraltar is technically a 'British Overseas Territory', but in reality is not subordinate to the UK – it is, however, a member of the EU.
While IVPN may be incorporated at 5 Secretary's lane, Gibraltar, GX11 1AA, Gibraltar, that's not actually where its team work from.
IVPN's website says that its team of 13 individuals are 'distributed throughout the world' – CEO and sole owner Nick Pestell, for example, is based in the UK.
IVPN also has an operating company: Privatus Limited. There's no parent or holding companies, though – Privatus Limited simply seems to be the name under which IVPN is incorporated.
Logging Policy
After analysing its privacy and logging policy, we are confident that IVPN is a true no logs VPN.
You can read the entirety of IVPN's privacy policy here. Here are the bits that we believe to be the most important.
IVPN does not log:
Traffic
DNS requests
Connection timestamps or connection duration
User bandwidth
IP addresses
Any account activity, except total simultaneous connections
We can't ask for much more than that from a VPN. There's barely anything collected at all, and certainly nothing that could lead to a user being personally identified.
IVPN does specify that it will comply with authorities if requested, but even if its servers were to be seized there would be nothing to found on them. This goes a long way to mitigating its EU jurisdiction, in our view.
The integrity of this logging policy was even verified in March 2019 by an independent auditing firm.
Average download speeds, but great for uploads
Speed & Reliability
IVPN sits towards the middle of the pack for speeds, following our first-hand testing.
If you're not trying to connect to anywhere too far away then IVPN shouldn't impact your internet speeds too badly, but it's a long way from the fastest we've seen.
We should highlight IVPN's excellent upload speeds, though, which we recorded as much stronger than its download speeds.
Local Speed Test Results
Before using IVPN:
93.45

99.17

Ping

ms

5
When connected to IVPN:
59.61

85.54

Ping

ms

11
Download speed without IVPN: 93.45Mbps
Download speed with IVPN: 59.61Mbps
Our download speed loss when IVPN is running: 36%
There are undeniably faster VPNs available than IVPN (Private Internet Access would be one of the very best, for example), but that doesn't mean that IVPN is slow.
It's unsurprisingly strongest on local connections, but IVPN puts up some decent speeds connecting abroad, too.
Here are the average download and upload speeds connecting out from the UK to some of IVPN's other servers:
USA: 22Mbps (download) & 46Mbps (upload)
Germany: 47Mbps (download) & 87Mbps (upload)
Singapore: 8Mbps (download) & 21Mbps (upload)
Australia: 11Mbps (download) & 20Mbps (upload)
Small server network
Server Locations
29
Countries
40
Cities
225+
IP Addresses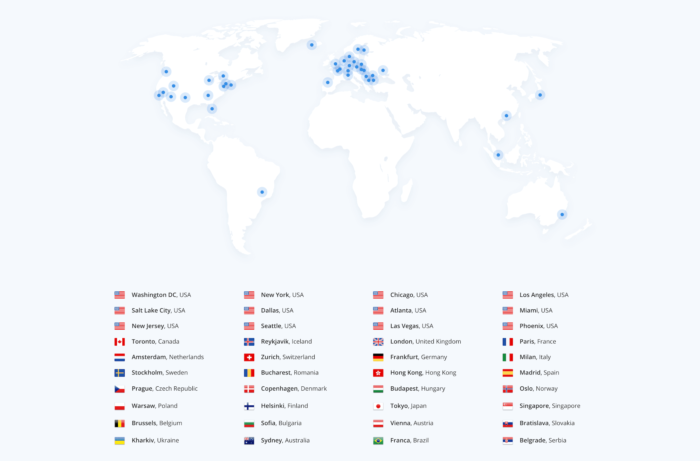 If you live in Africa, South America, or most of Australia or Asia, IVPN is no good for you.
That's because its 40 server locations are heavily concentrated in the northern half of the globe, particularly in Western Europe and North America.
IVPN offers just one server in South America (Brazil), one server in Australia (Sydney), and three servers in East Asia (Japan, Singapore, Hong Kong).
If you live in the US, on the other hand, there's plenty of options, as IVPN has 12 city-level VPN server locations, spread from coast-to-coast.
Even then, though, the number of individual servers spread out over the network is so small that fluctuations in speed on the more popular locations may occur.
An IVPN support agent informed us that there are between three to five IP addresses per server – another very low number.
IVPN unlocks US Netflix, but not much else
Streaming & Torrenting
Let's get right down to it: IVPN isn't a very good VPN for streaming.
In our tests we found that the US (New York) server worked for unblocking Netflix, but that was it.
We tested and were unable to access Netflix on UK, Germany, Japan, and other US servers.
US Netflix is by far the most popular streaming service around, so at least IVPN gets the most important bit right, but if you're interested in watching just about anything else then you'll need to look at another VPN.
We have a simple, honest list put together just for situations like this: our top five VPNs for streaming.
Torrenting
IVPN is much better for torrenting than it is for streaming – you can torrent freely, with only one exception.
IVPN does not allow torrenting or P2P activity on its US servers.
The reason for this is that IVPN says it was receiving a high number of DMCA notices. It asks that users refrain from torrenting on US servers, including doublehop connections which use a US exit node.
A potential solution in high-censorship countries
Censorship
Despite China's crackdown on VPN providers, IVPN may be a decent choice for use in the country.
Customer support informed us that many are having success using the Obfsproxy tool, which masks VPN traffic, making it look 'normal' to the censors and therefore allowing you to access blocked content.
The IVPN website isn't blocked in China either, which is a bonus. There's no guarantees IVPN will work, though, and the Obfsproxy tool isn't available on either Android or iOS devices. There are other providers out there who provide a more reliable and comprehensive solution – Astrill is one of our favorites.
We can't fully recommend using IVPN in other high-censorship countries, such as Iran, Turkey and Saudi Arabia, due to the lack of server coverage in those regions, which will result in poor performance. Instead, look for providers offering servers located in nearby free-speech countries.
Works with almost anything, but no browser extensions
Platforms & Devices
Apps
Windows
Mac
iOS
Android
Linux
Router
IVPN offers slick custom apps for Microsoft Windows, MacOS, Linux, iOS and Android, which is great for VPN newbies. The provider's generous limit of five simultaneous connections means you can protect your family's devices as well as your own.
You can also install the VPN on a few different compatible routers, including DD-WRT, pfSense and Tomato, using the provider's user-friendly setup guides.
If you're not comfortable with an element of manual configuration, you can also buy pre-configured routers through IVPN's partnerships with Flashrouters and Vilfo.
Games Consoles & Streaming Devices
AppleTV
Amazon Fire TV
Chromecast
Nintendo
PlayStation
Roku
Xbox
If you want to use IVPN with your games consoles and streaming devices, like the Amazon Fire TV Stick or Xbox, you have a few options.
The simplest is to manually configure a supported router or buy one with the VPN software already installed, as this will protect all connected devices in your home. There's a full setup guide on IVPN's website.
You can also manually configure some devices with the OpenVPN software, but currently IVPN only offers guides for Kodi and the Amazon Fire TV Stick.
The final option is to piggyback off the VPN connection from another device running the software, such as a laptop, however this isn't guaranteed to work for all devices.
Browser Extensions
Unlike some of our top-tier providers, IVPN doesn't offer any browser extensions.
This won't affect the majority of people, but if you are a heavy browser user wanting a more lightweight experience, you should look for a provider that offers either a VPN or a proxy extension for your preferred browser.
We recommend ExpressVPN as the best VPN for browser extensions, if that's something you need – it has them for both Google Chrome and Mozilla Firefox.
Good choice of protocols & lots of extra features
Encryption & Security
Protocols

IKEv2/IPSec

L2TP/IPSec

OpenVPN (TCP/UDP)

WireGuard

Encryption

AES-256

Security

DNS Leak Blocking

First-party DNS

IPV6 Leak Blocking

Supports TCP Port 443

VPN Kill Switch

Advanced features

Ad Blocker

Double VPN

SOCKS

Split Tunneling
Please see our VPN Glossary if these terms confuse you and would like to learn more.
IVPN does very well for security, offering strong encryption and loads of extra security features.
IVPN's security credentials have been verified through a third-party security audit. But what is a VPN audit?
In short, a security audit allows a VPN service to verify its grand claims with hard, indisputable facts. For example, just how 'unbreakable' is IVPN's implementation of the AES256 cipher, really? A security audit tests that.
To prevent any tampering of the audit, it's important that they are completed by a reputable third party and that the final results are made public. These security audits then allow for weaknesses to be discovered and fixed. This is good news for you and your online security, so they are extremely valuable.
IVPN's security audit was completed by renowned German cybersecurity company Cure53, which spent a total of 21 days assessing the security protocols that IVPN employs.
The audit found a total of nine issues with IVPN's security and encryption, with every issue now being fixed and resolved. IVPN has made the full report publicly accessible and published it online. This is excellent.
We wish auditing and publishing security reports was a more familiar feature for VPN services, but we're pleased that IVPN has chosen to walk the walk and improve both its security and trustworthiness.
IVPN's apps provide a choice of four protocols: OpenVPN, WireGuard, IPSec, and IKEv2. The latter two require some manual configuration, but you don't need to bother with that — OpenVPN is our preferred protocol anyway.
Whichever protocol you use, IVPN conducts encryption via the unbreakable cipher AES-256.
IVPN's 'firewall' (kill switch) feature is a must-have tool, which works to blocks all of your web traffic should the VPN connection be interrupted for any reason.
As well as first-party DNS servers, which prevent your IP address from being exposed to third parties, IVPN also provides protection against DNS and IPv6 leaks, plus internet ad- and tracker-blocking.
IVPN's Multihop feature offers an extra layer of security by rerouting your connection through multiple servers in different countries. This means that even if the exit server were to be compromised, your online activity remains private.
It's also a nice addition that the Android app allows for split tunneling, so you can route privacy-sensitive apps through the VPN and others through your general internet connection, maintaining performance.
As part of its re-energized commitment to privacy, security, and transparency, IVPN has published its code onto GitHub — becoming one of very few VPNs whose apps are open-source.
Simply, this just means that IVPN is opening itself to a development model where anyone can contribute to its software and apps.
By going open-source IVPN benefits from the security and error checking of a larger community, allowing a greater number of potential problems to be discovered and fixed.
This also allows experts like us to forensically inspect the processes and operations of IVPN, making sure that traffic is being adequately encrypted, connections are kept as secure as possible, and that user data is not being harvested or sold.
This is a great move from IVPN – we just wish more VPN providers would follow its lead.
Easy to use app with lots of advanced features
Ease of Use
How to Install & Set Up IVPN
It takes a matter of minutes from purchasing the VPN to connecting securely to one of IVPN's servers, requiring minimal effort and very little technical know-how to do so.
Should you get stuck installing IVPN on devices with no native app, its website offers simple step-by-step guides to help you out.
The no-fuss IVPN main screen includes a big connect button and your chosen server location underneath.
It's annoying that you have to disconnect every time you want to change servers, but this is unlikely to be a problem for most everyday users. We like that the kill switch ('Firewall') can be activated on the main screen with a simple slider.
Within the settings menu you can choose your kill switch preferences, toggle between UDP and TCP, and choose your preferred port. There is also a handy section for configuring OpenVPN parameters, ideal for the more tech-savvy user.
The Android and iOS apps are very user-friendly and modern-looking, too, and they both connect quickly.
Helpful live chat & excellent resources
Customer Support
| | |
| --- | --- |
| Live chat Support | Yes |
| Email | Yes |
| Online Resources | Yes |
The only way IVPN could make its support any better would be if its live chat were available 24/7 – other than that we have no complaints.
IVPN's support agents respond promptly and pleasantly, volunteering useful information where they can – so long as the service is online when you need it.
In the even that support doesn't have the answers, you can find a wealth of useful and well-presented information on the IVPN knowledge base.
IVPN Coupon
IVPN Pricing Plan
IVPN has recently updated its pricing plan, making it a much more affordable and sensible VPN option.
IVPN has now divided its VPN options into two distinct tiers — IVPN Standard and IVPN Pro.
The $4 monthly price difference means the Standard tier does not support multi-hop VPN or port forwarding. It also only allows just two simultaneous connections.
However, if you're only dipping your toe into the world of VPNs, a monthly price of just $6 a month for the standard tier is a great option.
It's also encouraging to see that IVPN has hardened VPN users covered with the advanced features available in the Pro tier, too.
All plans have 7-day money-back guarantee
Payment & Refund Options
| | |
| --- | --- |
| Credit Card | Yes |
| PayPal | Yes |
| Bitcoin | Yes |
IVPN offers both a three-day free trial and a seven-day money-back guarantee, meaning you can thoroughly test out the VPN before committing to a paid subscription.
A warning, though: the IVPN free trial does require you to enter your payment details and you will automatically be charged if you don't cancel within three days.
The seven-day money-back guarantee is genuinely 'no questions asked', though, and you are automatically issued a refund once you submit a cancellation request (unless you paid in cash).
IVPN may also extend the refund period to 30 days in exceptional circumstances, for example if you experience technical issues, but that's not guaranteed.
IVPN accepts the usual payment methods including most credit/debit cards and PayPal. You also have the option to pay with Bitcoin, but that's the only cryptocurrency currently accepted.
There are no international options like Alipay or UnionPay.
IVPN is one of the only providers that gives you the option of paying in cash for anonymity reasons, which we love. IVPN accepts US dollars, euros, and British pound sterling, but it can take up to 10 days to process and you have to sign up to the annual subscription to do so.
Do We Recommend IVPN?
The Bottom Line
If privacy and security is your main motivation to use a VPN, we absolutely recommend giving IVPN a go.
Despite its minnow status, IVPN does the basics extremely well — with encryption techniques and a logging policy that rival the very best VPN providers.
IVPN's range of custom apps are ideal for VPN newbies, but also offer enough configurability for more seasoned VPN users.
However, IVPN too often falls flat on the perks of running a VPN. For instance, IVPN failed to consistently unblock any of the most popular streaming services in our testing and its mediocre speeds are frustrating.
But if you prioritize your anonymity above all else, or you just want a relatively cheap gateway into the world of VPNs, IVPN is a sound choice.
Alternatives to IVPN
VyprVPN
Want more IP addresses? Then VyprVPN is the choice for you - it has an incredible 200,000 of them, spread across 73 cities around the world. Read VyprVPN review
PrivateVPN
PrivateVPN excels when it comes to two of IVPN's major flaws: it's super affordable and it's one of the best VPNs we've tested for streaming. Read PrivateVPN review
---
User Feedback for IVPN