Disclosure: Top10VPN is editorially independent. We may earn commissions if you buy a VPN through links on our site.
Our Verdict
We recommend using IVPN if privacy and security is your priority. It's a verified no-logs VPN service that will mask your IP address effectively. It's not very fast but does work with US Netflix. All in all, IVPN is a safe VPN well-suited for privacy-focused beginners.
IVPN presents itself as a privacy-first VPN service. It claims that it's all about keeping you secure and anonymous with a 'no logs, no leaks' VPN service.
The good news? Our testing for this IVPN review found that it's a trustworthy and secure VPN service with a very private logging policy.
However, many more questions need answering. In this IVPN review we will reveal:
Who owns IVPN
How safe IVPN is
If the VPN works in China
And that's just the beginning. Read on to find out more about this VPN service and whether it's right for you.
IVPN Pros & Cons
Pros
Transparent no-logs policy

Apps are open-source & audited

Many extra security features

Easy-to-use apps for most devices

Helpful live chat & great resources
Cons
Slow long-distance speeds

Small number of servers & IP addresses

Won't work with many streaming services

No Firestick app & no Smart DNS

No VPN browser extensions
IVPN Key Data
| | |
| --- | --- |
| Data Cap | Unlimited |
| Speed | 59Mbps |
| Logging Policy | No Logs |
| Data Leaks | No |
| Jurisdiction | Gibraltar |
| Servers | 76 |
| IP Addresses | 225+ |
| Countries | 29 |
| US Netflix | Yes |
| Torrenting | Permitted |
| Works in China | Unreliable |
| Support | Live Chat |
| Cheapest Price | $8.33/mo over 12 Months |
| Official Website | IVPN.net |
IVPN Category Ratings
We test and review every VPN in eight key areas. Here's how IVPN performs in each category:
Privacy & Logging Policy: 9.8/10
Encryption & Security: 9.0/10
Speed & Reliability: 6.2/10
Streaming & Torrenting: 8.1/10
Bypassing Censorship: 7.0/10
Ease of Use: 8.7/10
Customer Support: 9.0/10
Price & Value for Money: 4.0/10
To learn more about our methodology, read our full VPN testing process.
No-logs service headquartered in Gibraltar
Ownership & Logging Policy
Privacy & Logging Policy Rating: 9.8/10

IVPN is a small but transparent VPN company, operated by Privatus Limited, which is incorporated in Gibraltar. Gibraltar is technically a 'British Overseas Territory', but in reality is not subordinate to the UK, which is a good thing.
According to IVPN's website, the company's team of 13 individuals are located around the world. For example, its CEO, Nick Pestell, is based in Berlin, Germany.
Logging Policy
After analyzing its privacy and logging policy, we are confident that IVPN is a true no logs VPN.
You can read the entirety of IVPN's privacy policy here. Below are the most important takeaways.
IVPN does not log:
Traffic
DNS requests
Connection timestamps or connection duration
User bandwidth
IP addresses
Any account activity, except total simultaneous connections
As you can see, there's is no personal usage data collected.
IVPN does specify that it will comply with authorities if requested. But, even if its servers were seized by authorities, nothing would be found on them.
The integrity of this logging policy was even verified in March 2019 by Cure53, a respected security auditing firm.
Average download speeds, but great for uploads
Speed Test Results
Speed & Reliability Rating: 6.2/10
IVPN isn't the fastest VPN we've tested, but it's not the slowest, either. It sits towards the middle of the pack for speeds.
If you're connecting to a nearby server, then your internet speeds shouldn't slow down too much. However, if you're connecting to a far away location, then IVPN starts to struggle.
Local Speed Test Results
Before using IVPN:
Download93.45

Mbps

Upload99.17

Mbps

Ping5

ms
When connected to IVPN:
Download59.61

Mbps

Upload85.54

Mbps

Ping11

ms
Download speed without IVPN: 93.45Mbps
Download speed with IVPN: 59.61Mbps
Our download speed loss when IVPN is running: 36%
Clearly, there are faster VPNs available than IVPN, such as Private Internet Access. However, this doesn't mean that IVPN is slow.
As we mentioned above, IVPN does ok on short-distance connections. A 36% speed loss is not great, but it's not terrible, either.
Here are the average download and upload speeds connecting out from the UK to some of IVPN's other servers:
USA: 22Mbps (download) & 46Mbps (upload)
Germany: 47Mbps (download) & 87Mbps (upload)
Singapore: 8Mbps (download) & 21Mbps (upload)
Australia: 11Mbps (download) & 20Mbps (upload)
Despite the slower download speeds, IVPN has much better upload speeds. If you regularly upload files to the internet, then IVPN is certainly a VPN to consider.
Small server network covering 29 countries
Server Locations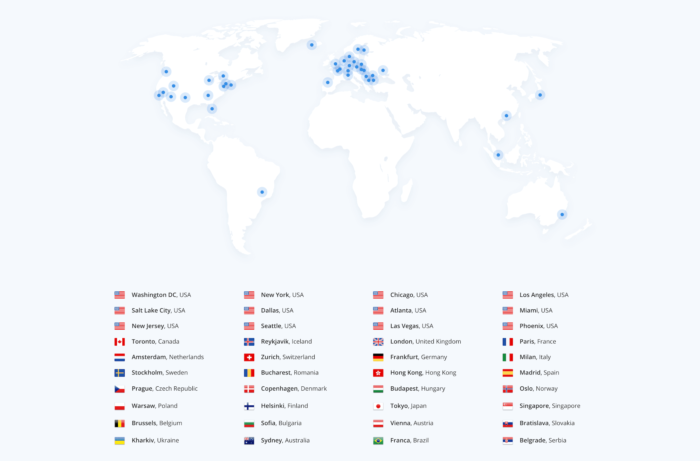 IVPN has servers in 29 countries and 40 different cities. Most of their servers are concentrated in Western Europe and North America.
These are some of the VPN service's city-level server choices:
Australia: 1 location
Canada: 2 locations
Germany: 1 location
United Kingdom: 2 locations
United States: 11 locations
We were surprised to see 11 server locations spread across the US. These include Atlanta, Chicago, Dallas, Phoenix, Los Angeles, and New York.
On the flip side, there's only one server location in Australia: Sydney. We expect to see servers on both coasts, so we hope to see servers in Perth added soon. For this reason, Australian readers should consider using NordVPN, instead.
Also, IVPN provides just one server in South America (Brazil), and three servers in East Asia (Japan, Singapore, Hong Kong).
The VPN service offers three to five IP addresses per server. This equals a range of IP addresses between 228 and 380.
The low number of servers, and IP addresses provided, is probably what's causing IVPN's slow speeds.
IVPN unlocks US Netflix, but not much else
Streaming & Torrenting
Streaming & Torrenting Rating: 8.1/10
Let's get right down to it: IVPN isn't a very good VPN for streaming.
In our latest tests, it did stream US Netflix on the New York server, but that was it. We were unable to unblock Netflix on UK, Germany, Japan, and other US servers.
Moreover, the VPN didn't work with BBC iPlayer, Disney+, Hulu and Amazon Prime Video.
Despite working with US Netflix, we can't recommend IVPN for streaming and there are better choices available.
Torrenting
IVPN is much better for torrenting than it is for streaming. You can torrent privately and freely, with only one exception. The service does not allow P2P traffic on its US servers.
The reason for this is that IVPN says it was receiving a high number of DMCA notices.
As a result, it asks its users to refrain from torrenting files on its US servers. This includes double-hop VPN connections, which use a US exit node.
If you're based in the United States, you connect to Canada servers, but your torrent speeds will be slower.
Other than that, IVPN is very good torrent VPN. It doesn't log user activity, and its VPN kill switch masks your real IP address if the VPN connection drops.
Unreliable in China and similar countries
Bypassing Censorship
Bypassing Censorship Rating: 7.0/10
IVPN can work in China, and other highly-censored countries, but not always.
In our latest tests, IVPN's Obfsproxy tool, worked on the Windows and Mac clients. This tool masks your VPN traffic, making it look 'normal' to web censors. Speeds very slow, slower than our top-rated China VPNs.
The IVPN website isn't blocked in China either, meaning you could potentially download the VPN while in China.
Sadly, the Obfsproxy tool isn't available on either the Android or the iOS VPN applications.
Because of these inconsistencies, we can't fully recommend using IVPN in high-censorship countries (Iran, Turkey, Saudi Arabia, etc.). You're better off using a VPN built to bypass strict censorship, like Astrill VPN. To find out more about how VPNs are designed to bypass censorship, read our updated Astrill VPN review.
Works on most devices, but no browser extensions
Platforms & Devices
Apps
Windows

Mac

iOS

Android

Linux

Router
IVPN has a series of VPN apps for Windows, MacOS, Linux, iOS and Android. This is great for device compatibility. You're also allowed up to seven simultaneous connections (with the Pro plan) – above the industry average.
What's more, you can also set up the VPN on a number of compatible routers, including DD-WRT, pfSense and Tomato. To do this, use the provider's Help Center.
Word of warning: setting up a VPN on a router is not for beginners.
Games Consoles & Streaming Devices
AppleTV

Amazon Fire TV

Chromecast

Nintendo

PlayStation

Roku

Xbox
IVPN is not the best VPN to use on games consoles, or streaming devices like Fire TV Stick and Apple TV.
That's because there's no native Firestick VPN app, and no Smart DNS tool, either.
But, there are options if you want to use IVPN with your games consoles and streaming devices.
The simplest way is to configure the VPN on your home router (see section above). This will protect all the devices that connect to it in your home.
You can also configure some devices with the OpenVPN software. Currently, IVPN only provides guides to do this with Kodi and Fire TV Sticks.
The final option is to connect your games console, or streaming device, to another device running the VPN. However, this isn't guaranteed to work for all devices.
Browser Extensions
Unlike most of top-tier VPN providers, IVPN doesn't come with any browser extensions. This is real shame, as VPN browser add-ons are becoming increasingly popular with internet users.
If this matters to you, we recommend ExpressVPN. Its browsers add-ons for Chrome and Firefox are the best available right now.
Good choice of protocols & many security features
Encryption & Security
Protocols

IKEv2/IPSec
L2TP/IPSec
OpenVPN (TCP/UDP)
WireGuard

Encryption

AES-256

Security

DNS Leak Blocking
First-party DNS
IPV6 Leak Blocking
Supports TCP Port 443
VPN Kill Switch

Advanced features

Ad Blocker
Double VPN
SOCKS
Split Tunneling
Encryption & Security Rating: 7.4/10
IVPN does very well in terms of providing strong security to its users. All the VPN apps use strong encryption, and come with many extra security features.
In addition, IVPN's security credentials have been verified by a third-party security audit.
A security audit allows a VPN service to verify its security claims with hard, indisputable facts. For example, just how 'unbreakable' is IVPN's implementation of the AES-256 cipher? A security audit tests that.
To ensure the validity of the audit, it's key that a reputable third party carries out the audit. It's also important that the results of the audit are made public.
IVPN's security audit was completed in March 2019 by renowned German cybersecurity company Cure53. The security company spent a total of 21 days assessing the security levels of IVPN's applications and systems.
The audit found a total of nine issues with IVPN's security and encryption. Every issue was fixed and resolved. Much to our delight, IVPN has made the full report accessible by publishing it online.
All the VPN apps provide a choice of four protocols: OpenVPN, WireGuard, IPSec, and IKEv2. The latter two require some manual configuration, but you'll be fine just using OpenVPN or WireGuard.
In addition, all VPN connections are secured using the 'unbreakable' AES-256 cipher.
IVPN's 'firewall' (VPN kill switch) feature is a must-have tool. It blocks all your web traffic in the event of a VPN connection drop. This avoids your true IP address from being exposed.
As well as first-party DNS servers, which prevent your IP address from being exposed to third parties, IVPN also provides protection against DNS and IPv6 leaks. As a bonus, it has built-in ad- and tracker-blocking.
IVPN's Multi-hop feature offers an extra layer of security by rerouting your connection through multiple servers in different countries. This means that even if the exit server were to be compromised, your online activity remains private.
The Android app allows split tunneling, so you can route privacy-sensitive apps through the VPN, and others through your general internet connection.
As part of its re-energized commitment to privacy, security, and transparency, IVPN has published its code onto GitHub — becoming one of very few VPNs whose apps are open-source.
Simply, this just means that IVPN is opening itself to a development model where anyone can contribute to its software and apps.
Last but not least, IVPN's apps are open-source. This allows the larger security community to forensically inspect the various apps. By giving access to the code base, IVPN is being very transparent to how its VPN clients work, and how they safeguard privacy and security.
This is a great move from IVPN, and more VPN providers should follow its lead.
Easy to use app with lots of advanced features
Ease of Use
How to Install & Set Up IVPN
Ease of Use Rating: 8.7/10
It takes a matter of minutes from purchasing the VPN to connecting securely to one of IVPN's servers, requiring minimal effort and very little technical know-how to do so.
Should you get stuck installing IVPN on devices with no native app, its website offers simple step-by-step guides to help you out.
The no-fuss IVPN main screen includes a big connect button and your chosen server location underneath.
It's annoying that you have to disconnect every time you want to change servers, but this is unlikely to be a problem for most everyday users. We like that the kill switch ('Firewall') can be activated on the main screen with a simple slider.
Within the settings menu you can choose your kill switch preferences, toggle between UDP and TCP, and choose your preferred port. There is also a handy section for configuring OpenVPN parameters, ideal for the more tech-savvy user.
The Android and iOS apps are very user-friendly and modern-looking, too, and they both connect quickly.
Helpful live chat & excellent resources
Customer Support
| | |
| --- | --- |
| Live chat Support | Yes |
| Email | Yes |
| Online Resources | Yes |
Customer Support Rating: 9.0/10
The only way IVPN could make its support any better would be if its live chat were available 24/7 – other than that we have no complaints.
IVPN's support agents respond promptly and pleasantly, volunteering useful information where they can – so long as the service is online when you need it.
In the even that support doesn't have the answers, you can find a wealth of useful and well-presented information on the IVPN knowledge base.
IVPN Pro is good but expensive
Pricing
Price & Value for Money Rating: 4.0/10
IVPN offers two pricing plans: IVPN Standard and IVPN Pro.
The Pro tier gives you: seven concurrent connections, port forwarding, as well as multi-hop and anti-tracker features.
On the other hand, the Standard plan only allows just two simultaneous connections, and only offers the anti-tracker as an extra feature. It does only cost $6.00 per month on a rolling plan, which is a very good price. Especially, if you're only dipping your toe into the world of VPNs.
All plans have 7-day money-back guarantee
Payment & Refund Options
| | |
| --- | --- |
| Credit Card | Yes |
| PayPal | Yes |
| Bitcoin | Yes |
IVPN offers both a three-day free trial and a seven-day money-back guarantee. This means you can test out the VPN before committing to a paid subscription.
A warning, though: the IVPN free trial does require you to enter your payment details, and you will be charged, unless you cancel within three days.
The seven-day money-back guarantee is genuinely 'no questions asked', though. You are automatically issued a refund once you submit a cancellation request. Unless you paid in cash.
IVPN may also extend the refund period to 30 days in exceptional circumstances, for example if you experience technical issues.
IVPN accepts the usual payment methods including most credit/debit cards and PayPal. You also have the option to pay with Bitcoin and Monero. However, there are no international options like Alipay or UnionPay.
Alongside Mullvad, IVPN is the only other VPN service to allow cash payments. IVPN accepts USD, EUR, and GBP, but it can take up to 10 days to process the payment. Also, you have to sign up to an annual plan to pay with cash.
IVPN is recommended for privacy
The Bottom Line
If privacy and security is your main motivation to use a VPN, we absolutely recommend giving IVPN a go.
Despite its minnow status, IVPN does the basics extremely well — with encryption techniques and a logging policy that rival the very best VPN providers.
IVPN's range of custom apps are ideal for VPN newbies, but also offer enough customization options for more experienced VPN users.
However, IVPN too often falls flat on the perks of running a VPN. For instance, IVPN failed to consistently unblock any of the most popular streaming services in our testing and its mediocre speeds are frustrating.
But if you prioritize your anonymity above all else, or you just want a relatively cheap gateway into the world of VPNs, IVPN is a sound choice.
Alternatives to IVPN
VyprVPN
Want more IP addresses? Then consider using VyprVPN. There are 300,000 IP addresses available, spread across 73 cities around the world. Read VyprVPN review
PrivateVPN
PrivateVPN excels when it comes to two of IVPN's major flaws. It's very affordable, and it's one of the best VPNs for streaming. Read PrivateVPN review
---
User Feedback for IVPN