IVPN Review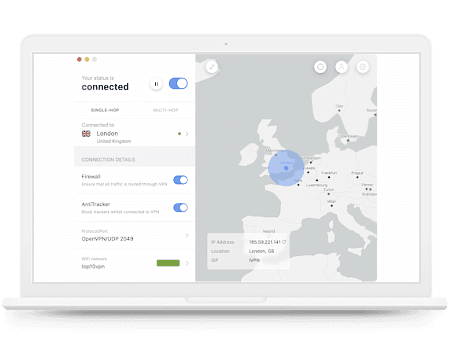 Privacy & Logging Policy
No-logs service headquartered in Gibraltar
IVPN is a small but transparent VPN company, operated by Privatus Limited, which is incorporated in Gibraltar. Gibraltar is technically a 'British Overseas Territory', but in reality is not subordinate to the UK, which is a good thing.
According to IVPN's website, the company's team consists of 11 individuals from seven countries around the world. For example, its CEO, Nick Pestell, is based in Berlin, Germany. IVPN's employees are easy to find on LinkedIn, which even shows where they are based.
IVPN's manifesto can be found on its website and advocates for "a future free from surveillance."
"For a human-centred internet, for the thriving of democracy, and for a future free from surveillance."
IVPN has even created an Ethics Guidelines to communicate the company's values. It commits to:
No personal information
No trackers
No third-party tools
No secrets
No false promises
Openness and accountability
Logging Policy
After analyzing its privacy and logging policy, we are confident that IVPN is a true no logs VPN.
You can read the entirety of IVPN's privacy policy here. Below are the most important takeaways.
IVPN does not log:
Traffic
DNS requests
Connection timestamps or connection duration
User bandwidth
IP addresses
Any account activity, except total simultaneous connections
As you can see, there's no personal usage data collected.
IVPN does specify that it will comply with authorities if requested. But, even if its servers were seized by authorities, nothing would be found on them.
The integrity of this logging policy was even verified in March 2022 by Cure53, a respected security auditing firm.
Speed
Great download speeds, also good for uploads
IVPN's connections are fast and stable enough for high-quality streaming, torrenting, and gaming. We recorded an average 6% drop when connected to a nearby IVPN server in the UK, from our location in London.
Here are the results we recorded when connecting to nearby IVPN servers:
Local Speed Test results before using IVPN:
Download Speed: 99Mbps
Upload Speed: 99Mbps
Ping: 4ms
Local Speed Test results with IVPN:
Download Speed: 93Mbps
Upload Speed: 95Mbps
Ping: 9ms
Download speed loss when IVPN is running: 6%
There are faster VPNs available than IVPN, such as Private Internet Access. However, this doesn't mean that IVPN is slow.
As we mentioned above, IVPN is incredibly fast on short-distance connections. Only a 6% speed loss is amazing.
Long-Distance Speed Test Results
We tested IVPN's connection speeds from our location in London, UK, by connecting to servers in the US, Germany, and Australia.
IVPN's results are very impressive. Download speeds in the US (18% slower) and Germany (5% slower) surpassed our expectations.
Here are our latest IVPN long-distance speed test results:
US:

Download: 81Mbps
Upload: 40Mbps

Germany:

Download: 94Mbps
Upload: 94Mbps

Singapore:

Download: 22Mbps
Upload: 28Mbps

Australia:

Download: 17Mbps
Upload: 12Mbps
We saw the worst speeds when connecting to Australia (83% drop). So, we don't recommend using IVPN if you want to connect to a server on the opposite end of the globe.
But, if you're in the US and want to connect to a server in the UK, IVPN is great for browsing, streaming, and gaming.
Streaming
IVPN is a poor VPN for streaming
Although it occasionally works with US Netflix, IVPN has stated its service is focused on privacy and not bypassing geo-blocks.
In our tests, the only two servers that worked to unblock US Netflix were Ashburn, VA and Chicago, IL.
IVPN has never worked with BBC iPlayer, Disney+, Hulu and Amazon Prime Video.
Despite working with US Netflix, we can't recommend IVPN for streaming and there are better streaming VPNs available.
Torrenting
Strong torrenting performance
In our P2P tests, we saw minimal drops in speed when torrenting connected to a local server. With no VPN, we downloaded a test file at a rate of 11MiB/s. Connected to a nearby IVPN in the UK, we downloaded the test file at a rate of 10MiB/s.
IVPN is much better for torrenting than it is for streaming. You can torrent privately and freely, with only one exception. The VPN service does not allow P2P traffic on its US servers.
The reason for this is that IVPN says it was receiving a high number of DMCA notices.
As a result, it asks its users to refrain from torrenting files on its US servers. This includes double-hop VPN connections, which use a US exit node.
If you're based in the United States, you can connect to Canadian servers, but your torrent speeds will be slower.
Server Locations
Small server network covering 29 countries
29 Countries
40 Cities
225+ IP Addresses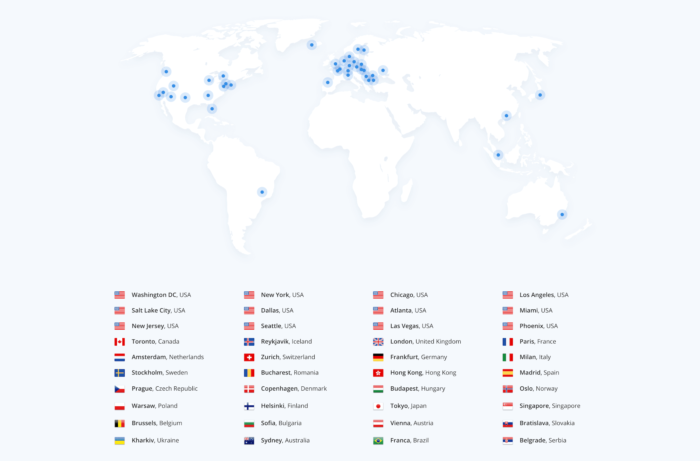 IVPN has servers in 29 countries and 40 different cities. Most of their servers are concentrated in Western Europe and North America.
These are some of the VPN service's city-level server choices:
Canada: Montreal, Toronto
United Kingdom: London, Manchester
United States:Ashburn, Atlanta, Chicago, Dallas, Las Vegas, Miami, New Jersey, New York, and more.
We're pleasantly surprised to see 11 server locations spread across the US.
On the flip side, there's only one server location in Australia. We expect to see servers on both coasts, so we hope to see servers in Perth added soon. For this reason, Australian readers should consider using NordVPN, instead.
Also, IVPN provides just one server in South America (Brazil), and three servers in East Asia (Japan, Singapore, Hong Kong).
The VPN service offers three to five IP addresses per server. This equals a range of IP addresses between 228 and 380.
The low number of servers, and IP addresses provided, is probably what's causing IVPN's slow speeds.
Bypassing Web Censorship
Offers obfsproxy but doesn't work in China
In our latest tests, IVPN did not work in China. It failed to even connect to servers in Hong Kong, Japan, and the US. Here's a video of us testing IVPN in China: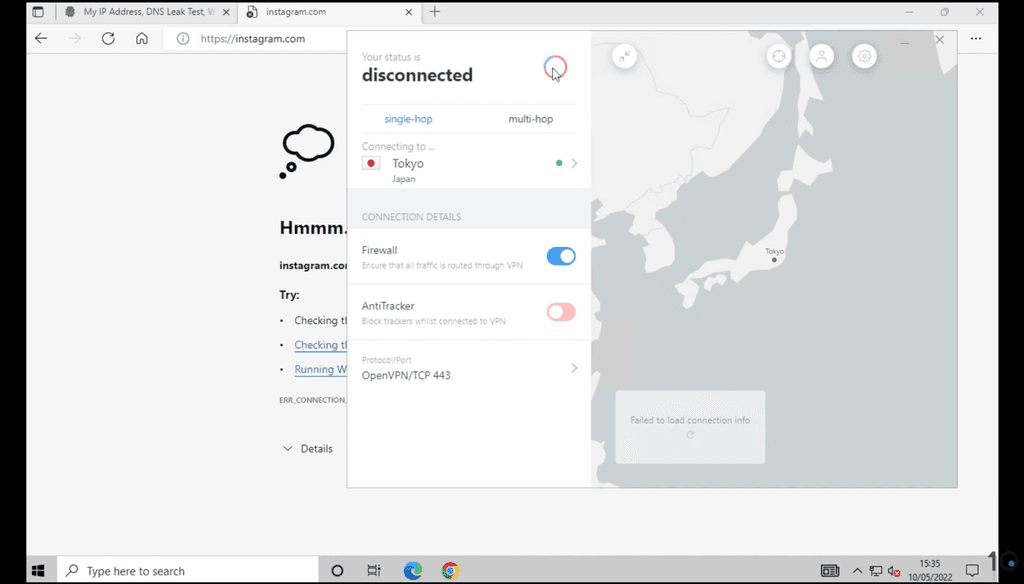 However, its obfsproxy tool would still be able to bypass censorship in countries like Russia and Turkey.
To activate IVPN's obfuscation mode, click on Connection > Use obfsproxy in Settings.
This tool masks your VPN traffic, making it look 'normal' to web censors. Sadly, it is not available on iOS or Android.
Security & Technical Features
Good choice of protocols & many security features
| Protocols | Available in IVPN |
| --- | --- |
| IKEv2/IPSec | Yes |
| L2TP/IPSec | Yes |
| OpenVPN (TCP/UDP) | Yes |
| WireGuard | Yes |
| Encryption | Available in IVPN |
| --- | --- |
| AES-128 | No |
| AES-192 | No |
| AES-256 | Yes |
| Blowfish | No |
| ChaCha20 | No |
| Security | Available in IVPN |
| --- | --- |
| DNS Leak Blocking | Yes |
| First-party DNS | Yes |
| IPv6 Leak Blocking | Yes |
| Supports TCP Port 443 | Yes |
| VPN Kill Switch | Yes |
| WebRTC Leak Blocking | No |
| Advanced Features | Available in IVPN |
| --- | --- |
| Ad Blocker | Yes |
| Dedicated IP | No |
| Double VPN | Yes |
| Smart DNS | No |
| Static IP | No |
| SOCKS | Yes |
| Split Tunneling | Yes |
| Tor over VPN Server | No |
| Tracker Blocker | No |
All the VPN apps provide a choice of four protocols: OpenVPN, WireGuard, IPSec, and IKEv2. The latter two require some manual configuration, but you'll be fine just using OpenVPN or WireGuard.
In addition, all VPN connections are secured using the 'unbreakable' AES-256 cipher.
Reliable Kill Switch
IVPN's 'firewall' (VPN kill switch) feature is a must-have tool. It blocks all your web traffic in the event of a VPN connection drop. This avoids your true IP address from being exposed. It's available on Windows, macOS, Android, and iOS.
Tracker Blocker Tool
As well as first-party DNS servers, which prevent your IP address from being exposed to third parties, IVPN also provides protection against DNS and IPv6 leaks. As a bonus, it has built-in ad- and tracker-blocking.
Multi-hop Servers
Here's a video showing you how to use IVPN's double VPN servers: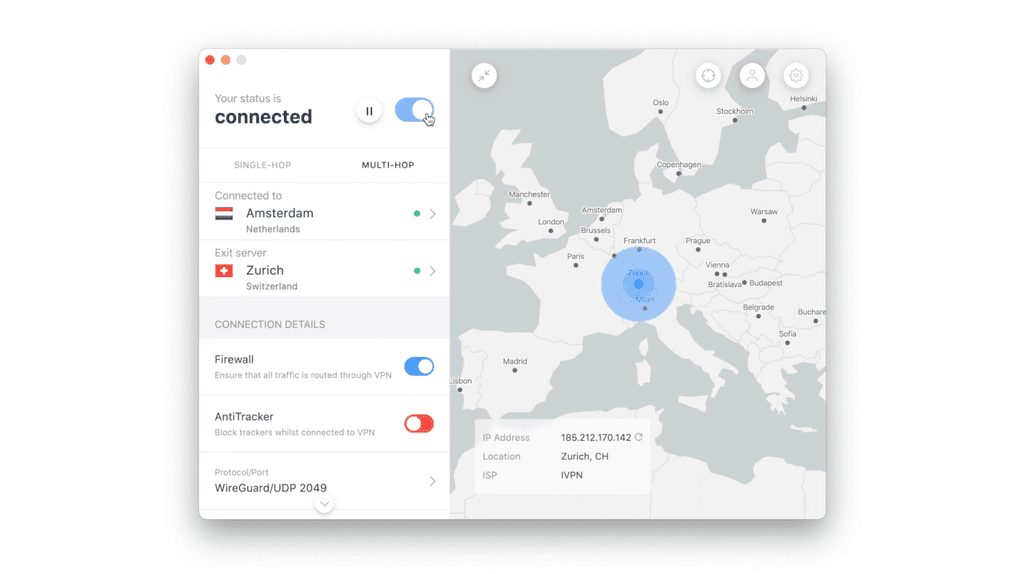 IVPN's Multi-hop feature offers an extra layer of security by rerouting your connection through multiple servers in different countries. This means that even if the exit server were to be compromised, your online activity remains private.
Split Tunneling
IVPN's desktop apps and Android app allows split tunneling, so you can route privacy-sensitive apps through the VPN, and others through your general internet connection.
Two-Factor Authentication and QR Code Mobile Login
We're pleasantly surprised to see IVPN has implemented two extremely rare login features to improve account security and ease of use on mobile.
As you can see in the image above, from the client area on IVPN's website, you can turn on two-factor authentication to protect your VPN account.
In VPN Accounts, IVPN has generated a login QR code, which you can scan on your mobile to quickly login to the mobile app without needing to type in your details.
Third-Party Security Audit
IVPN's security credentials are verified by a yearly scheduled third-party security audit by Cure53. Much to our delight, IVPN has made the full report accessible by publishing it online.
A security audit allows a VPN service to verify its security claims with hard, indisputable facts. For example, just how 'unbreakable' is IVPN's implementation of the AES-256 cipher? A security audit tests that.
To ensure the validity of the audit, it's key that a reputable third party carries out the audit. It's also important that the results of the audit are made public.
IVPN's most recent security audit was completed in March 2022 by renowned German cybersecurity company Cure53. The security company spent a total of 13 days conducting penetration tests and source code audits against IVPN's iOS app, Android app, Electron app and Daemon.
A total of eight vulnerabilities (one high risk, six medium, and one low) were discovered. Seven of these have already been resolved. The last one remaining is complex and IVPN has stated it is "committed to finding a solution."
Another 12 miscellaneous issues were found, of which nine have been resolved and three have been deemed low risk and accepted.
Open-Source VPN Apps
As part of its re-energized commitment to privacy, security, and transparency, IVPN has published its code onto GitHub — becoming one of very few VPNs whose apps are open-source.
Simply, this just means that IVPN is opening itself to a development model where anyone can contribute to its software and apps.
Last but not least, IVPN's apps are open-source. This allows the larger security community to forensically inspect the various apps. By giving access to the code base, IVPN is being very transparent to how its VPN clients work, and how they safeguard privacy and security.
This is a great move from IVPN, and more VPN providers should follow its lead.
Device & OS Compatibility
Works on most devices, but no browser extensions
Apps
Windows

Mac

iOS

Android

Linux

Router
IVPN performs well for device compatibility. You're also allowed up to seven simultaneous connections (with the Pro plan), which is above the industry average. Here's a table showing the differences between IVPN's apps:
What's more, you can also set up the VPN on a number of compatible routers, including DD-WRT, pfSense and Tomato. To do this, use the IVPN's Help Center.
Word of warning: setting up a VPN on a router is not for beginners.
IVPN Desktop Apps: Windows and macOS
We're pleased to see that IVPN's Windows and macOS apps are completely identical, which is rare in a VPN. Often there will be certain features that are missing on one platform.
Following a recent update, IVPN has a sleek new look that's user-friendly, modern, and simple.
We like that the homepage features single-hop and multi-hop servers, your selected protocol, WiFi network, and toggles to turn on and off the kill switch (Firewall) and ad blocker (AntiTracker).
In the server list, you can choose between the fastest server, a random server, and your favorites. There's a search bar if you're looking for a specific country. You can also sort by city, latency, and proximity to your location.
Previously, you had to disconnect every time you changed servers. We're glad to see you can now click on the next server, without having to disconnect.
IVPN Mobile Apps: Android and iOS
IVPN has a consistent design across desktop and mobile. As you can see in the image above, the Android app homepage features almost all the same information and settings as the desktop apps.
IVPN's Android and iOS apps also have a split screen, on one side showing a map with where you're connected or location. The other side show is showing whether you are connected, with a toggle to disconnect when needed, single-hop servers, multi-hop servers, and which server you are currently connected to.
IVPN's Android and iOS apps have almost all the advanced features offered on desktop. Both mobile apps have a kill switch, multi-hop, ad blocker, and offer custom DNS.
Games Consoles & Streaming Devices
Apple TV

Amazon Fire TV

Chromecast

Nintendo

PlayStation

Roku

Xbox
IVPN is not the best VPN to use on games consoles or streaming devices like Fire TV Stick and Apple TV.
That's because there's no native Firestick VPN app, and no Smart DNS tool, either.
But, there are options if you want to use IVPN with your games consoles and streaming devices.
The simplest way is to configure the VPN on your home router (see section above). This will protect all the devices that connect to it in your home.
You can also configure some devices with the OpenVPN software. Currently, IVPN only provides guides to do this with Kodi and Fire TV Sticks.
The final option is to connect your games console, or streaming device, to another device running the VPN. However, this isn't guaranteed to work for all devices.
Ease of Use
Easy to use app with lots of advanced features
IVPN's desktop apps are modern, simple, and easy-to-use. Within the settings menu you can choose your kill switch preferences, toggle between UDP and TCP, and choose your preferred port. There is also a handy section for configuring OpenVPN parameters, ideal for the more tech-savvy user.
The Android and iOS apps are very user-friendly and modern-looking, too, and they both connect quickly.
Customer Support
Helpful live chat & excellent resources
| Customer Support | Available in IVPN |
| --- | --- |
| 24/7 Live Chat Support | No |
| 24/7 Email Support | No |
| Chatbot | No |
| Live Chat Support | Yes |
| Email | Yes |
| Email Support via Online Form | No |
| Tutorial Videos | No |
| Online Resources | Yes |
The only way IVPN could make its support any better would be if its live chat were available 24/7. As it stands, live chat support is only available at random times of the day. Other than that we have no serious complaints.
We submitted a ticket and received a response an hour later. support agents respond promptly and pleasantly, volunteering useful information where they can – so long as the service is online when you need it.
In the event that support doesn't have the answers, you can find a wealth of useful and well-presented information on the IVPN knowledge base.
You can also talk with other users or directly with customer support on IVPN's reddit community. If you want complete privacy when contacting customer support, you can also use a PGP key to get into contact with IVPN.
Price & Value
IVPN Pro is good but expensive
IVPN offers two pricing plans: IVPN Standard and IVPN Pro. The Pro tier gives you: seven concurrent connections, port forwarding, as well as multi-hop and anti-tracker features.
On the other hand, the Standard plan only allows just two simultaneous connections, and only offers the anti-tracker as an extra feature. It does only cost $6.00 per month on a rolling plan, which is a decent price. Especially, if you only want to try out the VPN.
Here are the full pricing options:
Payment & Refund Options
Here are the payment methods that IVPN accepts:
Bitcoin

Cash

Mastercard

Monero

PayPal

Visa
IVPN does not offer a free trial. However, it does have a 30-day money-back guarantee for all customers. This means you can get a full refund if you request it within one month of account activation.
IVPN accepts the usual payment methods including most credit/debit cards and PayPal. You also have the option to pay with Bitcoin and Monero. However, there are no international options like Alipay or UnionPay.
Other than Mullvad VPN, IVPN is the only other VPN service to allow cash payments. IVPN accepts USD, EUR, and GBP, but it can take up to 10 days to process the payment. Also, you have to sign up to an annual plan to pay with cash.
The Bottom Line
IVPN is recommended for privacy
IVPN is a good choice if you prioritize privacy and security. It does the basics extremely well, using AES-256 encryption, secure protocols such as OpenVPN and WireGuard, and a no-logs policy that rivals the very best VPN services.
IVPN's range of custom apps are ideal for beginners, but also offer enough customization options for more experienced VPN users.
However, IVPN failed to consistently unblock any of the most popular streaming services in our testing and its mediocre speeds are frustrating.
We only recommend IVPN if anonymity is of the utmost importance, or if you just want a relatively cheap VPN service.
Alternatives to IVPN
Private Internet Access
Want more IP addresses? Then consider using PIA. There are more than 17,000 IP addresses available, spread across 84 countries around the world. Read Private Internet Access review
PrivateVPN
PrivateVPN excels when it comes to two of IVPN's major flaws. It's very affordable, and it's one of the best VPNs for streaming. Read PrivateVPN review
---
User Feedback for IVPN
Questions & User Reviews are shown in the original language of submission.