Disclosure: Top10VPN.com is reader-supported. We may earn commissions if you buy a VPN through links on our site.
Our Verdict
Mullvad is a fast, anonymous and secure VPN that allows torrenting and P2P traffic on every server. While it's a good VPN to use with PC, Mac and iOS devices, it doesn't have an Android app, which is a shame. Also, it's not a good VPN for streaming as it won't unblock Netflix or BBC iPlayer.
On its website Mullvad states that "privacy is a universal right," but does this VPN service do enough to protect you? We put Mullvad's VPN applications through our rigorous and extensive tests to find out.
In this detailed Mullvad VPN review, you'll find all the information you need about this Swedish VPN service, including:
Is Mullvad a good VPN?

Who really owns Mullvad?

Is it as private as it claims to be?

Does it work with Netflix?

Does Mullvad allow

 torrenting?
Let's begin our review by highlighting Mullvad's main pros and cons below:
Mullvad VPN Pros & Cons
Outstanding speeds
A great VPN for torrenting
Minimal-logging policy
Advanced security features
Easy-to-use desktop app
Unreliable access to Netflix & BBC iPlayer
Small server network
Support is slow and limited
No custom Android app
Mullvad VPN Key Summary
| | |
| --- | --- |
| Data Cap | Unlimited |
| Speed | 86Mbps |
| Logging Policy | Anonymous Server Usage Data |
| Data Leaks | No |
| Jurisdiction | Sweden (14-Eyes Member) |
| Servers | 760 |
| IP Addresses | 439 |
| Countries | 35 |
| US Netflix | Yes |
| Torrenting | Unlimited |
| Works in China | No |
| Support | Email & Online Resources Only |
| Cheapest Price | $5.80/mo |
| Official Website | Mullvad.net |
Now that you've seen Mullvad's benefits and drawbacks, plus some of its key features, lets take a close look at Mullvad's VPN speeds.
Who is Mullvad VPN?
About & Logging
Mullvad VPN is owned by Amagicom AB and run by its CEO Jan Axel Jonsson. It's incorporated in Sweden, a nation which belongs to the 'Fourteen Eyes', an intelligence alliance made up of 14 countries who collect and share mass surveillance data.
This is a red flag, but Mullvad has a minimal-logs policy and no data requested by the authorities can be linked back to an individual user.
We say it's Mullvad will keep you private (more on this further down).
Logging Policy
Mullvad shows a clear dedication to privacy, with a minimal-logs policy that only collects anonymous connection metadata relating to server usage. 
No personal details are needed to create an account, and you are simply assigned a randomly-generated account number, further protecting your identity. 
Mullvad VPN does not log any traffic, user bandwidth, or originating IP addresses. Mullvad does monitor a user's total number of simultaneous connections, but this data is never stored.
Mullvad does collect some anonymous usage stats, such as CPU load per core and total bandwidth used per server, which is used to maintain reliable server performance. This data is stored indefinitely, but it won't affect your privacy since it cannot possibly identify you.
Mullvad's privacy policy is as close to zero-logs as you can get without potentially jeopardizing performance.
Outstanding speeds, one of the best
Speed & Reliability
Mullvad VPN's speeds are exceptional – it's extremely quick and very consistent. 
Local Speed Test Results
Before using Mullvad VPN:
91

93

Ping

ms

3
When connected to Mullvad VPN:
86

88

Ping

ms

14
Download speed without Mullvad: 91Mbps
Download speed with Mullvad: 86Mbps
Our download speed loss when Mullvad is running: 6%
As you can see, when connecting to nearby servers, the speed loss is minimal.
There's almost nothing you can't do with these speeds.
We put all the VPNs we review through a detailed speed testing process, to work out the average connection speeds from different locations around the world.
These are the download and upload speeds for these popular countries:
USA: 44Mbps (download) & 85Mbps (upload)
Germany: 83Mbps (download) & 90Mbps (upload)
Singapore: 38Mbps (download) & 76Mbps (upload)
Australia: 38Mbps (download) & 8Mbps (upload)
We were very impressed with speeds connecting out to the US East Coast from the UK, which is more than enough for HD streaming. The same applies to Australia and Singapore too, reaching above-average speeds for such distant connections.
We were particularly impressed by Mullvad's exceptional upload speeds on local connections, making it a great choice for P2P users. 
So what's the catch?
Well, latency is a let down in comparison. Mullvad's ping reached 23ms for Germany and 14ms for UK – which was the lowest ping we recorded (which isn't very low), and that was connecting to a server within the same city as us.
For this reason, we can't recommend Mullvad for avid gamers. Instead, we recommend these gaming VPNs.
We also experienced a few connection drops during our testing, particularly when selecting a city-level server rather than connecting to a country, which was frustrating.
Thankfully Mullvad's VPN kill switch kicked in each time to ensure our true IP address wasn't exposed and this seems to happen less and less.
How Fast is Mullvad Compared to Other VPNs?
The graph below shows us exactly how Mullvad's speeds compare against other top VPNs. This is calculated by our custom speed test tool, which gives us objective numbers based on average download speed loss against a capped 100Mbps connection. 
The tool works by running VPN speed tests automatically four times a day, seven days a week on our New York server. With eight-weeks of results shown, you can see just how reliable Mullvad's speeds are in the long-run. There's no room for human error or third-party websites – we report the numbers as they come to us.
The graph shows us that Mullvad's average download speed loss is minimal, which is good news. It never dips below 12-13% throughout an eight-week period and it's relatively consistent in its performance. Compared to Private Internet Access and ExpressVPN, for which there are dips and rises, Mullvad is delivering very reliable speed.
Mullvad is even more reliable when it comes to ping. Throughout the entire eight-week period Mullvad's latency only ever sat between 2.26ms (lowest) and 2.38ms (highest). This shows astonishing consistency, and means you can game and video chat without lag.
For speed loss, it's not matching NordVPN, which is the runaway leader. NordVPN very rarely dips below 5% speed loss, which is an excellent result. However, in recent weeks Mullvad has been steadily rising to challenge the lead. As it stands, although it's not the best, Mullvad is competing with the very best on the market.
Limited server list
Server Locations
35
Countries
58
Cities
439
IP Addresses
Mullvad only operates VPN servers in 35 countries. This is a narrow range.
Most of these countries are located in Europe, so Mullvad may not be the best choice for users located elsewhere. If you're located outside of Europe, you might find the best suited VPN service for you to be NordVPN – we've reviewed it here.
Mullvad VPN currently operates a decent 760 servers, but with just one IP address per server users may experience slower speeds during times of high congestion. Thankfully, this hasn't been the case during our testing experiences. 
It's good that Mullvad allows the user to access city-level servers in six countries, with an impressive 13 cities in the US. 
Also, there are six city locations across Australia:
Adelaide

Brisbane

Canberra

Melbourne

Perth

Sydney
Many VPNs only cover Melbourne and Sydney, so it's great to see all these Australian cities in Mullvad's server network.
However, other regions are not so lucky – South America (Brazil) and Africa (South Africa) only count one country each.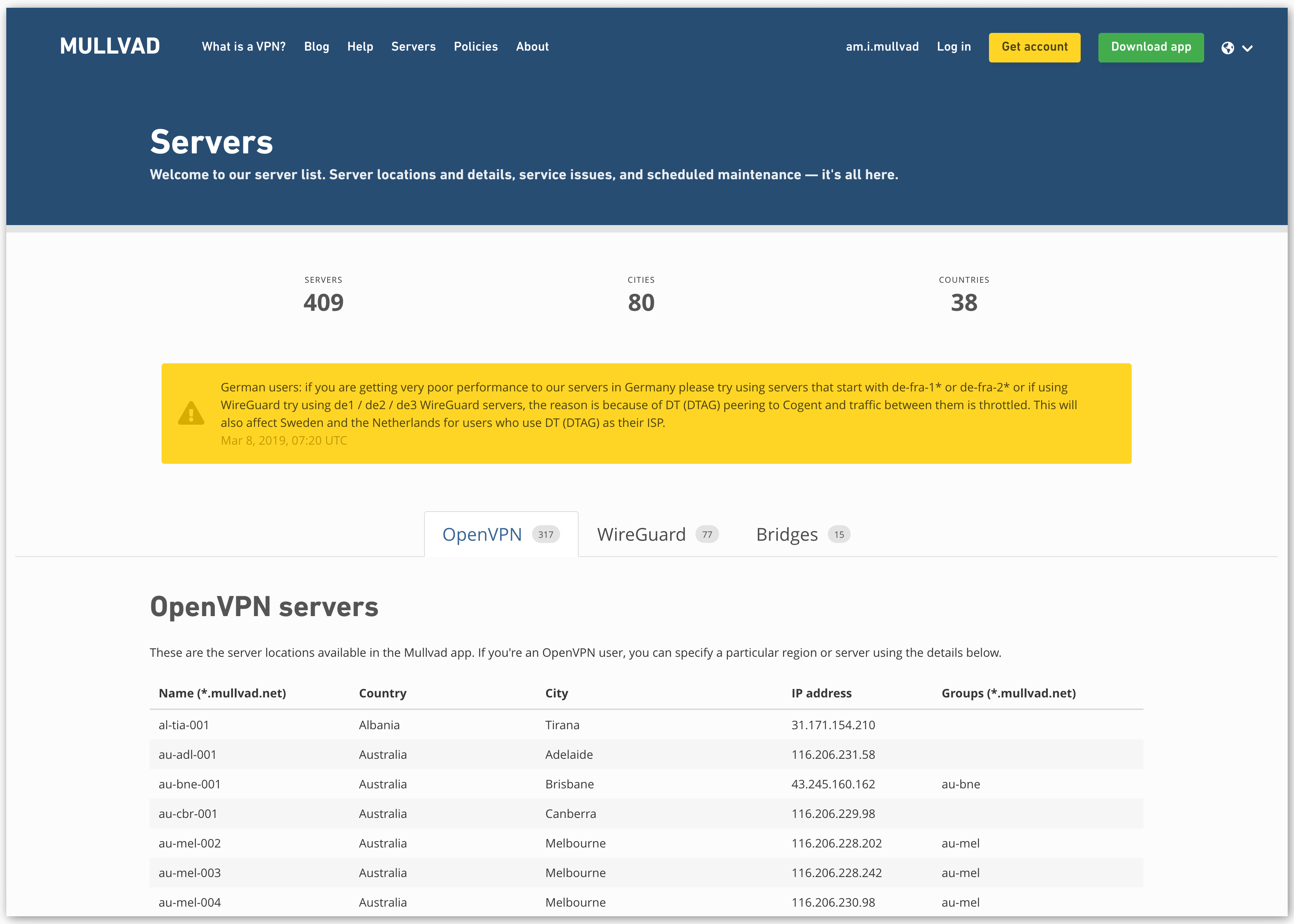 Mixed results, but currently unblocks Netflix US
Streaming & Torrenting
We've had mixed results with Mullvad in our streaming tests. 
It has, in the past, unblocked both Netflix and BBC iPlayer. However, our most recent tests failed to unblock BBC iPlayer on either its London or Manchester server.
Mullvad doesn't have any dedicated streaming servers, so we tested each and every US server location to see which ones work with US Netflix.
Frustratingly, we only managed to watch American Netflix with the Charlotte and San Jose servers.
These US Mullvad servers didn't work with Netflix:
Atlanta

Boston

Chicago

Dallas

Denver

Honolulu

Jackson

Los Angeles

Miami

Milwaukee

Minneapolis 

Oklahoma City

Philadelphia

Phoenix 

Piscataway

Portland

Richmond

Salt Lake City

San Francisco

Seattle

Secaucus 

Sioux Falls

St. Louis
Honestly, you should consider using better streaming VPNs for watching Netflix and for BBC iPlayer.
Torrenting
Mullvad VPN allows torrenting and P2P activity on all of its servers.
Mullvad is a secure and reliable option for torrenters, thanks to its fast and reliable speeds, minimal logging and a range of privacy features, including a built-in kill switch.
Mullvad VPN has even created a guide to use BitTorrent with the VPN.
No guarantee to work in China
Censorship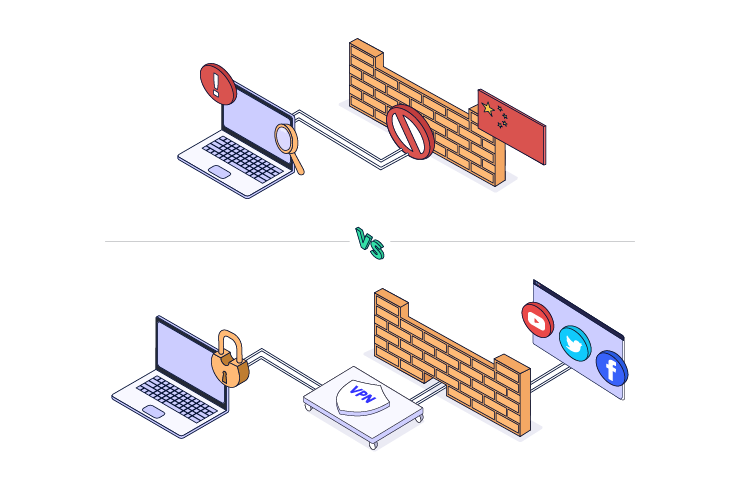 Due to China's recent crackdown on VPN providers, we can't recommend Mullvad as it often simply won't work. 
However, customer support suggests using the Shadowsocks proxy to bypass censorship. It's not as secure as a VPN connection and should be avoided if privacy is your priority.
There are also claims that the WireGuard protocol works in China, which is worth trying, although it is not guaranteed to work. 
Away from China, Mullvad is unlikely to work in other high-censorship countries, such as Turkey, Iran, UAE, Russia and Saudi Arabia. 
If you need a VPN that works in highly censored nations, then choosing a VPN service such as VyprVPN is a safer bet.
Lack of mobile apps is disappointing
Platforms & Devices
Apps
Mullvad VPN provides user-friendly custom apps for:
Microsoft Windows

MacOS

Linux

iOS
Mullvad launched an app for iOS in April 2020, meaning you no longer have to manually configure your devices with the OpenVPN software.
At least iPhone users don't; Android users are still waiting on the roll out of a custom Mullvad app. That's frustrating for people wanting a quick and easy VPN setup on their Android mobile.
There is, however, an early access version available via the Google Play Store that you can download and provide feedback for.
Until then, mobile users should see our Android VPN recommendations.
Games Consoles & Streaming Devices
AppleTV
Amazon Fire TV
Chromecast
Nintendo
PlayStation
Roku
Xbox
Mullvad VPN doesn't provide custom apps for games consoles and streaming devices. 
One method to use Mullvad with your gaming consoles or streaming devices is to 'piggyback' off the VPN connection from another device that is already running the Mullvad app (such as a desktop computer). 
Mullvad generously allows five simultaneous connections, so you can protect all your own devices and your family members' too.
Alternatively, you can install Mullvad VPN on your router (check whether it's compatible) and connect your home devices to it. This means that every internet-connected device in your home will be protected by the VPN, without having to install individual VPN apps to each one.
Browser Extensions
Mullvad doesn't make available any VPN browser extensions. 
If you like using browser add-ons, other top VPN providers have great VPN extensions – see our best VPNs for Chrome and best VPNs for Firefox for more information.
Plenty of security features
Encryption & Security
Protocols

OpenVPN (TCP/UDP)

WireGuard

Encryption

AES-256

Security

DNS Leak Blocking

First-party DNS

IPV6 Leak Blocking

Supports TCP Port 443

VPN Kill Switch

Advanced features

SOCKS

Split Tunneling
Please see our VPN Glossary if these terms confuse you and would like to learn more.
The Mullvad VPN apps have many extra security features and are a great choice for anyone seeking top-level privacy.
Encryption is via top cipher AES-256 and you can also choose between two VPN protocols: OpenVPN and WireGuard. Using WireGuard with Mullvad used to require manual configuration, but they've recently incorporated it into most of its apps, including MacOS, Android, iOS and Linux. Mullvad's mobile apps only use WireGuard. 
Windows users still need to manually configure to use WireGuard, but Mullvad have promised an update to amend that in the near future.
The built-in VPN kill switch, which prevents your true IP address from being exposed should the connection drop, is a must-have and we like that it doesn't require manual activation like some other VPNs do. 
All of Mullvad VPN's servers have SOCKS5 proxy connections enabled as back up (in case you forget to turn on the VPN app), but you will have to configure your web browser accordingly. For more information, we like Mullvad's guide to its SOCKS5 proxy.
Mullvad also offers integrated DNS leak protection and operates its own DNS servers, meaning your web traffic isn't routed through potentially less secure third-party servers.
WebRTC leaks on the Chrome browser have been a common issue and Mullvad recommends using Firefox instead, but we didn't pick up any leaks in our tests, as you can see:
Mullvad VPN also provides split tunneling, which allows you to route sensitive data through the VPN and other data (like programs and apps) through your normal internet connection. This can help with any connection issues that might arise with online programs and games.
Mullvad was included in a report by the CDT (Center for Democracy & Technology) investigating the 'Signals of Trustworthy VPNs', in which it revealed the extra steps it takes to ensure user privacy. This includes developing its apps in Rust, a programming language made for building secure programs, and also using code signing for app and server code.
Nice apps, easy to use
Ease of Use
How to Install & Set Up Mullvad VPN
Mullvad VPN has a sleek and simple desktop client for Windows, Mac and Linux users. The main screen is clutter free, displaying only your connection status and selected server.
When connected, the banner at the top turns green and the app reads 'secure connection'. A red banner indicates that the VPN is not connected. The app disappears in your toolbar whenever you click elsewhere, which is annoying.
Changing VPN server location is simple and is done by clicking 'Switch Location' on the main screen – you can drill down to city level in some locations and even choose a specific server.
The main settings are located in the top right corner, but there is no access to many of the advanced features, such as split tunneling, which require manual configuration. The app's advanced settings only allow you to toggle between UDP and TCP and select your preferred port.
Our biggest gripe about Mullvad's usability is that there are no mobile VPN apps. You can only manually configure your device with OpenVPN. This makes it harder to recommend Mullvad VPN to VPN beginners.
Limited customer support
Customer Support
| | |
| --- | --- |
| Email | Yes |
| Online Resources | Yes |
Mullvad VPN currently has no live chat feature and the speed of email replies is variable, from a couple of minutes to 12 hours, which is frustrating if you need quick answers.
However, the customer support agents were friendly and helpful when they did reply.
Should you have any urgent queries, most answers can be found in Mullvad's comprehensive FAQs, guides and blog. There's no search function, though, meaning you may have to look through a few different articles before you find what you're after.
No contracts – a pay-as-you-go VPN
Pricing
Mullvad VPN Pricing Plan
Unlike most VPN providers, Mullvad VPN offers no longer-term subscription plans or discounts for longer-term contracts. You pay one monthly price and 'top up' for however long you want to use the VPN service.
For just $5.80 a month, Mullvad is a relatively cheap VPN provider, considering you aren't tied in for 12 months or more. If you want to pay even less per month (by subscribing to a longer-term plan) we suggest choosing a VPN service like Surfshark, ZenMate, or Private Internet Access.
All plans have 30-day money-back guarantee
Mullvad VPN accepts most standard forms of payment, such as:
Credit/debit card

Bitcoin 

Bitcoin Cash

Bank wire

Swish
Other popular international payment methods, such as Alipay, aren't yet available.
Mullvad is one of the very few VPN providers that allow you to pay in cash, which is great for those seeking total anonymity. Just mail it an envelope containing an amount of money, in any currency, along with your account number and it will top up your account accordingly.
Do We Recommend Mullvad VPN?
The Bottom Line
Mullvad is popular for a reason: it's a fast, secure VPN that's easy to use – we recommend it off the strength of all that alone.
It's not perfect, though – it's great for torrenting, but it doesn't work well with Netflix or BBC iPlayer.
And, we've had issues with slow customer support in the past.
If none of that bothers you, though, then Mullvad is a solid option, otherwise take a look at the two VPN alternatives below.
Alternatives to Mullvad VPN
ExpressVPN
ExpressVPN excels where Mullvad struggles: it's based in a secure jurisdiction, has exceptional customer support, and is always reliable for streaming. Read ExpressVPN review
CyberGhost
CyberGhost is the best value for money on the VPN market right now. Mullvad is pretty expensive for what it offers - we think CyberGhost is a smarter purchase. Read CyberGhost review
---
User Feedback for Mullvad VPN