Mullvad VPN Review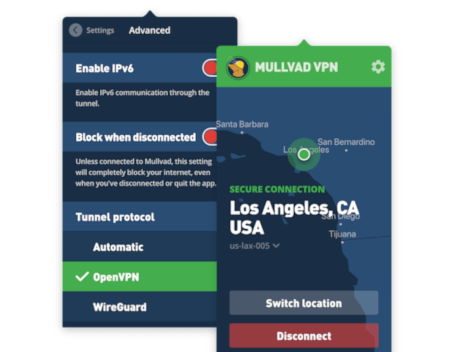 Privacy & Logging Policy
Minimal Data Logged & No Email Required
Here's a summary of what we check for in a privacy policy – Mullvad logs none of it.
| Data Type | Logged by Mullvad VPN |
| --- | --- |
| Browsing Activity | No |
| Device Information | No |
| DNS Queries | No |
| Individual Bandwidth Usage | No |
| Individual Connection Timestamps | No |
| ISP | No |
| Number of Simultaneous Connections | No |
| Originating IP Address | No |
| Account Information | No |
| VPN Server IP | No |
| VPN Server Location | No |
| Date of Last Connection | No |
Mullvad's privacy policy is clear: it does not log any traffic, user bandwidth, or your originating IP address. It used to log metadata relating to server usage, but it has since abandoned that.
Mullvad VPN does not ask for an email address or any other information in order to create an account. Instead, it gives you a random account number that you use to activate your VPN.
Mullvad doesn't even run subscriptions anymore. Instead, it runs a one-time payment model so that it need never store any data regarding its users.
This is unique to Mullvad and shows how much it values customer privacy. Just don't lose the account number.
Mullvad's privacy guarantee was proven when, in May 2023, Swedish authorities raided Mullvad's offices and no user data could be extracted.
Sweden (EU) Jurisdiction Is Not Ideal
Mullvad is based in Sweden, which means it has to follow the EU's General Data Protection Regulation (GDPR) law. There are serious privacy implications to an EU jurisdiction: Mullvad is obliged to collect your payment information should you pay via bank wire, PayPal, Swish, or Stripe.
Here's what Mullvad knows based on your payment method:
Bank wire: your name, address, bank account number and Mullvad account number.
PayPal: transaction-ID, your name, country of origin, email address.
Swish: Swish-ID, name, phone number.
Stripe: Stripe charge ID, expiration date, last four digits of the card, card type, and origin country.
As you can see, if you pay via bank wire your Mullvad account number is associated with personally-identifiable information. For this reason, Mullvad warns against paying for its service through bank wire. It states:
"Please avoid making payments through bank wire if you do not want your Mullvad account to be traceable to you."
For maximum privacy, Mullvad allows subscribers to pay via Bitcoin and even cash. We like that Mullvad is transparent about this and warns potential subscribers, and suggests a way around it.
The only other data Mullvad collects is the content of emails and problem reports that you send, as well as the email address you use. Mullvad advises you to refrain from entering personal data when contacting support.
While Mullvad does receive information requests about its users, it has no information to provide. Mullvad told us:
"We frequently get requests regarding IP-addresses and if we know which user was using it at a certain time. Since we do not have any VPN activity logs, they get very similar responses […] that we have no information that could help their investigation, and that all our IP-addresses are shared by our users."
Who Is Behind Mullvad VPN?
Mullvad VPN is owned by Swedish company Amagicom AB and run by its CEO, Jan Axel Jonsson. The owners and sole shareholders of Amagicom AB are Fredrik Strömberg and Daniel Berntsson, who describe themselves as "idealists." The company is based at Engelbrektsgatan 28, 411 37 Göteborg, Sweden.
As more VPNs get acquired and consolidated under larger companies like Kape Technologies (owner of ExpressVPN , CyberGhost), Ziff Davis (IPVanish, StrongVPN, SaferVPN), and Cyberspace (NordVPN, Surfshark, AtlasVPN) Mullvad remains an independent VPN service provider and the owners "are not interested in ever selling it."
Security & Technical Features
Extensive Security Within a User-Friendly Package
| Protocols | Available in Mullvad VPN |
| --- | --- |
| IKEv2/IPSec | No |
| OpenVPN (TCP/UDP) | Yes |
| WireGuard | Yes |
| Encryption | Available in Mullvad VPN |
| --- | --- |
| AES-128 | No |
| AES-192 | No |
| AES-256 | Yes |
| Blowfish | No |
| ChaCha20 | No |
| Security | Available in Mullvad VPN |
| --- | --- |
| DNS Leak Blocking | Yes |
| First-party DNS | Yes |
| IPv6 Leak Blocking | Yes |
| Supports TCP Port 443 | Yes |
| VPN Kill Switch | Yes |
| WebRTC Leak Blocking | No |
| Advanced Features | Available in Mullvad VPN |
| --- | --- |
| Ad Blocker | Yes |
| Dedicated IP | No |
| Double VPN | Yes |
| Smart DNS | No |
| Static IP | No |
| SOCKS | Yes |
| Split Tunneling | Yes |
| Tor over VPN Server | No |
| Tracker Blocker | No |
Mullvad's VPN apps have lots of extra features and have been audited for safety, ideal for high levels of internet security.
Two Safe Protocol Options
Mullvad has OpenVPN and WireGuard protocols available on almost every platform (Android only offers WireGuard). We like that it's left out protocols like PPTP and IKEv2, using only the two best security protocols in town, because we don't recommend using any other.
Mullvad actually donated money towards the development of the WireGuard protocol and was one of the very first VPNs to implement it, which has since become industry practice. Even Mozilla VPN and Malwarebytes Privacy use Mullvad's trailblazing WireGuard servers.
Under Advanced in the settings menu, there are additional settings for each protocol. For WireGuard you can enable multi-hop VPN servers for double protection, or change your port. You can also choose between IPv4 and IPv6 connections, or stay with automatic.
For OpenVPN, you can choose between UDP and TCP connections and enable Bridge Mode, which is Mullvad's anti-censorship obfuscation technology.
It's a shame that Bridge Mode isn't available on WireGuard and multi-hop isn't available on OpenVPN.
Split tunneling, which lets you decide which programs should use the VPN connection and which ones shouldn't, is also only available on Windows, Android, and Linux.
Automatic Kill Switch & VPN-Only Option
Mullvad has an in-built kill switch, so it's always running, ready to stop your entire internet connection should the VPN connection drop, and you cannot turn it off.
Many VPNs make the kill switch optional, or have it off by default (like Surfshark). We like Mullvad's approach because it prioritizes security and guarantees no accidental exposure of your real IP address.
Mullvad also has something called Always Require VPN, which is an optional feature that also works like a kill switch. Unlike the normal kill switch which only works once your VPN tunnel is activated, Always Require VPN blocks your internet connection until you connect to Mullvad.
This is useful if you're someone who forgets to turn your VPN on. It also means Mullvad has double kill switch protection: an automatic one to protect you from accidental VPN connection drops, and an optional one to kill your internet until you are connected to the secure VPN tunnel.
Mullvad's iOS kill switch is always running in the background, but to use the kill switch on Android you have to adjust your Android device network settings and activate Always-on VPN or Block connections without VPN. This is an inconvenience and should be integrated within the app as a matter of importance.
Working Ad, Tracker & Malware blocker
Under Preferences, you can find toggle options to launch the app on start up and auto-connect, as well as activate ad, tracker, and malware blockers.
Mullvad doesn't have the best VPN ad blocker we've tested, but it does block the majority of social and analytic trackers, and some pop-up ads. It's worth toggling on, but it's not as effective as a proper ad blocker like uBlock Origin.
Full IPv6 Support
Mullvad supports IPv6 connections on its VPN servers even if your ISP doesn't yet support it.
Many VPNs deal with IPv6 incompatibility (and subsequent leaks) by simply blocking IPv6 connections and redirecting you to IPv4. Mullvad is one of only a few VPNs that has found an alternate solution.
Mullvad's Security Features Compared Across Devices
As there are considerable differences between the Mullvad apps, it might be helpful to compare what's available on each platform with the table below:
Speed
Very Fast Speeds On Nearby Servers
We connected to Mullvad's servers on six different continents, using a 100Mbps internet connection similar to the speed you might have at home.
Here's a table showing Mullvad's speed test results:
A 7% difference between our normal internet connection and a VPN-connected internet is very good, but not quite as fast as some other VPN services.
Connecting to Canada we recorded speeds over 95Mbps, which is very good for such a distance. Likewise, we picked up best speeds of 90Mbps connecting to Brazil.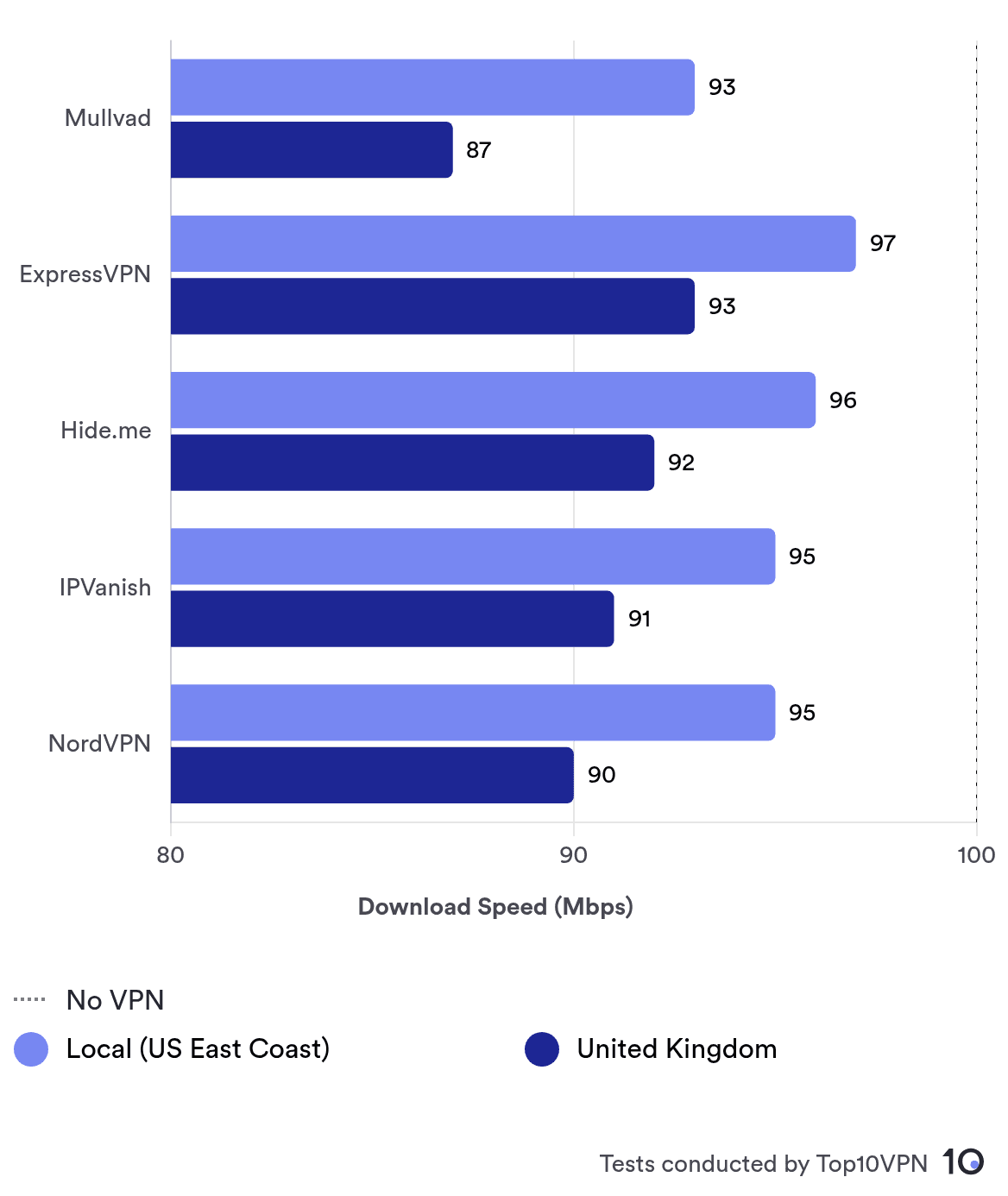 However, download averages of 87Mbps to the UK are a little less impressive. As you can see the chart above, it struggles compared to some popular rival VPNs.
There are better VPNs for long-distance connections, like Hotspot Shield, but we think you'll be satisfied with Mullvad's performance.
Server Locations
655 Servers in 43 Countries
43 Countries
68 Cities
655+ IP Addresses
Mullvad VPN's servers are spread out in the following continents:
| Continent | Number of Countries |
| --- | --- |
| Europe | 31 |
| Asia | 5 |
| South America | 2 |
| North America | 2 |
| Africa | 1 |
| Oceania | 2 |
Mullvad has servers in 43 countries. This isn't as expansive as many VPN competitors. ExpressVPN has servers in 94 countries, for example. Still, most users should be satisfied and speeds are unaffected by server congestion.
Good City-Level Server Options
Mullvad has a good number of city servers across the globe.
You can choose city-level servers in eight countries:
Australia (six cities)
Canada (three cities)
France (two cities)
Germany (two cities)
Japan (two cities)
Serbia (two cities)
Sweden (four cities)
UK (two cities)
US (13 cities)
EXPERT TIP: Some of Mullvad's city locations disappear if you change protocol. For example, Osaka and Marseille are not available when using OpenVPN. You should select Mullvad's automatic protocol for the most city-level options.
The US comes out on top for city-level servers, with 13 choices. This isn't far off the best VPNs for US servers, which typically have between 16-18 city servers.
Australia is also a standout with Adelaide, Brisbane, Canberra, Melbourne, Perth, and Sydney IP addresses all available. Even the best VPN services for Australia usually only have around three or four city options.
However, other parts of the world aren't served anywhere near as well as the US and Australia. South America (Brazil) and Africa (South Africa) only count one country location each. Asia and the Middle East are poorly served, too.
Mullvad Rents Most of Its Servers
Mullvad VPN is helpfully transparent about what sort of servers it operates and exactly how many of them there are (not all VPNs are).
Using the server page on the Mullvad website, you can find out if they are owned by Mullvad or are rented, whether they are 10Gbps or not, and which work on WireGuard or OpenVPN.
Most of Mullvad's servers are rented. This isn't a problem if they are rented from trustworthy companies and Mullvad undertakes a rigorous vetting process. Mullvad claims to do so, and that the servers it rents are not shared with anyone else.
But as Mullvad is so transparent about its infrastructure you can identify and choose to connect to Mullvad-owned servers only. These will be the most secure servers, but the risk to privacy is very low on rented servers too.
All-Physical Server Network
Mullvad operates an exclusively physical server network. This explains why there are so few countries available to connect to.
Virtual servers provide IP addresses from a chosen country even if the server is physically located somewhere else. This is how a VPN like HideMyAss is able to offer IP addresses in almost every country. With Mullvad, though, every single server is located where it says it is.
When it comes to physical vs virtual servers, one approach isn't wholly better than another. But it's generally agreed that physical servers are less vulnerable to cyberattacks.
No Static IP Addresses
Mullvad does not operate static VPN IP addresses, sometimes called dedicated IPs. This means that you'll never be assigned the same IP address twice, which is great for privacy.
But it also helps to explain why Mullvad is so bad at unblocking streaming services: static IP addresses appear more like normal internet traffic compared to dynamic IP addresses.
Streaming
Mullvad Fails to Unblock US Netflix, BBC iPlayer & More
Here are the few streaming services we found Mullvad worked to unblock:
| Streaming Platform | Works with Mullvad VPN |
| --- | --- |
| Channel 4 | Yes |
| Amazon Prime Video | Yes |
| BBC iPlayer | No |
| Disney+ | No |
| HBO Max | Yes |
| Hotstar India | No |
| Hulu | No |
| ITVX | No |
| Netflix US | No |
| YouTube | No |
If you want to know if Mullvad works with a streaming service that's not listed above, ask us at hello@top10vpn.com and we'll test it for you.
Mullvad doesn't unblock streaming sites and doesn't pretend to. It no longer works with Netflix and it hasn't bothered to develop any streaming-optimized servers or an app for Amazon Fire TV Stick.
We tested it on all the major streaming sites and recorded very little success. Only Amazon Prime Video (US), HBO Max, and Australia's version of Netflix became available to us outside those regions. It won't bypass Hulu blocks.
Like with Astrill VPN, it's fair enough that Mullvad is focused on privacy. But a VPN can do both. We'd love to see Mullvad expand into unblocking streaming sites, especially unblocking Netflix. Then we can recommend it wholeheartedly.
Torrenting
P2P Servers & Fast MiB/s Downloads
Here's a quick summary of showing how Mullvad VPN performed in our torrenting tests:
| Torrenting Attribute | Result |
| --- | --- |
| Average Download Bitrate | 9.8MiB/s |
| No. of P2P Servers | 655 |
| Logging Policy | No Identifying Data |
| Kill Switch | Yes |
| Port Forwarding | No |
Mullvad is a top torrenting VPN. All of its servers are optimized for P2P activity. Some VPNs, like TorGuard, now ban popular torrenting websites, but Mullvad still has no restrictions in place.
We tested Mullvad VPN on safe torrent clients like qBitorrent to see how it performed as a torrenting VPN. We found that the download speeds were quick and stable; we recorded an excellent average torrenting bitrate of 9.8MiB/s.
While Mullvad wasn't as fast as the best VPNs for torrenting, it is still a fast and private choice – kill switch protection and a safe logging policy make sure of that.
SOCKS5 Proxy Is Available, But Port Forwarding Has Been Removed
SOCKS5 is available on all of Mullvad's servers once you activate it for the application you wish to use it on. This is great for torrenters and even reduces the chance of seeing CAPTCHAs.
However, citing "avenues for abuse," Mullvad no longer allows you to use port forwarding for faster P2P connections. Port forwarding is a useful manual tool for gamers who use VPNs, as it allows you to optimize speeds, change your NAT type, and reduce lag.
Bypassing Web Censorship
Doesn't Work Consistently in China
Mullvad's Bridge Mode works by first connecting you to one of Mullvad's 'Bridge servers', which use the Shadowsocks proxy to avoid fingerprinting, and then connect you into the country you wish to bypass web blocks in.
This technique for bypassing censorship doesn't always work: we tested Bridge Mode on our server in Shanghai and it wouldn't get around the Great Firewall of China, which has the strictest web censorship in the world.
Bridge Mode is more likely to work in countries with less sophisticated censorship technology, such as the UAE, Turkey, and Russia.
Mullvad has servers close to Russia, including Estonia and Latvia, should you need to get around Russian web blocks and access banned websites like Twitter and BBC News.
EXPERT TIP: To enable Mullvad's Bridge Mode and get around web blocks, go to Settings > Advanced > OpenVPN > OpenVPN Settings > Bridge Mode > On. You can then choose your Entry and Exit locations via the locations list.
Device & OS Compatibility
Available On Major Devices Only
Mullvad's Apps
Mullvad VPN has application for all the major devices, including:
Windows

Mac

iOS

Android

Linux

Router
The Mullvad software looks identical across all devices, but the settings are slightly different for each.
Mullvad is one of the best VPNs for Linux because of the simplicity, usability, and effectiveness of its GUI, which is identical to the Windows one.
Five-Device Limit
Mullvad allows you to use the VPN on five different devices at once. This is about as generous as the industry standard, but there are competing VPNs like Surfshark that offer unlimited simultaneous connections and no device limitations at all.
Games Consoles & Streaming Devices
Mullvad does not cater to streaming devices or games consoles like Xbox or PlayStation. While it does have a port forwarding option, it's still not the best VPN for gamers.
The lack of Smart DNS also means that Mullvad isn't the best choice for Apple TV. You can set Mullvad up on your home router, but this process is quite technical. If you really want to, though, we have a guide dedicated to setting up a VPN on your router.
Mullvad's Firefox Extension Isn't a VPN
Mullvad VPN has a browser extension for Firefox that it calls Mullvad Privacy Companion. It's not actually a VPN but it can be used to connect to Mullvad's SOCKS5 proxy servers.
It also works as a WebRTC blocker and tip tool that offers details about your current connection and suggests you install things like uBlock Origin and Cookie AutoDelete.
This is good advice, but we'd like to see Mullvad invest in a fully-fledged VPN service for browsers. Currently, Mullvad's Firefox extension doesn't serve much purpose.
Mullvad's network and infrastructure is actually used by Mozilla for its own VPN. Unsurprisingly, our review of Mozilla VPN found that the two products perform very similarly.
Ease of Use
Mullvad Looks Good & Works Smoothly
Mullvad is one of the more pleasant VPN apps we've encountered. For usability and design, it's excellent, without losing any credIbility as an advanced VPN for technically-minded users.
The app is composed of a simple interface, including a home connect button, a server locations list, and a settings cog. This is all you need.
Going deeper into the settings, there are a few options, including account information, preferences, and advanced settings. Nothing is overwhelming, as can be the case with providers like AirVPN and Windscribe.
Where there are more technical features, Mullvad includes a helpful explainer. But some stuff still isn't obvious, like Mssfix.
20 Languages Available
One thing we appreciated was how you can easily change the language of the Mullvad app. With a click of a button you can switch between 20 languages, making it easier to use for many people across the globe.
The Differences Between Mullvad Apps
However, there are considerable differences between each Mullvad app in terms of what features or tools are available, making it more confusing to use.
Some Mullvad features also have to be configured from within your account on the Mullvad website, like WireGuard Keys. We prefer a self-contained experience.
Mullvad Desktop Apps: macOS & Windows
The Mullvad macOS and Windows apps are identical in every way, except for the fact that split tunneling is only available on Windows. All other features are included on both.
Mullvad Mobile apps: iOS & Android
Mullvad VPN on iPhone and Android is similar to its desktop counterpart, but it's got fewer settings. The Android mobile app is slightly more advanced than iOS because it includes split tunneling. On the other hand, the iOS app has the ad, tracker, and malware blocker.
OpenVPN protocol isn't available on iPhone or Android, which also means you can't use the OpenVPN-exclusive Bridge Mode. Both are missing the Always Require VPN option.
Both mobile applications use the WireGuard protocol and automatic WireGuard key rotation. This setting changes your WireGuard keys every four days for extra security.
Customer Support
Excellent Website, but No Live Chat Support
| Customer Support | Available in Mullvad VPN |
| --- | --- |
| 24/7 Live Chat Support | No |
| 24/7 Email Support | No |
| Chatbot | No |
| Live Chat Support | No |
| Email | Yes |
| Email Support via Online Form | No |
| Tutorial Videos | No |
| Online Resources | Yes |
Mullvad's help center is genuinely useful, with straight-to-the-point, clearly-written troubleshooting fixes, user guides, and suggestions, as well as explainers of Mullvad's features.
You can access the help center via the FAQ & Guides link in the app. You can also report a problem within the app itself.
If you want to contact Mullvad directly, you can send an email. We sent an email at 2:37pm and got a response at 2:50pm. 13 minutes isn't a long wait for an email response, so we were impressed.
We'd like to see Mullvad invest in 24/7 live chat support for instant assistance. Most top VPNs have this level of support on hand.
Price & Value
$5.50

per Month Flat Price
Mullvad operates a pay-as-you-go system, asking you to 'top up' every month with the same price of $5.50. There are no deals to be had.
In the long run, Mullvad is pricier than most VPNs because it doesn't offer savings for long-term contracts.
PrivateVPN, for example, costs the equivalent of $2.00 per month on its three-year deal.
But, if you take the VPN on a pay monthly basis, Mullvad is very cheap. Most VPNs charge over $10.00 for a month-to-month service.
Payment & Refund Options
Mullvad accepts payment via a large number of methods:
American Express

Bank Wire / Direct Transfer

Bitcoin

Bitcoin Cash

Cash

Giropay

iDeal

Mastercard

PayPal

Voucher
Mullvad is one of the few VPN services that lets you pay with cash, which is the best form of non-traceable payment.
If you do want to send an envelope of cash to Sweden, Mullvad accepts most major currencies. To promote private payments further, Mullvad gives a 10% discount if you pay with Bitcoin.
Mullvad is also partnered with a number of resellers, who offer different pricing plans. You can buy a Mullvad coupon from Selfridges in London, for example.
Mullvad Refund Policy
Mullvad has a 30-day money-back guarantee in place. This is standard practice among most VPN services. Only a few VPNs offer a longer refund period, such as CyberGhost – which offers 45 days.
To claim your refund, simply email support@mullvad.net with your account number and other details depending on how you paid.
You cannot claim for a refund if you pay for Mullvad VPN with cash.
No Free Trial Available
Mullvad does not have a free trial. If you want to test Mullvad VPN out before committing, you'll have to buy a subscription and take advantage of the 30-day refund period, claiming your money back before it expires.
The Bottom Line
Do We Recommend Mullvad?
Simple security is Mullvad's philosophy. Mullvad VPN has the respect of most privacy advocates due to its impressive security credentials and principled stance on privacy issues.
It's a great choice if you prioritize online anonymity and don't want to overcomplicate things with marketing jargon or fluffy extras. It's a flat-price package that changes your IP address and encrypts your data securely.
However, if you want to watch movies and TV from outside your home country you should not choose Mullvad. Almost no effort is made to unblock streaming services like US Netflix or BBC iPlayer. There is no Smart DNS or Fire TV Stick app, either.
For an even simpler experience, we'd love to see Mullvad improve its mobile service and streamline the apps more closely. Mullvad has lots of features, but they're spread unevenly across platforms, in a way that requires guidance. Luckily, Mullvad's website and email support is excellent. We just wish it had a live chat option, too.
Alternatives to Mullvad VPN
ExpressVPN
ExpressVPN excels where Mullvad struggles. It works well on most devices, bypasses most geo-blocks, and is very fast across long-distances. Read ExpressVPN review
Surfshark
Surfshark is packed with security features like Mullvad, but it's much cheaper in the long run. Read Surfshark review
History of Major Updates to Mullvad VPN

7 August 2023: Mullvad's infrastructure is audited by Radically Open Security, which found no logging of data or information leakage.
29 May 2023: Mullvad removes port forwarding.
20 April 2023: Mullvad's offices are raided by Swedish authorities. No data is compromised.
14 September 2022: Mullvad releases the results of a DNS audit.
21 June 2022: Mullvad discontinues subscriptions in favor of a one-time payment model.
Other VPNs We've Reviewed
NordVPN Review
Hotspot Shield Review
VPN.AC Review
---
User Reviews for Mullvad VPN