Price & Value
Surfshark offers excellent value for your money
One of Surfshark's main highlights is its price. It's not only one of the best VPNs of 2022, it's also one of the cheapest, which means it's definitely worth the money.
You can see all the pricing plans here:
While there are other VPNs available for a similar price, none of them are as fully-featured as Surfshark.
For example, our ZenMate review found the VPN costs just $1.51 per month on an 18-month subscription plan, but its speeds and streaming capabilities are limited.
To see how Surfshark's pricing compares to other good budget VPNs, see our list of the best cheap VPNs.
Payment & refund options
Surfshark provides a range of payment and refund options, including:
Alipay

American Express

Bitcoin

Mastercard

PayPal

Visa
The most privacy-conscious users will be happy with the choice of cryptocurrencies, although cash payments are not available as of yet. See our Mullvad VPN review for a service that offers this payment option.
Surfshark's free trial and money-back guarantee
Surfshark offers a seven-day free VPN trial that you can sign up for via iOS and Android devices.
You can access the trial directly from the Google Play Store or Apple App store. You need to download the mobile app, and submit billing details upfront. After seven days, you'll be charged if you don't cancel.
However, for Android users Surfshark's 30-day money-back guarantee kicks in at that point, so you can still get a refund if you cancel within the refund period.
Six months later you can sign up for Surfshark again, and use its money-back guarantee one more time. Overall, that's 67 days of Surfshark for free.
For iOS users, the Surfshark refund policy doesn't apply. Consult Apple's refund policy if you want to claim your money-back after the 7-day free trial.
You can use your free trial account details to log into all the other Surfshark apps without restrictions, including on macOS, Windows, and Linux.
And you can cancel Surfshark twice. After your first cancellation, you can purchase the VPN again and begin another 30-day money-back guarantee period, as long as six months have passed between purchases.
Streaming
Surfshark works well with many streaming services
Surfshark stands out for how good a VPN it is at unblocking streaming platforms.
The VPN service works with Netflix, BBC iPlayer, Disney+, Amazon Prime Video, ITVX, Channel 4, and HBO Max.
Surfshark unblocks Netflix effectively
Without a doubt, Surfshark is a top Netflix VPN.
Surfshark unblocks 10 international Netflix libraries, including:
Australia
Germany
India
Ireland
Italy
Mexico
Netherlands
Turkey
United Kingdom
United States
We easily streamed these different Netflix regions in our tests, experiencing sharp picture quality and no buffering.
While Surfshark doesn't have dedicated streaming servers, the vast majority of US servers work with Netflix. In our most recent tests, only the Charlotte and St.Louis servers didn't stream American Netflix.
Surfshark Streams BBC iPlayer, HBO Max and Disney+
Surfshark's UK servers all work with BBC iPlayer, Channel 4 and ITVX. This is highly impressive.
Moreover, Surfshark was the first VPN to unblock Disney+ on its release, and has been our top-rated Disney Plus VPN ever since.
Furthermore, Surfshark is a reliable VPN for HBO Max and US Amazon Prime Video.
To our surprise, Surfshark still isn't a good VPN for unblocking Hulu.
Torrenting
P2P servers, fast speeds, but no port forwarding
Surfshark is a top VPN for torrenting. Its privacy-focused logging policy and high encryption help hide your P2P activity from your ISP.
Also, the VPN's kill switch stops your IP address from showing if your VPN connection drops. This keeps your download activity safe from any accidental exposures, and lets you torrent safely using Surfshark.
All Surfshark servers allow P2P file-sharing, but some servers are specifically optimized for P2P activity. You can find these servers by typing in 'P2P' into the app's server search bar.
Some servers optimized for P2P include:
Canada
Denmark
Germany
Hong Kong
Italy
Luxembourg
Netherlands
Norway
Poland
Singapore
Spain
UK
US
These fast P2P-optimized connections let you torrent anonymously using torrent clients like qBittorrent, BitTorrent, Deluge, Transmission, uTorrent, and Vuze.
You'll also be able to stream anonymously P2P-based services such as Ace Player, VLC, and PopcornTime
Surfshark doesn't allow port forwarding
However, Surfshark does not allow port forwarding for security reasons. The lack of this feature means upload (seeding) speeds are very slow at times.
Speed & Reliability
Surfshark's speeds are quick, but could be even faster
We tested our connection speed before and after connecting to a server in London, close to our real location.
Local Speed Test results before using Surfshark VPN:
Download Speed: 99Mbps
Upload Speed: 99Mbps
Ping: 1ms
Local Speed Test results with Surfshark VPN:
Download Speed: 84Mbps
Upload Speed: 91Mbps
Ping: 14ms
Download speed loss when Surfshark VPN is running: 15%
Surfshark's same-country local connection speeds are very good, dropping just 15% to 85Mbps. If you're in the US and connect to a nearby US server, you can expect similar results.
The VPN's speeds have been consistetnly improving over the years, in part thanks to the upgrade of many servers from 1Gbps to 10Gbps. Some servers in the US, Canada, Germany, France and more are already upgraded, with more scheduled.
While Surfshark is reasonably fast on short-distance connections, rivals Private Internet Access and NordVPN recorded even faster speeds.
Surfshark's long-distance speed tests
Surfshark's speeds over long-distance connections are also good.
We connected to its US, Australia, Canada, and Germany servers from our London office and measured our connection speeds before and after.
We recorded an average speed loss of 42% when connected to the US, and 40% connecting to Australia.
This is not unusual for long-distance connections, though VPNs like Hotspot Shield recorded speed losses of just 17% on US servers.
Here are Surfshark's full long-distance speed results:
USA: (New York)
Download: 58Mbps (42% slower)
Upload: 77Mbps
Japan:
Download: 58Mbps (42% slower)
Upload: 59Mbps
Germany:
Download: 72Mbps (27% slower)
Upload: 93Mbps
Australia:
Download: 59Mbps (40% slower)
Upload: 58Mbps
Surfshark's international speeds are good and stable across the board, with speed loss consistently under 50% when connecting to servers very far away.
Surfshark's speeds compared to other VPNs
In addition to testing VPN speeds manually, we've also developed an automated VPN speed test tool that constantly tests VPN speeds around the world.
Tests run automatically four times per day, and test connection speeds are capped at 100Mbps to recreate a typical home internet connection.
The graph below compares Surfshark VPN's average loss of internet speed to other popular VPNs for New York to New York connections:
Privacy & Logging Policy
Surfshark VPN is safe and private
Surfshark does not keep user activity logs or connection data. The service's logging policy is sensible and privacy-focused, but not completely zero-logs.
To be specific, Surfshark VPN collects:
Aggregated performance data
Unsuccessful connection attempts
Frequency of use
While Surfshark isn't a no-logs VPN by definition, it comes close to it. It doesn't collect personally identifiable data, meaning it won't store your internet activity or originating IP address.
The VPN service's privacy policy states the following:
"To maintain a perfect quality of our Services and provide you with efficient support we collect diagnostics information and monitor crash reports on our apps. The information we collect contains aggregated performance data, the frequency of use of our services, unsuccessful connection attempts and other similar information."
There are some very minor causes for concern in the above wording.
Firstly, we were alarmed by the phrase "other similar information." A good privacy policy is as specific as possible – it's unclear what "similar information" entails exactly.
Secondly, Surfshark collects advertising identifiers – unique, resettable IDs for advertising provided by third parties. You can opt out of personalized ads by adjusting the settings in your app.
In addition, there has still been no independent audit of Surfshark's logging policy, specifically.
Without a confirmed audit, there's always room for doubt around logging practices. Many major VPN companies, like ExpressVPN and VyprVPN, have already done so to earn even greater trust.
It's worth noting that there's a separate privacy policy for its BlindSearch and HackLock features.
BlindSearch collects an aggregated number of performed searches, and HackLock stores your email address. Both tools are separate from the main VPN applications.
In the spirit of transparency, Surfshark publishes the number of government agency requests it receives on its warrant canary page. As of writing, it has received zero requests for information.
Surfshark is based in the Netherlands
Surfshark is owned by Surfshark Ltd, whose CEO is Vytautas Kaziukonis.
In 2018, the company was incorporated in the British Virgin Islands (BVI) where there are no intrusive data retention laws or practices and is widely viewed as a privacy-haven.
In 2021, the company moved to the Netherlands, renaming itself to Surfshark B.V. in the process.
The Netherlands is a member of the European Union, and the Nine Eyes intelligence sharing network. While this move isn't the best for privacy, Surfshark insists no Dutch laws force it to collect user data.
The Netherlands jurisdiction shouldn't be an issue as long as Surfshark continues to maintain its current logging policy.
Surfshark's merger with NordVPN
In early 2022, Surfshark merged with Nord Security, the company behind NordVPN, to form one company called Cyberspace.
As a result, Surfshark and NordVPN now work together to improve their services while also maintaining some independence as separate entities.
This merger isn't surprising; many VPNs are now being consolidated under larger companies, like Ziff Davis and Kape Technologies.
Security & Extra Features
Surfshark has many advanced settings for greater security
| Protocols | Available in Surfshark VPN |
| --- | --- |
| IKEv2/IPSec | Yes |
| L2TP/IPSec | No |
| OpenVPN (TCP/UDP) | Yes |
| Proprietary | No |
| PPTP | No |
| SoftEther | No |
| SSL VPN | No |
| SSTP | No |
| TLS VPN | No |
| WireGuard | Yes |
| Encryption | Available in Surfshark VPN |
| --- | --- |
| AES-128 | No |
| AES-192 | No |
| AES-256 | Yes |
| Blowfish | No |
| ChaCha20 | No |
| Security | Available in Surfshark VPN |
| --- | --- |
| DNS Leak Blocking | Yes |
| First-party DNS | No |
| IPv6 Leak Blocking | No |
| Supports TCP Port 443 | No |
| VPN Kill Switch | Yes |
| WebRTC Leak Blocking | Yes |
| Advanced Features | Available in Surfshark VPN |
| --- | --- |
| Ad Blocker | Yes |
| Dedicated IP | No |
| Double VPN | Yes |
| Smart DNS | Yes |
| SOCKS | No |
| Split Tunneling | Yes |
| Tor over VPN Server | No |
| Tracker Blocker | Yes |
Surshark is an exceptionally safe VPN service. It includes all of the essential security features you would expect from a top-tier VPN service.
You'll benefit from robust encryption, secure protocols, IP and DNS leak protection, and a kill switch on all applications. We also found no evidence of IP, DNS, or WebRTC leaks.
The kill switch isn't enabled by default, though. Surfshark needs to fix this, but for the time being you'll have to go into the app's settings and switch it on.
AES-256 encryption is used on all platforms, with ChaCha encryption also available for Android users.
Surfshark's strong VPN protocol selection
WireGuard is now the default protocol used on most of Surfshark's apps, though you can choose IKEv2 in the settings menu.
OpenVPN is only available on Windows. If you want to install it on macOS, you have to do it manually.
WireGuard and OpenVPN are both very fast and secure protocols, however WireGuard used less bandwidth in our tests.
Surfshark uses RAM-based servers
Following in ExpressVPN and NordVPN's footsteps, Surfshark has moved away from hard drive technology and now operates a completely diskless, RAM-only server network.
This vastly improves security, as information cannot be physically extracted from the servers, and it enables central management of the whole network. Very few VPNs have this feature.
Surfshark's extra features
Surfshark is filled with advanced security features, built to enhance your experience and safeguard your data.
Here's a list of the VPN's advanced security features:
Surfshark Search (formerly BlindSearch) is a private search engine designed to allow users to search the web with no ads or trackers. You can add BlindSearch, along with an Surfshark Antivirus and HackLock, to your existing subscription for an extra $1.49 per month.
Camouflage Mode, also known as obfuscation. This is a technology that disguises your VPN traffic to make it look like 'normal' browsing. This means even your ISP can't tell you're using a VPN.
CleanWeb is Surfshark's proprietary ad, tracker, and malware blocker. It is not turned on by default.
Cookie pop-up blocker prevents annoying cookie banners appearing whenever you visit a website. This is exclusive to the Chrome browser extension. To be clear, this isn't a privacy feature, it just stops you seeing pop-ups.
MultiHop, sometimes known as Double VPN, routes your traffic via two different VPN servers instead of one. This additional step makes you harder to track, though it may reduce connection speeds.
Surfshark Alert is a breach detection tool that scans the web in real-time, checking that your email and login information hasn't been leaked online. This feature comes as an added bundle with BlindSearch and Surfshark Antivirus.
Surfshark Antivirus is an antivirus tool available on Windows and Android. It offers real-time protection against malware, viruses, and apps that do things on your device without your permission.
Rotating IP automatically changes your IP address every 5-10 minutes while keeping you connected to the same server location. This adds extra anonymity.
Bypasser is a split tunneling tool that lets you define which applications and websites shouldn't use the VPN connection. You can find it in the sidebar menu of the Surfshark app, under 'Features.' It's not available on iOS or Mac.
Surfshark's VPN kill switch prevents your true IP address from leaking if your VPN connection drops. To enable it on Windows, toggle the setting in the app's security menu. On Android devices, you'll need to enable it manually in the device settings.
To clarify, Hacklock, Surfshark Antivirus, and Blindsearch are add-ons that are part of the Surfshark One bundle, which costs an extra $1.49 per month.
Surfshark also developed an Android-only GPS spoofing feature found under Virtual Location.
It lets you easily change your GPS location and bypass geo-blocks set by MLB and other mobile apps.
Surfshark uses high encryption standards
The VPN service has also gone the extra mile to include a two-factor authentication (2FA) option for its users too.
For more technically minded users, Surfshark's encryption uses an RSA-2048 handshake and HMAC SHA256 data authentication.
Perfect Forward Secrecy is implemented through the Diffie-Hellman Key Exchange (DHE), meaning encryption keys are not reused between sessions, for an added layer of security.
Surfshark's Server Network Audit
In 2021 Surfshark commissioned an audit of its server infrastructure. This was performed by Cure53, a Germany-based IT security firm.
The full audit identified some 'medium' level security concerns, which the Surfshark team swiftly handled.
The report concludes:
"The overall outcome should be regarded as good and the testing team has no doubt that the Surfshark maintainers have a clear understanding of security and privacy challenges associated with being a VPN provider."
It's good to see Surfshark commissioning audits of its server security, something very few providers do. While some issues were identified, these were fixed quickly.
Surfshark's doesn't leak IPv4, WebRTC, and DNS data
Surfshark uses private DNS on every server to protect your DNS requests.
We tested this on our VPN leak test test tool by connecting to a US server from our office in London, and recorded zero DNS, IPv4, or WebRTC leaks using its apps.
You can also see leak-free results when using Browserleaks.com: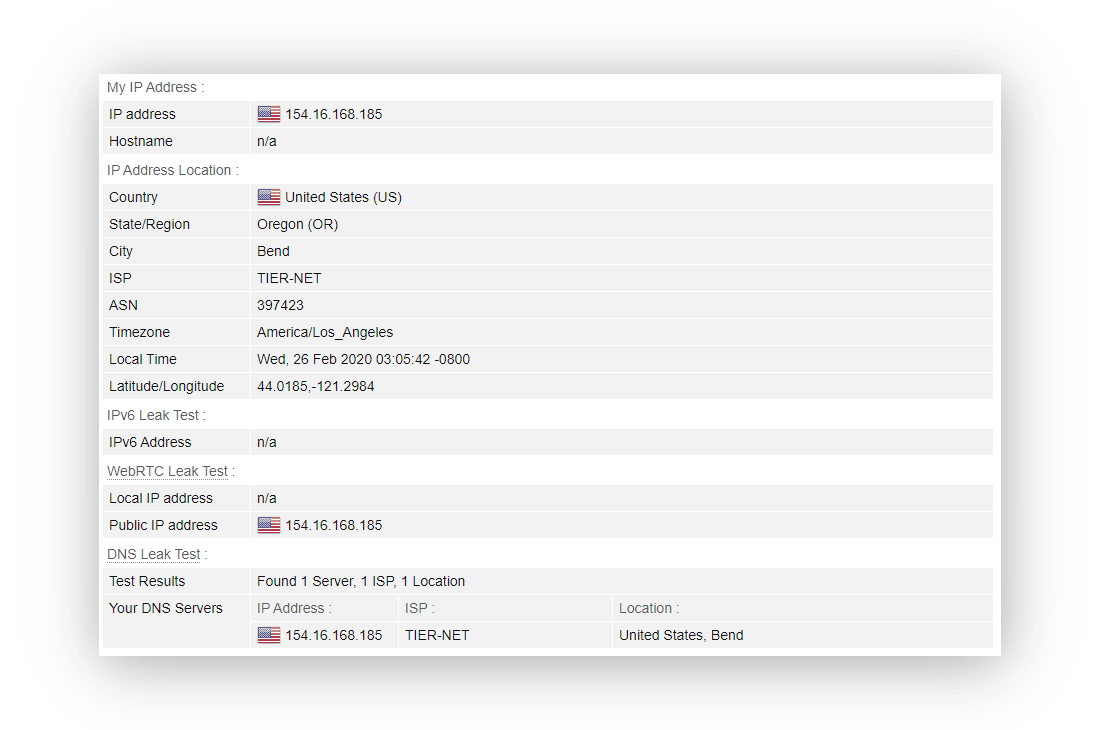 Surfshark doesn't support IPv6
Surfshark currently has no IPv6 support. Instead, it re-routes IPv6 connections to IPv4.
That's fine, but we'd like to see Surfshark made compatible with IPv6 connections. For example, Hide.me has full IPv6 support.
It also means Surfshark won't work at all if you have a new IPv6-exclusive router.
There are no viruses or malware in Surfshark's apps
Surfshark is virus-free too. We scanned the VPN software for any malicious files and it came back completely clean: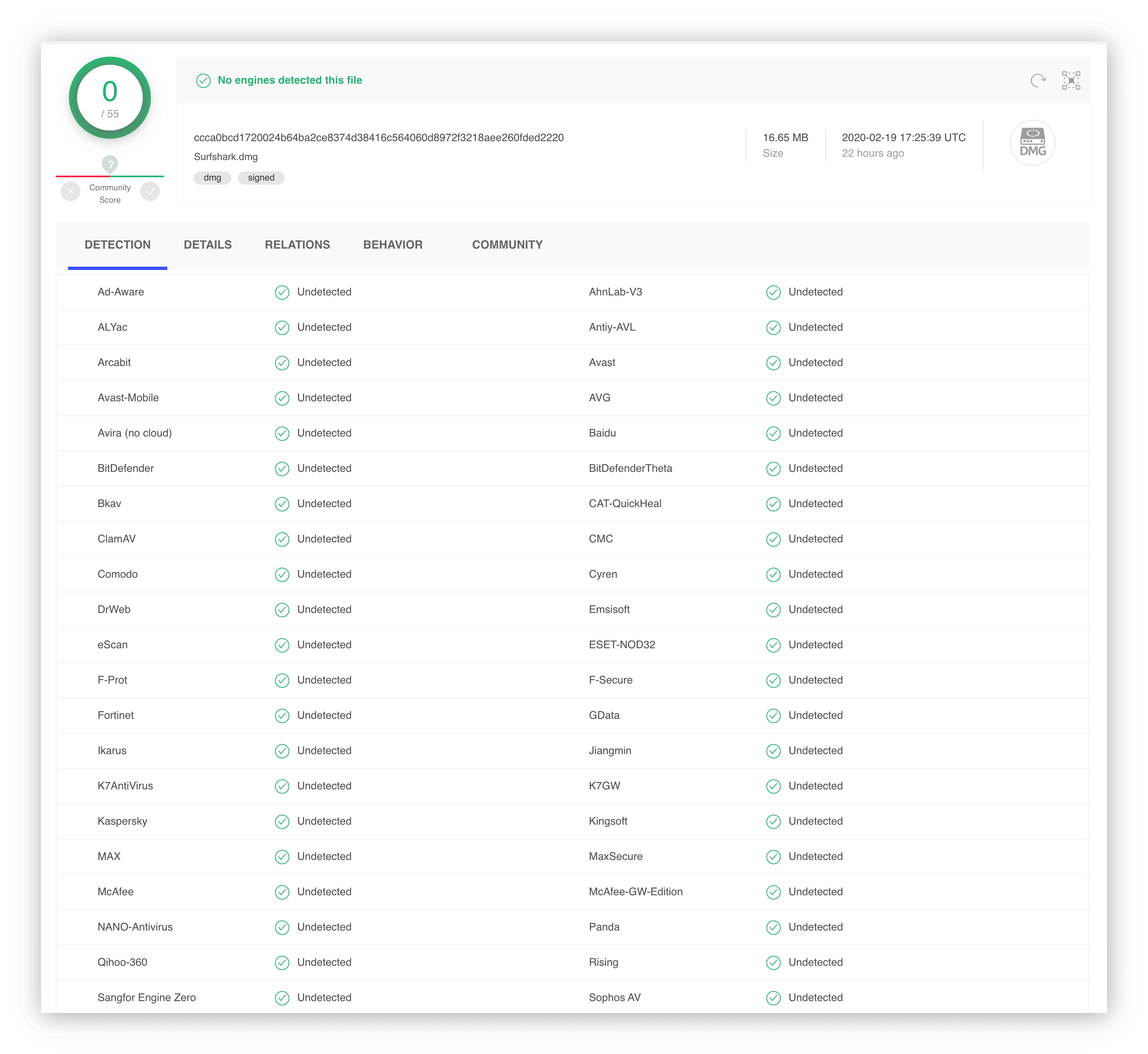 Surfshark's Android app doesn't contain malicious trackers
We also scanned the Android app for trackers that could potentially compromise your privacy, using the εxodus tool. Here's what we found: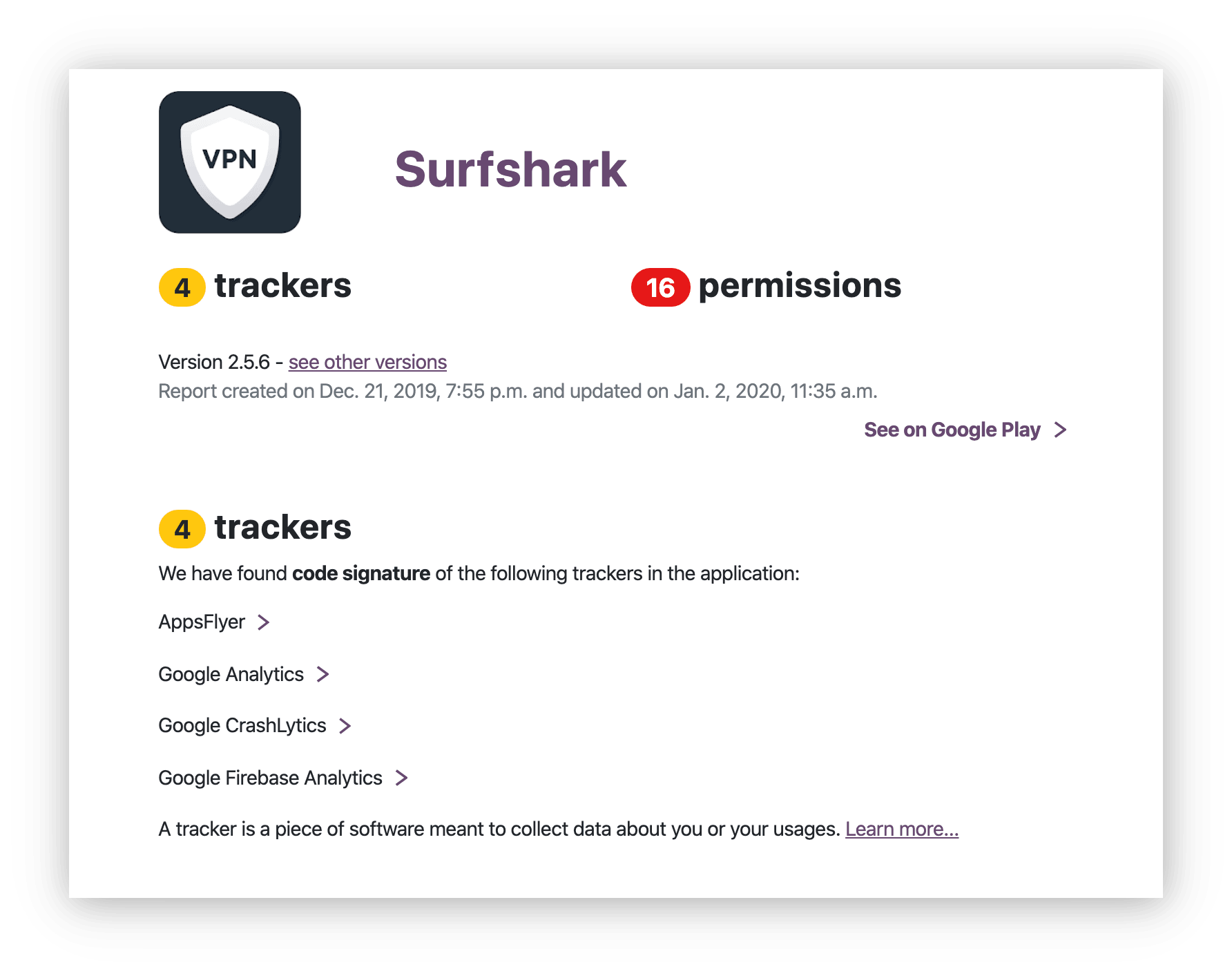 Surfshark's Android app has four trackers for Google Analytics, GoogleCrashLytics, Google Firebase Analytics, and AppsFlyer.
We often find analytics trackers in VPN apps. They help VPN services maintain high performance and understand how users interact with app features.
Other top VPN apps have similar trackers in place, although Astrill VPN contains zero trackers.
The use of AppsFlyer is a little more concerning. This advertising tracker "uses artificial intelligence and machine learning for big data analytics."
It's not uncommon for VPNs to use AppsFlyer, though, and its privacy policy states that it doesn't share data with third parties.
No intrusive Android app permissions
The Surfshark Android app contains 16 permissions, which dictate the level of access the software has to your mobile device.
Three of these permissions are considered 'special' or 'dangerous' according to Android's protections levels, including:
Access to your camera
Access to the contents of your SD card
Permission to modify and delete the contents of your SD card
These permissions are unnecessary for a VPN application designed for privacy. We'd like to see these removed, or at the very least explained, in future app updates.
Server Locations
Secure network of 3,200+ servers in 100 countries
Surfshark has a large network of over 3,200+ servers in 100 countries.
The network isn't as large as CyberGhost's server network, but it's extensive enough to satisfy most users.
The majority of servers are in Europe, as with most VPN services. And like most other VPNs, coverage in Asia, Africa, and the Middle East is rather limited. However, Surfshark recently invested in servers for Saudi Arabia and Ghana.
Wide range of US city locations
One of Surfshark's highlights is the provision of city-level choice in 12 countries:
Australia
Belgium
Canada
France
Germany
Italy
Poland
Portugal
Spain
UK
US
Surfshark's server coverage in the United States is especially good, with 25 city-level server locations. This is optimal for users looking to get a US IP address with a VPN.
Furthermore, the three VPN server locations in Canada – Toronto, Montreal, and Vancouver – cover both Canadian coasts.
100 servers in five Australian cities is great coverage, too.
Surfshark recently removed its Russia servers, so you can no longer get a Russian IP address, though.
Surfshark's static IP server locations
The Surfshark's apps list different types of servers, too.
Windows users will see options for static IP, virtual servers, and MultiHop.
Mac users will see labels for physical, virtual, P2P, and MultiHop.
Static IP servers assign an IP address that remains the same whenever you use that server. This allows for faster speeds and easier access to geo-restricted content.
While on paper this poses a greater privacy risk, in reality many people will be using the same IP address. It's highly unlikely your web activity on that static IP address can be linked to you.
Surfshark's multihop server locations
Surfshark also provides access to MultiHop servers, sometimes called Double VPN.
Multihop servers add an extra layer of security, by 'bouncing' your traffic from one encrypted server to another, and then onto a website or application.
This double VPN connection reduces speeds, but it brings added privacy and security.
Surfshark uses some virtual server locations
Surfshark allows users to choose between virtual locations and physical locations.
Virtual locations assign an IP address in a country of your choice even if the actual server is located elsewhere. These servers are marked with a small 'v' on the Windows app, and listed separately on the Mac app.
Virtual servers allow Surfshark to cover more locations around the world, and can often lead to better speeds.
However, if the actual server is much further from your physical location than advertised, you may see a drop in performance.
Surfshark's virtual server locations include:
Albania
Chile
Costa Rica
Slovenia
Surfshark caps server congestion at 40%
To prevent server congestion and slow internet speeds, Surfshark caps its servers at 40% capacity.
If you attempt to connect to a server that's reached 40% capacity, you will be automatically redirected to a less-congested server. This ensures smooth performance for all Surfshark users.
Bypassing Web Censorship
Surfshark bypasses aggressive web censorship
Surfshark has clearly put a lot of work into bypassing aggressive online censorship.
We can confirm it's currently one of the best VPNs to circumvent web blocks in countries like Russia, Turkey, Saudi Arabia, and the UAE.
According to out test results, it's also capable of getting around the strictest Chinese censorship, but only 30% of the time. Astrill, on the other hand, works 100% of the time.
Surfshark's anti-censorship tools
Its additional anonymity features allow Surfshark to work reliably in highly-censored countries.
Camouflage Mode is an obfuscation tool designed to make your VPN traffic appear as normal traffic, disguising your VPN usage from ISPs and thereby eluding web censors.
This feature is automatically activated whenever you connect with the OpenVPN (TCP or UDP) protocol, and is the main reason why Surfshark works in high censorship nations.
NoBorders Mode is specifically built to beat internet restrictions and censorship. It detects when you're connected to a restricted network or in a censored country, and automatically redirects your traffic elsewhere.
While NoBorders Mode is likely to work in countries like Russia and Turkey, our China tests show that it has only worked 14% of the time over the past year to get around the more advanced Great Firewall.
Surfshark also used to have a Shadowsocks protocol option, an open source proxy that often bypasses strict web censorship. In November 2021, the company removed Shadowsocks from all its apps.
Device & OS Compatibility
Surfshark offers unlimited simultaneous connections
Apps
Surfshark is available to download and install on these devices:
Windows

Mac

iOS

Android

Linux

Router
Surfshark has built native applications for Windows, Mac, iOS and Android. It also runs a Command Line Interface for Linux Ubuntu and Debian operating systems.
The Surfshark website has helpful setup guides for all devices.
Surfshark was also one of the first VPNs to support the new M1 chip from Apple. This is ideal for users of the new iMac and Macbook.
Surfshark offers unlimited VPN connections
There is no simultaneous device limit. You can use Surfshark on all your devices with just one Surfshark subscription.
This is a great benefit that very few VPN services offer, with most imposing a limit of five devices.
Surfshark is compatible with several routers
If Surfshark doesn't have a native app for a device you own, you can always install the VPN on your router.
Surfshark's software is compatible with DD-WRT, Tomato and AsusWRT routers. Any device connected to the router will use the VPN connection, if enabled.
Games consoles & streaming devices
Surfshark is available to install on a wide range of consoles and streaming devices, including:
Apple TV

Amazon Fire TV

Android TV

Chromecast

Nintendo

PlayStation

Roku

Smart TV

Xbox
Surfshark can really enhance your streaming experience, especially on Amazon Fire TV Stick and Apple TV.
Surfshark has a good Fire TV Stick app
The VPN's native Fire TV Stick app is very well made, and it unblocks many streaming services like HBO Max, Netflix, and YouTube.
Because Surfshark allows P2P traffic on most servers, you can also use the VPN to stream P2P-based apps anonymously.
Surfshark's Smart DNS tool works well
Surfshark also offers Smart DNS and Trust DNS (on Android and iOS only) features.
Both proxy tools let you use Surfshark to unblock video content on devices such as Apple TV, games consoles and Smart TVs. Both tools work by changing the DNS address set in your device.
While Smart DNS lets you access geo-blocked streaming and gaming content, it doesn't provide the same security level as a normal VPN connection, because your traffic isn't encrypted.
Browser extensions
You can install Surfshark browser extensions as part of an active VPN subscription. It can be added to these browsers:
Chrome

Microsoft Edge

Firefox
Surfshark's browser extensions are safe and independently audited.
Surfshark's Chrome, Firefox and Edge browser plugins are proxies with very few settings. They spoof your IP location, but don't encrypt your connection so they don't hide your web activity like full VPN software does.
The Chrome extension does offer a very useful cookie pop-up blocker, and there is a website safety warning and fake news warning option.
Ease of Use
Easy setup & user-friendly apps
Surfshark's native applications are well-designed, functional, and easy to use.
The interfaces are clear and VPN beginners will have little trouble using the apps. There are also plenty of customization tools to personalize your VPN experience.
All the native apps have a kill switch, NoBorders mode, CleanWeb, and access to MultiHop servers, which you can find in the application's settings menu:
However, there are some differences between platforms, with some features only present on certain devices.
What is missing from all Surfshark apps is latency and server load information. This data helps with selecting faster servers, which services like ExpressVPN and CyberGhost offer in-app.
Surfshark's Windows client
Surfshark's Windows software is standard-looking, with simple navigation options on the left-hand-side.
The main dashboard features a large Quick Connect button to automatically connect you to the most optimal server based on your location.
The menu is a sidebar condensed to just a few options: main screen, locations, settings, and features.
In the server locations list there are also options for static and MultiHop servers. There's also a favorites system to manage the locations you most commonly connect to.
Unlike the Mac client, there is no easily accessible list of P2P servers on the Windows app. You have to use the Smart Search and click the P2P option.
There are also no server loads or ping times in the server locations windows. We want these added, so users can easily find the best-performing server for their location.
On the flip side, the Windows app has added customization options, including Dark Mode and Mini Mode.
Also, you can also use the VPN from the system tray icon. Right-click it and quickly connect to the fastest server, or choose your most recent location without opening the full application.
To switch between protocols (OpenVPN, Wireguard and IKEv2), click on 'Settings,' then 'Advanced.'
To enable features like the VPN Kill Switch, Auto-connect, Bypasser, and Clean Web, click on 'Settings' and then 'Connectivity.'
Surfshark's macOS client
Surfshark's Mac application is similar to the Windows client, but the locations are listed as an even simpler side menu for navigation.
You'll also see options between Physical, Virtual, P2P and MultiHop servers made much more prominent compared to Windows.
The Settings menu just above the servers is also nicely presented on Mac.
The Features menu gives you one-button access to tools such as HackLock and BlindSearch, which means they're never too far away.
This type of access is exclusive to the macOS client, though. Windows users will find these extra tools by navigating to their Account area on Surfshark's website.
Surfshark's Android and iOS apps
Surfshark's mobile apps are also attractive and easy to use. All the features and functions work well on mobile devices for both Android and iOS.
The apps are similar to their desktop counterparts, which is uncommon. The interface is the same and you'll find many of the same features, including CleanWeb, the kill switch and MultiHop connections. Bypasser is absent on iOS, though.
Both mobile applications run WireGuard, OpenVPN, and IKEv2 protocols.
As mentioned earlier, the Android app also offers GPS spoofing, as well as a 'Use Small Packets' setting to improve network performance.
Customer Support
Helpful 24/7 live chat support
| Customer Support | Available in Surfshark VPN |
| --- | --- |
| 24/7 Live Chat Support | Yes |
| 24/7 Email Support | Yes |
| Email Support via Online Form | Yes |
| No Support Available | No |
| Tutorial Videos | Yes |
| Online Resources | Yes |
Surfshark provides fast, friendly, and helpful customer support with 24/7 live chat and a ticketing system available.
There's also an online help section featuring installation guides, troubleshooting, an FAQ, and a knowledgebase.
To access Surfshark's live chat simply head to the website and click the Chat icon in the bottom right corner of the page.
We found the company's customer support team to be fast and informative, and we got an answer to our query in under a minute.
However, technical questions might take a little longer. When we asked about ChaCha encryption, our support agent took a while to respond and their answer was lacking in detail.
If you have a particularly technical question, we recommend using Surfshark's email ticketing system instead.
The Bottom Line
Surfshark review summary
We highly recommend using Surfshark. It's a high-quality, secure, and reliable VPN service.
Its native VPN applications come with a great array of advanced features, and they easily unblock streaming websites like Netflix, HBO Max, and Disney+.
Surfshark is a particularly good VPN for beginners, with its 24/7 live chat support ideal for newbies requiring help using a VPN for the first time.
While there are still some issues with the VPN service, all in all Surfshark VPN is an impressive yet very affordable service.
If you're looking for unrestricted streaming and torrenting capabilities, or unlimited simultaneous connections, then Surfshark represents excellent value for your money.
Additional research by David Hughes
Alternatives to Surfshark VPN
ExpressVPN
ExpressVPN is the best all-round VPN. While ExpressVPN is more expensive, it's faster, more secure, and unblocks even more streaming platforms than Surfshark. Read ExpressVPN review
NordVPN
NordVPN is faster and has many more servers than Surfshark. The VPN is slightly more expensive, but it's one of our highest rated VPNs and well worth considering if you're not convinced by Surfshark. Read NordVPN review
Was this content helpful?
---
User Feedback for Surfshark VPN
131 user reviews

1 question answered