Disclosure: Top10VPN.com is reader-supported. We may earn commissions if you buy a VPN through links on our site.
Surfshark Review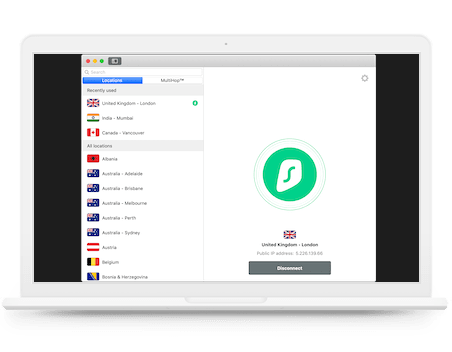 Our Verdict
Surfshark VPN is very cheap but it's private, safe, and ideal for streaming and torrenting. It unblocks BBC iPlayer, 15 Netflix libraries, and it even comes with Smart DNS for use on gaming consoles and Apple TV. All of Surfshark's native VPN apps use the most secure VPN protocols and AES-256 encryption.
Surfshark is a feature-rich VPN service that provides strong security and natives applications for Windows, MacOS, iOS, and Android. In this Surfshark review, we put its applications through in-depth testing to see how it compares with its main rivals in the VPN industry.
We found that this VPN is excellent for streaming and torrenting. It works reliably with Netflix, BBC iPlayer, Hulu and Disney+. It also offers a good spread of server locations, with 26 city-level servers in the US alone.
Additionally, Surfshark is a P2P-friendly VPN with a robust logging policy, and is based in the British Virgin Islands, which makes it a perfect service for anonymity. It has all the security essentials too including AES-256 encryption, OpenVPN, and a kill switch to protect you if your connection drops.
The apps come packed with advanced security features including Camouflage Mode, tracking protection, MultiHop servers, and much more. The service is completely leak-free and it even works in heavily-censored countries like China.
Overall, this is a fast budget VPN that doesn't compromise on quality. There's room for improvement, though. An independent audit and greater consistency across applications could see Surfshark become one of the absolute best VPNs available.
Surfshark Pros & Cons
Excellent budget price
Unblocks Netflix, BBC iPlayer, and more
Supports torrenting
Lots of advanced features
Privacy-friendly jurisdiction
Unlimited simultaneous devices
Slight delay connecting to some servers
Company could be more transparent
No audit to confirm logging policy
Surfshark Key Summary
| | |
| --- | --- |
| Data Cap | Unlimited |
| Speed | 85Mbps |
| Logging Policy | Anonymous Server Usage Data |
| Data Leaks | No |
| Jurisdiction | British Virgin Islands (Privacy Haven) |
| Servers | Not disclosed |
| IP Addresses | 1800+ |
| Countries | 66 |
| US Netflix | Yes |
| Torrenting | Permitted |
| Works in China | Yes |
| Support | 24/7 Live Chat |
| Cheapest Price | $2.49/mo over two-years |
| Official Website | Surfshark.com |
Is Surfshark private?
Logging & Jurisdiction
There is no reason to doubt Surfshark's commitment to user privacy. It does not keep logs of user activity or connection data, and its jurisdiction is a privacy haven.
We've read the logging policy closely and can say that it's sensible and trustworthy — but not completely zero-logs. Surfshark collects:
Aggregated performance data

Unsuccessful connection attempts

Frequency of use
This isn't a no-logs approach, but it's pretty close. Crucially, it does not contain personally identifiable information, meaning there's no collected info on your browsing activity, IP address, or location.
Surfshark does store your account details and billing information in order to process your payments. This isn't unusual behavior at all, but if you're uncomfortable with it you can use cryptocurrencies or third-party payment services to avoid Surfshark storing this information. 
The privacy policy is worded as follows:
"To maintain a perfect quality of our Services and provide you with efficient support we collect diagnostics information and monitor crash reports on our apps. The information we collect contains aggregated performance data, the frequency of use of our services, unsuccessful connection attempts and other similar information."
There are some very minor causes for concern here. Firstly, we were alarmed by the phrase "other similar information." A good privacy policy is as specific as possible – it is unclear exactly what "similar information" entails. 
Secondly, Surfshark allows itself to collect advertising identifiers – unique, resettable IDs for advertising provided by third parties like Google Play. You can opt out of personalized ads by adjusting the settings in your app.
While Surfshark's browser extensions have been audited by German security company Cure53, there has still been no independent audit for its VPN applications or logging policy. We'd like to see this in the future as so many top VPNs have done this to earn trust, including ExpressVPN, Mullvad, and VyprVPN.
To compete with other top-tier providers, Surfshark needs to follow suit. Without a confirmed audit, there's always room for doubt about exactly how private users can expect to be.
It's worth noting that there's a separate privacy policy for its BlindSearch and HackLock features, which are downloaded separately to the main application. BlindSearch collects an aggregated number of performed searches and HackLock stores your email address — that's it. 
Where is Surfshark Based?
Surfshark is based in the British Virgin Islands (BVI), registered as Surfshark Ltd. This is a very sensible place to incorporate a VPN company. It's a politically stable region and a British Overseas Territory (BOT) aligned with British Common Law.
Although this means the BVI is deeply tied to the UK and direct rule from London is technically possible, that's a highly unlikely and extreme measure. As it stands, there are no intrusive data retention laws or practices in the BVI. 
The British Virgin Islands are also outside the reach of the Five Eyes, Nine Eyes, and 14 Eyes surveillance agreements. This means the company cannot be compelled by foreign governments to collect or share user logs. It's worth reading more about this in our guide to VPN jurisdictions, but here's a quick look at which countries are implicated: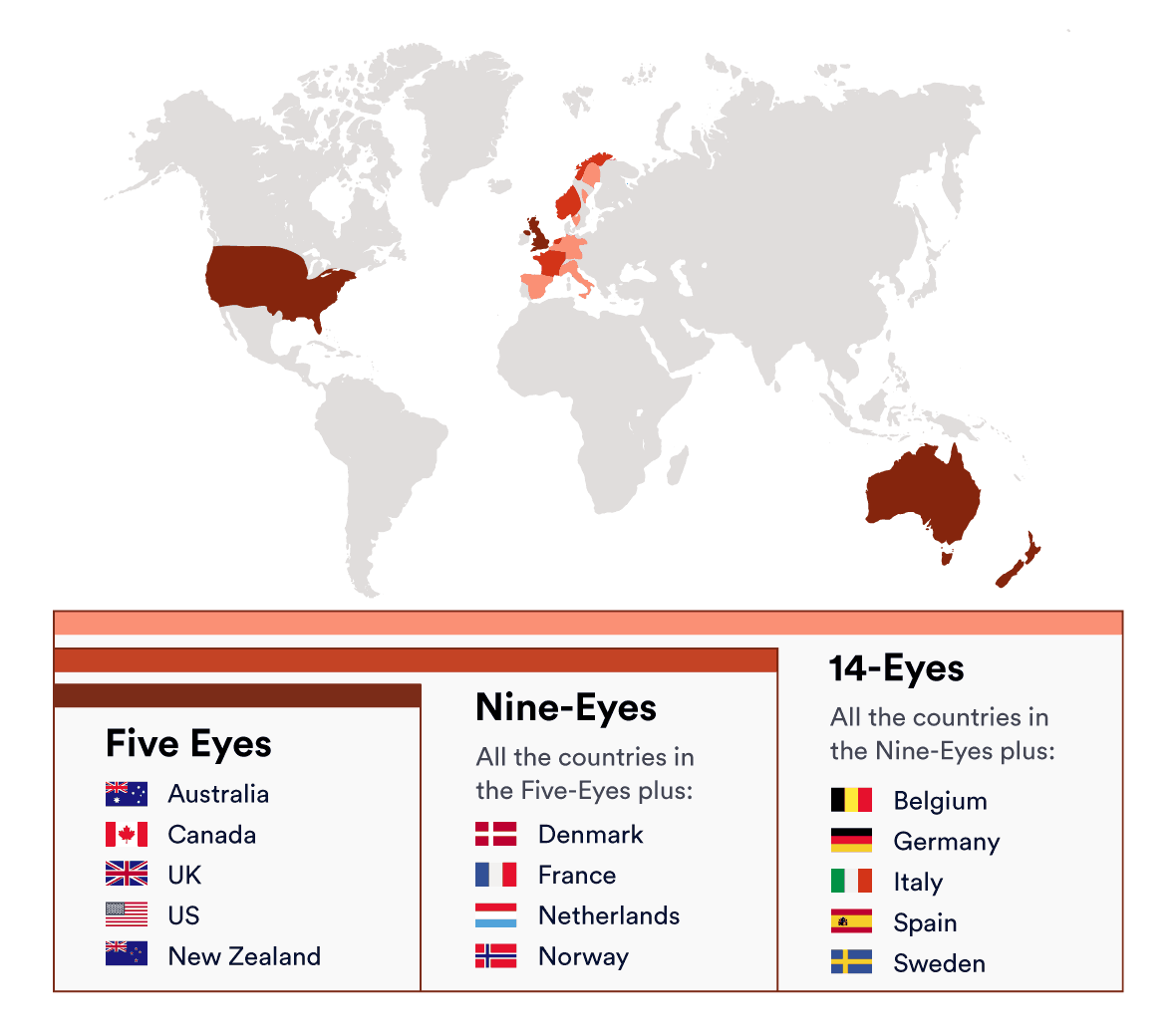 Even if Surfshark were to receive any gag orders, warrants, or national security letters, there is a warrant canary on the Surfshark website. This updates daily to inform users of any similar requests ‒ currently it has received zero requests for information.
You shouldn't necessarily choose a VPN based on whether it has a warrant canary as there's some debate about its usefulness, but it's a feature many appreciate.
Although Surfshark is highly secretive as a company, it's based in a privacy haven and we've discovered nothing that implies it can't be trusted to protect your private data.
Who Owns Surfshark VPN?
Surfshark was founded in 2018. It's quite secretive about its company structure, history, and management team. There is no "about" page on its website, it's not listed publicly on any stock exchange, and there's no Board of Directors. This VPN is owned and run by private shareholders with no public information available. 
VPN users need to trust their service provider, so it's easy to be put off by this lack of transparency. That said, we discovered nothing compromising from our investigation into Surfshark's corporate structure and history. 
Our research found that the CEO is known as "Par Kaz." As you'd guess about someone who chooses a pseudonym, there's plenty of mystery surrounding Par Kaz and there's not a lot we can say about him or her.
Surfshark's CTO is a bit more transparent. He's called Magnus Steinberg; he's quoted frequently on the Surfshark blog and you can find his name scattered around Google. He appears to be the prominent voice of the company.
While this level of secrecy can be off-putting, there is evidence of a proactive and research-driven privacy company with good intentions. Surfshark is a member of the VPN Trust Initiative and it picked up global coverage for its Digital Quality of Life Index for 2019.
How fast is Surfshark VPN?
Speed & Reliability
Surfshark's speeds are more than fast enough for streaming, torrenting, and other data-intensive activities. It competes with the fastest VPNs on the market.
We measured an average speed loss of 15% when connected to a nearby server, and 41% when connected to a server in the US. These local speeds are good, and the long-distance speeds are as fast as you can reasonably expect connecting so far away. 
Local Speed Tests
We measured our connection speed before and after connecting to a server in London, close to our real location.  
We found that Surfshark's same-country local connection speeds are very good, dropping just 15% to 85Mbps. If you're in the US and connect to a nearby US server, you can expect similar results. This is more than fast enough to browse without issue, though competitors like Private Internet Access boast losses of as little as 3%.
Download speed without Sursfhark: 99Mbps
Download speed with Surfshark: 84Mbps
Our download speed loss when Surfshark is running is: 15%
This is a solid speed score. You'll have no trouble streaming, torrenting or browsing at these speeds, although it may present a problem to gamers looking for the best VPN for playing online. 
Local Speed Test Results
Before using Surfshark:
99

99

Ping

ms

1
When connected to Surfshark:
84

91

Ping

ms

14
Long-Distance Speed Tests
Surfshark's speeds over long-distance connections met our expectations and are very fast. We connected to Surfshark servers in the US, Australia, Canada, and Germany from our London office and measured our connection speeds before and after.
As expected, the servers located furthest from our office in the UK recorded the largest speed losses.
We recorded an average speed loss of 41% when connected to the US, and 40% when connected to Australia. This is not unusual for long-distance connections, though competitors like Hotspot Shield recorded losses of just 17% on US servers. Long-distance speed results in full are:
USA

: 56Mbps (download) & 77Mbps (upload) ‒ 41% speed loss

Canada: 71Mbps (download) & 73Mbps (upload)

‒ 28% speed loss

Germany

: 71Mbps (download) & 93Mbps (upload) ‒ 27% speed loss

Australia

: 59Mbps (download) & 58Mbps (upload) ‒ 39% speed loss
Surfshark's international speeds are really good across the board, with minimal speed loss consistently under 50% when connecting furthest away, or even less in the case of Canada, which clocked only 28% speed loss.
It isn't quite the fastest, though, and isn't beating the fastest competitors. However, these speeds are still more than good enough for normal browsing, streaming, and even torrenting from whichever location across the globe.
We did notice that Surfshark's speeds are consistent. It's unlikely that you'll get a sudden, unexpected drop in performance, so it's reliable too.
All of our VPN reviews go through the same scientific speed-testing process and we always use OpenVPN protocol to keep it fair and consistent. Surfshark uses the IKEv2/IPsec protocol by default, so you may experience faster speeds using this. If you're curious, you can read more about our speed-testing methodology here. 
Surfshark isn't the fastest VPN around, but its in that arena and you shouldn't have any problems with its performance. If you want to know which VPNs are the fastest, take a look at ExpressVPN and PrivateVPN.
How Fast is Surfshark Compared to Other VPNs?
You've already seen the results of our manual testing – now you can see the latest results from our custom VPN speed testing tool.
The graph below compares Surfshark VPN's average loss of internet speed to other popular VPNs while running on our New York server.
Speed tests run automatically four times per day. Test connection speeds are capped at 100Mbps to recreate a typical home internet connection.
This chart shows the average speed loss experienced by the VPN each week when compared to using a normal 100Mbps internet connection with no VPN at all – the lower the percentage the better.
You can check results as far back as the past eight weeks – that way you can get a good impression of how reliable Surfshark is, not just how fast it can be.
Use our Speed Test Tool to compare Surfshark's speeds across different cities.
This test is performed by our automated testing tool that runs constantly, seven days a week, to deliver up-to-date and consistent results from all over the world. There's no human bias, and no relying on third-party websites. We own all the servers and infrastructure that we test with, and report the results exactly as we find them.
For its low price you might be surprised to see Surfshark performing so well in our speed charts. In recent days it's even become the fastest. It's unlikely to stay that way, particularly as the table shows Surfshark to be more inconsistent than ExpressVPN, NordVPN and Private Internet Access. Still, it never dips as low as CyberGhost and maintains a solid amount of speed throughout the eight-week period.
Surfshark unblocks Netflix, Disney+ & BBC iPlayer
Streaming & Torrenting
Surfshark is an excellent VPN for accessing blocked content on Netflix and other streaming websites. It consistently unblocks region restrictions on Netflix, BBC iPlayer, and Disney+, and also works with Amazon Prime Video, Hulu, Sky, HBO Max, and Kodi.
Surfshark doesn't just unblock Netflix in the US, either. It works with at least 15 different international libraries, including:
Australia

Brazil

Canada

France

Germany

India

Italy

Japan

Netherlands

Norway

South Korea

Singapore

Turkey

United Kingdom
We experienced fast loading, no lag, and high video quality. We found that all Surfshark UK servers work with BBC iPlayer, too, which is notoriously hard to access. This was also the first VPN to unblock Disney+ on its release, and has been our top recommendation ever since.
Surfshark doesn't offer dedicated servers for the purpose of streaming, but the vast majority of servers work anyway. In our most recent tests, we found that only the Charlotte and St. Louis servers didn't work to access US Netflix. 
Surfshark is so reliable for streaming because of its Smart DNS and Trust DNS features, which act as a proxy to help to unblock content reliably. It's worth remembering that these features will not encrypt your traffic, so they do not come with the associated privacy benefits.

Surfshark VPN also has a dedicated native app for Amazon Firestick and Fire TV. Through this you can watch other streaming services including HBO Go, Hulu, Netflix, and YouTube.
One subscription gives you unlimited bandwidth and unlimited simultaneous devices, which means you can use the VPN on your Fire TV device at the same time as all of your other devices.
To install Surfshark on Amazon Firestick, simply subscribe to the VPN and then download the app from the Amazon App Store. Be sure to read our guide to installing a VPN on Fire TV Stick if you need help.
Overall, Surfshark is one of the best VPNs available for streaming. The service provides quick, reliable access to multiple international libraries, Smart DNS, and custom apps for Amazon Fire TV Stick and Apple TV.
To learn more, check out our complete guide to using Surfshark for Netflix.
Is Surfshark Good for Torrenting?
Surfshark is an excellent VPN for torrenting. Its sensible privacy policy and strong encryption help to hide your P2P activity from your ISP, and the VPN comes with an automatic kill switch that disconnects your internet should your VPN connection falter. This keeps your seeding activity and sensitive information safe from any accidental exposures.
All servers allow for P2P filesharing, though some of them are specifically optimized for P2P. These servers include:
Canada

Denmark

Germany

Hong Kong

Italy

Luxembourg

Netherlands

Norway

Poland

Singapore

Spain

UK

US
If you're torrenting on a server location that isn't optimized for torrenting, your traffic will be automatically routed to servers that are. If you're in Europe or Asia or outside of the UK, your traffic will be routed through Surfshark's Netherlands server. If you're in the Americas but outside of the US or Canada, it will route through Canadian servers.
These P2P connections are compatible with Ace Player, VLC, and PopcornTime. The VPN is also compatible with all popular torrent clients including BitTorrent, Deluge, Transmission, uTorrent, and Vuze.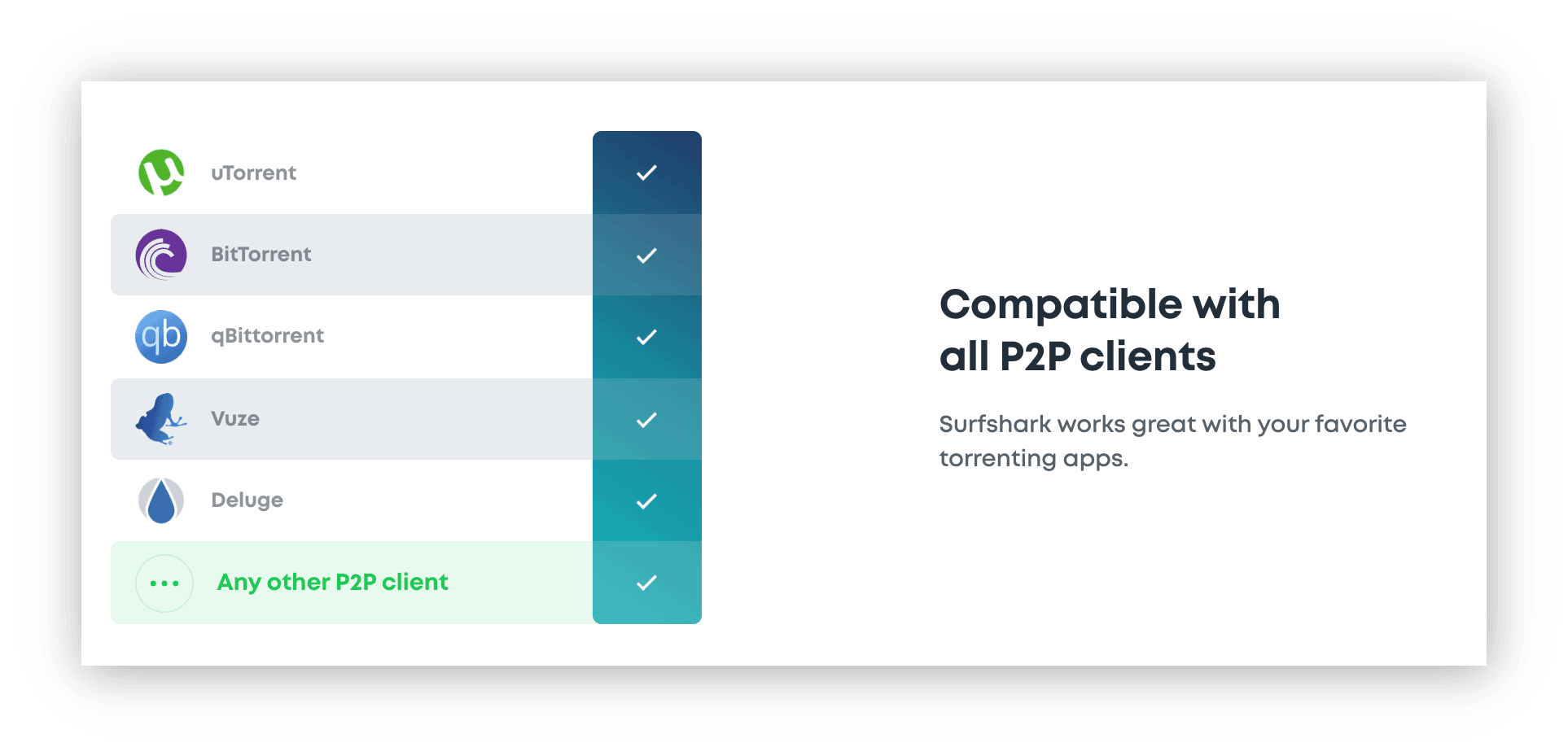 Surfshark's CleanWeb feature will also help to protect your device from any malware that you might encounter when torrenting. Camouflage Mode and MultiHop servers provide extra security, while speeds are consistently fast enough to torrent without any issues. We'll cover all of these features in detail in the next section.
Strong encryption & advanced security features
Encryption & Security
Protocols

IKEv2/IPSec

OpenVPN (TCP/UDP)

Encryption

AES-256

Security

DNS Leak Blocking

VPN Kill Switch

WebRTC Leak Blocking

Advanced features

Double VPN

Smart DNS

SOCKS

Split Tunneling
Please see our VPN Glossary if these terms confuse you and would like to learn more.
Surfshark includes all of the essential security features you would expect from a top-tier service. This includes robust encryption, a selection of secure protocols, leak protection, and an automatic kill switch on all native applications. We also found no evidence of IP, DNS, or WebRTC leaks.
Surfshark's security is provided by AES-256 encryption on all platforms, with ChaCha encryption also available for Android users. IKEv2 is the default protocol used on all apps, though you can choose OpenVPN in the settings menu. The Windows, Android, iOS and Mac apps also allow you to choose between TCP and UDP OpenVPN connections.
We recommend you use OpenVPN where possible, as this generally provides the best combination of speed and security. Surfshark's MacOS app used to require manual configuration in order to use OpenVPN, which was disappointing, but it has since listened to criticism and developed it for its MacOS app. This is great as it shows a VPN willing to heed criticism and adapt to its users needs.
Without this improvement you would have been stuck manually installing via Tunnelblick or using IKEv2 protocol. While IKEv2 is still a secure and fast protocol, it's not the gold standard like OpenVPN. You can find a security comparison of all available VPN protocols in our guide to VPN encryption.
Windows users also have access to the Shadowsocks protocol, which is an open-source encrypted proxy. This is another helpful tool to help users bypass internet censorship in countries like China and Russia. 
Surfshark also goes beyond the basics of VPN security. It comes packed with advanced security features that are built to enhance your experience and safeguard your data while browsing. 
Surfshark's advanced security features include:
Camouflage Mode

, also known as

obfuscation

. This is a technology that disguises your VPN traffic to make it look like 'normal' browsing. This means even your ISP can't tell you're using a VPN.

CleanWeb

is Surfshark's proprietary ad, tracker, and malware blocker. It is not turned on by default.

MultiHop

, sometimes known as

double-VPN

, is a useful feature for privacy-conscious users. This will route your traffic via two different VPN servers instead of one. This additional layer of encryption makes you significantly harder to track, though it may reduce connection speeds.

BlindSearch

is a private search engine designed to allow users to search the web with no ads, logs, or trackers. This, along with HackLock, can be added to an existing Surfshark subscription for an extra $0.99 per month.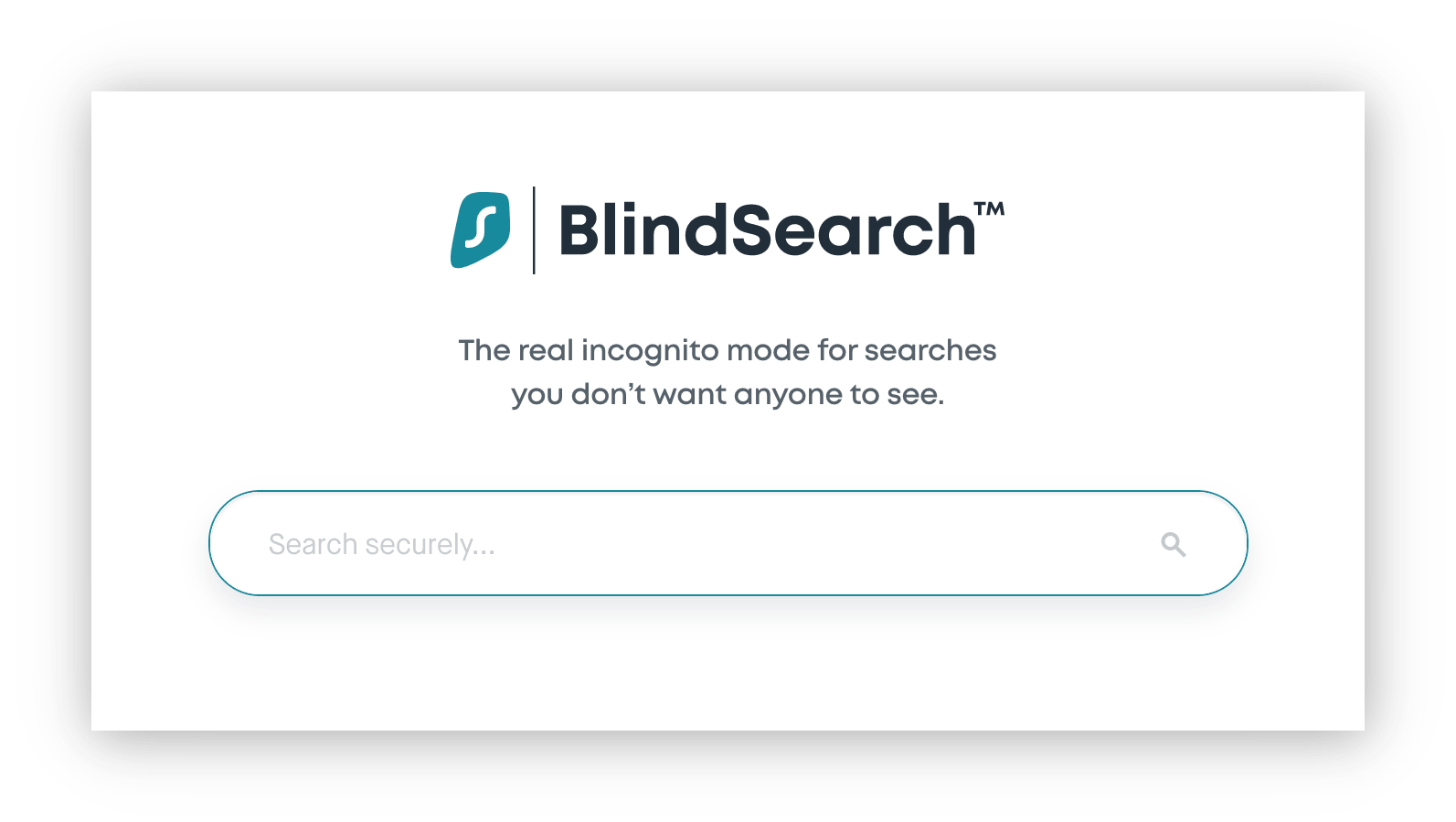 Whitelister is a split-tunneling feature that allows certain predefined applications and websites to bypass the VPN tunnel. It's easily accessible via the Features option in the sidebar menu of the Surfshark app.
HackLock

is a breach detection mechanism. The tool scans the web in real-time to make sure your email and personal information hasn't been leaked to online databases. This allows you to change passwords, remove details, and prevent unnecessary damage if your details are leaked. This comes in an

added bundle

with BlindSearch, and can be found directly in Surfshark's apps.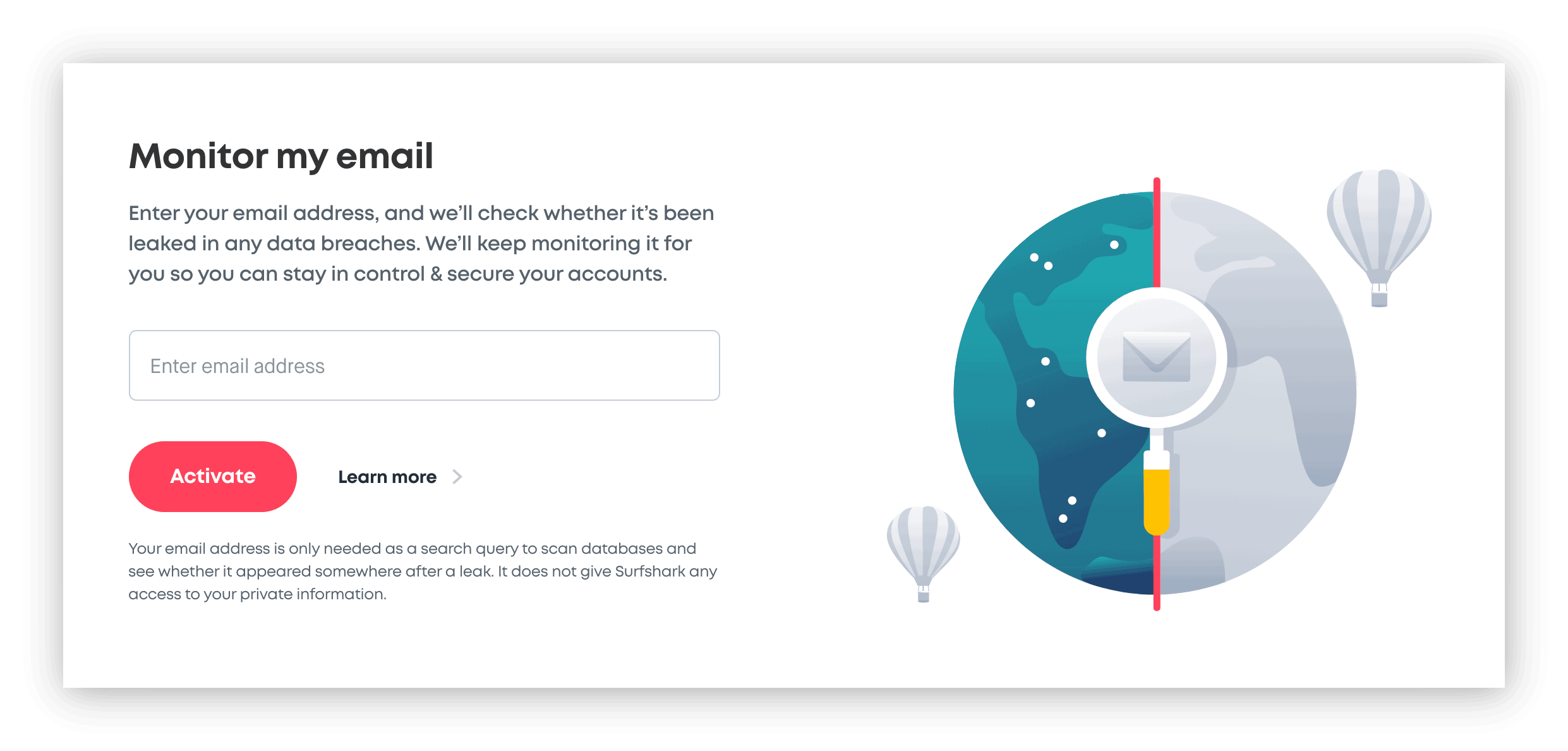 A

VPN kill switch

is an essential feature for any premium VPN. This prevents any information or sensitive data from leaking if your internet connection drops. To enable it on Windows, toggle the setting in the app's security menu. On Android devices, you'll need to enable it manually in the device settings.
It's encouraging to see Surfshark display a commitment to privacy even beyond the use of a VPN, and it's impressive that these features all come bundled for such a low price. It's worth noting that Hacklock and Blindsearch must be downloaded separately, and cost an extra $0.99 per month on top of an existing Surfshark subscription.
Surfshark was also the first VPN to develop a GPS spoofing feature that doesn't require third-party software or technical know-how. This feature allows you to shield your true location from unwanted tracking, and can be found in the app settings under the Virtual Location option.  It's available on Android devices only, so we'd like to see it expanded to other devices.
Surfshark have also gone the extra mile to include a two-factor authentication (2FA) option for its users too. It has a guide on how to enable this useful feature here.
For the more technically minded, Surfshark's encryption uses an RSA-2048 handshake and HMAC SHA256 data authentication. Perfect Forward Secrecy is implemented through the Diffie-Hellman Key Exchange (DHE), which means that encryption keys are not reused between sessions for an added layer of security.
In simple terms, Surfshark is a very safe VPN service. With the recent addition of OpenVPN across all apps, Surfshark's encryption and protocol offering is as secure as it gets. All of its advanced features come in one easily managed package, which is more than can be said for some VPN services.
Leak, Virus & Tracking Tests
Surfshark uses private DNS on every server to protect your DNS requests. We tested this by connecting to a US server from our office in London, and recorded zero DNS, IPv6 or WebRTC leaks when using its apps. You can see the results of our leak test here: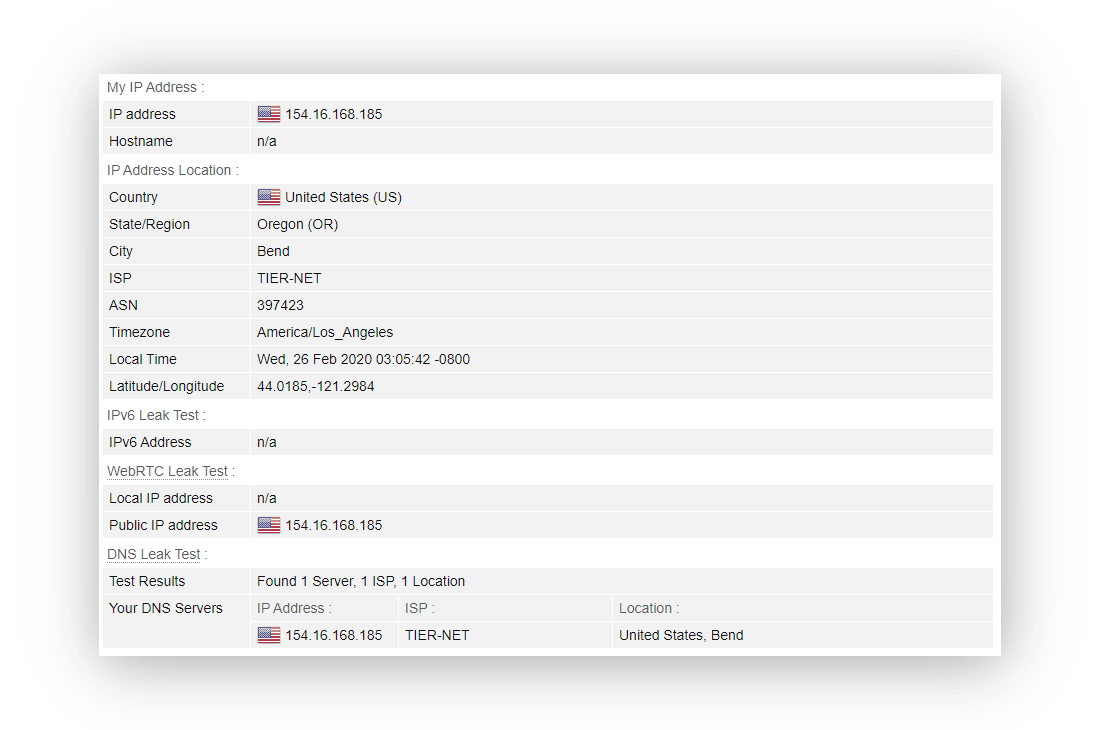 Surfshark is virus-free too. We scanned the VPN software for any malicious files and it came back completely clean: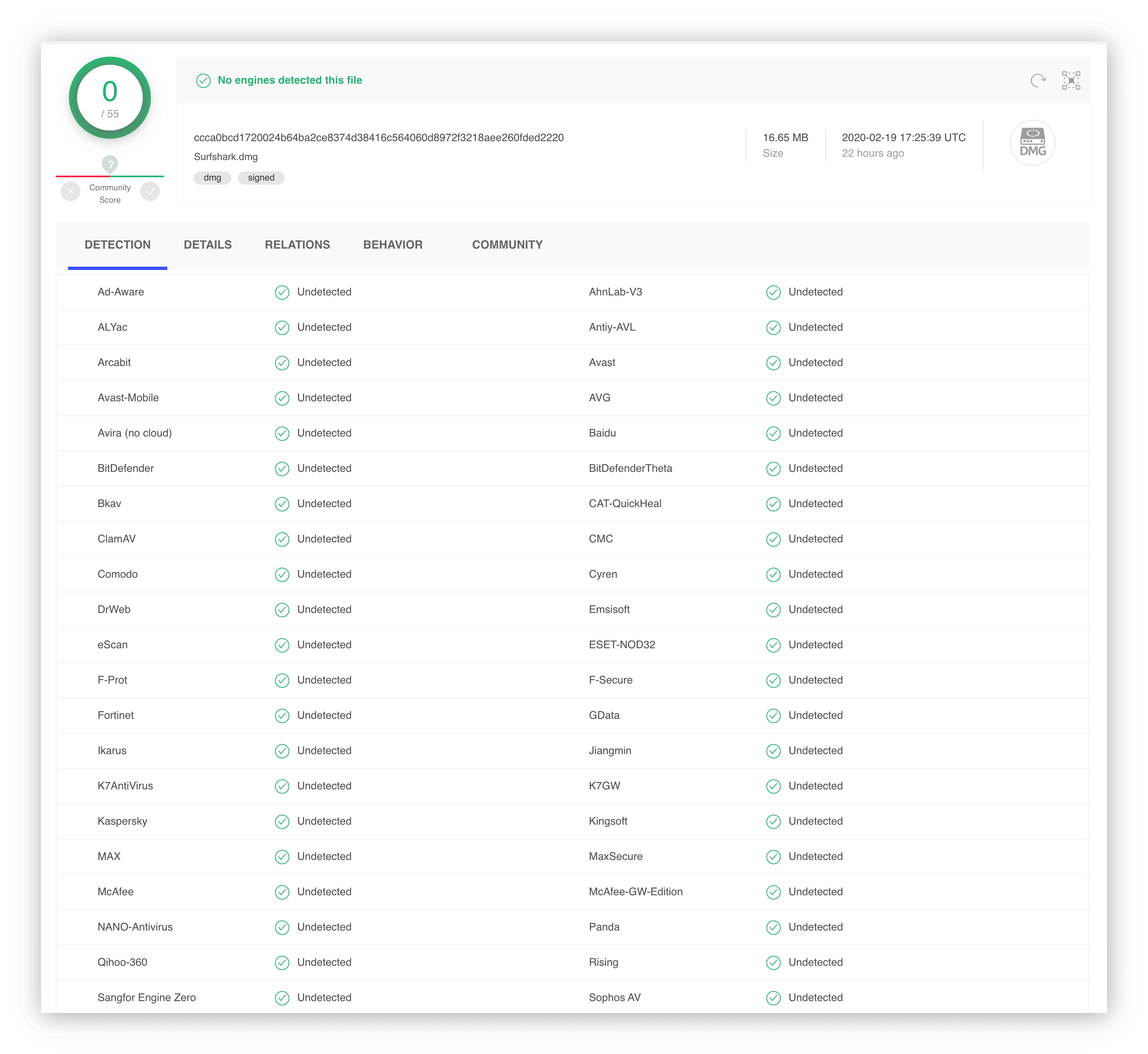 We also tested for any trackers in the app that could potentially compromise your privacy, so we ran it through the εtxodus tool. This helps expose any trackers or permissions present in Android apps. Here's what we found: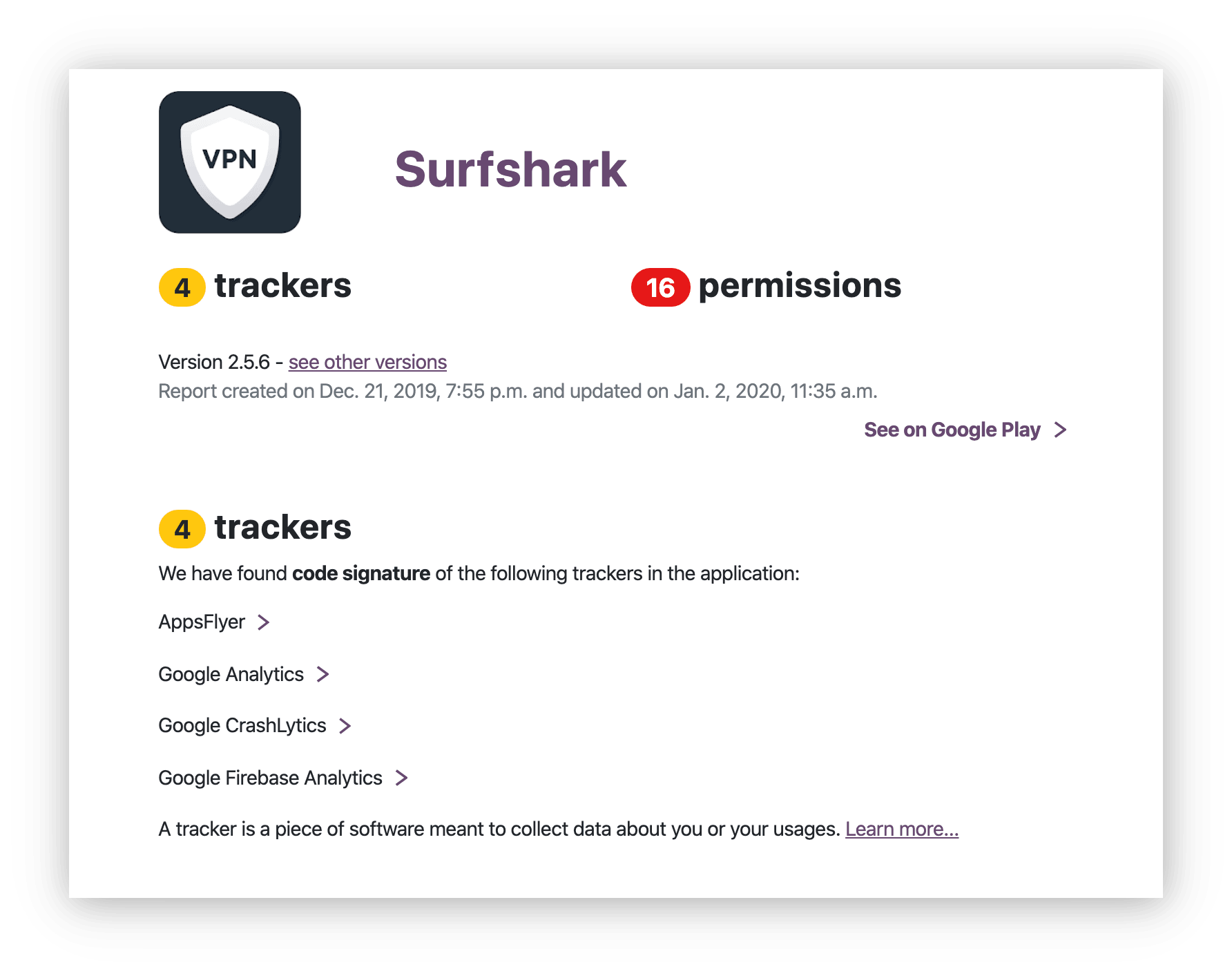 Surfshark on Android has four trackers for Google Analytics, GoogleCrashLytics, Google Firebase Analytics, and AppsFlyer. Analytics aren't too concerning as it allows Surfshark to maintain the performance of its app and see how users interact with its service. Some of the top VPN services have similar tracking in place, while some – like Astrill VPN – have none at all. 
The Israeli-based AppsFlyer is more concerning. This is a marketing tracker that "uses artificial intelligence and machine learning for big data analytics." According to VentureBeat, AppsFlyer leverages metadata from 98% of the world's mobile devices. While this doesn't sound good for privacy at all, its privacy policy states that it doesn't share data with any third parties.
The Android app also has 16 permissions, which dictate the level of access the software has to your device. Three of these permissions are considered 'special' or 'dangerous' according to Google's protections levels, including: 
Access to your camera

Access to the contents of your SD card

Permission to modify and delete the contents of your SD card
These permissions are unnecessary for a VPN application designed for privacy. We'd like to see these removed or explained in future updates.
1,800+ servers in over 66 countries
Server Locations
66
Countries
100+
Cities
1800+
IP Addresses
Surfshark has a large network of over 1,800 servers in 66 countries. It's not the largest server network in the VPN market (CyberGhost and HideMyAss! (HMA) are leading for sheer spread), but there's enough diversity to keep most users happy. The majority of servers are in Europe, but this is the case with most VPNs.
The further the server is from your actual location, the slower your internet speeds will be. That's why it's important to have as many servers as possible. If Surfshark wants to expand as a service, it'd be worth investing in coverage for places like the Middle East, Africa, and Asia.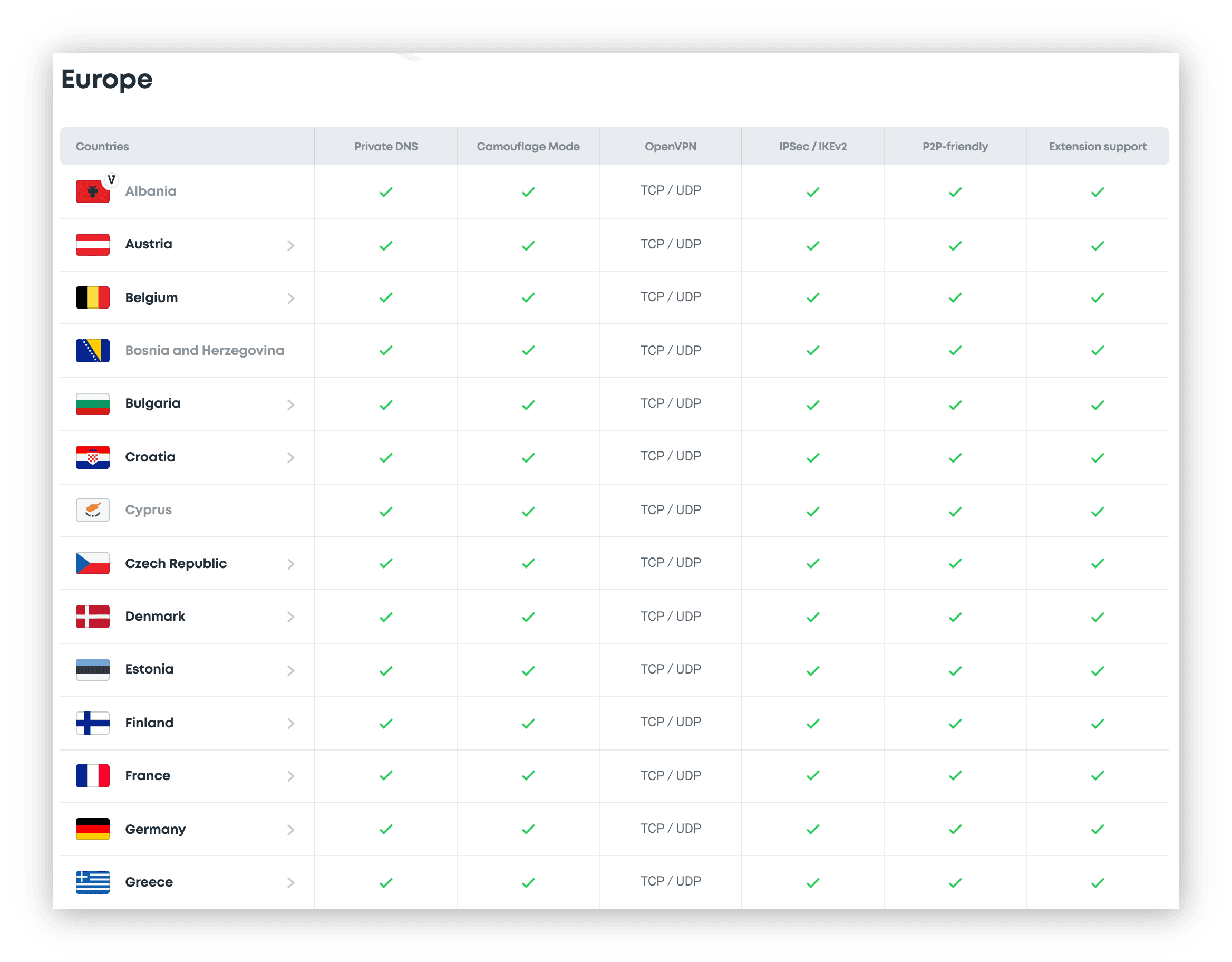 There are 12 countries that can be connected to at the city-level. These include:
Australia

Canada

France

Germany

India

Italy

Poland

Portugal

Russia

Spain

UK

US



The US has the most cities available with 26 city-level locations to connect to, which is a good level of coverage. 
Three locations in Canada – Toronto, Montreal, and Vancouver – may seem too few for such a large region, but it covers both coasts and helps to spread coverage more evenly. 100 servers across five city locations in Australia is also one of the better selections that we've seen.
You'll see in Surfshark's apps that it lists different types of server, too. Windows users will see options for static IP, virtual servers, and MultiHop, while Mac users will see labels for physical, virtual, P2P, and MultiHop.
Static IP servers are worth clarifying. This means the IP address you connect to remains the same whenever you use that server. This allows for faster speeds and easier access to geo-restricted content, but it also poses a greater security risk because it's a single IP address linked to you.
One very positive inclusion is MultiHop servers, sometimes called 'Double VPN'. These add an extra layer of security by sending your traffic across two different encrypted servers. This may slow down speed, but it's beneficial for security.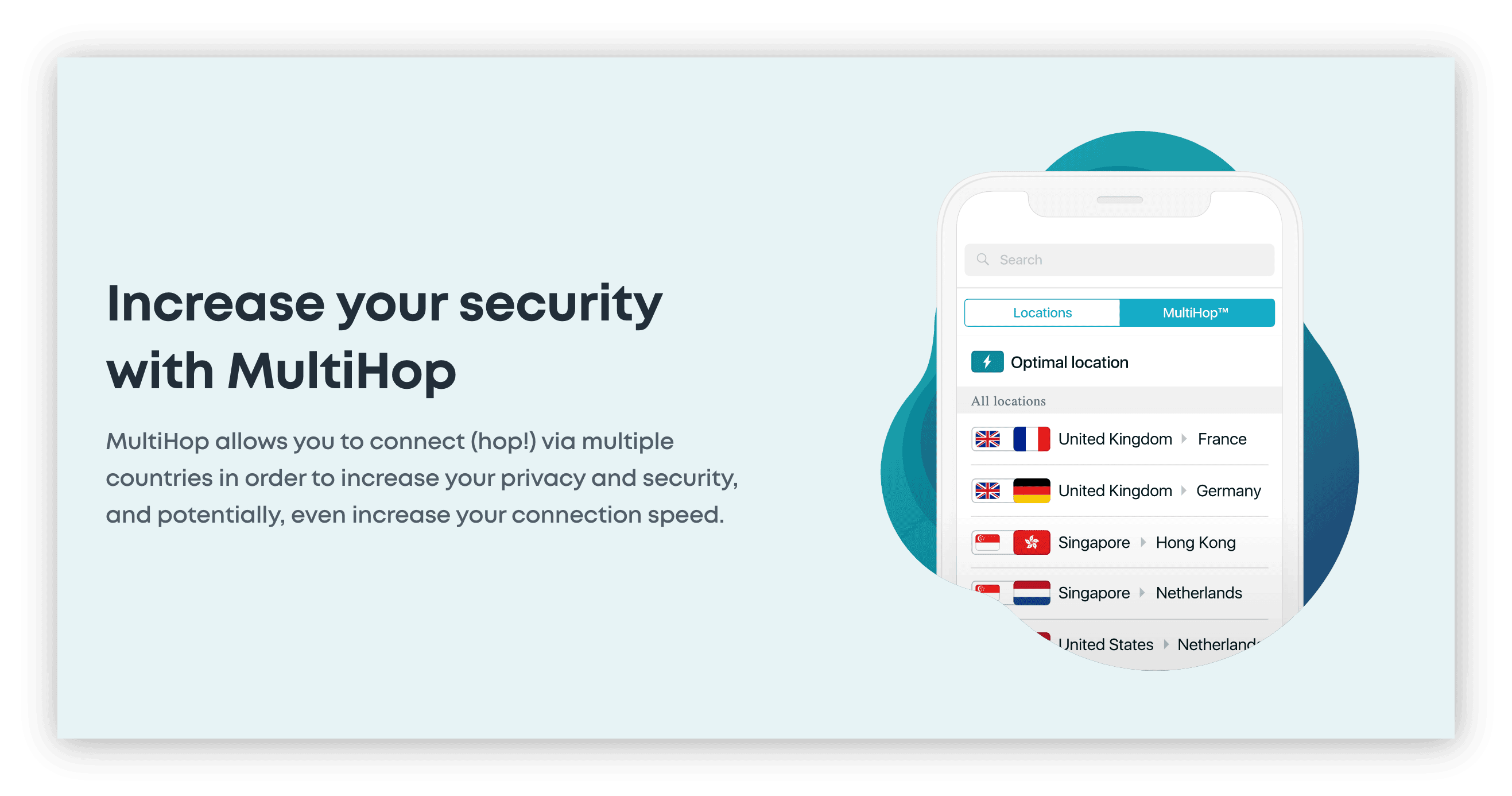 As it stands, Surfshark's server listings are difficult to understand for casual users. We'd like to see consistency in the types of servers offered across different platforms, and labels for which servers work best with services like Netflix.
It would also be useful if ping times and server load were listed so regular users can form a better idea of which server location they'd like to use.
What Type of Servers Does Surfshark Use?
Surfshark allows users to choose between virtual locations and physical locations. Virtual locations are marked with a small 'v' on the Window app, and listed separately on the Mac app.     
Virtual locations will assign you an IP address in the country of your choice even if the actual server is located elsewhere. Physical locations refer to servers actually located in the country you're connected to.   
Virtual locations allow Surfshark to cover even more locations around the world, and can often lead to better speeds. However, if the actual server is much further from your physical location than advertised, you may see a drop in performance. 
These virtual server locations include:
Albania

Chile

Costa Rica

Slovenia
While there is nothing wrong with using virtual locations, it is unclear to what extent Surfshark owns its server network. Both types of location – physical and virtual – could be hosted on rented machines, which can pose a risk to your privacy. 
Surfshark's choice to display which locations are virtual should be commended. However, we'd like to see more transparency when it comes to the ownership of its server network.
Competitors like VyprVPN have demonstrated a clear commitment to owning and operating their entire network, which is ideal for privacy.
In July 2020, Surfshark moved away from hard drive technology and now operates a completely diskless, RAM-only server network. This vastly improves the security, as information cannot be physically extracted from the servers, and enables central management of the whole network. Very few VPNs have this feature.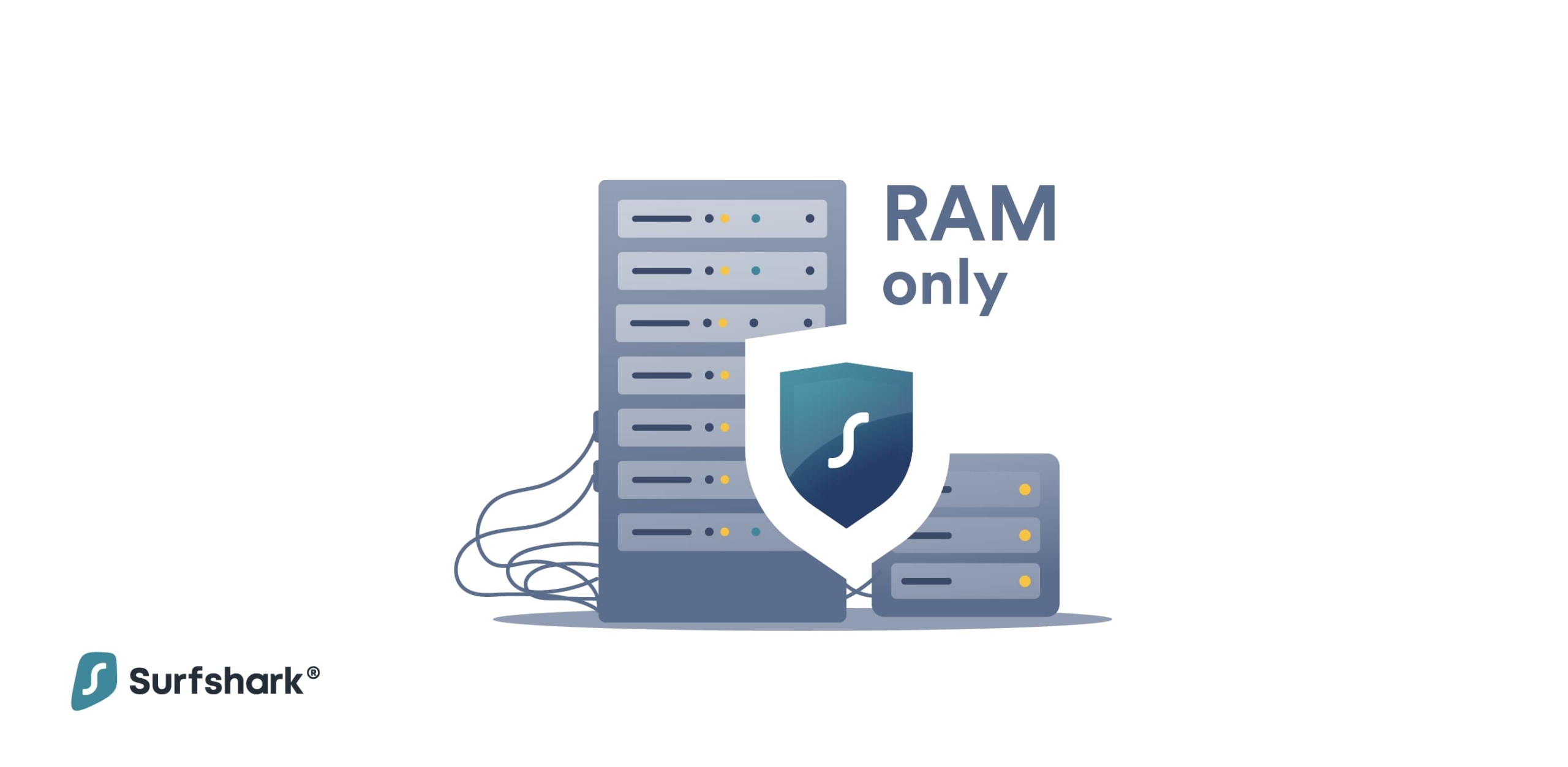 Surfshark beats internet censorship
Censorship
It's clear that Surfshark has put some work into the anti-censorship function of its VPN service. It's now one of the best VPNs available for unblocking censored content and bypassing VPN blocks.
Additional features such as Camouflage Mode, Shadowsocks, and NoBorders Mode mean that this VPN is much more likely to work in highly-censored countries than most competing services.
Countries like China have some of the most pervasive internet censorship regimes in the world, enforced by a highly sophisticated apparatus known as The Great Firewall of China. These systems can recognize and block VPN traffic within the country's borders.
At one time you had to download a specifically configured file to get around these blocks, but recent updates have improved Surfshark's app so it automatically recognizes if you're trying to connect from a censored country. This means that Surfshark is also likely to work in other countries where VPNs are restricted including Iran, Oman, Russia, Turkey, and the UAE.
The NoBorders Mode is an asset designed specifically to fight against internet restrictions and censorship. This feature detects when you're connected to a restricted network or in a censored country and automatically redirects your traffic elsewhere. You can find detailed advice on enabling NoBorders mode here.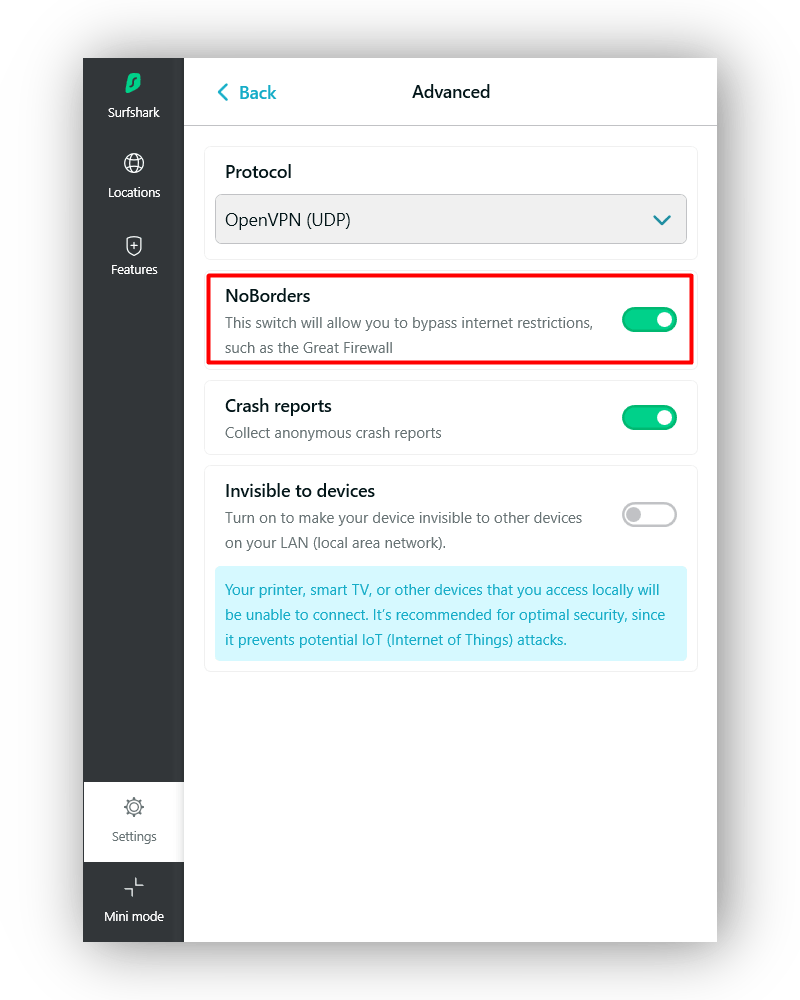 Camouflage Mode is partly responsible, too. This is an obfuscation tool designed to make your VPN traffic appear as normal traffic, disguising your VPN usage from ISPs and thereby eluding the censors. This feature is automatically activated whenever you connect with the OpenVPN (TCP or UDP) protocol. 
Surfshark is also compatible with ShadowSocks protocol, an open-source encrypted proxy developed by a Chinese programmer known as "Clowwindy".  ShadowSocks, also called SOCKS5, is a favorite of torrenters and is easily selected as a protocol on Surfshark's custom apps. ShadowSocks does require manual configuration on some devices, but there are helpful online guides on how to do this for Android, MacOS, and Windows.
You can also use Surfshark and the Tor Browser at the same time for extra anonymity, which is useful against censorship. To do this, connect to a server first and then launch your Tor browser. However, it's worth remembering that combining both tools will reduce your internet speeds significantly. You can find out more about using Tor with a VPN in our Tor vs. VPN guide.
Native applications & unlimited simultaneous devices
Platforms & Devices
Apps
Windows
Mac
iOS
Android
Linux
Router
Surfshark is compatible with every major platform including Windows, MacOS, Android, iOS and Fire OS. There are browser extensions for Chrome and Firefox and custom apps for less popular systems including Linux and Amazon FireTV. You can find helpful setup guides for all of its devices on the Surfshark website. 
There is no simultaneous device limit, which means you can protect all of your devices with just one Surfshark subscription. This is a great feature that very few VPN providers can match ‒ most competitors set a limit at around five devices and charge more to exceed the limit.
If you own a device that Surfshark hasn't covered, you can also install the app on your router, with client software available for DD-WRT, Tomato and AsusWRT routers. This will then protect the traffic of any device connected to the VPN router.
While Surfshark has a large selection of apps, there is a lot of variability between their offering on each platform. It's often much harder to access certain services on particular operating systems, and some apps offer features that others simply don't. We would like to see Surfshark offer a little more consistency between its applications. We'll cover the differences in detail in the next section of this review. 
Games Consoles & Streaming Devices
AppleTV
Amazon Fire TV
Chromecast
Nintendo
PlayStation
Roku
Xbox
Surfshark has more to offer for streaming devices through its Amazon Fire TV Stick and Apple TV apps.
You can also access geo-restricted content with your SmartTV, PlayStation 4, Xbox One, and Apple TV by changing the DNS address provided by your Internet Service Provider (ISP). This can be done using Surfshark's Smart DNS technology.
You can activate the SmartDNS feature via "My Account" on the Surfshark website. Once you've done this, you will be sent an email with further instructions. While Smart DNS will allow you to access restricted content, it does not provide the same security level as normal VPN browsing because your traffic is not encrypted.
Surfshark didn't make the cut for our top five recommended VPNs for gaming as its speeds were not fast enough. However, if you're interested in Surfshark for other reasons and want to try it out for gaming, you can install it on your router to protect all the devices in the house including your Xbox and Playstation.
There are plenty of reasons to game with a VPN, including accessing region-restricted content and protection from DDoS attacks and ISP throttling. You can read more about this in our list of the best VPNs for gaming.
Browser Extensions
Chrome
Firefox
Surfshark provides safe, independently audited browser extensions for both Google Chrome and Firefox. It's not free to everyone like CyberGhost's extension is, but it's certainly worth adding it to your browser and logging in with your account if you want to surf the web casually and privately.
It operates similarly to the full Surfshark app but there are no settings options to speak of and you should remember that browser extensions lack the same level of protection as a VPN.
They're proxies, which means they do the job of spoofing your IP but lack security encryption. Only ExpressVPN has a browser extension comparable to its full on VPN. It's worth reading about the differences between proxies and VPNs in our guide.
Simple setup and user-friendly apps
Ease of Use
How to Install & Set Up Surfshark
Surfshark's native applications are well-designed, functional, and reasonably easy to use. The interface is clear both for casual VPN users and experienced users looking for more advanced settings. Even if you're new to VPNs, you should have no trouble taking advantage of Surfshark's advanced features. 
There are also plenty of customization tools to personalise your VPN experience, including language change, auto-connect, status notifications, 'Dark Mode', and 'Mini Mode'. 
All of the native apps have an automatic kill switch, NoBorders mode, MultiHop, and CleanWeb. However, there are some differences between platforms, with some features present on certain devices and not others.  
Each platform presents Surfshark's server types in a different way, which can be confusing. We'd like to see more consistency between native applications as well as the option to view server load and streaming-optimized servers on all platforms.
Windows Client
Surfshark offers a standard looking Windows app with simple navigation options on the left-hand-side. The main dashboard features a large connection button and a list of your most recent country connections.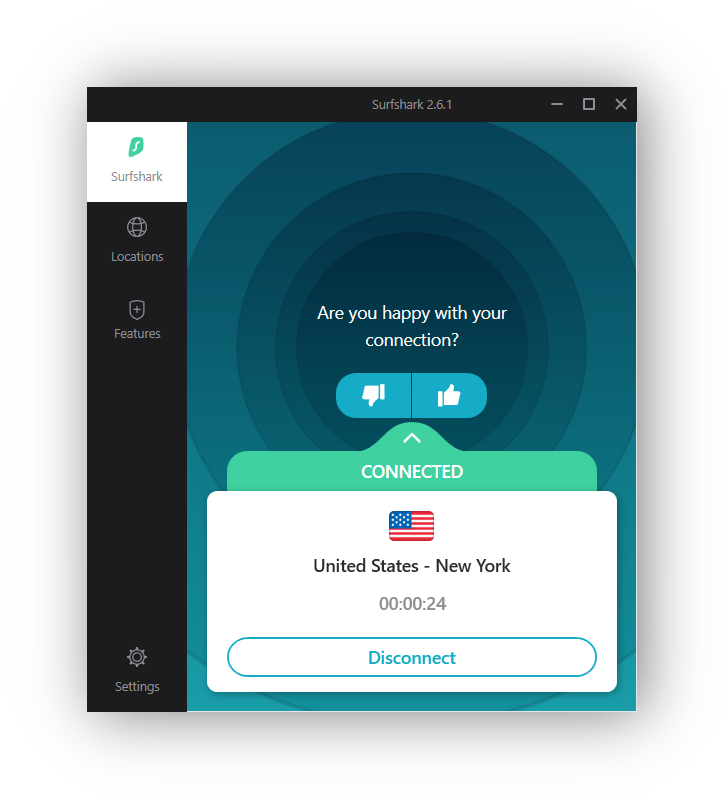 The menu is a sidebar condensed to just a few options: main screen, locations, settings, and features. A Quick Connect button is also available to automatically connect you to the most optimal server based on your location.
Surfshark provides a clear list of server locations and a search bar to help you quickly find the server you want. Windows users will see options for static IP servers, virtual servers, and MultiHop, and there's also a favorites system to manage the locations you most commonly connect to. Unlike the Mac client, there is no easily accessible list of P2P servers on the Windows app. You have to use the Smart Search and click the P2P option.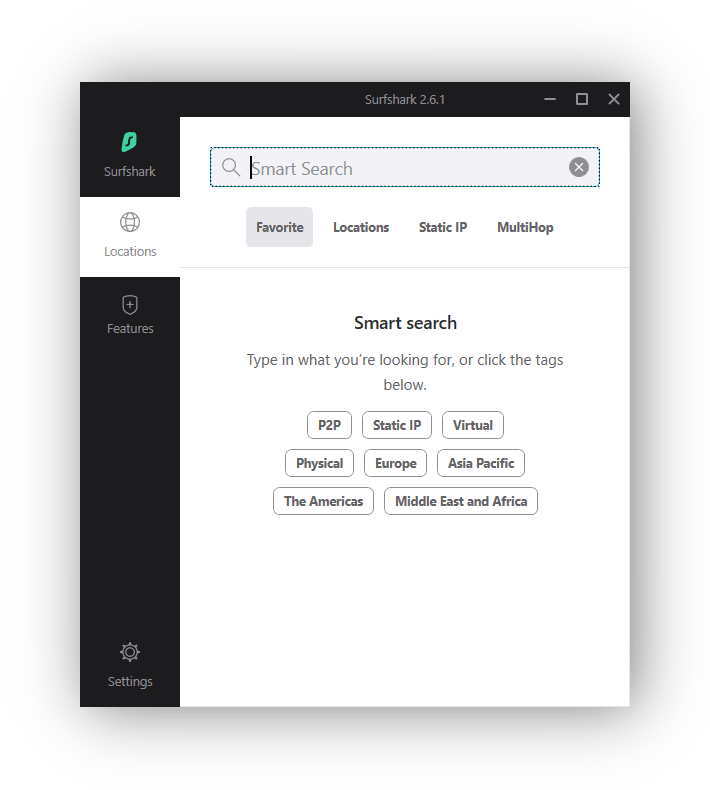 Windows users do benefit from added customization options, including the ability to go into Dark Mode and Mini Mode.
You can change the basic menu to a smaller app window by right-clicking the system tray icon. From this smaller window, you can quickly connect to the fastest server or choose your most recent location without having to open the full interface.
The choice to switch between protocols (including OpenVPN) is also made simple on the Windows app, with a drop-down menu in the app Settings.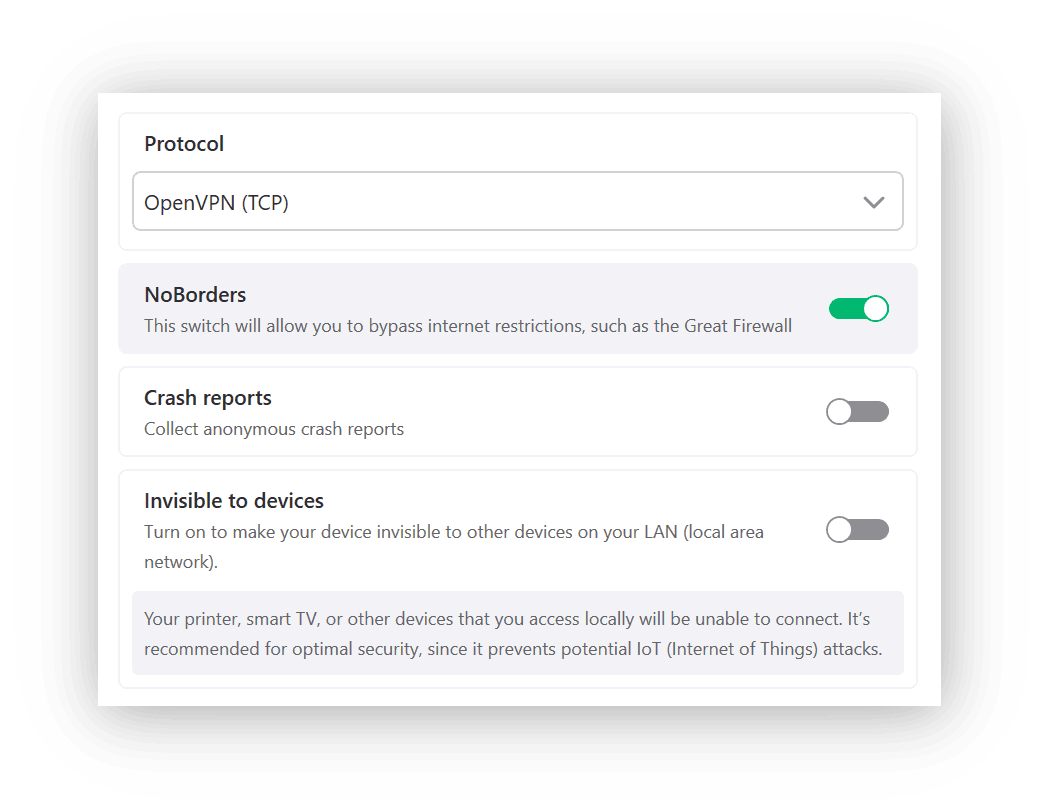 Overall, Surfshark's Windows application is nicely designed and easy to navigate. In the location section, we'd like to see an indication of server load or ping times for city-level servers so users can easily find the best-performing server for their location.
Surfshark's Windows client isn't perfect, but it's generally easy to use and there's a lot of functionality to explore.
MacOS Client
Surfshark's Mac application is similar, but the locations are listed as an even simpler side menu for navigation. You'll also see options between Physical, Virtual, P2P and MultiHop servers made much more prominent compared to Windows.
The Settings menu just above the servers is also nicely presented on Mac. The Features menu gives you one-button access to tools such as HackLock and BlindSearch, which means they're never too far away. This type of access is exclusive to the MacOS client ‒ if you're a Windows user you'll have to navigate to the Surfshark website to find these tools.
Android & iOS
Surfshark's mobile apps are also attractive and easy to use. The user interface is deceptively simple, with most of the important features lined up at the bottom of the screen. All of the features and functions work well on mobile devices for both Android and iOS.
Surfshark's mobile VPN offerings are similar to its desktop counterparts, which is rare. The interface is the same and it includes many of the same advanced features, including CleanWeb, split tunneling via the Whitelister feature, and multihop connections. It runs OpenVPN/IKEv2 and Shadowsocks protocols and comes with a kill switch to protect you if the VPN connection drops.
The Android gives a choice of encryption methods too, bet alongside a 'use small packets' option to improve network performance.
Surfshark offers 24/7 live chat support
Customer Support
| | |
| --- | --- |
| 24/7 Live chat support | Yes |
| Email support via an online form | Yes |
| Tutorial Videos | Yes |
| Online Resources | Yes |
Surfshark offers fast, friendly, and helpful customer support with 24/7 live chat and a ticketing system available. There's also an online help section featuring installation guides, troubleshooting, an FAQ, and knowledgebase, which has everything from setup tutorials to billing information. There's also the option to send an email, if you'd prefer.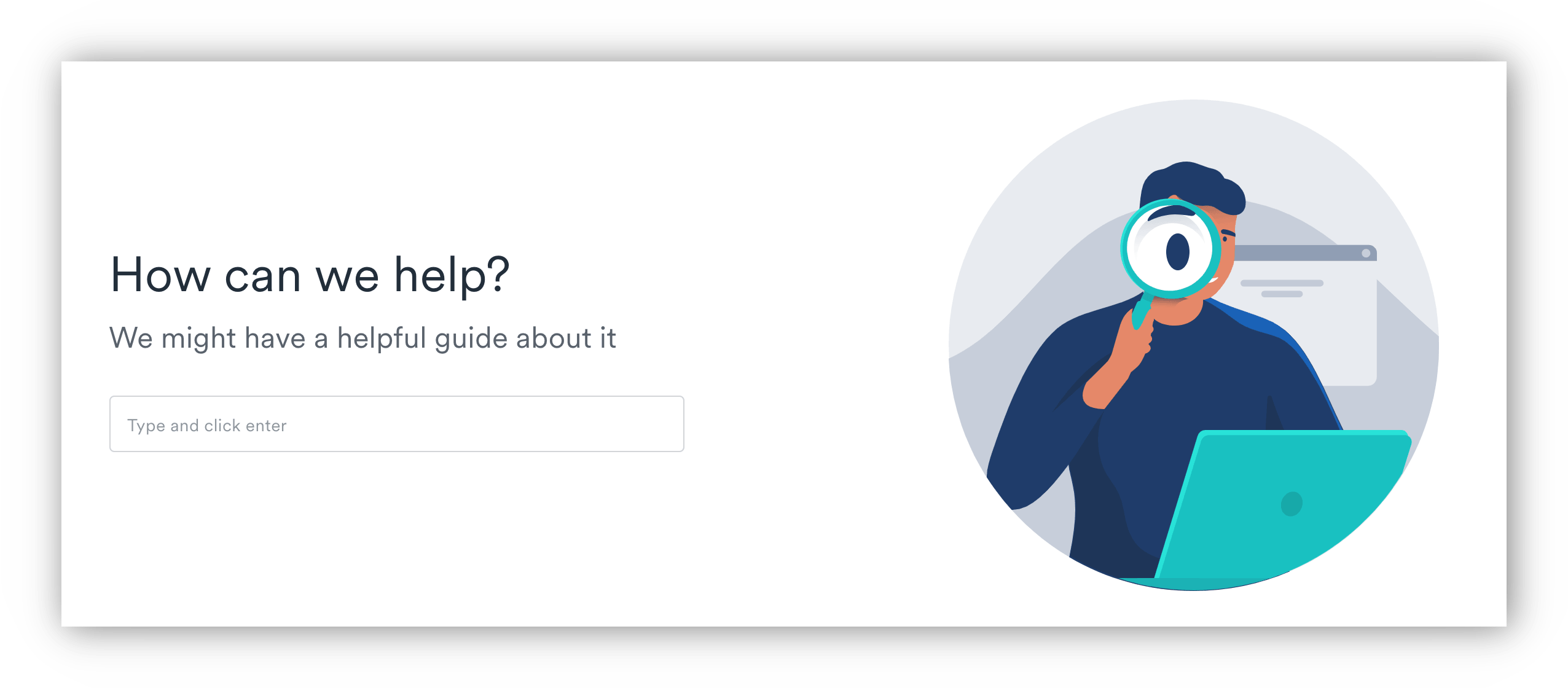 Customer service is an incredibly important part of any premium VPN service. Many VPNs still don't have a live chat feature, and even fewer have it available 24/7. For this reason, Surfshark's efficient customer support is a huge advantage.
To access Surfshark's live chat simply head to the website and click the Chat icon in the bottom right corner of the page. We found their customer support team to be fast and informative, and we got an answer to our query in under a minute. 
However, technical questions might take a little longer. When we asked about ChaCha encryption, our support agent took a while to respond and their answer was lacking in detail. If you have a particularly technical question, it might be worth using Surfshark's email ticketing system instead.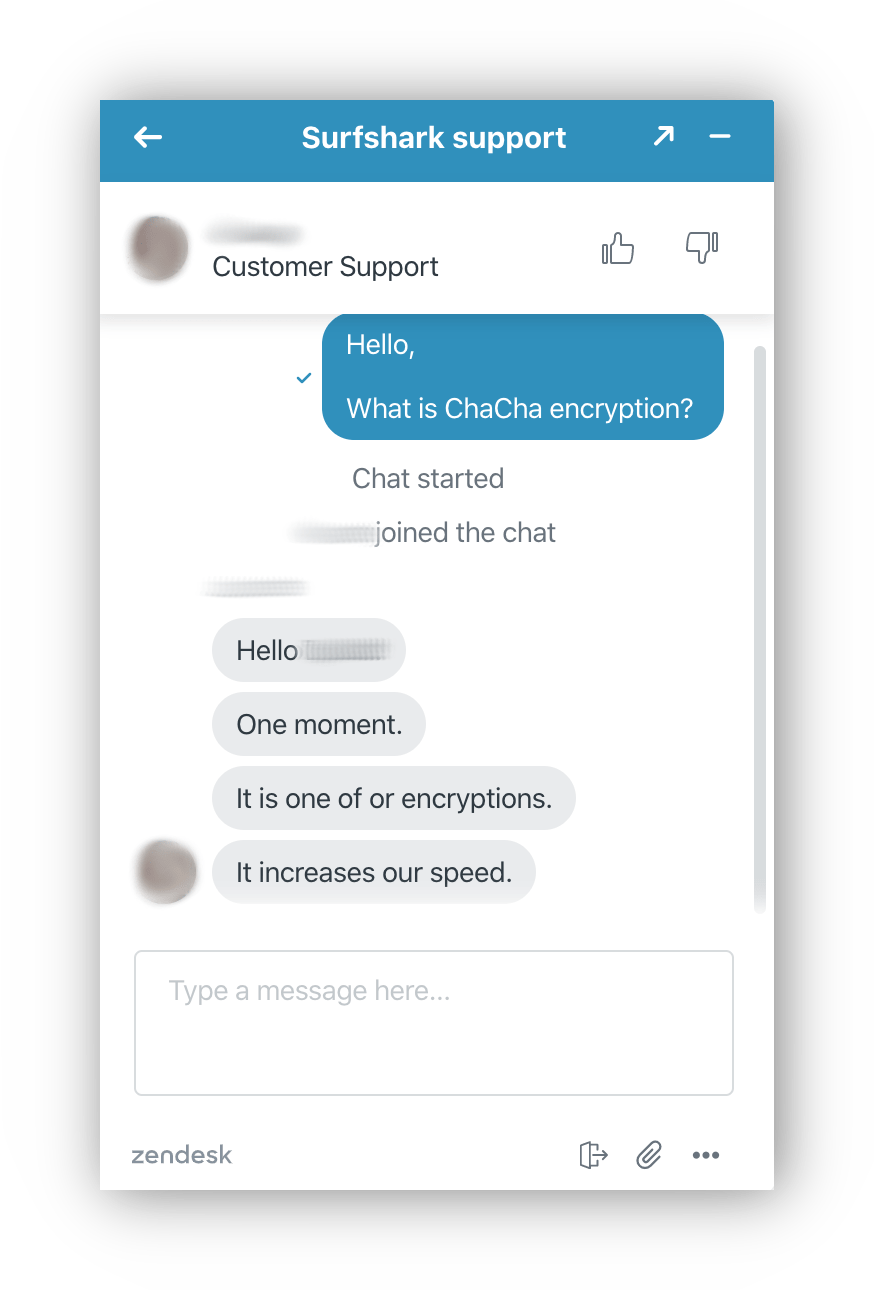 Surfshark is exceptional value for money
Pricing
Surfshark Coupon
Surfshark Pricing Plan
Even with all of Surfshark's exclusive features and 24/7 live chat support, it's still one of the cheapest VPNs on the market at just $2.49 per month for a two-year subscription (paid as $59.76 up-front and annually after the first 24 months). There are also short-term plans and a 30-day money-back guarantee for users that are concerned about a long-term commitment. 
If you download the app from the Google Play or Apple App store, there is also a 7-day free trial that requires your billing information upfront. If you choose to continue using the app after 7 days, you will be charged.
Surfshark is available to subscribe to on three plans: monthly, 6 months, and two-years. As usual, the shorter plans come at a higher price, but even the most basic subscription will give you access to some of the provider's best features.
The monthly plan is priced at $12.95 per month, while the six-month subscription works out at $6.49 per month, billed as $38.94 every six months. This is a 50% saving on the monthly plan, which is reasonable.
Surfshark's real value comes with the tw0-year subscription plan, which costs $2.49 per month (billed $59.76 upfront and every year after the first two-years). That's an 81% saving over the month-by-month plan, making it one of the cheapest one-year plans on the market.
Overall, $59.76 for a year of internet protection, a bundle of advanced security features, and reliable streaming is great value for money. If you'd like to compare how Surfshark's pricing compares to some other cheap VPNs on the market, you can check our list of the best cheap VPNs. 
Does Surfshark Have a Free Trial?
Surfshark does have a seven-day free trial available to download through the Google Play and Apple App Store. This is a great option for VPN users looking to test out the software to make sure it meets their needs.
To access the free trial, download the client from the app store and sign-up by selecting 'Start Free Trial'. Input your details and you're good to go. With these details you can then sign in to any of the Surfshark apps, including Windows and Mac. Simply download the software on each device from the website and enter your trial details to try out Surfshark on desktop too.
After the seven-day period, the service comes with a 30-day money-back guarantee.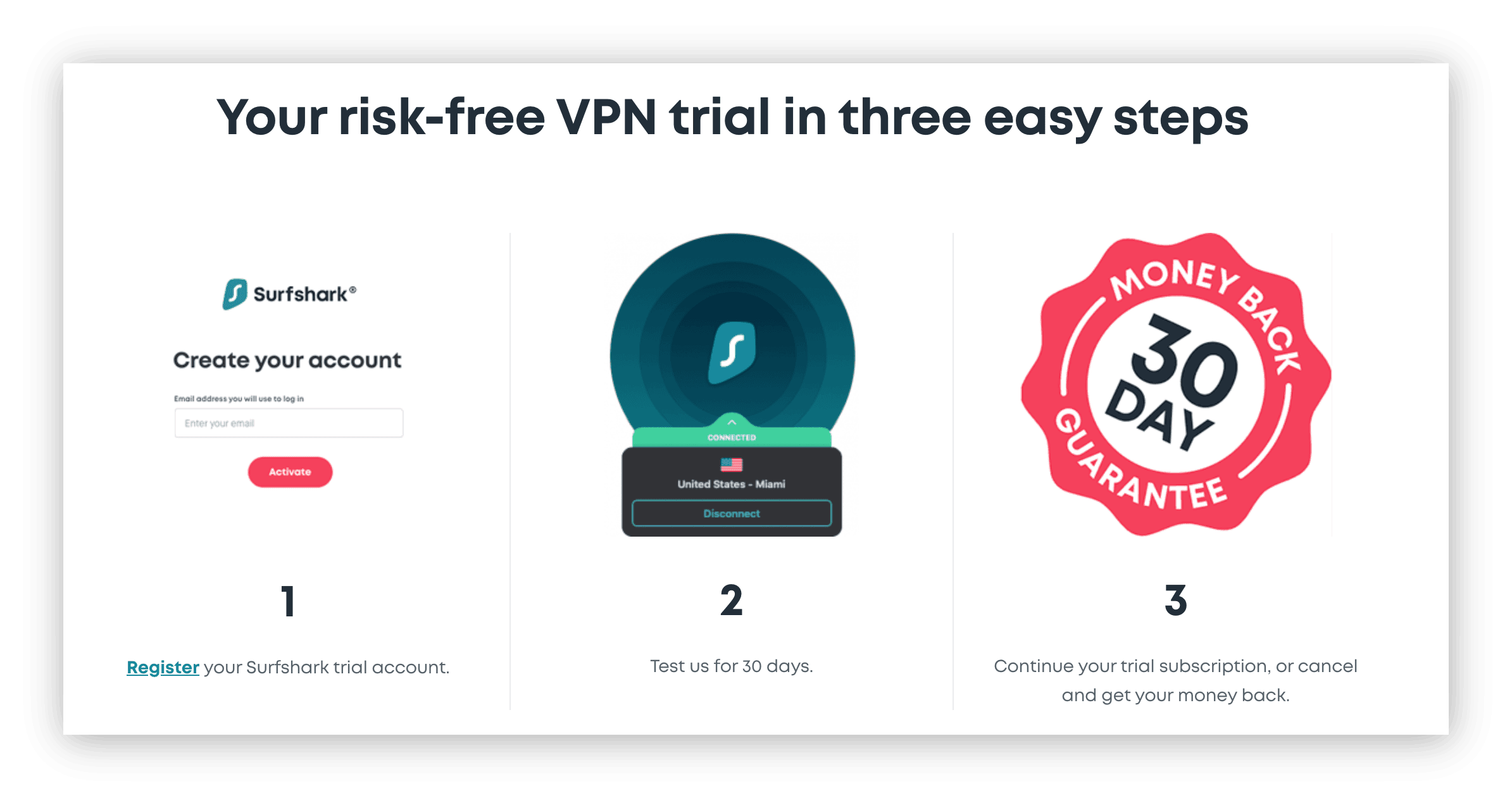 With this, you can sign-up to the service and use Surfshark completely free and unrestricted for up to 30-days. Just ask them for your refund within the timeframe and they'll return your money, but be prepared to answer some questions as to why you'd like to cancel. 
The money-back guarantee is no-questions-asked and risk-free. Just state that you'd like a refund by contacting support and it'll give it to you without any issues. 
All plans have 30-day money-back guarantee
Payment & Refund Options
| | |
| --- | --- |
| Credit Card | Yes |
| PayPal | Yes |
| Bitcoin | Yes |
| AliPay | Yes |
Surfshark provides a range of payment and refund options including PayPal, all major debit cards, and even cryptocurrency. The full list of payment options includes:
Debit Card (Visa, Mastercard, Amex, Discover) 

Credit Card

Bitcoin

Ethereum

Ripple

PayPal

GooglePay

AliPay

Amazon Pay

Apple Pay



Privacy-conscious users will be pleased to see so many cryptocurrencies, as this makes your payment much harder to trace. Cash payments are not available, which leave digital trace at all. However, only MullvadVPN currently offers this option.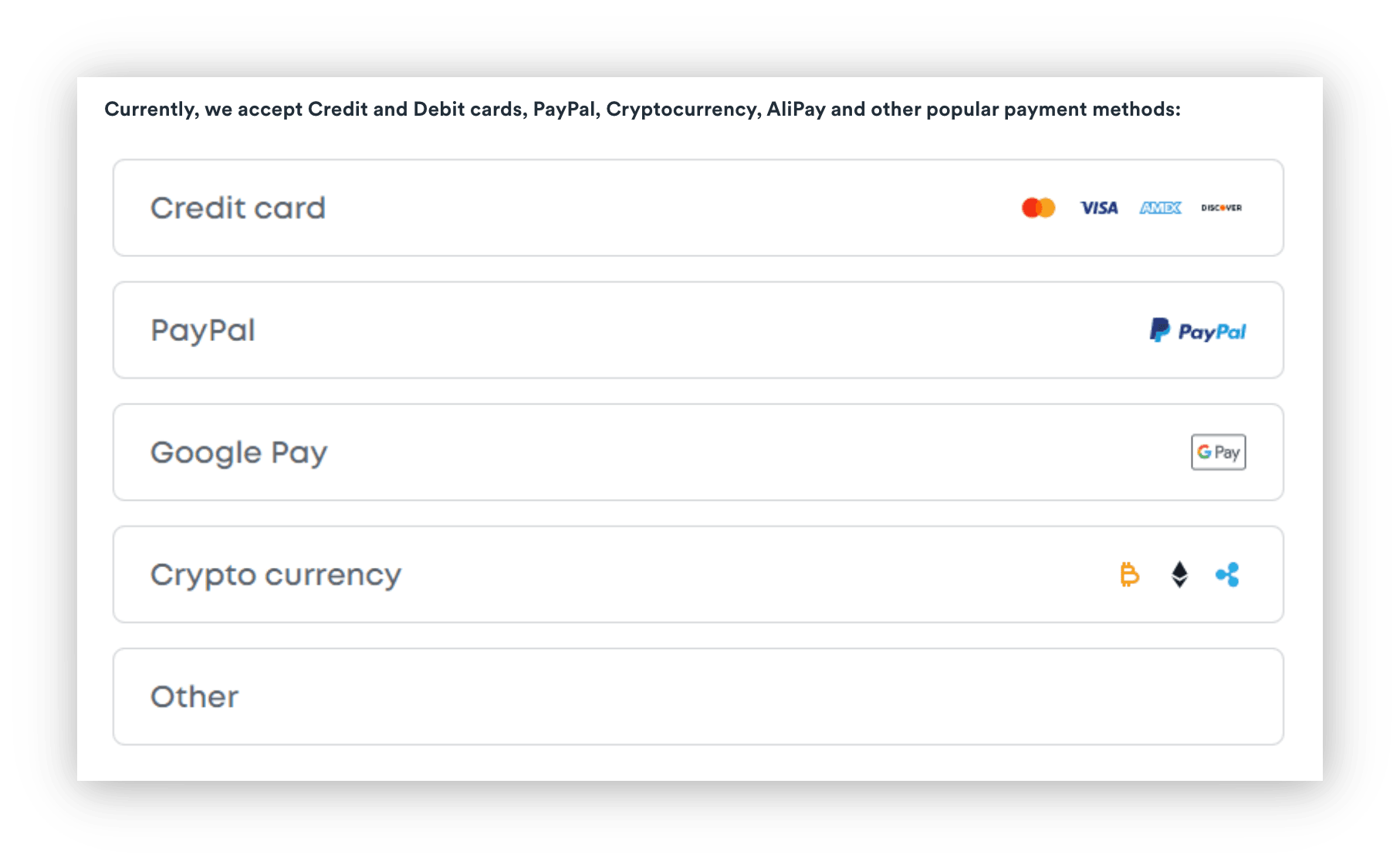 Do We Recommend Surfshark?
The Bottom Line
Surfshark is a high-quality, secure, and reliable VPN that performed very well in testing for this review. It offers a great array of advanced features, compatibility with Netflix, and a wide selection of applications that are well-designed and user-friendly. The 24/7 live chat support is also a great feature for beginners that need help setting their service up.
Surfshark offers a deeply impressive service overall, especially for the price. If you're looking for unrestricted streaming and torrenting capabilities or unlimited simultaneous connections then it is excellent value for money. 
Users looking to use a VPN in China or other censored countries can also take advantage of Surfshark's obfuscation tools that effectively bypass blocks and restrictions. If you're living in China, Russia, or Turkey, Surfshark is a good anti-censorship tool.
However, as this Surfshark review has shown, there are some issues. While we're happy to see it now supports all major platforms, we'd also like to see some more consistency in the features on offer across different devices.
Privacy and security are both strong and the speeds are quick and reliable, but Surfshark could benefit from an independent audit to help offset concerns around the lack of transparency in its ownership and corporate structure.   
However, its abundance of exclusive features and solid security practices make it one of the most appealing budget VPN services available. Surfshark's cheap two-year subscription plan is especially worth considering if you're looking for a long-term VPN. 
Alternatives to Surfshark
ExpressVPN is the best all-round VPN and patches up any holes that Surfshark has. The problem is ExpressVPN is much more expensive, priced at $6.67 per month on its best deal. Quality wise it's better, but be prepared to pay a bit more than what Surfshark is asking. Read ExpressVPN review
NordVPN has more servers than Surfshark and it's quicker. It's style and function is very similar as well, so there's no loss on the usability front. It's slightly more expensive, but it's one of our highest ranked VPNs and well worth thinking about if you're not convinced by Surfshark. Read NordVPN review
---
User Feedback for Surfshark