Top10VPN is reader-supported. We may earn commissions if you buy through links on this page. Learn how we make money.
Surfshark: Ranked #10 out of 99 VPNs that we tested
When picking a VPN, trust is crucial. Would you trust a VPN that was only founded in 2018? Or, more importantly, should you?
That's one of the key questions you have to ask yourself when considering Surfshark VPN. With so many established rivals, does Surfshark do enough for you to place your trust in such a new product?
We wanted to find out the answer for ourselves, along with a whole load of other questions:
Where is Surfshark located?
Is Surfshark free?
Does Surfshark work in China?
Does Surfshark work on Firestick?
What is Smart DNS?
And, of course, is Surfshark a good VPN?
We're relieved to say we're pleased with what we found – Surfshark is a very good VPN, and by the end of this review you'll understand exactly why. You can see our key pros and cons just below.
Downloads of 76Mbps (global average)
Works with Netflix and BBC iPlayer
User-friendly apps, quick and easy setup
Connect securely to 50 countries
Very strict zero-logs policy
Manual config required for Linux
Torrenting only permitted in the Netherlands
Works with
Netflix, BBC iPlayer, Hulu, HBO, Amazon Prime Video, Sky, Torrenting, Kodi
Want to know more? Then read on for the full, in-depth Surfshark review – starting with its VPN connection speeds.
Speed & Reliability
Good speeds, but can't compete with the best
Surfshark is not a slow VPN, but it can't compete with the speeds of the best VPN services. 
Surfshark's same-country download speeds are noticeably slower than the fastest VPNs we've seen, but they'll still be more than enough for casual VPN users.
One thing we can say for Surfshark is the consistency of its connections. There were barely any fluctuations in our testing, with the connection never once dropping.
Surfshark even performed well over longer distances, such as Japan and Australia. It may not be enough to stream in Ultra HD across multiple devices, it'll certainly do the job for most everyday users.
Uploads are consistently better across the board and ping latency is okay, although perhaps not enough for gamers to consider Surfshark. 
Surfshark even performed well over longer distances, such as Japan and Australia. It may not be enough to stream in Ultra HD across multiple devices, it'll certainly do the job for most everyday users. 
Speed results from our physical location in London (100Mbps fibre optic connection) to a London test server.
Before using Surfshark:
92

92

Ping

ms

2
When connected to Surfshark:
76

90

Ping

ms

4
Download speed without Surfshark: 92Mbps
Download speed with Surfshark: 76Mbps
Our download speed loss when Surfshark is running 18%
We put all of the VPNs on the site through a rigorous scientific speed testing process, determining the average speeds from multiple locations across the globe. These are the average speeds you can expect to pick up from these locations:
USA: 34Mbps (download) & 40Mbps (upload)
Germany: 56Mbps (download) & 76Mbps (upload)
Singapore: 25Mbps (download) & 8Mbps (upload)
Australia: 19Mbps (download) & 3Mbps (upload)
Server Locations
Not many locations, but speeds are still decent
50
Countries
64
Cities
800+
IP Addresses
Surfshark's 64-location server network is far from the most we've seen, but is slightly higher than the average amount and certainly enough to deliver the speeds you need.
800 IP addresses is a small number when compared to top-tier VPN services, but it will work to protect your anonymity and provide a reliable connection. This is especially the case in the more popular server locations. 
20 city-level servers in the US is a fair distribution and three in the UK should do the job.
Three city-level servers in Canada – Toronto, Montreal, and Vancouver – may seem few for such a large region, but it covers both coasts and so helps to spread coverage more evenly.
Five city-level servers in Australia is good, covering the south and east coast of the nation well, but it could do with some northern distribution to equalize coverage. 
But Surfshark only provides one single location in Africa, which is far from extensive for such a huge area.
Streaming & Torrenting
Great for streaming, as long as you use the browser extension
Surfshark consistently unblocks Netflix both in the US and the UK. Surfshark also works with BBC iPlayer, which is often difficult to access with other VPNs.
The catch is that Surfshark only unblocks this streaming service via its browser extension.
The London server does the trick, but be aware that the browser extension does not offer the same full encryption as the VPN app itself. 
There's also something called Surfshark Smart DNS – but what is it?
Surfshark Smart DNS helps to unlock content more reliably, although it also doesn't offer as much protection as the full VPN service, so think carefully before using it.
Surfshark is also known to work with:
Amazon Prime Video

Hulu

Sky

HBO

Kodi
Torrenting
While you can torrent on any Surfshark server that you like, traffic is automatically channeled to servers that are optimized for it. These include:
US
UK
Canada
Germany
Italy
Poland
Spain
Norway
Denmark
Luxembourg
Hong Kong
Singapore
Netherlands
If you're in Europe or Asia and outside of the UK, it will be routed through the Surfshark Netherlands server. If you're in the Americas but outside of the US or Canada, it will route through Canadian servers.
This way, you get top-notch speeds.
These P2P connections include streaming players:
Ace Player
VLC
PopcornTime
They also include torrent software:
BitTorrent
qBitTorrent
Transmission
Vuze
uTorrent.
Surfshark's no logs privacy policy and the inclusion of a kill switch makes torrenting extra safe for users. 
Those who use their connection for a lot of P2P traffic should take a look at our list of the best VPNs for torrenting. 
Bypassing Censorship
Works in China, with some effort
Surfshark isn't the simplest solution for getting around blocks in high censorship countries – but it works in censored countries, including China.
If you're in China you'll need to download a specially configured (free) file from the Surfshark website called 'NoBorders Mode'. This only goes for MacOS, iOS or Android users, as Microsoft Windows version comes with it built-in. 
While Surfshark's VPN service won't automatically bypass censorship without NoBorders Mode, it still offers a reliable solution that extends to other high censorship countries like Russia, UAE, and Turkey. 
It's unfortunate that Surfshark's ability to bypass censorship is not complemented by a range of servers in neighboring free-speech countries.
While it may bypass Turkish or UAE censorship, there are no servers in the Middle East with the sole exception of Israel.
Still, with China and Russia, there are enough neighboring nations to allow decent speeds when connected.
For pure simplicity when getting around censorship, we recommend VyprVPN.
Platforms & Devices
No device limit is a real plus
Apps
Windows
Mac
iOS
Android
Linux
Router
All of the major desktop and mobile operating systems work with Surfshark, including:
MacOS

iOS

Windows

Android

Linux
Coverage is also available via router and there are setup guides for all of them on the Surfshark website.
Surfshark VPN has no device limit either, so you can protect everything you own all at once.
Games Consoles & Streaming Devices
AppleTV
Amazon Fire TV
Chromecast
Nintendo
PlayStation
Roku
Xbox
Surfshark is a good VPN for your entertainment needs, available to use with game consoles and streaming devices.
Surfshark can be used with popular consoles like the Xbox One and PlayStation 4, plus streaming devices like AppleTV, by connecting them to a configured router. Surfshark has also just released a native app for Amazon Fire TV Stick.
With Surfshark, you can set up the VPN on almost any smart TV via SmartDNS which will bypass geo-restrictions and provide enough speed to stream content from around the globe.
For more simple, one-click solutions for gaming and streaming devices, you should look into a provider like ExpressVPN, as it offers a MediaStreamer DNS service that's designed to make this process as easy as possible.
Browser Extensions
Chrome
Firefox
Surfshark offers browser extensions for Google Chrome and Mozilla Firefox, so you can spoof your IP location and encrypt your web traffic.
We'd recommend using them with the full Surfshark program too, though, as they only cover what goes on in your web browser.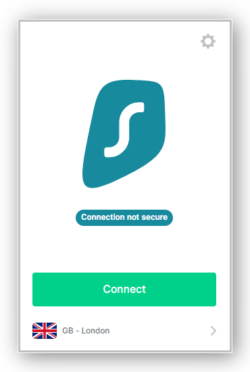 Encryption & Security
Good security with OpenVPN availability
Protocol

IKEv2/IPSec

OpenVPN (TCP/UDP)

Encryption

AES-256

Security

DNS Leak Blocking

VPN Kill Switch

WebRTC Leak Blocking

Advanced features

Double VPN

Smart DNS

Split Tunneling
Please see our VPN Glossary if these terms confuse you and would like to learn more.
Surfshark's Windows app offers the choice of OpenVPN, our personal favorite protocol for making you safe. But if you're using Surfshark on a different platform then you'll need to navigate a bit of manual configuration to get OpenVPN. 
Its AES-256 encryption is widely regarded as near-uncrackable and our testing confirmed that Surfshark has no DNS or IP leaks – plus there's an ad-blocker and kill switch.
Special mention should also go to the MultiHop feature, which routes your traffic through two different VPN servers for extra security (albeit slower speeds) and Surfshark's split tunneling, which keeps you connected while letting certain apps operate outside of the VPN.
Surfshark's browser extensions, however, don't come with WebRTC leak protection to prevent DNS leaks. This isn't great when considering the extension is the only way to stream BBC iPlayer on the service.
Logging Policy
A truly no logs VPN
We dove deep into Surfshark's privacy policy and found that Surfshark doesn't collect any user logs whatsoever.
A truly no logs VPN service is fantastic news for privacy advocates.
The only identifying information it knows about you is your email address (for registering your account) and billing (in case you want a refund).
Fear not: these are in no way connected to what you do while using the service.
Jurisdiction
Surfshark is a relatively new company on the VPN market, but where is it based?
Founded in 2018, Surfshark is based in the British Virgin Islands – one of the most sensible jurisdictions in the world to base your VPN service.
There are no obligatory data retention laws in the British Virgin Islands, and it has no connection to any global data sharing schemes between governments.
Your data and information are well and truly safe.
There's also the nice feature of a warrant canary on the Surfshark website that provides a daily update on the company's interactions with law enforcement: to this day it has never received a gagging order, warrant or National Security letter.
Ease of Use
Simple, great looking app
How to Install & Set Up Surfshark
Surfshark's app looks great and it's responsive, too.
The Surfshark app is so minimal, in fact, that you'd be forgiven for thinking it was oversimplified. However, all the setting to control the more advanced features of the VPN are hidden away behind a single settings menu – they're smartly grouped and clearly labeled so there is never any doubt about what you're doing. 
Browser Extensions
Surfshark definitely has one of the easiest VPN browser extensions around. Just click the shark fin on your browser and location options pop-up. Click once more and watch it swiftly connect.
Customer Support
Fantastic around-the-clock support
| | |
| --- | --- |
| 24/7 Live chat support | |
| Online Resources | |
You won't find around-the-clock live chat support as snappy and well-informed anywhere else at this price – in fact, most VPNs as cheap as Surfshark won't have it at all.
Agents were always standing by to answer our questions quickly and pleasantly.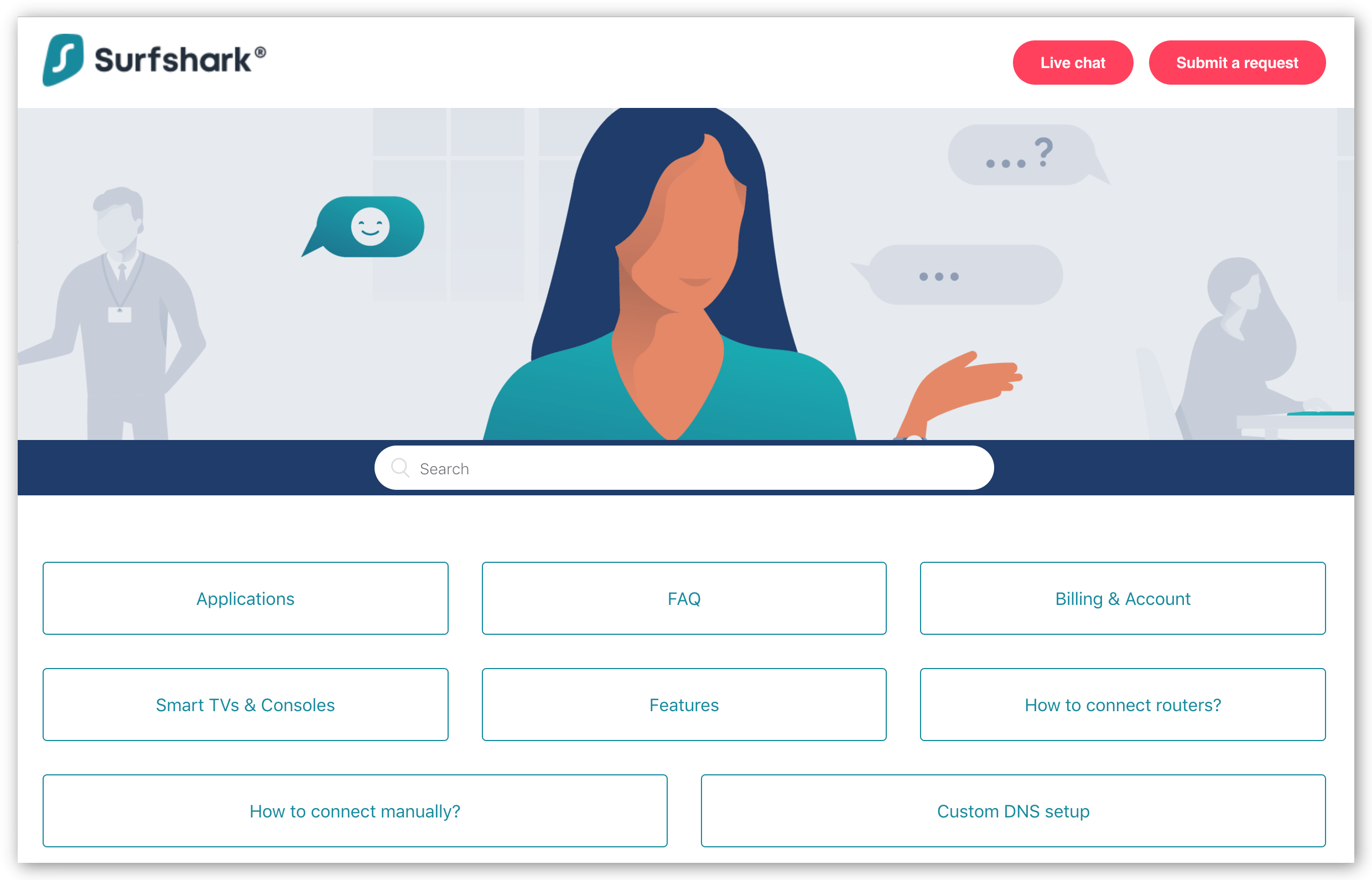 Surfshark's online help sections don't have the same level of depth as we've seen from some higher-scoring rivals, but they cover off the basics well.
You can always send off an email for anything that's not covered.
Pricing & Deals
Extremely good value for money
Surfshark Coupon

Surfshark
Get 83% off Surfshark's 2-year plan
Surfshark Pricing Plan
VPNs as good and as cheap as Surfshark are few and far between. A two-year subscription to Surfshark costs the equivalent of $1.99 per month – an 83% saving over the month-by-month cost and a real deal.
Surfshark's 30-day money-back guarantee period is one of the more generous offerings we've seen, and it truly is no-questions-asked – just hop on to the 24/7 live chat and let the support agent know that you want to cancel.
There's also a seven-day free trial if you'd rather see what you're in for before investing.
All plans have 30-day money-back guarantee
Payment & Refund Options
Surfshark offers the usual range of payment options including:
Debit Card (Visa, Mastercard, Amex, Discover)

Bitcoin

Ethereum

Ripple

PayPal

GooglePay

AliPay
Privacy-conscious users will be pleased to see so many cryptocurrencies, although the most privacy-conscious individuals may have liked to have seen cash payments, which are not available.
You've read our expert review - read on for reviews from real users.
We value your opinion, whether it's positive or negative. Please leave a helpful and informative review, and don't disclose personal information or use abusive language. All user reviews are moderated to ensure they meet our posting guidelines.
Already use Surfshark? Tell us what you think.
When a review is marked "Verified Customer" it means we've verified that the reviewer has had a genuine experience with the company.
Best Positive Review
Worked without any interference
Bought it a few weeks ago, because I wanted to watch Eurovision (you can't watch it in the US). This provider worked without any interference or speed problems. I am definitely using it in the future for my travels if I need to unblock other websites or smth.
Best Critical Review
Firestick disconnects
Have got 2 yr plan and has worked ok on desk top however have loaded onto firestick and wont stay connected. Been on chat numerous times now and left frustrated
Showing 5 out of 5 reviews
I am very dissapointed with surfshark it changes my ip address perfectly on my laptop but never changes my ip address on my 2nd generation tv fire stick no matter how many times i try. I chose the 2 year plan but wont be renewing it.

Fast to connect. Work for my seedbox, a small wifi/3g router, Winsow$, ubuntu, and android... both with app or with manual configuration...

It exceeded my expectations

It's cheap, fast and really easy to use. Though, true I wish they had more location supporting torrents. Their support told me that only US, UK, Canada and Netherlands support it right now. Though I don't have any major speed drops while downloading as I'm near UK and Netherlands.

Good service, works for streaming

Verified Customer

I've been using Surfshark for nearly two months on my PC. Mostly I use it to unlock geo-restricted content and had no troubles with that. The only annoying thing is that they release updates frequently and I need to constantly update it, but that's a minor issue, in the end it's positive experience.

Decent protection service

Verified Customer

Surfshark is a decent VPN as far as my knowledge goes, I use it on my Android when connecting to public wi-fi. Few times connection dropped so I had to reconnect, which was a bit annoying, I hope they'll fix this soon. Overall happy with the service.