Disclosure: Top10VPN.com is reader-supported. We may earn commissions if you buy a VPN through links on our site.
Our Verdict
ExpressVPN is a verified no-logs VPN that hides your IP address and unblocks over 19 Netflix libraries with impressive speeds. Its user-friendly apps give you access to over 3,000 VPN servers secured with AES-256 encryption. ExpressVPN is the best VPN of 2021, although it's pricier than most top VPNs.
ExpressVPN is a popular VPN used by millions, but it's also one of the pricier VPN services on the market. For this ExpressVPN review, we tested all its applications to determine if the VPN service still as fast and secure as it's been over the years, and ultimately if it's still worth the extra money.
While ExpressVPN isn't perfect, it certainly comes close to it. It does almost everything right and meets all of our criteria, including fast global speeds, strong security, great usability, and the ability to unblock US Netflix on almost any United States server.
In fact, ExpressVPN's ability to bypass aggressive geo-blocks is exceptional. Aside from unblocking popular streaming services like Netflix, Hulu, and Amazon Prime Video, it's one of a handful of VPNs to consistently work in China.
ExpressVPN allows P2P traffic on all its 3,000+ global servers, meaning you can torrent files and stream Kodi without any restrictions whatsoever.
The VPN protects your internet traffic with AES 256-bit encryption and secure connection protocols like OpenVPN, IKEv2, and IPsec. ExpressVPN also comes with DNS, IPv6 and WebRTC leak protection, and a VPN kill switch to keep your real IP address hidden at all times.
ExpressVPN's VPN software is one of the safest available. Its applications are also well-designed and beginner-friendly, with native versions for popular platforms like Windows, macOS, Android, iOS and Fire OS.
One improvement we'd like to see is more transparency from the company behind the VPN service. It's also one of the most expensive VPNs out there – even on a 15-month plan it costs more than $6.50 per month. If you can afford it, we believe ExpressVPN is worth the premium price, though. You can always try it risk-free thanks to its 30-day money-back guarantee.
Overall, ExpressVPN is a market-leading VPN that is a valuable tool for both entertainment, security and privacy. In fact, it's our number one VPN of 2021.
ExpressVPN Pros & Cons
Audited zero-logs policy
Strong security & AES-256 bit encryption
Exceptionally fast & reliable speeds
Works with Netflix, BBC iPlayer & more
Safe, fast & unrestricted torrenting/P2P
User-friendly apps for PC, Mac, iOS, & Android
More expensive than some alternatives
No VPN kill switch on iOS
Awkward Fire TV Stick app
No Linux GUI
ExpressVPN Key Summary
| | |
| --- | --- |
| Data Cap | None |
| Speed | 85Mbps |
| Logging Policy | Anonymous Server Usage Data |
| Data Leaks | No |
| Jurisdiction | British Virgin Islands (Privacy Haven) |
| Servers | 3,000+ |
| IP Addresses | 3,000+ |
| Countries | 94 |
| US Netflix | Yes |
| Torrenting | Unlimited |
| Works in China | Yes |
| Support | 24/7 Live Chat |
| Cheapest Price | $6.67/mo over 15 Months |
| Official Website | ExpressVPN.com |
Verified no-logs VPN based in a safe jurisdiction
About & Logging
ExpressVPN doesn't collect any personally-identifiable activity logs. Some connection data is kept including the date of the connection and your choice of server, but there is no record of your full IP address or online activity. Here's all the information collected by ExpressVPN's servers:
Dates when connected to the VPN service
Choice of VPN server location
Total amount of data transferred per day
That's it. ExpressVPN maintains that this is the minimum amount of information required in order to keep the performance of its servers as strong as possible.
We spoke to Harold Li VP of ExpressVPN about the VPN's data retention policy and this is what he told us:
". . . we do not have a publicly stated data retention period for these types of data . . . duration of retention varies based on the type of data . . . we never collect nor retain any data that could link an individual customer with specific activity on the VPN network. Customers can also request for their data to be deleted at any time, in line with their rights under the GDPR."
While it's disappointing not to know exactly how long this data is retained, the most important thing is that it cannot be used to identify you or what you do online.
All that's possible to reveal is that you have used ExpressVPN's service at some point. This is totally anonymous, and about as close to zero-logs as you will find.
A 2018 report by the Center for Democracy and Technology (CDT) questioned ExpressVPN in greater detail, and concluded that its servers were both "extremely difficult to compromise" and "limited in the amount of data that could be revealed" in the event that they were.
ExpressVPN's logging policy was also put to the test in December 2017 when one of the service's VPN servers was seized and inspected by Turkish authorities investigating the assassination of the Russian ambassador, Andrei Karlov. The investigators couldn't find any customer connection logs.
It's clear that ExpressVPN is a company with respect for user privacy, which means we can fully recommend it to anyone looking to use a VPN to protect their anonymity online. In short, your privacy is safe with ExpressVPN.
Who Owns ExpressVPN?
Very little is known about who owns ExpressVPN. The company behind the VPN service has made the decision to stay discreet and private in order to help keep itself and its users safe.
What is known publicly is that ExpressVPN was founded in 2009 and is operated by Express VPN International Ltd., which is based in the British Virgin Islands (BVI) – far outside the intrusive 14 Eyes surveillance alliance.
The BVI is an excellent choice of location for a privacy-minded VPN company because the country has full sovereignty over its own data regulations. This means that outside governments or agencies cannot force ExpressVPN to surrender information.
ExpressVPN International Ltd. is only incorporated in the BVI to benefit from the safeguards the legal jurisdiction brings. In reality, ExpressVPN is a big company with offices around the world.
We regularly reach out to the company's staff to find out more about how it works, and we've also spoken with its Vice President, Harold Li, on a number of occasions.
We believe VPN providers should be transparent about their management and interests, and would like to see greater transparency from ExpressVPN in the future. However, we also understand that its private nature helps it maintain such a strong and safe VPN service in censored regions like China. ExpressVPN has also never complied with any data requests from national governments or authorities.
Fast VPN speeds across its server network
Speed & Reliability
ExpressVPN is one of the fastest VPN services we've tested, with an average download speed of over 85Mbps when connected to a nearby server. This works out as an average speed loss of just 7%, making ExpressVPN just as fast as (if not faster than) its big-name competitors like NordVPN.
It is also remarkably reliable and consistent when it comes to performance, whether you're connecting to a nearby server or one on the other side of the world. We didn't experience any disconnections and the client was quick to connect to our server of choice.
ExpressVPN's speeds particularly shine on long-distance connections – it's the best choice if you want to connect to a country far away from your real location. If you're looking to stream HD video, torrent large files, or make the most of your high-speed internet connection, this is the VPN for you.
Local Speed Test Results
Before using ExpressVPN:
95.71

98.71

Ping

ms

3
When connected to ExpressVPN:
85

91.22

Ping

ms

8
We compared our download speeds before and after connecting to an ExpressVPN server near our physical location. This allows us to test how much ExpressVPN slows down our internet connection when connected to a local server. Here are our full results:
Download speed without ExpressVPN: 95.71Mbps
Download speed with ExpressVPN: 85.00Mbps
Our download speed loss when ExpressVPN is running: 11%
Our average download speed dropped from 95Mbps to 85Mbps when connected to a server in London, which works out as a percentage speed loss of just 11%. If you're new to VPNs and are still unsure: that is a very impressive result. ExpressVPN had barely any impact on our download and upload speeds, and the ping stayed exactly the same.
You can expect similar percentage losses wherever you are in the world if you connect to a server near you.
This level of performance is even more impressive considering they were recorded during the UK COVID-19 lockdown, when more people than ever are using the internet and putting strain on the network.
An 8ms ping time is also excellent, especially if you're gaming online. Lag can absolutely ruin a tense game of Fortnight or a crucial raid in World of Warcraft: the lower your ping time the less lag you'll suffer from.
We run all of our ExpressVPN speed tests using OpenVPN. We find that it's the best protocol for striking the balance between speed and security. You could potentially record even better speeds with ExpressVPN if you change protocols to IKEv2 – it's still extremely safe, so you don't need to worry about sacrificing your security while prioritizing speed.
International Speed Test Results
We also measured ExpressVPN's average speeds when connecting to servers in countries around the world. Our objective here is to demonstrate how well ExpressVPN performs over long-distance connections (even if these places aren't that far from you).
Here are our long-distance speed test results:
USA: 77Mbps (download) & 40Mbps (upload)
Germany: 79Mbps (download) & 66Mbps (upload)
Singapore: 73Mbps (download) & 22Mbps (upload)
Australia: 59Mbps (download) & 1Mbps (upload)
ExpressVPN is by far the fastest VPN on long-distance connections, something a lot of competing VPN services struggle with. Its performance in East Asia and Australia is particularly remarkable: even the best VPNs would usually only achieve around 20Mbps download speeds connecting there.
If you're not connecting to a country for any specific reason and just want to use ExpressVPN for security, then you're best off using the Smart Location feature. It's a clever tool that picks a nearby server optimized for high speed and low latency – it's the default option within the app, so it doesn't require any configuration.
How Fast Is ExpressVPN Compared to Other VPNs?
The results that follow are taken from our custom VPN speed test tool.
It runs on a VPN server that we rent in New York, automatically, four times per day, with speeds capped at 100Mbps (a number similar to what you might get on your home internet connection).
It shows the VPN's average speed loss compared to the connection with no VPN running. Results go back eight weeks, and you can see how it fared versus other popular VPNs.
Use our Speed Test Tool to compare ExpressVPN's speeds across different cities.
Historically, ExpressVPN was exceptionally fast, and we've tended to see it as the benchmark to judge other VPNs against. But for the last six months at least it's been outperformed by both NordVPN and Private Internet Access.
When it comes to upload speeds and ping, however, the picture is less clear: ExpressVPN has been similar to – sometimes better and sometimes worse than – its rivals.
ExpressVPN's speed test results are very good. They're just as strong on international connections, where ExpressVPN rarely drops below rivals like NordVPN, Private Internet Access, or IPVanish.
Ideal for unrestricted streaming and anonymous torrenting
Streaming & Torrenting
ExpressVPN is currently the best VPN for Netflix, as well as a great choice to unblock other streaming services. It bypasses geo-blocks from websites and apps like Netflix, BBC iPlayer, Hulu, Disney+ and Amazon Prime Video at fast speeds and with minimal buffering.
In our latest tests, ExpressVPN easily unlocked the US Netflix library through almost all of its US VPN servers – New York was the only server that didn't work.
While ExpressVPN doesn't have servers dedicated to streaming, unlike CyberGhost VPN, this isn't an issue. The vast majority of its servers work with streaming platforms. ExpressVPN lists many of the streaming services it can unblock on its website.
The Isle of Man and Jersey servers still work well with UK Netflix, and two out of four UK servers unblock BBC iPlayer (as long as you're located outside the UK). Beating BBC iPlayer's VPN ban isn't easy, and it may take a few tries for ExpressVPN to work. We recommend using ExpressVPN's browser extensions and connecting to the either the London or Wembley servers. Scroll down to read more tips on how to unblock BBC iPlayer with ExpressVPN.
Going back to Netflix, ExpressVPN unlocks 19 different Netflix regions in a variety of different languages. Some of the most popular libraries ExpressVPN unblocks are:
Argentina
Australia
Brazil
Canada
Chile
Colombia
Egypt
France
Germany
Italy
Japan
Malaysia
Netherlands
Pakistan
Panama
Romania
Sweden
UK
US
Just connect to a server located in the same country as the Netflix library you want to watch and you're good to go.
You can also use ExpressVPN to unblock other popular streaming services, including:
Amazon Prime Video
DAZN
Disney+
ESPN
HBO Max
Hulu
Now TV
Peacock
Sky
Sling TV
Not only does ExpressVPN unblock most popular streaming services around the world, its fast download speeds mean that streaming sports, movies and TV shows will be buffer-free.
How Do I Stream BBC iPlayer with ExpressVPN?
We've seen an influx of users having difficulty getting BBC iPlayer to work with ExpressVPN recently. Here are the options you have to get it working:
Try connecting to a different UK server – sometimes getting a new IP will be enough to access the service.
Try the browser add-on – we've seen users connect to BBC iPlayer more often using this method.
Change protocol – unfortunately less secure protocols are often better for BBC iPlayer. If you are comfortable with weaker security, try PPTP (you should never use PPTP unless you have to).
Use MediaStreamer DNS – ExpressVPN's smart DNS service isn't a full VPN, but it works better for streaming iPlayer.
Torrenting
Torrenting and P2P traffic is unrestricted across ExpressVPN's entire server network. There is no bandwidth limit or restriction on P2P activity, either. Combined with strong security and a zero-logs policy, this makes ExpressVPN an excellent VPN for torrenting and downloading files securely with absolutely no leaks.
There are no specific servers optimized for torrenting – instead, you can connect to any server in the network and use it to protect your P2P activity. This results in less server congestion, which means faster download speeds.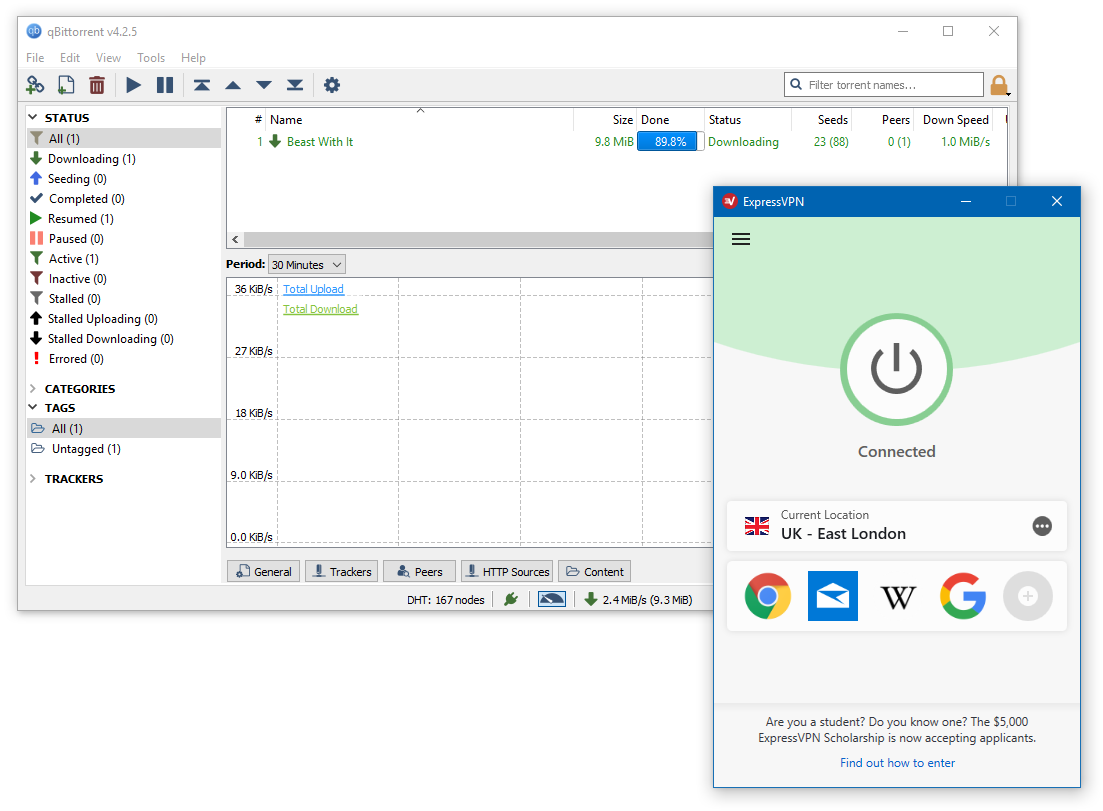 We tested ExpressVPN with popular torrenting clients including qBittorrent, uTorrent, and Deluge. The VPN successfully hide our IP address without any additional setup and we encourage torrenters to use ExpressVPN alongside their torrent client of choice.
ExpressVPN isn't just fast, it's secure, too. Leak protection and a reliable kill switch called 'Network Lock' keep you anonymous even if your internet connection drops. These features are absolutely vital for torrenting and don't require any manual setup whatsoever.
The advanced privacy features of ExpressVPN also mean that you can anonymously stream P2P-based Kodi addons and IPTV apps. For this reason, ExpressVPN is still one the most anonymous VPNs to use with Kodi.
Strong encryption guarantees your torrented files will remain private, while advanced features like leak protection and split tunneling allow you to choose the apps and services you want to route through the VPN tunnel.
The only issue with using ExpressVPN for torrenting is that it doesn't allow port forwarding. That means that while you can still technically upload or 'seed' torrent files, your speeds will be incredibly slow.
To learn more, read our complete guide to torrenting with ExpressVPN.
ExpressVPN is very safe to use
Encryption & Security
Protocols

IKEv2/IPSec

L2TP/IPSec

OpenVPN (TCP/UDP)

Proprietary

PPTP

Encryption

AES-256

Security

DNS Leak Blocking

First-party DNS

IPV6 Leak Blocking

VPN Kill Switch

WebRTC Leak Blocking

Advanced features

Smart DNS

Split Tunneling
Please see our VPN Glossary if these terms confuse you and would like to learn more.
ExpressVPN is an extremely safe VPN service that uses the highest standard of encryption to secure your internet connections. By default, its apps use AES-256 bit encryption in combination with the OpenVPN protocol, a 4096-bit RSA key and SHA-512 HMAC authentication. This is the level of encryption that governments and banks recommend.
The VPN comes with advanced features such as a VPN kill switch, split tunneling, and TrustedServer – a proprietary technology that ensures your data is never written to the VPN server's hard drive. During the course of our testing, we didn't detect any data leaks.
What's more, ExpressVPN runs its own private,zero-knowledge DNS servers. This means that your DNS requests (the websites you visit) are all handled and encrypted by ExpressVPN, not by your ISP or a third party. It's an important step for a VPN provider to take, and one that only the very best services can offer.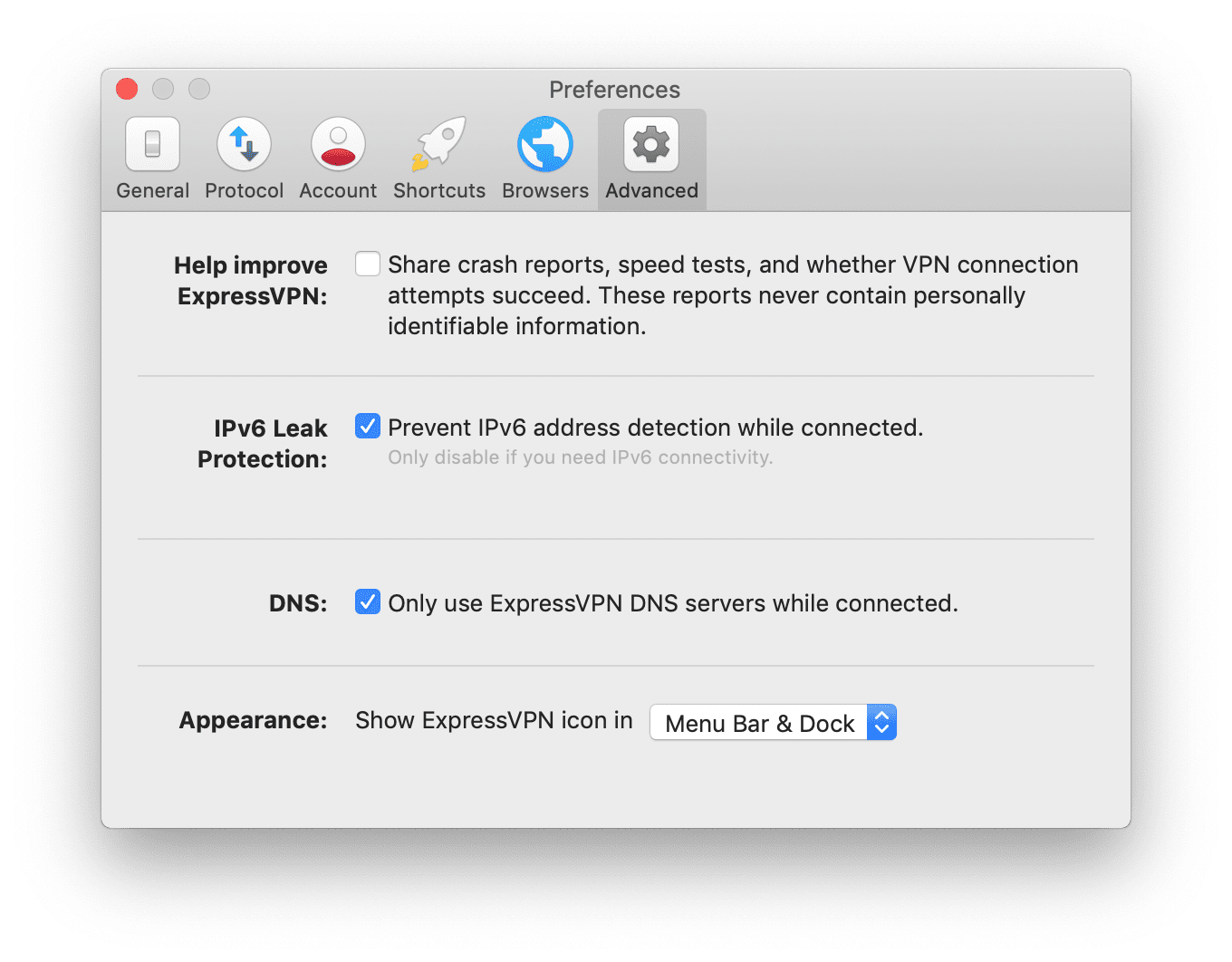 ExpressVPN's very reliable VPN kill switch is called Network Lock. This feature stops your internet connection altogether in the unlikely event your VPN connection drops. In doing so, your true IP address is never exposed.
Unfortunately, Network Lock isn't included in the iOS app, and it's only available on Windows, MacOS, Linux, and Android (on which it's called Network Protection). This is one area where we'd like to see ExpressVPN improve.
By default, ExpressVPN also uses Perfect Forward Secrecy, which adds another layer of protection by automatically creating a new encryption key for every session and then replacing it every 60 minutes. In very simple terms, this means that even if someone was able to intercept and decrypt your VPN connection, the most they would be able to get is 60 minutes of data.
If you want to learn more about the technical side of VPN security, you can read ExpressVPN's useful guide to VPN encryption.
ExpressVPN doesn't have the widest selection of protocols we've seen. Instead, it focuses on the protocols you really need.
We've already mentioned how the app automatically chooses the best protocol for you, but you can choose manually between the following connection protocols, too:
| Protocol | Description |
| --- | --- |
| UDP – OpenVPN | UDP is the fastest OpenVPN protocol. It has all of the security benefits of TCP, but is more reliable if you're connecting to a server a long way away. |
| TCP – OpenVPN | TCP is the other OpenVPN protocol. It prioritizes consistency over speed. It's still fast, but it's less likely to experience errors or lose data. |
| IKEv2 | IKEv2 is secure and sometimes faster than OpenVPN, so it's worth trying if you're looking for the best performance possible. |
| L2TP – IPSec | L2TP/IPSec is an outdated and insecure protocol, and the only one ExpressVPN offers that we recommend you avoid. |
Advanced Security Features
ExpressVPN doesn't have the highest number of advanced security features on the market, but those it does have are extremely effective.
In 2020, ExpressVPN started rolling out its own proprietary protocol called Lightway. It uses the established cryptography library wolfSSL and meets the FIPS 140-2 standard requirements. Lightway also uses less battery than other VPN protocols, since it is built using fewer lines of code.
Lightway performed very well in our preliminary speed and security tests, but we're awaiting its full roll out in order to conduct further extensive tests.
Split tunneling is a powerful setting that you won't find in many VPN services. It lets you decide which apps should use the VPN connection, and which ones shouldn't.
While we always recommend you keep as many programs and devices as secure as possible, split tunneling can have practical uses – like with your wireless printer, for example. It can keep its connection to your network separate from the VPN, preventing connection issues.
In 2019 ExpressVPN also launched TrustedServer, a proprietary technology that removes the need for local storage such as hard disks or solid state drives. According to ExpressVPN, TrustedServer has the following security benefits:
Wipes all data with every reboot, as VPN servers run on RAM only
Servers never write to the hard drive, further minimizing data risk
The entire software stack is reinstalled on every server at startup
Allows ExpressVPN to know what's running on every server, with no inconsistencies
If you're a Tor user, ExpressVPN also supports Tor over VPN. This means you can use the VPN in combination with the Tor Network, but only your connection to the first node in the network is encrypted. If you're interested in learning more you can find all you need to know in our guide to Tor vs VPN.
Finally, the fact that ExpressVPN has passed several security audits in 2018 and in 2019 is further evidence of how secure it really is. These audits are conducted by trusted third parties like PWC and Cure53 and provide independent verification of the company's commitment to its privacy policy.
All of ExpressVPN's security practices are detailed publicly in its trust center, and many of its applications are open-source.
Overall, ExpressVPN is one of the most technically secure personal VPN services available. It provides strong encryption and a wide suite of industry-leading features, ideal for both beginners and advanced users. If you're looking for a VPN to hide your IP address and encrypt your data on public WiFi networks, ExpressVPN is a very good choice.
Does ExpressVPN Leak Your Data?
A leaking VPN will leave your online activity and identity visible to your ISP and other third-parties.
We ran ExpressVPN through IP, DNS, and WebRTC leak tests and it passed all tests with no leaks whatsoever. As you can see above, ExpressVPN concealed all of our personally-identifiable information, and our real UK IP address was hidden and replaced by a Swedish one.
For this review, we also uploaded ExpressVPN.exe to VirusTotal.com, a website designed to analyze suspicious applications for known malware. ExpressVPN's results were totally clean, with no viruses detected.
As one final precaution, we also analyzed ExpressVPN using the εxodus tool. It's a specialist privacy auditing platform that checks for dangerous device permissions in Android apps.
We found that ExpressVPN's trackers and permissions are all normal and above board. There is nothing intrusive or excessive in the ExpressVPN apps that you need to worry about.
The Android app has two trackers: Google CrashLytics and Google Firebase Analytics. Both of these are event-based data collection trackers, which help ExpressVPN understand how users interact with the app in order to respond to application crashes.
The following table shows all of ExpressVPN's device permissions and what they mean:
| Permission | Definition |
| --- | --- |
| ACCESS_NETWORK_STATE | Allows ExpressVPN to view your device's network connections |
| ACCESS_WIFI_STATE | Allows ExpressVPN to view your device's WiFi connections |
| FOREGROUND_SERVICE | Allows ExpressVPN to run as a foreground service |
| INTERNET | Grants ExpressVPN full network access (necessary for any VPN) |
| RECEIVE_BOOT_COMPLETED | Allows ExpressVPN to run at startup (if you decide to enable that option) |
| VIBRATE | Allows ExpressVPN to control vibration (the app will sometimes vibrate for notifications) |
| WAKE_LOCK | Prevents the device from sleeping |
| BILLING | Permits in-app purchases |
| RECEIVE | Allows ExpressVPN to receive messages from the Cloud |
| BIND_GET_INSTALL_REFERRER_SERVICE | Tells ExpressVPN where and when the app was downloaded from if you discovered it via an advertising link |
Works in China, Turkey and the UAE
Censorship
ExpressVPN is one of the only VPN services that still works in China, bypassing the country's strict blocks on VPN traffic. This is thanks to the company's investment of significant resources into outsmarting the Great Firewall of China.
Beating the Chinese web censors is incredibly difficult, and very few VPNs can do it reliably (or at all). Historically, ExpressVPN has been able to do it consistently, and that's why it's one of the highest-rated VPNs for China.
We've found ExpressVPN is most likely to work in China when you run the newest app version, so make sure to update your app(s) before leaving for China.
The VPN service's Hong Kong servers allow you to access Chinese TV and websites while outside of China, while servers in the rest of the world help users in China access digitally censored websites using obfuscation.
Obfuscation disguises your VPN traffic so that it looks like normal browsing data. This means the Great Firewall won't identify your VPN traffic and block it, so you can browse without restrictions and unblock websites like Google, Facebook, WhatsApp, Netflix, and more.
If you have protocol selection switched to Automatic, ExpressVPN's proprietary obfuscation technology is activated by default. This means it's able to beat aggressive state censors not just in China but also in countries like UAE, Turkey, and Saudi Arabia.
Greatfire.org's 'Circumvention Central' keeps track of which online tools work in China. As you can see here, ExpressVPN's consistency is impressive. These numbers are based on dozens of tests a day over a number of different platforms. For this reason, we're confident ExpressVPN will work for you in China.
However, as the main website is currently blocked by Chinese censors, you'll need to find a working mirror site in order to sign up to the service if you're already overseas.
If you're already inside China and find that the company's standard URL is blocked, ExpressVPN is one of the few services to also host its website on the Deep Web. Just download Tor Browser and you can access ExpressVPN at http://expressobutiolem.onion/
ExpressVPN also recommends specific servers for users in China – just get in touch with customer support (available 24/7) for updated information.
3,000+ servers across 160 locations
Server Locations
94
Countries
160
Cities
3,000+
IP Addresses
ExpressVPN operates more than 3,000 VPN servers spread across 160 cities in 94 countries around the world. This is one of the largest VPN server networks available, which means that no matter where you're located you should have no trouble finding a VPN server near you.
You can access 51 specific city-level servers in the following locations:
Australia (4 different locations)
Brazil (2)
Canada (3)
France (2)
Germany (2)
Hong Kong (3)
India (2)
Italy (2)
Japan (3)
Netherlands (3)
Singapore (3)
Spain (2)
Switzerland (2)
UK (4)
US (14)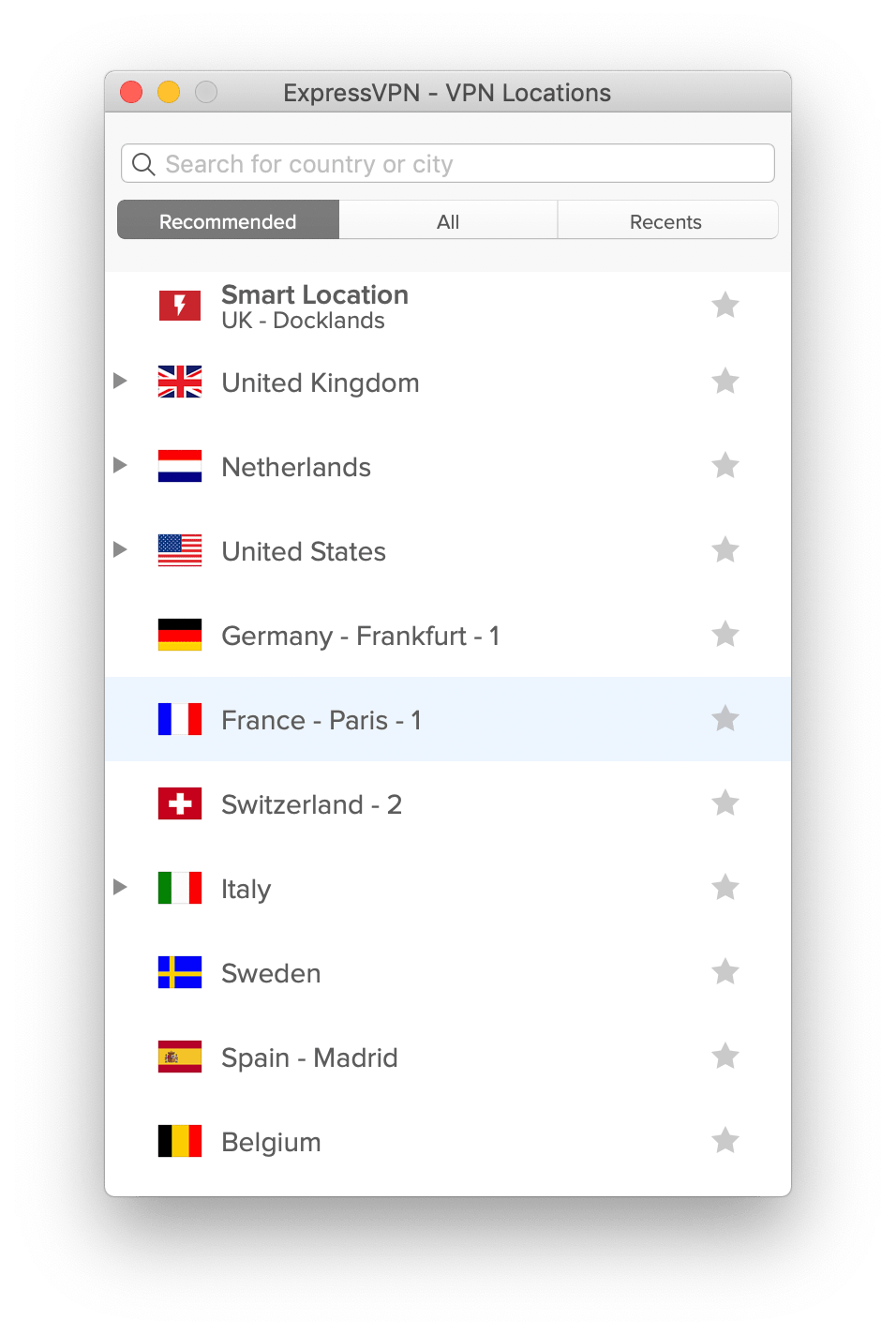 ExpressVPN's 14 different city-level locations in the US and four in Australia are some of the highest we've seen. There are plenty of servers available in Asia as well as several countries that aren't typically available elsewhere. You can find the full list of servers along with the protocols they support on the ExpressVPN website.
Even if you only intend to connect to one specific server, this quantity and variety is still important. The more servers there are, the less likely they are to suffer from congestion. The fewer users there are on each server, the faster the speeds.
Servers on opposing ends of massive countries like the US, Canada, and Australia means that no citizen is left behind, either.
Every single ExpressVPN server supports OpenVPN, IPSec, and IKEv2 protocols. A handful support L2TP, although we would recommend you don't use it even if you have the option. The same goes for PPTP, which is available on about 30% of ExpressVPN servers – it's potentially unsafe.
Overall, ExpressVPN has a diverse global server network that gives users access to a wide variety of locations and IP addresses. While there are no servers specifically optimized for streaming or torrenting, we've found the vast majority of server locations work perfectly well and without congestion.
Does ExpressVPN Use Virtual Servers?
40 of ExpressVPN's 160 server locations are virtual server locations.
A physical or 'bare metal' VPN server is a real, physical piece of equipment located in the country or city you wish to connect to. ExpressVPN's server in Denver, Colorado for example, is really located somewhere within that city.
The vast majority of ExpressVPN's servers are physical servers – that is, the server and the IP address it assigns are located in the same country.
Virtual server locations work differently, though. They still exist physically in one country, but they provide you with with an IP address from another country. They help to ensure that you can connect to countries where it is difficult to install physical equipment. You can see the full list of them here.
The example ExpressVPN gives on its website is Indonesia. When you connect to the server labelled Indonesia, you're actually connecting to a server based in neighboring Singapore, which assigns you an Indonesian IP address.
Virtual server locations have no effect on unblocking content or bypassing geo-restrictions, as your IP address is still registered in the country you've chosen to connect to. However, if the physical location of the server is further from you than expected, it can have an impact on your connection speeds.
ExpressVPN is one of the few VPN services that is open and transparent about its use of virtual server locations to improve the diversity and accessibility of its network. To find out more about this lesser-known aspect of VPN services, you can read our guide to explaining VPN servers.
Custom VPN apps for all popular devices
Platforms & Devices
Apps
Windows
Mac
iOS
Android
Linux
Router
Chrome OS
ExpressVPN is available on all major operating systems and devices including Windows, MacOS, iOS, Android, Fire OS and Linux. Native firmware is also available for routers, as well as manual setup guides for Apple TV, PlayStation, Xbox and more.
On ExpressVPN's website you will find detailed setup instructions for all of these platforms, as well as workarounds for devices where a custom VPN app isn't available. The instructions are simple and clear, which means you're unlikely to have any issues even if you're a complete beginner.
You can use ExpressVPN on five different devices simultaneously with one subscription. It's commonplace among VPN providers to set a limit, and five is a good number. If you need more, then you'll need to install the VPN on your home router to enjoy unlimited connections.
ExpressVPN is compatible with the following routers:
Asus RT-AC56(U/R/S)
Asus RT-AC68U
Asus RT-AC87U
Linksys EA6200
Linksys WRT1200AC
Linksys WRT1900AC(S)
Linksys WRT3200ACM
Netgear R6300v2
Netgear R6700v3
Netgear Nighthawk R7000
Netgear Nighthawk R7000P
You can also manually set up the VPN on these router manufacturers:
Other Asus models
D-Link
DD-WRT
Netduma
Sabai
Tomato
TP-Link
Xiaomi
Read our latest VPN router setup guide for easy step-by-step instructions. If you want to learn more about VPN routers in general, head over to our VPN routers guide instead.
There aren't many VPNs out there that offer apps for so many different platforms, and to have ExpressVPN spell out its router compatibility so clearly is a really welcome help.
Games Consoles & Streaming Devices
AppleTV
Amazon Fire TV
Android TV
Chromecast
Nintendo
PlayStation
Roku
Smart TV
Xbox
There's not a single VPN available that can be installed directly onto Apple TV or games consoles, but ExpressVPN does the next best thing and provides detailed instructions and workarounds for setup on devices like your Xbox One, PlayStation 4, and Chromecast.
ExpressVPN's excellent router app and support means that it's also the best choice for console gamers and streaming device fanatics looking to protect their devices as best they can.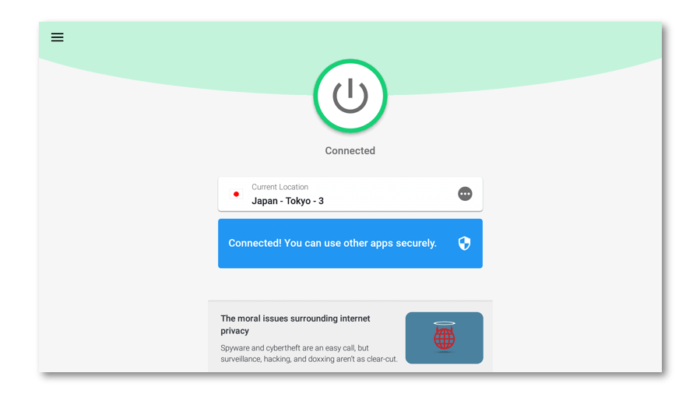 ExpressVPN is also one of the increasing number of VPNs to offer a VPN app for Amazon Fire TV Stick. It's good, but it's not our number one choice.
It was one of the first VPN apps available for Amazon Fire TV Stick, but it's now looking dated and lacks some of the features that we enjoy in more recent Fire TV Stick VPN apps.
There's clearly not been too much thought put into the design, as it looks just like an enlarged version of the Android app – not ideal considering it's viewed on a television. The UI also hasn't been adapted for the use of a remote, rather than touch, meaning it can be difficult to predict exactly what your next button press will do.
If you own a Fire TV Stick and want to use a VPN app with it, take a look at our latest recommendations.
While it may not be our top pick for Fire TV Stick, ExpressVPN is our favorite VPN for other streaming devices, as well as gaming consoles like Xbox and PlayStation.
ExpressVPN MediaStreamer
For devices which don't support dedicated VPN apps you can use ExpressVPN MediaStreamer, a SmartDNS service included in every subscription plan.
MediaStreamer makes unblocking streaming services like Hulu and HBO as easy as possible, but it doesn't encrypt traffic on that device. That's because it works by changing your device's default DNS servers to ones run by ExpressVPN. This tricks streaming sites and apps into thinking that they're communicating with a server in the country whose content you wish to unblock.
You can find MediaStreamer setup guides for dozens of devices here.
If you want to secure all (or most) connections in your home, you should instead install ExpressVPN on your router. Otherwise, you can always tether the device in question to one which has the VPN is already running (for example, your computer or smartphone).
Browser Extensions
Chrome
Microsoft Edge
Firefox
ExpressVPN provides full VPN browser extensions for Google Chrome, Mozilla Firefox and Microsoft Edge. Currently, there is no browser add-on available for neither Safari nor Opera.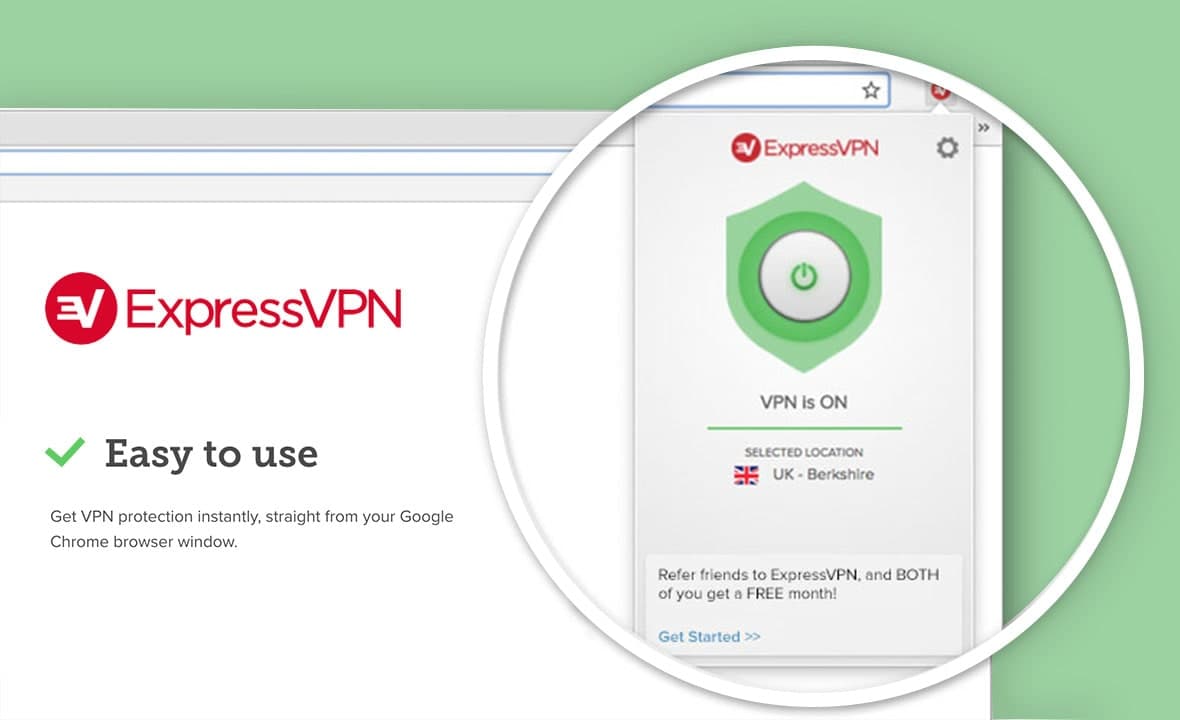 Most of the VPN browser add-ons we review are proxies and not full VPNs, but ExpressVPN's extensions are the real deal. It's therefore unsurprising that almost a million Chrome users and over 77,000 Firefox users have installed ExpressVPN's extensions.
The only drawback of ExpressVPN's browser extensions is that the desktop application needs to be running at the same time. In reality, the browser add-ons act more like a remote control for the full app than a substitute for it.
This means you can easily switch between server locations and fully mask your web activity without having to leave your browser window, but you need to have the full program installed in order to use it.
Additionally, ExpressVPN's extensions all use HTTPS Everywhere – a collaborative technology made by The Tor Project and the Electronic Frontier Foundation – which encrypts your browser's communication with websites that still use unencrypted HTTP connections.
Installing the browser extension is simple, but if you want to be extra sure then you can follow our step-by-step setup guides for either Chrome or Firefox.
ExpressVPN has recently added dark mode to its browser extensions, which is a nice touch if you want it to match the rest of your OS, and you can also set it to automatically activate when you open your browser.
ExpressVPN is expensive, but worth the price
Pricing
ExpressVPN Coupon
ExpressVPN Pricing Plan
ExpressVPN offers three main subscription plans, all of which include the same features. As usual, the longer you subscribe for, the cheaper the monthly cost – although you will have to pay the full subscription fee up front.
The monthly plan costs $12.95 per month, which is quite expensive compared to most competitors. An annual subscription costs $8.48 per month, while a six-month plan is priced at $10.18 per month. These prices are above average for a VPN service, but very reasonable considering the quality of the service.
ExpressVPN provides the same features on all of its price plans, so the only decision to make is how much you want to pay upfront and how much your subscription costs you per month.
We recommend you opt for a longer-term contract if you can afford to. A 15-month subscription plan gives you a 49% price reduction to the equivalent of $6.67 per month, which is the best subscription plan available.
While ExpressVPN is more expensive than rivals like NordVPN and CyberGhost, you get what you pay for – it's fantastic value for the best all-round VPN service on the market.
All plans have 30-day money-back guarantee
Payment & Refund Options
| | |
| --- | --- |
| Credit Card | Yes |
| PayPal | Yes |
| Bitcoin | Yes |
| AliPay | Yes |
| UnionPay | Yes |
ExpressVPN doesn't have a free trial, but all subscriptions come with a 30-day money-back guarantee. This means you can try ExpressVPN for a month risk-free, if you decide it isn't for you – perfect for beginners.
To claim your refund simply contact the ExpressVPN support team. We found this process to be quick and easy with no questions asked. You can learn more about the 30-day money-back guarantee here.
There's also a 'Refer a Friend' program which earns you a 30-day free ExpressVPN subscription for both you and the friend you convince to sign up – and there's no limit to the number of friends you can refer.
When it comes to payment methods, ExpressVPN accepts just about everything. You can pay using conventional bank cards, such as:
Visa
Visa Electron
Mastercard
American Express
Discover
JCB
Diners Club
More modern payment methods, such as:
And international payment methods (via Paymentwall) which include:
Alipay
UnionPay
iDeal
Klarna
WebMoney
Giropay
Yandex.money
Interac
Mint
OneCard
SOFORT
The only thing we feel is missing is a few more cryptocurrency options –it would be nice to see coins like Ethereum or Bitcoin Cash accepted in the future. There are also a few VPN providers that accept postal cash payments, for ultra-private transactions – that would be a fantastic addition.
User-friendly VPN apps & easy installation
Ease of Use
How to Connect to a Server with ExpressVPN
How to Change Settings in ExpressVPN
ExpressVPN is so easy to use that it's hard to go wrong – not just with the main desktop client, but also with its mobile apps and browser extensions. Its VPN apps are among the best on the market – they're easy to use, visually appealing, and they make protecting your privacy simple.
It took us less than five minutes to install the VPN application for our tests. Once you've chosen your subscription plan, simply create an account and enter your payment details. You'll receive a confirmation email with a link and an activation code, which takes you straight to the installation guide for your device.
Once you've installed the application, the ExpressVPN home screen is simply a big on/off button and a list of VPN servers. If you want to customize your experience you can also find advanced settings behind a separate menu.
Even the advanced security options are explained in plain and easily-understood language, so you'll never make changes without knowing exactly what you're doing.
There are some small differences between the ExpressVPN apps on different platforms, though, so we have reviewed each one in the section below.
If you want a quick summary of the differences between ExpressVPN clients on different devices, just see the table below:
Here's what ExpressVPN looks like on the each of the major desktop and mobile operating systems, and what the differences are between them:
Microsoft Windows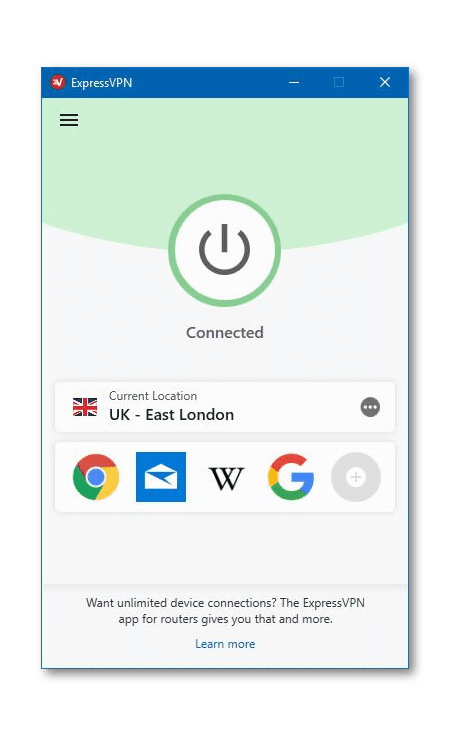 As is often the case with VPNs, the Windows app is the most complete ExpressVPN experience. It has all the tools and features an advanced VPN user could need while still being a very straightforward and easy-to-use app.
When you click on the server you currently have selected, a second window with a server list will pop up alongside it. Be sure not to miss the two tabs at the top: 'Recommended' is selected by default, but it doesn't reveal the whole list to you. Be sure to click 'All Locations' to see the full list (or use the search bar to find a specific choice).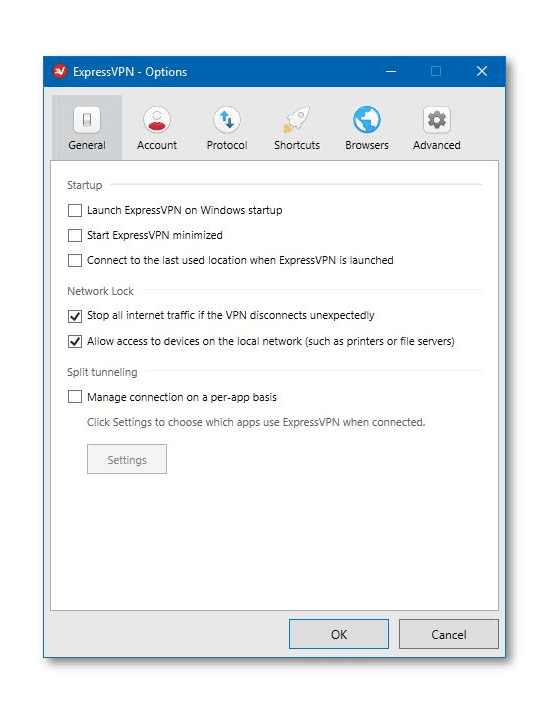 Other features not to be missed are the kill switch (look for 'Network Lock' under the General settings tab) and the protocol selection tab, which lets you experiment with different options – just make sure you don't use L2TP (it even says within the app that it has weak security).
Apple MacOS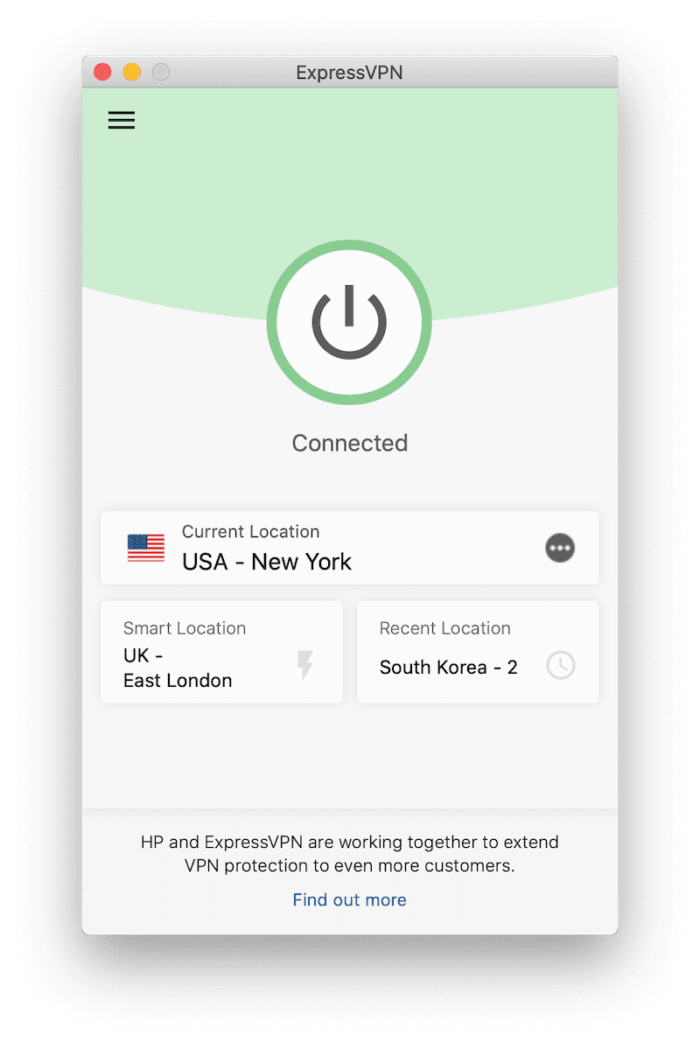 If you're a Mac user then you're in luck – ExpressVPN's MacOS app is practically identical to the Windows version. We've found that lots of VPN providers tend to put out a sub-par Mac app when compared to the flagship Windows app, but that's not the case here.
The browser extensions (see below) work exactly as they would do if you were using the browser on Windows – the only issue for Mac users is that there's no extension for Safari yet, which is something we want to see ExpressVPN remedy in the future.
Apple iOS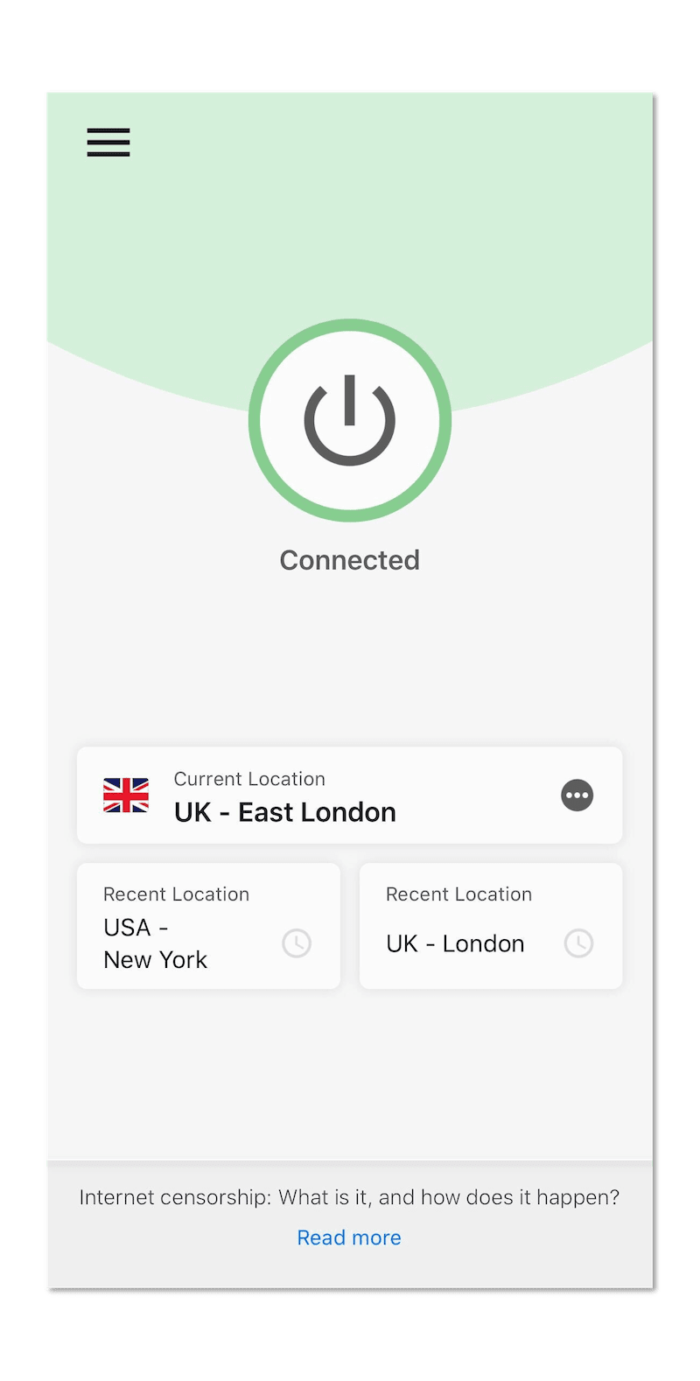 ExpressVPN for iPhone and iPad is even more simplified than the desktop version.
It looks largely the same, however once you dive into the settings menu you'll notice that there's not really anything there.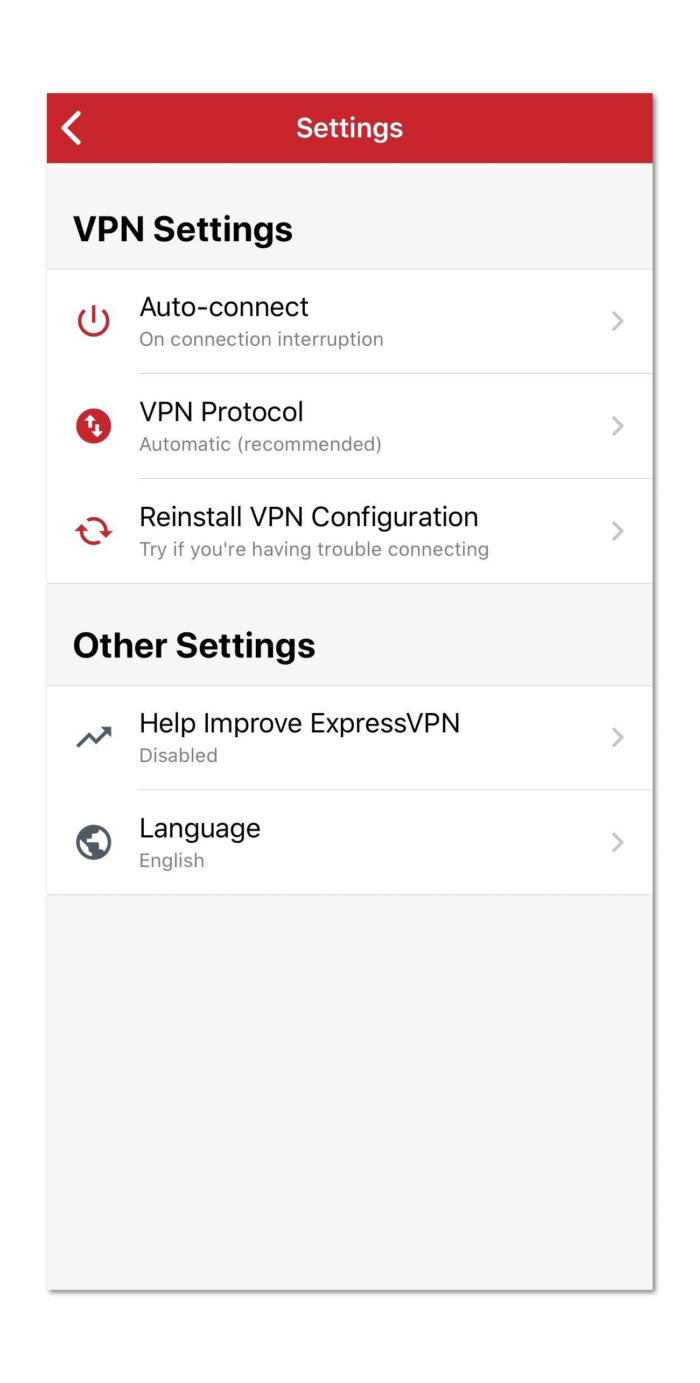 You have the option to choose between OpenVPN and IKEv2 protocols, a toggle for whether or not the VPN automatically reconnects if it loses connection, and a button to reinstall the VPN configuration if the app should stop working for any reason.
It's obvious that ExpressVPN has decided to make its app a more streamlined and lightweight experience on mobile, but it would be nice for some of the extra features present on desktop to have made the leap across to iPhone.
The kill switch is the most notable absence of all, and it's something we strongly believe is vital no matter what platform you're on.
Google Android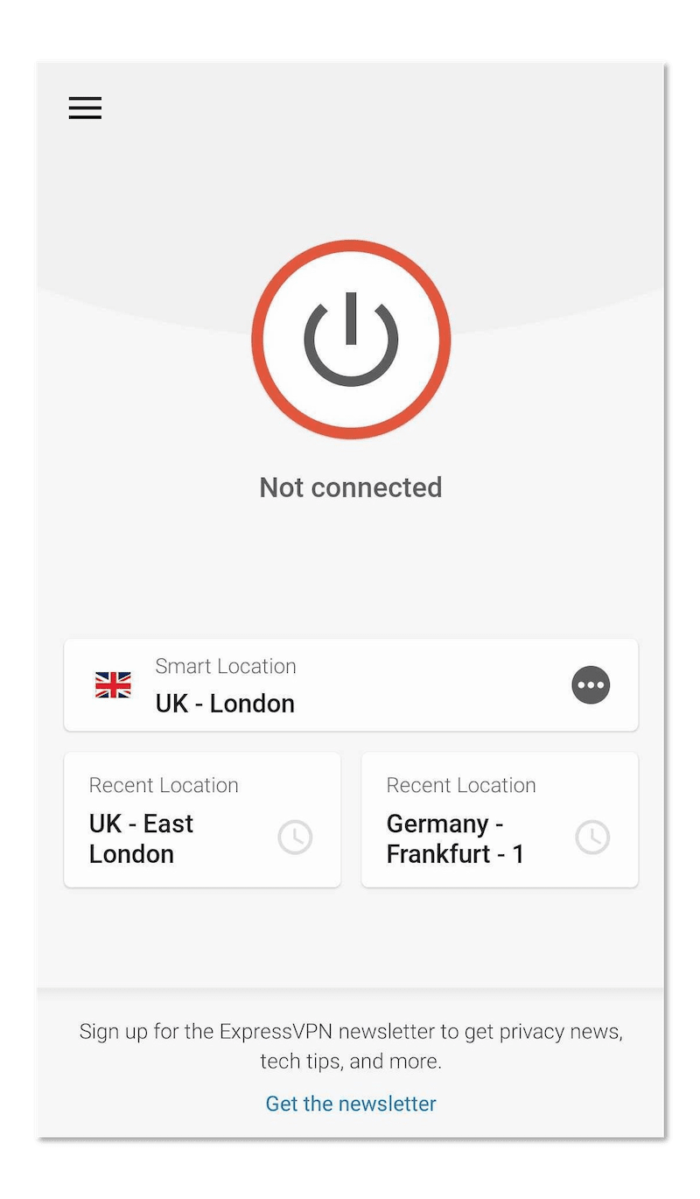 The ExpressVPN Android app has the exact same home screen as you'll see on all its other apps, but when compared to its iOS cousin there's a couple of differences that lie beyond it.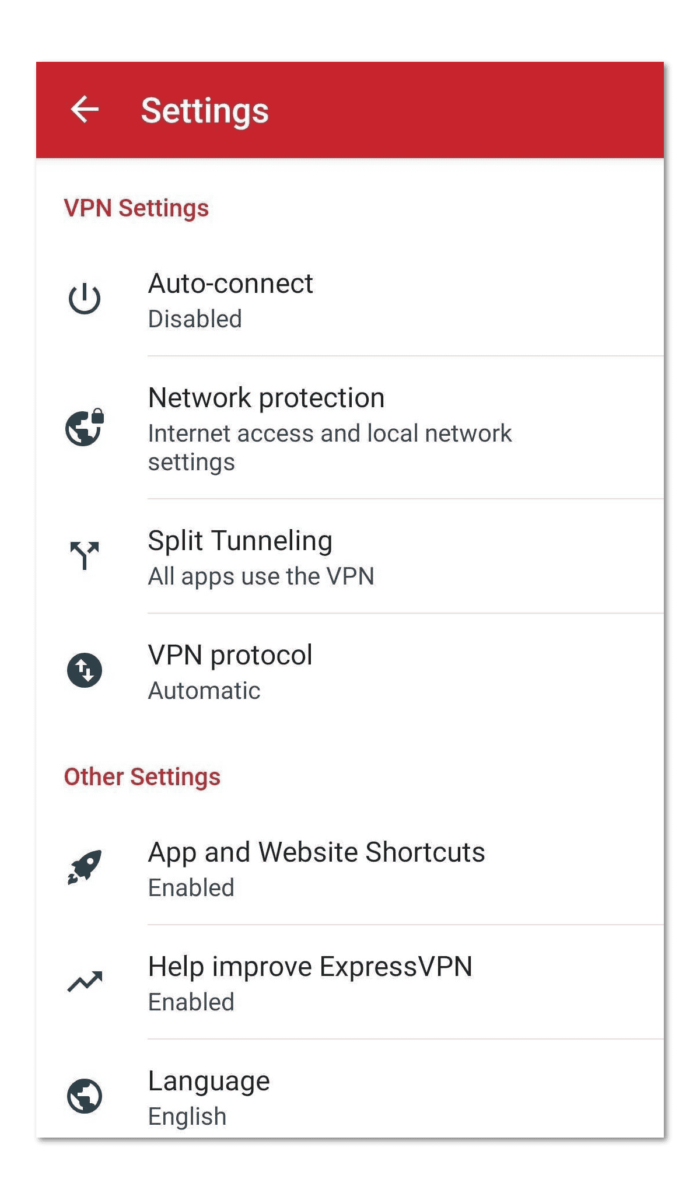 As we alluded to above, the main difference is the inclusion of a kill switch. With this feature enabled, you can use your smartphone safely with the confidence that your IP address will remain protected if your VPN connection drops.
You'll find the kill switch at Settings > Network Protection > Block internet when unable to connect or reconnect to VPN.
The other useful feature on Android that's missing on iOS is split-tunneling. Thanks to Android's more customizable and open nature, you can choose which of your apps (if any) are routed outside of the VPN tunnel.
Ubuntu Linux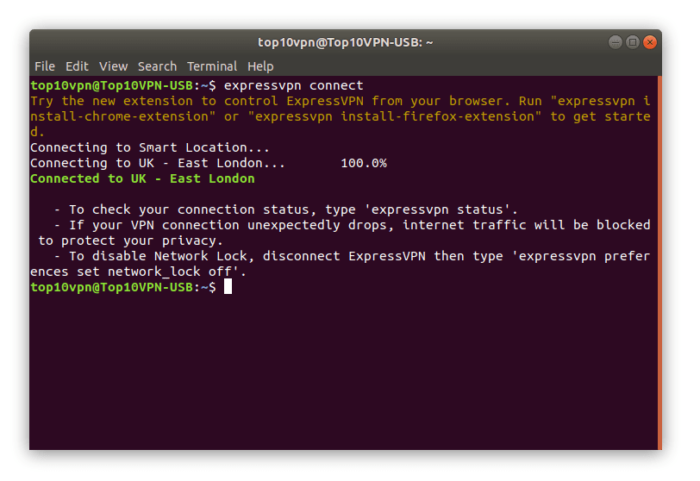 Its strong performance on just about every other platform makes ExpressVPN's Linux app especially disappointing.
In fact, ExpressVPN doesn't even have a true app for Linux – there's no GUI (graphical user interface) meaning that it runs straight from the console.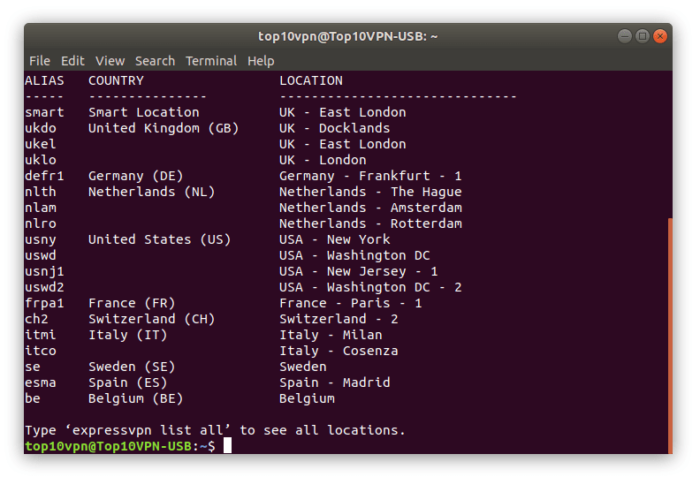 If you're a Linux user you're likely used to this, and a bit more tech-savvy than most ExpressVPN users will be, but it's still a big oversight. For the money you're paying, you really should be receiving a fully-featured app.
Once you've installed ExpressVPN using standard Linux console commands, you can then choose to connect to the recommended server or see a full list of servers along with the console commands required to connect to them. You can also toggle Network Lock (the kill switch), change protocol, and instruct it to auto-connect at Linux startup.
Browser Extensions
As we mentioned above, ExpressVPN's browser extensions are available for Chrome and Firefox web browsers.
They give you full protection that fully masks your web activity without you having to leave your browser window.
Installing the VPN extensions is really easy. Read our step-by-step setup guides for either Chrome or Firefox.
ExpressVPN has recently added dark mode to its browser extensions, which is a nice plus for customization.
Excellent customer support & responsive live chat
Customer Support
| | |
| --- | --- |
| 24/7 Live chat support | Yes |
| Email | Yes |
| Online Resources | Yes |
ExpressVPN's helpful 24/7 live chat is the best in class. It means that if you ever have a problem, you'll be back up and running as quickly as possible. There's also a huge range of support guides, FAQs, video tutorials, and troubleshooting options available on the support website.
ExpressVPN really is one of the most customer-focused VPN services we've reviewed, and the support team makes sure to keep you happy both before and after you've become a customer.
You can also reach out to customer support via email, with equally responsive, helpful and enthusiastic responses. The online help center is available in over 16 languages, too, which is an impressive commitment to support compared to other VPN services.
When experiencing a specific technical issue, it makes a big difference to receive a response that's actually tailored to your message – so many VPN companies outsource their support to massive support centers packed full of agents who don't actually know the product. That's not the case with ExpressVPN.
Do We Recommend ExpressVPN?
The Bottom Line
ExpressVPN is the VPN service we recommend the most. Its speeds are fast and reliable, its security offering is unmatched, and its list of server locations is vast. From the results of our testing, there is no question that it is absolutely worth the cost.
Whatever device you're using, you'll get the same smooth user experience with all ExpressVPN's apps. Whether you're looking for a VPN to hide your IP address, unblock Netflix and other streaming services, or simply to protect your online privacy, ExpressVPN is great for both beginner and advanced VPN users.
While ExpressVPN isn't perfect, you'll be hard-pressed to find a better all-round VPN. And with a 30-day money-back guarantee included, there's really nothing to lose in trying it out.
You can also see how ExpressVPN compares to some of its biggest competitors in this table:
If ExpressVPN is simply too expensive for you, then consider using one of the two cheaper alternatives below.
Alternatives to ExpressVPN
NordVPN
There's no shame in deciding that ExpressVPN costs more than you'd like to spend on a VPN. NordVPN comes close to ExpressVPN in almost every aspect - but it's a lot cheaper on its multi-year plan, making it excellent value for money. Read NordVPN review
Private Internet Access
ExpressVPN is the fastest VPN for international connections, but if you just want to connect over short distances then PIA is currently unbeatable. It can't quite offer the same all-round package as ExpressVPN, but its speeds are incredible. Read Private Internet Access review
---
User Feedback for ExpressVPN