Top10VPN is reader-supported. We may earn commissions if you buy through links on this page. Learn how we make money.
ExpressVPN: Ranked #1 out of 99 VPNs that we tested
ExpressVPN is one of the most popular VPN services around, but so many reviews of it seem to be just too positive.
Even ExpressVPN itself claims to be the "#1 trusted leader in VPN," which is too big of a statement to go unchecked.
It was time to find out for ourselves, so we put ExpressVPN through our rigorous testing process to tell you if it's truly the best VPN of 2019.
During our tests we also set out to answer frequent questions from our readers, like:
Is ExpressVPN really that fast?
Is it legit and safe to use?
Does it work with Netflix?
Does it allow torrenting?
How much does ExpressVPN cost?
But before we jump into our detailed review, here's a quick look at ExpressVPN's pros and cons.
Exceptionally fast same-country speeds
Works with Netflix, BBC iPlayer & more
Safe, fast & unrestricted torrenting/P2P
Strong logging policy & no IP, DNS, WebRTC leaks
User-friendly apps for PC, Mac, iOS, & Android
Great server network across 94 countries
More expensive than some rivals
No VPN kill switch for iOS
Works with
Netflix, BBC iPlayer, HBO, Hulu, Amazon Prime Video, Sky, SlingTV, Torrenting, Kodi
That's just a few highlights of what's to come.
We took apart every ExpressVPN app to make sure we didn't miss anything in our review, so keep reading to see if ExpressVPN is the right VPN for you.
Lets start with how fast it is.
Speed & Reliability
One of the fastest VPNs we've tested
ExpressVPN is one of the fastest VPN services we've tested – it's extremely quick and responsive.
ExpressVPN is also remarkably reliable and consistent, whether you're connecting to a local server, or one on the other side of the world.
It's speed is also very impressive in high censorship countries like China, where most other VPN services struggle to even connect.
Speed results from our physical location in London (100Mbps fibre optic connection) to a London test server.
Before using ExpressVPN:
95.71

98.71

Ping

ms

3
When connected to ExpressVPN:
85

91.22

Ping

ms

8
Download speed without ExpressVPN: 95.71Mbps
Download speed with ExpressVPN: 85.00Mbps
Our download speed loss when ExpressVPN is running: 11%
On top of fast download and upload speeds, ExpressVPN's low latency and low ping times make it a good VPN for gaming, not as good as other VPN services but a strong gaming contender nonetheless.
From our location in the UK, we tested average speeds connecting out to various locations worldwide while connected to ExpressVPN:
USA: 77Mbps (download) & 40Mbps (upload)
Germany: 79Mbps (download) & 66Mbps (upload)
Singapore: 73Mbps (download) & 22Mbps (upload)
Australia: 59Mbps (download) & 1Mbps (upload)
Server Locations
3,000+ servers across 160 locations
94
Countries
160
Cities
3,000+
IP Addresses
ExpressVPN operates more than 3,000 VPN servers across the world, spread evenly over every continent (excluding Antarctica).
No matter where you're located you should have no trouble finding an ExpressVPN server near you.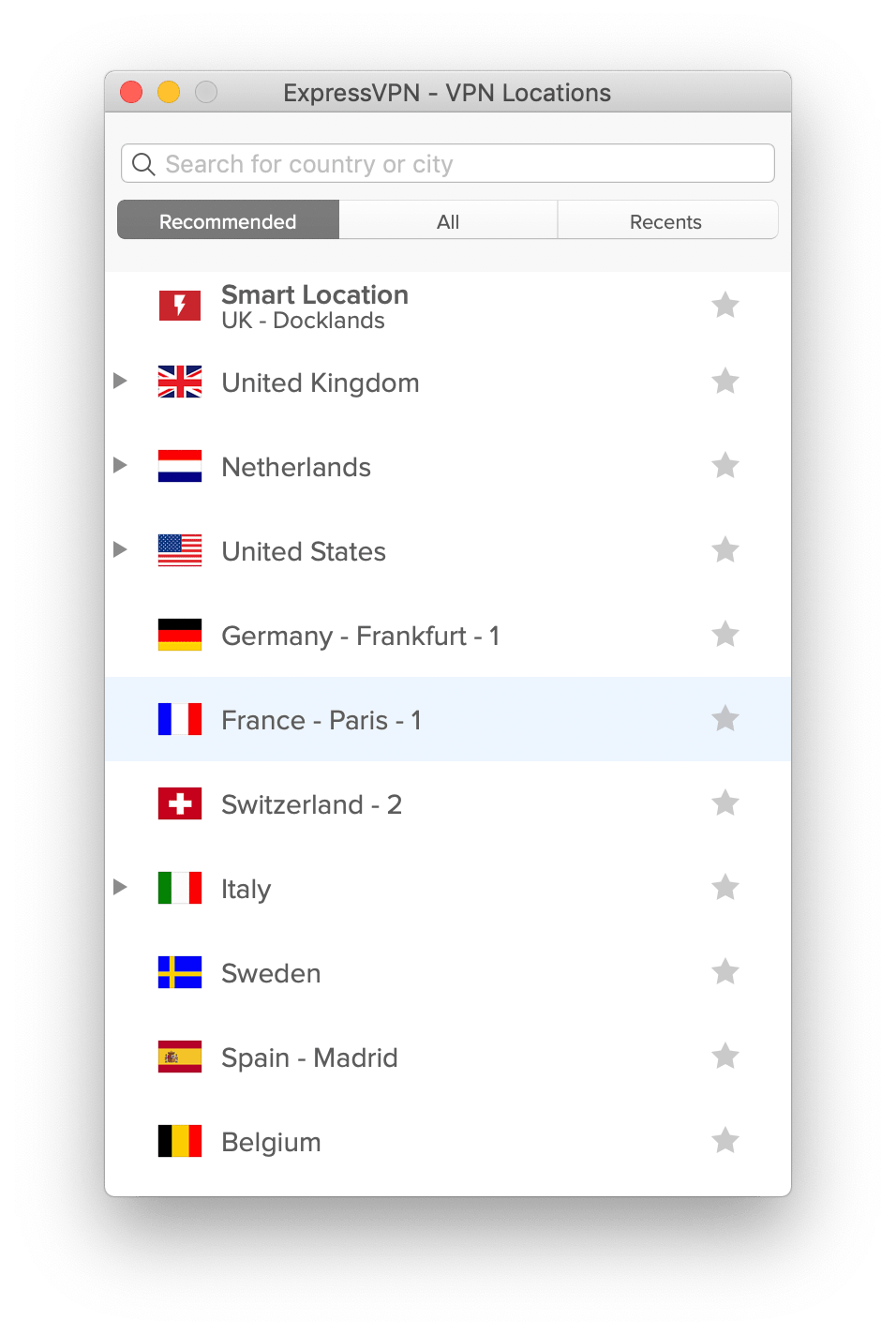 3,000 servers is one of the widest ranges of servers we've seen from any VPN service, and the ExpressVPN website even lists which VPN security protocols are available in each location (either country or city).
ExpressVPN provides city-level servers in a number of locations, too:
US
UK
Australia
Brazil
Canada
India
Singapore
Netherlands
Germany
France
Italy
Spain
ExpressVPN's 20 different city-level locations in the US and four in Australia are some of the highest we've seen.
Streaming & Torrenting
Instantly unlocks Netflix, BBC iPlayer and torrenting
ExpressVPN easily unlocks Netflix through almost all of its US-based VPN servers (apart from New York), even if it doesn't offer servers dedicated to streaming like some of the other top-tier VPN services like CyberGhost.
ExpressVPN's Isle of Man and Jersey servers work well with UK Netflix, while most UK servers will unlock BBC iPlayer (although customer support informed us it will only work if you're located outside of the UK).
ExpressVPN is also a popular choice with viewers of a whole range of other big streaming services. Plenty of subscribers enjoy using ExpressVPN with:
Amazon Prime Video
Hulu
HBO
Sling TV
Sky
Now TV
PlayStation Vue
The following ExpressVPN servers worked for unlocking Netflix:
USA (New Jersey, Washington DC, San Francisco)
Canada (Montreal, Toronto, Vancouver)
UK (Isle of Man, Jersey)
Torrenting
Torrenting and any type of P2P traffic is allowed on all ExpressVPN servers, resulting in less congestion and faster speeds as a bonus.
ExpressVPN registered fast speeds both downloading and uploading, which is fundamental for a good torrenting and P2P experience.
ExpressVPN also works for those looking to stream via Kodi or similar media player apps.
Privacy and security-wise, ExpressVPN's kill switch works extremely well (should your VPN connection drop at any point) and when we tested ExpressVPN for IP or DNS leaks, we found zero.
What's more, ExpressVPN doesn't keep any activity logs (read more below).
Bypassing Censorship
Works in China, UAE and more
ExpressVPN works in China, bypassing Chinese censorship with ease, largely thanks to the company devoting significant resources into outsmarting the censors.  That is why ExpressVPN is our best VPN for China.
If you have protocol selection switched to Automatic, ExpressVPN's proprietary obfuscation security protocols are activated, which are very effective in beating aggressive state-level censors.
These obfuscation protocols ensure that its VPN apps easily beat even the most aggressive of blocks in countries like Turkey, Saudi Arabia and Iran.
Platforms & Devices
Works with all popular devices
Apps
Windows
Mac
iOS
Android
Linux
Router
ExpressVPN supports just about any operating system or device out there:
Microsoft Windows
MacOS
iOS
Android
Setup instructions are available for each platform.
Where ExpressVPN doesn't have a native dedicated VPN app, you can read a walkthrough on the ExpressVPN website to show you how to set up a workaround for your device.
Games Consoles & Streaming Devices
AppleTV
Amazon Fire TV
Chromecast
Nintendo
PlayStation
Roku
Xbox
ExpressVPN is one of the best VPN services for Amazon's Fire TV Stick, although it is not our number one choice.
Why is not our top pick?
Well, ExpressVPN may have been one of the first VPN providers to roll out a Fire TV Stick app, and it works fine, but it's grown to look out-dated and lacks some of the features that we've enjoyed in more recent Fire TV Stick VPN apps.
If you own a Fire TV Stick and want to use a VPN app with it, take a look at our top VPN picks for Amazon Fire TV and Fire TV Stick.
If you want to run ExpressVPN on other streaming devices or games consoles, you'll need to install ExpressVPN at router level, or you can piggyback off of the VPN connection from another device, like your PC or Mac.
Browser Extensions
Chrome
Firefox
ExpressVPN provides full VPN browser extensions for Google Chrome and Mozilla Firefox.
Most of the VPN browser add-ons we see from other VPN providers are proxies pretending to be full VPNs, but ExpressVPN's extensions are the real deal.
You can choose your server location from within the browser extension, which is a really neat solution.
Thanks to a recent update you can now use ExpressVPN on five different devices at once, too.
Encryption & Security
Strong security, with great extras like a VPN kill switch & obfuscation protocols
Protocol

IKEv2/IPSec

L2TP/IPSec

OpenVPN (TCP/UDP)

PPTP

SSTP

Encryption

AES-256

Security

DNS Leak Blocking

First-party DNS

IPV6 Leak Blocking

VPN Kill Switch

WebRTC Leak Blocking

Advanced features

Split Tunneling
Please see our VPN Glossary if these terms confuse you and would like to learn more.
ExpressVPN is a legitimate and extremely secure VPN service, with a multitude of standards and VPN protocols in place to keep your browsing data private and secure.
If you leave the VPN protocol setting on Automatic then the ExpressVPN app will determine what is the best security protocol to use – a great feature that very few VPN services have.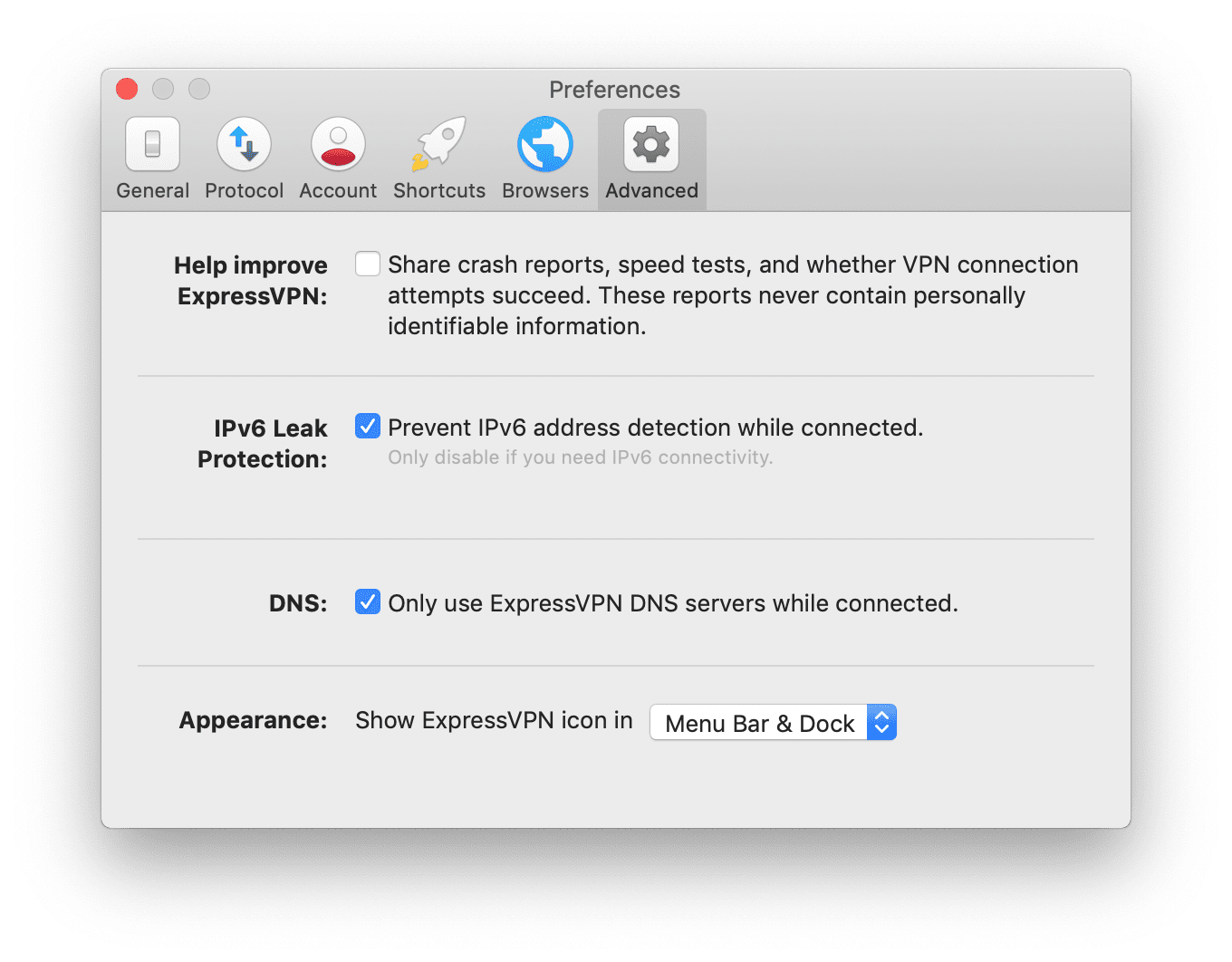 AES-256 encryption is widely regarded as near-unbreakable; OpenVPN, our favorite VPN protocol, is one of many available.
ExpressVPN also has the always-essential VPN kill switch, ensuring you stay protected in the event of your connection dropping. However, this feature isn't included in the iOS app.
Split tunneling is yet another powerful feature that's not all that common among VPN services. It allows you to protect your web traffic while keeping access to connected devices on your network, like your printer or Smart TV.
We found ExpressVPN to be fully protected from any IP or DNS leaks, too. You can count on ExpressVPN to successfully hide your real IP address.
ExpressVPN recently launched its TrustedServer feature, a proprietary technology that removes the need for local storage such as hard disks or solid state drives. Once again, ExpressVPN is leading the pack when it comes to security and privacy.
Logging Policy
Close to truly no-logs and away from 14-Eyes
ExpressVPN doesn't collect any personally identifiable activity logs. Here's all the information collected by ExpressVPN's VPN servers:
Dates when connected to the VPN service
Choice of VPN server location
Total amount of data transferred per day
That's it. ExpressVPN maintains that this is the minimum amount of information required to be collected in order to keep the performance of its servers as strong as possible.
The most important thing of all is that this data cannot be used to identify you, or what you do online. All that's possible to reveal is that you have used ExpressVPN's service at some point. This is totally anonymous, and about as close to zero-logs as you can get.
A 2018 report by the Center for Democracy and Technology (CDT) questioned ExpressVPN in greater detail, and concluded that its servers were both "extremely difficult to compromise" and "limited in the amount of data that could be revealed" in the event that they were.
ExpressVPN's logging policy was put to the test in December 2017 when one of ExpressVPN's Turkish VPN servers was seized and inspected by Turkish authorities investigating the assassination of Russian ambassador to Turkey, Andrei Karlov. The investigators could not find any customer connection logs.
Jurisdiction
ExpressVPN was founded in 2009 and is operated by Express VPN International Ltd., which is based in the British Virgin Islands and far outside of the intrusive 14-eyes surveillance alliance.
That's an excellent choice of location for a privacy-minded VPN company, as the British Virgin Islands has full sovereignty over its own data regulations.
Foreign governments can still make demands for information, but ExpressVPN makes it clear that it will never share data with them and, crucially, that it doesn't have any personally identifiable information to share in the first place.
In case you're still wondering, you're safe with ExpressVPN.
Ease of Use
Hassle-free setup and easy to get started
How to Install & Set Up ExpressVPN
ExpressVPN is so easy to use that it's hard to go wrong – not just with the main desktop client, but also with its many device-specific apps and browser extensions.
The ExpressVPN home screen is simply a big on/off button and a list of VPN servers, but if you want to customize things you can also find advanced settings behind a separate menu.
Even ExpressVPN's advanced options are explained in plain and easily-understood language, so you'll never be making changes without knowing exactly what you're doing.
Browser Extensions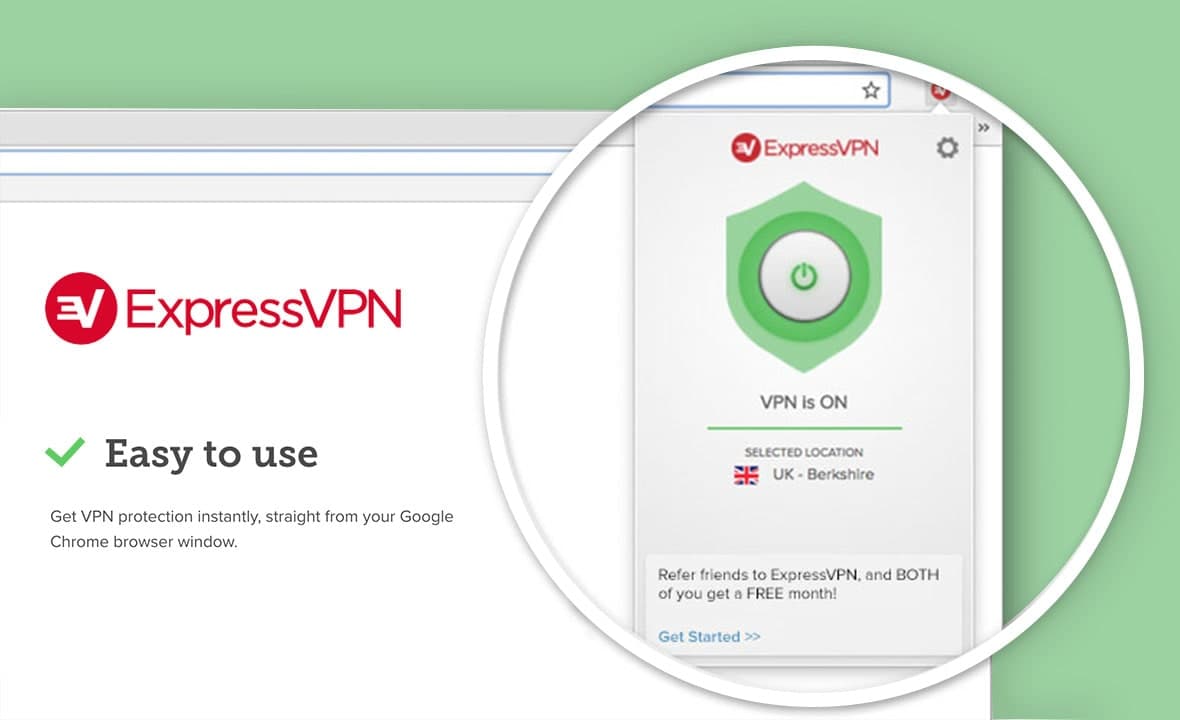 ExpressVPN's browser extensions are available for Chrome and Firefox. They give you full protection that fully masks your web activity without you having to leave your browser window.
Customer Support
Responsive and friendly live chat
| | |
| --- | --- |
| 24/7 Live chat support | |
| Email | |
| Online Resources | |
ExpressVPN's helpful 24/7 live chat means if you ever have a problem, you'll be back up and running as quickly as possible.
ExpressVPN really is one of the most customer-focused VPN services we've reviewed, and the ExpressVPN support team makes sure to keep you happy before and well after you've become their customer.
You can also reach out to ExpressVPN's customer support via email, with equally responsive, helpful and enthusiastic responses.
Pricing & Deals
A little expensive, but well worth it
ExpressVPN Coupon
ExpressVPN
Get 3 months free with ExpressVPN's 12-month plan
ExpressVPN Pricing Plan
ExpressVPN provides the same features on all its price plans, so the only decision to make is how much you want to pay upfront and how much your subscription costs you per month.
The longer you subscribe to ExpressVPN for, the cheaper the monthly cost: a single month of ExpressVPN costs $12.95 (which is more costly than other 1-month plans offered by its rivals), but there's a 49% reduction to $6.67 for a 15-month plan, which is great value for the best all-round VPN service.
All plans have 30-day money-back guarantee
Payment & Refund Options
| | |
| --- | --- |
| Credit Card | |
| PayPal | |
| Bitcoin | |
| AliPay | |
| UnionPay | |
You're entitled to a 30-day money-back guarantee when you first sign up to ExpressVPN. We found that they grant refunds quickly and with no questions asked, after we made a simple request to customer service.
ExpressVPN doesn't have a true free trial in place, but take a look at our guide on how you can make the most of the 30-day refund guarantee.
There's also a 'Refer a Friend' program which earns you a 30-day free ExpressVPN subscription for both you and the friend you convince to sign up – plus there's no limit to the number of friends you can refer.
You've read our expert review - read on for reviews from real users.
User Reviews for ExpressVPN
1,644 reviews
We value your opinion, whether it's positive or negative. Please leave a helpful and informative review, and don't disclose personal information or use abusive language. All user reviews are moderated to ensure they meet our posting guidelines.
Already use ExpressVPN? Tell us what you think.
When a review is marked "Verified Customer" it means we've verified that the reviewer has had a genuine experience with the company.
Best Positive Review
Excellent and dependable VPN that works all over the world.
Verified Customer
I used ExpressVPN both in USA and several other countries and it worked like a charm. Specially in China it went past all the blocks the chinese governments puts and was really a life saver. I tried to use VPN with my router and it was breeze to set it up. There were some hiccups as some providers blocked the IP but the customer service was fantastic to provide alternate servers to get past the glitch. Overall its a great VPN that is truly trustworthy.
Best Critical Review
Not working right now
Amazon prime in the US is recognizing I am using a VPN and not allowing me access to any HBO shows, or amazon prime music in the US. I have an Amazon prime account in Canada and the US. I spent a long time on Expressvpn chat trouble shooting and no joy. The fact that you cannot even talk to tech support is an issue too.
Showing 10 out of 1,642 reviews
Verified Customer

I've been using ExpressVPN for over a year and it has surpassed my expectations! Easy to use, and I barely notice any speed difference with my internet. Great job ExpressVPN! Thumbs up!

Verified Customer

Got it to circumvent nosy and overprotective parents and now use it in the dorms for privacy. Works like a charm. I even get some Netflix shows that I couldn't get before

Verified Customer

I have been using this service for a year, and it is a good experience for me. It is fast and reliable. The customer service is also responsive and helpful. Thanks!

One of the best VPN - at a price

Verified Customer

best vpn with features, little expensive but you get what you pay for. Multiple device support is amazing, speeds are decent.

Great also while travelling

Verified Customer

Spending 2 weeks in Israel, Tel Aviv, Juleusalum. Great connectivity and speed thus far. Be it at the hotels I am staying at and at public wifi spots. Highly Recommended.

After a year of ExpressVPN

Verified Customer

About a year ago I started the service with ExpressVPN. It was also easy to set up the application for the Amazon Firestick was really helpful in using it with that service. It allows me to turn it off and on quickly in case I need to have it verify a location for subscription purposes. It also allows me to choose which location is reported for my connection point. This helps me to stay secure yet keep my total privacy. Working good after the first year. They have even kept up to date with improvements that automatically notify and update the application.

Easy to use. Performs as advertised

Verified Customer

I travel frequently and use a VPN to watch BBC iPlayer and other BBC material when am out of the UK. My kids torrent stuff from the internet too and to avoid arguments with my internet provider a VPN comes in handy. I used TunnelBear until I realised it couldn't torrent and then another VPN which gave me torrents but also connectivity issues and always gave my location away to the BEEB, killing my iPlayer sessions. I read the reviews and decided on ExpressVPN. It has worked well from the start and one of the great things about it is that when I have had problems I can use the Live Chat support. This is a really great feature which you don't appreciate until you try getting support by email or phone from companies like AT&T. So for me Express VPN has been easy and worked the way I needed it to. When I had problems, they were addressed without any drama or frustration. And ExpressVPN is reasonably priced too.

Verified Customer

ExpressVPN is far and away worth the price. I need it when I travel to tend to finances back in the US; in fact, even at home I use it when banking or anytime sensitive information is involved. It does not slow down traffic in the slightest. I've been using it for a couple of years and would not consider changing.

Verified Customer

I have majority good feedback of express vpn. I have used it for several years in various different countries. However, last year in June I had an issue with connecting to Amazon Prime. I literally tried every location and I asked the online help for about 20 minutes. They were not helpful, suggesting I change my vpn locations that I had already tried. Then, they said that because I was located in the States at that time that I didn't have to use the VPN. That did not help because I wanted my online activities private and I was unable to use prime. Other than that, they are good for shopping online and other activities.

Express VPN works as advertised!

Verified Customer

Ive been using express VPN for a few years now both for personal use and business. To be honest it always works and i've never had any trouble with internet speed being slowed down. Im very happy and recommend it to anyone interested in a very good quality service.