How to Torrent With ExpressVPN
To quickly see how to torrent safely with ExpressVPN, view our tutorial video below. If you need more assistance, scroll down and see our step-by-step instructions.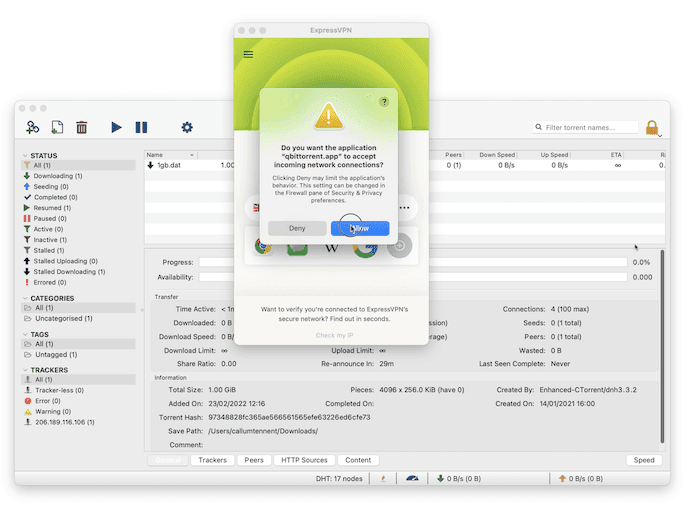 Torrenting with ExpressVPN is very easy and requires no special skills.
You can connect to any of the service's 3,000 servers and start downloading torrents securely from a client of your choice.
The most important thing to do is make sure your VPN is running before you start torrenting.
1. Choose a Torrent Client
Your computer cannot use torrent files on its own. Before you can start torrenting, you need to choose a reliable client.
We recommend qBittorrent for security, but there are dozens to choose from.
Other popular clients include µTorrent, BitTorrent, and Vuze. Be sure to download your chosen client from its official website, as other download websites could contain malware.
2. Open an ExpressVPN Account
It's crucial that you don't start torrenting until your VPN is up and running.
Visit ExpressVPN.com, and click the 'Get ExpressVPN' button on the homepage.
Choose your preferred subscription plan, and enter a payment method. Once you've signed up, you'll receive an activation code by email.
3. Set Up ExpressVPN Correctly
Open the ExpressVPN app and enter your activation code. Before connecting to a server, click on the hamburger menu in the app and select 'Preferences'.
In the 'Protocol' tab, select either TCP or UDP. Then, look for the 'Network Lock' section in the 'General' tab and tick both check boxes.
Finally, in the 'Advanced' tab, make sure DNS and IPv6 leak protection are turned on. These settings should be enabled by default, but it's always a good idea to double-check.
4. Choose a Server to Connect to
allows unrestricted torrenting on all its servers, but you still need to connect to a server before you start torrenting.
The app's 'Smart Location' feature offers the easiest and most efficient way to connect. It selects the nearest fastest server based on your physical location and server load.
5. Verify Your IP Address
As a final precaution, verify you're properly connected to the VPN by checking your IP address is hidden.
Use our free torrent IP leak test tool to ensure you're not leaking any IP or DNS information that may expose your identity.
If there are no IP leaks, you're ready to start downloading torrents safely and securely.