Streaming
PrivateVPN works with Netflix, Hulu and more
PrivateVPN runs many servers that work with streaming platforms around the world.
In our streaming tests, the VPN always worked with US Netflix, Hulu, Disney+, BBC iPlayer, and Amazon Prime Video.
The VPN service recently removed its dedicated streaming servers from its app. When we contacted it, a representative from PrivateVPN told us that this is because "all servers now work for streaming."
Testing all of PrivateVPN's servers with Netflix, we found that 53% of servers unblock the streaming service. In other words, the VPN unblocks 14 Netflix regions.
Our Netflix VPNs tests found that PrivateVPN is the second-best service for unblocking Netflix libraries (14 regions).
Even better, PrivateVPN unblocks a variety of streaming services around the world, including Hotstar and Sky Go.
The service's Canada VPN servers even unblocked DAZN's Canada library from overseas, which many VPNs are unable to do.
One drawback of streaming with PrivateVPN is that the VPN doesn't offer a Smart DNS feature. Smart DNS lets you spoof your location and bypass geo-blocks on devices that are not VPN-compatible.
This absence means it's harder to use PrivateVPN on devices like Apple TV, PlayStation, and Xbox. If you own these devices, read our ExpressVPN review and why its Smart DNS tool is the best we've tested.
How Does PrivateVPN Compare to Other Streaming VPNs?
We test 56 VPNs for streaming and assign each a score based on performance and features.
In the table below, see how PrivateVPN compares to other popular streaming VPNs:
Privacy & Logging Policy
PrivateVPN Doesn't Keep Logs
The only information that PrivateVPN retains is your email address — used for logging in, resetting your password, and renewing your account. PrivateVPN confirmed to us that this is not linked to your activity in any way.
PrivateVPN is one of the very few no-logs VPNs because it doesn't even log anonymous usage data. This level of privacy is typically reserved for more expensive services.
The privacy policy categorically states that:
"PrivateVPN does not collect or log any traffic or use of its service."
Although this statement is promising, it's also short. We'd like the logging policy to explicitly state that it doesn't log DNS requests, connection timestamps, or IP addresses, too.
PrivateVPN has not always fully disclosed its logging practices, either. Although it is no longer the case, the VPN previously logged IP addresses of users signing up for the free trial it previously offered. PrivateVPN told us these IP addresses were securely stored in a "dummy database" and linked to "no other data."
Although this type of logging was done privately and only to prevent abuse of its free trial, the problem is that PrivateVPN did not disclose its logging anywhere.
This damages trust between the user and the VPN provider. This is no small issue, either, given the level of sensitive data that is handled by the VPN.
While PrivateVPN's logging policy has still not been audited by a third-party, real-world tests support the VPN's claims.
Despite this, we are confident that PrivateVPN is now a true no-logs VPN and that this wrongdoing was a result of careless management rather than anything malicious.
Logging Policy Is Verified Through Real-World Tests
PrivateVPN is one of the few VPN services that has had its no-logs privacy policy verified by a real-world case. The VPN has been unable to give away user data, despite being asked by law enforcement on several occasions.
While PrivateVPN's logging policy states that it will provide data if "necessary in order to […] comply with a decision of a public authority or court of law," this simply means that it is forced to respond to requests from law enforcement, not that it has to provide any information.
The important thing to know is that because PrivateVPN doesn't store any user data, it has no logs to provide.
Although not known publicly, we have seen documents showing that, due to its no-logs privacy policy, PrivateVPN has always been unable to comply with law enforcement. We absolutely do not condone any illegal activities performed while using a VPN, but these real-world cases act as a trustworthy and practical test for a VPN's logging practices.
This means you can trust PrivateVPN to keep you private and safe, though we hope to see a full third-party audit in the future.
PrivateVPN is based in Sweden
Miss Group, the company behind PrivateVPN, is located in Sweden. Sweden is a relatively safe VPN jurisdiction, but it is certainly not perfect for user privacy.
Sweden is part of the 14 Eyes, a group of 14 nations that share surveillance information. Although we don't typically recommend VPNs based in a 14-Eyes country, Sweden conducts less invasive VPN data collection and surveillance than its partners.
In Sweden, VPN providers are not considered an 'electronic communications network' nor an 'electronic communications service'. This makes PrivateVPN exempt from Sweden's intrusive laws, like The Electronic Communications Act.
On top of this, PrivateVPN's no-logs policy means that it is unable to provide any information about its users, even if it was asked to comply with an investigation.
Speed & Reliability
Very fast speeds across the server network
To maintain fair and unbiased speed testing, we measured our internet speeds before and after connecting to a nearby London VPN server while using a UDP OpenVPN connection. We performed a series of tests over several days and then took the average number for each.
Here are the results we recorded when connecting to a nearby PrivateVPN server:
Local Speed Test results before using PrivateVPN:
Download Speed: 100Mbps
Upload Speed: 99Mbps
Ping: 1ms
Local Speed Test results with PrivateVPN:
Download Speed: 94Mbps
Upload Speed: 95Mbps
Ping: 12ms
Download speed loss when PrivateVPN is running: 6%
Long-Distance Speed Test Results
PrivateVPN's speed on long-distance connections was almost as good. We recorded fast speeds across a range of locations.
Despite experiencing mediocre speeds when connecting to a US server, it performed more admirably in other far-away locations like Australia and Canada. We were able to play online games and stream HD video from these countries without any buffering or interruptions.
Here are the full results we recorded when connecting to far-away servers from London, UK with a 100Mbps internet connection:
USA (New York):

Download: 62Mbps (38% slower)
Upload: 67Mbps (32% slower)

Canada (Toronto):

Download: 84Mbps (16% slower)
Upload: 65Mbps (34% slower)

Germany (Munich):

Download: 80Mbps (20% slower)
Upload: 95Mbps (4% slower)

Singapore:

Download: 32Mbps (68% slower)
Upload: 26Mbps (74% slower)

Australia (Melbourne):

Download: 49Mbps (51% slower)
Upload: 31Mbps (69% slower)
Although PrivateVPN is not close to being the fastest VPN available, these speeds will still allow you to reliably stream, torrent, and browse the web without any issue. You do need to be wary of its slow congested servers, though, but through some trial and error, you will be able to find a fast VPN server.
PrivateVPN's Speeds Versus Other Popular VPNs
To keep our speed test results as scientific as possible, we also record results using our in-house VPN speed testing tool.
These tests run automatically four times per day and the results are displayed exactly as we find them — so there's no possibility for any bias or human error.
The graph below compares PrivateVPN's average loss of internet speed to other popular VPNs while running on our New York server.
Use our Speed Test Tool to compare PrivateVPN's speeds across different cities.
These results show that PrivateVPN's speeds are poor compared to other top VPN providers.
These speed test results are in contrast to other providers like ExpressVPN and NordVPN. As you can see, speeds from these services remained both fast and consistent, which is essential for reliability.
PrivateVPN performed worse on international connections. When connecting to London from New York, PrivateVPN is consistently outperformed by other top VPNs, like Surfshark.
PrivateVPN is a cheaper VPN service than some of its competitors, so congested VPN servers and slower speeds are somewhat expected. That said, we hope it can increase its server capacity and improve performance in the future.
Price & Value
Exceptional value on all pricing plans
PrivateVPN Subscription Prices
Three billing options let you pay monthly, every three months, or every three years.
The PrivateVPN monthly package costs $9.99, but you can lower the monthly cost by 85% to $2.00 if you pay for three years in advance. There is also a three-month plan, which costs $6.00 per month.
These impressive prices make PrivateVPN a great VPN choice if value is your main priority.
By contrast, other cheap VPNs, like NordVPN, Surfshark, and CyberGhost, all cost more, making PrivateVPN a clear price winner.
PrivateVPN Free Trial
PrivateVPN no longer offers a free trial. If you want to test the VPN, take advantage of the service's 30-day money-back guarantee.
You will need to provide a reason for asking for your money back, but all refunds are processed within five business days.
Payment Methods
PrivateVPN accepts the following payment methods:
American Express

Bitcoin

Mastercard

PayPal

UnionPay

Visa
How Expensive Is PrivateVPN Compared to Other VPNs?
Use the table below to compare PrivateVPN's pricing information to other top VPNs. You'll find information about each VPN's monthly cost, refund policy, and free trial period:
Server Locations
Small network of 200 servers across 63 countries
Servers are available in popular locations like the US, the UK, Australia, Japan, Germany, and Canada. All of these include city-level servers, too, so you can connect to the nearest server to you in a specific country.
Sadly, the app does not allow you to connect automatically to the fastest server, and it doesn't include any information about server load, either.
Disappointingly, though, South Africa is the only African server available. There are plenty of VPN servers located near China, however, including Hong Kong, Taiwan, and Vietnam — making connections from behind the Great Firewall fast and reliable.
Virtual Server Locations
13% of PrivateVPN's server locations are virtual — meaning they are physically located in a different country to the IP address. For example, we discovered that PrivateVPN's South Korea server is actually located in a server park in the US.
PrivateVPN uses a relatively small number of virtual server locations. This increases transparency and ensures that your data is not diverted to any country other than the one you've chosen.
Virtual server locations can also drastically hinder your internet speed if you think you're connecting to a nearby server, when in fact it's located on the other side of the world.
For this reason, the PrivateVPN app needs to highlight which server locations are virtual, and which are physically located. Other VPN services, including top-tier VPNs like CyberGhost, are very upfront about this.
Although PrivateVPN does list all of its virtual server locations on its website, they are concealed and not easy to find.
Dedicated IP Servers
All of PrivateVPN's apps come with a separate tab allowing you to connect to 'Dedicated IP' servers. These servers have several unique features which make them very useful for certain activities.
Firstly, PrivateVPN owns all of these servers, with none rented from third-parties. This makes these servers excellent for privacy and security, as it removes any additional intermediaries that are responsible for your data.
We spoke to a PrivateVPN representative and found that a subset of these servers are 100% owned by PrivateVPN — meaning it has full control of the hardware, servers, network equipment, and everything else.
These servers are:
Denmark – Copenhagen
France – Paris
Germany – Frankfurt
Italy – Milan
Spain – Madrid
Sweden – Stockholm
Switzerland – Zürich
The Netherlands – Amsterdam
UK – London
US – NYC 1

All of these servers have a 10GB dedicated internet connection, and as PrivateVPN wholly owns them, the bandwidth is not shared with any additional renters. This makes these servers particularly fast — great for demanding tasks like streaming.
Secondly, all ports are automatically enabled on PrivateVPN's dedicated IP servers — making these servers perfect for torrenting and P2P file-sharing. With other servers, you are forced to manually configure your torrent client, which is often a lengthy and complicated process.
Having all ports open allows all incoming P2P connections to transmit directly to your device. Without this, you will get low priority from other seeds and your download rate would suffer.
Finally, these servers issue dedicated IP addresses — meaning that when you connect to one of them, your IP address will not be shared with any other user. These IPs are still dynamic, too, so you will get a different IP when you reconnect.
In all, PrivateVPN's dedicated IP servers are one of the VPN's main strong points — allowing tighter security, faster torrenting, and reliable streaming. However, the VPN does not promote these servers anywhere, nor does it provide guides to educate users about their use, so we'd like to see it focus on these more in the future.
Torrenting
PrivateVPN Is Excellent for Torrenting
We tested PrivateVPN with various torrent clients, and each time we were able to download a torrent file without any interruptions quickly. Our most recent speed test results measured a bitrate of 5.1 MiB/s from our 100Mbps internet connection, which means you won't have any trouble sharing large files like movies, music, and software with others.
The VPN also operates its own no-logs DNS servers, which means there is no third-party involved in resolving your DNS requests. This is a must-have feature for private P2P file-sharing, so we're glad to see PrivateVPN cover it.
Although torrenting is allowed on all of its servers, PrivateVPN recommends you only connect to a location from the 'Dedicated IP' server list.
These servers are owned and controlled by PrivateVPN, unlike all other servers which are rented from third-parties. A PrivateVPN representative confirmed to us that only PrivateVPN has direct physical access to these servers and no one else.
This allows for an additional layer of control and security, which is essential when it comes to keeping torrenting activity private.
Additionally, these servers allow most ports to be forwarded automatically, so there's no need to configure any port settings on your torrent client. In fact, it's our number one recommended VPN if you want to seed torrents. For the fastest speeds, we also recommend you connect to the dedicated IP server location that is closest to you. You can read all about PrivateVPN's dedicated IP servers here.
PrivateVPN's superb torrenting performance makes it an excellent choice for using Kodi, Popcorn Time, and all other torrent-based streaming platforms.
Device & OS Compatibility
Simple & attractive apps for all major devices
Apps
PrivateVPN is available to download and install on the following devices:
Windows

Mac

iOS

Android

Linux

Router
PrivateVPN's apps function and look almost identical across all platforms, enabling a familiarity and a continuity that we appreciate.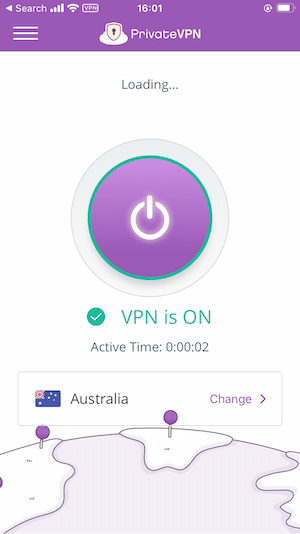 The only notable difference is that the iOS app does not include a kill switch — so your true IP address is at risk of exposure if your VPN connection drops. However, many top VPNs struggle to provide a kill switch on iOS, so it's not necessarily a deal-breaker.
For alternative platforms like Linux, PrivateVPN's website provides plenty of manual setup tutorials to guide you through installation.
You can connect up to six devices at the same time, too, which makes PrivateVPN a good choice if you want to protect your family's devices as well as your own.
Games Consoles & Streaming Devices
Apple TV

Amazon Fire TV

Android TV

Chromecast

Nintendo

PlayStation

Roku

Smart TV

Xbox
As PrivateVPN is a VPN designed for streaming, we were very disappointed to discover that it does not offer a Smart DNS feature. This means the VPN cannot unblock streaming sites on devices like PS4 and Apple TV.
As these devices do not allow for the installation of VPN apps, most top VPNs include Smart DNS. This tricks websites and apps into thinking you're connecting from a country different to your own without the need for a full  VPN.
Due to its absence, you will have to install PrivateVPN at router-level if you want to unblock streaming sites on a games console or streaming device. Unlike many other VPNs, PrivateVPN does not offer any pre-installed routers for sale, either, so you will have to do it manually.
To do this, read PrivateVPN's router setup tutorial. This process is complicated if you're inexperienced, so double-check each step before starting.
Alternatively, you could use PrivateVPN's Fire TV app if you want to stream movies and TV shows from around the world on your TV. Amazon Fire TV Sticks are very affordable, too, so it's a good option. You can read more about this in the section below.
Amazon Firestick & Fire TV
PrivateVPN features a great app for Amazon Fire TV Stick, with the ability to unblock over 30 Netflix libraries directly onto your TV.
The app comes with the same choice of servers as the desktop and mobile apps, so you can also stream sites like Netflix, Hulu, BBC iPlayer, and HBO Max.
Some other VPNs, like Private Internet Access, struggle to unblock streaming services on Firestick due to the device's stricter VPN-detection techniques. However, we connected to PrivateVPN's US, UK, Australia, Japan, and Canada servers and they all worked with Netflix.
One drawback to the app is that it hasn't been optimized for Fire TV — so it's left looking like a blown-up version of the Android app. As it was originally designed for touch input, it makes it difficult to decipher what setting you're controlling at any given time. The only indication being that the element in focus gains a faint green-colored border.
The main negative to PrivateVPN's Firestick app is that it doesn't feature a kill switch. This is particularly problematic for Kodi streamers, as if your connection drops for any reason, you may accidentally reveal your IP address.
Overall, PrivateVPN is a great choice if you regularly stream content on an Amazon Firestick. It works flawlessly for unblocking geo-restricted apps.
Ease of Use
Easy to install and set-up
How to Connect to a Server with PrivateVPN
How to Change Settings in PrivateVPN
From the app's home screen, you can only connect or disconnect from the VPN using the large on/off button, or change your server location. However, the app is more configurable than it first seems as it allows you to choose between this 'simple view' or an 'advanced view'.
From the app's advanced view you can manually configure a range of settings. You can adjust the VPN protocol, the level of encryption used, as well as turn on advanced features like the kill switch and Stealth VPN. This makes the advanced view great if you want to tailor the service to suit your preferences.
The simple view, on the other hand, is perfect if you're a VPN novice who wants a quick and easy way to connect the VPN and change server location.
Overall, the user experience of PrivateVPN's apps is one of the very best we've seen — they're easy to use and navigate, they don't include any bloatware, connecting is quick, and they're very stable.
Bypassing Web Censorship
Does PrivateVPN Work in China?
Due to the strict nature of the Chinese government, it's very difficult to test VPNs in China from outside of the country.
To ensure our reviews are 100% accurate, we have servers physically located in Shanghai that run Windows 10 on a virtual machine. This allows us to make a real connection within China remotely, just as if we were in the country itself.
PrivateVPN is one of the most reliable VPNs to use in China. We found it works around 89% of the time, which is far better than some other top VPNs, like NordVPN and Surfshark.
Shadowsocks Proxy
It is worth noting that despite being branded as a bespoke PrivateVPN protocol, Stealth VPN routes traffic through the open-source Shadowsocks proxy. Shadowsocks is not unique to PrivateVPN and is available from many other VPN services. It's simply not as safe or effective as custom VPN obfuscation tools.
In contrast to PrivateVPN, VPN services like Astrill have developed proprietary technology for bypassing censorship. These don't rely on proxies and are a safer option if you regularly connect out from China.
EXPERT TIP: Make sure to download and install the app before entering China. PrivateVPN's website is blocked by the Great Firewall, so you won't be able to once inside the country.
Security & Extra Features
Is PrivateVPN Safe?
| Protocols | Available in PrivateVPN |
| --- | --- |
| IKEv2/IPSec | Yes |
| L2TP/IPSec | No |
| OpenVPN (TCP/UDP) | Yes |
| Proprietary | No |
| PPTP | No |
| SoftEther | No |
| SSL VPN | No |
| SSTP | No |
| TLS VPN | No |
| WireGuard | No |
| Encryption | Available in PrivateVPN |
| --- | --- |
| AES-128 | No |
| AES-192 | No |
| AES-256 | Yes |
| Blowfish | No |
| ChaCha20 | No |
| Security | Available in PrivateVPN |
| --- | --- |
| DNS Leak Blocking | Yes |
| First-party DNS | Yes |
| IPv6 Leak Blocking | Yes |
| Supports TCP Port 443 | Yes |
| VPN Kill Switch | Yes |
| WebRTC Leak Blocking | No |
| Advanced Features | Available in PrivateVPN |
| --- | --- |
| Ad Blocker | No |
| Dedicated IP | Yes |
| Double VPN | No |
| Smart DNS | No |
| SOCKS | No |
| Split Tunneling | No |
| Tor over VPN Server | No |
| Tracker Blocker | No |
Despite not offering many configurable security features, PrivateVPN is a trusted safe VPN and does the basics very well. You can rely on the service to encrypt your data and keep your online activities private and anonymous.
The VPN's website claims that the very strongest encryption methods are in use — including the AES-256 cipher and 2048-bit RSA handshake. To verify this claim, we analyzed the VPN connection logs, and we were pleased with what we found.
After our research, we discovered that PrivateVPN's encryption and security are tough. The VPN implements its encryption as follows:
OpenVPN connections are established via an

RSA-2048 handshake

.

Perfect Forward Secrecy

via an ECDH key exchange.

Authentication is provided using an

SHA-384 hash

.

Traffic is securely encrypted using the

AES-256 cipher

.
Although the technical details of this may sound complicated, these protocols work in tandem to ensure your data is kept safe, secure, and private.
Kill Switch
A kill switch is an essential feature for any VPN user as it stops your internet connection altogether if your VPN connection drops at any point. By doing this, the kill switch protects your IP address and your true identity is never exposed.
PrivateVPN has a kill switch for Windows and macOS to keep you safe if your connection drops. It's not enabled by default, though, so make sure to have it turned on within the 'Connection Guard' tab of the settings menu.
To test the effectiveness of PrivateVPN's kill switch, we performed a number of IP leak tests while manually disconnecting the VPN. The kill switch worked flawlessly and our true IP address did not leak.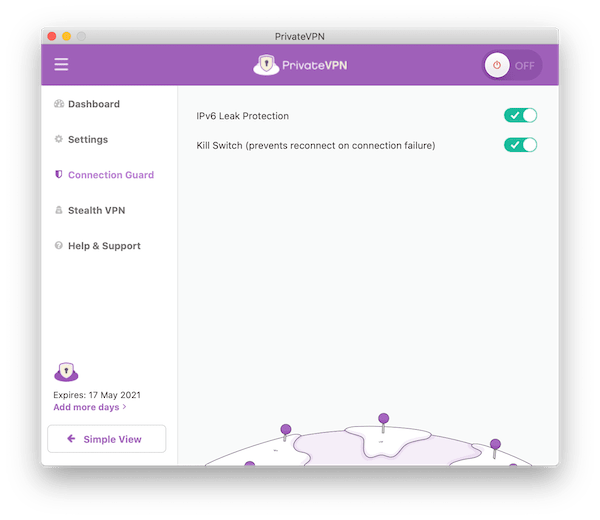 A kill switch is essential for many online activities, like unblocking streaming sites and torrenting, so we're glad to see it included. However, a major drawback is that there is no kill switch on PrivateVPN's iOS or Amazon Fire TV app — leaving connections from these devices vulnerable. 
Split Tunneling
Unlike so many other big-name VPNs, PrivateVPN does not offer a split tunneling feature. This means that you are unable to exclude any apps from using the VPN connection, which may result in PrivateVPN stopping them from working properly. 
Although it may seem unusual to leave some of your traffic unprotected, there are some situations where this feature is necessary. A VPN will interfere with your wireless printer and smart home devices, for example.
As a result, we were unable to use any of these local services while running PrivateVPN. Without this feature, PrivateVPN lags behind some of its competitors and may become useless to you, depending on your use case.
Leak Test Results
Although PrivateVPN encrypts all VPN traffic with gold-standard protocols, data leaks can still occur. This happens when traffic is transmitted outside of the encrypted VPN tunnel, making your identity visible to third-parties.
Thankfully, PrivateVPN comes with IPv6 and DNS leak protection. To verify that these features are fully functional, we put PrivateVPN's Windows and iOS apps through a series of real-world leak tests.
To test for any IP address leaks, we used ipleak.net. We used PrivateVPN servers in the US, UK, Australia, and Sweden. PrivateVPN did not leak our real IP address at any point — keeping our identity private and anonymous.
PrivateVPN also passed our DNS leak test without any issues. This is helped by the fact that PrivateVPN operates its own DNS servers that resolve all your DNS requests, thereby removing any risk of leaks from third-party servers and data-handlers.
In sum, these results show that PrivateVPN is safe and can be trusted to protect your identity as you browse the web.
Customer Support
Inconsistent customer support
| Customer Support | Available in PrivateVPN |
| --- | --- |
| 24/7 Live Chat Support | No |
| 24/7 Email Support | No |
| Live Chat Support | Yes |
| Email | No |
| Email Support via Online Form | No |
| No Support Available | No |
| Tutorial Videos | No |
| Online Resources | Yes |
PrivateVPN has good customer support but it is inconsistent in both availability and quality of service. The support team can be contacted either through live chat or via email.
Despite being operational 24/7, its live chat is not always available. After reaching out to the company for an explanation, we were told that there are only four customer support agents in total, so the live chat system is shut down temporarily if there is a large queue or if the agents are on break.
The chat box will display either red or green depending on whether it's available. It can be initiated from the bottom-right corner of the PrivateVPN website and it will prompt you to enter your name, email address, and question before proceeding.
This is extremely poor for a top VPN service. 24/7 customer support is now an expectation for good VPNs and, if not, then live chat is always available during set times of the day.
With PrivateVPN, though, the availability of a customer support agent is unpredictable and random — which can be extremely frustrating if you want a quick answer to a query.
In addition, PrivateVPN's support agents differ substantially in helpfulness. Some agents are very knowledgeable, prompt to respond, and courteous. However, some others are very ill-informed, misunderstand queries, and are slow to reply.
If live chat is unavailable, your question will be forwarded to PrivateVPN's email support. This email support runs 24/7 and, in our testing, we frequently received a reply within an hour. The email support team is generally more knowledgeable than the live chat staff, so make sure to contact them if you have a more advanced query.
For any general issues, PrivateVPN's online resources and FAQs page should suffice, but these are limited and only cover the basics. We would like to see more video walkthroughs and an update of the tutorials. Many still use screenshots from the old PrivateVPN app, for example.
The Bottom Line
PrivateVPN is a very good VPN choice
PrivateVPN is an excellent VPN service overall. It comes with intuitive apps for beginners, advanced security and encryption, as well as some of the most affordable prices on the market.
PrivateVPN is particularly well suited for streamers who want a quick and easy way to unblock streaming sites from around the world. The VPN accesses 14 different Netflix libraries, Hulu, HBO Max, and BBC iPlayer. However, we do wish PrivateVPN offered a Smart DNS feature, as users are left unable to stream content on devices like Apple TV or games consoles.
The VPN is also our number two pick for torrenting — coming with a robust kill switch, a zero-logs privacy policy, and fast bitrate speeds. In our tests, we were always able to download torrent files quickly and safely.
PrivateVPN is also one of the best VPNs for China, with its Stealth VPN protocol easily bypassing the Great Firewall in all of our recent tests.
However, we encountered some highly unreliable speeds when testing PrivateVPN. The VPN's tiny server network and lack of information about server load means that servers are often overcrowded. It's therefore impossible to decipher whether your speeds will be fast or slow before connecting. This is the VPN's most significant drawback and will often frustrate your Netflix streaming with interruptions and buffering.
Overall, PrivateVPN is an excellent VPN for most users. It will work with any streaming service, hide your torrenting activity, and it will secure data on public WiFi. However, if you want a more fully-featured VPN with the fastest speeds, Smart DNS, browser extensions, 24/7 live chat, and numerous server locations — you'll have to look elsewhere.
Additional research by Luke Williams
Alternatives to PrivateVPN
Surfshark
Surfshark is a similarly-priced VPN that comes with more features. It's based in a privacy-friendly jurisdiction, live chat is available 24/7, and it allows unlimited simultaneous connections. Read Surfshark review
ExpressVPN
If money is no issue, then ExpressVPN is the best VPN available today. It delivers very fast long-distance speeds, and it reliably unblocks streaming sites around the world in HD. Read ExpressVPN review
Was this content helpful?
---
User Feedback for PrivateVPN
1,735 user reviews

3 questions answered