Disclosure: Top10VPN.com is reader-supported. We may earn commissions if you buy a VPN through links on our site.
PrivateVPN Review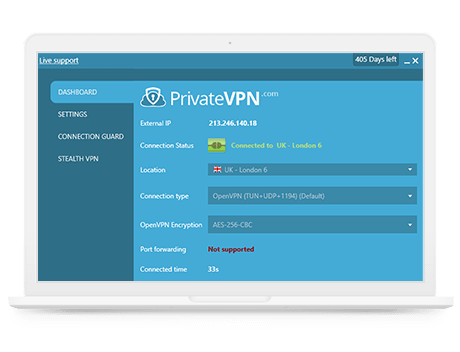 Our Verdict
PrivateVPN is a great VPN for streaming, with fast speeds and dedicated servers for popular streaming services like US Netflix, BBC iPlayer, and Disney+. PrivateVPN has a strong no-logs privacy policy, uses unbreakable 256-bit AES encryption, and is also one of the cheapest VPNs on the market — costing just $1.89 per month on a two-year plan.
Our experts have put months of testing into this PrivateVPN review to help you decide if it's the right VPN for you.
We put PrivateVPN to the test and found answers to all these questions:
Find out the answers to all these questions in the full PrivateVPN review below. Or if you're in a hurry, you can find our quick list of pros and cons first.
PrivateVPN Pros & Cons
Fast local speeds
Unblocks US & UK Netflix, BBC iPlayer & more
Great new app design
No logging & no IP, DNS & WebRTC leaks
Torrenting allowed on all servers
VPN servers in 59 countries
Slow speeds on long-distance connections
No browser VPN extensions
Live chat not always available
Free trial no longer available
PrivateVPN Key Summary
| | |
| --- | --- |
| Data Cap | Unlimited |
| Speed | 86Mbps |
| Logging Policy | No Logs |
| Data Leaks | No |
| Jurisdiction | Sweden (14-Eyes Member) |
| Servers | 150+ |
| IP Addresses | 7,000+ |
| Countries | 59 |
| US Netflix | Yes |
| Torrenting | Unlimited |
| Works in China | Yes |
| Support | Live Chat |
| Cheapest Price | $1.89/mo over 2 years |
| Official Website | PrivateVPN.com |
Who is PrivateVPN?
About & Logging
PrivateVPN was founded in 2009 and is owned by Privat Kommunikation AB, which operates under the jurisdiction of Sweden, making it subject to EU data retention laws and intelligence-sharing agreements.
However, PrivateVPN's zero-logs policy means that even if it was asked to comply with any type of investigation, it doesn't have any information about its VPN subscribers to give to the authorities, so there's nothing for users to worry about.
Logging Policy
A VPN can't truly be private unless it has a top-notch, robust logging policy. PrivateVPN claims that it "doesn't collect or log any traffic or use of its service."
That's great – unfortunately, that one quote is also the full extent of it. We'd like the privacy policy to explicitly say that it doesn't log DNS requests, connection timestamps, or IP addresses, but thankfully a support agent confirmed that PrivateVPN doesn't collect this data.
Ultimately, we trust PrivateVPN to keep you safe, and you should too, but ideally we look for a little more information and clarification in a privacy policy, just for peace of mind.
PrivateVPN works with Netflix, BBC iPlayer, Hulu, and more
Streaming & Torrenting
PrivateVPN is one of the absolute best VPN services for streaming.The VPN makes streaming easy by organizing its locations list into servers optimized for streaming video content on Netflix and BBC iPlayer.
You can access 32 different Netflix libraries with PrivateVPN. Some of the most popular libraries available are the US, UK, Canada, Japan, and South Korea.
Our tests also found that PrivateVPN works with many other streaming services, including Disney+, Hulu, HBO Max, and Amazon Prime Video. PrivateVPN's fast speeds means that your content will be in HD and without any interruptions from buffering and other slowdowns.
Torrenting
PrivateVPN is also great for torrenting.
P2P is allowed on all servers, and there are P2P-optimized servers in 17 countries. From within the VPN app, you'll see these servers under 'Dedicated IP/Torrent' within the 'By Service' servers list.
PrivateVPN is one of the safest choices for torrenting due to its no-logs policy, host of security features, and fast uploads and downloads.
PrivateVPN is ideal for Kodi, too.
Very fast speeds across the server network
Speed Test
PrivateVPN provides consistently fast speeds across its VPN server network. Reliably quick uploads and downloads are ideal for both secure torrenting and buffer-free streaming.
Connecting to a same-country server (UK to UK), PrivateVPN only slowed our internet connection down by about 7%.
PrivateVPN is one of the fastest VPNs available – if speed is what you want then it's a serious contender.
Local Speed Test Results
Before using PrivateVPN:
93

98

Ping

ms

3
When connected to PrivateVPN:
87

89

Ping

ms

5
Download speed without PrivateVPN: 93Mbps
Download speed with PrivateVPN: 87Mbps
Our download speed loss when PrivateVPN is running: 7%
Ping times are low (great for gamers) and upload speeds are high (great for torrenters).
Even across international connections, such as the UK to the US, PrivateVPN is pretty speedy – you'll be able to do pretty much anything online without breaking a sweat.
Take a look at the average download and upload speeds we recorded connecting out from the UK to PrivateVPN's servers:
USA: 63Mbps (download) & 25Mbps (upload)
Germany: 86Mbps (download) & 56Mbps (upload)
Singapore: 32Mbps (download) & 15Mbps (upload)
Australia: 18Mbps (download) & 13Mbps (upload)
How Fast is PrivateVPN Compared to Other VPNs?
You've already seen the results of our manual testing – now you can see the latest results for PrivateVPN from our custom VPN speed testing tool.
The graph below compares PrivateVPN's average loss of internet speed to other popular VPNs while running on our New York server.
Speed tests run automatically four times per day. Test connection speeds are capped at 100Mbps to recreate a typical home internet connection.
This chart shows the average speed loss experienced by the VPN each week when compared to using a normal 100Mbps internet connection with no VPN at all – the lower the percentage the better.
You can check results as far back as the past four weeks – that way you can get a good impression of how reliable PrivateVPN is, not just how fast it can be.
Use our Speed Test Tool to compare PrivateVPN's speeds across different cities.
This test is performed by our automated testing tool that runs constantly, seven days a week, to deliver up-to-date and consistent results from all over the world. There's no human bias, and no relying on third-party websites. We own all the servers and infrastructure that we test with, and report the results exactly as we find them.
As the chart shows, PrivateVPN's speeds are very poor compared to other top VPN providers. Over the previous eight weeks, PrivateVPN's speed performance has been very inconsistent — regularly fluctuating between speeds of 86Mbps to 65Mbps on a same-city connection.
PrivateVPN's poor speed test results are in contrast to other providers like Private Internet Access and NordVPN. As you can see, Private Internet Access' speeds remained both fast and consistent, while NordVPN's speeds are fast but sporadic.
PrivateVPN performed slightly better on international connections. When connecting to London from New York, PrivateVPN was often recorded as the fastest VPN service, although its speeds remained inconsistent and unpredictable. Inconsistent speeds are frustrating for streaming geo-blocked content, like US Netflix or HBO Max, as it makes HD streams less likely. In all, Surfshark and NordVPN proved to be the quickest and most reliable VPNs for connecting to far-away locations.
PrivateVPN is a cheaper VPN service than some of its competitors, so congested VPN servers and slower speeds can be somewhat expected. However, services like Surfshark and NordVPN are only slightly more expensive, so we hope PrivateVPN can increase their server capacity and improve their speed performance in the future.
Just 150 servers across 59 countries
Server Locations
59
Countries
75
Cities
7,000+
IP Addresses
PrivateVPN's array of locations (59 countries) and VPN servers is nowhere near the highest we've seen, but it's not as poor as it may first look.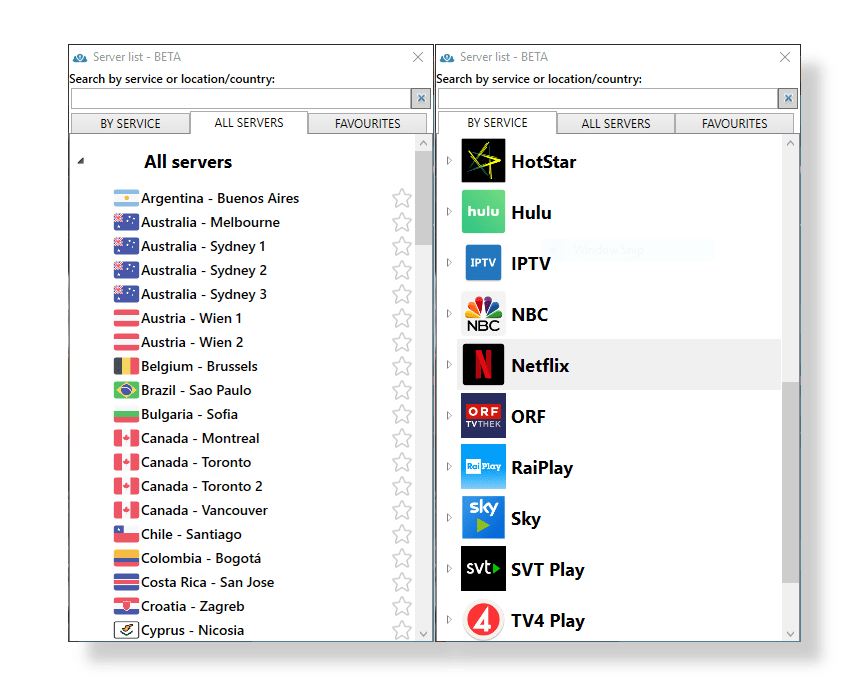 PrivateVPN offers more than 7,000 individual IP addresses so, despite maintaining just the 150 or so VPN servers, you shouldn't have to worry about facing congestion or slowdown.
Those 150 VPN servers also do a pretty good job of providing worldwide coverage.
There are servers in popular locations like the US, Canada, Australia, and loads of countries in Western Europe, but PrivateVPN also provides plenty of choice in South America and Asia-Pacific.
Those in South and Central America can connect to VPN servers in Argentina, Chile, Colombia, Costa Rica, and Panama.
While Asia has VPN servers in Hong Kong, Indonesia, Israel, India, Japan, South Korea,  Malaysia, Philippines, Singapore, Thailand, Taiwan, Vietnam, and the United Arab Emirates.
Disappointingly, Africa is covered by South Africa alone.
PrivateVPN provides city-level choice in eight countries, which is great for experiencing the best speeds:
Australia (2)
Canada (2)
India (2)
Italy (2)
Sweden (3)
the UK (2)
Ukraine (2)
the US (9)
PrivateVPN uses a mix of physical servers and virtual servers. It owns some of its servers and leases others. While this isn't ideal, PrivateVPN ensures that those leased servers are not keeping user logs by setting them up themselves and monitoring the servers remotely.
Cheap VPN, especially on 2-year plan
Pricing
PrivateVPN Coupon
PrivateVPN Pricing Plan
PrivateVPN is affordable with a sizable 83% saving available when taking out a two-year plan. $1.89 per month for the duration is an extremely enticing price for a service the quality of PrivateVPN.
There are also shorter plans available, but these work out to be more expensive on a monthly basis.
All plans have 30-day money-back guarantee
Payment & Refund Options
| | |
| --- | --- |
| Credit Card | Yes |
| PayPal | Yes |
| Bitcoin | Yes |
PrivateVPN accepts a fairly limited number of payment methods, but there is an option to pay in cryptocurrency for a higher level of privacy:
Major credit and debit cards
PayPal
Bitcoin
Recently, PrivateVPN removed its free trial option. This trial period didn't require any payment details to sign up and was our favorite free trial from any VPN service. It made PrivateVPN unique among the many VPNs on the market, so its removal leaves PrivateVPN less impressive than before. 
After contacting it, the VPN provider assured us that the free trial will return at some point in the future, but refused to give an estimated timescale. We hope that PrivateVPN restores this option soon, as it was a great entry point for many VPN users.
More pleasingly, the VPN comes with a 30-day money-back guarantee for all users, and the only condition is that you use less than 100GB of data in the period.
You will need to provide a reason for asking for your money back, but all refunds are processed within five business days of them being requested if you have second thoughts.
Simple custom VPN apps for the main platforms
Platforms & Devices
Apps
Windows
Mac
iOS
Android
Linux
Router
PrivateVPN has custom VPN apps for the most popular platforms, including:
Microsoft Windows
Apple MacOS
iOS
Android
For any other platforms, like Linux, there are plenty of manual setup guides online to help you through it.
You can connect up to six devices at the same time, which makes PrivateVPN a good choice for those who want to protect not only their devices but their family's too.
Games Consoles & Streaming Devices
AppleTV
Amazon Fire TV
Chromecast
Nintendo
PlayStation
Roku
Xbox
On top of custom apps for the four most popular platforms, PrivateVPN provides solutions for smart TVs too.
PrivateVPN is one of very few providers to offer a dedicated VPN app for the Amazon Fire TV Stick, meaning all you have to do is download the app from the store and you're ready to go.
In order to protect games consoles or any other streaming device, you'll need to connect them to a configured router or another device running the PrivateVPN app, such as a laptop or smartphone.
Browser Extensions
Very secure VPN with many configurable options
Encryption & Security
Protocols

IKEv2/IPSec

L2TP/IPSec

OpenVPN (TCP/UDP)

PPTP

Encryption

AES-256

Security

DNS Leak Blocking

First-party DNS

IPV6 Leak Blocking

Supports TCP Port 443

VPN Kill Switch

Advanced features

SOCKS

TOR via VPN Server
Please see our VPN Glossary if these terms confuse you and would like to learn more.
It's not just a name – PrivateVPN really is a truly secure and safe VPN, with lots of advanced features in place to make sure your data and browsing habits are kept as private as possible.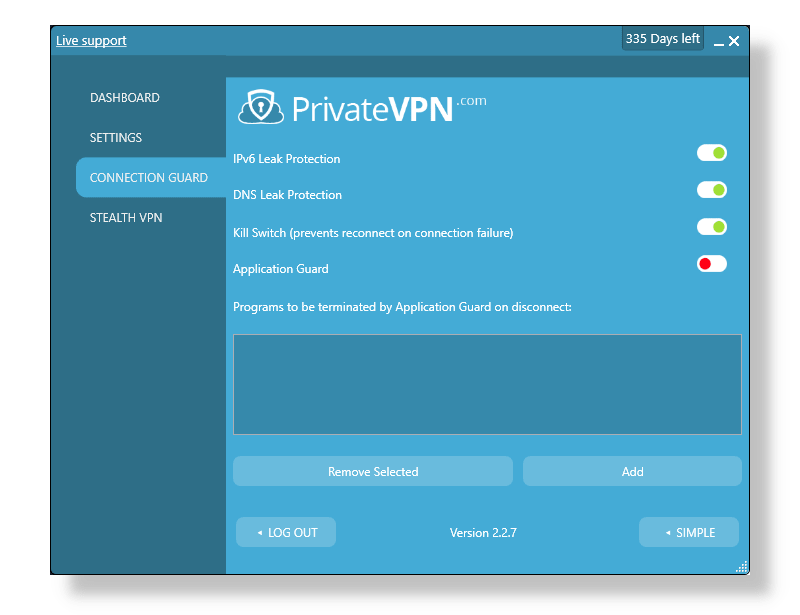 PrivateVPN provides near-uncrackable AES-256 encryption, the OpenVPN protocol – our personal favorite, and DNS servers operated by PrivateVPN so that your traffic doesn't take any unexpected diversions.
You can choose to connect using other VPN protocols (PPTP and L2TP) but we don't recommend them as they don't provide the same level of security. In fact, PPTP is unsafe to use.
PrivateVPN has a VPN kill switch for Windows to keep you safe if your connection drops, but it's missing for MacOS and mobile devices, which is disappointing.
Our thorough VPN testing detected no DNS or IPv6 leaks, and you can also use Tor over VPN or TCP Port 443 for even greater security.
Works reliably in China thanks to Stealth VPN protocol
Censorship
PrivateVPN is a good VPN for China.
Its advanced privacy tools and Stealth VPN protocol, which hides the fact you're using a VPN, meaning that PrivateVPN is one of our most reliable VPN choices for China – or for bypassing censorship in any other country, for that matter.
Thanks to the Stealth VPN feature, you can also use PrivateVPN in the United Arab Emirates, Saudi Arabia, and Turkey too. With plenty of nearby Asian servers, speeds should remain fast.
PrivateVPN also provides Tor over VPN if you're looking for an extra layer of security.
Simple setup and user-friendly custom apps
Ease of Use
How to Install & Set Up PrivateVPN
Downloading and installing PrivateVPN is incredibly easy and takes only a matter of minutes. There are step-by-step installation guides for loads of popular devices on the website if you need help.
PrivateVPN's minimalist VPN apps do a great job of keeping things simple while simultaneously showcasing its more advanced features.
The desktop and mobile PrivateVPN apps are very similar in appearance, and everything is clearly labeled and accessible – although mobile users should beware that the Android and iOS versions are missing the kill switch.
PrivateVPN's apps don't provide integrated support, either, so newbies or those looking for assistance will need to head online for help.
Useful online resources but live chat is inconsistent
Customer Support
| | |
| --- | --- |
| Live chat Support | Yes |
| Online Resources | Yes |
PrivateVPN does have a live chat help feature on its website, but it's not available 24/7, which is less than ideal.
The chat box is either red or green depending on whether or not it's available – there doesn't seem to be any way to predict exactly when that will or won't be. When it's unavailable PrivateVPN brings up an online form instead.
Email replies to the online form are fairly quick, and the support agents are very knowledgable and friendly.
Even if the live chat isn't active when you need it, PrivateVPN's online resources and FAQs should be able to see you through most issues.
Do We Recommend PrivateVPN?
The Bottom Line
PrivateVPN may be small, but its an easy VPN to recommend.
PrivateVPN is fast, secure, reliable, and so cheap that it's almost impossible to ignore.
Alternatives to PrivateVPN
It's still cheap, but scores just a little bit higher: NordVPN is an obvious recommendation for anyone considering PrivateVPN. NordVPN's live chat and mobile apps set it apart. Read NordVPN review
PrivateVPN's total server count pales in comparison to CyberGhost's - if you want a wider range of options then CyberGhost is an affordable, reliable option. Read CyberGhost review
---
User Feedback for PrivateVPN
User Questions & Answers
What do I need to do in order to proceed with torrenting? I've set PrivateVPN up but I see lots of guides for things I don't understand but all I know is that my torrents are slow, about 200kbps.

How do I cancel PrivateVPN?

There's no button within the account area of the PrivateVPN website - you need to log in, click the live chat button in the bottom-right-hand corner of the website, and then inform the support agent that you wish to cancel.

How does it work in terms of encrypting data?

PrivateVPN works in the same way as many top VPNs. It has a selection of encryption protocols to choose from, including OpenVPN (our favorite) and IKEv2.
Don't see the answer the answer that you're looking for?
User Reviews for PrivateVPN
1,734 reviews
We value your opinion, whether it's positive or negative. Please leave a helpful and informative review, and don't disclose personal information or use abusive language. All user reviews are moderated to ensure they meet our posting guidelines.
Already use PrivateVPN? Tell us what you think.
When a review is marked "Verified Customer" it means we've verified that the reviewer has had a genuine experience with the company.
Best Positive Review
Excellent VPN!
Verified Customer
Very reliable VPN. One of the best for streaming movies. Super fast and I have not encountered any issues so far. Reasonably priced too.
Best Critical Review
Poor speeds
I have used PrivateVPN for nearly 6 months and feel it's a bit slow when connecting to a remote VPN server that is far away from my location.
Showing 10 out of 1,732 reviews
I cancelled (no AppleTV app, no Safari plug in) and requested refund. Customer support: All subscriptions are non-recurring, rest assured you will not be billed automatically at the end of the subscription period. I ask: What happened with the 30 day risk free trial? Wrote to the manager. Manager: You've been refunded now! It will take 5 - 10 business days before you see the money in your bank account. No money ever reached me. This will not bankrupt me, but if I cannot trust them with the money, can I trust them with guarding my privacy?

Verified Customer

Great price, great product ,works as advertised, best vpn i have used to date.Fast,simple to use, works well with us netflix and bbc iplayer.Did i say fast?

Privatevpn is bad choice. Speed of Brasil server is let's say so slow, unuselles. For me will be first and last time to pay to this provider. Regards.

An awesome contribution to my life!

Verified Customer

As a South African, PrivateVPN, is a major boon in my life. We are subjected to phenomenaly high costs concerning communications, but having PrivateVPN I have had the privilege of being able to communicate with my children in various parts of the world. Thank you for this awesome product in my life.

Trustworthy and Supportive

Verified Customer

Excellent support when needed. Everything was so smooth when working in China. Perfect to fulfill my needs when working abroad.

Verified Customer

I like to use 4chan very much but since they put regional blocking if get hard to use until I got VPNs, some better than other and for now PrivateVPN is been the best, the prize for the three months pack is very comfortable and since I can buy by paypal is a advantage for people who don´t had a deb card. I recommend for everyone who had similar problems with regional blocking.

Verified Customer

It didnt work at my university wifi from my mac and I asked for a refund.Before giving it to me an awesome guy asked me to try something with teamviewer. He managed to unlock the vpn with some very advanced techniques from terminal and etc and the speed was very fast (except for the ping which is normal since im "in another country ")

Verified Customer

Super speed and not expensive ! This is a good job the team PrivateVPN, I can see Netflix US in Belgium !

Verified Customer

Been with PrivateVPN for some time now with great connections around the world, but recently lost connection with the online server list so my IP address became visible.(a problem on my PC not PrivateVPN).Contacted the help desk and with great help from Kevin got the problem sorted and now back up and running.A truly great service which I would recommend to everyone.Well done Kevin your help,patience and knowledge are much appreciated.

Verified Customer

I have been enjoying for few days PrivateVPN after searching for some VPN services. So far I only can say good things about that. Speed, reliability, unbeatable price and a great tech service. I had some problems try to get it working on my MiBox 3 and I contacted the tech support with the issue, Manish, the agent assigned to my ticket was so helpful and very kind and solved my problem. Now I can enjoy the service in my Android Box too.