Top10VPN is reader-supported. If you buy a VPN through our links, we may earn commissions. Learn more.
NordVPN: Ranked #2 out of 99 VPNs that we tested
Fast speeds: 75Mbps (global average)
Works with Netflix, BBC iPlayer and more
P2P and torrenting permitted on many servers
Easy-to-use apps: simple set-up on all devices
5,000+ secure servers in 60 countries
Alternative security protocols have to be manually configured
Browser extensions create proxy rather than VPN connections
Email support can be slow
Works with
Netflix, Amazon Prime Video, Hulu, BBC iPlayer, Sky, HBO, Torrenting, Kodi
Speed & Reliability
Fast local speeds reaching 77Mbps
Use the table below to see how NordVPN speeds fare against its top-scoring rivals in 11 locations around the world.
| | NordVPN | ExpressVPN | IPVanish |
| --- | --- | --- | --- |
| Download Average | 74.89 Mbps | 59.06 Mbps | 54.01 Mbps |
| Upload Average | 28.70 Mbps | 24.94 Mbps | 28.36 Mbps |
| Ping Average | 135 ms | 141 ms | 134 ms |
Here are the average speeds you can expect from NordVPN from a handful popular regions.
Europe

Server locations include Amsterdam, Paris, Frankfurt and London.

Asia

Server locations include Singapore and Tokyo.

USA

Server locations include San Francisco and New York.

Australia
Download Average
261 Mbps
280 Mbps
229 Mbps
74 Mbps
Upload Average
171 Mbps
142 Mbps
108 Mbps
21 Mbps
Ping Average
2 ms
2 ms
3 ms
97 ms
Averages are calculated from our test results over the last 4 weeks. To read about our speed testing methodologies, please read How We Test VPN Speed.
Speed results from our physical location in London (100Mbps fibre optic connection) to a London test server.
Before using NordVPN:
95.47

92.35

Ping

ms

3
When connected to NordVPN:
76.67

64.02

Ping

ms

17
Download speed without NordVPN: 96Mbps
Download speed with NordVPN: 77Mbps
Our download speed loss when NordVPN is running: 20%
NordVPN is a very fast VPN – both local download and upload speeds are impressive, and it performs well over international connections too. Ping times are fairly low on most servers, but there are better options available for gamers.
NordVPN's servers provide quick, stable speeds for buffer-free streaming and private torrenting.
Server Locations
Over 5,000 servers spread across 60 countries worldwide
60
Countries
90+
Cities
5,000+
IP Addresses
NordVPN's server network covers 60 countries – it isn't the widest server range we've seen, but it should almost certainly ensure there is a server located near you.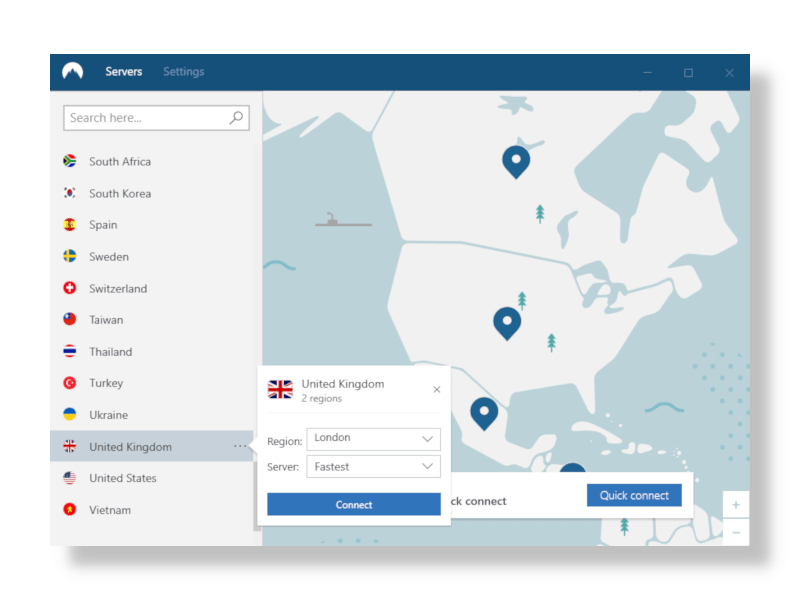 Over 5,000 servers is a fantastic number, with each server given a static IP address – this means greater privacy, albeit with the slight chance of slowdown should any one server get too busy.
There's city-level choices in six different countries, too, including the US and UK.
Streaming & Torrenting
An excellent choice for streaming & torrenting
In all our time testing NordVPN, we've never once found an issue with accessing streaming services.
To watch Netflix, you don't even need to worry about which US or UK server to pick, as the NordVPN app will automatically find the best option for you.
Not all UK servers work with BBC iPlayer, but a quick message to live chat will let you know which ones are currently working. This is a big plus, as many other VPN providers can't unlock BBC iPlayer.
Unrestricted access to streaming services doesn't stop there. Paying users have also reported it works with:
Amazon Prime Video
Hulu
HBO
Sling TV
Sky
Torrenting
Torrenting isn't permitted on every single NordVPN server, but there's still more than enough server choice to keep keen seeders and Kodi streamers happy.
Bypassing Censorship
Obfuscated servers work in China intermittently
Since the VPN crackdown in China, NordVPN has become harder to recommend for residents or visitors in China.
Users have reported that NordVPN's obfuscated servers sometimes bypass the Chinese censors, but others have experienced difficulties connecting to them.
Also, there are no obfuscated servers available on the NordVPN iOS app, so iPhone users may struggle to connect from China.
That's just China, though – in other high censorship countries NordVPN remains a solid choice. See our latest VPN recommendations if your looking for a VPN for China.
If you're looking for a more reliable way to beat online censorship, wherever you are, we suggest you read our ExpressVPN review.
Platforms & Devices
Protect all your devices with a wide range of custom apps
NordVPN has native apps for all major operating systems (yes, even Linux) and, in the unlikely event that you're left wanting, you can also install NordVPN on your router.
Apps
Windows
Mac
iOS
Android
Linux
Router
Games Consoles & Streaming Devices
AppleTV
Amazon Fire TV
Chromecast
Nintendo
PlayStation
Roku
Xbox
Browser Extensions
Chrome
Firefox
NordVPN has an Android TV app, meaning you can use it with devices such as Android TV and the Amazon Fire TV Stick without any manual configuration.
In fact, NordVPN is one of our top VPN picks for the Fire TV. If you own a Firestick and want to use a VPN app with it, take a look at our roundup of the best VPNs for Fire TV and Fire TV Stick.
If you want run NordVPN on your other streaming devices or games consoles, though, you'll need to install it at router level.
Encryption & Security
Super secure with advanced features but lacking protocol flexibility
Protocol

IKEv2/IPSec

OpenVPN (TCP/UDP)

Encryption

AES-256

Security

DNS Leak Blocking

First-party DNS

Supports TCP Port 443

VPN Kill Switch

WebRTC Leak Blocking

Advanced features

Double VPN

TOR via VPN Server
Please see our VPN Glossary if these terms confuse you and would like to learn more.
NordVPN has only one choice of protocol by default, but it's our personal favorite: OpenVPN, providing the perfect blend of performance and security.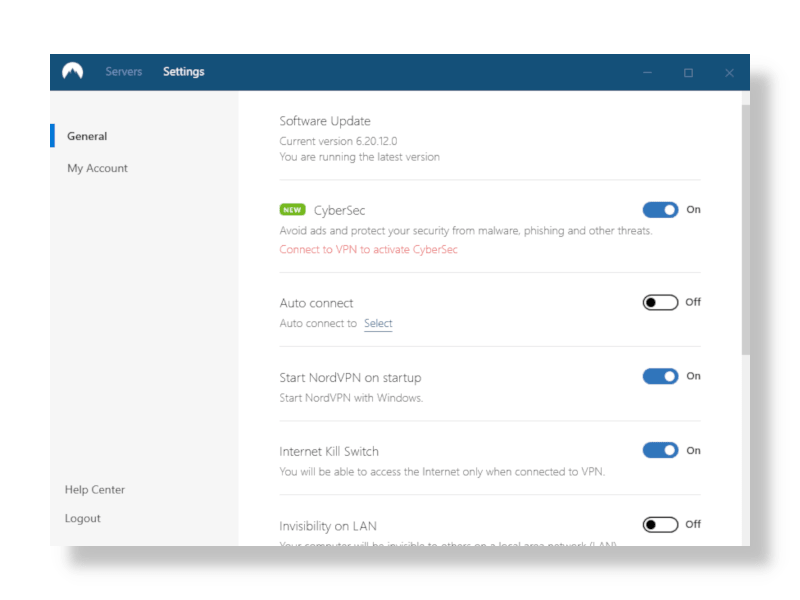 You can also use IKEv2 if you like, but it requires an extra download and a lot of advanced setup.
The VPN kill switch feature protects your IP address in the event of a connection drop, and NordVPN's privately owned and operated DNS servers ensure end-to-end protection.
There's Double VPN and Tor over VPN available for extra encryption, and we found it totally free from IP and DNS leaks.
Logging Policy
Zero-logs VPN in a privacy-friendly jurisdiction
Here's a comprehensive list of all the information collected by NordVPN:
That is the full extent of the information NordVPN collects. Server loads are monitored to maintain the optimal performance of servers for users, and nothing else. Your privacy is upheld above all else.
Jurisdiction
NordVPN is under the legal jurisdiction of Panama, putting it beyond the reach of US and EU data retention laws. Panama does not require companies to store or report any of their data, nor is it part of any agreements that compel it to share information with other countries.
Being based in Panama gives NordVPN the power to deny any third party data requests, so there is absolutely no way that any of your online activity can be traced back to you.
Ease of Use
Quick and easy setup with simple custom apps
How to Install & Set Up NordVPN
The NordVPN website has comprehensive setup guides for whatever platform you happen to be using, but it's unlikely you'll ever need them.
All of NordVPN's custom apps run smoothly and are almost entirely self-explanatory.
If you want to play around with advanced settings then you're welcome to do that too – they're clearly labelled and the app even warns you not to do so unless you know what you're doing.
Browser Extensions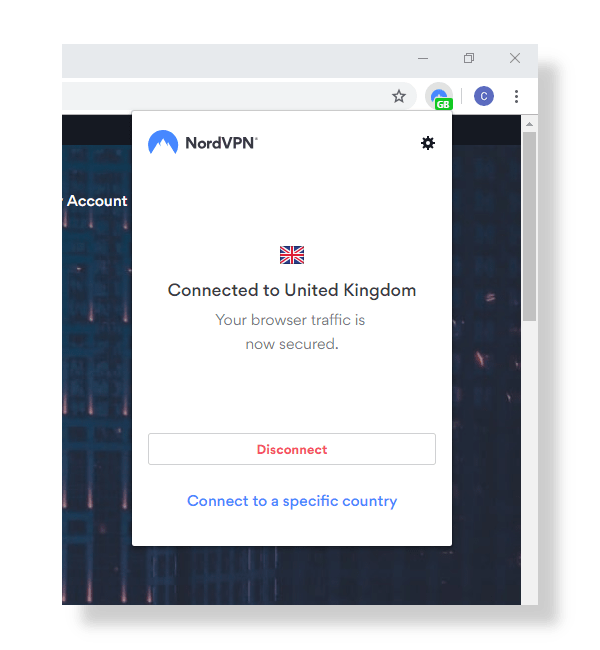 It couldn't be much easier to set up NordVPN's browser extensions – just go to the Google Chrome or Mozilla Firefox store and download the add-on to your browser. Once you've logged on you can choose a server and connect. We'd recommend enabling 'Block WebRTC' from the settings menu to prevent any potential IP leaks.
Customer Support
Fast and helpful live chat support and useful online resources
| | |
| --- | --- |
| 24/7 Live chat support | |
| Online Resources | |
NordVPN provides excellent quality customer support both through its extensive knowledge base and via online live chat.
Support agents respond quickly and are extremely friendly and helpful, managing to fix most of our issues within a couple of minutes.
NordVPN's troubleshooting guides are very useful, too, covering a variety of potential issues and providing a range of possible solutions.
Pricing & Deals
Fantastic value for money on longer plans
NordVPN Coupon
NordVPN
Get 58% off NordVPN's 12-month plan
NordVPN Pricing Plan
Every NordVPN price plan offers exactly the same features. A single month package is quite pricey at $11.95, but the price drops by almost half to $6.99 for annual plans.
You can find good value at $3.99 per month over two years, for a 66% saving. NordVPN is also running a special 3-year deal which saves you a massive 75%, working out at $2.99 a month.
All plans have 30-day money-back guarantee
Payment Options
| | |
| --- | --- |
| Credit Card | |
| Bitcoin | |
| AliPay | |
| UnionPay | |
NordVPN offers a 30-day money-back guarantee, although you'll have to go through a troubleshooting process with a customer support agent before you get your refund.
NordVPN accepts a few different payment options, but it recently made the decision to stop accepting PayPal. NordVPN now uses Adyen for credit card payments, which it claims offers a greater level of privacy for customers due to its self-contained nature.
You've read our expert review - read on for reviews from real users.
User Reviews
Based on 502 reviews
5 star

(362)

4 star

(119)

3 star

(9)

2 star

(6)

1 star

(6)
Share your thoughts to help others
Best Positive Review
Nord is a top provider
Verified Purchase
In my opinion nord vpn is one of the best vpn providers in the market. They got a lot of servers, great speed and most importantly they work perfectly fine with hulu and netflix usa.
Best Critical Review
Comforting
Verified Purchase
Installation worked well. Difficulties arise occasionally with connection issues. I find that disabling NordVPN will reconnect me. I then enable NordVPN. No feedback as to any unlawful events as I get with my ZoneAlarm Extreme Security. It would be handy to know how well I have been protected. Still, I have comfort in having something at work rather than nothing.
Showing 1-3 of 502 Reviews
I find this app amusing in its interface and usage simplicity while performing and containing complicated processes. However, captcha solving is slightly enraging so only 4*

Don't subscribe NordVPN services if you are using iOS and living at China

It won't work if you are living at China when using iOS device connect VPN via iOS app. 4 April all of obfuscated servers down suddenly, when I ask support, they say some of new server will be release, please wait a couple of the days. Also support tell me that for a temporary method to connect NordVPN at China is download IKeV2 profile than connect manually, it is my nightmare beginning ,IKEv2 it might connect but will be disconnect after few minutes or half hour, may be one hour without any notice for you, IKeV2 won't connect automatically. That's why I need to keep my eyes on my iPhone every minutes to check the status, you don't know when it will be disconnected, you never to receive any instant message from WhatsApp/Line etc... You can't to check gmail/ Facebook etc.... So why I say I need to keep my eyes on my iPhone! Until to now, NordVPN still can't to connect VPN via iOS app at China, they will always to say apologize for your inconvenience, please wait but don't how long it can be work! They are a lair, they wouldn't refund if you are over 30days money back guarantee even they can provide service via iOS system! Please consider when you want to subscribe NordVPN if you are using iOS device!

Not the best for use with 365 & one drive

I have used NVPN now for over 6 months, however, it stops me from accessing One drive, Pcloud, and Win 365 as well as many other web sites. I have done everything that is suggested but still it stops my connections between my desktop and these sites. The mobile version works OK but having contacted NVPN on a number of occasions they suggest to carry out quite complex things to my connections and this should not have to be the case so I vote NVPN down on these issues, if it happens to me it must happen to others too.