Disclosure: Top10VPN.com is reader-supported. We may earn commissions if you buy a VPN through links on our site.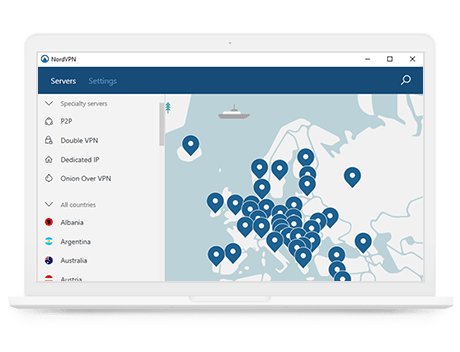 NordVPN has been growing at a very fast pace since launching in 2012, and it's now one of the largest VPN services with over 12 million customers worldwide (at least, that's what they say).
Over the last 12 months, Android and iOS users have downloaded this VPN an estimated 15.5 million times – in fact, it's currently the most downloaded paid mobile VPN app.
It's no surprise then that NordVPN claims to be the "best VPN service provider of 2020" but we all know that's easier said than done, right?
To understand just how good NordVPN really is, we went to task and carefully tested all their VPN apps to answer the questions our readers have been asking us. For example:
Is NordVPN still safe (despite the recent breach)?
How fast is it, and is it consistently so?
Does it work with Netflix and Disney+?
Is torrenting and P2P allowed?
Is it easy to use?
After extensive tests lasting a few weeks, we uncovered a number of interesting things.
We've listed some of NordVPN's key features below, followed by our full NordVPN review.
Overview
NordVPN Pros & Cons
Log-free & no IP, DNS & WebRTC leaks
Very fast VPN speeds
Works with Netflix, BBC iPlayer & more
P2P & torrenting allowed on many servers
Huge server network: 5,500+ servers across 58 countries
Apps for PC, Mac, iOS & Android with ad-blocker (CyberSec)
Responded poorly to server breach
Protocol inflexibility for Windows and Android apps
Streaming sites inaccessible via Firestick app & router connections
Manual setup required for China
Doesn't accept PayPal
NordVPN Key Summary
| | |
| --- | --- |
| Top Download Speed | 90Mbps |
| Logging Policy | No Logs |
| IP, DNS or WebRTC Leaks | No |
| Jurisdiction | Panama (Privacy Haven) |
| Servers | 5,500+ |
| IP Addresses | 5,500+ |
| Countries | 58 |
| US Netflix | Yes |
| Torrenting | Restricted |
| Works in China | Unreliable |
| Support | 24/7 Live Chat |
| Cheapest Price | $3.49/mo over 36 Months |
| Official Website | NordVPN.com |
Still want to know more about NordVPN?
Let's start by looking at who's behind it and what its logging policy is like.
Who is NordVPN?
About & Logging
NordVPN was founded in 2012 is operated by Tefincom & Co S.A. which is headquartered under the legal jurisdiction of Panama, putting it beyond the reach of US and EU data retention laws.
Panama does not require VPN companies to store or report any of their data, nor is it part of any agreements that compel it to share information with other countries.
Being based in Panama gives NordVPN the power to deny any third party data requests, so there is absolutely no way that any of your online activity can be traced back to you.
In 2018, NordVPN came under some heat as it was accused of not being headquartered in Panama. We needed to get to the bottom of it in this review.
The reason for the controversy is that when you purchased NordVPN in the past, like we did to test NordVPN and write this review, the Seller was listed as CloudVPN INC. (a company registered in the US), and not Tefincom & Co S.A.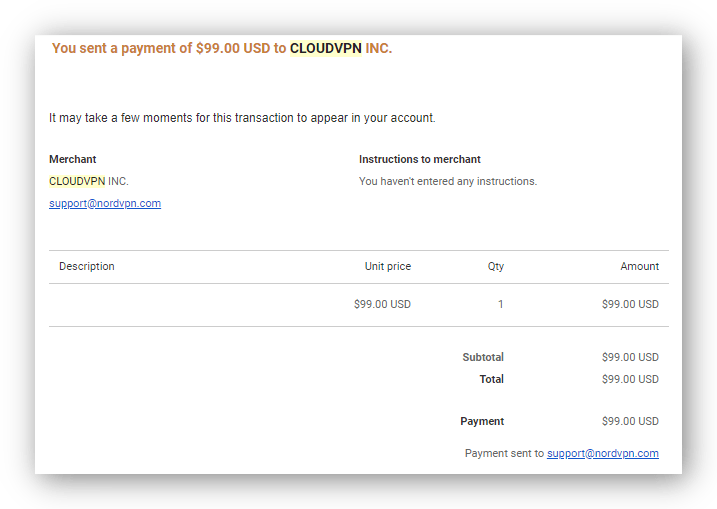 But CloudVPN INC. is a payment processor and NordVPN was simply using it to handle payments, similarly to how other VPN providers use payment processing companies to manage these type of transactions.
In October 2019 it emerged that NordVPN had been the subject of a hack.
The hacker managed to gain access to a NordVPN server, used as a VPN endpoint and based in Finland, which was hosted by third-party company Creanova. Poorly-configured security on that individual server's remote management system allowed the hacker to gain access to it. The hacker was then able to view the file system and, theoretically, retrieve any data stored on it.
NordVPN informs us that it was not aware of the incident until 13 April 2019, when it was shown a dark web post of the hackers responsible bragging about it, dated March 2018. At this point NordVPN took that server, and all others hosted with Creanova, out of service, then 'shredded' (securely wiped all data) from the servers, and terminated its contract with Creanova.
NordVPN stresses three important facts about the hack:
No user credentials were affected. In other words, no one's privacy or anonymity was compromised.
There are no signs that user traffic was monitored. No user-sensitive data could be read from the server itself, either, as NordVPN is a no-logs service. This means the server contained no information regarding user data or browsing activity.
The VPN tunnel was not compromised. This means that the service as a whole still worked as intended.
We believe NordVPN when it comes to those statements.
NordVPN claims that the hack was the fault of Creanova, as it had no idea that the method the hackers used to gain access was even a possibility. Creanova blames NordVPN, as it claims that the company was careless with its security.
None of that matters. While it may be NordVPN's ultimate responsibility to rigorously check the security of its servers, what we believe matters most is the manner in which NordVPN responded to the hack – and it responded badly.
We still believe that, from a technical standpoint, NordVPN is one of the most advanced, most private VPN services available. Hackers will always attempt things like this, and the important conclusion is that no NordVPN users were harmed or compromised.
However, the huge delay from the hack being discovered to NordVPN informing the public is a big disappointment. We wouldn't blame anyone for doubting NordVPN's trustworthiness at the moment.
NordVPN has since made a number of concrete strides towards genuinely prevent another hack from taking place, and it's certainly a case of 'better late than never'.
The score that you now see at the top of this review is updated to reflect our drop in confidence in NordVPN as an honest and open VPN service provider. It is now, ironically, more technically secure than ever – but it will take some time for it to rebuild its reputation in our eyes.
Logging Policy
NordVPN doesn't log your traffic or store any user logs, making it a safe and trustworthy VPN.
Here is all the information that NordVPN does not store:
IP addresses
Connection timestamps
Session information
Used bandwidth
Traffic logs
Server loads are monitored to maintain the optimal performance of VPN servers for users, but this information isn't personally identifiable.
Within its Terms of Service, NordVPN states: "To limit the number of simultaneous sessions of an active user, an algorithm keeps their username and the timestamp of the last session status while the session is active."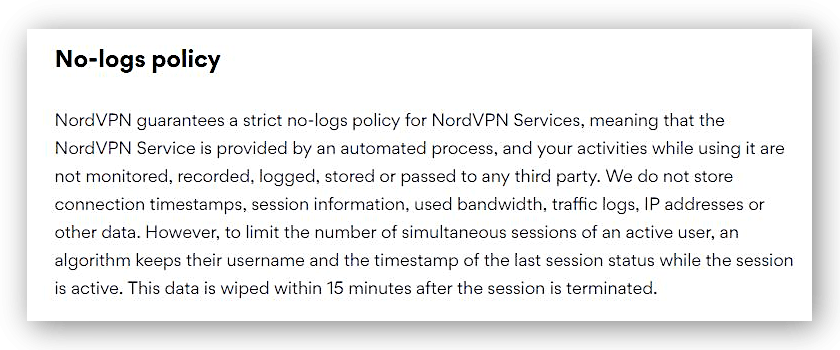 A representative from NordVPN demonstrated how this algorithm works using the following diagram:

The information is hashed using different dynamic components and temporarily held in separate and standalone databases around the world. This data is deleted 15 minutes after the session is terminated.
What does all of this mean? That this information can't be traced back to an individual user.
For extra clarity, we would like to see this section included in the company's Privacy Policy rather than its Terms of Service.
Nevertheless, we are confident that NordVPN upholds your privacy, and it will not sell your personal data to any third parties.
In November 2018, PwC audited NordVPN's servers and code to look into its no-logs claims. While the audit isn't publicly available, NordVPN said this in a blog post announcing the results: "The auditors' goal was to see if our service lives up to our claims of providing a no-logs VPN service, and we believe we've passed the test."
This was the first independent audit of its kind in the VPN industry.
Very fast speeds across the world
Speed & Reliability
NordVPN is a very fast VPN, as long as you connect to nearby VPN servers.
It's not the fastest VPN there is (these VPNs are currently faster), but it's still very quick and you won't experience any speed issues.
Same-country (UK server to UK server) download and upload speeds are impressive, with minimal internet slowdown (around a 5-6% drop from our normal internet speeds).
Speed results from our physical location in London (100Mbps fibre optic connection) to a London test server.
Before using NordVPN:
94.83

91.8

Ping

ms

3
When connected to NordVPN:
90.51

86.28

Ping

ms

5
Download speed without NordVPN: 94.83Mbps
Download speed with NordVPN: 90.51Mbps
Our download speed loss when NordVPN is running: 5%
As you can see, we experienced very impressive speeds when connected to a nearby VPN server. However, it's less impressive – but still very usable – over long-distance connections.
Here are the average download and upload speeds connecting out from the UK to NordVPN's servers:
USA: 47Mbps (download) & 48Mbps (upload)
Germany: 78Mbps (download) & 77Mbps (upload)
Singapore: 17Mbps (download) & 6Mbps (upload)
Australia: 22Mbps (download) & 3Mbps (upload)
Ping times are also fairly low, so you should be able to play games like League of Legends and Fortnite with minimal lag as long as you connect to a server close to your physical location.
5,300+ VPN servers across 59 countries
Server Locations
58
Countries
90+
Cities
5,500+
IP Addresses
NordVPN's server list covers 58 countries – it isn't the widest VPN server range we've seen, but it should almost certainly ensure there is a server located near you.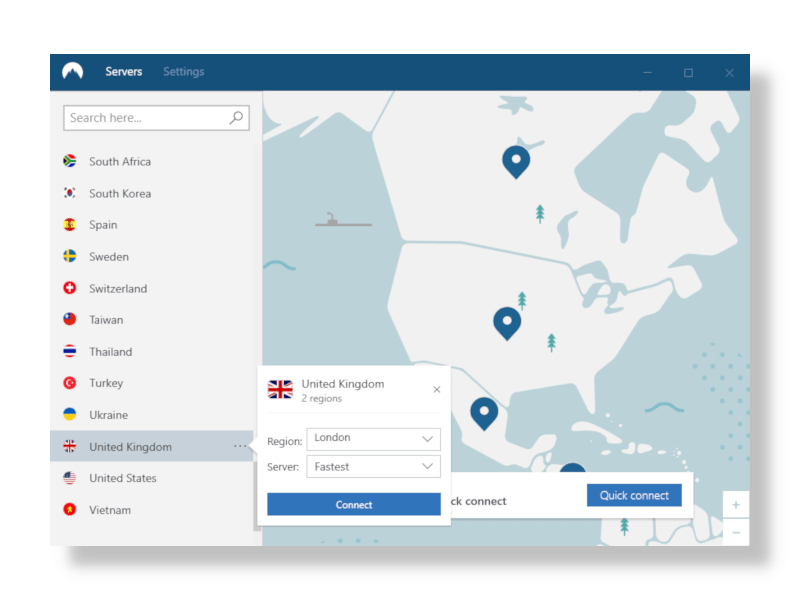 NordVPN provides a whopping 5,500+ VPN servers (none are virtual) with each server given a static IP address. This is among the highest number of VPN servers provided by a VPN service, which is impressive.
Even better, NordVPN owns its entire server network which covers popular locations like the UK, the US, Australia, and Canada. It also serves less common countries such as Argentina, Albania, and Vietnam.
And it doesn't finish there. NordVPN gives its users city-level server choices in five countries:
Australia (five locations, 200+ servers)
Canada (three locations, 300+ servers)
Germany (two locations, 200+ servers)
India (two locations, 20+ servers)
The US (15 locations, 1,600+ servers)
It previously also offered city-level choice in the UK (London and Manchester) but recently removed the Manchester VPN servers as "their performance was lacking."
To compensate for this, it has added more London servers to ensure the best UK speeds.
NordVPN also provides a dedicated IP address service for those who need to stick with one IP address for prolonged periods of time. This costs extra, though, and it's not as private as using the standard NordVPN shared IP addresses.
Excellent for streaming & torrenting
Streaming & Torrenting
Many of our readers always want to know if a VPN works with major streaming services.
Thanks to its SmartPlay technology, NordVPN consistently works with popular streaming services like Netflix and BBC iPlayer.
To watch US or UK Netflix, simply select a US or UK VPN country server and the VPN app will automatically find the best option for you.
Additionally, you can also unlock the Netflix libraries in Canada, Japan, Germany, France and Italy.
The same goes for BBC iPlayer – just select a UK server and you'll be watching British shows in no time.
Unsurprisingly, SmartPlay's unrestricted access to streaming services doesn't stop there. Many NordVPN customers are in fact able to stream:
Disney+
Hulu
HBO
Sling TV
Sky
Unfortunately, NordVPN is currently experiencing issues with streaming via its Firestick app and router connections. As a result, meaning that you can't stream many popular streaming services using those setups. The customer support team have told us that NordVPN engineers are working on a solution.
Meanwhile, you can stream Netflix and the likes on your TV by connecting your laptop computer to your TV with a HDMI cable. Just use the NordVPN desktop app to access streaming content and it will display on your TV screen.
Torrenting
Not all NordVPN servers allow torrenting (and other P2P traffic), but there's still more than enough server choice to keep torrenters and Kodi streamers happy.
You can torrent while connected to almost every country on the server list – these are listed under 'Speciality Servers' in the app settings.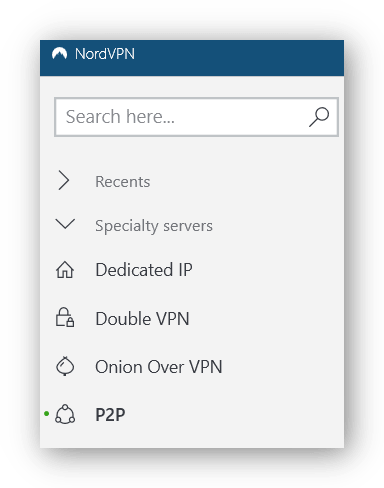 However, P2P traffic is not permitted in the following countries:
Argentina
Costa Rica
Cyprus
Egypt
Georgia
Indonesia
Israel
Malaysia
South Korea
Taiwan
Thailand
Vietnam
Ukraine
United Arab Emirates
If you try to torrent while connected to a VPN server that doesn't support P2P, the VPN app will simply re-route your traffic through a dedicated server located in either Canada or the Netherlands.
With plenty of advanced security features – such as its VPN kill switch – and a no-logs policy, NordVPN is without a doubt one of the safest VPNs for torrenting. Fast uploads and downloads make it a great choice too.
Manual config required for China
Censorship
Since the VPN crackdown in China NordVPN has become less reliable in China, but it's still a decent choice if you don't mind some manual configuration.
While NordVPN's obfuscated servers used to be able to bypass the Firewall, they have recently stopped fooling the Chinese censors.
NordVPN claims to be "working on a new, innovative solution, which has never been tested in the industry" for China, but there's currently no timeline for when that might be available.
In the meantime, users must manually configure the NordVPN software on their devices to access restricted content in China.
While this isn't too difficult, it's not ideal. For the absolute best (and easiest) VPNs for China check out our dedicated guide.
Nevertheless, the obfuscated servers are still a useful tool for other high censorship countries, like Russia and Turkey.
Custom VPN apps to protect a wide range of devices
Platforms & Devices
Apps
Windows
Mac
iOS
Android
Linux
Router
NordVPN has user-friendly native VPN apps for all major operating systems:
Windows
macOS
iOS
Android
Linux (yes, even Linux)
If your device is not compatible with the custom apps above, you have the option of installing the VPN on your router.
NordVPN gives setup instructions for the following router types:
ASUS WRT
ASUS Merlin
DD-WRT
DrayTek Vigor
Gl.iNET
Mikrotik
NetDUMA
OPNsense
OpenWRT
Padavan
Portal
Sabai
Tomato
Ubiquity EdgeRouter
pfSense
What's more, you can use NordVPN on up to six devices at the same time using just one VPN subscription, which is one of the highest allowances we've seen.
Games Consoles & Streaming Devices
AppleTV
Amazon Fire TV
Chromecast
Nintendo
PlayStation
Roku
Xbox
NordVPN has an Android TV app, so you can use the VPN app with streaming devices such as Android TV and Amazon's Fire TV Stick without any manual configuration.
While a Firestick VPN app is available, you can't currently watch Netflix using it.  If you own a Firestick and want to use a VPN app with it, read our guide to the best VPNs for Fire TV Stick.
If you want to run NordVPN on your other streaming devices or games consoles like Xbox and PlayStation, though, you'll need to install it at router level. It's not too difficult and it means that all devices connected to the router will be protected. You can buy routers pre-configured with NordVPN's software, but these are pretty pricey.
Keep it mind that these router connections are currently not working with popular streaming sites and apps.
Browser Extensions
Chrome
Firefox
NordVPN provides VPN browser extensions for Google Chrome and Mozilla Firefox.
These VPN add-ons encrypt your browser traffic, but web protection ends there so if privacy is your priority you should stick with the desktop application.
The browser extensions are particularly useful for those seeking a lightweight alternative, which may give them better speeds.
The extensions have an in-built WebRTC leak blocker, which is an extremely useful bonus since a WebRTC leak gives away your true location.
VPN extensions for Safari or Opera browsers are not available as of yet.
Strong VPN security but lacking protocol flexibility
Encryption & Security
Protocols

IKEv2/IPSec

OpenVPN (TCP/UDP)

WireGuard

Encryption

AES-256

Security

DNS Leak Blocking

First-party DNS

Supports TCP Port 443

VPN Kill Switch

WebRTC Leak Blocking

Advanced features

Double VPN

SOCKS

TOR via VPN Server
Please see our VPN Glossary if these terms confuse you and would like to learn more.
NordVPN runs on various protocols, depending on the app you are using.
The Windows and Android apps are OpenVPN-only, which is our preferred VPN protocol.
The iOS and MacOS apps run on IKEv2 and OpenVPN – you can easily toggle between the two of them within the apps.
OpenVPN provides the perfect blend of speed and security. It encrypts all your internet traffic using the 'unhackable' AES-256 cipher. IKEv2 is also considered secure and fast – it's particular good for mobile devices.
You can also use IKEv2 with NordVPN's Windows and Android apps if you like, but it requires an extra download and a some advanced setup (manual configuration).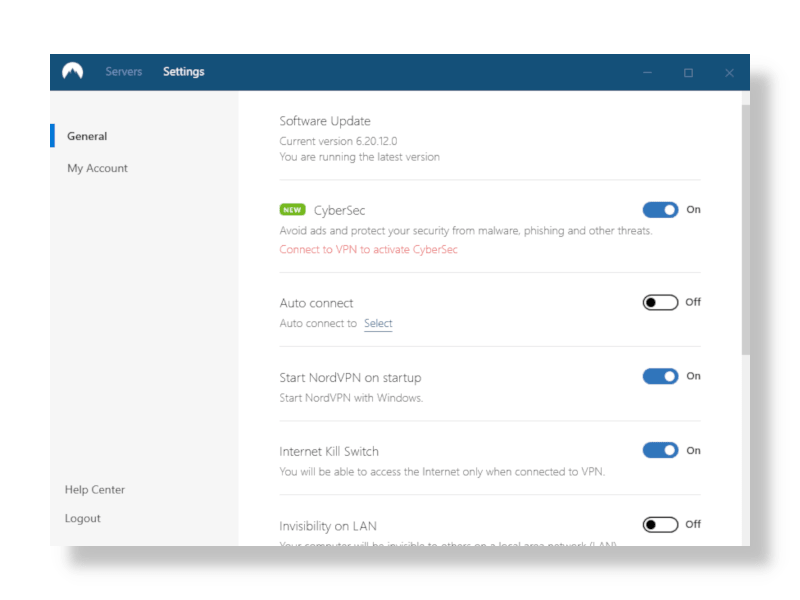 NordVPN has also recently released a new technology for Linux users called NordLynx that's based on the WireGuard VPN protocol.
WireGuard is a new VPN protocol that aims to be faster and more secure than the current standards, but it's still in development so should be considered experimental at this point.
The VPN kill switch feature protects your IP address in the event of a connection drop, and NordVPN's privately owned and operated DNS servers ensure end-to-end protection.
NordVPN provides Double VPN (multi hop) and Tor over VPN (Onion over VPN) for extra encryption.
As with all the VPN providers we review, we carried out extensive testing to find IP and DNS leaks when using NordVPN and we are happy to report that we found no leaks whatsoever.
NordVPN recently underwent an independent security audit of its Windows, MacOS, iOS, and Android apps. The auditors found several vulnerabilities, all of which NordVPN fixed.
At Top10VPN.com we don't just write reviews, we take an active role in encouraging VPN providers to continually improve upon their services. We also flag up security flaws to keep our readers as safe as possible.
Recently, we got in touch with NordVPN upon discovering a potential vulnerability.
NordVPN provides instructions for MacOS and Windows manual configuration with the IKEv2 protocol, intended for users in high-censorship countries.
However, NordVPN was recommending users to install a root CA certificate to their device, allowing full permissions, including SSL. This could have enabled a hacker to decrypt users' traffic should they compromise NordVPN's servers.
Clearly these instructions needed changing to prevent users from exposing themselves to such a vulnerability, so we suggested some changes.
NordVPN took our advice on board and improved its instructions for MacOS, removing the security issues.
Unfortunately NordVPN's current infrastructure doesn't allow for the same changes to be applied to the Windows manual setup. At least the instructions now come with the below warning message: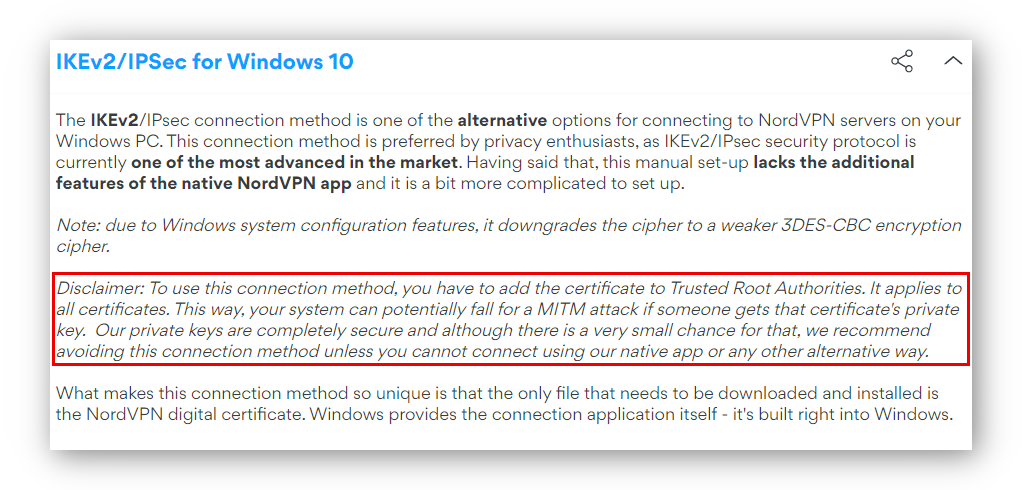 We're really pleased that NordVPN listened to our suggestions – it goes a long way to showing that NordVPN really does care about the security of its systems and users.
Quick and easy setup with simple custom apps
Ease of Use
How to Install & Set Up NordVPN
The NordVPN website has comprehensive VPN setup guides for whatever platform you happen to be using, but it's unlikely you'll ever need them.
All of the custom VPN apps run smoothly and are almost entirely self-explanatory.
If you want to play around with advanced settings then you're welcome to do that too – they're clearly labelled and the app even warns you not to do so unless you know what you're doing.
If you need to access devices on the local network – like wireless printers or a NAS – be sure to disable the 'Invisibility on LAN' setting.
Browser Extensions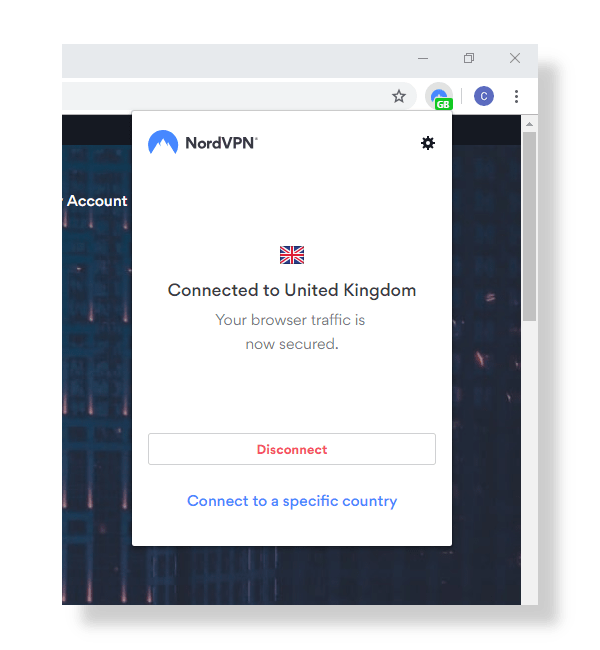 It couldn't be much easier to set up NordVPN's browser extensions – just go to the Google Chrome or Mozilla Firefox store and download the add-on to your browser.
Once you've logged on you can choose a server and connect. We recommend enabling 'Block WebRTC' from the settings menu to prevent potential real IP address leaks.
Helpful live chat support & useful online resources
Customer Support
| | |
| --- | --- |
| 24/7 Live chat support | Yes |
| Online Resources | Yes |
NordVPN provides excellent quality customer support through its extensive knowledge base and via online live chat.
Email support isn't as good though, and we've found responses to be slow at times. It has to be said that there's really no reason to email customer support as NordVPN's live chat service is 24/7.
Encounter any issues? Connections running slow, perhaps? No problem – support agents respond quickly and are extremely friendly and helpful. Most of our VPN issues were fixed within a couple of minutes.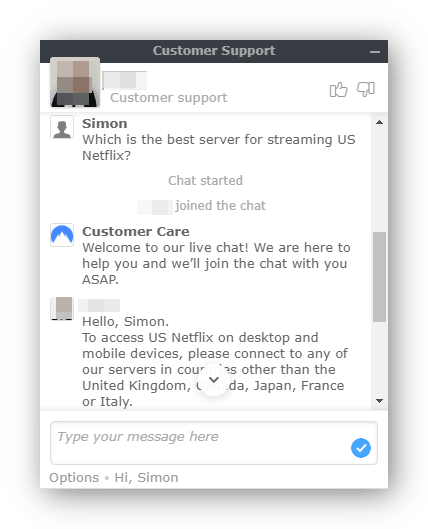 The troubleshooting guides are very useful, too, covering a variety of potential issues and providing a range of possible solutions.
Fantastic value for money on longer plans
Pricing
NordVPN Coupon
NordVPN Pricing Plan
NordVPN is one of the best VPN services on the market, and it's not very expensive at all.
Every price plan offers exactly the same VPN features. The monthly cost start at a fairly pricey $11.95, if you pay month-by-month, but the price drops by almost half to $6.99 a month for annual plans.
For the biggest savings, NordVPN's three-year special deal costs just $3.49 per month, a saving of 70%.
All plans have 30-day money-back guarantee
Payment & Refund Options
| | |
| --- | --- |
| Credit Card | Yes |
| Bitcoin | Yes |
| AliPay | Yes |
| UnionPay | Yes |
NordVPN accepts a few different payment options, but it recently stopped accepting PayPal. Instead, it now uses Adyen, which it claims offers a greater level of privacy for customers due to its self-contained nature.
Here are the accepted payment methods, which include some cryptocurrencies for those seeking higher levels of privacy:
Credit and debit cards
Direct debit
Amazon Pay
Bitcoin
Ethereum
Ripple
Alipay
UnionPay
NordVPN no longer comes with a free VPN trial, but it does offer a 30-day money-back guarantee. Read our guide to find out how you can make the most of this refund guarantee.
You can cancel your subscription within 30 days by contacting the customer support team through live chat. You'll have to go through a troubleshooting process first, but the refund should be processed within 10 business days.
Do We Recommend NordVPN?
The Bottom Line
It's clear from our review that we highly recommend using NordVPN – it's not ranked #2 for nothing after all.
NordVPN is one of the fastest and safest VPN services we've tested, and has been so for several years now.
It might not quite be our very top recommendation, but NordVPN comes close, and its super affordable monthly price (on multi-year subscriptions) is something that really sets it apart.
Alternatives to NordVPN
ExpressVPN is currently our #1 VPN, as it provides an ever-so-slightly better overall experience than NordVPN - but it's very close. Read ExpressVPN review
CyberGhost is a great budget VPN, popular with streaming fans. It's our top recommendation for BBC iPlayer and works well on almost every device. Read CyberGhost review
You've read our expert review - read on for reviews from real users.
User Reviews for NordVPN
242 reviews
We value your opinion, whether it's positive or negative. Please leave a helpful and informative review, and don't disclose personal information or use abusive language. All user reviews are moderated to ensure they meet our posting guidelines.
Already use NordVPN? Tell us what you think.
When a review is marked "Verified Customer" it means we've verified that the reviewer has had a genuine experience with the company.
Best Positive Review
Easy to use, but secure and for a good price
Wanted an easy to use, but secure VPN, tried several providers and in the end stuck with NordVPN. I really like the one-click interface and an integrated killswitch for extra security, speed is quite nice too. And for the price, it is worth it IMO. Never hurts to be extra secure in this day and age.
Best Critical Review
inconsistency
Verified Customer
Nord VPN has, in my experience been inconsistent. In China. Perhaps not in other parts of the world, but alone, for me -in China, the service does not always work.
Showing 10 out of 240 reviews
Reasonable price, useful app

My brother used it in the US and while traveling in EU. I personally got it for privacy, while using public wifi, also sometimes at home or if I want to search from the perspective of another country. Price is reasonable. Btw, I had to contact their support once (as you can't change your username by yourself) and the support was great, works 24/7.

For a good couple of weeks now Nordvpn will not work with bbc iPlayer, I believe the BBC's agressive stance with vpns got the better of them, the BBC detect how many are logged into one particular server, more than 8, they will then block it. With nordvpn you will have to "manually" switch which will be always too slow as the BBC as mentioned before is always one step ahead. Another (once) very good vpn has just died. RIP. it still works for Netflix but if it's the BBC you want, don't bother anymore. Their team has just "templates" for answers a proof that they are definitely surpassed.

Simon | Top10VPN Expert

Hi Franck. Thank you for your review. Access to BBC iPlayer can be very tricky with a VPN, but we've just tested NordVPN and it's currently working. We asked a member of the live chat support team for help and they gave us a few server numbers to try (the first one worked for us). The BBC's crackdowns on VPNs are very aggressive at the moment and that means that some days you may struggle to access the service, but NordVPN have been very good at finding solutions quickly. I hope that helps!

I don't say this because of just the one issue in Outlook that caused an error on send/receive the support was not able to figure out. I say this because they blamed it on Microsoft, yet when I switched to another VPN, there was no issue and I have used other VPNs and not had this problem before. Also, it took two weeks longer than the 30 day return option they offer and they refused to refund my money. I don't think this is right since it is clear to me they have a problem with their product and the don't want to admit it.

Don't subscribe NordVPN services if you are using iOS and living at China

It won't work if you are living in China when using iOS device to connect to the VPN via iOS app. On 4 April all of obfuscated servers went down suddenly, when I ask support, they say some of new server will be release, please wait a couple of the days. Also support tell me that for a temporary method to connect NordVPN at China is download IKeV2 profile than connect manually, it is my nightmare beginning ,IKEv2 it might connect but will be disconnect after few minutes or half hour, may be one hour without any notice for you, IKeV2 won't connect automatically. That's why I need to keep my eyes on my iPhone every minute to check the status, you don't know when it will be disconnected, you never to receive any instant message from WhatsApp/Line etc... You can't to check gmail/ Facebook etc.... I need to keep my eyes on my iPhone! Until to now, NordVPN still can't to connect VPN via iOS app at China, they will always to say apologize for your inconvenience, please wait but they don't how long it will be until it works! They are a liar, they wouldn't refund if you are over 30days money back guarantee even they can't provide service via iOS system! Please consider when you want to subscribe NordVPN if you are using iOS device!

Not the best for use with 365 & one drive

I have used NVPN now for over 6 months, however, it stops me from accessing One drive, Pcloud, and Win 365 as well as many other web sites. I have done everything that is suggested but still it stops my connections between my desktop and these sites. The mobile version works OK but having contacted NVPN on a number of occasions they suggest to carry out quite complex things to my connections and this should not have to be the case so I vote NVPN down on these issues, if it happens to me it must happen to others too.

Been using NordVPN for quite a while now. Overall experience is very good with fast speeds and ability to watch some shows that are geo-restricted. Linux app could be more polished with a nice GUI, but CLI version works fine too. Overall 4 stars, but it could be 5 if they keep improving.

I found it very useful when it came to streaming because I could finally access US streaming and channels that I couldn't before. Works well with Netflix too, very easy to change the location

I purchased NordVPN not that long time ago, and still don't see any cons coming up. I use it mostly for watching various events, like Premier League or FIFA, works with BBC iPlayer, so for me, it's enough. I'll give them 5 stars when the price is lower.

Verified Customer

Overall the number of servers and locations are good for many operations, but for p2p it's rough. Even using dedicated P2P servers, I get disconnects regularly, losing my connection. I've gotten them when using non p2p as well, but consistently when using p2p. After some minutes the connection just goes dead for about 10-30 sec. Enough to kill some transfers and affect browsing, requiring frequent log ins.

It's a service I have no complaints about, it works just as it should - I can watch my favorite sports streaming channels live, I can watch US Netflix. Sometimes it does take some time to find a working US Netflix server but all is good