Disclosure: Top10VPN is editorially independent. We may earn commissions if you buy a VPN through links on our site.
Our Verdict
NordVPN is one of our favorite VPNs. It excels in speed, security, and torrenting. It has an extensive network of 5,343 servers in 60 countries, and it streams fifteen Netflix libraries on user-friendly apps. Overall, NordVPN is a good alternative to ExpressVPN, and more affordably priced.
In this NordVPN review we'll explain why this popular VPN is one of the best VPNs we've tested, and worth using.
The VPN service is safe and secure, with a verified no-logs policy and encryption technology of the highest standard.
Its user-friendly VPN apps deliver fast worldwide speeds, and include advanced features like split tunneling, double VPN, and IP leak protection.
NordVPN unblocks US Netflix, BBC iPlayer, and it lets you torrent files anonymously on most servers.
One of NordVPN's main advantages is its affordability. It costs considerably less than its main rival ExpressVPN per month (on a two-year subscription).
Despite a small security incident in 2018, NordVPN has since proved that it's a safe and trustworthy VPN.
Keep reading our NordVPN review to see how the VPN performed in our speed, security, and streaming tests.
NordVPN Pros & Cons
Pros
Streams Netflix, Amazon Prime Video and more

Very fast speeds across its server network

Zero-Logs and no IP or DNS leaks

Supports P2P activity on most servers

Good Firestick app and Smart DNS tool

Affordable price on long-term plans
Cons
Doesn't accept PayPal payments

Small Finland server breach in 2018
NordVPN Key Data
| | |
| --- | --- |
| Data Cap | Unlimited |
| Speed | 93Mbps |
| Logging Policy | No Logs |
| Data Leaks | No |
| Jurisdiction | Panama (Privacy Haven) |
| Servers | 5,343 |
| IP Addresses | 5,343+ |
| Countries | 60 |
| US Netflix | Yes |
| Torrenting | Permitted |
| Works in China | Yes |
| Support | 24/7 Live Chat |
| Cheapest Price | $3.30/mo over 27 Months |
| Official Website | NordVPN.com |
NordVPN Category Ratings
We test and review every VPN in eight key areas. Here's how NordVPN performs in each category:
Privacy & Logging Policy: 9.5/10
Encryption & Security: 9.8/10
Speed & Reliability: 9.5/10
Streaming & Torrenting: 9.5/10
Bypassing Censorship: 9.2/10
Ease of Use: 9.5/10
Customer Support: 9.5/10
Price & Value for Money: 8.0/10
To learn more about our methodology, read our full VPN testing process.
NordVPN streams US Netflix and supports P2P
Streaming & Torrenting
Streaming & Torrenting Rating: 9.5/10
NordVPN is a top VPN for streaming Netflix. It always works, it's fast, and you can stream Netflix on Fire TV devices and Smart TVs.
We tested over 100 US NordVPN servers, and all worked with American Netflix. We repeat these tests daily to ensure the VPN is always capable of beating the website's VPN blocks.
There are no dedicated streaming servers in the app because NordVPN's SmartPlay does the hard work for you.
A good choice for Netflix
Choose any US server and it will stream US Netflix content. This removes any complexity and means you can connect to a single server to unblock a range of streaming platforms.
NordVPN currently works with 15 different Netflix regions, including the UK, Japan, Brazil, India, and South Korea. We were able to watch each library in HD.
To unblock more than 15 international Netflix libraries, read our latest ExpressVPN review.
NordVPN Works with Many Streaming Services
Here are some of the streaming services NordVPN works with:
Netflix
Disney+
BBC iPlayer
Amazon Prime Video
HBO Max
Hulu
One of the VPN's highlights is how easily it works with BBC iPlayer. Only a few VPNs work with the BBC's video service, and NordVPN does it with ease.
Streaming Summary
NordVPN is a good choice for streaming Netflix and other content platforms. Streaming speeds are fast and the VPN always works with video libraries around the world. It also has a Fire TV Stick app, and Smart DNS support for PS4 and PS5.
Good Torrenting Capabilities
NordVPN is a good VPN for torrenting, with thousands of fast servers optimized for P2P traffic.
In our most recent P2P speed tests, NordVPN registered an average bitrate of 10.8MiB/s. That's faster than CyberGhost (6.5MiB/s) and TunnelBear (4.8MiB/s), but slower than ExpressVPN (13.2MiB/s) and IPVanish (15.6MiB/s).
We also like NordVPN's range of advanced security settings, such as the VPN kill switch, which keeps your IP address concealed if your VPN connection cuts out.
NordVPN's no-logs policy is also ideal for anonymous file-sharing.
You can torrent while connected to almost every country on the server list. These optimized servers are easy to find – they are listed under 'Specialty Servers' in the app settings.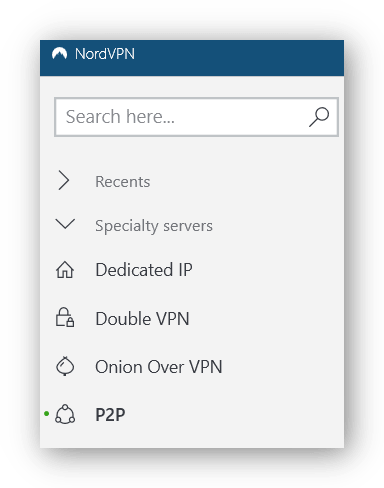 However, NordVPN doesn't allow P2P traffic in the following countries:
Argentina
Costa Rica
Cyprus
Egypt
Georgia
Indonesia
Israel
Malaysia
South Korea
Taiwan
Thailand
Vietnam
Ukraine
United Arab Emirates
If you try to torrent on a VPN server that doesn't support P2P, the VPN app will re-route traffic through a dedicated server in Canada or the Netherlands.
The apps detect P2P traffic using a "special algorithm" that NordVPN assured us doesn't contravene its no-logs policy. This is likely a real-time analysis tool that detects traffic, but doesn't store that data.
Torrenting with NordVPN's SOCKS5 Proxy
NordVPN also provides a SOCKS5 proxy, which can be used with torrent clients like BitTorrent.
It's faster than a VPN, but it's not as secure. A SOCKS5 proxy spoofs your IP address, but it won't encrypt your traffic, which puts your online privacy and security at risk.
No Port Forwarding Available
NordVPN doesn't have a port forwarding option, which speeds up P2P file uploads (or 'seeding') considerably.
If you're a regular seeder, we recommend your read our updated Private Internet Access review, instead.
Torrenting and P2P Summary
NordVPN allows torrenting on over 85% of its 5,343 servers. Its P2P-optimized servers recorded a fast average bitrate of 10.8 MiB/s in our tests. That said, torrenting is blocked on servers in fourteen countries, so there are more suitable P2P VPNs available.
NordVPN is extremely fast and consistent
Speed Test Results
Speed & Reliability Rating: 9.5/10
Our latest speed tests prove how NordVPN is now one of the fastest VPNs available, both on local and international connections.
The VPN's connections are fast and stable enough for high-quality video streaming as well as smooth torrenting and web browsing.
All VPNs slow down your internet connection somewhat, but the best ones make it unnoticeable. This is the exactly what we saw with NordVPN, recording average speed drops of just 1% connecting to nearby servers.
Local Speed Test Results
Before using NordVPN:
Download94

Mbps

Upload99

Mbps

Ping4

ms
When connected to NordVPN:
Download93

Mbps

Upload94

Mbps

Ping8

ms
Speed Tests Summary
NordVPN is one of the fastest VPNs across the globe. We recorded fast speeds on both nearby and far-away servers. Speed performance is even more impressive when using the NordLynx protocol, too.
We tested our internet speeds first without a VPN and then when connected to a NordVPN server in the UK. We used the results to calculate our average speed loss percentage.
Here are our full speed test results:
Download speed without NordVPN: 94Mbps
Download speed with NordVPN: 93Mbps
Our download speed loss when NordVPN is running: 1%
As you can see, NordVPN's short-distance speed test results were very impressive: just a 1% decrease in our download speeds and 5% in uploads. This is perfect for buffer-free Netflix streaming and fast torrent downloads.
Ping times are also fairly low, for playing online games with minimal lag, as long as you connect to a server close by.
Worldwide Speed Test Results
Once we tested local speeds, we looked into how well NordVPN performed over longer distances. These results were just as impressive, particularly connecting to a US-based server.
Here are our latest long-distance speed test results:
USA (New York):
Download: 74Mbps (21% slower)
Upload: 43Mbps (57% slower)
Germany (Berlin):
Download: 83Mbps (12% slower)
Upload: 94Mbps (5% slower)
Singapore:
Download: 63Mbps (33% slower)
Upload: 21Mbps (79% slower)
Australia (Sydney):
Download: 56Mbps (40% slower)
Upload: 29Mbps (71% slower)
Even in locations as far as Australia, NordVPN maintains incredibly fast speeds – well above what we typically see from other VPNs.
To test the VPN's speeds across its server network, we compared the speeds to different cities within the US – East Coast, West Coast, and Southern US. Here's what we saw:
New York (East): 74Mbps (download) & 43Mbps (upload)
Los Angeles (West): 62Mbps (download) & 36Mbps (upload)
Dallas (South): 76Mbps (download) & 28Mbps (upload)
Seattle (North-West): 67Mbps (download) & 47Mbps (upload)
NordVPN performed rather consistently across all cities, which is great news for those who need city-specific VPN access.
EXPERT TIP:
Connect to NordVPN using the NordLynx protocol to get the fastest speeds.
NordVPN's Speeds Versus Other Top VPNs
The graph below compares NordVPN's internet speed loss to other popular VPNs. This speed data is taken from our custom-built automated VPN speed test tool.
The tests run every six hours, and the connection is capped at 100Mbps to recreate a typical home internet environment.
Compare NordVPN's speeds across the world using our tool
As the graph above shows, NordVPN is one of the fastest VPNs available right now.
In our latest short-distance tests, the VPN reached a peak top speed of 92Mbps.
What's most impressive is how fast and reliable NordVPN's speeds have been over the last eight weeks. Other top VPNs, like IPVanish and Private Internet Access, were far less consistent.
What's important for unblocking video content from abroad is how a VPN performs on international connections. NordVPN is currently the fastest VPN connecting to far-away locations, too.
Connecting from New York to London, NordVPN's speed peaked at 85Mbps and fell to 81Mbps at its lowest point. Again, this beats competitors like PIA VPN, whose speeds ranged between 40Mbps and 78Mbps.
NordVPN is a verified no-logs VPN
Logging & Jurisdiction
Privacy & Logging Policy Rating: 9.5/10
We examined NordVPN's privacy policy in detail, which states the service doesn't log your traffic or store any VPN connection logs. Your personal web data is therefore safe, secure and private.
In fact, NordVPN is one of only a few VPNs to have had its no-logs policy audited by a third-party company. It has been audited twice by PricewaterhouseCoopers (PWC), in 2018 and in 2020.
Both audits officially confirmed NordVPN's no-log claims.
The audits also verified the VPN doesn't store the user's IP addresses, connection logs, or browsing activity.
This makes NordVPN one of the most private and trusted VPNs available.
Some pieces of information are collected when you sign up for an account, though. Mainly your email address and payment data, which is common practice among VPN services.
For maximum privacy, you can sign up with a brand new email address and pay with cryptocurrency.
No logs of User Web Activity
Regardless, NordVPN can't link any of your online activities to you as an individual. Nor can it disclose that information to any third parties.
The service only knows that you have an account, but not what you've done online while using the VPN.
NordVPN does monitor server loads in order to maintain optimal performance and to recommend the fastest (often nearest) servers.
This information is aggregated across all users and can't be used to personally identify you. Many private VPNs do this.
The VPN service's Terms of Service state that: "To limit the number of simultaneous sessions of an active user, an algorithm keeps their username and the timestamp of the last session status while the session is active."
We wanted to find out how that would affect user privacy, so we got in touch with NordVPN and a representative demonstrated how the algorithm works using the following diagram:

The data is hashed using different dynamic components, and temporarily held in separate and standalone databases around the world. It's then deleted 15 minutes after the end of the session.
Based on how the data is hashed and then wiped, we're confident your web information can't be traced back to you.
Where Is NordVPN Based?
NordVPN is owned by NordVPN S.A. and it operates under the legal jurisdiction of Panama, which is excellent for privacy.
Panama doesn't require VPN companies to log or report any of their data. Nor is it part of any agreements that compel it to share information with other countries. Panama is a 'privacy haven' and a great VPN jurisdiction.
Being based in Panama gives NordVPN the power to deny any data requests from foreign governments and law enforcement agencies.
The company also publishes a daily warrant canary letting users know it hasn't received National Security Letters, gag orders, or warrants from any government agency.
Logging Policy Summary
NordVPN is a safe VPN with a verified no-logs policy and operating within a privacy-first jurisdiction. It's not possible to link your web activity back to you, making the VPN a great choice for users seeking online privacy.
NordVPN is great value for money
Pricing Plans
Price & Value for Money Rating: 8.0/10
NordVPN offers three different subscription plans, although they all include the same features.
The monthly plan costs $11.95, which is rather expensive. However, NordVPN's two-year deal lowers the monthly price to a much more affordable $3.30 using our August coupon.
The two-year deal represents great value, considering you can use NordVPN on up to six devices at once. But, you will have to pay the full subscription of $89.00 upfront.
All plans have 30-day money-back guarantee
Payment & Refund Options
| | |
| --- | --- |
| Credit Card | Yes |
| Bitcoin | Yes |
| AliPay | Yes |
| UnionPay | Yes |
NordVPN accepts several different payment options including:
Credit and debit cards
Direct debit
Adyen
Amazon Pay
Bitcoin
Ethereum
Ripple
Alipay
UnionPay
In 2019, NordVPN stopped accepting PayPal and replaced it with Adyen.
Is There a Free Version of NordVPN?
Unlike TunnelBear, ProtonVPN, and other 'freemium' VPNs, NordVPN has never offered a completely free VPN service.
However, you can get a seven-day 100% free trial on mobile (iOS and Android) devices.
Theoretically, you can use NordVPN for longer at zero cost by taking advantage of its 30-day money-back guarantee.
It's a risk-free refund promise, so cancel your subscription within 30 days and you'll receive your refund within 10 business days. To know more, read our guide on how to get a NordVPN free trial.
NordVPN is safe and private
Security & IP Leak Tests
Protocols

IKEv2/IPSec
OpenVPN (TCP/UDP)
WireGuard

Encryption

AES-256

Security

DNS Leak Blocking
First-party DNS
Supports TCP Port 443
VPN Kill Switch
WebRTC Leak Blocking

Advanced features

Double VPN
Smart DNS
SOCKS
TOR via VPN Server
Encryption & Security Rating: 9.8/10
One of the reasons we rate NordVPN so highly is due to its robust security offering.
The service offers top-of-the-range VPN protocols like OpenVPN and IKEv2, and robust encryption through the AES-256 cipher with perfect forward secrecy. It also has a wealth of security features including:
VPN kill switch
Split tunneling
Double VPN
Onion over VPN
Ad-blocker
DNS leak protection
Obfuscation tools
WireGuard
Protocols & Encryption
NordVPN uses the best protocols and encryption ciphers available to protect your personal data from snoopers and hackers.
All apps use NordLynx by default, which is NordVPN's own VPN protocol built on top of WireGuard.
The main benefit of NordLynx is that it is incredibly fast. In fact, the results from our speed tests have been impressive.
From our base in London, UK, we connected to various locations around the world using both an OpenVPN (UDP) and NordLynx connection.
You can view the full results in the table below:
NordLynx is consistently faster than OpenVPN, particularly on long-distance connections. This is useful when streaming geo-restricted content from abroad in HD and 4K.
WireGuard does have a security flaw, which is why NordLynx implements double NAT (Network Address Translation), sidestepping this potential risk. Ultimately, NordLynx is more private than a pure WireGuard connection, but retains the same phenomenal speed performance.
The only disappointment is that NordVPN hasn't added these improvements to the open-sourced code. Instead, it has packaged it as a branded product, stifling WireGuard's overall development.
Alternatively, you can use OpenVPN if you're after a more trusted protocol. This is our preferred option, as it provides the perfect blend of speed and security.
All of the VPN's apps let you toggle between UDP and TCP, which are types of communication protocols used by OpenVPN. UDP is faster than TCP, but if the connection is unstable, try switching to TCP.
NordVPN encrypts traffic using the 'unbreakable' AES-256-GCM cipher with a 2048-bit DH key.
Here's a quick summary of the VPN protocols available and how secure they are: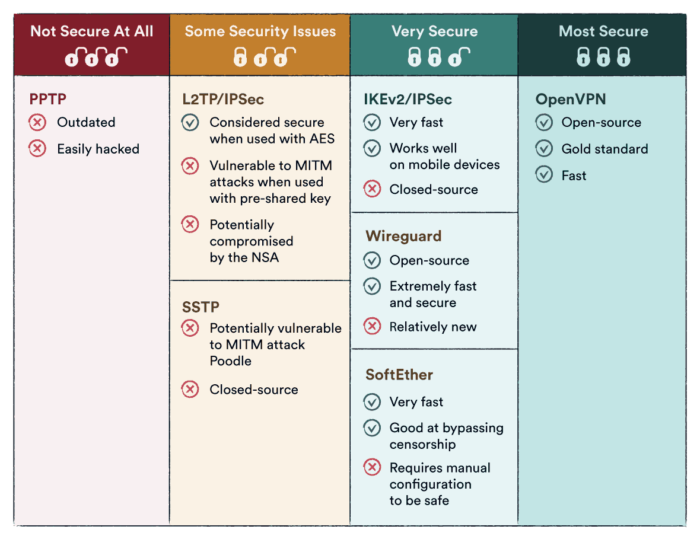 IP and DNS Leak Test Results
When you use a VPN, all your internet traffic should flow through a secure, encrypted VPN tunnel.
Sometimes bits of personal data like your IP address can leak out, though. That's why we run regular tests checking for IP and DNS leaks that can expose your private information.
When we tested NordVPN, we found no leaks whatsoever. It comes as no surprise because NordVPN runs its own DNS servers, and goes to great lengths to protect your online data.
This screenshot above shows the results of our leak test when connected to NordVPN's Windows app. We can confirm the MacOS, Android, and iOS apps are also leak-proof.
Additional Security Features
Kill Switch:
One of the most important features of the NordVPN apps, the kill switch shields your true IP address in the event of a connection drop.
NordVPN actually provides two types of kill switch: an internet kill switch and an app kill switch.
The internet kill switch works by blocking your device's connection to the internet if the VPN connection drops suddenly. The app kill switch – available on Windows and MacOS – lets you apply kill switch protection to selected apps only.
We recommend using the system-wide internet kill switch for added security, especially if you're torrenting files.
Double VPN:
Also known as multi-hop, this routes your internet traffic through two different servers, and encrypts it twice to provide extra privacy. It slows down connections considerably, so only use it if you need the highest levels of privacy.
Onion over VPN:
This allows you to route traffic securely through the Tor network to mask VPN traffic in high-censorship countries. Like Double VPN, Onion over VPN can be slow due to the multiple layers of encryption.
Split Tunneling:
With this feature, you can can choose which apps to route inside and outside of the VPN tunnel. This is useful for apps that require your true IP address, like online banking or smart home devices.
Invisibility on LAN:
Another useful feature, this option makes you invisible on your local network. Disable this if you need to access devices on your local network, like a wireless printer.
CyberSec:
CyberSec is a comprehensive security tool that blocks ads, protects against malware, and prevents DDoS attacks.
After testing it, we found that CyberSec effectively blocks annoying ads. It also removes ads on YouTube.
However, NordVPN's malware blocker isn't as good as standalone anti-malware software. It only blocks malicious sites that are already on the database, but in reality, new threats are popping up all the time.
According to AV-Test's 2018 report, NordVPN's app didn't detect any of the 49 phishing or malware websites visited during its tests. On the other hand, Hotspot Shield's malware blocker, detected 15, while F-Secure Freedome's tool picked up on 31.
NordVPN Server Hack
In October 2019 it emerged that one of NordVPN's Finland servers had been breached.
Poorly-configured security on the server's remote management system allowed the hacker to breach it, view the file system and, theoretically, retrieve any data stored on it.
NordVPN informed us it wasn't aware of the incident until 13 April 2019, when it was shown a dark web post of the hackers responsible bragging about it, dated March 2018.
At this point, the company took the server out of service and 'shredded' (securely wiped all data) it. It also terminated its contract with the third-party server provider, Creanova.
NordVPN stresses three important facts about the hack:
No user credentials were affected. In other words, no one's privacy or anonymity was compromised.
There are no signs that user traffic was monitored. No user-sensitive data could be read from the server itself, either, as NordVPN is a no-logs service. This means the server contained no information regarding user data or browsing activity.
The VPN tunnel was not compromised. This means that the service as a whole still worked as intended.
NordVPN claims that the hack was the fault of Creanova, and Creanova blames NordVPN for being careless with its security.
Ultimately, it's NordVPN's responsibility to regularly check the security of its servers. What matters even more is how the company responded to the hack – and it responded badly.
The long delay informing the public about the incident was a big disappointment at the time.
Stronger Security Initiatives
The VPN service has since made concrete strides towards preventing another hack from taking place.
Here's what NordVPN has implemented since the server breach:
Partnership with cybersecurity consulting firm VerSprite to carry out penetration tests and make NordVPN safer than ever before.
Bug bounty program to reward those that successfully identify vulnerabilities in Nord's code.
Infrastructure security audit and vendor security assessment to prevent a similar breach occurring again.
A network of colocated servers exclusively owned by NordVPN to avoid any vulnerabilities caused by third-party providers.
Diskless RAM servers. This means that if someone seizes a server they are effectively seizing an empty piece of hardware with no user data or configuration files on it.
Ironically, NordVPN is now more secure than ever. It will take some time for it to fully rebuild its reputation, though.
Security Summary
Despite a well-publicized server breach in 2018, NordVPN has since introduced very strong security and encryption measures. NordVPN uses the most secure VPN protocols, it operates RAM-only servers, and it's taken steps to own the entire network. You can trust NordVPN to keep your data private and secure.
NordVPN has 5,343 VPN servers in 60 countries
Server Locations
NordVPN provides 5,343 VPN servers with each one assigning a static IP address. After Private Internet Access and CyberGhost, this is the highest number of servers offered by a VPN.
The choice of 60 countries isn't the widest range we've seen, but it's still enough to satisfy most users.
The VPN's server network covers popular countries like the UK, US, Australia, and Canada. It also serves less common countries such as Argentina and Vietnam.
There's also plenty of choice in Europe, North and South America, and Asia-Pacific. Africa and the Middle East are the least served by NordVPN.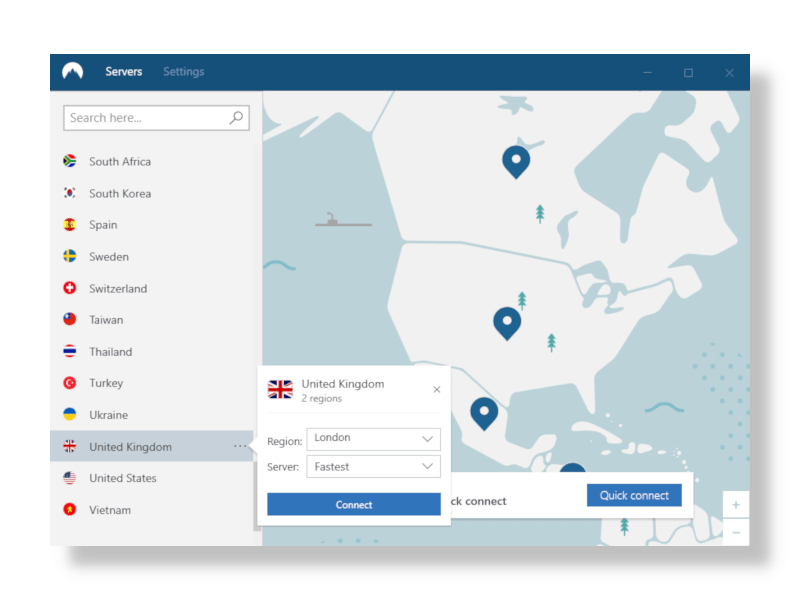 Many City-level Servers
NordVPN gives its users excellent city-level server choices in five countries:
Australia (five locations, 200+ servers)
Canada (three locations, 300+ servers)
Germany (two locations, 200+ servers)
India (two locations, 20+ servers)
The US (15 locations, 1,600+ servers)
Users in these countries can connect to a server close to their physical location, for faster speeds and access to city or state-specific content. In the United States, this is useful to bypass sports blackouts.
NordVPN also provides a dedicated IP address service for customers who want to stick with one VPN IP address for long periods of time. This feature costs extra and it's not as private as using VPN IP addresses, which are shared by many users at any one time.
Server Security
NordVPN's network consists of physical, bare-metal servers, none of which are virtual.
All its VPN servers are in fact physically located where you expect them to be. This is rare, as many VPN services have at least a small percentage of virtual servers, which are not physically located in the country where their IP address is registered.
NordVPN is also working on building a network of self-owned servers. Owning servers is ideal for security and gives a VPN company full control over its physical infrastructure.
The 2018 security incident proved that relying on a third-parties to provide VPN servers can lead to security vulnerabilities.
Not many VPNs own their entire server infrastructure. Of the top VPNs, only VyprVPN (read our review) and IPVanish operate first-party servers.
For the time being, NordVPN still rents some servers, but it says it's keeping data center providers to even higher standards than before to prevent more security issues.
Also, the VPN service recently started rolling out 10Gbps servers. This is an upgrade from the 1Gbps servers most VPNs operate. This will help make NordVPN even faster for people on 500Mbps (or faster) connections.
Doesn't always work in China
Bypassing Censorship
Bypassing Censorship Rating: 9.2/10
NordVPN used to be a reliable VPN for bypassing China's strict censorship, but recently it started faltering.
Unlike many other VPN review websites, we manually test VPNs in China to guarantee they actually work.
Lately NordVPN hasn't been working in China, but it had been unblocking websites until recently, as the screenshot below proves:
Dedicated App for China
NordVPN even comes equipped with a custom app for bypassing Chinese web censorship, but this app is only available for Windows and Android.
Once you've installed this version of the app, make sure NordLynx is enabled and CyberSec is disabled. Then, connect to a server using 'Quick Connect'.
If you're a Mac, iOS, or Linux user, you'll have to manually set up the VPN on your device. NordVPN's tutorials aren't difficult to follow, but it's not an ideal solution.
Sensibly, NordVPN doesn't have servers in China, but you can connect to nearby servers in Hong Kong, Vietnam, Singapore, and Thailand for faster speeds.
EXPERT TIP:
The NordVPN website is blocked in China and cannot be accessed without a VPN. Make sure to download the NordVPN app before entering China.
User-friendly apps for all devices and platforms
Devices & Operating Systems
Apps
Windows

Mac

iOS

Android

Linux

Router
NordVPN has a range of user-friendly native VPN apps for all major operating systems, including desktop, mobile, and TV devices.
They're all easy to set up and simple to use, with clean, intuitive interfaces.
You can buy a multi-device subscription directly from NordVPN's website, where you'll find download files for Microsoft Windows, MacOS, and Linux. You'll also find links to the Google Play, App Store, and Amazon stores for Android, iOS, and Amazon Fire TV respectively.
Just be aware that you won't benefit from NordVPN's 30-day money-back guarantee if you buy a plan through the App Store.
In addition to the main platforms, you can manually install NordVPN on a NAS (Synology, Western Digital MyCloud, QNAP, and AsusTor).
You can use NordVPN on up to six devices at the same time with one subscription. This is a generous allowance, which you can maximize by installing NordVPN on your home router. This will protect everything connected to it while only counting as one device.
Games Consoles & Streaming Devices
AppleTV

Amazon Fire TV

Chromecast

Nintendo

PlayStation

Roku

Smart TV

Xbox
Many popular streaming devices, like Apple TV and PS4, don't support VPN apps. Because of this, NordVPN includes Smart DNS functionality with all subscriptions.
Simply put, Smart DNS allows you to geo-spoof your location without the need for third-party apps.
NordVPN's Smart DNS Tool
NordVPN's Smart DNS feature easily unblocks US Netflix. We also streamed Hulu, BBC iPlayer, and Disney+ on our Apple TV without issues.
For gamers, Smart DNS is a great solution to connect your games console to a VPN server. You can find out how to use NordVPN on PS4 here.
Smart DNS is rare, even among top VPN services. We're pleased to see that NordVPN has added it. That said, Smart DNS it's not perfect.
The biggest drawback is that Smart DNS doesn't encrypt traffic, leaving your activity on that device exposed. Only use this feature to unblock video content, where encryption is not as necessary as highly-sensitive tasks.
VPN Router Setup
If you want to secure all the devices in your home, you can install NordVPN on your home router.
Not many routers are compatible, so we recommend buying a pre-flashed one. It's a little expensive, but worth it if you want all (most) devices to use an encrypted VPN connection.
Amazon Fire TV Stick & Fire TV
NordVPN provides a fully-featured app for Amazon Fire TV Stick and Android TV, letting you unblock Netflix and Hulu directly on your TV.
The app is one of the most functional we've seen for Fire TV and Smart TVs. It includes split tunneling, protocol choice, a design tailored for TVs, and the kill switch is enabled by default.
You can also connect to NordVPN's P2P-optimized servers from within the app, making it compatible with many Kodi add-ons.
But, the app unblocks fewer Netflix libraries than the mobile and desktop software. It only streams 10 Netflix libraries compared to the usual 15. It still works with popular libraries like Netflix US, UK, Canada, Japan, and France, though.
Browser Extensions
Chrome

Firefox
NordVPN provides good Chrome VPN extensions and Firefox VPN add-ons, very popular among NordVPN users.
To date, the Chrome extension counts over 800,000 installs, and the Firefox add-on over 80,000.
These browser add-ons are similar to the desktop and mobile apps, but there's one crucial difference: the browser extensions are proxies rather than true VPNs.
Proxy extensions only encrypt your browser traffic, leaving email apps or torrent clients unprotected.
While you can access the same countries available on the main VPN apps, you can't drill down to city level, or make use of the specialty servers.
How to Use NordVPN's Browser Extensions
It couldn't be easier to set up NordVPN's browser extensions. Just go to the Google Chrome or Mozilla Firefox store and install the add-on on your browser.
Once you've logged on you can choose a server and connect.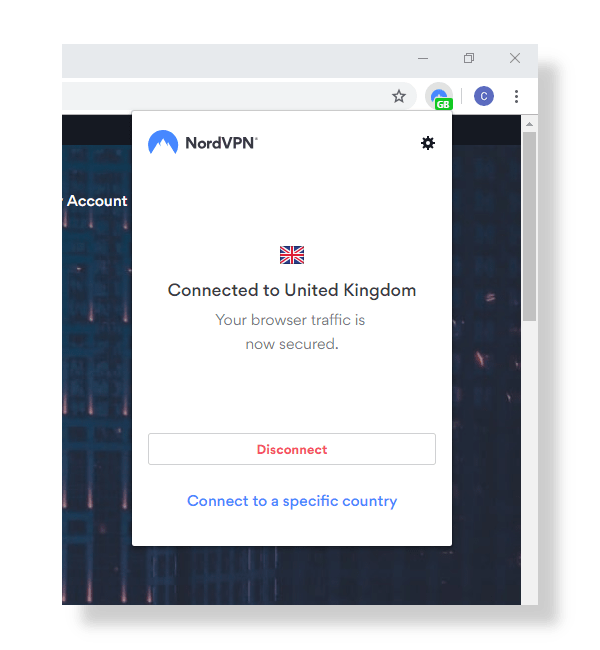 Both extensions include an ad-blocker and a in-built WebRTC leak blocker, to prevent IP location leaks. Both features are in the settings menu, in the top right corner.
Helpful 24/7 live chat support
Customer Service
| | |
| --- | --- |
| 24/7 Live chat support | Yes |
| Online Resources | Yes |
Customer Support Rating: 9.5/10
NordVPN can be directly contacted through an automated chatbot, 24/7 live chat, or via email.
Live chat support can be initiated from the bottom-right corner of the website. You'll be initially greeted by the 'NordVPN chatbot', an automated chat agent that will attempt to answer your query.
We typically find chatbots, like Windscribe's Garry, to be unhelpful and a waste of time. However, NordVPN's automated agent is helpful and very good at interpreting questions.
The automated agent has a distinct advantage over human support, too. All replies were instantaneous, so we weren't left waiting too long for an answer.
Well-informed Support Agents
For those times when you do need human support, just type "get me a human" and you'll be passed on to a member of NordVPN's customer service team.
Like most other top VPNs, NordVPN offers 24/7 live chat. Its support agents are very helpful and resolved our issues promptly.
In addition, NordVPN offers a large knowledge base with guides covering FAQs, device setup, and connectivity troubleshooting.
NordVPN Video Tutorials
How to Install
How to Connect to a Server with NordVPN
How to Change Settings in NordVPN
Ease of Use Rating: 9.5/10
The videos above show you how easy it is to use the NordVPN desktop client and the mobile application.
To install the apps on your device(s), download them directly from the website or the relevant app store.
NordVPN Review Summary
The Bottom Line
We recommend NordVPN as one of the fastest, safest, and overall best VPN services. If you want a quality budget VPN, then NordVPN is worth getting.
The VPN service secures your internet traffic with AES-256 encryption and safeguards your data with its verified no-logs policy.
Also, NordVPN unblocks US Netflix effortlessly, lets you torrent privately, and it bypasses geographic restrictions in over 50 countries.
Its user-friendly, feature-packed apps also make it ideal for both VPN beginners and experienced users.
All in all, NordVPN comes a close second to ExpressVPN, with one main advantage — it's more affordable.
How Does NordVPN Compare to Other VPNs?
Here's a table comparing NordVPN to two popular alternative VPN services, ExpressVPN and Surfshark.
| | NordVPN | ExpressVPN | Surfshark |
| --- | --- | --- | --- |
| Overall Rating | 9.5 | 9.7 | 9.0 |
| Cheapest Price | $3.30 | $6.67 | $2.49 |
| Average Speed | 98Mbps | 88Mbps | 85Mbps |
| No. of Netflix Libraries | 15 | 19 | 31 |
| Servers | 3,000 | 3,000 | 3,200 |
| Countries | 60 | 94 | 66 |
| Money-back Guarantee | 30 days | 30 days | 30 days |
Alternatives to NordVPN
ExpressVPN
ExpressVPN is our top-rated VPN, as it provides an ever-so-slightly better overall experience than NordVPN — but it's very close. Read ExpressVPN review
Surfshark
Surfshark is a great budget VPN, popular with streaming fans. It's cheaper than NordVPN, it unblocks 31 different Netflix libraries, and there are no connection limits. Read Surfshark review
---
User Feedback for NordVPN
246 user reviews

5 questions answered