Can VPNs Block Ads?
Not all VPNs can block ads. By default, a VPN is designed to change your IP address and encrypt your web traffic, not block ads.
However, because ad blockers are associated with online protection, many VPN services now claim ad blocking capabilities as part of a larger internet security package.
In other words, with the right VPN subscription, you can also block ads using a VPN.
We've identified 16 VPNs that have genuine, working ad blockers. In the table below contains a complete list of these VPNs along with information about their device compatibility:
We used an objective ad block checker to test the performance of every VPN ad blocker and find out which ones can actually block ads. Here are our results: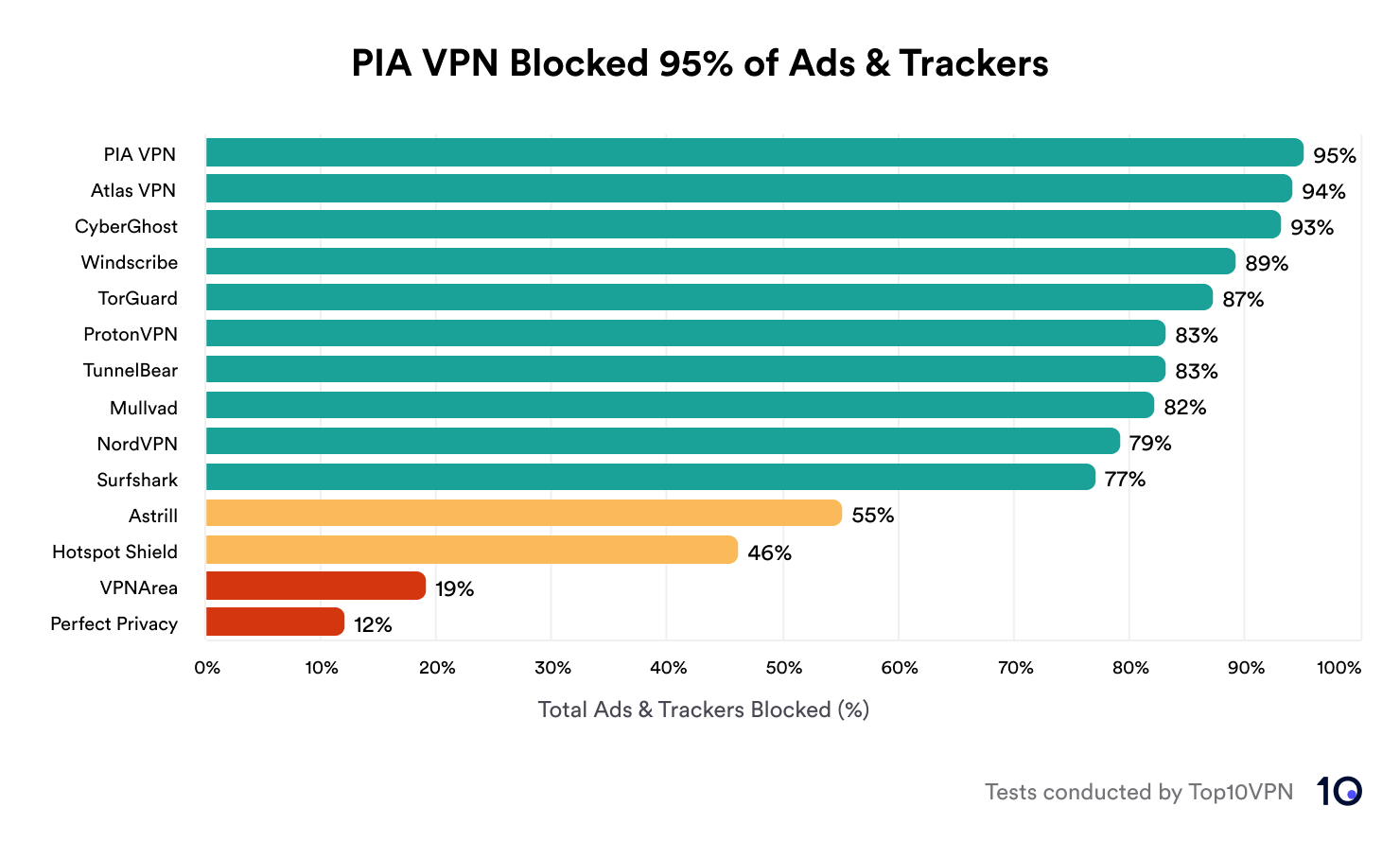 Of the 16 VPN ad blockers we tested, 13 blocked over 50% of ads and trackers. PIA MACE, Atlas VPN Shield, and IVPN AntiTracker performed the best, blocking over 90% of all ads and trackers.
The most effective VPN ad and tracker blocker overall is PIA Mace. It blocked over 80% of ads, 66% of social trackers, and 100% of analytic trackers over the course of three tests, spread over a week.
IVPN AntiTracker blocked the most ads, preventing 100% of intrusive ads when used in 'Hardcore Mode'. It also scored higher than PIA Mace for social trackers, but less when it came to analytic trackers.
However, IVPN's Hardcore Mode blocks some legitimate sites entirely, including Google and YouTube.
You can see IVPN's AntiTracker working in the video below: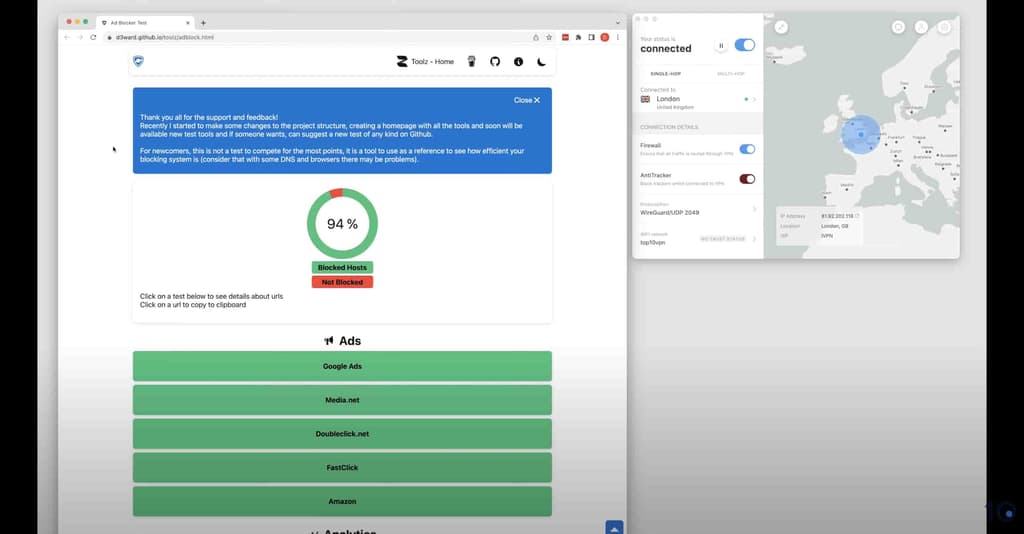 PIA, IVPN, and Atlas VPN performed better than NordVPN's Threat Protection (formerly CyberSec), which only blocked 60% of ads, 66% of analytic trackers, and 33% of analytic trackers.
You should avoid VPN ad blockers from VPNArea, Perfect Privacy, and Hotspot Shield. These performed the worst in our tests. Perfect Privacy failed to block any ads whatsoever.
Here's a table summarizing how effective each VPN ad blocker was in our tests, along with the percentage of each ad type blocked:
Can a VPN Block YouTube, Spotify & Google Ads?
SUMMARY: VPN ad blockers are good at blocking banner ads and some video ads. However, our tests show that VPN ad blockers are limited in what types of ads they can block – particularly embedded ad content. They cannot block YouTube or Twitch intro video ads, Facebook sponsored ads, or Spotify premium ads. They do block Google ads well, though.
VPN ad blockers are unable to block all types of ads on Google, Spotify, Twitch, YouTube, and social media sites like Facebook and Twitter. However, VPN ad blockers can block banner and video ads on sites like YouTube, Twitch, and Spotify, as well as Google search result ads.
We tested all of the VPN ad blockers on five popular websites and apps that run annoying or intrusive ads. Here are the results:
We found that VPNs are completely unable to block Facebook ads, which are hardcoded into the website.
No VPN was able to block ads on all the popular websites we tested. Astrill VPN, Atlas VPN, and NordVPN were all able to block ads on three out of five websites we tested. TorGuard, Perfect Privacy, and Hotspot Shield performed the worst, failing to block any ads.
Astrill, NordVPN, PIA, and Windscribe are all able to block Google ads. In the video below, we show you how easy it is to block Google ads using NordVPN's Threat Protection.
When it comes to Spotify, the best a VPN ad blocker can do is stop banner and video ads. However, you cannot remove advertisements for Spotify premium.
VPNs are also hit and miss when it comes to blocking Twitch ads. We found that connecting to a non-US IP address would greatly reduce the chance of seeing ads, but only a handful of VPNs were able to stop pre-roll and mid-roll video ads from appearing.
VPN ad blockers can prevent ads on YouTube, but only certain types. Many VPN ad blockers can stop banner ads appearing over the top of the YouTube video you're watching, but they cannot stop pre-roll ads.