5 Simple Methods to Watch YouTube Without Ads
We found five highly-effective ways to watch YouTube without ads. We've focused mainly on methods that bypass non-skippable video ads, but these will also block skippable in-stream ads, bumper ads, and masthead ads.
All of these methods are 100% legal and your YouTube account won't be suspended. The only method that violates YouTube's Terms of Service is using a modded YouTube app, like NewPipe. However, NewPipe doesn't let you log in to your YouTube account, so YouTube can't ban you for using it.
In the table below, you can compare each method side-by-side:
In the section below, we'll evaluate each method in detail so you can decide which is best for you. We'll also show you how to set up and use each option.
1. Connect to a VPN Server in Albania, Moldova, or Myanmar
Pros

Cons

Blocks all types of YouTube ads
Easy to set up
Works on every device that supports VPN apps
Counters YouTube data profiling

Requires a VPN with servers in a compatible country
Potentially lower video quality due to internet speed loss
Need to connect to VPN every time using YouTube
Doesn't block ads on other websites
We discovered that you can watch YouTube videos ad-free by connecting to a VPN server in Albania, Moldova, or Myanmar.
In the video below, see us connect to a VPN server in Albania to bypass an unskippable YouTube advert: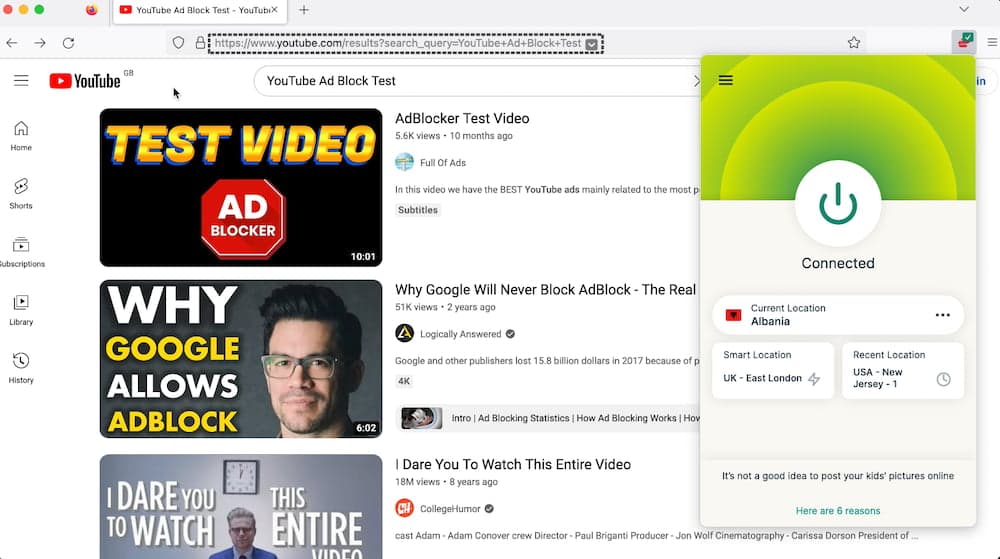 Here are the VPNs that allow you to get an Albania, Moldova, or Myanmar IP address:
| VPN Service | Albania | Moldova | Myanmar |
| --- | --- | --- | --- |
| ExpressVPN | ✓ | ✓ | ✓ |
| Surfshark | ✓ | ✓ | ✓ |
| PIA | ✓ | ✓ | ✕ |
| Proton VPN | ✕ | ✓ | ✓ |
| NordVPN | ✓ | ✕ | ✕ |
As YouTube doesn't run an advertising program in these countries, it won't show you any type of ad if it thinks you're located there. For instance, by getting an IP address from Albania, you won't see any non-skippable in-stream ads, bumper ads, or overlay ads.
Sadly, unlike the YouTube Premium workaround, you'll have to connect to a VPN every time you use YouTube. VPN apps can't be installed on some devices, like Roku, so this method won't work there.
As well, connecting to a server in one of these countries can slow your download speed by up to 50% (depending on where you are), videos might stream in lower quality than what you're used to.
It also means that you'll likely have to use a paid-for VPN subscription. TunnelBear is the only free VPN service with servers in one of the three countries, but we used up the 500MB data cap in just 15 minutes.
Here's how to use a VPN to block YouTube ads:
Sign up for one of the VPNs in the table above and download the app: We recommend ExpressVPN due to its fast speeds and large server network.
Open the VPN app and connect to a server in Albania, Moldova, or Myanmar: Simply type the name of the country in the search bar or select the country from the server list.
Open the YouTube website or app and select the video you want to watch: As long as you're connected to the VPN, you won't encounter any type of YouTube ad.
2. Get a Cheap YouTube Premium Subscription
Pros

Cons

Prevents every type of YouTube ad from loading
Works on every device
No impact on internet speed and streaming quality
Other benefits, including offline playback
Virtually free using a money-back guarantee

Requires a small annual payment of $16
Need to use a VPN with servers in Argentina, India, or Turkey
Won't bypass adverts on other sites
YouTube Premium a paid-for subscription that allows you to watch videos on every device without any type of ads.
As well as bypassing ads, YouTube Premium comes with other benefits, including background listening on mobile and downloads for offline playback. Unlike all the other methods in this guide, it also financially supports content creators.
The price for YouTube Premium changes depending on where you are in the world and is most expensive in the US. But with a VPN, you can change your IP address location and appear to be in a country where the fee for YouTube Premium is cheaper.
We found that by signing up with a Turkish or Indian IP address, you can get an annual YouTube Premium subscription for just $16. This is a $110 each discount compared to the same subscription plan in the US. That said, it isn't 100% free like some other options in this list. If you don't want to pay anything or don't have access to a payment card, we recommend installing an ad blocker extension or using a modded YouTube app.
In the table below, we've summarized the three cheapest regions for YouTube Premium and
listed all the top VPNs that have compatible servers.
| Region | Cost | Compatible VPNs |
| --- | --- | --- |
| India | $16 | ExpressVPN, CyberGhost, IPVanish, PIA, Proton VPN, Surfshark |
| Turkey | $16 | ExpressVPN, CyberGhost, IPVanish, PIA, Proton VPN, Surfshark |
| Argentina | $25 | ExpressVPN, CyberGhost, IPVanish, NordVPN, PIA, Proton VPN, Surfshark |
Once you've subscribed to YouTube Premium, you can disconnect from the VPN and use your regular internet connection.
As this is a YouTube-specific subscription, you'll still see ads on other websites. To block ads on Twitch, Google, and other sites, you'll have to install a DNS-based ad blocker.
Here's how to get a cheap YouTube Premium subscription:
Sign up for a VPN service and connect to a server in Turkey: We recommend ExpressVPN as it has a no-questions-asked refund policy.
Log in to your YouTube account: Click on your profile in the top-right corner, then click Purchases and memberships.
Underneath the YouTube Premium option click Learn More and choose annual, family or student plan.
Click get annual plan
Enter your payment details: Your regular payment card will work.
You now have a YouTube Premium subscription: You won't see ads on any video across all of your devices.
EXPERT TIP: Once you've created your YouTube Premium account, you won't need the VPN anymore. Cancel your subscription from your chosen VPN service within your VPN's money-back guarantee period to get a full refund.
3. Use an Ad Blocker Browser Extension
Pros

Cons

100% free and doesn't require payment details
Easy to install
Blocks ads on other websites
Also blocks trackers

Only works on desktop
Some ad blockers don't work with YouTube
Few options for Safari
Ad blockers are browser extensions that prevent ads from displaying on websites, including YouTube. These programs are easy to use and can block all types of YouTube ads, including non-skippable ones.
Our tests found that by far the most effective ad-blocking extension is uBlock Origin, which always worked. Other popular extensions we tested, like AdGuard and AdBlock, failed to block ads 50% of the time, and most VPN ad blockers didn't work at all.
uBlock Origin is available on Chrome, Firefox, and Edge. However, it is not available for Safari. A good free alternative is 1Blocker, but this isn't open-source like uBlock Origin.
However, all of these ad blockers only work on desktop and laptop computers. Ad blockers for other platforms, like iOS, only prevent ads from loading in your web browser. You'll still encounter all types of advertisements in the YouTube app.
You could also use a private browser with built-in ad blocking, like Brave. But we prefer installing an extension as it allows you to watch YouTube in the web browser you normally use.
Here's how to use an ad blocker to watch YouTube without ads:
Download and install the ad blocker extension: We strongly recommend uBlock Origin because it's open-sourced and highly effective at blocking YouTube ads. Visit its website and click Get uBlock Origin to download it.
Make sure the extension is enabled: In your browser toolbar, click the extension icon and check that it's turned on. If using uBlock Origin, you'll have to click the 'on' icon.
Navigate to YouTube and choose the video you want to stream: If you encounter any ads, repeat Step 2.
4. Set Up Pi-hole on a Raspberry Pi
Pros

Cons

Works on every device, including Smart TVs
Effectively blocks ad trackers

Rarely blocks video YouTube ads
Only works on your home network
Requires a Raspberry Pi device
Difficult to set up
For network-wide ad and tracker blocking, you can set up Pi-hole on a Raspberry Pi. Pi-hole will set up a DNS server on your home network that'll automatically prevent your device from connecting to domains that serve advertisements.
However, although this used to work reliably, our most recent tests have found that Pi-hole often fails to block YouTube video ads. It still works for hiding bumper and masthead adverts, though.
Sadly, it's unlikely this will be fixed because of the way DNS-based ad blockers work. YouTube now delivers adverts from the same domain as its videos, so Pi-hole can't know what to block and what to bypass.
As the DNS server is set up on your home network, you'll still see ads whenever you're on a different network. To bypass ads on cellular or different WiFi networks, you'll have to upgrade to YouTube Premium or change your IP address to Albania, Moldova, or Myanmar.
Pi-hole is also difficult to set up and not recommended for beginners. It took us over 30 minutes to configure and we had to troubleshoot many of the commands before it worked correctly.
Here's how to set up Pi-hole on a Raspberry Pi:
Download Raspbian onto your Raspberry Pi.
Burn Raspbian to your SD card: The easiest way to do this is by using Etcher.
Power on the Raspberry Pi and log in.
Install Pi-hole to the Raspberry Pi: The easiest way to do this is to run the following command: curl -sSL https://install.pi-hole.net | bash
Use Pi-hole as your network's DNS server: Turn the Pi-hole's DHCP server on in the device's settings. Choose 192.168.1.0/24 for your local network and leave the DHCP range at the default value.
Disable DHCP on your router and restart it: You'll now see fewer ads on YouTube.
5. Use a Modded YouTube App
Pros

Cons

Blocks all types of YouTube ads
Safe & open-sourced application
Free
Other benefits, like background playback

Works intermittently
Only available on Android
Requires sideloading
Violates YouTube's Terms of Service
Modded YouTube apps differ from the regular app as they block all types of YouTube ads by default. The best modded YouTube app we've used is NewPipe, which is free and open-sourced.
However, unlike all the other ad-blocking methods listed above, this is only available on Android devices. You'll also have to use the NewPipe client, which has fewer features and is more difficult to use than the official YouTube app.
The NewPipe app doesn't allow you to log in to your YouTube account, so you won't have access to your likes and video history. The video quality also defaults to 720p, so you'll have to manually toggle it to 1080p every time you want to watch a video in full HD.
As NewPipe is an unofficial third-party client, YouTube often intentionally breaks its functionality. When this happened, we had to wait for NewPipe to release updates to fix the issues, which sometimes took over a week.
Still, NewPipe is by far the best third-party YouTube app we've used. YouTube Vanced is no longer available following a DMCA notice from Google and Revanced is facing the same issues. SkyTube is a good alternative, but it's targeted by YouTube more often as it uses official YouTube APIs.
Here's how to download and use NewPipe to avoid YouTube ads:
Allow sideloading on your Android phone or tablet: Go to your device's settings and search Install unknown apps. Select your web browser and tap the toggle.
Download and install NewPipe: Visit its website on your Android device and scroll down. Tap the download link underneath Android 5+. Once it's downloaded, tap the file to complete the installation.
Open the NewPipe app: You'll now have access to YouTube videos without any adverts.
EXPERT TIP: Only download NewPipe from its official website or a trusted source, like F-Droid. Other versions may contain malware.