What Is a Proxy and How Does It Work?
A proxy is a remote server that acts as a middleman between you and the website you're visiting.
If you're using a proxy, your internet traffic will flow through the proxy server on the way to the web address you've requested. The proxy will connect to the website on your behalf, retrieve the contents of the web page, and then forward this information to you.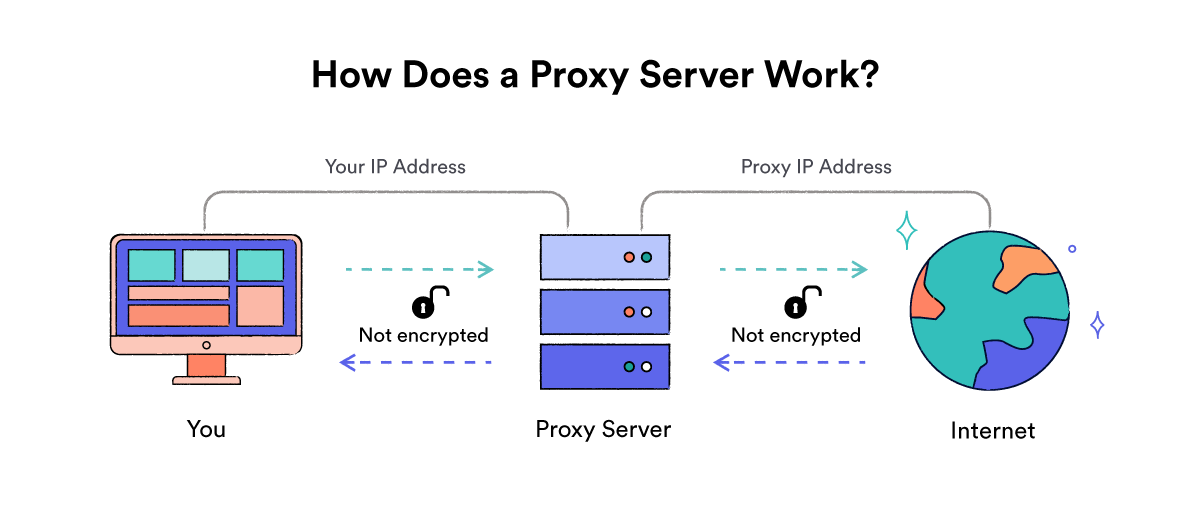 The main benefit of using a proxy is that you don't connect directly to the websites you visit. If configured correctly, this means that websites won't be able to see your personal IP address. Instead, they will see the IP address and location of the proxy server, keeping your real location a secret.
This means you can use a proxy server located in a different country to access websites that are geographically restricted. Some proxies even allow you to choose the location you'd like to connect from.
This makes proxies great for simple tasks like watching region-restricted videos or bypassing blocks on a specific website.
Most people use web proxies in their internet browser. You simply enter the URL you want to visit and it'll take you there in the same browser window.
A web proxy will:
Act as a middleman between you and the website you're visiting
Hide your IP address from the website you visit
Bypass geographical restrictions on a specific website
Bypass IP address blocks on a specific website
Good proxy servers can also improve performance by saving copies of a website locally. This means that if one hundred people ask for the same website simultaneously, the proxy server only needs to send one request to that website. This process is called proxy caching.
Proxies only work on the application level, meaning they will only reroute the traffic coming from the browser you're using the proxy with. More importantly, the majority of proxies don't encrypt your traffic.
No encryption means you are sending your requests as plain text. Anyone who is watching will be able to collect your usernames, passwords, and browsing activity.