Is NordVPN Good for Netflix?
NordVPN is a very good VPN for streaming Netflix. We put it through our rigorous VPN testing process and found that it's still one of the best Netflix VPNs.
Here's a summary of NordVPN's streaming strengths and weaknesses:
PROS
CONS

Unblocks an impressive 15 Netflix regions
You can stream US Netflix using local servers
Great for streaming on your TV
Uses a fully-integrated Smart DNS feature
Has extremely fast connection speeds
Uses industry-leading security features
The company is openly committed to unblocking Netflix

Other VPNs can unblock more Netflix libraries
Hasn't worked consistently in China over the last three months
In the section below, we'll take a closer look at the features that make NordVPN good and bad for streaming Netflix.
Skip to the next section to learn how to use NordVPN with Netflix. Or, check out this list of NordVPN servers that work with Netflix.
NordVPN Works with 15 Netflix Regions
We tested NordVPN in every Netflix region around the world, and found that it unblocks content libraries in fifteen countries, including:
Australia
Brazil
Canada
France
Germany
India
Japan
Netherlands
United Kingdom (UK)
United States (US)
It isn't the highest number we've seen from a VPN service, but all of the biggest and most important regions are covered. This means that – because NordVPN works with Netflix US, UK, Japan and Canada – there aren't many big movies and TV shows you can't access with NordVPN.
That said, if you enjoy watching more obscure content, then you may want a VPN that unblocks even more libraries.
Windscribe VPN works in over 42 regions. You can read more about it in our dedicated guide to watching Netflix with Windscribe.
Stream US Netflix on Local Servers
One excellent feature of using NordVPN for Netflix is that it lets you unblock American Netflix from anywhere in the world.
Connect to a VPN server located outside of the countries listed above, and you'll access the US library when you log into Netflix.
This is a huge bonus for users who don't live near the US, because you can browse the largest content catalog without suffering slower speeds.
Generally, the closer you are to the VPN server, the faster your speeds will be. With this unique feature, NordVPN lets you enjoy local connection speeds while streaming US exclusive videos.
This sets NordVPN apart from many rival streaming VPNs, but the company is tight-lipped on how it works. All we know is NordVPN's SmartPlay feature is responsible.
NordVPN's SmartPlay Feature
SmartPlay is a hybrid of VPN and Smart DNS technologies, that is automatically built into the NordVPN service.
Similar to a VPN, a Smart DNS tricks websites into thinking your physical location is elsewhere to hide your true location and unblock region-restricted content.
To do this, a Smart DNS tool changes the DNS server your traffic is routed through.
Usually, the main drawbacks of Smart DNS tools are that they don't encrypt web traffic, and can require some technical knowhow to set up.
However, by combining Smart DNS with VPN software, and integrating it automatically, NordVPN's SmartPlay feature appears to avoid these drawbacks.
Very Fast Connection Speeds
Beating Netflix's blockers is impressive, but a VPN service also needs to have good enough connection speeds to stream effectively.
With poor connection speeds, you'll be forced to watch low-quality video and endure a lot of buffering.
Netflix's recommended minimum speeds are:
>3Mbps for Standard Definition quality (480p)
>5Mbps for High Definition quality (1080p)
>25Mbps for Ultra High Definition quality (4K)
NordVPN is one of the fastest VPNs we've ever tested. Every VPN will slow down your internet speed to some degree, but the speed loss is barely noticeable when using NordVPN.
When connecting from the UK to servers in the US, we experienced an average speed loss of just 21% – where our normal download speed of 94Mbps dropped to 74Mbps after connecting to a server in New York.
These are impressive speeds for a long-distance VPN connection, and our tests show that NordVPN consistently performs well on other international connections:
| Country | City | Avg. Download Speed | Avg. Speed Loss |
| --- | --- | --- | --- |
| Australia | Sydney | 56Mbps | 40% |
| Germany | Berlin | 83Mbps | 12% |
| Singapore | Singapore | 63Mbps | 33% |
| USA (East) | New York | 74Mbps | 21% |
| USA (North-West) | Seattle | 67Mbps | 29% |
| USA (South) | Dallas | 76Mbps | 19% |
| USA (West) | Los Angeles | 62Mbps | 34% |
These speeds make NordVPN an excellent choice for Netflix. Even with a modest home connection, you should be able to stream buffer-free and in Ultra HD.
EXPERT TIP: For the fastest speeds, use the NordLynx protocol and connect to a VPN server as close to your physical location as possible.
Huge Server Network
NordVPN has one of the largest server networks on the market. It runs 5,343 VPN servers spread across 60 countries.
Larger server networks are much harder for Netflix to completely ban.
Netflix blockers work by identifying and blacklist IP addresses that belong to VPN servers. Therefore, the more VPN servers, the more likely you'll find one that works.
Some of NordVPN's servers also use obfuscation technology. Often, services like Netflix can see that traffic has been encrypted, and deduce it's VPN traffic.
Obfuscation masks VPN encryption and makes your traffic look like regular HTTPS traffic. This prevents censorship systems from detecting your VPN connection.
To use obfuscation, select Obfuscated under Specialty Servers and choose your desired location from there.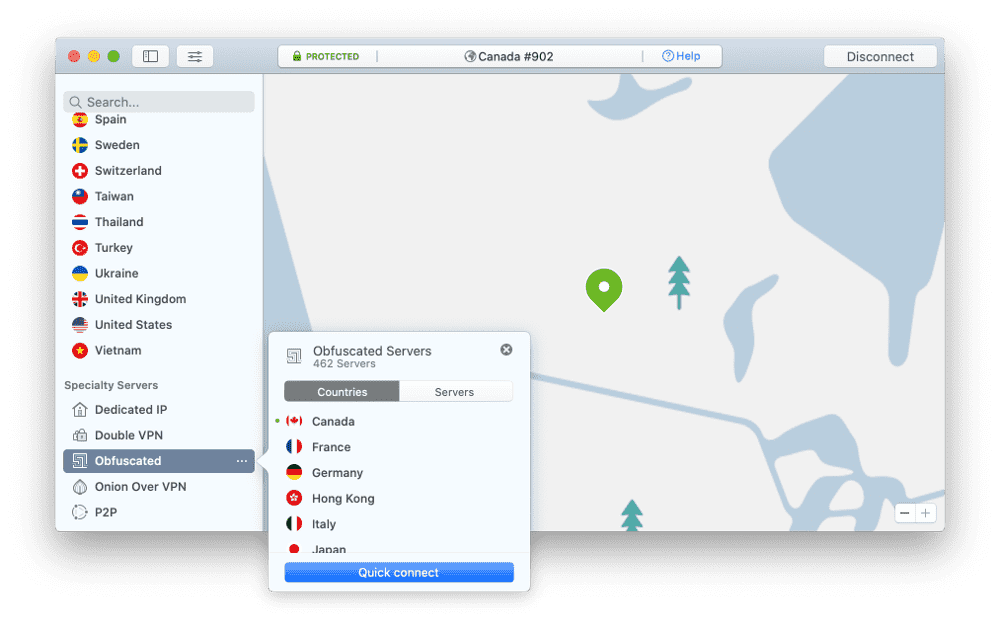 Which NordVPN Servers Currently Unblock Netflix?
Here is a list of NordVPN servers we recently tested that work with the specified Netflix region:
| Country | Server IDs |
| --- | --- |
| Canada | #1006, #1063, #1414 |
| India | #82, #91, #96 |
| Japan | #523, #534, #549 |
| UK | #2016, #2097, #2173 |
| USA | #6025, #6497, #6948 |