How to Fix a VPN Not Working with Netflix
We've listed below nine simple workarounds to get your VPN working with Netflix.
1. Upgrade Your VPN
The most effective way of solving Netflix VPN problems is to use one of the best Netflix VPNs.
This is because most VPNs won't ever work with Netflix, no matter what workarounds you attempt.
The majority of VPN services lack the necessary technology, prioritize other software features, or don't have the resources to unblock Netflix.
Our tests confirm that using ExpressVPN with Netflix is the most reliable way to beat the latest Netflix VPN ban.
While ExpressVPN is not cheap, the service works consistently with US Netflix and nine other libraries.
During our ExpressVPN tests we also used the VPN to bypass Hulu's VPN blocks and stream HBO Max from outside the US when connected to the VPN's New York server.
If you want a free option, PrivadoVPN Free is currently the best 100% free VPN that unblocks Netflix. However, the VPN's free plan is limited to just 10GB of data per month.
2. Connect to a Different Server
If you can't access Netflix using a VPN, it means that Netflix has identified and banned the IP address of the server you're connected to.
To get a new IP address, simply connect to another server in the same country. There's a chance that the new server won't be blocked by Netflix yet.
Alternatively, use the table below. We've collected a list of servers from the best VPNs that work with popular Netflix regions.
Just connect to one of these servers to stream the specified Netflix region:
VPN Service
Working VPN Servers
ExpressVPN
Australia: Australia – Melbourne
Canada: Canada – Toronto
Japan: Japan – Tokyo
UK: UK – London
US: USA – USA - New Jersey - 1
PrivateVPN
Australia: Australia – Sydney
Canada: Canada – Toronto
Japan: Japan – Tokyo
UK: UK – London
US: USA – New York
Proton VPN
Australia: AU#19
Canada: CA#261
Japan: JP#77
UK: UK#52
US: US-NY#52
Once connected, refresh your browser on desktop or relaunch your app on mobile.
3. Delete Browser Cookies and Cache
Many websites collect temporary location data through cookies and cache files.
Netflix can use this information to identify your true location, even when you're connected to a VPN server in a different country.
Clearing these files will force Netflix to show the library of the server you're connected to.
How to clear cookies and cache in Google Chrome:
Open Google Chrome. Click the icon that looks like three dots at the top right of the window.
Select More Tools > Clear browsing data, then from the drop-down menu select All time.
Tick Cookies and other site data and Cached images and files.
Click Clear data.
Relaunch Google Chrome.
Open Netflix.
How to clear cookies and cache in Safari:
Open Safari. Open the Safari menu then click Preferences.
Click the Privacy tab > Manage Website Data.
Type Netflix into the search bar, select it, then click Remove.
Relaunch Safari.
Open Netflix
Note: This method only works on desktop. On mobile, you will have to restart your device to clear Netflix's cache and cookies.
4. Disable IPv6 Addresses
Netflix decides the library to show you based on your IPv6 address, not your IPv4 address (if you have one).
The problem is that many VPNs still don't support IPv6. If your IPV6 address leaks through the VPN tunnel, Netflix will show your local library.
For example, when testing it with a US server, Betternet was leaking our IPv6 address. This meant that we could only stream TV shows and movies from our local UK Netflix library.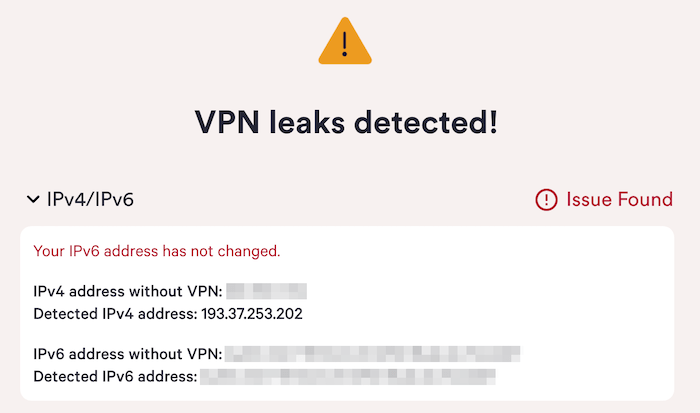 For added assurance, we recommend blocking IPv6 on your device, rather than using your VPN's built-in settings.
How to disable IPv6 on Windows:
Open Network & Internet settings.
Select Network & Sharing Center > Properties.
Uncheck Internet Protocol Version 6 (TCP/IPv6).
How to disable IPv6 on Mac:
Open System Preferences and click Network.
Click Advanced in the bottom right. Click the TCP/IP tab.
Click the dropdown menu next to Configure IPv6 and choose Off.
Click Ok > Apply.
You can check for IPv6 leaks using our VPN leak test tool.
5. Use Smart DNS
Some VPNs come with Smart DNS functionality. Smart DNS can be used to change Netflix regions without having to connect to a VPN server.
Since the August 2021 Netflix VPN ban, our tests have found that Smart DNS is much more reliable for unblocking Netflix than full VPN services.
Smart DNS routes your internet traffic through a proxy server somewhere else in the world. However, unlike a VPN, it doesn't encrypt your traffic. Nor does it include other security features.
Normally, we don't recommend using Smart DNS. However, if you just want to stream a geo-restricted Netflix library and you're not concerned about privacy, Smart DNS is a fine option.
Here are the VPNs we recommend that offer Smart DNS functionality:
ExpressVPN (Mediastreamer)
Surfshark
Windscribe (Control D)
Each VPN has a different method for setting up Smart DNS. Visit your VPN provider's support page for instructions.
6. Stream Netflix on Your Computer
If Netflix isn't working for you on devices such as an iPhone, a Fire TV Stick, or a Google Chromecast, try watching the same video on your desktop or laptop computer.
As part of its VPN ban, Netflix checks whether the location of your IP address matches the location of your DNS server.
Watching on your computer is more likely to work as desktop VPN apps can route all traffic through its own DNS servers, but mobile VPN apps cannot.
Additionally, make sure your VPN app is configured to use the VPN's DNS servers. You can enable this in the VPN app's connection settings.
7. Purchase a Residential IP Address
As of August 2021, Netflix automatically blocks all non-residential IP addresses. As most VPN servers are located in data centers, it's easy for Netflix to identify and restrict access from them.
To get around this, some VPNs allow you to pay extra for a residential IP address. Residential IPs make it look like you're connecting from home on a regular ISP connection. Consequently, there's no way for Netflix to know you're connected to a VPN.
Windscribe is the only top Netflix VPN that allows you to get a US residential IP. When using it, we were assigned an AT&T IP address. In our tests, we were able to stream US Netflix 100% of the time when connected to this server.
Though reliable, the downside to this method is its price. Windscribe's US residential IP option costs $96.00 per year, with no option to pay monthly.
EXPERT ADVICE: Make sure to purchase a residential IP and not a dedicated IP. Though unique to you, a dedicated IP address still belongs to a data center, so Netflix will still detect and block it.
8. Change VPN Protocol
If you can't stream Netflix with your VPN, try changing the VPN protocol.
Each protocol uses different encryption and tunneling methods. Some are better at bypassing Netflix's VPN detection methods than others.
For instance, our tests reveal that Lightway works best for streaming Netflix with ExpressVPN, and the NordLynx protocol works best for NordVPN.
You can change VPN protocol in the app's settings. Try each option until you find one that works. However, we strongly recommend you don't use PPTP, as it provides weak encryption and has known security vulnerabilities.
9. Ask Customer Support for the Best Server
By following the above methods, you should get your VPN working with Netflix. However, if you're still encountering the error message, contact your VPN's customer support team.
A customer support agent will be able to provide you with a list of up-to-date working servers.
For example, we contacted ExpressVPN's customer support team when our server was blocked from streaming US Netflix. We were given a list of three compatible servers within 30 seconds of asking.
Most top Netflix VPNs also have 24/7 live chat support, so you'll always be able to get a quick answer to your query.