How to Get a Cheaper Netflix Subscription Using a VPN
You can save money on your Netflix account by using a VPN service. To do this, you'll need to sign up to Netflix while connected to a VPN server in a region where Netflix charges a lower monthly fee.
For example, one month's Netflix subscription in the United States costs either $9.99, $15.49, $19.99 depending on whether you get the Basic, Standard, or Premium plan. The exact same packages cost the equivalent of $5.04, $7.65, and $9.84 in Ukraine.
That means a potential total savings of $122.00 per year, simply by following these instructions and signing up using a VPN connected to Ukraine. That's a huge saving, even factoring in the cost of the VPN.
Here's a video demonstrating how to get a cheap Netflix account using Private Internet Access: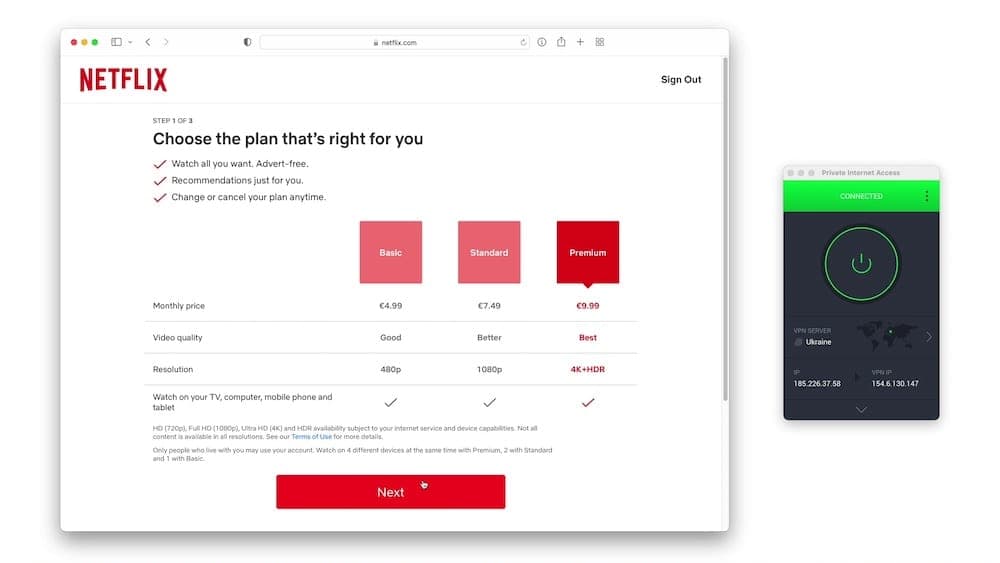 Here are the step-by-step instructions to get a cheap Netflix subscription:
Subscribe to a VPN service with servers in the country you need. We recommend Private Internet Access.
Download the VPN application and open it. Connect to a server in Ukraine.
If you don't have a Netflix account, go to the Netflix website and begin the process of making one.
If you do have a Netflix account, cancel your subscription and wait until the end of your billing period. Once it fully expires (in a maximum of one month's time) proceed to the next step.
While connected to the VPN, select your subscription plan. You can choose between Basic, Standard, or Premium – Basic will be the cheapest, but you can select whichever is best for you.
Proceed to payment. Ukraine is a particularly good region because it accepts payment methods from banks outside of the country. For example we used a UK American Express credit card.
Enter your phone number. Ukrainian accounts can be created with a phone number from anywhere in the world – just select your international dialing code from the dropdown menu.
Enjoy your new, low-cost Netflix subscription. You can now turn your VPN off and watch as usual. Your available content will be unaffected and you'll be billed automatically each month without any need to use your VPN again.

Will Subscribing in a Different Country Change Your Netflix Region?

Signing up to Netflix while connected to a VPN will not change your Netflix region. You'll get a cheaper monthly subscription price, but the content available to you will not be affected.

Your Netflix library is always based on where Netflix thinks you're located at that moment. This is determined via your IP address. If you sign up through a Ukraine VPN server and then disconnect from the VPN you'll be shown all of the usual Netflix content for your current location.

Once you've signed up you can use the same VPN to change your Netflix region, if you want to. Simply connect to another VPN region, then open Netflix to access that country's unique content instead.

Put simply, this cheap Netflix trick gives you the best of both worlds. You can turn your VPN off and watch your home country's Netflix content as usual, or you can connect to a different VPN server and unlock even more geo-restricted content, all for a heavily-discounted price.