PrivadoVPN Review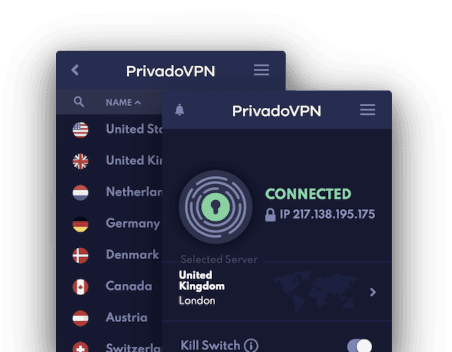 Privacy & Logging Policy
PrivadoVPN is Safe & Based in a Privacy Haven
PrivadoVPN has a safe privacy policy
We've studied the PrivadoVPN privacy policy and here is everything PrivadoVPN logs:
Account information (username and email address)
Payment information
Support messages
Anonymous, aggregate statistics (number of active users over a period of time)
Mobile identifiers (these can switched off)
Total amount of bandwidth used
PrivadoVPN only collects a small amount of information, and all of it is unidentifiable.
The service doesn't log anything sensitive, such as your IP address or the websites you visit. The only information the Swiss authorities could possibly obtain is your email address and username.
Nevertheless, PrivadoVPN should commission a third-party audit to verify its claims. This has become standard practice in the VPN industry, and provides an added layer of trust.
PrivadoVPN is based in Switzerland
PrivadoVPN is based in Zug, Switzerland, registered as Privado Networks AG.
Switzerland is a good choice of country to establish a VPN company, because of its robust privacy laws that respect consumer privacy. It's not a member of the European Union, so it doesn't abide by the Data Retention Directive.
Moreover, Switzerland has no role in the intrusive 14 Eyes alliance, or any other anti-privacy intelligence sharing agreements.
In other words, PrivadoVPN is in fact under no legal obligation to store the data of its subscribers.
While Switzerland has local surveillance laws in place, these only apply to ISPs (Internet Service Providers), and not VPN services.
Who owns PrivadoVPN?
PrivadoVPN offers little to no public information about its corporate structure or ownership.
Some users may respect a privacy company wanting privacy of its own, others may want more transparency before trusting the company with their data.
For this reason, we'd like to see greater transparency and disclosure from the company that operates PrivadoVPN.
Speed
Very Fast Local & International Download Speeds
Using PrivadoVPN's automatic protocol selection, our speeds dropped just 8% when connected to nearby VPN servers.
This is a small speed loss, although PrivadoVPN is simply not as fast as competitors like NordVPN, which only records a 1% speed loss.
Having said that, on local connections PrivadoVPN is more than fast enough for you to stream in 4K and download files quickly.
Local Speed Test results before using PrivadoVPN:
Download Speed: 91Mbps
Upload Speed: 99Mbps
Ping: 6ms
Local Speed Test results with PrivadoVPN:
Download Speed: 84Mbps
Upload Speed: 86Mbps
Ping: 15ms
Download speed loss when PrivadoVPN is running: 8%
We tested a wide range of PrivadoVPN servers, including long-distance ones, and these were the speed results:
International Speed Test Results
PrivadoVPN's worldwide speeds are just as impressive as its local ones. While there will always be greater speed reduction connecting to countries further away, PrivadoVPN's international speed loss was minimal.
Connecting from the UK to the US, we only experienced a 15% speed loss. That's one of the smallest speed drops we've seen for London to New York connections.
Likewise, connecting to an Australia server only reduced our internet speed by 37%. Considering the huge distance, this is remarkable.
PrivadoVPN Free Speed Test Results
We also tested the speeds of PrivadoVPN's free servers, both locally and globally.
Here's how PrivadoVPN Free performed in our speed tests:
UK:

Download: 91Mbps
Upload: 61Mbps
Ping: 14Mms
Germany:

Download: 91Mbps
Upload: 73Mbps
Ping: 19ms
US:

Download: 68Mbps
Upload: 15Mbps
Ping: 130ms
PrivadoVPN Free performed just as highly as the paid version in our speed tests. It's clear that PrivadoVPN doesn't speed throttle its free servers, with little-to-no server congestion.
In the UK and Germany, the free VPN's speeds were even higher than the premium version. Long-distance speeds into the USA were impressive, too.
Server Locations
Small Server Network of Only 322 Global Servers
44 Countries
100 Cities
UndisclosedIP Address
PrivadoVPN has 322 servers in 44 countries. For context, top VPN services offer servers in over 59 countries.
The absolute best VPN, ExpressVPN runs servers in over 94 countries.
Nevertheless, PrivadoVPN's server location offering is better than the majority of VPNs we've reviewed.
A variety of city-specific server locations are available in the USA (9), UK (2), Germany (2), and Canada (3). Unfortunately for Australians, only Sydney is covered.
322 is a small number of physical servers, though. We have a concern that has the VPN service grows, its servers may become overloaded or congested.
Secure, physical servers only
PrivadoVPN claims to run physical servers only. These are more costly to set up and run, but they're usually safer.
PrivadoVPN is focusing on quality over quantity, which is the right approach. One drawback, though, is that it's not a very extensive VPN network.
The result is that currently there are no servers located in the Middle East, and only one in Africa (South Africa).
Streaming
PrivadoVPN Works with US Netflix, BBC iPlayer and Hulu
We tested PrivadoVPN with major streaming platforms to see if it works to access geo-restricted content. Here are our results:
PrivadoVPN unblocks US and UK Netflix
PrivadoVPN is a good solution to bypass Netflix geo-blocks. In our streaming tests, the VPN streamed video content from the US and UK library.
However, the VPN fails to unblock other important Netflix regions, like Germany, Japan, and Canada.
The best Netflix VPNs can unblock over 30 international libraries. PrivadoVPN is a long way from this.
BBC iPlayer access is inconsistent
PrivadoVPN didn't unblock BBC iPlayer on its Manchester server, but it did work on its London server – for a while. Coming back to test it again shortly afterward, our real location was detected by the BBC's blocking technology.
PrivadoVPN is inconsistent when it comes to BBC iPlayer. Sometimes it works and sometimes it doesn't. As such, use a more effective BBC iPlayer VPN, instead.
We also unblocked All 4 using PrivadoVPN, but not ITV Player. Again, fans of British TV should try more reliable VPNs that give you a UK IP address.
Works with HBO Max, Disney+, and Hulu
On the plus side, PrivadoVPN can unblock other popular streaming services, like HBO Max, Disney+, Hulu, and the American Amazon Prime Video catalog.
This is impressive compared to the majority of free VPN services.
Despite unblocking many content platforms, the lack of identifiable streaming servers is problematic. You're left to guess which servers work with each streaming platform through time-consuming trial and error.
And once you find a server that works with your chosen streaming app, the PrivadoVPN app doesn't let you favorite that server for future use.
All in all, PrivadoVPN is good at unblocking geo-restricted video content, but there are much better streaming VPNs available.
Select 'Stream Content' When Signing Up
EXPERT ADVICE: To unblock geo-restricted content with PrivadoVPN, you must select 'Stream Content' when signing up and asked to choose your configuration.
When you install PrivadoVPN, you will be presented with options to 'Find The Best Server Configuration'. If you do not select 'Stream Content,' you will not be connected to streaming-optimized servers and will struggle to access streaming sites.
If you've already signed up to PrivadoVPN and are experiencing streaming issues, contact PrivadoVPN's support team and ask to have a streaming-optimized account activated.
PrivadoVPN Free unblocks most streaming platforms
PrivadoVPN's free version is the best free VPN for American Netflix. Using its 10GB of free data, we unblocked the UK and US Netflix libraries.
We also unblocked HBO Max, Hulu, and BBC iPlayer.
Like with the premium version, PrivadoVPN Free couldn't get around ITV Player blocks. And with only 10GB of data per month, streaming time is limited.
Torrenting
PrivadoVPN Supports Torrenting Including SOCKS5 Availability
PrivadoVPN is quite open and supportive of its users engaging in P2P (peer-to-peer) file sharing. It has built a network that supports P2P and SOCKS5 proxy on every server.
The SOCKS5 proxy is a favorite of torrenters as it can allow for faster speeds and greater anonymity. This feature is limited to paying subscribers only, though. You can access your SOCKS5 proxy credentials via your PrivadoVPN account page.
PrivadoVPN has a working kill switch and a private logging policy – if you're a torrenter you can rest assured that your file sharing is anonymous.
Security & Technical Features
Secure Encryption but No Advanced Protection
| Protocols | Available in PrivadoVPN |
| --- | --- |
| IKEv2/IPSec | Yes |
| OpenVPN (TCP/UDP) | Yes |
| WireGuard | Yes |
| Encryption | Available in PrivadoVPN |
| --- | --- |
| AES-128 | No |
| AES-192 | No |
| AES-256 | Yes |
| Blowfish | No |
| ChaCha20 | No |
| Security | Available in PrivadoVPN |
| --- | --- |
| DNS Leak Blocking | No |
| First-party DNS | No |
| IPv6 Leak Blocking | No |
| Supports TCP Port 443 | No |
| VPN Kill Switch | Yes |
| WebRTC Leak Blocking | No |
| Advanced Features | Available in PrivadoVPN |
| --- | --- |
| Ad Blocker | No |
| Dedicated IP | No |
| Double VPN | No |
| Smart DNS | No |
| Static IP | No |
| SOCKS | Yes |
| Split Tunneling | No |
| Tor over VPN Server | No |
| Tracker Blocker | No |
Industry-standard security
PrivadoVPN offers a good package of VPN security. It uses the industry-standard AES-256 encryption, and we expect nothing less from a quality VPN.
You can choose between OpenVPN, WireGuard, and IKEv2 on the Windows, Android, and iOS apps but not macOS – which we would like to see in the future.
Using our leak test tool, we recorded no accidental exposure of any kind, including webRTC, IP, or DNS leaks. This means that PrivadoVPN is doing a good job encrypting and protecting your connection.
PrivadoVPN's kill switch works
PrivadoVPN has a very good kill switch. Just turning it on without connecting to a VPN server will stop your entire internet connection. This is very useful should your VPN connection drop, ensuring no sensitive data is ever exposed.
However, as long as the PrivadoVPN kill switch is on you cannot use your internet at all, whether you're connected to a PrivadoVPN server or not.
Most other VPN kill switches kill your internet only if it detects a VPN connection drop. This makes PrivadoVPN extra safe, and encourages you to always be connected to a secure server. Windscribe also has this type of kill switch.
Lacking advanced security tools
PrivadoVPN is safe, but it doesn't have many extra security features. This is good if you're looking for a 'click and protect' service, but some of the most popular VPNs, like NordVPN and Surfshark, come with ad blockers, split tunneling, diskless RAM servers, and much more.
Bypassing Web Censorship
Works in China with Taiwan & Japan Servers
We didn't expect PrivadoVPN to work as an anti-censorship VPN. There are no extra tools or options within the app that are usually required to beat Chinese censorship, like traffic obfuscation or a stealth VPN protocol.
To our surprise, PrivadoVPN worked to get around the Great Firewall of China when connected to its Taiwan and Japan server. We tested this from our very own server in Shanghai, so we can confirm that PrivadoVPN currently works in China.
However, connections took a long time to establish. As you can see in the video below, while we managed to unblock YouTube on the Taiwan server, it took over four minutes to get around the Firewall (we have shortened the video). We experienced identical connection waits with the Tokyo server too.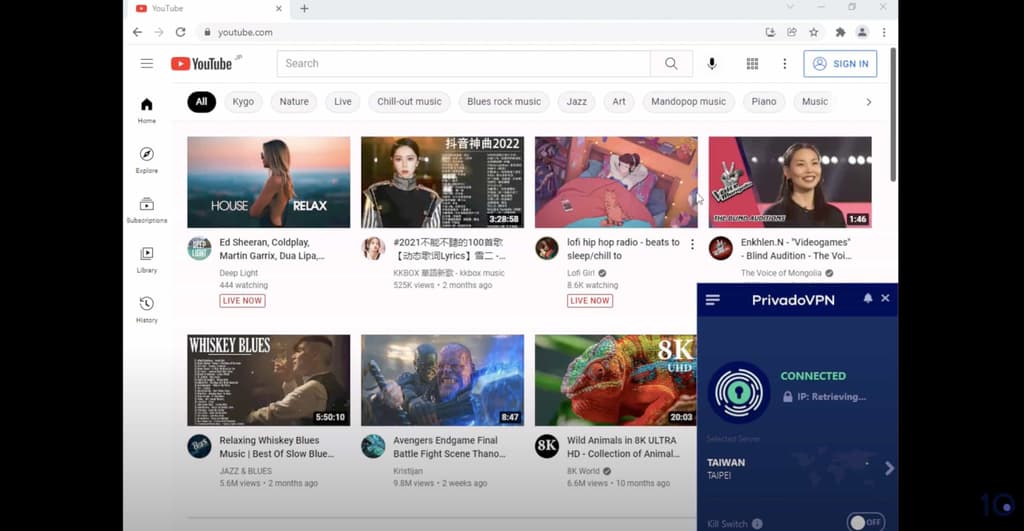 It's not clear how long PrivadoVPN's success in China will last. It doesn't have any special obfuscation technology like Astrill VPN – which has bypassed China's website blocks 100% of the time for more than a year now.
As PrivadoVPN gets more popular, it's more likely the Chinese authorities will identify and block it.
Price & Value
Not Enough Bang for Your Buck
PrivadoVPN has a free version and a premium version available in two payment plans. Here they are:
PrivadoVPN is available in two pricing plans: a one-month subscription and a one-year subscription.
You save 38% each month if you sign up to the one-year subscription, which amounts to $4.99 per month.
This is nowhere near some of the cheapest VPNs, which also include some of the absolute best VPNs.
For example, you can get PrivateVPN for just $2.00 per month.
Payment & Refund Options
You can only pay for PrivadoVPN through credit card or PayPal. These are the compatible payment methods:
American Express

Bitcoin

Mastercard

PayPal

Visa
As you can see, you can pay for PrivadoVPN via a number of payment methods. It's recently enabled payment via PayPal and cryptocurrency.
After you buy PrivadoVPN, you are entitled to a no-questions-asked 30-day money-back guarantee. This essentially means that you can get a month free if you decide to get your money back.
This is standard practice with most VPN providers, although CyberGhost has a 45-day refund guarantee.
Sadly, PrivadoVPN doesn't offer true VPN free trial, particularly one with no payment details required upfront.
PrivadoVPN Free: One of the best free VPNs
PrivadoVPN's free service is one of the best free VPNs you can get. Unlike so many other free VPNs, it's safe and comes from a reputable company.
It's also more generous than most free services from established VPN brands. In fact, PrivadoVPN lets you use 10GB of free data per month, equal to other top free services like Windscribe and Hide.me.
PrivadoVPN Free offers a relatively large server network, too. It's restricted when compared to the premium version, but 13 global servers in 10 countries is substantial when compared to many other free services that only offer one or a few.
PrivadoVPN Free offers VPN servers in:
Argentina – Buenos Aires
Brazil – Sao Paulo
Canada – Montreal
France – Paris
Germany – Frankfurt
Mexico – Mexico City
Netherlands – Amsterdam
Switzerland – Zurich
United Kingdom – London
United States – Los Angeles, Miami, New York, Washington DC
This is a diverse server network for a free VPN, with multiple city options in the US.
PrivadoVPN Free is one of the only free VPNs that is able to access US Netflix from abroad. It is also one of the only free VPN services that work with Disney+ and HBO Max.
The free service is mostly identical to the paid version. It includes many of the additional features, including leak protection. The only thing missing is SOCKS5 proxy, which is reserved for paying customers, and simultaneous connections are limited to one device only.
PrivadoVPN Free is also really simple to get: you just need to provide an email address. No payment details or extensive sign up is required at all. However, you need to manually refresh your free data every month via your PrivadoVPN account page.
PrivadoVPN Free Summary: 10GB of free data, 10 countries, and 10 devices – all for free – makes PrivadoVPN Free one of the better options if you don't want to pay for privacy.
Device & OS Compatibility
Apps for All Popular Platforms, but No Browser Extensions
PrivadoVPN Apps
PrivadoVPN has applications available for macOS, Windows, Android, and iOS. There are apps for Fire TV Stick and Android TV, too.
Windows

Mac

iOS

Android

Linux

Router
There are manual setup guides on PrivadoVPN's website if you want to set up the VPN on your home router or Linux.
PrivadoVPN has no browser extensions for Firefox or Chrome, but you can use the VPN on up to 10 devices at one time. This is a very generous amount. The industry standard is usually five devices.
PrivadoVPN's Fire TV Stick doesn't work
You can install PrivadoVPN onto your Fire TV Stick, but it's pointless as the app is buggy and cannot establish a VPN connection.
As you can see in the video below, we tried two different US servers, but each time the PrivadoVPN firestick app automatically closes with no explanation given.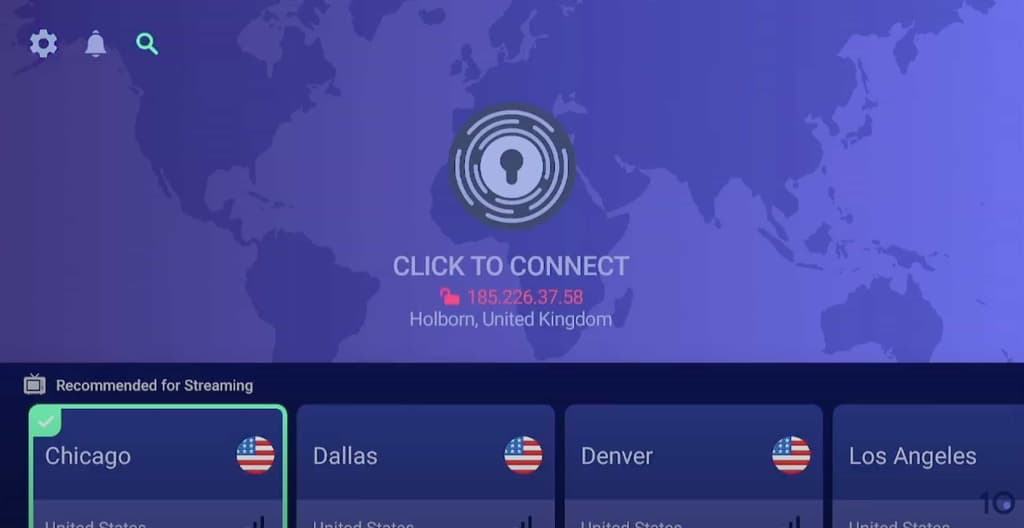 Ease of Use
Simple Apps Identical Across All Devices
The PrivadoVPN apps are identical across all devices in both appearance and features – a home screen with a large connect button, a server list in a separate window, and a burger menu for preferences. We would like to see more VPNs imitate this consistency across apps.
PrivadoVPN desktop apps
It's not uncommon for a VPN's macOS client to have completely different features to its Windows equivalent. The only difference with PrivadoVPN is that the macOS version doesn't include support for WireGuard.
We like that PrivadoVPN's kill switch is prominently placed on the main home screen. This highlights the importance of this feature and makes it extremely easy to toggle on and off. However, it should be switched on by default.
Despite its user-friendliness, we have some design concerns. Firstly, some of the windows in the interface are pixelated, even on macOS, which doesn't inspire confidence. More annoying, you cannot connect to a server by double clicking. Instead, you have to select the server and then the connect button.
PrivadoVPN mobile apps
PridavoVPN's mobile apps are identical to the desktop version. They have the same central connect button and server list, as well as the same features.
PrivadoVPN's Android app does not have a kill switch option. Instead, you have to activate it from your Android device settings via Connections > More Connection Settings > VPN > PrivadoVPN > Block connections without VPN. We'd like to see the kill switch embedded in the PrivadoVPN Android app.
Overall, both PrivadoVPN's desktop and mobile apps couldn't be simpler to use. But this comes at the cost of customization and advanced features.
How to Use PrivadoVPN
You can see how simple PrivadoVPN is to use in the video below. We show you how to change servers, switch on the kill switch, and use the preferences menu: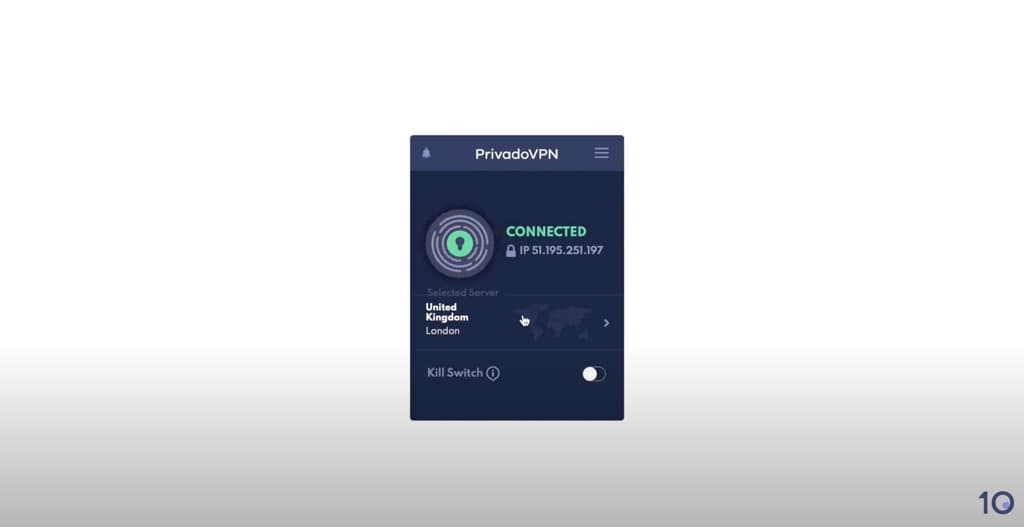 Customer Support
Random Live Chat Availability
| Customer Support | Available in PrivadoVPN |
| --- | --- |
| 24/7 Live Chat Support | No |
| 24/7 Email Support | No |
| Chatbot | No |
| Live Chat Support | Yes |
| Email | Yes |
| Email Support via Online Form | Yes |
| Tutorial Videos | No |
| Online Resources | Yes |
PrivadoVPN has a live chat feature that it says is available 24/7. However, it's actually available at completely random and unpredictable times. Sometimes we've sought help and been answered instantly, and other times it has taken hours.
We asked PrivadoVPN why live chat isn't always available and it told us:
"All of our support runs 24/7 unless our agents are currently unavailable."
This was frustrating, so we used a ticket system on its website instead. We sent the ticket at 14:27 and got a response at 16:07 – nearly a two hour waiting window. The response was polite and helpful enough, though.
The website has some basic FAQs (mainly used to promote the service) and a few helpful setup guides, as well as some articles on general privacy, but it's far removed from the sort of comprehensive online help you get from a VPN like Hide.me.
The Bottom Line
PrivadoVPN Is One of the Best Free VPNs
PrivadoVPN is a small and relatively new VPN service that gets the basics of VPN security right, but isn't pushing any boundaries.
PrivadoVPN, both free and premium, is particularly good when it comes to streaming. It unblocks the major streaming sites like US Netflix, HBO Max, and Hulu. But there's no smart DNS for easy bypassing of georestrictions from TV devices, and it's Fire TV Stick app doesn't work.
We recommend the premium subscription of PrivadoVPN for keen torrenters, who can get use out of PrivadoVPNs P2P servers, fast speeds, kill switch, and safe privacy policy. Beyond this, you can get more advanced VPNs for less cost.
Alternatives to PrivadoVPN
ExpressVPN
For a small amount more than PrivadoVPN costs, you can get the very best VPN on the market – ExpressVPN. This is the best in class: great for streaming, torrenting, and speed. Read ExpressVPN review
Windscribe
Windscribe is another great free VPN service. It has 10GB of free data, too, but it's better than PrivadoVPN at unblocking streaming services. Read Windscribe review
---
User Feedback for PrivadoVPN