Hide.me Review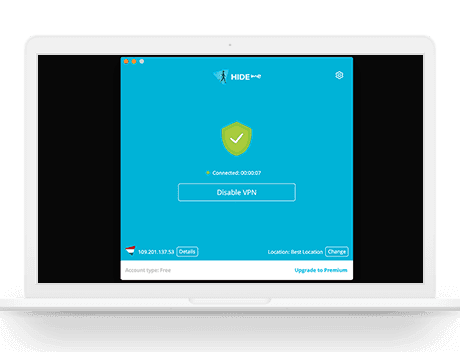 Privacy & Logging Policy
Hide.me is close to being no-logs
Hide.me keeps a temporary record of connection data for troubleshooting purposes. This includes a randomly generated username and internally-assigned IP address.
Hide.me logs the following user data (taken from its privacy policy):
Email address (stored in encrypted form on secure servers).
Randomly generated username.
Internally assigned (non-public) IP address.
Amount of data used during VPN session.
This connection data is erased every few hours. Your location, originating IP address, and browsing behavior is not monitored or stored, which means your activity can't be linked back to you.
In other words, Hide.me is as close to zero logs as most VPN services get.
You only need an email address to sign up, which is typical for most privacy-friendly VPN companies. Some do ask for more personal details, so it's good to see Hide.me keeping it to the minimum.
The company encrypts and stores your email address and may use it to contact you, but you can opt out of these communications if you prefer. You can also delete your email address permanently after you've subscribed.
Hide.me does state that, if requested, it will hand over any information it has on a user being investigated by authorities. However, the VPN service keeps so few connection logs, your online privacy shouldn't be affected by this.
Hide.me is safe and private
Hide.me's approach to privacy is a good one. In fact, it was one of the first VPN services to undergo an objective third-party assessment to verify its trustworthiness.
In 2015, Hide.me was audited by analyst Leon Juranic of security-testing firm DefenseCode LTD, which verified its safe logging practices.
We don't agree with the audit's conclusion that Hide.me is "absolutely zero logs," since the VPN service still keeps some temporary connection logs. However, we do agree that Hide.me is a private VPN that is completely safe to use.
Malaysian jurisdiction
The VPN is owned by eVenture Ltd, an IT security company incorporated in Labuan, Malaysia in 2011. Sebastian Schaub, its founder, launched Hide.me VPN in 2012.
Being incorporated in Malaysia is good for the company's privacy credentials, because Malaysian law does not require VPN companies to keep logs of customer connections or network activity.
Hide.me is clear about this, stating: "We purposefully set up our headquarters in a jurisdiction that cannot, by law, request for us to record your data."
Malaysia sits outside the surveillance agreements found in most European countries, North America, and China. The Five-Eyes/14-Eyes are "blind" in Malaysia, making it an ideal privacy haven for VPN users.
The company also releases regular transparency reports, which list any legal requests for:
Illegal activities (DDoS attacks, scams, spam, botnets)
Digital Millennium Copyright Act (DMCA) violations
Law enforcement and police requests
In 2019, Hide.me received 105 requests relating to illegal activities on its network, over 27,000 DMCA complaints, and two law enforcement requests. The company's official statement on these requests is as follows:
"We do reply and act on every request, but as we cannot store any information, we do not have any data to present when requested."
Overall, we view Hide.me as a very private VPN. It's almost no-logs and has worked hard to prove its status as a VPN you can trust. Also, there has never been a security breach in the company's history.
Speed
Fast short & long-distance speeds
Hide.me delivers fast speeds both locally and internationally.
While Hide.me is not among the fastest VPNs on the market, at least the free version doesn't enforce speed caps within the 10GB monthly data limit.
This means free users will experience similar speeds to paying customers, which makes Hide.me one of fastest free VPNs we've tested. However, once you pass the 10GB monthly data cap, speeds are limited to 3Mbps.
Local speed test results
We tested Hide.me's short-distance speeds by connecting to a server close to our physical location.
The VPN reduced our connection speeds by just 7%, which is faster than top services like ExpressVPN and Surfshark.
Here are our full speed test results:
Local Speed Test results before using Hide.me:
Download Speed: 100Mbps
Upload Speed: 99Mbps
Ping: 1ms
Local Speed Test results with Hide.me:
Download Speed: 93Mbps
Upload Speed: 54Mbps
Ping: 23ms
Download speed loss when Hide.me is running: 7%
Any speed loss less than 10% is great for a VPN. It's not the 2% speed loss we recorded testing Private Internet Access, but it's very good nonetheless.
Long distance speed test results
We also tested Hide.me's speeds on long-distance connections. We connected to servers in Germany, US, Australia, and Singapore.
We found that Hide.me performed well on long-distance connections:
USA:

Download: 58Mbps
Upload: 46Mbps
Germany:

Download: 91Mbps
Upload: 91Mbps
Singapore:

Download: 41Mbps
Upload: 43Mbps
Australia:

Download: 30Mbps
Upload: 19Mbps
A 42% speed loss connecting from the UK to the US is a very good result compared to many other VPNs. In our CyberGhost speed tests, for example, we recorded a 74% speed loss.
However, 42% is nowhere near as fast as the fastest VPNs we've reviewed. When reviewing NordVPN, we measured a speed loss of just 21% from the UK to the US.
Hide.me's speeds compared to top VPNs
We also record speeds using our in-house automated VPN speed test tool.
The graph below compares Hide.me to four other VPNs running on our New York server. Tests run automatically four times a day, and connection speeds are capped at 100Mbps to recreate a typical home internet connection.
The chart below displays the average speed loss percentage of each VPN compared. The lower the speed loss percentage, the better.
Compare Hide.me's speeds using our speed test tool
As you can see above, during an eight week period, Hide.me's speed was rather consistent, and therefore dependable. This is what we expect from high-performing VPNs.
While Hide.me isn't as fast ExpressVPN, NordVPN or PIA VPN, its New York speeds were still very encouraging.
Slightly high latency
While Hide.me's download speeds are very good, the same can't be said of ping times. Latency was in fact rather high in our tests, even connecting to nearby VPN servers.
The VPN's UK average ping time came in at 23ms, which is poor compared to top-rated services. Our ExpressVPN review and Surfshark analysis show how a top VPN should have a ping time of 10ms or less.
Ping time or latency refers to the delay in your internet connection when attempting to connect to another server. Gamers using a VPN need one with low latency to avoid lag. We recommend these VPNs for lag-less gaming.
Security & Technical Features
Hide.me is secure but its kill switch is unreliable
| Protocols | Available in Hide.me |
| --- | --- |
| IKEv2/IPSec | Yes |
| OpenVPN (TCP/UDP) | Yes |
| SoftEther | Yes |
| SSTP | Yes |
| TLS VPN | Yes |
| WireGuard | Yes |
| Encryption | Available in Hide.me |
| --- | --- |
| AES-128 | No |
| AES-192 | No |
| AES-256 | Yes |
| Blowfish | No |
| ChaCha20 | No |
| Security | Available in Hide.me |
| --- | --- |
| DNS Leak Blocking | Yes |
| First-party DNS | Yes |
| IPv6 Leak Blocking | Yes |
| Supports TCP Port 443 | Yes |
| VPN Kill Switch | Yes |
| WebRTC Leak Blocking | No |
| Advanced Features | Available in Hide.me |
| --- | --- |
| Ad Blocker | No |
| Dedicated IP | No |
| Double VPN | No |
| Smart DNS | No |
| Static IP | No |
| SOCKS | Yes |
| Split Tunneling | Yes |
| Tor over VPN Server | No |
| Tracker Blocker | No |
Hide.me uses industry-standard AES 256-bit encryption to hide your IP address and keep your connection secure on WiFi networks.
The VPN service allows you to use a very wide range of connection protocols, including WireGuard, OpenVPN (UDP/TCP), IKEv2, SoftEther, and SSTP. Both the desktop and mobile apps allow users to choose between all of these protocols. It's good to see consistency across Hide.me's apps.
Other security features include built-in leak protection, custom DNS functionality, IPv6 support, and Stealth Guard. There's also a kill switch to protect your IP address in the event of an unexpected connection drop.
Hide.me recently introduced a multihop tool, too, which means you can establish a double VPN connection for extra privacy. It works by manually selecting an entry and exit server combo, which you can then add to a list of favorites.
Hide.me has no leaks
Our VPN leak tests prove that Hide.me doesn't leak any DNS, IPv4/IPv6 and WebRTC address credentials.
Hide.me supports IPv6 traffic thanks to a dual stack solution that automatically connects you to IPv4 or IPv6. It's a neat solution that many other VPNs currently don't have.
Zero trackers in Hide.me's Android app
We ran Hide.me's Android app through the εxodus tool, which generates a report on the trackers and permissions present in the application.
We can confirm that Hide.me's Android app contains zero trackers and 11 permissions, including two that are considered 'dangerous' or 'special' according to to Google's protection levels.
While the VPN app isn't as permission-free as Astrill VPN's, which has no permissions at all, there's nothing that threatening about the permissions we detected.
Hide.me is virus-free
Hide.me is completely free of viruses. We scanned the Hide.me installation software through VirusTotal.com, and no viruses or malware were detected.
Users of Hide.me Free also benefit from exactly the same level of security as its paid subscribers, making it one of the most secure free VPNs available.
Wide range of security features
The VPN comes with a Stealth Guard feature, which lets you choose applications or services that won't operate unless you're connected to a VPN server.
Stealth Guard helps make sure you don't accidentally use an app or service that would compromise your privacy without the security of a VPN.
You can also set up custom DNS functionality and choose to use a random port for every connection, which is sometimes called Dynamic Port or Ephemeral Port. This makes it harder for ISPs to track and block your VPN use.
The VPN service even comes with a password generator and a DNS leak test tool.
Unreliable kill switch
Hide.me's security is strong, but it's not without weaknesses.
While testing the VPN we received multiple warnings that the kill switch could not be enabled, suggesting that we contact the support team.
A fully-functional VPN kill switch is essential for any premium VPN service. It's disappointing that Hide.me is still experiencing bugs with such an important feature.
Streaming
Good choice for streaming & torrenting
We tested both versions of Hide.me to understand how well it works with streaming services like Netflix, BBC iPlayer, and Disney+.
Hide.me has streaming-optimized servers for:
Netflix France
DAZN Germany
Netflix Germany
DAZN Italy
Disney+ Italy
Netflix Italy
RAI Italy
BBC iPlayer
Disney+ UK
Netflix UK
Netflix US
Disney+ US
Hulu
Amazon Prime Video
ESPN
HBO Now
Hide.me's Netflix servers streamed six libraries: US, UK, France, Germany, Italy, and Japan.
Unblocking six Netflix regions is a good feat, but the highest-rated Netflix VPNs can stream over 30 libraries.
Hide.me streams BBC iPlayer, Disney+, HBO Max and Hulu
Hide.me works very well and reliably with BBC iPlayer through its optimized server.
The VPN has three UK streaming servers for BBC iPlayer, Disney+, and UK Netflix and all work effectively.
Hide.me successfully bypasses many streaming US geo-restrictions, unblocking HBO Max and Hulu content.
Hide.me Free doesn't work with US Netflix
The free version of Hide.me used to work with US Netflix and BBC iPlayer but no longer does. The free version also doesn't work with other georestricted streaming sites, like HBO Max and Hulu.
Combined with the 10GB data limit, this means we don't recommend Hide.me Free if you're looking to stream video content regularly.
In our Windscribe streaming tests, the free VPN unblocked 6 Netflix regions, but not the US library.
To unblock US Netflix with a free VPN, we recommend using either PrivadoVPN or VPNhub (mobile-only VPN).
Torrenting
Hide.me supports P2P torrenting
Hide.me is a suitable VPN for torrenting. It's P2P-friendly, has robust security in place, and has experienced no data exposure scandals. It also has a good average download bitrate of 9.6MiB/s.
We've found the kill switch to be faulty in the past, but Hide.me has improved it since.
Hide.me also offers a specialized SOCKS (shadowsocks) proxy that can be used for faster P2P connections.
The shadowsocks proxy is unencrypted, but you can use it with the VPN for added protection.
EXPERT TIP:
To torrent safely with Hide.me:
Activate the "Stealth Guard" feature
Ensure the VPN Kill Switch is enabled
Bind your torrenting client to the VPN via the SOCKS proxy
Connect to a P2P-friendly Hide.me server
Verify there are no leaks using our torrent IP leak test tool
Overall, Hide.me is a secure and P2P-friendly VPN. However, its limited server network and unreliable kill switch means there are better torrent VPNs available.
Hide.me Free allows P2P activity on three servers
There are no speed restrictions on torrenting traffic, and the 10GB data limit is more generous than the majority of competing safe free VPNs.
The service recommends using its Stealth Guard feature for safe torrenting. This option provides additional security by limiting your VPN connection to specific apps and services. This way, you can avoid connecting to your torrenting client without VPN protection.
Server Locations
2,000 VPN servers in 46 countries
46 Countries
75 Cities
7,600+ IP Addresses
Hide.me has a good-sized server network. The paid subscription plan offers 2,000 servers in 75 city locations, and between four and eight IP addresses per server.
Hide.me's server emphasis is mainly on Europe and North America, with a number of city-level choices to choose from. There are two city servers in the UK (London, Manchester), two in Spain (Barcelona, Madrid), two in Germany (Berlin, Frankfurt), two in Italy (Milan, Rome), and two in Switzerland (Zug, Zurich).
The US comes out best with 9 city-specific server locations:
Ashburn, Virginia
Atlanta, Georgia
Dallas, Texas
Las Vegas, Nevada
Los Angeles, California
Miami, Florida
New York City, New York
Phoenix, Arizona
Secaucus, New Jersey
Australia is also well represented with Adelaide, Brisbane, Melbourne, Perth, and Sydney servers all available.
There is more than enough choice for most VPN users. However, it still doesn't compare to server coverage from other top VPNs the likes of Private Internet Access, which has 17,087 in 84 countries.
Limited servers in Asia, Middle East & South America
Hide.me has some servers for Asian, South American and Middle Eastern countries, but the number doesn't compare anything to the Western nations and they are limited to single-city connections.
Asia is represented by Cambodia, Hong Kong, Indonesia, India, Philippines, Singapore, Taiwan, and Japan.
You can get an Africa IP address by connecting to either Morocco or South Africa only.
For South America, you can only connect to Brazil. Although this is a 10GB connection.
Highly secure servers
Hide.me's servers are very secure. The company claims the entire network is "hand-picked, security-hardened and self-maintained."
Hide.me does not use any virtual servers. Instead, it rents an all-physical server network from several third-party hosts.
A Hide.me representative told us:
"We do not own physical hardware, we choose all third party hosting providers very carefully, so we can assure that there are certain security standards in place (ISO 27001) and no unauthorized person could access our servers."
Choosing to rent VPN servers from third parties doesn't pose inherent security risks as long as the third party and the hardware are vetted properly.
Hide.me Free has 8 server locations
Hide.me Free is limited to 8 including Canada, France, Germany, Netherlands, Spain, the UK and the US (East Coast and West Coast). The free Singapore server was removed but has since returned.
Hide.me Free offers more countries than most other free VPNs. Proton VPN, for example, only has 3.
Bypassing Web Censorship
Hide.me rarely works in China
Hide.me VPN includes a number of features aimed at use in highly-censored countries like China.
Throughout 12 months of China VPN tests, Hide.me has worked 9% of the time. This is quite poor, but it's not always blocked like some VPNs.
Hide.me should be much more effective as an anti-censorship VPN in countries with less robust firewalls, like Russia, the UAE, and Turkey.
Hide.me's obfuscation tool
Hide.me's partial success is down to its proprietary TLS-Crypt obfuscation tool. Described as a "security hardened OpenVPN," this feature disguises VPN traffic and makes it much harder for web censors to identify and block it.
According to Hide.me, TLS-Crypt:
"Adds a round of encryption and decryption operations on each OpenVPN packet by using a pre-configured static key. This means that each OpenVPN packet gets encrypted twice, once with the static key and once with a TLS symmetric key."
TLS-Crypt is downloadable from the Hide.me members area once you've purchased a subscription.
Hide.me also manages its own encrypted DNS servers that protect your website requests and prevent malicious third parties from monitoring your activity. This is an essential feature of any VPN service looking to bypass censorship.
Nearby server locations include Hong Kong, South Korea, India, and Japan. Servers close to China will typically deliver higher VPN speeds.
SoftEther support
Hide.me also supports UDP and TCP SoftEther connections.
SoftEther is a multi-protocol solution designed to penetrate firewalls by using HTTPS to mask your VPN traffic. This is another tool that can help circumvent heavy censorship in countries like China.
The Hide.me website provides instructions on how to set up the VPN with SoftEther, so you shouldn't have any trouble using it, even if you're a beginner.
The Chinese government has blocked Hide.me's website and listings on the iOS App Store and Google Play Store. As such, make sure you download the VPN software before you travel.
Device & OS Compatibility
Widely compatible VPN
Apps
Windows

Mac

iOS

Android

Linux

Router
It comes with a generous simultaneous device limit of 10 connections, which is higher than most VPN services.
You can also use Hide.me on Linux, which is available as an open-source project on Github, and uses the WireGuard protocol.
Wide device & router support
You can also install the VPN on a number of other devices, with detailed installation setup guides available on the Hide.me website.
The VPN service is compatible with the additional platforms below:
Blackberry
Fedora 24+
LibreELEC "Kodi"
OpenELEC "Kodi"
pfSense
QNAP
QNAP Legacy
Synology DSM
It's rare for a VPN service to function on this many additional platforms, making Hide.me one of the most widely available VPNs we've come across.
The VPN is also compatible with many routers too, including the below models:
Asus-WRT
Asus-WRT Merlin
DD-WRT
DD-WRT Legacy
Mikrotik RouterOS
OpenWRT
OpenWRT Legacy
Tomato
Installing Hide.me on your router will protect all of the devices on your home network with one VPN connection.
Games consoles & streaming devices
Apple TV

Amazon Fire TV

Android TV

Chromecast

Nintendo

PlayStation

Roku

Smart TV

Xbox
In terms of TV streaming devices, Hide.me has a native app for the popular Amazon Fire TV Stick.
Sadly, there is no Smart DNS tool. To use Hide.me with a games console, Apple TV or Roku, you'll need to set the VPN up on your router.
Or, connect your streaming/gaming device to your computer or smartphone's hotspot while the VPN is running.
Browser extensions
Hide.me provides proxy browser extensions (as well as a free web proxy called Hide.me Proxy) for:
Chrome

Firefox
You can add these proxy extensions to your browser with a simple click from inside the VPN application, or from the Hide.me website. They require no registration of any kind.
The free browser extensions allow you to connect to servers in Canada, Germany, and Netherlands. This means the extensions can't stream US Netflix or BBC iPlayer.
In Hide.me proxy's settings menu, you have options to Enable SOCKS, Disable WebRTC, and change languages. There is no data cap either – you can use the proxy for as long as you want.
These extensions are an incredibly simple and cheap way of using a proxy to spoof your location. They will change your IP address quickly and protect you from WebRTC leaks.
That said, remember that a proxy will not encrypt your traffic like a VPN does. We recommend you download the full free VPN instead.
Ease of Use
Advanced but unreliable applications
How to Install & Set Up Hide.me
Hide.me's VPN applications are mostly simple to use and come with a similarly designed interface to most premium VPNs.
At the same time, the clients are full of advanced features. But, the apps were frustratingly unreliable at times – Hide.me crashed or lost connection several times during our testing.
macOS client
Hide.me's Mac app starting screen opens with a large 'Enable VPN' button that will connect you to the nearest server.
You can see a full list of country and city-level server locations on a separate menu along with basic information about your VPN IP address and location.
However, the quick connect feature via the menu bar doesn't list what streaming services the servers are optimized for.
For example, there are six streaming servers for the US, all marked indistinguishably as 'United States'. To find out which works with US content platforms, you must expand the window and head to the main Hide.me screen, making the quick connect feature pointless.
Moreover, there is no usage or server load data displayed per server. It's therefore difficult to judge which server will deliver the best speed performance.
On the plus side, there's the ability to customize your DNS servers, MTU settings, and even port choices for OpenVPN.
Hide.me's macOS app includes support for Apple Silicon and Big Sur and additional advanced features include split tunneling, IPv6 support, Stealth Guard, and the ability to run custom scripts when your connection drops.
Windows client
Hide.me's Windows client is identical to its Mac client in most ways. It comes nicely packaged with custom DNS, split tunneling, Stealth Guard, a kill switch and a diverse selection of security protocols.
The Windows version has a toggle option to turn on Fallback Protocol, which the Mac app does not. If your selected protocol stops working for whatever reason, Hide.me will automatically re-establish the connection.
Android & iOS applications
Hide.me's mobile apps are very good, equipped with an extensive settings menu that retains the functions of the desktop apps.
The options, buttons and user interface are all well presented and easy to navigate.
There are two small differences between Hide.me's Android and its iOS client. The iOS app comes with a toggle option to select or deselect 'No random port on every connection,' while the Android app does not.
On the flip side the Android client has a neat split tunneling option in its settings menu to select apps that you do or don't want to connect through the VPN.
Split tunneling is useful as some services may not work when using a VPN, such as online banking. Hide.me's iOS client lacks this feature.
Unreliable functioning
Though easy to use, the Hide.me applications were often unreliable during our tests.
While testing the macOS VPN client, the app shut down or the connection dropped unexpectedly. It would also often become unresponsive when trying to use a feature or switch servers.
These kind of issues can make for a frustrating user experience if they happen on regular basis.
Random connection drops aren't completely uncommon, which is why a VPN kill switch is an important feature. However, Hide.me's kill switch was only effective intermittently: sometimes it worked, sometimes it didn't.
Hide.me warns you about its kill switch not working, but it means getting in touch with support or rebooting the VPN.
Connections would also take a long time to establish, and sometimes wouldn't establish at all. This was one of Hide.me's biggest drawbacks in our experience.
Customer Support
Useful live chat support
| Customer Support | Available in Hide.me |
| --- | --- |
| 24/7 Live Chat Support | Yes |
| 24/7 Email Support | No |
| Chatbot | No |
| Email | Yes |
| Email Support via Online Form | Yes |
| Tutorial Videos | Yes |
| Online Resources | Yes |
Hide.me has an extensive customer support system including helpful setup videos, a comprehensive online knowledgebase, and 24/7 live chat support. Customer support is exactly the same for Hide.me Free users, too.
You can even request a support ticket from within the app, which is extremely convenient and perfect for VPN beginners.
We tested out the live chat feature on the Hide.me website's main page. Our inquiry was automatically sent as an email rather than commencing a live chat, so it seems the service is not always 24/7.
That said, we found Hide.me's live chat agents fast and somewhat informed in their responses.
For more complex queries, we were asked to send a support email. But if you have a simple question, then the live chat team is helpful. The ticketing system is privacy-focused, letting you opt out of sending logs and system diagnostics.
There's also an in-app messaging system that keeps you up to date on the latest Hide.me developments, including the addition of new servers and extra features.
Price & Value
Good value for money
Hide.me has three pricing plans, which are:
Hide.me is a good VPN and $4.99 per month ($59.95 paid upfront every 12 months) is a reasonable price to ask.
Still, many top VPNs are more affordable, including NordVPN, CyberGhost, and Surfshark. There's hardly any reason to buy Hide.me over them.
Payment & refund options
You can pay for your Hide.me subscription via a number of popular payment methods, and some less popular ones, including:
American Express

Bitcoin

Mastercard

Monero

PayPal

SOFORT

Visa
This gives users plenty of options to choose from. If that's not enough, there are also 80 anonymous payment options available. Some of these include:
Bitcoin (BTC)
Bitcoin Cash (BCH)
Dash (DASH)
Dogecoin (DOGE)
Ethereum (ETH)
Ethereum Classic (ETC)
Litecoin (LTC)
NEO (NEO)
Peercoin (PPC)
PIVX (PIVX)
Verge (XVG)
Zcash (ZEC)
ZenCash (ZEN)
30-day money-back guarantee
Hide.me offers a generous 30-day money-back guarantee on its service.
This policy gives you access to the Hide.me premium service for one month with a guarantee that you'll get a full refund if you're not satisfied.
No free trial but a good free (limited) plan
Hide.me doesn't offer a free trial in the true sense of the term. But it does offers a completely free VPN that requires no registration, no payment details, and serves no ads.
Free users get full customer support, access to all the connection protocols (except for WireGuard), and the same level of privacy and security as paid users.
However, the free VPN is limited to 8 server locations: Canada, France, Germany, Netherlands, Singapore, Spain, the UK, and the USA (East & West Coast).
You can only use the free app on one device at a time, unlike the 10 simultaneous devices that come with the premium subscription.
The free version is also limited to 10GB of data usage per month, which equates to about 10 hours of streaming time.
But, the free VPN does not support P2P traffic and lacks the advanced configurations available on the paid plan. It's also unlikely to stream US Netflix, Disney+, or other popular services.
There are no speed restrictions while within this data limit, making Hide.me Free one of the fastest free VPNs available.
Once the 10GB data cap has been exceeded, you can continue using the service but Hide.me will restrict you to one server only.
The Bottom Line
Hide.me is a safe and trustworthy VPN
Hide.me's free and paid VPN apps are above-average, and will effectively hide your IP address, encrypt your web browsing traffic, and protect your data on public WiFi.
Both versions of the VPN deliver fast speeds and a good range of advanced configuration options. The logging policy is privacy-friendly and its customer support system is excellent.
Moreover, Hide.me's optimized US servers are perfect for streaming American Netflix. The fact Hide.me can stream BBC iPlayer, HBO Max, and Hulu is also impressive.
We recommend the free version of Hide.me for those looking to test a secure free VPN. The paid subscription plans are ideal for users looking to prioritize their online privacy.
While Hide.me is a good streaming and torrenting VPN, there are better VPNs on the market that better fulfill those purposes.
Alternatives to Hide.me
ExpressVPN
ExpressVPN is more reliable than Hide.me, and it's our top-rated VPN. It's more expensive than Hide.me, but the upside makes it worth the higher price. Read ExpressVPN review
Surfshark
Surfshark is a budget alternative to Hide.me. It's cheaper than Hide.me and it's also a better service all-round. It's faster, and it's far better for streaming and torrenting. Read Surfshark review
---
User Feedback for Hide.me