Disclosure: Top10VPN.com is reader-supported. We may earn commissions if you buy a VPN through links on our site.
Our Verdict
IPVanish is the best VPN for Kodi, Fire TV Stick and Android devices. It has fast same-country speeds, and advanced security features ideal for torrenting. It also unblocks US Netflix, although not every server will do this. Sadly, it won't work with Disney+ or BBC iPlayer, and it won't work in China, either.
IPVanish is an American VPN service that claims to "make your real IP address disappear." We tested every IPVanish VPN app inside out and in this review we'll detail our latest findings.
Overall, we found that IPVanish is incredibly secure. It uses industry-standard encryption protocols like OpenVPN and IKEv2, alongside the unbroken AES-256 cipher. Its connection speeds are very fast, and there is an impressive list of added features including split tunneling, a kill switch, and IPv6 leak protection.
Users have access to 1,400+ servers and over 40,000 IP addresses – one of the largest networks on the market in 2020. The company owns and manages all of its servers too, which is great news for security.
Also IPVanish VPN is good for streaming. It unblocks US Netflix and it has one of the best apps for Amazon's Fire TV Stick. We recommend it for streaming Kodi, thanks to its great compatibility with Android devices. The VPN service has very fast P2P-friendly servers, and also offers a SOCKS5 proxy, which make it an ideal VPN for torrenting, too.
However, while it's been a completely no-logs VPN since 2017, under Highwinds' previous ownership IPVanish did share user data with US law enforcement, which its logging policy stated it did not collect.
We also found some issues with the iOS app, and we were unable to unblock BBC iPlayer or Disney+, which is disappointing. Moreover, and by IPVanish's own admission, it isn't a great choice for use in China or any highly-censored country, either.
Overall, IPVanish is clearly a top-tier VPN especially for Android, Kodi and Firestick users. It's highly secure, works with US Netflix, and has the speed and privacy profile necessary for anonymous torrenting.
Keep reading our detailed IPVanish VPN review below, starting with the service's pros and cons.
IPVanish Pros & Cons
Fast same-country speeds
Best VPN app for Firestick & Kodi
Great for anonymous torrenting
Over 40,000 anonymous IP addresses
Zero-logs & no IP address leaks
Strong security features
Inconsistent access to Netflix
Doesn't unblock BBC iPlayer or Disney+
Doesn't work in China
Based in privacy-unfriendly US
Previous ownership handed data to the FBI
IPVanish Key Summary
| | |
| --- | --- |
| Data Cap | Unlimited |
| Speed | 84Mbps |
| Logging Policy | No Logs |
| Data Leaks | No |
| Jurisdiction | US (Five-Eyes Member) |
| Servers | 1,400+ |
| IP Addresses | 40,000+ |
| Countries | 57 |
| US Netflix | Yes |
| Torrenting | Unlimited |
| Works in China | No |
| Support | Live Chat |
| Cheapest Price | $2.91/mo for 12 months |
| Official Website | Ipvanish.com |
Does IPVanish keep logs?
Logging & Jurisdiction
IPVanish is a zero-logs VPN provider. This means it does not keep any record of your connection data or browsing activity.
We investigated the privacy policy in-depth to make sure that the company's claims are accurate. We found that it is clearly-written and very transparent; it explicitly states that it does not keep traffic or even metadata logs:
"IPVanish does not collect, monitor, or log any traffic or use of its Virtual Private Network service on any platform."
To summarise, IPVanish's logging policy is as private and transparent as it gets. The only information collected is an email address and payment method in order to process transactions.

The VPN does not:
Log user traffic or usage of the VPN service
Sell or rent user information to third parties
It's a strong logging policy, that we're more than happy with. It's enforceable and prioritizes user anonymity, privacy, and security.
Considering most VPN logging policies track at least server load or login information for maintenance purposes, this makes IPVanish a standout VPN for privacy.
Even better, unlike many top VPNs IPVanish does not limit the number of simultaneous connections of it's service. This means it doesn't need to keep any information about whether or not you are connecting to its system.
Competing VPN providers such as NordVPN and VyprVPN have reassured their customers by investing in external audits by independent third parties. We'd like to see IPVanish follow suit to verify their logging practices.
FBI Co-operation
No IPVanish review would be complete without covering the data-sharing incident of 2016, when the company's previous owners (Highwinds Network Group) collaborated with the FBI by handing over information it should not have had according to its "no-logs" policy.
What's concerning about this case isn't that a criminal was brought to justice, but that the information IPVanish provided was only available because the company had been logging information its privacy policy explicitly stated it would not.
It was able to identify the user in question from a record of the IP address they had used and the time they had used it.
At the time of the case, IPVanish's logging policy was very similar to its current one. In other words, the company could not have accessed this metadata without breaching its own logging policy.
The details of the case ‒ specifically the crimes being investigated ‒ do not make for pleasant reading. We've read through the official affidavit and picked out all the relevant information, but we haven't linked to it due to the disturbing nature of its contents.
The following excerpt shows the information IPVanish was able to share with the FBI based on a user "with IRC traffic using IP 209.197.26.72, port 6667":
The severity of the crime in question certainly justifies IPVanish's decision to hand over logs to the FBI, but it absolutely does not justify the fact that these logs existed in the first place.
Fortunately, this issue has been resolved. IPVanish was acquired by StackPath in 2017 and its new management guarantees that they do not store any logs.
The current owners are very clear: this incident occurred under previous management. Stackpath had no knowledge of the incident when it acquired IPVanish and unlike previous management, it sticks strictly to its no-logging policy.
We firmly believe the IPVanish leadership when they state the company does not collect user logs. However, we would like to see a comprehensive third-party audit of its logging policy and infrastructure to firmly put this incident in the past.
Who Owns IPVanish?
IPVanish is one of the longest-running commercial VPNs available, founded in 2012 by Mudhook Media, part of the Highwinds Network Group.
In 2017 it was acquired by Stackpath, a CDN, cloud services, and firewall company. Two years later, Stackpath itself was acquired by online media giant J2 Global.
Stackpath has focused on acquiring and running VPN services for many years, and has plenty of experience in the area. The company owns several other VPN services including StrongVPN and Encrypt.me.
In short, IPVanish has changed ownership several times in the past few years. This could be seen as a drawback – it takes a while for a VPN provider to establish trust, and this trust is effectively reset every time it comes under new management.
In the case of IPVanish, though, its acquisition by Stackpath and J2 Global is a positive step for privacy. As we've covered, the previous management was involved in some controversies, so the arrival of a new owner with a strong reputation in the VPN industry is more than welcome.
Throughout its many acquisitions, IPVanish has always been operated by companies headquartered in the US ‒ a member of the Five-Eyes data sharing agreement.
This means the company can be forced to hand over any logs it has to government agencies. It's also home to the NSA, which was infamously caught spying on its own citizens.
This is only a problem if IPVanish has any logs to hand over. Since its acquisition, the company has been working hard to enforce its zero-logs policy, so its invasive jurisdiction is less of an issue.
Overall, it's clear that IPVanish is now a private and transparent VPN. However, given the provider's controversial history under previous ownership, we would like to see an independent audit of its privacy policy and network infrastructure to verify its zero-logging practices.
How secure is IPVanish?
Encryption & Security
Protocols

IKEv2/IPSec

L2TP/IPSec

OpenVPN (TCP/UDP)

PPTP

Encryption

AES-256

Security

DNS Leak Blocking

First-party DNS

IPV6 Leak Blocking

Supports TCP Port 443

VPN Kill Switch

Advanced features

SOCKS
Please see our VPN Glossary if these terms confuse you and would like to learn more.
IPVanish is a safe VPN with strong security. It protects your data with industry-leading AES-256 encryption and supports the highly secure protocols OpenVPN, IKEv2, and L2TP/IPsec. We tested all of its apps and found they work to effectively hide your IP address, encrypt your data, and protect you from IP, DNS, WebRTC, and IPv6 leaks.
Advanced features include traffic obfuscation, split tunneling, DNS and IPv6 leak protection as well as the ability to manually configure your DNS settings. There's also a VPN kill switch to keep your data secure in case of a connection drop. This isn't turned on by default and it's not available on iOS, so make sure to switch it on before connecting.
The apps also offer an unusual level of control over your OpenVPN configuration, and there's even a SOCKS5 proxy available for torrenters.
The Windows app lets you choose a PPTP or SSTP connection as well, both of which are insecure and outdated protocols. Considering IPVanish's apps support much more secure protocols, we aren't sure why these outdated standards are still available. This is a minor blemish on an otherwise clean record, though.
A significant strength for IPVanish is the fact that it "personally manages [its] entire server network." This is a rare attribute amongst competing VPN services, and it reduces the potential for security errors at the server-level. We'll go over the full benefits of this in the server section of this review.
Some of the apps do lack a few key features, in particular the iOS app, but they are still fast and secure.
Overall, IPVanish is one of the most technically secure commercial VPN services available, offering an advanced suite of features suitable for both beginners and experienced VPN users.
IPVanish Leak Test
We tested IPVanish's apps for leaks and found that it does not leak IP, DNS, or WebRTC data.
As you can see, our DNS, IP, and WebRTC addresses were all registered in the US, which is the location of the VPN server we connected to. There is absolutely no sign of our true location in the UK, which is a great result.
Our tests show that IPVanish works to effectively hide your IP address and true location, which means that you can use the service to unblock foreign websites and stream content from different countries.
Wireshark Packet Inspection
After testing for leaks, we continued our analysis by inspecting the traffic leaving our device when connected to a server. This allows us to make sure that the VPN client is encrypting our data effectively.
We did this test using Wireshark, a free and open-source packet inspection tool.
We were unable to find any data being sent across our network in plain text. We found no unencrypted TCP or UDP traffic, and no HTTP or DNS traffic traveling in plain text.
This shows that IPVanish is working exactly as intended and fully encrypting all the traffic leaving our device. You can therefore trust IPVanish to hide your activity from your ISP or protect your data on public WiFi networks.
Malware & Permissions
We also ran the desktop client through the Malwarebytes scanner to make sure it is safe and free from viruses and malware.
The IPVanish app passed without any trouble ‒ we found it to be both virus- and malware-free.
Finally, we used the εxodus tool to test the Android application for intrusive or excessive device permissions.
The results show two trackers present: Google Crashlytics and Google Firebase Analytics. These are both commonly used troubleshooting tools that collect information about how you use the app and send it back to IPVanish.
This isn't too concerning ‒ lots of VPN apps use Firebase and Crashlytics ‒ but it also isn't the perfect model for privacy. We've seen Astrill produce an app without trackers, and we want to see other VPN providers follow this example.
The app also asks for some unnecessary permissions, the most egregious of which is "READ_EXTERNAL_STORAGE." There is no justification for a VPN reading external storage, and we find its inclusion concerning.
There are lots of reasons VPN providers put permissions into their apps, but in truth only a few are necessary to run the service. We hope this is something IPVanish will improve upon in the future.
Overall, all of our security tests demonstrate that IPVanish is an incredibly secure and safe VPN service. It offers unbreakable AES-256 encryption, a good selection of advanced security features and its apps are completely leak-free.
If you're looking to avoid ISP spying or stay safe on untrustworthy WiFi networks by encrypting your internet traffic, IPVanish is a great choice.
How fast is IPVanish?
Speed & Reliability
IPVanish is very fast on local connections. We recorded an average download speed of 93Mbps on nearby servers, which is very good. This works out as a speed loss of less than 10%, which makes it one of the fastest VPNs we've ever reviewed. There are still some faster options available though, such as NordVPN.
Even on long-distance connections, IPVanish didn't slow down our Internet connection too much, with an average download speed of 53Mbps from the US. This means it is fast enough for torrenting and HD streaming even on international connections.
We also found IPVanish to be very reliable and stable. The client connected to the VPN server remarkably quickly ‒ sometimes in less than one second.
Complete with unlimited bandwidth, these speeds mean you can access the internet, send emails, and stream video content without interruption. You can find the full results of our speed tests below.
Local Speed Test Results
Before using IPVanish:
93.76

97.58

Ping

ms

2
When connected to IPVanish:
84.13

90.33

Ping

ms

7
We tested our connection speed before and after connecting to an IPVanish server in London, near our physical location. Here are the results:
Download speed without IPVanish: 93.76Mbps
Download speed with IPVanish: 84.13Mbps
Our download speed loss when IPVanish is running: 10%
Our average speeds and latency when using IPVanish were amongst the best we've seen. Our ping was only 7ms on a local connection, which is ideal for gaming.
In terms of performance, it's also one of the most reliable VPN services we've reviewed, providing consistent local speeds from one test to the next, month after month.
This makes IPVanish an ideal VPN for torrenting, streaming, and one of our top recommendations for gaming.
Long-Distance Speed Tests
We tested how IPVanish performs on long-distance connections by measuring our internet speeds before and after connecting to its servers around the world.
While its local speeds are very fast, IPVanish's global speeds aren't quite as impressive. We measured an average download speed of 53Mbps in the US, which is a percentage speed loss of 44%. This isn't bad considering the distance involved, but doesn't measure up to some of the fastest VPNs on the market.
Connections to Australia and Singapore weren't bad either, both with an average download speed loss of approximately 75%. These results are passable, but aren't as strong as those of other providers like ExpressVPN.
Here are the average speeds we got when we connected to servers around the world from our office in London:
USA: 53Mbps (download) & 37Mbps (upload)
Germany: 76Mbps (download) & 81Mbps (upload)
Singapore: 25Mbps (download) & 2Mbps (upload)
Australia: 24Mbps (download) & 6Mbps (upload)
Overall, IPVanish is more than fast enough to browse the internet, stream video content or torrent files on both local and international connections. While it isn't the fastest VPN out there, it's definitely above average.
How Fast is IPVanish Compared to Other VPNs?
As well as manual tests, you can look at our custom VPN speed testing tool results for IPVanish.
The graph below compares IPVanish's average loss of internet speed to other popular VPNs while running on our New York server.
Speed tests run automatically four times per day. Test connection speeds are capped at 100Mbps to recreate a typical home internet connection.
This chart shows the average speed loss experienced by the VPN each week when compared to using a normal 100Mbps internet connection with no VPN at all – the lower the percentage the better.
You can check results as far back as the past eight weeks – that way you can get a good impression of how reliable IPVanish is, not just how fast it can be.
Use our Speed Test Tool to compare IPVanish's speeds across different cities.
We've seen consistently strong speeds from IPVanish over the last few months, consistently outperforming ExpressVPN – one of the most popular VPNs on the market – for download speed on a New York to New York connection. Upload speeds have remained strong and reliable, too, although haven't quite beaten other major VPN providers.
Ping has been exceptionally reliable, hovering at around 2ms on a New York to New York connection. This is great for streaming video on any platform including Firestick.
Internationally, IPVanish hasn't been quite as strong, staying around 15Mbps slower than rivals for download speed, and not beating them in upload speed on a London to New York connection.
40,000+ IP addresses across 77 locations
Server Locations
57
Countries
77
Cities
40,000+
IP Addresses
IPVanish has a large network of 1,400+ servers in over 85 locations, all of which are entirely self-owned and managed. Users also have access to over 40,000 IP addresses, which is one of largest networks we've ever seen.
A large number of IP addresses helps to prevent server congestion and performance while connected to popular locations.
The network includes servers in most European countries and over 500 servers in North America, although the choice is more limited outside these regions – particularly in Africa. Here's a breakdown of exactly how many servers are available in each region:
North America: 822
Europe: 434
Asia: 66
Oceania: 83
South America: 32
Africa: 12
There has never been a security or infrastructure breach in IPVanish's history, and we consider It one of the most trustworthy providers from a security perspective.
City-level server locations are available in the US, UK, Canada, Australia, and Brazil. You can find the full list of city-level locations below:
UK: Manchester, London, Glasgow
Canada: Toronto, Vancouver, Montreal
Australia: Sydney, Melbourne, Brisbane, Perth
Brazil: São Paulo, Rio De Janeiro
US Central: Chicago, Dallas, Denver, Houston
US East Coast: Ashburn, Atlanta, Boston, Miami, New York
US West Coast: Las Vegas, Los Angeles, Phoenix, Salt Lake City, San Jose, Seattle
You can connect to servers in 51 different countries. The full list of server locations is on the IPVanish website.
Overall, IPVanish has a diverse international server network that gives users access to a huge number of locations and IP addresses. There are a relatively small number of city-level server locations in Australia, and we'd like to see more servers in South America. However, the high number of VPN servers in total is enough to offset these minor complaints.
Server Ownership & Geolocation Testing
In recent years we've seen some VPN providers overextend their server networks causing security vulnerabilities ‒ the NordVPN hack in 2018 is a good example of this.
Many VPN companies rent large portions of their infrastructure in order to provide lots of server locations around the world. Some providers are upfront about how they retain control over their network when it is rented from third parties, and some are much less transparent.
It is also common for VPN companies to use virtual server locations, which provide users with an IP address in a certain country even if the physical server is located elsewhere.
Both of these variables can come with security concerns if not implemented effectively, which means it is particularly important that your VPN takes the management of each server seriously.
IPVanish owns and manages its own servers rather than renting hardware from other companies, giving it much more control over how its servers are installed, managed, and operated.
We spoke to an IPVanish representative who claims that all of the provider's servers are owned rather than rented, and all of its server locations are physical rather than virtual.
It's very rare for a VPN provider to own its entire server network ‒ only VyprVPN and AzireVPN compare. To have such a large server network that is 100% first-party owned and managed is a huge security advantage and a unique selling point of IPVanish.
We ran several IPVanish servers through a geo-location test to determine whether they really are physically located where they're supposed to be. We did this using the App Synthetic Monitor Ping tool, which pings a URL from 50 different monitoring stations worldwide.
The closer the monitoring station is to the physical VPN server, the lower the ping rate will be. For example, we connected to a VPN server in Frankfurt, Germany and you can see the ping between the server and the Frankfurt monitoring station is far lower than the ping from any other station:
We applied this test to 20 different IPVanish server locations around the world, looking for differences between our ping times and our supposed server location.
We tested the following locations:
Albania (Tirana, tia-c02.ipvanish.com)
Australia (Sydney, syd-a50.ipvanish.com)
Brazil (São Paulo, gru-a14.ipvanish.com)
Canada (Toronto, tor-a11.ipvanish.com)
China (Hong Kong, hkg-a08.ipvanish.com)
France (Paris, par-a19.ipvanish.com)
Germany (Frankfurt, fra-a33.ipvanish.com)
Israel (Tel Aviv, tlv-c04.ipvanish.com)
Japan (Tokyo, nrt-a06.ipvanish.com)
Mexico (Guadalajara, gdl-a09.ipvanish.com)
New Zealand (Auckland, akl-c13.ipvanish.com)
Nigeria (Lagos, los-c02.ipvanish.com)
South Africa (Johannesburg, jnb-c06.ipvanish.com)
South Korea (Seoul, sel-a04.ipvanish.com)
Spain (Madrid, mad-a04.ipvanish.com)
Ukraine (Kiev, iev-c06.ipvanish.com)
United Arab Emirates (Dubai, dxb-c02.ipvanish.com)
United Kingdom (London, lon-a16.ipvanish.com)
US East (New York City, nyc-a13.ipvanish.com)
US West (Los Angeles, la-a02.ipvanish.com)
Every one of these servers passed our geo-location tests, and we can confidently say they are all physically located in the same place IPVanish says they are.
This doesn't absolutely guarantee that the same is true of every single IPVanish server, but it serves as a strong indication. This means we can be reasonably confident that IPVanish is being truthful when making claims about how their server network is implemented.
Overall, it's clear that IPVanish has invested heavily in creating a large network of physical servers that it owns and manages themself. From a privacy and security perspective, this is the ideal setup. It's a rare find amongst today's commercial VPN providers and a huge bonus for IPVanish users.
Great for torrenting but just average for streaming
Streaming & Torrenting
IPVanish works to unblock Netflix on most of its US servers. It can take a while to load though, and some servers won't work with streaming services at all. Despite its fast speeds and large server network,this is not one of the best VPN services for streaming.
We tested IPVanish to see if it unblocks Netflix in the most popular countries around the world. Here are our results:
| Country | Unlocks Netflix | Example Server |
| --- | --- | --- |
| USA | ✓ | chi-a02.ipvanish.com |
| UK | ✗ | n/a |
| South Korea | ✗ | n/a |
| Germany | ✗ | n/a |
| Mexico | ✗ | n/a |
| Canada | ✗ | n/a |
| Japan | ✓ | nrt-a02.ipvanish.com |
We found that it works to unblock Netflix in Japan and the US, but only some of its servers worked. There are no dedicated servers for streaming either, which means you'll have to cycle through different servers until you find one that works.
If you want a VPN that has consistent and reliable access to Netflix US and many other international libraries, take a look at our Netflix VPN guide.
However, if you're looking to find a VPN that works well with Kodi or Amazon Fire TV, IPVanish is a very good choice. There are native applications for both services that allow you to stream geo-restricted content from your TV. These applications work very well – in fact, it is our recommendation for the best VPN for Firestick.
While IPVanish used to work with BBC iPlayer, all of its UK servers are currently blocked. According to a company representative, they aren't looking to fix this either. For this reason, it is simply not a suitable VPN for unblocking BBC iPlayer and we recommend you check out the top VPNs for BBC iPlayer instead. You can also read our CyberGhost review – our current top choice.
We also tested IPVanish with Disney+ and had some success, but access was inconsistent. If you want to reliably access Disney+ with a VPN, we recommend checking the VPN services that unblock Disney+.
IPVanish also confirmed to us that it isn't working with Amazon Prime Video or Hulu. Overall, it scores highly for speed and privacy but is not recommended for streaming or unblocking geo-restricted content. Access to US Netflix is inconsistent and other streaming services are blocked completely.
If you're interested in using a VPN for streaming on Kodi or Fire TV specifically however, IPVanish is an excellent choice.
Is IPVanish Safe for Torrenting?
IPVanish is a top VPN if you want to torrent quickly and safely. Not only is it incredibly fast, it also operates over 40,000 individual IP addresses, which is ideal for high-bandwidth activities like torrenting.
P2P activity is permitted on all servers and the VPN has a strict zero-logs policy. We detected no IP or DNS leaks and there is an effective kill switch on all apps except iOS, which means your true IP address will remain protected if your internet connection drops.
A good VPN will hide your true IP address when you are torrenting, making it much harder for your ISP or any copyright trolls to identify your activity. IPVanish doesn't talk much about torrenting on its website, but it caters to it very well. In fact, it performs so well that it even appears in our list of the best VPNs for torrenting.
It's worth noting that the company does have an extensive DMCA policy, and torrenting copyrighted material is explicitly forbidden in the terms of service. That said, this is true of almost all VPN services.
IPVanish doesn't log your data, so provided it sticks to its logging policy, there is no way for the company to identify which users were connected to a specific IP address at any given time. This means it won't know which user to hand a DMCA notice to.
The VPN also offers a SOCKS5 Proxy ‒ an old favorite for torrenters looking to obscure their IP addresses. The benefit of this kind of proxy is that you can configure it from directly within your torrent client without having to download any additional software.
Generally though, you will achieve better privacy and security with a full desktop VPN. We recommend connecting to your VPN before launching your torrent client and disconnecting only when you know the client is fully closed and not seeding in the background.
Overall, we recommend IPVanish for all P2P activity including Kodi, for which it's currently the best VPN service available. If you're looking for a secure VPN for torrenting, IPVanish is hard to beat. It's a truly zero-logs service with fast speeds, no leaks, a SOCKS5 proxy and a ton of privacy extras.
Not recommended for China or other highly-censored countries
Overcoming Censorship
IPVanish does not work in China or other highly-censored countries. It's not just the website's domain that is blocked in these countries – many users have also reported that the VPN apps don't work either.
While it does come with an obfuscation feature called "Scramble VPN traffic," the service is very upfront about its inability to bypass the Great Firewall.
We appreciate IPVanish's honesty on this topic, but that doesn't prevent it from being a gap in the service. If you need a VPN to get around censorship, look elsewhere. If you live or are travelling to a high censorship country you should use one of these VPNs to bypass aggressive internet censors instead.
IPVanish states that it is "forbidden to do business in":
Cuba
Iran
Myanmar
North Korea
Sudan
Syria
And that its domain, ipvanish.com, is blocked in:
China
Kazakhstan
Qatar
Saudi Arabia
United Arab Emirates (UAE)
It is unlikely the VPN service will work in any of the countries where the IPVanish domain is blocked. We have confirmed this in our own tests, where we were unable to connect to IPVanis from our Server in Shanghai China.
If you're in one of these countries and you're having trouble accessing an IPVanish server, you might be able to bypass these blocks by manually configuring your connection to an IPVanish IP address instead of a server name. However, China in particular has started blacklisting these IP addresses too, so even this might not help.
If you want to try connecting manually to an IPVanish server IP address, you can find a full list of configuration guides on the IPVanish website.
Using IPVanish With Tor
Tor (The Onion Router) is an online anonymity tool that offers the highest level of anonymity. It does this by routing your traffic through three random servers in a volunteer-managed network.
Unfortunately though, network managers like your school, university or employer can easily identify Tor traffic, and they will often block it or penalise users for accessing it. This is also the case in countries with high levels of censorship.
By connecting to IPVanish before Tor, you can disguise the fact that you are connecting to the Onion Network and therefore bypass any restrictions on its use.
There are drawbacks to this setup, though. Tor is already slow and it isn't well set up for UDP traffic – which OpenVPN defaults to. It doesn't offer any dedicated servers for Tor traffic, either.
The official word on the issue when we contacted IPVanish support is that you should expect significant speed issues when combining the VPN with Tor.
Overall, we do not recommend using IPVanish if you're located in or travelling to a country with heavy internet censorship. If that's the case, we suggest using an alternative VPN like ExpressVPN or Astrill, both of which work consistently in heavily-censored regions.
IPVanish is compatible with all major platforms & devices
Platforms & Devices
Apps
Windows
Mac
iOS
Android
Linux
Router
IPVanish offers dedicated apps for all major platforms including Windows, MacOS, iOS, Android, Amazon Fire TV, and Linux. It's easily configurable and you can even install it on your router for network-wide protection.
You can use the VPN on unlimited devices simultaneously. It's rare to see such a high performing VPN offer this. Most VPN providers, including top services like NordVPN, limit simultaneous connections to around five devices per subscription.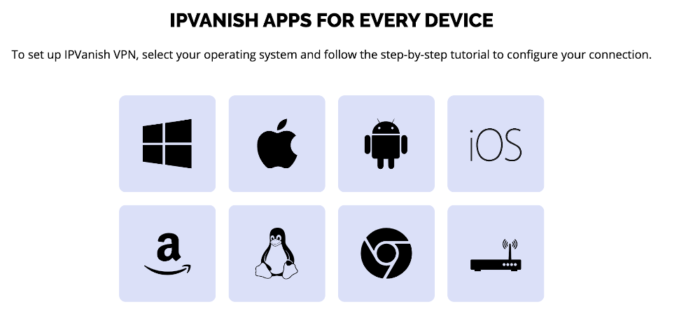 More confident users can also manually configure IPVanish to work on Windows phones, Ubuntu, Chromebook, and more.
There are no browser extensions available, which could be disappointing for some. However, we recommended using a full VPN rather than a browser extension in most cases anyway.
If you'd like to use a VPN extension with your web browser you should check out our recommendations for Chrome and Firefox addons.
Installing IPVanish on Your Router
There are two choices for getting IPVanish on your router: you can either buy a router pre-flashed or manually install the VPN on another compatible router.
Installing a VPN on your router allows you to protect your entire network with VPN encryption. This means you unblock region-restricted content and hide your IP address on devices without native VPN applications such as your PlayStation, Xbox, Roku, and more.
IPVanish's wide compatibility with routers, fast speeds, and low latency make it one of the best VPNs for gaming.
IPVanish is compatible with the following DD-WRT-enabled routers:
Asus
Belkin
Buffalo
D-Link
Linksys (Cisco)
Manually installing a VPN on your router isn't easy or cheap though, and you need to make sure you have the right hardware first. We recommend consulting the IPVanish website to make sure your router is compatible before proceeding.
IPVanish for Firestick & Kodi
IPVanish is one of the very few VPNs to offer a native app for Amazon Fire TV. This app will encrypt your connection and help to bypass region-restrictions to unlock content from other countries. Installation is very easy, and there's a detailed setup guide on the company's website.
As we mentioned begore, the native application for Fire TV is so easy to install and use that we recommend it as the best VPN for Firestick. The service doesn't keep any logs either, which means your streaming history will remain completely private.
To install IPVanish on your Fire TV Stick:
Select 'apps' and then 'categories' from the Firestick home screen.
Choose 'utility' and then select the IPVanish application.
Download IPVanish and select 'open' to enter your login details.
Click 'connect' to use the nearest server location, or choose your server manually in the 'options' menu.
Compatibility with Kodi is also a big benefit of IPVanish ‒ we haven't seen another VPN provider invest anywhere near the amount of effort into marketing their VPN for use with Kodi.
On its own, Kodi is a tool for collecting all your media together. It is also highly customizable, with plug-ins that can completely transform the software. Some plug-ins allow you to stream new content while others integrate torrenting software with the platform, which risks inadvertently exposing your IP address to copyright trolls.
A VPN allows you to bypass any geo-restrictions on streaming content and also protects you from exposing your IP address when torrenting with Kodi.
We've found IPVanish easy to use with Kodi on several devices including the Amazon Fire TV Stick. It can unlock geo-restricted content on official Kodi add-ons like Hulu, BBC iPlayer, IceFilms, and NBC sport while it's no-logs policy, fast speeds and P2P support make it a great choice for downloading large files.
The website offers installation guides for running the VPN with Kodi on the following platforms:
Overall, we recommend IPVanish as the best VPN on the market for Kodi and Fire TV.
Easy installation and simple apps with lots of advanced features
Ease of Use
How to Install & Set Up IPVanish
The IPVanish applications are simple to use and offer a good suite of accessible features. It's easy to change servers and the interface is reasonably intuitive. The advanced privacy settings are also easy to navigate, meaning it is suited to both VPN beginners and more experienced users.
Installation is made very easy: the Windows and Mac clients install like any other VPN and the iOS and Android applications are available in their respective app stores. There's also a direct download of the Android APK available for you if you consider yourself technically advanced and  want more control over your setup process.
For beginners, there are detailed set-up guides available on the IPVanish website for every platform and there is also an optional tutorial when you first log in to the app.
Some of the apps do lack a few key features – in particular the iOS app – but it's still fast and secure. The Smart TV app for the Amazon Fire TV Stick stands out as far more complete than equivalent apps offered by other providers. We'll go through each of the platforms and the features they offer in more detail below.
Here's an overview of the key features available on every major platform:
Windows Client
The IPVanish Windows app looks complex at first, but is in fact very simple to use. Once you've connected to a server a status panel will display the protocol you're using, time connected, server name and bandwidth usage, which is an unusual level of detail. There's also a real-time graph showing upload and download speeds over time.
You can pick a country, city, or server to connect to or just press "connect" to automatically use the best server available.
In the side-menu, the server list can be sorted by country, server load or response time. There's also a useful search box that allows you to filter by keyword. One click will add a server location to your favorites list, which saves the hassle of searching in the future.
There is the option to pick a location from a map, with numbers to represent how many servers are available in a given location.
The settings tab has options for starting the VPN automatically when your PC turns on, as well as access to a kill switch and scramble protocol, which will help mask OpenVPN traffic. The kill switch isn't enabled by default, though, so be sure to turn it on before you start browsing.
The default protocol is OpenVPN UDP, but you can also use OpenVPN TCP, IKEv2, L2TP, SSTP, or PPTP. There's full DNS and IPv6 leak protection and the ability to switch between OpenVPN ports 1194 and 443.
OpenVPN and IKEv2 are both secure and fast protocols that we fully recommend. It's not clear why SSTP and PPTP are included at all – these protocols are outdated and aren't considered secure. We recommend avoiding them where possible.
Overall, the IPVanish Windows app performs very well and has plenty of advanced features to keep experienced VPN users happy.
MacOS Client
The IPVanish MacOS client has most of the same features as the Windows equivalent, minus LAN exemption. Its interface is a little more difficult though – it opens as a windowed app, but you can only get to the settings from the menu bar app, which is far from intuitive.
Unlike some competing MacOS clients – like NordVPN or ProtonVPN – it does have a kill switch, though, which is necessary for a top-tier VPN.
Uniquely, the Mac application has the option to toggle between IPVanish and third-party DNS, as well as a toggle for IPv6 leak protection. We think IPv6 leak protection should be on by default, but it would be nice to see the DNS option on other platforms.
Android App
IPVanish's Android app is its most impressive client, with more features than any other app.The UI is mostly great too: quick and easy to navigate.
The home screen displays a range of useful information including your current IP address and location, a target country, and a 'connect' button to get you online quickly. Settings, account details, and a full server list are available from the menu in the top left, or you can use the quick select fields on the home screen.
You're able to select servers by country or city in the locations menu, but there are no server load figures to help you choose the least congested location. There's also no favorites system to speed up the process of getting connected. Instead, you'll have to manually scroll to specific servers when you need them.
There's a support tab as well, to make things easy if you ever get stuck.
The best thing about the Android app is its versatility and huge feature list. It includes a kill switch and split tunneling, as well as a LAN exemption to help you connect to local devices without issues.
You can choose between OpenVPN UDP or TCP connections and there's a wider choice of ports than you'll see with the Windows client (1194, 443 and 8443).
There are also some features with unique utility for mobile connections. You can choose to reduce the MTU (maximum transmission unit) to help connect to websites on mobile data, for instance.
There's a setting to notify you when connected to an insecure network, and the option to "scramble" data, too. This might help get past network-level content blocks but it won't get you through any heavy-duty censorship tools.
Overall, the IPVanish Android app is an impressive VPN client that's relatively easy to use and comes packed with a long list of advanced features.
iOS App
The IPVanish app for iPhone is visually quite different to the Android app, but it's still relatively easy to use.
Advanced features can be accessed through the settings button in the top right hand corner. There's not much on offer here – there's no kill switch to protect your data and you only get two additional settings: an auto-connect option and the ability to switch protocol between IKEv2 and IPSEC.
The default protocol is IKEv2, which is a solid choice for mobile devices that move between WiFi and cellular data. While you can switch to IPSec if you want, we recommend sticking with IKEv2 for optimal security.
There's no split tunneling or LAN exemption, which is underwhelming. You are able to build whitelists and blacklists of wireless networks though, so the app will know which networks to protect and which are trustworthy.
On a positive note, server load and ping times are displayed in the servers list, which is helpful for figuring out which location will offer the best performance. There's also a simple and straightforward favorites system to save time scrolling when choosing your preferred location.
Overall, the IPVanish iOS client is a basic app that's functional if not perfect. It lacks some essential features like a VPN kill switch, which means we don't recommend it for privacy-reliant activities like torrenting. Hopefully more features will be added to the iOS app in the future.
Smart TV App
The IPVanish Smart TV app is one of the easiest-to-use VPN apps for TV we've ever seen. It isn't especially pretty, but picking servers and changing settings is simple even when using a Fire TV Stick remote.
The real-time upload and download speed graph is still in the middle of the screen, but it doesn't get in the way of functionality. If anything, it looks better on a TV than it does on a phone or computer screen.
The drop-down menus for server locations feel awkward on most platforms but they are a good solution on TV, where most VPN apps struggle to make large server lists accessible.
There are plenty of features available including auto-startup, auto-reconnect, an optional LAN exemption and even split tunneling.
The VPN can be set to either OpenVPN UDP or OpenVPN TCP ‒ with the option to "scramble" traffic if you wish. This is ideal if you find your VPN traffic being blocked. There's a support tab, too, which we really appreciate.
We did experience some problems connecting to servers in the UK, meaning you might have to cycle through a few locations until you find a server that works.
The VPN also takes slightly longer to connect than on other platforms, but it's not slow enough to be frustrating ‒ particularly if you don't intend to change server too often.
It's very refreshing to see that IPVanish has put a lot of work into its TV app ‒ for so many providers it just feels like an afterthought. We recommend it enthusiastically for anyone looking to use a VPN on their TV.
Great online resources and helpful live chat
Customer Support
| | |
| --- | --- |
| 24/7 Email support | Yes |
| Online Resources | Yes |
IPVanish offers customer support via an extensive online help section, 24/7 email ticketing and a live chat service. The fastest way to contact customer support is via live chat, which we found to be friendly and helpful.
We've found live chat always responds quickly – you can find it in the bottom right hand side of the Support Center page. There are resources for learning about VPN technology in general as well as in-depth tutorials on using the service with different platforms. There are 12 guides to using IPVanish on Windows, for example, with separate tutorials for different protocols and operating systems.
The company also has excellent email support with impressively well-written responses and an online FAQ section for straightforward solutions to the most common issues. There's telephone support, too, which isn't offered by any other big name VPN. It's available from 9am to 5pm CST, Monday to Friday.
Overall, IPVanish offers excellent customer support through a good variety of contact methods. The email ticketing and live chat services are fast and helpful while the telephone support is a rare and welcome addition.
How much does IPVanish cost?
Pricing
IPVanish Coupon
IPVanish Pricing Plan
IPVanish is not the cheapest VPN service available, but it is reasonably priced given the amount of apps and features on offer. Overall, the prices of its subscriptions are around average compared to similar VPN services.
There are three subscription plans available including a monthly, quarterly, and annual package. Each of the three options are paid upfront and include exactly the same features. There's also a 30-day money-back guarantee, but no free trial.
If you sign up to IPVanish via our links, you can get a discount of up to 76% depending on which plan you go for. The best price comes with the annual subscription plan, which costs $2.91 per month, billed as $34.99 the first year and $77.99 thereafter.
You'll also get 250GB of storage with IPVanish's SugarSync Cloud Storage thrown in with every package, too.
All of these prices are towards the high end, but around average for a VPN of this calibre.
All plans have 30-day money-back guarantee
You can pay for your IPVanish subscription by credit card, debit card, or PayPal. While the company used to accept Bitcoin, unfortunately neither cryptocurrencies nor international options like Alipay are currently supported.
This means it's impossible to subscribe to IPVanish from a position of total anonymity. It won't be an issue for most users, but it's worth keeping in mind.
You can also take advantage of a genuine seven-day free trial on iOS devices. There is no free trial on other platforms, but there is a 30-day money-back guarantee that is clearly explained on the website. This refund is no-questions-asked, and is usually processed within 10 working days.
This gives you plenty of time to get to grips with the VPN, although it falls slightly short of Hotspot Shield or Cyberghost, both of which offer a 45-day money-back guarantee.
If you sign up for IPVanish via the Apple App Store then you won't qualify for the money-back guarantee at all, which seems a little unfair but is unfortunately common practice.
Overall, IPVanish is good value for money considering the quality of its VPN apps and the security on offer. It's not the cheapest service available, but it is affordable for users looking for budget privacy and security.
Do We Recommend IPVanish?
The Bottom Line
IPVanish offers good value with 10 simultaneous connections, an impressive network of servers and a good selection of advanced features. In general, it's a reliable VPN service that's easy to use and perfect for enhancing your security while browsing.
The apps are fast, secure, and easy to configure. If you want to use a VPN on Android or Windows especially, IPVanish is a good choice. It's a top choice for Amazon Fire TV Stick or Kodi too, with great speeds and an exceptional logging policy.
If you're looking to invest in a VPN for torrenting or privacy and security alone, IPVanish is fantastic. But if you need full, unrestricted access to blocked content – especially censored websites or streaming services like Netflix – we'd recommend choosing a different VPN instead.
The company's controversial history under previous management still raises questions too. We fully believe that the company's new ownership is honest about its zero-logs policy, but would like to see an independent logging audit to put this issue to rest.
IPVanish is an all-around excellent product that's up there with the very best commercial VPN services. Its global server network offers strong security and privacy without compromising on convenience.
Alternatives to IPVanish
As our top-rated VPN service, ExpressVPN excels in almost every department. It doesn't focus on Fire TV Stick or Kodi to the same extent, but ExpressVPN beats IPVanish in most other respects. It's never been caught lying about its logging policy, either. Read ExpressVPN review
If you live in or plan on traveling to China (or any other high censorship country) take a look at VyprVPN. It's "Chameleon Protocol" is one of the most effective protocols in the region, and the VPN comes with plenty of advanced features, too. Read VyprVPN review
---
User Feedback for IPVanish