Top10VPN is reader-supported. If you buy a VPN through our links, we may earn commissions. Learn more.
IPVanish: Ranked #3 out of 99 VPNs that we tested
IPVanish makes a very strong claim on its homepage – that it's the 'World's Best VPN.'
It's certainly one of the most popular VPN services out there, but is it really the best VPN overall?
We put IPVanish through our rigorous testing schedule to answer popular questions like:
How good is IPVanish?
Is it safe to use?
Is IPVanish very fast?
Does it work with Netflix?
Is torrenting/P2P allowed?
Is it the best VPN app for Firestick?
Before we carefully answer each of these (and many more) questions, lets see the pros and cons of IPVanish VPN:
Very fast speeds: 50Mbps (global average)
Works with Netflix
Great for torrenting & Kodi
No-logs policy & no IP/DNS/WebRTC leaks
User-friendly apps for PC, Mac, iOS, & Android
Good server network across 50 countries
Won't work with iPlayer or in China
Short refund period
Based in privacy-unfriendly US
Desktop app could be more user-friendly
IPVanish certainly does have many strengths to shout about, but lets take a closer look at IPVanish's attributes and features, starting with how fast it is.
Speed & Reliability
IPVanish is an incredibly fast VPN
IPVanish is an incredibly fast VPN service, with some of the quickest speeds we've seen in our tests.
IPVanish didn't slow down our connection too much, and it is more than fast enough for HD or 4K streaming.
Use the table below to see how IPVanish speeds fare against its top-scoring rivals in 11 locations around the world.
| | IPVanish | ExpressVPN | NordVPN |
| --- | --- | --- | --- |
| Download Average | 49.54 Mbps | 52.83 Mbps | 71.83 Mbps |
| Upload Average | 28.44 Mbps | 23.97 Mbps | 27.50 Mbps |
| Ping Average | 131 ms | 140 ms | 133 ms |
Here are the average speeds you can expect from IPVanish from a handful popular regions.
Europe

Server locations include Amsterdam, Paris, Frankfurt and London.

Asia

Server locations include Singapore and Tokyo.

USA

Server locations include San Francisco and New York.

Australia
Download Average
186 Mbps
167 Mbps
159 Mbps
170 Mbps
Upload Average
150 Mbps
113 Mbps
140 Mbps
139 Mbps
Ping Average
2 ms
2 ms
2 ms
1 ms
Averages are calculated from our test results over the last 4 weeks. To read about our speed testing methodologies, please read How We Test VPN Speed.
Speed results from our physical location in London (100Mbps fibre optic connection) to a London test server.
Before using IPVanish:
82

83

Ping

ms

3
When connected to IPVanish:
56

61

Ping

ms

9
Download speed without IPVanish: 82Mbps
Download speed with IPVanish: 56Mbps
Our download speed loss when IPVanish is running: 32%
Downloads, uploads and latency when using IPVanish are among the best we've seen, making this VPN a very smart choice for gamers and torrenters alike.
It's also one of the most reliable VPN services we've seen, providing consistently excellent speeds from one test to the next.
Server Locations
Over 40,000 IP addresses across 77 locations
50
Countries
77
Cities
40,000+
IP Addresses
IPVanish VPN gives access to more than 1,300 servers worldwide and over 40,000 IP addresses, which is one of the highest number of IP addresses we've ever seen. This means that you're unlikely to experience VPN server congestion and slow speeds while connected to IPVanish.
The 50 countries in IPVanish's VPN server network are well spread-out, including some less common nations like Moldova and the Philippines (in addition to all the typical countries like US, UK, Canada, Australia, and more).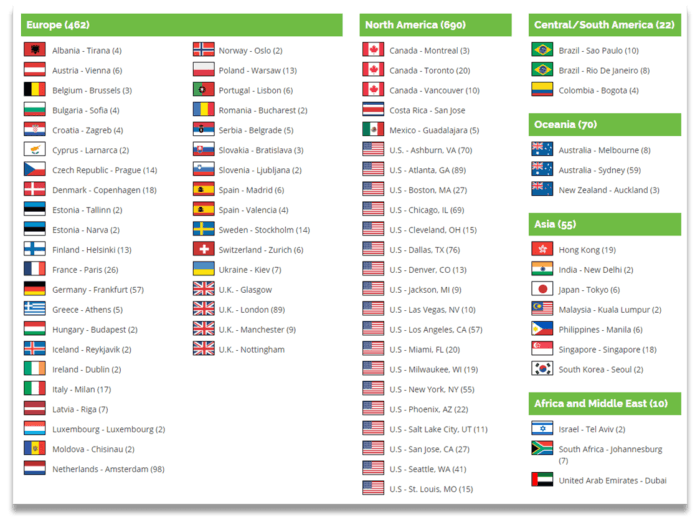 IPVanish provides its customers with city-level options in the US (19 cities), UK (4), Canada (3) Australia (2) and Brazil (2).
US-based users can choose from IPVanish servers in:
Central – Chicago, Dallas, Denver, Houston, Jackson, Milwaukee, St. Louis
East – Ashburn, Atlanta, Boston, Cleveland, Miami, New York
West – Las Vegas, Los Angeles, Phoenix, Salt Lake City, San Jose, Seattle
We'd love to see more city-level selections in Australia – mainly Perth which is located on the West coast – and more server options in South America, where only Brazil and Colombia are served.
The high number of VPN servers in IPVanish's network is enough to offset these minor complaints, though.
IPVanish is one of the few VPN providers to own its entire (or very close to) server infrastructure, meaning they rent very few servers from third-parties.
Streaming & Torrenting
Excellent choice for torrenting & Netflix
Despite IPVanish being one of the fastest VPNs we've seen, it's just not a great VPN for streaming.
Most of IPVanish's US servers work for Netflix, although it can occasionally take a while to load, but all of its UK servers are currently blocked by BBC iPlayer and according to IPVanish they are not looking to work on fixing this.
If streaming BBC iPlayer is important to you, then read through our NordVPN or CyberGhost reviews.
Torrenting
Bypassing Censorship
No good for China
IPVanish is very upfront in saying that the VPN service won't work in China, despite being equipped with an array of obfuscation tools.
We really appreciate IPVanish's honesty on this topic. IPVanish also provides a useful list of other countries the VPN won't work in: you can find this on the support section of the IPVanish website.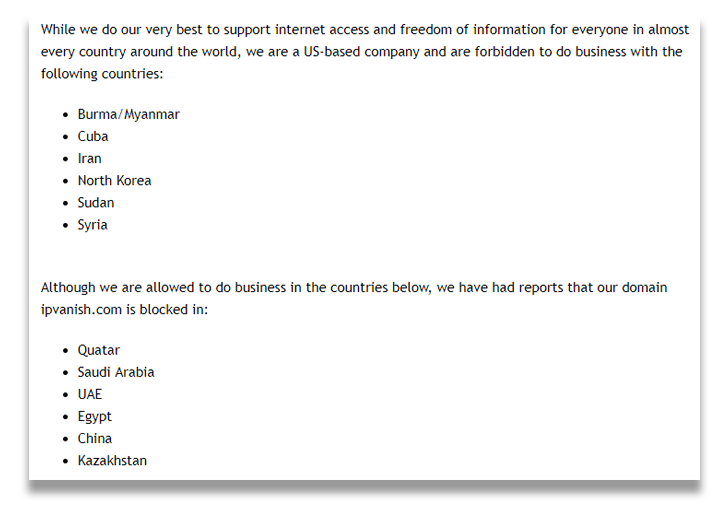 IPVanish states that it is "forbidden to do business in":
Myanmar
Cuba
North Korea
Sudan
Syria
IPVanish states that its domain, ipvanish.com, is blocked in:
It's not just IPVanish's domain that is blocked in these countries, and many users have reported that IPVanish's apps don't work either. If you live or are travelling to a high censorship country then we suggest you consider using VPN services like ExpressVPN or VyprVPN to bypass aggressive internet censors.
Platforms & Devices
Works with all major platforms and devices
Apps
Windows
Mac
iOS
Android
Linux
Router
Games Consoles & Streaming Devices
AppleTV
Amazon Fire TV
Chromecast
Nintendo
PlayStation
Roku
Xbox
IPVanish is a good VPN to use with gaming consoles and streaming devices.
IPVanish is our number 1 VPN pick for the increasingly popular Amazon Firestick, and it's super easy to install and use. You can also use IPVanish on 10 devices at once, which is very generous (the average among the top VPN services is about 5 simultaneous connections).
You can also install IPVanish on your home router so that all your internet traffic at home is protected.
Browser Extensions
Encryption & Security
One of the safest providers we've reviewed
Protocol

IKEv2/IPSec

L2TP/IPSec

OpenVPN (TCP/UDP)

PPTP

Encryption

AES-256

Security

DNS Leak Blocking

First-party DNS

IPV6 Leak Blocking

Supports TCP Port 443

VPN Kill Switch

Advanced features

SOCKS
Please see our VPN Glossary if these terms confuse you and would like to learn more.
We believe that IPVanish is one of the most secure and private VPN services available.
IPVanish mainly uses the OpenVPN and IKEv2 protocols and encrypts your online traffic with the 'unbreakable' AES-256 cipher, meaning you're protected at all times. You can also connect using L2TP/IPsec, if you'd prefer.
IPVanish has a VPN kill switch to protect your privacy in case of a connection drop, plus a host of other advanced features to secure your web browsing. This includes SOCKS5 web proxy, which masks your IP address during P2P and VoIP connections – although this doesn't encrypt traffic.
We also found IPVanish to be extremely safe and free of IP or DNS leaks in our most recent tests.
Logging Policy
No-logs policy makes up for US jurisdiction
IPVanish doesn't collect any user data at all, making it a no-logs VPN service.
Considering most VPN logging policies track at least server load or login information for maintenance purposes, this is what makes IPVanish a standout VPN for privacy.
In 2016, when under previous management, IPVanish was however found to be collecting logs when it handed information over to US authorities to aid in the prosecution of a user.
Since being acquired a number of times since then, IPVanish has turned things around and we have no longer concerns about its approach to user privacy.
Jurisdiction
IPVanish VPN was first released in 2012 by its former US-based owner HighWinds Network Group. IPVanish has since been acquired by StackPath and in 2019 by J2 Global which are both US-based companies.
As you can see IPVanish is, and has always been, operated by companies headquartered in the US, which does have very intrusive surveillance laws and is a member of the Five-Eyes data sharing agreement.
IPVanish being based in the US is largely irrelevant though as its no-logs policy means no identifiable information is collected by the VPN provider.
Ease of Use
User-friendly install with lots of advanced features
How to Install & Set Up IPVanish
IPVanish's desktop VPN apps are perfectly simple to use, even if they could do with a bit of a visual overhaul as they are starting to look a little out-dated.
The advanced privacy settings are also easy to navigate, making IPVanish suited to both VPN beginners and more experienced users.
The mobile IPVanish apps lack a few key features, such as the VPN kill switch, but they do still provide a very good, user-friendly experience.
Customer Support
Helpful support with 24/7 live chat
| | |
| --- | --- |
| 24/7 Email support | |
| Online Resources | |
We found IPVanish customer support agents to be friendly and helpful no matter what we asked them about the VPN service.
Thanks to a recent update, IPVanish now also has 24-hour live chat support on its website.
IPVanish also has excellent email support, which provided us with impressively well-written responses, as well as an online FAQ for straightforward solutions to the most common issues. If for any reason IPVanish isn't working properly, you'll be able to fix it in no time by following these guides.
Pricing & Deals
Well worth it for the level of service on offer
IPVanish Coupon
IPVanish
Get 60% off IPVanish's 12-month plan
IPVanish Pricing Plan
IPVanish is reasonably priced and affordable. It is neither the cheapest VPN service, nor the most expensive. You can pay for IPVanish monthly or on an annual basis.
$4.87 per month on the 12-month plan is a very good price, especially as it's 60% cheaper than the standard one-month plan, priced at $11.99.
There's also a 3-month option for $6.75 per month.
All plans have 7-day money-back guarantee
Payment & Refund Options
The IPVanish seven-day money-back guarantee is 100% no-questions-asked and refunds your money within 10 working days.
Our only issue is with IPVanish's iOS policy – if you sign up for an IPVanish login via the iOS Store then you don't qualify for the money back guarantee.
IPVanish only accepts credit cards, debit cards, and PayPal. Unfortunately neither cryptocurrencies like Bitcoin nor international options like Alipay are currently accepted.
You've read our expert review - read on for reviews from real users.
User Reviews
Based on 410 reviews
5 star

(395)

4 star

(11)

3 star

(0)

2 star

(1)

1 star

(3)
Share your thoughts to help others
Best Positive Review
Great VPN
Verified Purchase
At first, I was a bit hesitant to use a VPN but after using PrivateVPN, no more worries. It's really simple to use and easily configured. Enjoy!
Best Critical Review
Lacks in speed
I'm using privateVPN since a week now. It works fine, but many servers they use do not deliver the speed they're promising ("full" speed and no speed loss they claim). In many cases it takes several seconds (and sometimes more then a minute) to load the pages. When turning off privateVPN and surfing from my providers servers the speed is significantly faster. I have a 3 month subscription, but that'll be all i guess.
Showing 1-3 of 410 Reviews
I tried IPvanish for a long time I thought that it was slowing down my downloads too much. But something changed several months ago. Now I am getting much better speed. Thanks for fixing whatever you fixed.

Symmetrical gigabit fiber into my home. I run full speed (minus payload) for 930ish up/down on my wired network through a Mikrotik 4011. My Tp-Link EAP 225 V3s will do 200mbps from my service provider. When connected to IPVanish, my WiFi network consistently does under 5mbps up/down. Trash.

started to interfere with internet connection,the text helpline assumed I was computer literate which I am not.so fed up I deleted the ap so I am 50 quid poorer.