IPVanish VPN Review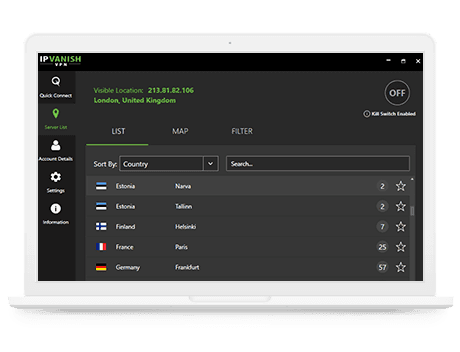 Speed
IPVanish Delivers Fast Short-Distance Speeds
IPVanish is fast on local connections. We recorded an average download speed of 84Mbps on nearby servers. This works out as only 10% speed loss, which is very good for a VPN.
Despite these fast short-distance speeds, there are even faster VPNs available.
Local Speed Test results before using IPVanish VPN:
Download Speed: 93.76Mbps
Upload Speed: 97.58Mbps
Ping: 2ms
Local Speed Test results with IPVanish VPN:
Download Speed: 84.13Mbps
Upload Speed: 90.33Mbps
Ping: 7ms
Download speed loss when IPVanish VPN is running: 10%
International speed tests
We also tested IPVanish's speed on long-distance connections, too. We measured our internet speeds before and after connecting to its servers around the world.
While its local speeds are very fast, IPVanish's global speeds aren't as good.
Here are the average speeds connecting from London to IPVanish servers around the world:
USA:

Download: 53Mbps (44% slower)
Upload: 37Mbps (62% slower)

Germany:

Download: 76Mbps (19% slower)
Upload: 81Mbps (17% slower)

Singapore:

Download: 25Mbps (73% slower)
Upload: 2Mbps (98% slower)

Australia:

Download: 24Mbps (75% slower)
Upload: 6Mbps (94% slower)
We measured an average speed loss of 44% connecting to the US. It's not bad, but it doesn't measure up to faster VPNs like ExpressVPN and NordVPN.
Connection speeds to Australia and Singapore were worse, with a download speed loss of 75%. These results just aren't as strong as those of ExpressVPN.
How Fast is IPVanish Compared to Other VPNs?
On top of our manual tests, you can also review our automated VPN speed test results below.
Our automated speed test tool runs automatically each day of the year. It caps test connection speeds at 100Mbps to recreate a typical home internet connection.
The graph below shows IPVanish's average speed loss on our New York test server, compared to rival VPN services. The data covers the last eight weeks, to illustrate speed as well as stability.
Use our speed test tool to see IPVanish's speed across the world
We keep seeing consistently high speeds from IPVanish. Until recently, it was even faster than ExpressVPN on a New York to New York connection. Upload speeds are also good and reliable, although not as good as other main VPN services.
Moreover, ping has been amazingly low and stable. It's been hovering around 2ms on a local New York connection.
Once again, long-distance speeds are what let IPVanish down. Download speeds have stayed around 15Mbps lower than the competition, similarly to upload speeds.
Server Locations
2,000 Self-Owned Servers & 40,000+ IP Addresses
50 Countries
80 Cities
40,000+ IP Addresses
IPVanish has a large network of 2,000 servers in 80 locations across 50 countries.
All 2,000 VPN servers are self-owned and managed. In other words, the company doesn't rent any servers.
Users also have access to over 40,000 shared IP addresses. Only VyprVPN offers more, with 300,000. A large number of IP addresses helps prevent traffic congestion on very popular server locations.
The vast network includes servers in most European countries and over 500 servers in North America. The choice is more limited outside these regions, with Africa completely absent from the server network.
Here's a breakdown of the number of servers in each region:
North America: 1,305
Europe: 533
Asia: 90
Oceania: 73
South America: 31
Africa: 0
City-level server locations are available in the US, UK, Canada, and Australia. Here is the full list of city-level locations:
UK: Manchester, London, Glasgow, Birmingham, Maidenhead
Canada: Toronto, Vancouver, Montreal
Australia: Sydney, Melbourne, Brisbane, Perth, Adelaide
US Central: Chicago, Dallas, Denver, Houston
US East Coast: Ashburn, Atlanta, Boston, Miami, New York
US West Coast: Las Vegas, Los Angeles, Phoenix, San Jose, Seattle
IPVanish owns all its VPN servers
We've seen some VPN services overextend their server networks, causing security vulnerabilities. The 2018 NordVPN security incident is a good example of this.
Many VPN companies rent large portions of their server network to cover as many countries as possible. Some VPN services specify how they keep control of these rented servers. Others are much less transparent.
VPN companies also use virtual server locations. These servers assign IP addresses for a country, even if they're physically located elsewhere.
Both scenarios above can cause security issues. Your VPN service must take server management and security very seriously.
An IPVanish rep confirmed the company owns all its servers and doesn't use virtual servers.
IPVanish owns and manages its own servers rather than renting hardware from other companies. This gives it much more control over how its servers are installed, managed, and operated.
It's rare for a VPN company to own its entire server network. Only VyprVPN and AzireVPN also do this. This is a huge security advantage and a unique selling point of IPVanish.
IPVanish doesn't use virtual servers
We ran geolocation tests on several IPVanish servers to verify they're physically located where they're supposed to be.
We carried out these checks using the App Synthetic Monitor Ping tool. The tool pings a URL from 50 different monitoring stations worldwide.
The closer the monitoring station is to the physical VPN server, the lower the ping rate will be. For example, connecting to a VPN server in Frankfurt, Germany, the ping between server and monitoring station is far lower than the ping from other stations:
We tested 20 different IPVanish server locations around the world. We analyzed differences between our ping times and our supposed server location. We tested the following locations:
Albania (Tirana, tia-c02.ipvanish.com)
Australia (Sydney, syd-a50.ipvanish.com)
Brazil (São Paulo, gru-a14.ipvanish.com)
Canada (Toronto, tor-a11.ipvanish.com)
China (Hong Kong, hkg-a08.ipvanish.com)
France (Paris, par-a19.ipvanish.com)
Germany (Frankfurt, fra-a33.ipvanish.com)
Israel (Tel Aviv, tlv-c04.ipvanish.com)
Japan (Tokyo, nrt-a06.ipvanish.com)
Mexico (Guadalajara, gdl-a09.ipvanish.com)
New Zealand (Auckland, akl-c13.ipvanish.com)
Nigeria (Lagos, los-c02.ipvanish.com)
South Africa (Johannesburg, jnb-c06.ipvanish.com)
South Korea (Seoul, sel-a04.ipvanish.com)
Spain (Madrid, mad-a04.ipvanish.com)
Ukraine (Kiev, iev-c06.ipvanish.com)
United Arab Emirates (Dubai, dxb-c02.ipvanish.com)
United Kingdom (London, lon-a16.ipvanish.com)
US East (New York City, nyc-a13.ipvanish.com)
US West (Los Angeles, la-a02.ipvanish.com)
Each one of these servers passed our geo-location tests. They are all physically located where IPVanish says they are.
This doesn't absolutely guarantee that the same is true of every single IPVanish server. But, it does serve as good evidence that IPVanish doesn't use virtual servers.
Privacy & Logging Policy
A Trustworthy & Verified No-Logs VPN
IPVanish's privacy policy is clearly-written and transparent. It explicitly states that it doesn't keep traffic or metadata logs:
"IPVanish does not collect, monitor, or log any traffic or use of its Virtual Private Network service on any platform."
The only information the VPN service collects is an email address and payment method.

The VPN does not:
Log user traffic or usage of the VPN service
Sell or rent user information to third parties
Many VPN services track at least anonymous server loads, or login instances for maintenance purposes. IPVanish, however, stands out for prioritizing user anonymity and privacy.
Unlike many VPNs, IPVanish doesn't enforce any simultaneous connections limit. Therefore, it doesn't need to log device connections to its network.
The VPN provider is currently transitioning to a new privacy policy. We thoroughly read this policy and found that despite being clearer, its substance remains largely the same.
The one noticeable change is it now states that the VPN collects "aggregated and anonymous performance data". This data is totally anonymous and not linked to individual users.
IPVanish's no-logs policy has been verified by an independent audit carried out in April 2022 by Leviathan Security Group. The audit confirmed that IPVanish does not log your IP address, browsing activity, or downloads.
IPVanish's FBI Co-operation in 2016
No IPVanish review is complete without discussing the data-sharing incident of 2016.
This is when the company's previous owners (Highwinds Network Group) handed user logs over to the FBI.
The FBI identified the individual from a record of the VPN IP address and the time it was used. IPVanish had this information because it was logging web data its privacy policy explicitly stated it would not.
At the time of the case, IPVanish's logging policy was very similar to its current one. In other words, the company couldn't have accessed the data without breaching its own logging policy.
The screenshot below shows the information IPVanish shared with the FBI, based on a user "with IRC traffic using IP 209.197.26.72, port 6667":
The severity of the crime justifies IPVanish's decision to hand over logs to the FBI. But, it absolutely doesn't justify the existence of these logs in the first place.
Luckily, this issue has been resolved. StackPath acquired IPVanish in 2017, who had no knowledge of the incident. It soon guaranteed that IPVanish wouldn't store web logs in the future.
IPVanish has since had its no-logs policy confirmed by a trusted third-party audit in April 2022.
IPVanish is owned by Ziff Davis
IPVanish was founded in 2012 by Mudhook Media, which was part of the Highwinds Network Group.
In 2017 Stackpath purchased IPVanish, and two years later sold it to J2 Global (now Ziff Davis, Inc). Ziff Davis also owns StrongVPN, SaferVPN, and Encrypt.me.
Despite the ownership changes, IPVanish hasn't lost trust with its users. The acquisitions have in fact been a positive step for privacy. The arrival of a new owner with a strong reputation has put the past controversies behind.
All the companies mentioned above are headquartered in the US, a member of the Five-Eyes data sharing agreement.
While the company tells us it will respond to government and law enforcement requests, IPVanish doesn't have any activity logs to hand over.
Therefore, so long as it continues to operate a no-logs policy, we're not overly concerned by the company's US jurisdiction.
Streaming
IPVanish Unblocks US Netflix but Not HBO Max
IPVanish works with US Netflix
IPVanish unblocks American Netflix on all of its US servers. It also worked with the UK and India libraries in our tests.
However, it can be slow to load the website and app.
There are better Netflix VPNs available, like ExpressVPN and Windscribe, which can unblock several Netflix regions.
Streams BBC iPlayer & Hulu
Streaming BBC iPlayer with IPVanish is easy. We were able to access the streaming site on all the UK servers we tested.
We had similar success with Hulu. Out of the 10 servers we tested, only one IP address was blocked.
IPVanish doesn't unblock all content platforms
We also tested IPVanish with Disney+ and didn't have any success. The same was true of Amazon Prime Video and HBO Max.
Overall, there are far better VPNs available for streaming. Compared to these, IPVanish works less often, streams in lower quality, and is compatible with fewer streaming devices.
Torrenting
IPVanish Is Ideal for Anonymous Torrenting
IPVanish VPN is perfect to torrent privately and safely. The VPN service allows P2P traffic on all its zero-logs servers.
It's extremely fast on nearby connections and is optimized for P2P taffic.
The service also operates over 40,000 anonymous IP addresses, which is ideal for high-bandwidth activities like file-sharing.
It also doesn't leak any IP and DNS data. Moreover, the desktop kill switch shields from IP exposures during rare VPN connection drops. It's not enabled by default, though.
Unfortunately, port-forwarding isn't allowed on the service, which might cause issues if you want to effectively seed torrents.
A good torrent VPN must hide your true IP address, so that your ISP or copyright trolls can't view your download activity.
IPVanish doesn't talk much about torrenting on its website, but it caters to it very well. So well that we recommend it as a top VPN for torrenting.
The company does have an extensive DMCA policy. It also forbids torrenting copyrighted material in its Terms of Service. Don't worry, though – this is true of many VPN services.
Remember, the VPN doesn't log usage data. Therefore, it can't know who's used a specific IP address at any given time. This means it won't know which user to hand a DMCA notice to.
IPVanish has a SOCKS5 Proxy
The VPN also offers a SOCKS5 Proxy. This is an old favorite for torrenters looking to mask their IP address.
You can configure the SOCKS5 proxy directly in your torrent client, without the need of additional software. It's more secure to use a VPN rather than a proxy, though.
SECURITY TIP: Connect to your VPN before launching your torrent client, and disconnect from the VPN after closing the torrent client. This avoids IP address exposures if your torrent client is seeding in the background.
How Does IPVanish Compare to Other Torrenting VPNs?
In this table you can compare IPVanish to the four other best VPNs for torrenting.
The table includes data from our torrenting benchmark test, which compares the average torrenting bitrate of a VPN under controlled conditions:
Security & Technical Features
IPVanish VPN Is Very Safe to Use
| Protocols | Available in IPVanish VPN |
| --- | --- |
| IKEv2/IPSec | Yes |
| L2TP/IPSec | Yes |
| OpenVPN (TCP/UDP) | Yes |
| PPTP | Yes |
| SSTP | Yes |
| WireGuard | Yes |
| Encryption | Available in IPVanish VPN |
| --- | --- |
| AES-128 | Yes |
| AES-192 | No |
| AES-256 | Yes |
| Blowfish | No |
| ChaCha20 | No |
| Security | Available in IPVanish VPN |
| --- | --- |
| DNS Leak Blocking | Yes |
| First-party DNS | Yes |
| IPv6 Leak Blocking | Yes |
| Supports TCP Port 443 | Yes |
| VPN Kill Switch | Yes |
| WebRTC Leak Blocking | No |
| Advanced Features | Available in IPVanish VPN |
| --- | --- |
| Ad Blocker | No |
| Dedicated IP | No |
| Double VPN | No |
| Smart DNS | No |
| SOCKS | Yes |
| Split Tunneling | Yes |
| Tor over VPN Server | No |
| Tracker Blocker | No |
IPVanish is one of the most secure VPN services available. Its advanced suite of features is suitable for beginners and experienced VPN users alike.
What stands out with IPVanish is that its VPN apps offer a high and unique degree of configuration options.
We tested all IPVanish's apps and they all hid our IP address and encrypted our internet traffic data with AES 256-bit encryption.
By default, the apps now use WireGuard, although you can switch to other secure VPN protocols like OpenVPN and IKEv2, depending on the application.
IPVanish's kill switch works well
The VPN's kill switch successfully hid our IP address during rare VPN connection drops. It's not turned on by default, though, so make sure you switch it on before connecting.
The kill switch is available on Windows, Mac and Android. It's not available on the iOS and Fire TV applications.
IPVanish owns its DNS servers
As covered in the server section of this review, IPVanish owns and manages its entire server network.
Owning your entire server network reduces the risk of server security issues. However, unlike ExpressVPN's servers, IPVanish's are not diskless, meaning they do write information to disk.
While ram-based servers provider greater security reassurances, very few VPN services currently offer this solution.
IPVanish doesn't leak IP or DNS data
We tested IPVanish's apps for leaks and can confirm that it does not leak IP or DNS data. We didn't experience a single DNS, IPv4 and IPv6 leaks.
We ran our leak tests from our office in London, UK. We connected to several IPVanish servers including several US ones. As you can see below, our UK DNS and IP addresses were never detected.
IPVanish therefore effectively hides your IP address and true location.
IPVanish encrypted all our data packets
After testing for leaks, we inspected our internet traffic when connected to an IPVanish server to verify the VPN client truly encrypts data transfers.
We carried out this test using Wireshark, a free and open-source packet inspection tool.
We didn't capture any data being sent across our network in plain text. We found no unencrypted TCP or UDP traffic, and no HTTP or DNS traffic traveling in plain text.
In other words, IPVanish works exactly as intended. When it runs, it fully encrypts the traffic leaving the device. We trust the VPN to hide web activity from ISPs or protect data transfers on public WiFi networks.
IPVanish doesn't contain any Malware
We also scanned the desktop client using Malwarebytes to ensure it's free from viruses and malware.
The VPN app passed the tests without trouble. We found no viruses or malware.
No dangerous permissions in the Android VPN app
As a final step, we used the εxodus tool to scan the IPVanish Android application for intrusive or excessive device permissions.
The results show two trackers present: Google Crashlytics and Google Firebase Analytics. These are common troubleshooting tools that collect data on how you use the app.
This isn't too concerning ‒ many VPN apps use Firebase and Crashlytics. But, it also isn't the perfect model for privacy. Astrill's Android app contains no trackers, and we want more VPN services to follow suit.
The IPVanish app also asks unnecessary permissions. The most worrying of which is "READ_EXTERNAL_STORAGE." There is no justification for a VPN reading external storage, and we find its inclusion concerning.
There are many reasons developers put permissions into their apps. Sometimes, permissions are just part of default libraries. In truth, only a few are necessary to run a VPN service. We hope IPVanish soon removes the more intrusive permissions.
Bypassing Web Censorship
IPVanish Doesn't Bypass Strict Web Censorship
IPVanish does not work in China and other highly-censored countries. It's not just its web domain that's blocked – the VPN apps don't work either.
We test IPVanish weekly on our Shanghai server and we have never seen it work.
Its obfuscation tool, called "Scramble VPN traffic," simply can't bypass strict web censors.
IPVanish even states that it is "forbidden to do business in":
Cuba
Iran
Myanmar
North Korea
Sudan
Syria
And that its domain, ipvanish.com, is blocked in:
China
Kazakhstan
Qatar
Saudi Arabia
United Arab Emirates (UAE)
If you need a VPN to beat Chinese censorship, there are far more reliable VPNs at bypassing aggressive web censors. Learn more about this in our Astrill VPN review.
Device & OS Compatibility
IPVanish Works on Most Devices but Lacks Smart DNS
Apps
Windows

Mac

iOS

Android

Linux

Router

Chrome OS
IPVanish runs native software for Windows, macOS, Linux, iOS, Android and Fire TV devices.
Additionally, the VPN service comes with an official APK file. This lets you side load the VPN onto any Android device.
You can also use the VPN on unlimited devices simultaneously. It's rare to see a top-shelf VPN offer this. Most services limit concurrent connections to five devices per account.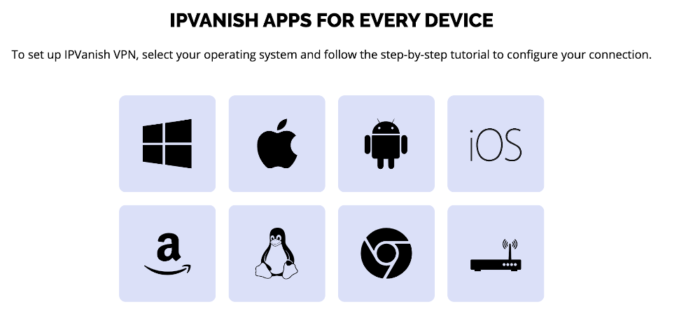 Advanced users can also configure IPVanish on Windows phones, Chromebooks, and more 'difficult' devices.
IPVanish has no web browser plugins
Sadly, there are no VPN browser extensions available. VPN browser add-ons are increasingly popular, and we expect all major VPN services to have them.
To use a VPN browser extension, take a look at our recommendations for Chrome VPN extensions and the best VPNs add-ons for Firefox.
Installing IPVanish on a Router
There are two choices for setting IPVanish up on your router. You can buy a pre-flashed router, or manually set up the VPN on a compatible router.
Installing a VPN on your router lets you protect your entire network with VPN encryption. This way you use the VPN on devices without native VPN applications like Apple TV and games consoles.
IPVanish is compatible with the following DD-WRT-enabled routers:
Asus
Belkin
Buffalo
D-Link
Linksys (Cisco)
Setting up a VPN on a router isn't for beginners, though. You also need the right hardware first. Consult the IPVanish website to check that your router is compatible.
It's a shame IPVanish doesn't have a Smart DNS tool. It's much easier to use a VPN service on Apple TV and games consoles using Smart DNS.
Games Consoles & Streaming Devices
Amazon Fire TV

Android TV

Smart TV
Ease of Use
Not the Most User-Friendly Apps, but Many Advanced Settings
How to Connect to a Server with IPVanish
How to Change Settings in IPVanish
All IPVanish's apps are suited to both VPN beginners and more experienced users.
It's easy to change servers on all the applications, and the interfaces are reasonably intuitive. The advanced privacy settings are also easy to navigate.
Here's an overview of the advanced settings of each main application:
IPVanish Windows Client
The IPVanish Windows application looks complex at first, but is in fact simple to use.
Once you've connected to a server, a status panel will display the protocol you're using, time connected, server name, and bandwidth used.
The PC client interface also features a real-time graph showing upload and download speeds over time.
You can pick a country, city, or server to connect to from the locations list. Or, just press "connect" to use the best server available.
In the side-menu, you can sort the server list by country, server load, or response time. The search box is also useful to filter by keyword. One click adds a server location to your 'favorites list,' for quicker future access.
There's even the option to pick a location from a map, too. Zooming in will display the full server network for a particular region.
In the settings tab you have access to the kill switch, and the scramble protocol, which helps mask OpenVPN traffic.
Sadly, the kill switch isn't enabled by default. Make sure you turn it on before you start using the VPN. You can also decide if you want IPVanish to launch on PC startup, or not.
The Windows default protocol is WireGuard, but you can also use OpenVPN (UDP/TCP), IKEv2, or L2TP. You can also switch between OpenVPN ports 443, 1194, and 3074 (Scramble).
Last but not least, the Windows app comes with full IP and DNS leak protection, which is enabled by default.
IPVanish macOS Client
The macOS client has most of the same features as the Windows one (minus LAN exemption).
The interface is less user-friendly, though. It opens as a windowed app, but you can only access the settings from the menu bar app, which isn't intuitive.
Just like the Windows client, the Mac app also has a working kill switch, which you must activate yourself. IPv6 leak protection is also available as a setting.
Additionally to the PC software, the Mac application has the option to toggle between IPVanish and third-party DNS.
IPVanish Android App
The Android app is IPVanish's most impressive application. The user interface is easy to use and there are more features than in any other app.
The home screen displays useful information like your current IP address location, and a target country. The 'connect' button gets you online in seconds.
You can access advanced settings, customer support, and the full server list from the tabs at the bottom of the home screen.
You can select servers by country or city in the locations menu.
Filtering by cities provides a more detailed view of each location, including the ping and server load data.
Similar to the desktop apps, you can 'favorite' a location by selecting the star next to it.
The best thing about the Android app is its versatility and long features list. There's a kill switch, split tunneling, and LAN exemption to connect to local devices without issues.
Activating the kill switch on Android is more complicated than on Windows and Mac. Under "Connection", tap "Android OS kill switch" and a popup details how to enable it.
On Android, you can choose between the WireGuard, OpenVPN, and IKEv2 protocols.
Thanks to the .apk file of the Android app, you can also side load (install) the VPN on Android devices that support native VPN applications.
IPVanish iOS App
While the IPVanish app for iPhone and iPad is visually different to the Android app, it's still easy to use.
Previously, IPVanish displayed a confusing 'activity graph' as its main menu for iOS. It's since changed to a much simpler world map, listing your connection status and online location.
You can access advanced features via the navigation bar at the bottom of the screen. Unlike the Android app, there's less on offer here. There are only two extra settings: connect on demand, and a protocol toggle between WireGuard, IKEv2, IPSEC and L2TP
The server list displays server load and ping times, and it includes the 'favorites' list, which isn't available on Android.
Unfortunately, the lack of features on the iOS app is evident. There's no kill switch, no split tunneling, and no LAN exemption.
At least, you can build whitelists and blacklists of WiFi networks. The app will remember the networks to trust, and the ones to block.
Based on our review, the iOS client is IPVanish's weakest application. It's functional, but it needs some work.
IPVanish's Fire TV Stick app
The IPVanish Firestick VPN app is the best we've tested. It isn't best-designed one, but it's highly secure and easy to use.
The app has many customizable settings, including auto-startup, auto-reconnect, LAN exemption, and even split tunneling.
The real-time upload/download speed graph is prominent, like IPVanish's other apps, but it doesn't affect functionality. If anything, it looks better on a TV than on a phone or computer screen.
You can use either OpenVPN (UDP or TCP) or WireGuard connection protocols. You can also "scramble" your OpenVPN traffic, which worked to unblock certain apps that were blocking standard VPN traffic.
The main drawback of IPVanish's Fire TV Stick app is that it lacks a kill switch. It's a disappointing oversight, considering how security-focused the VPN company is.
How to install IPVanish on your Fire TV Stick:
Select 'apps' and then 'categories' from the Fire TV Stick home screen.
Choose 'utility' and then select the IPVanish application.
Download IPVanish and select 'open' to enter your login details.
Click 'connect' to use the nearest server, or pick a server from the 'options' menu.
IPVanish Linux Client
Like many other VPN services, IPVanish hasn't built a native Linux VPN application.
To use IPVanish on Linux, you'll have to therefore use standard command lines, in the absence of a graphical user interface.
IPVanish is compatible with on Ubuntu, Fedora, Kali, Mint, Lubuntu, Pop! OS. The CLI (Command Line Interface) supports OpenVPN, PPTP, L2TP, and IKEv2 connections.
Price & Value
IPVanish Is Worth the Slightly Higher Cost
There are two subscription plans available: a monthly, and a yearly plan. Each option is paid upfront and includes exactly the same features.
If you sign up to IPVanish via our links, you can get a discount of up to 69%.
The best price comes with the yearly subscription plan. This costs $3.33 per month, billed as $39.99 the first year, and $89.99 each year thereafter.
Payment & Refund Options
American Express

Mastercard

PayPal

Visa
You can pay for your IPVanish subscription by credit card, debit card, or PayPal. International payment methods, like Alipay, are not supported.
Cryptocurrencies, like Bitcoin, and cash payments are also not accepted. It's therefore impossible to subscribe to IPVanish with total anonymity.
IPVanish offers a 7-day free trial on iOS
IPVanish has reinstated its 100% free trial for new iOS subscribers.
You can download IPVanish from the app store to create an account and start your 7-day free trial. Your account details can then be used to try out IPVanish's apps on Windows, Android, and macOS.
The free trial can only be activated on IPVanish's annual plan, which you'll be charged full price for unless you cancel before the end of the trial period.
Alternatively, you can take advantage of IPVanish's 30-day money-back garantee.
This 30-day refund promise is no-questions-asked, and refunds are processed within 10 working days. However, it only applies to yearly subscriptions, and it falls short of CyberGhost's 45-day money-back guarantee.
Also, if you sign up for IPVanish via the Apple App Store, you won't qualify for the money-back guarantee at all.
Customer Support
Helpful 24/7 Live Chat Support
| Customer Support | Available in IPVanish VPN |
| --- | --- |
| 24/7 Live Chat Support | Yes |
| 24/7 Email Support | Yes |
| Chatbot | No |
| Email Support via Online Form | No |
| Tutorial Videos | No |
| Online Resources | Yes |
The fastest way to get support is via Live Chat, which you can reach from the top-right of the website. Live chat agents are helpful, and always respond quickly. The round-the-clock email support is also excellent, with prompt and well-written responses.
Equally, the website features many detailed tutorials on using IPVanish on various platforms. For example, there are 12 guides just for using the VPN on Windows.
The online FAQ section is also good for straightforward solutions to common issues.
There's telephone support, too, which isn't offered by any other big name VPN. It's available from 9am to 5pm CST, Monday to Friday.
The Bottom Line
IPVanish VPN Is Worth Getting
IPVanish is an excellent VPN service that competes with the best on the market, particularly when it comes to torrenting, Kodi, and Fire TV Stick.
The VPN offers fast speeds across its secure network of servers, highly-secure applications, and a wide array of advanced features. Unlike many other VPNs, you can also use it on as many devices as you like at once.
IPVanish is a strong choice for anonymous torrenting and Kodi streams. High speeds, a no-logs policy, and IP leak protection are the hallmarks of a great P2P VPN.
However, the VPN service isn't good for bypassing strict VPN blocks. Whether it's a streaming platform or a country's firewall, IPVanish is unlikely to work well.
Alternatives to IPVanish VPN
ExpressVPN
As our top-rated VPN service, ExpressVPN excels in almost every department. It doesn't focus on Fire TV Stick or Kodi to the same extent, but it beats IPVanish in most other areas. Read ExpressVPN review
VyprVPN
If you need a VPN for China (or any other high censorship country) take a look at VyprVPN. Its "Chameleon Protocol" is one of the most effective anti-censorship protocols available. Read VyprVPN review
Was this content helpful?
---
User Feedback for IPVanish VPN
175 user reviews

2 questions answered