Disclosure: Top10VPN.com is reader-supported. We may earn commissions if you buy a VPN through links on our site.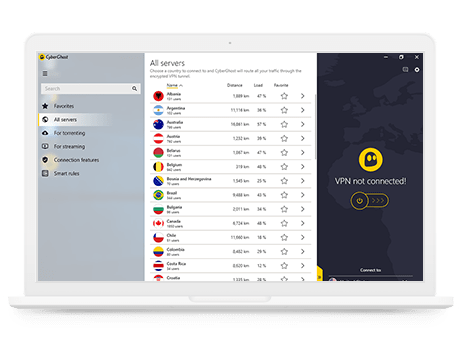 CyberGhost VPN started off as a free VPN and it quickly became one of the most popular VPN services.
It currently has 1 million subscribers and its popularity keeps growing, but how does it compare to other top VPN providers?
There was only one way to find out, so we went to work and looked under the hood of each of its apps. As a result, you'll learn everything you need to know about CyberGhost in this review, including:
Is it safe and is it legal?
Does it really work?
Is it still free?
Does it work with Netflix?
Is torrenting & P2P allowed?
We also investigated the past controversies surrounding CyberGhost's parent company to determine if this is a VPN you should use or not. Keep reading our CyberGhost review to see what we found out.
CyberGhost Pros & Cons
Very fast same-country speeds
Works with Netflix, BBC iPlayer & more
Optimized servers for torrenting/P2P traffic
No logs & no IP, DNS or WebRTC leaks
Easy to use apps for Windows, Mac, iOS & Android
Great server network across 90 countries
Torrenting not available on some servers (inc. Australia)
Doesn't work in high censorship countries
14-day refund guarantee on 1-month plan
CyberGhost Key Summary
| | |
| --- | --- |
| Data Cap | None |
| Speed | 87Mbps |
| Logging Policy | No Logs |
| Data Leaks | No |
| Jurisdiction | Romania (EU Member) |
| Servers | 7,100+ |
| IP Addresses | 6,000 |
| Countries | 90 |
| US Netflix | Yes |
| Torrenting | Restricted |
| Works in China | No |
| Support | 24/7 Live Chat |
| Cheapest Price | $2.75/mo over 3 years |
| Official Website | Cyberghost.com |
CyberGhost is without a doubt an impressive VPN, but there are a few drawbacks that you need to know about in more detail.
To begin, lets take a closer look at the company behind it.
Who is CyberGhost?
About & Logging
CyberGhost VPN was first launched by Robert Knapp in 2011 who founded the Romanian company CyberGhost SA. In 2017, CyberGhost SA was acquired by an Isreali company called Crossrider for €9.2 million (~$10 million). 
Crossrider then changed its name to Kape Technologies in 2018, and acquired the VPN service ZenMate. 
After undergoing some research into the company's history, we discovered some unsavoury secrets: Crossrider was a company previously known for infecting devices with malware and adware.
More so, according to a 2015 report by Forbes, the majority stakeholder in Crossrider was billionaire Teddy Sagi, a businessman who founded gambling software company, Playtech, but who was also convicted in Israel of fraud and bribery in 1996.
Even stranger, Crossrider's founder and CEO until 2016, Koby Menachemi, was a member of the Israeli Intelligence Corps Unit 8200, described by the Financial Times as "the foremost technical intelligence agency in the world."
Since then, CEO Ido Erlichman decided to rename the company Kape Technologies to distance itself from the "strong association to the past activities of the company."
Even the CEO of CyberGhost, Robert Knapp, admitted to a potential conflict of interest when he said: "While CyberGhost focused on privacy and security from day one, Crossrider started out as a company that distributed browser extensions and developed ad tech products. Quite the opposite of what we did."
It's a shame Crossrider was engaged in suspicious activities in the past, but it's clear that CyberGhost is a privacy-focused VPN service, and we've seen no evidence of it being otherwise. 
Being headquartered in Romania may seem less than ideal, since Romania is part of the EU which has aggressive data-retention and sharing agreements in place with other nations. 
However, Romania is the only EU nation to have successfully said 'no' to data retention laws, deeming it unconstitutional despite EU pressure. This makes it a small privacy retreat and probably explains why CyberGhost isn't the only VPN based there.
Even if Romania did begin to bow to EU demands, we're not concerned given that CyberGhost doesn't collect any personally identifiable connection data.
You can trust CyberGhost with your online privacy.
Logging Policy
This is a list of all the anonymous information that CyberGhost collects (taken from its logging policy):
"CyberGhost VPN records the log-in of an anonymous account for statistical purposes. We do this once a day (all other log-ins will be ignored) and sum up each daily log-in for one month. The daily log-in data will be deleted after 24 hours, the monthly sum at the end of each month."
CyberGhost claims that this data is the bare minimum required to keep its VPN service running optimally.
The logging policy makes it clear that no personally identifiable data is collected and therefore nothing is stored on CyberGhost's servers that could be used to identify you, should anyone ever seize its servers.
Very fast speeds, especially for same-country connections
Speed & Reliability
CyberGhost will match almost any VPN service for fast download and upload speeds, but what it sometimes lacks is consistency.
Its same-country (for example, London to London) connection speeds are impressive and reliable, but users connecting to international servers may suffer a drop-off in speed, with ping times also increasing.
Local Speed Test Results
Before using CyberGhost:
92

97

Ping

ms

2
When connected to CyberGhost:
87

83

Ping

ms

18
Download speed without CyberGhost: 92 Mbps
Download speed with CyberGhost: 87 Mbps
Our download speed loss when CyberGhost is running: 6%
We put all the VPN apps through our rigorous speed testing process to determine the average speeds for multiple locations across the globe. These are the average speeds you can expect:
USA: 51Mpbs (download) & 41Mbps (upload)
Germany: 78Mbps (download) & 74Mbps (upload)
Singapore: 28Mpbs (download) & 15Mbps (upload)
Australia: 32Mbps (download) & 7Mbps (upload)
Over 7,000 servers around the world
Server Locations
90
Countries
111
Cities
6,000
IP Addresses
CyberGhost's VPN servers cover the whole world, with great server coverage in Europe and North America.
A choice of over 7,100+ servers is paired with a similar number of IP addresses.
7,100+ servers is a very good number, and one of the highest server counts on the market. 
Similarly to IPVanish, CyberGhost also owns all of its DNS servers meaning that it doesn't rely on rented servers to provide its service.

The countries with the most servers are:
US (1,045)
Germany (684)
France (440)
UK (677)
Netherlands (218)
Canada (239)
At city-level, CyberGhost covers 11 different US locations, and 3 locations in Australia, Canada, Germany and the UK. There are 2 locations in France, Italy, Spain, and Switzerland.
Great for Netflix, torrenting and more
Streaming & Torrenting
CyberGhost provides many dedicated Netflix servers, which is great. They are very easy to find in the app and we've never had any issues streaming Netflix in the US, UK, France and Germany (the four Netflix libraries CyberGhost unblocks).
CyberGhost also has its own dedicated BBC iPlayer servers, which worked very well in our tests. It's no surprise that CyberGhost is our highest-recommended VPN for BBC iPlayer.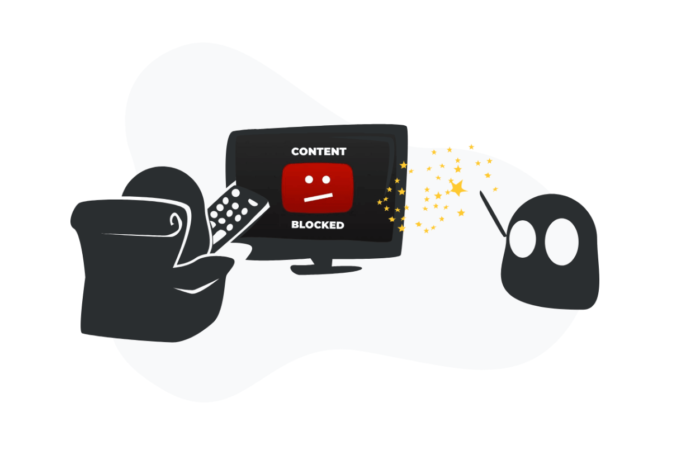 But that's not all. You can also successfully stream:
Disney+
Hulu
HBO
Amazon Prime Video
Sling TV
Sky
Now TV
PlayStation Vue
Torrenting
CyberGhost is also a good choice for torrenting, although P2P traffic is not allowed on its Australian servers. Torrenting was also restricted on US servers until recently, but that's no longer the case.
If you're worried CyberGhost isn't safe enough, don't.
It won't log your activity, it has a VPN kill switch and when we checked for IP and DNS leaks, we found none. Basically, it will keep your true IP address hidden and your downloads private.
You can also use CyberGhost to stream Kodi, but not via a Fire TV Stick.
No good for highly censored countries
Censorship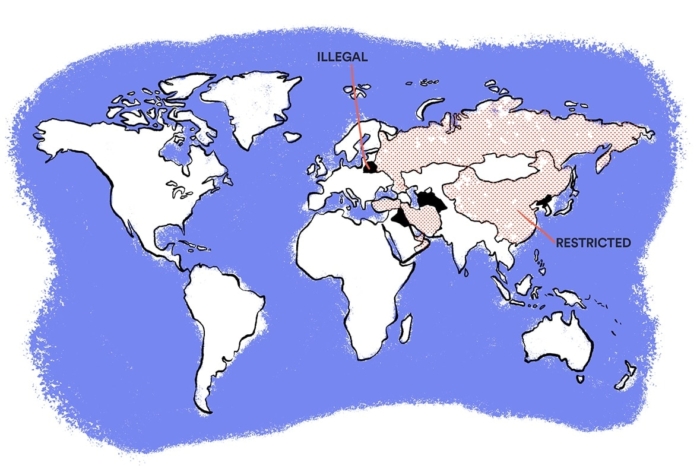 We can't recommend using CyberGhost in high censorship countries, as it simply can't guarantee to bypass aggressive web censors.
Unfortunately the apps don't have the obfuscation tools that make ExpressVPN and VyprVPN better at beating online censorship in countries like China, the UAE, or Turkey.
CyberGhost even warns that you using a VPN in certain countries is forbidden and that its VPN shouldn't be used in these nations. It does mention that workarounds for its VPN are available, but that you shouldn't try them.
Basically, CyberGhost doesn't want people to use its VPN in countries where VPNs are not legal.
Compatible with popular devices, including routers
Platforms & Devices
Apps
Windows
Mac
iOS
Android
Linux
Router
Whatever your device or operating system, CyberGhost has you covered with either a custom VPN app, or a manual workaround for you to configure your device and use the VPN with it.
CyberGhost VPN is compatible with:
Windows
macOS
iOS
Android
You can also use it on multiple devices at once, up to 7 in total (depending on the pricing plan you've chosen).
Games Consoles & Streaming Devices
AppleTV
Amazon Fire TV
Chromecast
Nintendo
PlayStation
Roku
Xbox
You can also use CyberGhost's VPN with a range of gaming consoles and streaming devices, by installing the VPN onto your home router and connecting your home devices to it.
You can also piggyback off another device, such as your laptop, that's already running the CyberGhost VPN app.
The recent addition of a native VPN app for the Amazon's Fire TV Stick is also a big plus.
Browser Extensions
Chrome
Firefox
CyberGhost has VPN browser extensions available for:
Google Chrome

Mozilla Firefox
These extensions are entirely free but, regardless of whether or not you're a paying customer, you can only access eight servers in four locations (2 servers each):
United States

Germany

Romania

Netherlands
These VPN add-ons are only proxies though, so they will only protect your web browser traffic. We recommend you use CyberGhost's VPN extensions with the main VPN application or VPN client at all times.
One of the best VPNs for security
Encryption & Security
Protocols

IKEv2/IPSec

OpenVPN (TCP/UDP)

Encryption

AES-256

Security

DNS Leak Blocking

First-party DNS

IPV6 Leak Blocking

VPN Kill Switch

Advanced features

Split Tunneling

TOR via VPN Server
Please see our VPN Glossary if these terms confuse you and would like to learn more.
CyberGhost is an excellent choice for privacy, with one of the most advanced security suites of any VPN available today.
Its VPN apps default to our favorite protocol, OpenVPN, and it encrypts your web data traffic with the ultra-secure AES-256 encryption.
CyberGhost recently stopped supporting PPTP and LT2P protocols for security reasons. Those protocols are quite outdated now and we think its a good move on CyberGhost's part, showing its dedication to user security.
Changing security protocols on the Windows app is very simple, but if you want to do the same on the Mac version, it's far less obvious. In fact, we had look up how to do it online and discovered that you can't change it at all in app, not without downloading some software.
That's hardly convenient.
It does however have a kill switch to make sure your identity stays protected in the event of a connection drop. We also ran several IP or DNS leak tests and we found no leaks.
As icing on the cake, CyberGhost release a yearly transparency report detailing the legal requests they've received and ignored.
Rest assured that your true location is safe and hidden with CyberGhost.
Extremely easy to use
Ease of Use
How to Install & Set Up CyberGhost
CyberGhost is still one of the easiest VPNs to use, even with all of its bells and whistles.
Menus in the apps are clearly labeled and come with helpful contextual tooltips. 
There's even a set of demonstrative videos on the CyberGhost website that show you just how simple its VPN apps are.
Browser Extensions
CyberGhost's browser extensions couldn't be simpler. You just have to click the icon and select a location.
24/7 live chat and extensive troubleshooting
Customer Support
| | |
| --- | --- |
| 24/7 Live chat support | Yes |
| Online Resources | Yes |
CyberGhost's round-the-clock live chat support agents are always friendly and responsive, usually solving our queries in a matter of minutes.
There's a good chance you won't ever need to use live support, though, as the online troubleshooting guides are pretty comprehensive.
This makes CyberGhost a top-level customer support experience and we can't fault it.
A great value VPN made very cheap with long-term plan
Pricing
CyberGhost Coupon
CyberGhost Pricing Plan
CyberGhost used to provide a free VPN service, however that is no longer the case.
At its very cheapest, CyberGhost costs $2.75 per month – a 79% saving – on a 3-year commitment that will cost you $99 upfront.
We think it's worth the money, but if you don't want to commit for that long then a 12-month subscription plan costs to $5.99 per month while a monthly plan will cost $12.99 per month. 
CyberGhost has a 45-day money-back guarantee in place, which is one of the longest we've come across, but it only applies to subscriptions of six months or longer – one-month subscriptions have a 14-day refund guarantee.
There are no hidden catches or restrictions. If you want your money back then CyberGhost will refund you in 5-10 working days.
To get a refund, simply contact CyberGhost support (live chat or email) and request a refund before the 45-days are up. You may be asked to fill in a short survey.
CyberGhost also offers a one-day free trial (or seven days for mobile devices).
The free trial grants you the full VPN experience with no personal or payment details asked for. A handy pop-up will remind you of your remaining runtime every time you use the VPN service.
All plans have 45-day money-back guarantee
Payment & Refund Options
| | |
| --- | --- |
| Credit Card | Yes |
| PayPal | Yes |
| Bitcoin | Yes |
CyberGhost accepts a range of payment options including most major credit cards, PayPal and Bitcoin.
Unfortunately, it doesn't currently accept any other international options like Alipay or UnionPay.
Do We Recommend CyberGhost?
The Bottom Line
We do, 100%, despite some of the past controversies surrounding its parent company.
The CyberGhost VPN apps tick a lot of boxes, and if you're looking for a fast and private VPN on a budget, then look no further.
CyberGhost isn't perfect, and some of its limitations may lead you to look at the alternatives below instead, but for 99% of users we're confident it'll keep you happy.
Alternatives to CyberGhost
ExpressVPN is our top-rated VPN, providing unrestricted streaming and torrenting on all servers, with automatic protocol selection on all its custom VPN apps. Read ExpressVPN review
PIA is another established VPN that is currently registering outstanding speeds, particularly in the US. On nearby connections PIA is unbeatable. Read Private Internet Access review
You've read our expert review - read on for reviews from real users.
User Reviews for CyberGhost
270 reviews
We value your opinion, whether it's positive or negative. Please leave a helpful and informative review, and don't disclose personal information or use abusive language. All user reviews are moderated to ensure they meet our posting guidelines.
Already use CyberGhost? Tell us what you think.
When a review is marked "Verified Customer" it means we've verified that the reviewer has had a genuine experience with the company.
Best Positive Review
Excellent service fully satisfified.
Verified Customer
Most competitive price. Nice looking and easy to use software. Stays connected for as long as i need it to be (24h without any trouble). Beeing able to connect to Netflix USA is a great bonus, and other dedicated streaming and torrent download possibilities, etc etc ...
Best Critical Review
Good but could be better
Verified Customer
The tabs that display all countries and servers should be sorted by speed/bandwidth rather than just distance as distance doesn't guarantee good speed... also the mobile app has no tabs for torrenting at all for some reason and that is a shame...
Showing 10 out of 268 reviews
Great overall, super simple to use

Verified Customer

Great overall, super simple and intuitive to use, no matter if you are on your mac, iPad or iPhone and at an affordable price. Would recommend to everyone

Verified Customer

I have been enjoying using CyberGhost. I love the ease of use of the app, and the user interface. The app could be downloaded on multiple platforms incluiding the FireTv which is amazing to use with apps like Netflix to gain access to content that we don't have in the US. Although, sometimes I encountered issues with Netflix, and mainly the UK server it won't play any content because Netflix blocks detects the VPN. Other than that, the service works great and the speeds are surprisingly fast.

A VPN to be reckoned with.

Verified Customer

Cyberghost is a great VPN provider with fast speeds, good encryptions, and an honest to God zero-log policy. My only problem with it is that Japan is not available for Netflix streaming so I can watch all the anime they have there.

Verified Customer

Using CG for a few months now. Hooks up quick, no issues. Recommended for the types of downloading I'm partial to, no hiccups or problems at all. Big Thumbs Up for keeping me well-stocked with entertainment :)

Verified Customer

Never had an issue since using this, it is easy to set up, click connect and forget about it, torrents, IPTV or just something to give you some anonymity.

Verified Customer

Not sure what to say but nice & clean. Sits in the background & works seamlessly & does it's job. This program finds the best host site to connect to & hasn't failed me yet.

Fast, reliable, easy to use.

Verified Customer

Cyberghost Vpn is fast but also it's reliable as service, never disconnected, the interface is simple and easy to use. Thank you.

Verified Customer

All works fine. But it will be better to have a more shorter lead time to connect to a server. It's a bit long.

Verified Customer

Needs way better download speeds, and more servers in New England. especially Boston area. Good ui, and supposedly good security. Also pretty quick to connect

Verified Customer

The software is easy to use with plentiful choices of servers. There have been no dropouts after the first month of use which is a great improvement over your competitor. With a great price you cant go wrong when choosing Cyber Ghost for your VPN.