Disclosure: Top10VPN.com is reader-supported. We may earn commissions if you buy a VPN through links on our site.
Our Verdict
CyberGhost VPN is fast, safe and secure. It allows torrenting, it unblocks US Netflix, and its user-friendly apps come with good security features. It does log some anonymous connection data, and its mobile apps need improving. However, CyberGhost is an overall excellent and affordable VPN.
CyberGhost is a popular Romania-based VPN provider with over 10 million users. In this CyberGhost review you'll learn that it's a fast, secure, and easy to use VPN service.
The VPN service has a wide network of 6,700+ servers across 90 countries. It also supports P2P file-sharing on user-friendly apps for Windows, MacOS, iOS, Android, and Fire OS.
CyberGhost's focus on unblocking streaming platforms is clear. It has built streaming-specific servers that unblock US Netflix, Hulu, Disney+, and Amazon Prime Video.
To keep its users safe, all the VPN apps use the secure OpenVPN protocol and AES-256 traffic encryption. The software also comes with a working VPN kill switch called Secure Connect.
CyberGhost also offers a range of good additional security features. These include IPv6 and DNS leak protection, a malware blocker, and split tunneling.
All of this comes for the cheap price of $2.75 per month on a three-year plan. You can also take advantage of a one-day free trial, and a very generous 45-day money-back guarantee.
In this CyberGhost VPN review we'll also cover in detail the VPN service's drawbacks. We'll focus on the limited features of its mobile apps, its inconsistent long-distance speeds. We'll also discuss its inability to work in highly-censored countries like China.
Also, CyberGhost VPN does collect some aggregated web logs, although this won't affect your privacy.
Overall CyberGhost is a very good and user-friendly VPN. It hides your IP address without fault, and unblocks region-restricted video content. In other words, it's ideal for everyday VPN users.
CyberGhost VPN Pros & Cons
Fast same-country download speeds
Unlocks Netflix, Amazon Prime Video & more
Supports torrenting & P2P traffic
Large server network: over 6,700 servers
User-friendly apps for Windows, MacOS, iOS & Android
Token-based dedicated IP system & WireGuard available
Slower long-distance speeds
Limited features on mobile & MacOS
No split tunneling on MacOS or iOS
Can't bypass aggressive censorship
Doesn't work with Chromebook
Ad blocker is ineffective
CyberGhost VPN Key Summary
| | |
| --- | --- |
| Data Cap | None |
| Speed | 87Mbps |
| Logging Policy | Anonymous Server Usage Data |
| Data Leaks | No |
| Jurisdiction | Romania (EU Member) |
| Servers | 6,700+ |
| IP Addresses | Not disclosed |
| Countries | 90 |
| US Netflix | Yes |
| Torrenting | Restricted |
| Works in China | No |
| Support | 24/7 Live Chat |
| Cheapest Price | $2.75/mo over 3 years |
| Official Website | Cyberghost.com |
CyberGhost VPN is safe to use
Logging & Jurisdiction
We examined CyberGhost's privacy policy and the service logs anonymous connection data for statistical purposes. This data is aggregated, anonymized, and cannot be traced back to you.
CyberGhost logs the following data:
Account information
Logins of anonymous accounts per day
Connections attempts
Successful connections
Country of origin
Other popular VPNs collect aggregated connection logs, and CyberGhost is no different.
This information above is deleted after 24 hours, and the monthly sum deleted every month.
Crucially, CyberGhost VPN does not keep logs of user activity or personal data. Your real IP address, the servers you used, or your browsing history will not be logged.
CyberGhost also collects some hardware information from the devices you use. This is done to ensure you don't break the service's simultaneous device limit. This information includes:
Bios lD
Bios date
Video ID
CPU ID
Base ID
Computer username
The facts it collects some connection and hardware logs to enforce its device limit isn't mentioned in the privacy policy. It also conflicts with its "strict no-logs" claim.
While CyberGhost's privacy policy can be confusing, the service has proven to take user privacy seriously. The company publishes an annual transparency report that lists the number of legal requests or DMCA complaints it receives.
The company also commissioned an independent audit on its security practices in 2012. However we want to see a new, updated audit for its logging policy.
CyberGhost has also developed its own free Private Browser that runs off DuckDuckGo. It has a built-in proxy extension, an ad and malware blocker, and a one-click deletion of browsing data. You can learn more about private browsers in our guide.
Although CyberGhost is completely no-logs, it is still a safe and private VPN service. If a truly no-logs VPN is what you're after, considering using Private Internet Access.
Where is CyberGhost Based?
Cyberghost is incorporated as CyberGhost S.A. in Bucharest, Romania and operates under Romanian law. This means it's outside of the 14 Eyes alliances.
Romania is in the EU, which does have aggressive data-retention and sharing agreements between nations. But, Romania is the only member state to have successfully said "no" to these invasive requirements.
In 2009, the Constitutional Court of Romania (CCR) rejected EU legislation forcing companies to keep digital records of their customers. The court declared it "an unconstitutional violation of Romanian citizens' rights to privacy."
Romania is therefore a rather a safe VPN jurisdiction and a rare defender of privacy among European nations. In any event, CyberGhost doesn't collect any personal web logs therefore has no web data to hand over to authorities.
Who Owns CyberGhost?
CyberGhost was launched in 2011 by German tech entrepreneur Robert Knapp as a free VPN. In 2017 Crossrider Group acquired the company for €9.2 million.
Crossrider was founded in 2010 and operated mobile ad platforms and a browser extension development platform. The latter allowed developers to create cross-browser add-ons and monetize them through ad injection techniques.
One of these techniques was to bundle a 'Crossrider' adware PUP (potentially unwanted program) with other software. Once installed, the PUP would serve unwanted advertisements via an internet user's web browser(s). This form of ad injection is not only intrusive but, if misused, is potentially unsafe. Some developers may have abused Crossriders' capabilities for malicious purposes.
Below is a screenshot from a Malwarebytes report into Crossrider PUPs:
Crossider shut its platforms in 2016, prior to acquiring CyberGhost. It then re-branded to Kape Technologies in 2018. Its CEO, Ido Erlichmann, was open about the fact he wanted to distance Kape from the controversies surrounding Crossiders' ad platforms.
Knapp admitted to a potential conflict of interest between CyberGhost and Kape when he wrote:
"While CyberGhost focused on privacy and security from day one, Crossrider started out as a company that distributed browser extensions and developed ad tech products. Quite the opposite of what we did."
Since 2017, Kape Technologies has focused on becoming "a global privacy and security company. As part of its expansion, it has since acquired popular VPN services Private Internet Access and ZenMate.
While Crossrider didn't always put user privacy first, Kape has made a dedicated effort to protect user privacy. There is nothing to suggest that CyberGhost cannot be trusted.
Very good for streaming and safe for P2P
Streaming & Torrenting
CyberGhost is an excellent VPN for streaming. It works with US Netflix, Disney+, Hulu, Amazon Prime Video and many more platforms.
There are dedicated servers for specific streaming platforms clearly labeled within each app. There are also streaming servers for Canada, Germany, France, Poland, Brazil, and more.
All these streaming servers regularly change IP address to bypass the blocks set by websites like Netflix. Search for your desired streaming service in the CyberGhost app's search bar, and select the location you want from the drop-down list.
We tested American Netflix access via the US Netflix server, and easily unblocked US Netflix on all CyberGhost apps. The Netflix website loaded slowly at first, but, once fully loaded, it streamed an entire movie without buffering.
CyberGhost can equally unblock the British, French and German Netflix libraries.
We also tested all UK servers to see if they unblock BBC iPlayer. While it use to work in the past, sadly CyberGhost no longer works with BBC iPlayer.

BBC iPlayer's VPN ban is notoriously hard to beat. Almost all VPNs will struggle to bypass the geo-block from time to time. We hope CyberGhost can fix this issue soon. Meanwhile, use a VPN that still works with BBC iPlayer.
CyberGhost also has a well-designed Fire TV Stick app, too. This is ideal for unblocking streaming apps, and for watching Kodi streams anonymously.
The VPN service also comes with a good Smart DNS tool. This allows you to use the VPN on devices such as Apple TV, Roku, PlayStation and Xbox. Find out how to use CyberGhost's Smart DNS feature here.
Overall, CyberGhost bypasses regional restrictions on a wide range of video content platforms. As such, we rate the VPN service as one of the best VPNs for streaming.
Is CyberGhost a Good Choice for Torrenting?
CyberGhost is also a safe VPN to torrent files anonymously. It's fast, has a sensible logging policy, and offers P2P-optimized servers on all its apps. It also comes with built-in IP and DNS leak protection, which worked well in our tests.
Each VPN app shows you how many users are connected to each server. You can then choose the least congested one, to maximize upload and download speeds. Finding the right server for torrenting is easy. Click on the "for torrenting" tab, and you'll see a list of servers ptimized for P2P traffic.
While many VPNs shy away from mentioning P2P on their servers, CyberGhost is much more upfront about it. It's clear that the service values its file-sharing customers.
For additional privacy, there are also NoSpy servers that you can use. These are owned and managed by the company.
For peace of mind, make sure the VPN kill switch is enabled to prevent IP address leaks, if the VPN connection drops.
One of the downsides of the VPN service is that P2P traffic is not allowed on Australia servers. This can significantly reduce torrent speeds for users in Australia. Those users should connect to the New Zealand servers, instead.
CyberGhost also occasionally blocks P2P protocols on certain servers to reduce congestion, or to comply with specific laws in countries like Russia, Singapore, Australia, and Hong Kong.
For completely unrestricted torrenting on all servers, considering using these torrent VPNs instead.
Also, CyberGhost VPN doesn't allow port forwarding for privacy reasons. This means you can't seed torrent files with this VPN service.
All in all, if you stick to its list of P2P servers, CyberGhost is a good VPN for anonymous torrenting.
Fast speeds on nearby VPN servers
Speed & Reliability
CyberGhost VPN is fast on local connections, but slower on long-distance connections. It sometimes also lacks speed stability. Overall, CyberGhost's speeds are fast enough to browse, stream, and torrent without issue. If you need to regularly connect to far away server locations, we recommend using ExpressVPN.
We did record high ping times while using CyberGhost. A high ping rate equals more lag and using CyberGhost for online gaming can be frustrating. These gaming VPNs are better suited for a lag-free experience.
The VPN service also offers a data compression feature that compresses images and other large files. This tool reduces your data usage and improves your load times.
As part of this CyberGhost review, we tested the company's VPN apps on local and several international servers. You can see the latest speed test results below.
Local Speed Test Results
Before using CyberGhost VPN:
100

99

Ping

ms

3
When connected to CyberGhost VPN:
87

95

Ping

ms

12
We tested CyberGhost's local speeds by connecting to a UK server from our London office. We say very good results, averaging around 87Mbps on our 100Mbps fiber broadband line. This is a percentage speed loss of just 13%.
This is more than fast enough to browse, stream, or torrent files without any major drop in speed.
You can expect to see similar results when connecting to a CyberGhost server near your physical location.
Long-Distance Speed Tests
We also used CyberGhost's apps to connect to international servers in Germany, US, Singapore, and Australia. Sadly, long-distance speeds were much more inconsistent.
It's natural for VPN speeds to drop connecting to distant servers since your data has further to travel. CyberGhost still delivered reasonable results, but it still lags the fastest VPNs.
You can find the full results of our long-distance speed tests below:
US: 26Mpbs

(download) &

59Mbps

(upload) – 74% speed loss

Germany:

66Mbps

(download) &

92Mbps

(upload) – 7% speed loss

Singapore:

14Mpbs

(download) &

45Mbps

(upload) – 70% speed loss

Australia: 8Mbps

(download) &

35Mbps

(upload) – 88% speed loss
We suffered a speed loss of 74% connecting to a US server, which is much slower than other top-tier services. Australia and Singapore didn't do much better, either.
How Fast is CyberGhost Compared to Other VPNs?
We also run speed tests using our bespoke VPN speed test tool. Speed tests run automatically four times per day. Test connection speeds are capped at 100Mbps to recreate a typical home internet connection.
The graph below compares CyberGhost's average internet speed loss to other popular VPNs on our New York server.
You can see results as far back as the past eight weeks to give you a good idea of how fast and reliable CyberGhost is.
Use our speed test tool to compare CyberGhost's global speeds.
Clearly, CyberGhost is slower and less consistent than some of its main rivals. This has been the trend over the last few months, but we hope speeds will start improving again soon.
6,700+ secure servers across 112 locations
Server Locations
90
Countries
112
Cities
Undisclosed
IP Addresses
Cyberghost has a vast network of 6,700+ VPN servers located in 90 countries, more than most services offer.
It also covers 112 city-level locations, which is a great level of city coverage. This means users have a great variety of locations to choose across the globe.
As with many other VPN services, serer coverage in Asia and Africa is rather limited. There are currently 23 CyberGhost servers in Asia, but only six in Africa.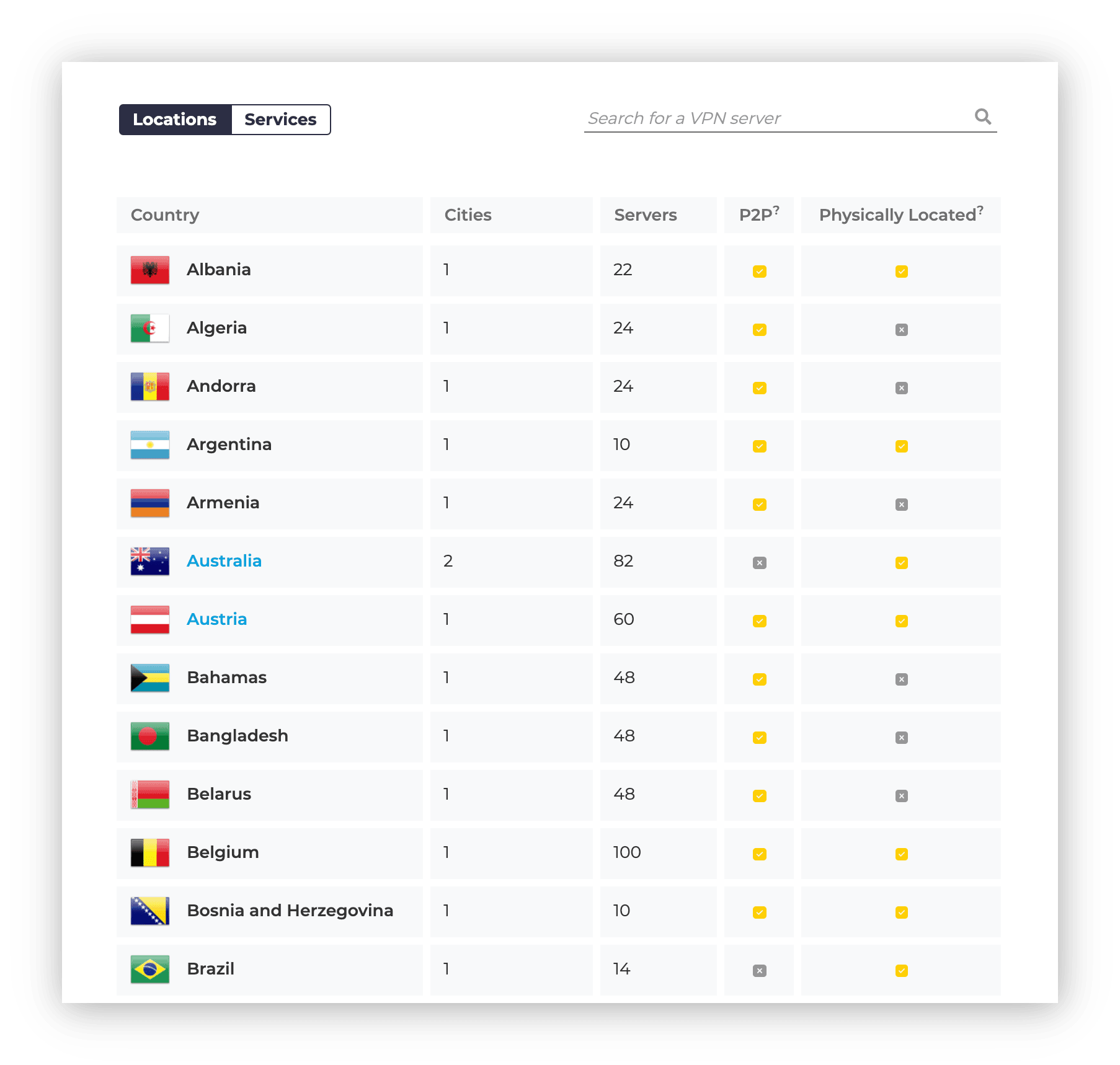 City-level choice is available in the following countries:
Australia
Canada
France
Germany
Italy
Spain
UK
US
The total number of servers in Australia recently increased to 78, which is great to see. It also added new servers in New Zealand, with 13 in Auckland alone.
CyberGhost's server list highlights which servers support P2P traffic, and if locations are virtual or physical (we explain the difference here).
Within the apps you can choose a server from the drop-down list, or automatically connect you to the nearest server location. This allows you to surf anonymously in just a few seconds.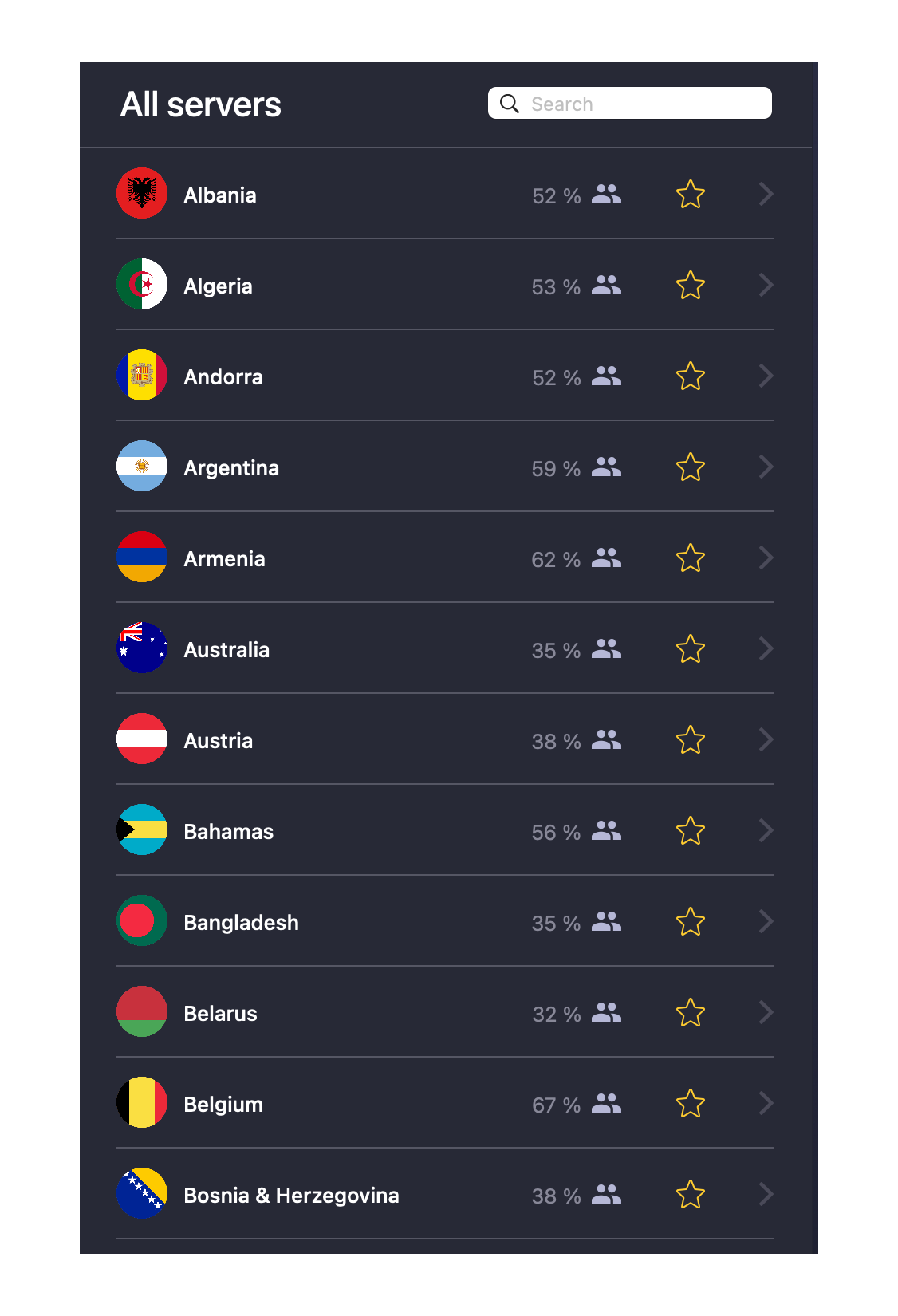 You can also see server loads in the desktop app, helpful to find less congested servers. It's rare to see over 50% in server load, so you're unlikely to experience slow speeds due to congestion.
What types of servers does CyberGhost offer?
CyberGhost offers different types of server that are optimized for certain activities.
These server types include:
P2P Optimized
Streaming Optimized
Static IP Address
Token-based dedicated IP
NoSpy Servers
Ordinarily, the IP address you're given by a VPN is dynamic, meaning it's randomly assigned every time you connect to a server.
By contrast, a static IP address server will assign you the same IP address every time you connect. This can improve unblocking geo-restricted content as your traffic patterns will look more like 'normal' web traffic. However, there are some privacy risks if you keep using the same IP address.
To get around this privacy threat, CyberGhost has developed a token-based dedicated IP system. It's great for users who want to use the same IP address, but also have privacy concerns. When you redeem a unique token, CyberGhost won't know what it is and can't link your account to any specific IP.
Token-based dedicated IP gives you the benefits of a static IP address, with none of its privacy downsides. Token-based dedicated IPs do cost extra, though, and are only available in these locations:
Canada (Montreal)
France (Paris)
Germany (Berlin, Frankfurt)
UK (London, Manchester)
US (Chicago, Las Vegas, Los Angeles, New York)
Not that you can't purchase the token-based dedicated IP add-on if you have an existing CyberGhost account. You have buy it separately from the checkout, along with a new subscription.

NoSpy servers are also an optional extra. As we described above, these servers are built and maintained by CyberGhost in a private data center in Romania. They use top-shelf hardware, dedicated uplinks and come with bigger bandwidth for better speeds.
On the whole, CyberGhost offers a very good selection of server types and locations. We'd also like to see multi-hop (or double VPN) servers added in the future. This feature routes your traffic through two VPN servers, adding a further layer of security. Double VPN is offered by NordVPN and VPN.ac.
Does CyberGhost Use Virtual Server Locations?
CyberGhost marks 58 out of its 89 server locations as "physically located." These servers are physical machines in the country you're connecting to.
The remaining 31 servers are virtual server locations. These servers assign the IP address of the country you want to connect to, but the server is physically located elsewhere.
Virtual server locations can help ensure your connection is fast, secure, and reliable. They can also provide access to countries, in which it's difficult to obtain a physical server. However, they can also impact speed if the physical machine is much further away from your real location.
It's good to see the VPN company being transparent about its virtual servers. One step further is to disclose the actual physical location of these servers. For example, ExpressVPN, lists the real physical locations of its virtual servers.
One question we still have is how many of its servers CyberGhost owns. The company told us they have "total control over all [its] servers." From our own research, it looks like CyberGhost rents some third-party servers, which is fairly common among VPN providers. That said, a well-maintained and self-owned server network can be a great benefit to privacy. If you're interested in a VPN that owns all its servers, take a look at VyprVPN or IPVanish.
Good range of advanced security features
Encryption & Security
Protocols

IKEv2/IPSec

OpenVPN (TCP/UDP)

WireGuard

Encryption

AES-256

Security

DNS Leak Blocking

First-party DNS

IPV6 Leak Blocking

VPN Kill Switch

Advanced features

Ad Blocker

Dedicated IP

Double VPN

Smart DNS

Split Tunneling

TOR via VPN Server
Please see our VPN Glossary if these terms confuse you and would like to learn more.
There's no doubt that CyberGhost is a secure VPN. It effectively hides your IP address and uses industry-standard security features including 256-bit encryption, an automatic kill switch and protection from IP and DNS leaks.
The OpenVPN and IKEv2 protocols are used to establish a connection with the VPN server, and there is also a choice between TCP and UDP connections. OpenVPN is the industry-leading encryption protocol that provides the best balance between performance and privacy. CyberGhost has also recently introduced the WireGuard protocol across all of its devices.
CyberGhost also provides an impressive range of advanced security features: built-in IP leak protection, a malicious URL filter to block malware, automated HTTPS redirection, an online tracking blocker and split tunneling. All of these additional features are included in the standard CyberGhost subscription, which is great value for money.
Recently, the VPN service also decided to remove the insecure PPTP and L2TP protocols. Another encouraging demonstration of the company's ongoing commitment to security.
Authentication is established through the SHA256 hashing algorithm and perfect forward secrecy is achieved via an ECDH-4096 key exchange. In short, CyberGhost VPN ensures a very high level of encryption.
A VPN kill switch is provided that will protect your data in case your internet connection drops. While Windows users get the option to turn this feature on or off, the Mac version is enabled by default and is referred to as Secure Connect.
The "force HTTPS" function helps you avoid insecure websites that aren't protected by HTTPS. This is a useful addition to CyberGhost's security suite that isn't available with many similar VPN services. You can find out more about the risks of HTTP websites in our guide to WiFi security. 
Split tunneling is offered on CyberGhost's Windows and Android apps under the label "use exceptions." This feature lets you decide which websites and services you want to route through the encrypted VPN tunnel and which you don't. Disappointingly, it's not available on CyberGhost's MacOS client.
While secure, CyberGhost's mobile and MacOS apps have significantly less advanced security features than its Windows client. Changing protocols on Mac requires additional software, and it's not possible on mobile at all. 
The number of customization options is also severely limited on the MacOS client –  there are no toggles for using TCP instead of UDP, enabling DNS leak protection, disabling IPv6 connections or turning on the VPN kill switch. We'll cover the user experience of CyberGhost's mac apps in detail later on in this review. 
Overall, CyberGhost is a very secure VPN with industry-leading encryption, leak protection, and a good selection of advanced features. However, we'd like to see improvements to the custom security settings available on MacOS and mobile clients. 
Data Leaks, Trackers & Permissions
VPN security isn't just about the strength of encryption available. We also tested CyberGhost's apps for data leaks, tracking scripts, and intrusive permissions.
We found that all of CyberGhost's apps are free from IP, WebRTC and DNS leaks, which means you can trust them to keep your true IP address hidden and your downloads private.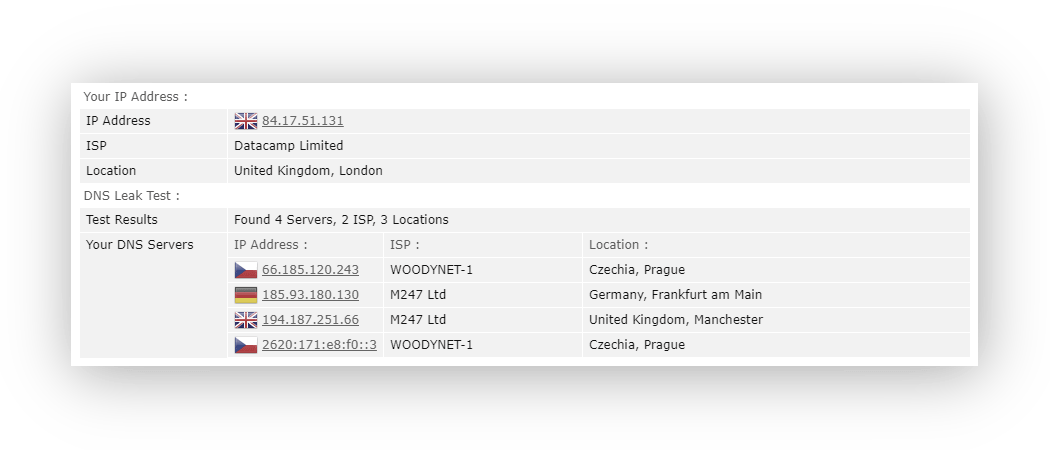 We also tested the privacy and security of CyberGhost by running it through the εxodus tool, which creates reports on the trackers and permissions present in Android apps.
CyberGhost's Android app contains mostly standard trackers that are used to monitor how users interact with the app and respond to issues like crashes.
These trackers include:.
AppsFlyer
Google Analytics
Google CrashLytics
Google Firebase Analytics
Google Tag Manager
Instabug
MixPanel
To put this result into context, CyberGhost contains seven trackers while leading competitors like ExpressVPN have just two. Some of the worst VPNs on the market have up to 28, while services like AstrillVPN have none. 
CyberGhost's permissions are more concerning. The app has the ability to access your location via your GPS and network information, a permission that is considered 'dangerous' or 'special' according to Google's protection levels. While this isn't uncommon, it would be reassuring for the company to report how it accesses this information without storing it.
Finally, we ran the CyberGhost installation software through a malware test to make sure it didn't contain any viruses. The software came back completely clean, as you can see from the screenshot below.
CyberGhost's Security Breach
There are one or two security issues with CyberGhost, past and present, that are worth highlighting .
In March 2019, CyberGhost suffered a security breach at the hands of cybercriminals. The impact was minimal, with just 20 email addresses and 14 CyberGhost usernames exposed. While this is concerning, CyberGhost was very transparent about the incident, which is reassuring. 

In 2016, CyberGhost was criticised for installing root certificates on desktop and mobile apps as part of its ad blocker software. This was a huge security risk that allowed for the decryption of HTTPS traffic.
CyberGhost's ad-blocking feature is also a controversial feature. Instead of filtering adverts and malicious content through DNS requests like the majority of VPN ad-blocking software, CyberGhost's ad-blocker actually inspects and manipulates your traffic to modify your requests and avoid certain domains. 
This is the equivalent of what's called a "Man in the Middle Attack" (MitM). Modifying user traffic is not something a trustworthy VPN provider should do, and it also means that the ad-blocker only works with HTTP websites as it cannot access the content of encrypted HTTPS connections.
CyberGhost no longer installs a root certificate, but it still uses the same intrusive method to filter traffic.
While there has been a significant amount of controversy surrounding CyberGhost's root certificate and the possibility that its "zero-logging" policy is not actually upheld, CyberGhost is overall a secure VPN service. We'd like to see the custom security settings on mobile and MacOS clients improved and the ad-blocking feature amended or disabled.
Native VPN apps for every major platform
Platforms & Devices
Apps
Windows
Mac
iOS
Android
Linux
Router
CyberGhost comes with custom clients for Windows, MacOS, Android and iOS. It has browser extensions for Chrome and Firefox and is also compatible with Android TV, Linux, Routers, Amazon Fire TV Stick, and FireTV.
Installation on almost every platform is incredibly easy, making CyberGhost one of the most widely compatible VPN services available. 
The only device CyberGhost doesn't work with is Chromebook, and there is some variability between the features available on each platform. We'll cover these differences in detail in the next section of this review. 
The service has a simultaneous device limit of seven devices, which is slightly above the industry standard of five. If you run out of device slots you can simply log out of a device on the CyberGhost website in order to use a new one. 
CyberGhost is also compatible with Raspberry Pi, Synology NAS, and VU+ Solo 2. These require manual workarounds to install, but there are helpful setup guides available on the CyberGhost website.
You'll also find setup guides for routers on the support website. CyberGhost is a great choice if you're interested in setting up a VPN router; it's available on DD-WRT, TomatoUSB and Merlin-Built routers. This will allow you to bypass the service's simultaneous device limit and protect your entire network. 
Games Consoles & Streaming Devices
AppleTV
Amazon Fire TV
Chromecast
Nintendo
PlayStation
Roku
Xbox
Most VPN providers do not offer native applications for Xbox, Playstation, or other games consoles. Instead, you can install the VPN software on your router to encrypt and re-route the traffic of every device connected to your network. 
We recommend CyberGhost as one of the best VPNs for gaming because you can easily install it on your router. It has a large server list and good speeds – ideal circumstances for gamers. You'll unlock access to geo-restricted content, prevent ISP throttling and bypass any unwarranted IP bans. 
CyberGhost's Smart DNS feature can be configured on gaming consoles and its website gives you configuration guides on how to do this for:
It would be good to see CyberGhost update this and include a guide for Playstation 5, too.
CyberGhost also comes with a dedicated Amazon Fire TV Stick app, which is an impressive additional feature that not many other VPN services can offer. To use it with Apple TV, you'll have to install the client software on your router. Put simply, if you're looking to unblock content on your TV, CyberGhost is a good option. 
Browser Extensions
Chrome
Firefox
CyberGhost's browser extensions are available to install on Google Chrome and Mozilla Firefox. They are entirely free and work to effectively hide your IP address and unblock geo-restricted content.
However, these VPN browser extensions are much more limited compared to CyberGhost's full VPN service. There is no kill switch and you can only access eight servers in four countries including Germany, The Netherlands, Romania, and the United States. This is substantially less diverse than the paid app, but it's not bad for a complimentary service.
It's also important to remember that VPN browser extensions do not provide the same level of protection as VPN apps. Extensions will only protect your browser traffic, while VPN applications will encrypt all of the data travelling to and from your device. 
Here's a table that details all of the differences between CyberGhost's browser extensions and full VPN applications:
CyberGhost's full VPN subscription comes with a lot more benefits, but as browser extensions go these are worth considering.
Doesn't work in high-censorship nations like China
Censorship
CyberGhost won't work in heavily-censored countries, including China, Iran, Turkey and the UAE. This is partly because it doesn't come with obfuscation technology. Obfuscation disguises VPN traffic to make it appear as 'normal' browsing to web censors. This helps bypass internet blocks in countries where VPN usage is restricted or illegal.
CyberGhost itself warns against using its service where VPNs aren't legal.
Using a VPN in China has become increasingly difficult since the country imposed a nationwide ban on the technology. Most VPNs do not work well in China – if at all – including premium VPN services.
If you need a VPN to unblock websites in China, we recommend either VyprVPN or Astrill VPN. They offer obfuscation technology, and work effectively in heavily-censored regions.
Very affordable with a 45-day money-back guarantee
Pricing
CyberGhost VPN Coupon
CyberGhost VPN Pricing Plan
CyberGhost is a cheap VPN. There are monthly, annual, two-year and three-year subscription plans available – as usual, the longer plans come at a heavily-discounted price. There's a short free trial period as well as a 45-day money-back guarantee.
Themonthly plan costs $12.99, which is slightly higher than competing premium providers like NordVPN or IPVanish. It's also above the industry average of around $10-12.
The annual plan costs the equivalent of $5.99 per month, which drops to $3.69 on the two-year plan. At its very cheapest, CyberGhost costs just $2.75 per month. This is available with the 3-year subscription plan, billed as $99 upfront. This saves you 79% off the standard monthly price.
This is excellent value for money, especially on the three-year subscription plan. CyberGhost is consistently rated as one of the best VPNs on the market and these prices make it one of the cheapest, too.
CyberGhost offers a very generous 45-day money-back guarantee if you choose a subscription plan longer than a year. If you opt for the monthly plan, the guarantee shortens to 14 days. It's "no questions asked," though, with no hidden catches or restrictions.
To get your money back simply contact CyberGhost support via live chat or email and request a refund before the 45-days are up. You'll be refunded within 5-10 working days.
All plans have 45-day money-back guarantee
Payment & Refund Options
| | |
| --- | --- |
| Credit Card | Yes |
| PayPal | Yes |
| Bitcoin | Yes |
CyberGhost accepts payment via Bitcoin, Cash, Credit Card, and PayPal. This is a good variety of payment options that is on par with the majority of leading VPN services.
The ability to pay with cash and cryptocurrency will appeal to the most privacy-conscious users. Cash payments are limited to countries such as Germany, Switzerland, or Austria where resellers like Amazon, MediaMarkt, and Saturn can process the transaction.
You can't pay for CyberGhost with Paysafe cards, AliPay, or UnionPay.
CyberGhost does not have a free version. If you're looking to try out the software before you commit to a subscription, CyberGhost also offers a one-day free trial on desktop or seven days for mobile devices. This is a relatively short free trial, but we're glad to see the option included.

The free trial grants you the full VPN experience with no personal or payment details required. A pop-up window will remind you of your remaining trial period every time you use the VPN.
Though the monthly plan is relatively expensive, CyberGhost's annual, two-year, and three-year subscription plans are excellent value for money. They're incredibly cheap considering the quality of the service. The 45-day money-back guarantee and free trial period are ideal for beginners who want to test out the VPN software. Overall, we can't find any fault with CyberGhost's pricing system.
CyberGhost's apps are easy to install and use
Ease of Use
How to Install & Set Up CyberGhost VPN
How to Connect to a Server with CyberGhost
CyberGhost is a light and simple service with a well designed, intuitive interface across all platforms. It's easy to use and set up and it's got almost all of the advanced features that an expert user might need. This makes it a great VPN for beginners and experienced users alike.
Advanced users might be disappointed with the limited number of custom settings available on MacOS, and there is some variability in the user experience on each platform.
In this section, we'll go through the differences between each of CyberGhost's native applications in detail.
Desktop Clients
In terms of design, there's very little difference between CyberGhost's Windows and MacOS clients. They both open with a simple interface that shows your connection status, a list of locations, and a large connect button.
The right-hand panel houses a ton of functionality: you can find a list of servers with their distance and server load, a favorites system and a filtering system so you can easily find servers optimised for streaming or torrenting. However, the search bar tool does not apply to cities, which means you have to scroll through the many servers alphabetically until you reach your desired destination. In a country like the US, which has so many servers, this can take some time.
The connection features menu allows you to enable privacy features including ad and tracker blocking, HTTP redirection, and a bonus 'data compression' feature that reduces the size of images and files to improve performance.
There are even more options in the 'smart rules' menu on Windows: you can choose to launch the app automatically on startup, change your network preferences, or enable split-tunnelling. 
However, while both apps are nice to look at, the MacOS client offers significantly fewer customisation options than its Windows counterpart.  
Crucially, there is no OpenVPN option on MacOS. If you want to use OpenVPN instead of IKEv2 or WireGuard you have to use external software like Tunnelblick. This is a disappointing fault with an otherwise well-designed and functional application. You can find full instructions on configuring OpenVPN for Mac on the CyberGhost support website. 
There are some important features absent from CyberGhost's Mac client, including options for:
Disabling VPN kill switch (enabled by default)
Using OpenVPN TCP instead of UDP
Using a random port to connect
Disabling DNS leak protection
Blocking IPv6 traffic
Overall, CyberGhost's desktop clients are pleasantly designed, well-organized and easy to use. However, the Windows Client is much better equipped for advanced users looking to customise their settings. We'd like to see improvements to the MacOS Client in future updates to bring it up to the same level. 
Android & iOS
CyberGhost's iOS app is far simpler than the desktop clients, with a relatively basic interface and barely any customisation options. The Android app is similarly designed but has a much longer list of features on offer. Unlike the desktop clients, both mobile apps offer WireGuard protocol.
The iOS app connects to your nearest server by default and you can also choose from a list of server locations. Tapping a location will display the server load and the number of connected users, and you can save specific locations to a Favorites list.
Both apps have the option to save connection settings for networks you use regularly, so the VPN will know exactly which actions to take at home, school or work, or on public WiFi.
The Android app has many more features than its iOS counterpart, including:
Ad blocker
Connection checker
Data compression
Dedicated IP (paid token required)
Domain fronting
Prevent online tracking
Protection against malicious websites
URL filtering
Split tunnelling
Use random port
Split tunnelling allows you to choose which applications use the VPN and which don't, and it's great to see OpenVPN and WireGuard protocols available after an update and so easy to switch between.
Overall, CyberGhost's iOS mobile app is basic but its Android client is effective, with plenty of customizable features to take advantage of while being very easy to use. Both feature WireGuard protocol in contrast to the desktop versions, but we'd like to see the offerings equalized. 
24/7 live chat and excellent customer support
Customer Support
| | |
| --- | --- |
| 24/7 Live chat support | Yes |
| Online Resources | Yes |
CyberGhost's support website contains a huge selection of articles, guides, and setup instructions to help troubleshoot connection issues and installation problems. The resources are comprehensive and easy to navigate.
There's a feedback and reporting service in the application interface, a 24/7 email ticketing system, and 24/7 live chat support.

Live chat can be accessed in the bottom-right corner of the main CyberGhost website. Type in a search term related to your problem and you will be presented with a series of support posts to try and resolve your issue before chatting with an agent.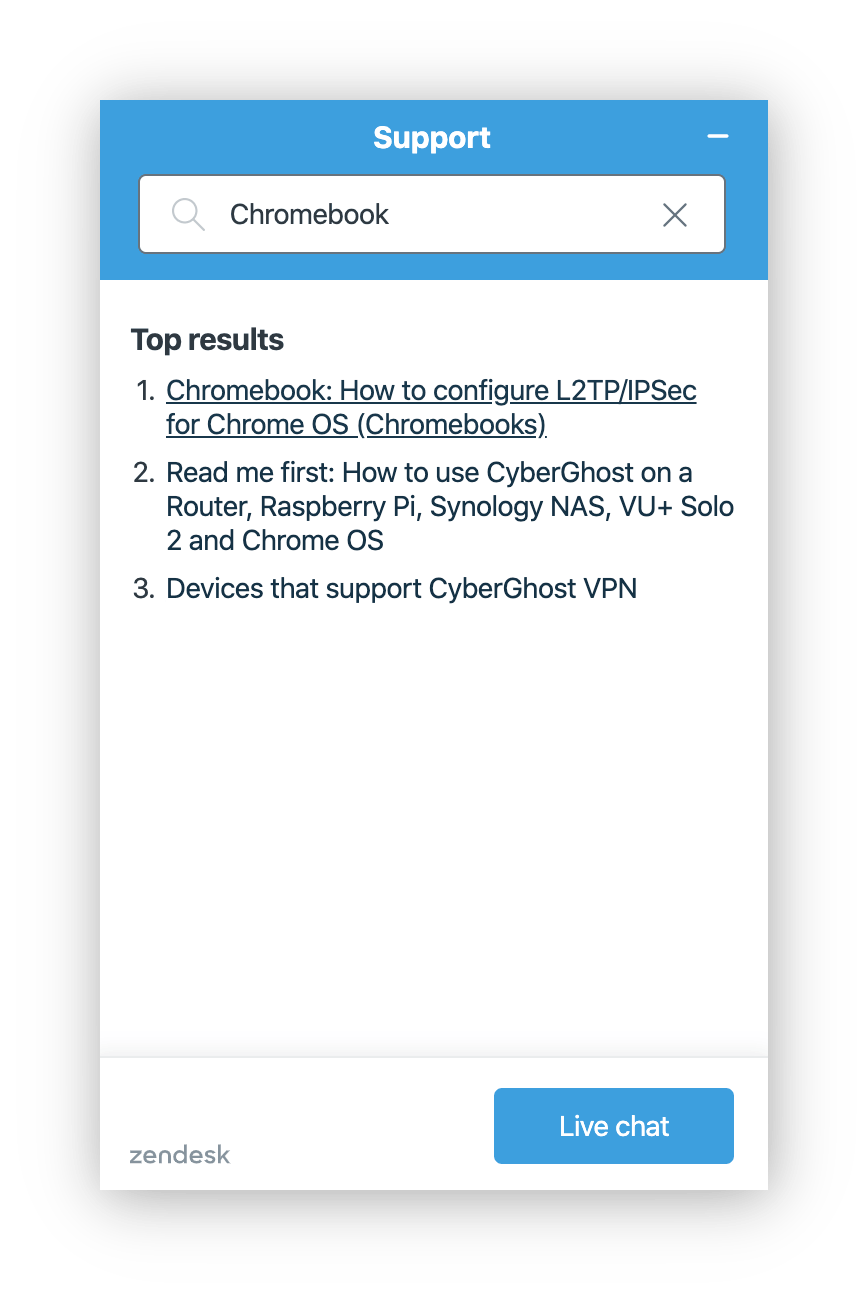 Live chat is available 24/7 and we found that agents responded almost immediately; our support agent answered our question in a matter of seconds: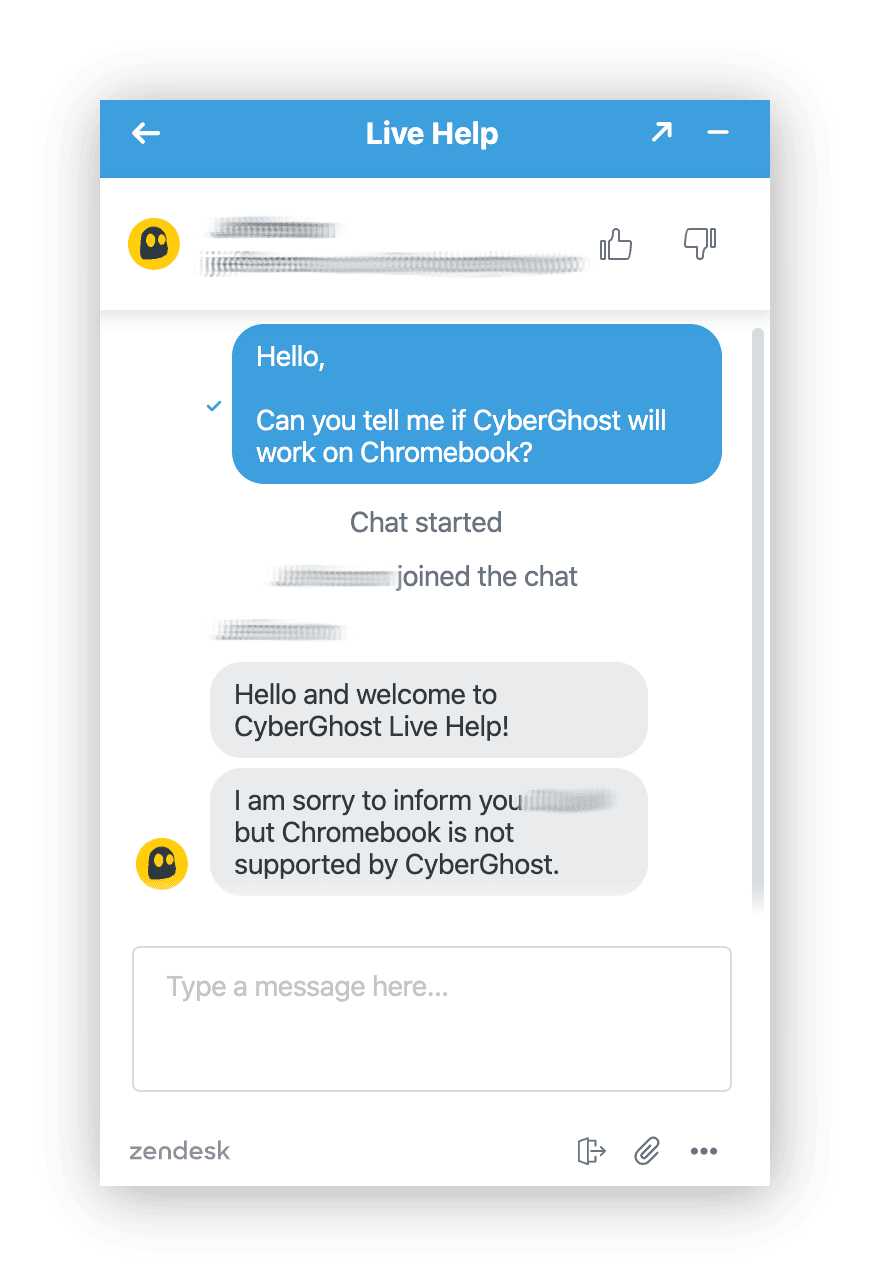 CyberGhost's variety of support options and quick response time is very impressive. The agents are knowledgeable and the online resources are available in English, French, German, and Romanian.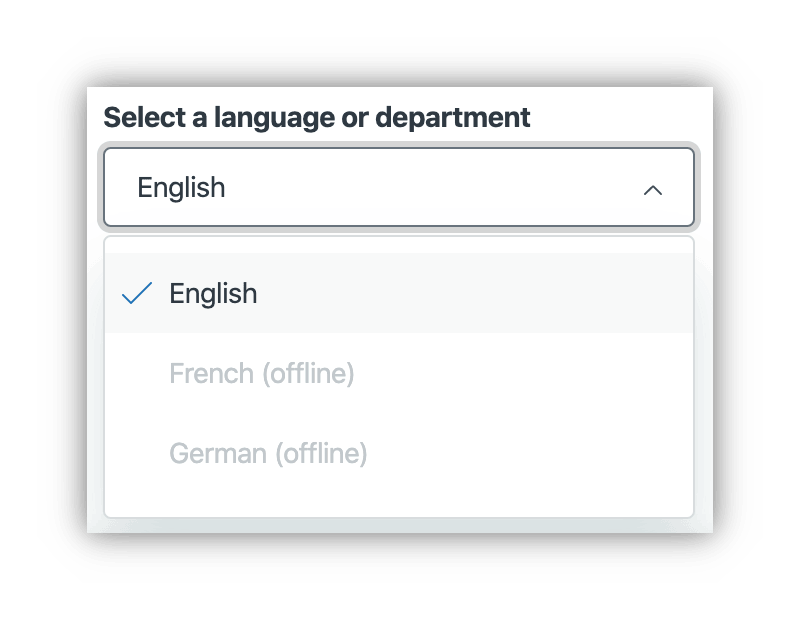 Overall, CyberGhost offers excellent customer service. With 24/7 live chat, email ticketing and a huge online knowledgebase, you'll find solutions to any connection or installation issues in no time at all. This makes CyberGhost an excellent option for beginners that are new to using a VPN.
Do We Recommend CyberGhost VPN?
The Bottom Line
We recommend CyberGhost as a reliable VPN service that offers everything a typical VPN user needs. It unblocks US Netflix, supports anonymous torrenting, and provides strong internet security.
The company has a large network of servers and a wide selection of security features backed by a strong stance on privacy. Its apps are simple to use and there is a generous money-back guarantee alongside excellent customer support.
CyberGhost is fast on local connections and its Windows client is highly configurable. The price is also reasonable, with some great discounts on longer subscriptions.
Despite being one of the best VPNs on the market, CyberGhost still has some areas to improve. Its MacOS and iOS applications are lacking in custom settings, it doesn't work in China and its international speeds could use improvement.
Overall, we can confidently recommend CyberGhost as a high-quality VPN for casual browsing, streaming, torrenting, and all-round online security. It's packed with features and simple to use – all for a budget price.
CyberGhost might not be ideal for the most privacy-conscious, but if you're looking to invest in a VPN to unblock Netflix or hide your IP address it is an excellent choice. It has all the features you need to stay safe online and they all work exactly as advertised.
Alternatives to CyberGhost VPN
ExpressVPN
ExpressVPN is our top-rated VPN, providing unrestricted streaming and torrenting on all servers, with automatic protocol selection on all its custom VPN apps, a user-friendly experience, and fast speeds. Read ExpressVPN review
Private Internet Access
PIA is cheap, incredibly private, and boasts excellent security. It also provides outstanding connection speeds, particularly in the US. On local connections PIA is unbeatable. Read Private Internet Access review
---
User Feedback for CyberGhost VPN