Best 100% Free VPNs That Work with Netflix
1. PrivadoVPN: Best Free VPN for US Netflix
The overall best free VPN for unblocking Netflix.
Pros

Cons

Unblocks US Netflix on mobile and desktop
Free servers in 11 countries
Easy-to-use app
Strong encryption & private logging policy

Video load times are slow on mobile
More complicated setup process
Fire TV Stick app doesn't work
10GB monthly data cap
No browser extensions
We've fully tested and reviewed 29 free VPNs. Based on our results, PrivadoVPN is easily the best free VPN for Netflix.
However, PrivadoVPN Free only works for streaming Netflix when set up in a particular way. Read below to how to configure PrivadoVPN for Netflix.
When set up correctly, PrivadoVPN works with Netflix in the US and the UK, which are two of the most popular Netflix libraries. We used the VPN to stream popular geo-blocked TV shows, like Breaking Bad in the US and Power in the UK.
PrivadoVPN streams US Netflix on desktop & mobile
In our most-recent streaming tests, we discovered that PrivadoVPN is the only free VPN that streams US Netflix on desktop. This means you can unblock the American Netflix library on Windows or Mac, as well as iOS and Android.
The other 100% free VPNs in this list either don't work with US Netflix at all, or can only stream it on mobile.
In the video below, you can see us using PrivadoVPN on our Windows laptop to stream 30 Rock, which is exclusive to Netflix US.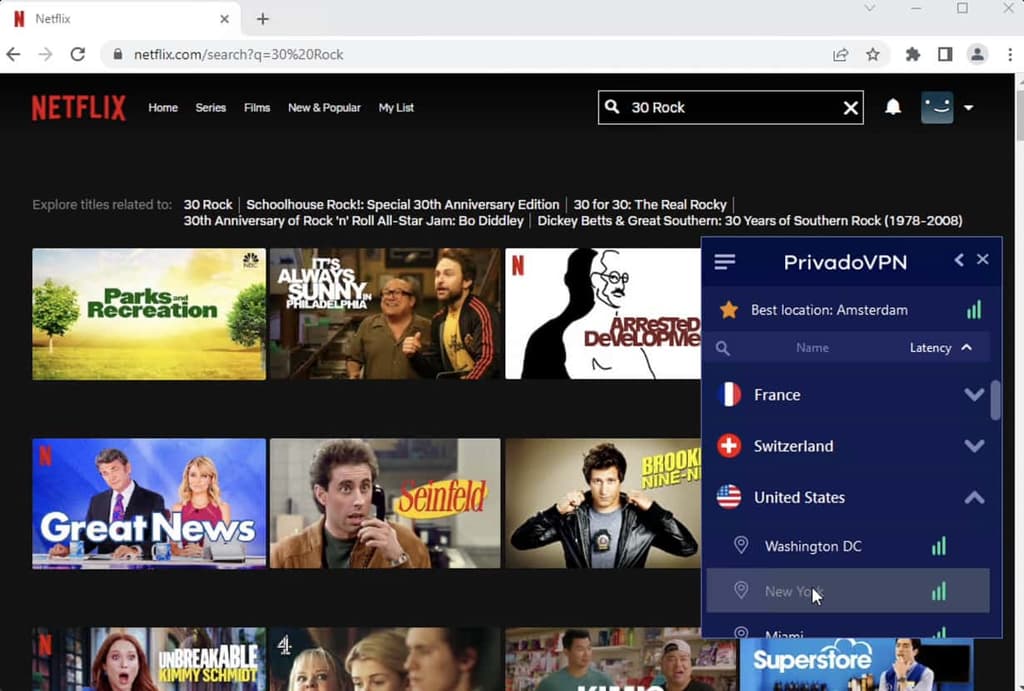 However, PrivadoVPN is less effective for Netflix on mobile. When testing the VPN on iOS and Android, we often had to wait over 60 seconds for a video to load.
Once it had, the quality was blurrier than on desktop. If you plan on using a VPN to watch Netflix on mobile, VPNhub is a better option.
Not suitable for streaming on TV
PrivadoVPN is not a good option for unblocking Netflix on TVs. The VPN's Fire TV and Android TV app is buggy and doesn't allow you to connect to a server.
When using it, the app repeatedly shut down whenever we tried to establish a server connection. Until PrivadoVPN issues an update to fix this, the VPN is unusable on these devices.
As well, PrivadoVPN doesn't have any Smart DNS functionality. As a result, you won't be able to use a proxy to unblock Netflix on devices that don't allow VPN apps, like Smart TVs and games consoles.
PrivadoVPN needs to be set up correctly
By default, PrivadoVPN Free doesn't work with Netflix. We discovered that your account needs to be set up in a precise way to enable streaming.
Here's how to enable Netflix streaming on a PrivadoVPN account:
Sign up for PrivadoVPN through its website.
Verify your email address.
On the 'Choose Configuration' screen, select Stream Content. If you don't, you will not be able to unblock Netflix using PrivadoVPN.

Download the VPN onto your device. You'll now be able to access the US and UK Netflix libraries.
2. Windscribe: Best Free VPN for International Netflix
Streams 6 Netflix regions — more than any other free VPN.
Pros

Cons

Unblocks 6 Netflix libraries
Uses industry-leading AES-256 and OpenVPN encryption
Allows unlimited simultaneous connections
Fast enough speeds for good-quality streaming
Compatible with all major devices
Works with BBC iPlayer, Hulu, Disney+ and Amazon Prime Video

10GB data cap
Doesn't work with US Netflix
Mediocre customer support
Privacy-unfriendly jurisdiction (Canada)
This top-rated free VPN is secure, unblocks 6 Netflix regions including the UK, and is fast enough for high-quality, buffer-free streaming.
Unblocks 6 Different Netflix Regions
Windscribe offers both a free and paid version of its VPN service.
Until recently, the free VPN couldn't unblock Netflix. Streaming was only possible on the VPN's 'Windflix' servers, which were reserved for paying customers.
Since then, we've been able to change our Netflix region using any of these Windscribe Free server locations:
France
Germany
Romania
Switzerland
Turkey
United Kingdom
United States
Importantly, in our Windscribe tests, the free software failed to unblock American Netflix, one of the biggest content libraries.
This is a big disappointment. Until recently, it was the most reliable free VPN for US Netflix.
Fast Enough Speeds For Streaming
While Windscribe isn't the fastest VPN we've tested, its long-distance speeds are excellent.
We recorded an average download speed of 87Mbps connecting from the US to a server in the UK. This represents a speed loss of roughly 13% compared to our baseline 100Mbps.
In comparison, ExpressVPN only slowed down our internet connection speed by 7%.
For reference, Netflix's official guidelines state that:
>3Mbps is required for SD quality
>5Mbps is required for HD quality
>25Mbps is required for Ultra HD quality
We were able to stream in HD with Windscribe, and even enjoyed Ultra HD quality at times.
The issue is that this high picture quality isn't consistent, and every now again our video stream became blurry.
| Country | Avg. Download Speed | Avg. Speed Loss |
| --- | --- | --- |
| US | 90Mbps | 10% |
| UK | 87Mbps | 13% |
| Germany | 80Mbps | 20% |
Windscribe's apps are ad-free and very user-friendly. It takes seconds to connect to a VPN server location and start streaming.
However, Windscribe's live support needs improving. If you encounter issues, you can only live chat with a chatbot, or email the support team, which takes roughly a day to reply.
Restrictive 10GB Data Cap
There is one major downside to using Windscribe Free with Netflix. The VPN imposes a 10GB monthly data limit on free-tier users.
For context, 10GB allowance equates to roughly four hours of HD Netflix streaming a month.
Though it's common for free VPNs to enforce data caps – and Windscribe Free's 10GB offering is among the highest we've seen – four hours of streaming a month isn't much.
3. VPNhub: Free Netflix VPN without Data Caps
Mobile-only VPN that unblocks US Netflix with no data limit.
Pros

Cons

Unblocks American Netflix
Unlimited data allowance
Strong AES-256 encryption
Effective kill switch
Works with Disney+ and HBO Max too

Only available on mobile
VPN servers in the US only
Dangerous jurisdiction (US)
Logging policy is too intrusive
Very poor customer support
VPNhub Free is not an especially private or good VPN all-round, but it does work with Netflix.
In our latest streaming tests, the VPN reliably and consistently unblocked US Netflix content from outside the United States.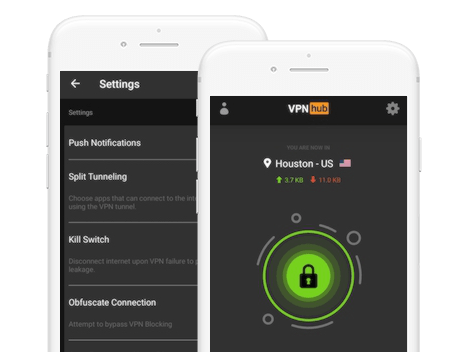 No Data Limit But Mobile-Only
One big advantage to using VPNhub Free for Netflix rather than Windscribe Free is that VPNhub gives you an unlimited data allowance.
You can stream as many movies and TV shows as you like, without having to worry about reaching your limit. The VPN doesn't throttle your speeds, either.
VPNhub Free is only available to mobile users, though. You can use it to watch Netflix on iOS or Android devices, but it's not much use if you prefer a bigger screen.
NOTE: Because VPNhub is a mobile-only VPN, be aware of its impact on your cellular data usage. The VPN itself doesn't impose a data cap, but it will still use up your cell phone's data.
You can learn more about this in our guide to VPN data usage.
Works with US Netflix, Disney+ and HBO Max
VPNhub Free only has servers in the US. Therefore, you can only use it to unblock the American Netflix region, compared to Windscribe's 6 different regions.
This is still better than every other free VPN we've tested. Moreover, our tests show VPNhub Free works with Disney+ and HBO Max.
Unlike many free VPNs, VPNhub is also quick enough for good-quality streaming. We recorded a speed loss of 27% on US-to-UK connections.
That left us with download speeds of 53Mbps, which are more than enough to stream in Ultra High Definition video and with little-to-no buffering.
Don't Use for General Web Browsing
VPNhub is one of the only 100% free VPNs that works with Netflix, but we don't recommend it for general use.
It's certainly not as bad as many other free VPNs. The service uses secure AES-256 encryption and doesn't leak IP or DNS data.
However, its logging policy is overly invasive. It collects too much aggregated data for us to recommend the VPN as a private and safe option.
We suggest using the VPN to unblock Netflix, but turning it off for general web browsing and especially for sensitive activity.