Is Windscribe a Good Choice for Netflix?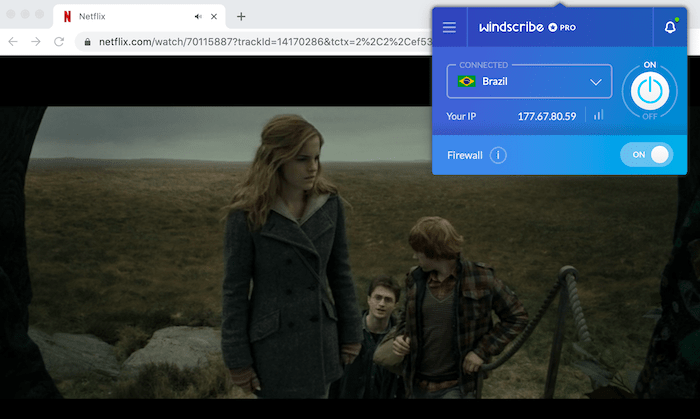 Windscribe is one of the best VPNs available for streaming Netflix.
The premium app consistently unblocks the Netflix libraries of at least 42 countries. This is more than any other VPN we've tested.
The VPN also delivers fast and reliable connection speeds, and works well on a range of devices.
Costing just $4.08 per month, Windscribe Pro is an excellent choice for Netflix and it won't break the bank.
Here's a quick overview of the pros and cons of using Windscribe for Netflix:
PROS
CONS

Secure, reliable VPN for unblocking Netflix
Unblocks more Netflix countries than any other VPN we've tested
Easy to install and use on many popular devices
Windscribe Free is the only free 100% VPN that works with Netflix
Windscribe Pro is competitively priced
Allows unlimited simultaneous device connections

Windscribe Free only allows 10GB of data per month
Based in Canada, a Five Eyes nation
No direct support for Apple TV or games consoles
Not the fastest VPN we've seen for international connections
No live chat support
The rest of this section will take a more in-depth look at the features that make Windscribe Pro both good and bad for streaming.
Skip to the next section if you'd rather read more about Windscribe Free.
Unblocks More Netflix Libraries Than Any Other VPN
We put together a list of what we consider the most desirable Netflix regions, and Windscribe Pro unlocked nearly all of them. The only failure was Ireland.
Our tests show you can use Windscribe to access 42 Netflix regions from abroad, including:
Australia
Brazil
Canada
India
Israel
Japan
Mexico
Netherlands
Russia
South Africa
South Korea
Thailand
UK
US
It's rare that a VPN unblocks so many international Netflix libraries. Many VPNs work with American and British Netflix, but it's uncommon to see South Korea, Thailand, and India access.
On a similar note, Windscribe Pro is the only VPN we've tested capable of changing your Netflix region to Mexico, Russia, and South Africa.
EXPERT TIP: Visit uNogs.com to see where your desired movie or TV show is available. With access to 42 Netflix regions, chances are you'll be able to use Windscribe to watch it.
Very Fast Local Speeds But Slower on International Connections
Windscribe Pro is fast enough for high-quality buffer-free streaming, but its international connection speeds lag behind competitors.
For reference, Netflix recommends a bandwidth of:
3Mbps for SD quality
5Mbps for HD quality
25Mbps for Ultra HD quality
In our latest same-country speed tests, Windscribe performed extraordinarily well.
All VPNs will cause some form of speed loss, but with Windscribe we recorded a speed loss of just 5% on UK-to-UK connections. This meant speeds of around 95Mbps from our 100Mbps office connection.
International speeds tend to be more important when it comes to streaming Netflix, though. Here's how Windscribe performs on a number of longer-distance connections:
| Country | Avg. Download Speed | Avg. Speed Loss |
| --- | --- | --- |
| Germany | 85Mbps | 15% |
| USA | 68Mbps | 32% |
| Australia | 9Mbps | 91% |
| Singapore | 4Mbps | 96% |
From our location in London, we can stream in HD or Ultra HD quality when connecting to servers in Europe or North America. Loading times and video quality are likely to be worse for Asian and Oceanic content, though.
There's no limit to the number of simultaneous devices you can connect using Windscribe, so it's a good option for families with multiple devices. Just be aware that the more devices you connect, the greater the strain on your internet connection.
Reliably Unblocks Other Streaming Services
Windscribe works well with other streaming services, too. We tested the most popular ones, and here's how the VPN performed:
Amazon Prime Video: Windscribe lets you successfully stream US Amazon Prime Video content.

BBC iPlayer: Based on our most recent tests, the VPN app does not consistently unblock BBC iPlayer. However, Windscribe's free browser extension proxy does currently work with the UK streaming service.

DAZN: Windscribe is the best VPN for unblocking DAZN.

Hulu: You can use Windscribe to reliably stream Hulu.

YouTube: Windscribe unblocks geographically restricted videos on YouTube, no problem.
Easily Stream Netflix On a Range of Devices
You can use Windscribe Pro to stream Netflix on your computer, smartphone, or TV. The VPN offers easy-to-use, custom apps for all major devices and platforms, including Windows, MacOS, iPhone, and Android.
Windscribe also has native apps for Amazon Fire TV Stick and Nvidia Shield. Although they're less user-friendly than the more mainstream apps, they aren't difficult to set up and can be used to watch Netflix on your TV. The service is compatible with Android TV and Kodi, too.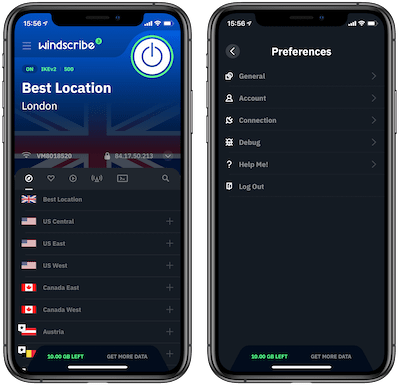 If you're using a games console such as a PS4 or Xbox One, things are trickier. VPN apps don't work on those platforms, but there are some workarounds:
Install the VPN on your router: You can protect your entire home network's web traffic by installing Windscribe straight onto your router. It works, but it's not easy to set up. See our VPN router setup guide for guidance.

Use Smart DNS: Smart DNS re-routes your traffic through a DNS server that spoofs your country of origin. It hides your true location, but does not change your IP address or encrypt your traffic. Unfortunately, Windscribe doesn't support Smart DNS. You'll need to try a different service if you want to stream Netflix without using a VPN app.