Does Surfshark Work with Netflix?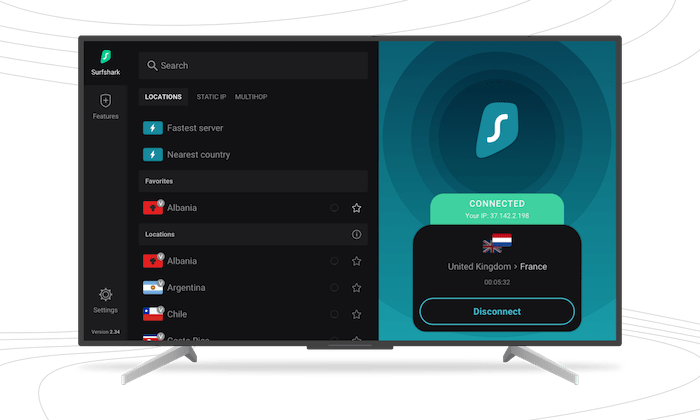 Surfshark works very well with Netflix. We put the software through our thorough VPN testing process and found that it consistently unblocks Netflix in 15 countries with fast speeds and minimal buffering, which makes it one of the most effective Netflix VPNs we've tested.
The VPN is compatible with all major desktop and mobile operating systems including MacOS, Windows, Android, and iOS. You can also download a plugin for Google Chrome or Mozilla Firefox if you prefer to stream video in a browser.
Surfshark also lets you connect an unlimited number of devices with just one subscription. This is an impressive feature that sets it apart from a lot of other VPNs, and makes it a good choice if you like watching Netflix on the go.
Surfshark unblocks Netflix in the following 15 countries:
Australia
Brazil
Canada
France
Germany
India
Italy
Japan
Netherlands
Norway
Singapore
South Korea
Turkey
United Kingdom
United States
Being able to access the US Netflix library is a huge advantage if you don't live in the US, since it has the biggest content catalog. Movie buffs will also be happy to access the Canadian library, which has the most movies available.
Surfshark works to unblock other streaming services, too, including Amazon Prime Video, Disney+, Hulu, Sky, HBO, and Kodi. Its UK servers work with BBC iPlayer, which is one of the hardest streaming services to unlock.
There are several unique features that make Surfshark a great choice for accessing Netflix. It operates a large server network, uses sophisticated obfuscation and Smart DNS technologies, and delivers fast connection speeds.
Here is a detailed look at the features that make Surfshark a good VPN for Netflix. If you'd rather skip over these, you can jump straight to our section on how to watch Netflix with Surfshark.
Surfshark Netflix Servers
Surfshark doesn't offer dedicated servers for streaming, but our tests show that the vast majority of its servers work with Netflix anyway. The VPN offers over 1,700 servers in 63 countries, and you can even connect at the city level in 12 countries.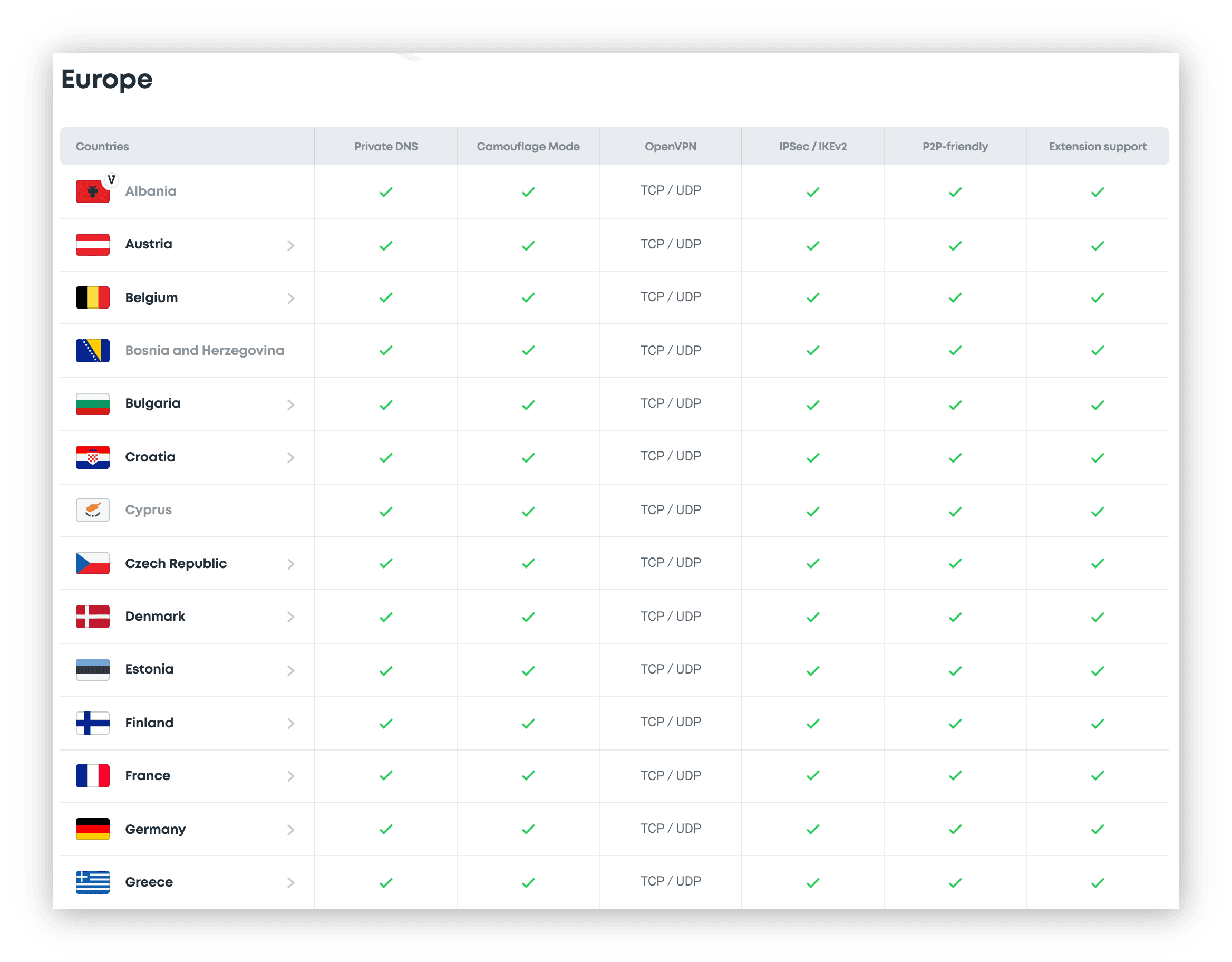 Choosing a VPN provider with a big server network is important. A large number of servers means it's a lot harder for Netflix to block each and every IP address. This means that if you can't unblock Netflix with one server, you simply disconnect and try another.
Traffic Obfuscation
Any good VPN will encrypt your web traffic to offer better online security and privacy. However, one of the most common methods services like Netflix use to detect and block VPN users is to look for encrypted traffic.
Surfshark avoids this problem by using obfuscation technology on all of its servers. Obfuscation makes VPN traffic look the same as regular HTTPS traffic, so Netflix's geo-blockers have a much harder time identifying it.
Surfshark applies obfuscation automatically whenever you connect to one of its servers on the OpenVPN protocol. If necessary, you can change the connection protocol in the app's Settings menu.
Simply open up Settings, select Advanced, and then choose your protocol. To learn more about the different VPN protocols, check out our dedicated guide to VPN encryption.
Smart DNS and Trust DNS

Surfshark offers SmartDNS and Trust DNS features to help users unblock streaming content in other countries. When activated, these features act as a proxy to reroute your DNS requests instead of hiding your IP address.
This gives you the functionality of a VPN on devices that do not typically offer native VPN support. Use it with your smart TV or PS4, for example, and you can get instant access to US Netflix. You can find full instructions for using Smart DNS on the Surfshark website.
It's worth remembering that these features will not encrypt your traffic, so they do not come with the same privacy benefits as the full VPN.
Amazon Fire TV Stick, Kodi & Apple TV
Unlike many competing services, Surfshark has dedicated applications for Apple TV and Amazon Firestick. By downloading these apps you can get access to additional streaming services including Hulu, HBO, and YouTube. The VPN also works with the majority of devices that run Kodi, and is fully compatible with Kodi add-ons.
To install Surfshark on Amazon Fire TV Stick, simply purchase a subscription to the VPN service and then download the Surfshark Fire TV app from the Amazon App Store. You can find detailed instructions in our guide to installing a VPN on Amazon Firestick.
Is Surfshark Fast Enough for Netflix?
Surfshark offers strong speeds on both local and international connections. It is easily fast enough to watch Netflix in high-quality and with minimal buffering.
Getting past Netflix's regional restrictions is just the first step. You'll also need a VPN which offers sufficient connection speeds.
Whenever you change IP address by connecting to a VPN server, your internet traffic has to make a longer roundtrip. This means a VPN connection will almost always be slower than connecting directly.
If the speed isn't up to scratch, you'll be restricted to low-quality video with a lot of buffering. Netflix recommends the following minimum speeds:
>3Mbps for standard-definition (480p) content
>5Mbps for high-definition (1080p) content
>25Mbps for ultra-high-definition (2160p / 4K) content
Surfshark has no data caps and delivers particularly fast local speeds. Our tests showed just a 14% drop in download speeds when connecting to a nearby server in the UK. We measured speeds of 86Mbps which is more than enough to stream Netflix in 4K.
Surfshark's speeds are also impressive on international connections, which is important if you want to unblock movies and TV shows in countries far away. We recorded an average download speed loss of 45% and an average download speed of 55Mbps when connecting to US servers from the UK. This is fast enough to enjoy Ultra HD video and buffer-free streaming.
While we've certainly seen VPNs with better long-distance speeds, our tests showed that Surfshark is more than fast enough for Netflix use. Surfshark also performed reasonably well on other global connections:
| Country | Avg. Download Speed | Avg. Speed Loss |
| --- | --- | --- |
| Australia | 47Mbps | 53% |
| Canada | 42Mbps | 58% |
| Germany | 76Mbps | 24% |
The above speeds were recorded using our 100Mbps fibre broadband.