Is Surfshark Good for Netflix?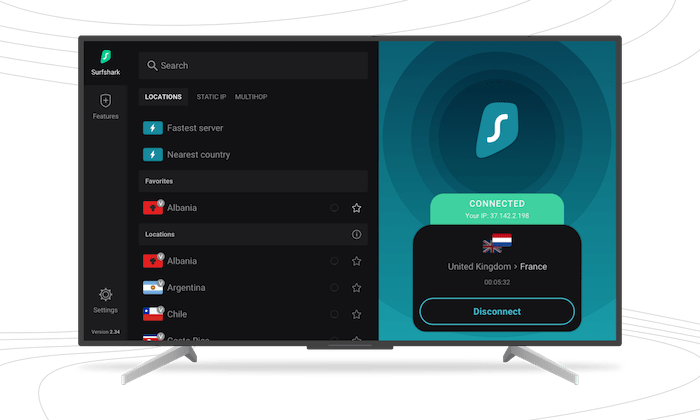 We put Surfshark through our exhaustive testing process and found that it is an extremely good VPN for streaming Netflix. It consistently unblocks 15 Netflix regions with quick speeds and minimal buffering, making it one of the top 3 Netflix VPNs we've ever tested.
Here's a detailed look at what makes Surfshark so good for Netflix. Alternatively, you can skip to our section on how to stream with Surfshark or check out these workarounds for if you're still encountering the Netflix proxy error.
Unlocks 15+ Netflix Libraries
Surfshark unblocks Netflix in the following 15 countries:
Australia
Brazil
Canada
France
Germany
India
Italy
Japan
Netherlands
Norway
Singapore
South Korea
Turkey
United Kingdom
United States
Being able to access the US Netflix library is a huge advantage if you don't live in the US, since it has the biggest content catalog. Movie buffs will also be happy to access the Canadian library, which has the most movies available.
Other VPN providers can unlock more Netflix regions (e.g. Windscribe (42), PrivateVPN (32) and ExpressVPN (19)) but the fact that Surfshark works with the US, UK, Japanese, and Canadian libraries should be enough for most users. There are very few titles that are exclusively available outside of these countries.
We found that Surfshark also works to unblock other streaming services, including Amazon Prime Video, Disney+, Hulu, Sky, and HBO Go. Its UK servers work with BBC iPlayer, which is one of the hardest streaming services to unlock.
Watch US Netflix From Anywhere
Not only can you access American Netflix by connecting to a VPN server in the US, Surfshark also offers a fantastic feature that lets you stream US movies and TV shows from any unsupported VPN location.
This refers to any VPN server that isn't supporting streaming. Simply connect to a country that isn't listed above and you'll be able to view US exclusives, such as The West Wing.
We love this feature because it allows users who don't live near to the US to enjoy American Netflix content without compromising on speed. You get the performance benefit of a local VPN server, while still getting access to the most desirable Netflix region.
Fast Enough Speeds for Buffer-Free Streaming
Surfshark offers strong speeds on both local and international connections. It is easily fast enough to stream Netflix in high-quality and with minimal buffering – although it isn't among the fastest VPNs we've tested.
Getting past Netflix's regional restrictions is just the first step. Your VPN also needs sufficient connection speeds.
Whenever you change IP address by connecting to a VPN server, your internet traffic has to make a longer roundtrip. This means a VPN connection will almost always be slower than connecting directly.
If the speed isn't up to scratch, you'll be restricted to low-quality video with a lot of buffering.
Surfshark offers particularly fast local speeds and has no data caps. Our tests showed just a 10% drop in download speeds when using the WireGuard protocol to connect to a nearby server in the UK. We measured speeds of 90Mbps which is more than enough to stream Netflix in 4K.
Surfshark's speeds are also impressive on international connections, which is important if you want to unblock movies and TV shows in countries far away. We recorded an average download speed loss of 44% and an average download speed of 56Mbps when connecting to US servers from the UK.
The VPN also performs reasonably well on other global connections:
| Country | Avg. Download Speed | Avg. Speed Loss |
| --- | --- | --- |
| Australia | 47Mbps | 53% |
| Canada | 42Mbps | 58% |
| Germany | 76Mbps | 24% |
The above speeds were recorded using our 100Mbps fibre broadband.
While we've certainly seen VPNs with better long-distance speeds, our tests showed that Surfshark is more than fast enough to watch Netflix in Ultra HD and without buffering or lag.
Its large server network of 1,800+ servers in 66 countries also helps to improve connection speeds by reducing server congestion and improving the distance between you and your local VPN server.
Elite-Level Encryption & Security
Surfshark protects your data with the safest encryption technologies on the market. It uses the military-grade AES-256 cipher to secure your traffic and lets you choose between a selection of great VPN protocols, including OpenVPN and WireGuard.
In addition, the VPN comes with an effective VPN kill switch and sophisticated IP, DNS, and WebRTC leak blocking tools, which clearly work as we found no evidence of data leaks when we put Surfshark to the test.
Not only will Surfshark's security suite keep you private and safe online, it'll also help you beat Netflix's geo-blockers. The obfuscation technology used by Surfshark makes VPN traffic look the same as regular HTTPS traffic, which makes it much harder for Netflix to identify you as a VPN user.
Obfuscation is applied automatically whenever you connect to a Surfshark server through the OpenVPN protocol. However, if necessary, you can change the connection protocol in the app's Settings menu.
Simply open up Settings, select Advanced, and then choose your protocol. To learn more about the different VPN protocols, check out our dedicated guide to VPN encryption.
Compatible With a Wide Range of Devices
Surfshark lets you stream Netflix on all major desktop and mobile operating systems including MacOS, Windows, Android, and iOS. Or you can download a plugin for Google Chrome or Mozilla Firefox if you prefer to watch video in a browser.
Surfshark is also one of the best VPNs for streaming Netflix on your TV. It offers a dedicated application for Amazon Firestick that is impressively easy-to-use and well-optimized for the big screen. Simply download the app from the Fire TV app store and use it to change your geographic region on a number of streaming platforms, including Hulu, HBO and YouTube.
Smart DNS and Trust DNS

Unlike many of its competitors, Surfshark can also be used on Apple TV, PS4 and other devices that don't allow for app downloads. To do this, it uses SmartDNS and Trust DNS features that work by rerouting your DNS requests rather than hiding your IP address.
Smart DNS won't encrypt your traffic in the way a full VPN does so you should be careful when using it. But for spoofing your location and unblocking Netflix on Smart TVs and games consoles, it's a great additional tool to have.
You can find full instructions for using Smart DNS on the Surfshark website.
Budget-Friendly VPN With a Generous Free Trial
Surfshark is among the cheapest premium-quality VPNs around. You can use it to improve your Netflix experience for as little as $2.49 a month, if you're willing to pay for 2 years up front. This is considerably cheaper than our top-rated VPN, ExpressVPN, which costs $6.67 a month.
If you'd rather try before you buy, Surfshark also offers an unrestricted week-long trial period so that you can test out the service for yourself. There's also a 30-day refund period, meaning you can essentially stream with Surfshark entirely risk-free for up to 5 weeks.
SUMMARY
Surfshark is an excellent VPN for Netflix and is great value for money, too.