Betternet VPN Review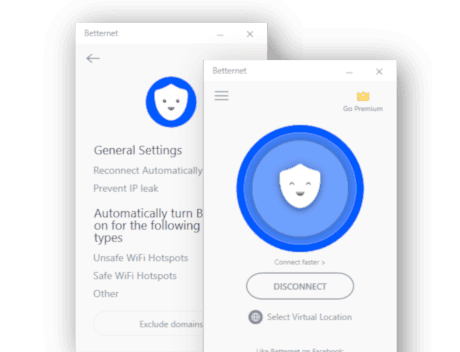 Privacy & Logging Policy
Betternet Logs Too Much Data
Below is a summary of all the data that Betternet logs:
| Data Type | Logged by Betternet VPN |
| --- | --- |
| Browsing Activity | No |
| Device Information | Yes |
| DNS Queries | No |
| Individual Bandwidth Usage | Yes |
| Individual Connection Timestamps | Yes |
| ISP | Yes |
| Number of Simultaneous Connections | No |
| Originating IP Address | Yes |
| Account Information | No |
| VPN Server IP | No |
| VPN Server Location | No |
| Date of Last Connection | No |
Betternet collects enough data to compromise your online anonymity. The service permanently logs your ISP, originating location, and VPN connection timestamps. All of this taken together can be used to identify you.
Your real IP address is logged by Betternet, but only for the duration of the VPN session. Although this can't be used to identify you, we'd still prefer if Betternet didn't log IP addresses at all.
None of this stops Betternet from using your IP address more generally, specifically for determining your approximate geographical location.
This is a concerning misuse of users' IP addresses and we're not sure how it assist in the functioning of the VPN service.
We'd feel less concerned about Betternet's ambiguous privacy policy if we were presented with real-world evidence of its procedure, such as an independent audit of its logging practices or regularly published transparency reports.
In the meantime, there are far better and private free VPNs available, that won't log your IP address.
Privacy-Unfriendly US Jurisdiction
Betternet is operated by Betternet LLC Inc., a part of the Aura group, which also owns a host of other VPN services, including:
Hexatech
Hotspot Shield
Touch VPN
VPN In Touch
VPN 360
Betternet LLC Inc. is incorporated in California, USA, which is part of the Five-Eyes international intelligence-sharing alliance. It's also subject to intrusive surveillance laws.
All of Aura's VPN products share the same privacy and logging policy, but the group hasn't had the smoothest run during the past few years.
For example, Hotspot Shield was embroiled in various past controversies. One of them involved the VPN injecting advertising cookies in users' web browsers. You can read more about this in our Hotspot Shield review.
While the allegations didn't mention Betternet, it's worth remembering Betternet uses the same privacy policy, proprietary VPN protocol technology, and infrastructure as Hotspot Shield.
These issues have since been resolved and the Aura privacy policy rewritten, but it certainly damaged trust in the company at the time.
One saving grace is that Betternet Free doesn't require you to make an account before using it. This means you don't have to hand them personal information like a phone number or email address.
Betternet Controversy
Betternet hasn't escaped all controversy though.
A 2016 academic report on VPNs revealed that Betternet's Android app was riddled with malware and embedded tracking libraries. Betternet never publicly addressed this.
Security & Technical Features
Betternet lacks advanced security features
| Protocols | Available in Betternet VPN |
| --- | --- |
| IKEv2/IPSec | No |
| Hydra | Yes |
| OpenVPN (TCP/UDP) | No |
| WireGuard | No |
| Encryption | Available in Betternet VPN |
| --- | --- |
| AES-128 | Yes |
| AES-192 | No |
| AES-256 | Yes |
| Blowfish | No |
| ChaCha20 | No |
| Security | Available in Betternet VPN |
| --- | --- |
| DNS Leak Blocking | No |
| First-party DNS | No |
| IPv6 Leak Blocking | No |
| Supports TCP Port 443 | No |
| VPN Kill Switch | No |
| WebRTC Leak Blocking | No |
| Advanced Features | Available in Betternet VPN |
| --- | --- |
| Ad Blocker | No |
| Dedicated IP | No |
| Double VPN | No |
| Smart DNS | No |
| Static IP | No |
| SOCKS | No |
| Split Tunneling | No |
| Tor over VPN Server | No |
| Tracker Blocker | No |
Betternet uses industry-standard AES-128 and AES-256 ciphers to encrypt traffic, but that's where the positives end. Its privacy policy is questionable and there aren't any security extras included – not even a kill switch to protect your identity in case of a sudden connection drop. In short, Betternet is not a safe or trustworthy VPN.
Our tests detected no IP, DNS, or WebRTC leaks when the "Prevent IP Leaks" setting was toggled on, but switching it off caused Betternet to expose DNS requests to our ISP.
The 'Prevent IP leaks' feature is switched on by default, but considering the main point of a VPN is to protect your privacy and prevent personal data from being exposed – we don't see why this option is present at all.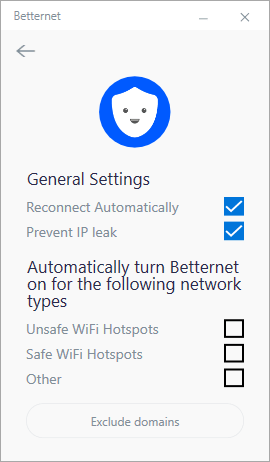 The Chrome extension is even worse: we found it suffered from both WebRTC and DNS leaks, regardless of how you configure the settings.
In terms of advanced features, there is a domain whitelister you can use to route select websites outside of the VPN tunnel, but this doesn't make up for the lack of basic security tools.
Security researchers also found malware and tracking libraries embedded in the Android app.
Betternet uses the same proprietary connection protocol as the other VPN services in the Aura group: Hydra. Unfortunately, there's no technical information about the protocol available.
However, the website's FAQs go some way to reassure us that Catapult Hydra doesn't affect security:
"It is important to note that our proprietary protocol is focused only on the performance of the VPN data transport, while using standard encryption with perfect forward secrecy."
Overall, Betternet is not a particularly safe or secure VPN service. It uses standard encryption but fails to provide essential security features such as a VPN kill switch or effective leak protection.
Speed
Fast Speeds on a US-US Connection
We calculated Betternet's speed score by measuring the speed of the connection between our location and Betternet's US server. As free users are limited to the US server, we were unable to carry out any international speed tests.
Here's a table showing Betternet Free's speed test results:
As shown above, our download speeds decreased from a baseline of 100Mbps to 93Mbps — a 7% speed loss.
This is more than fast enough for bandwidth-intensive activities, including 4K streaming, online gaming, and torrenting.
However, we can't guarantee that Betternet will be as fast for users outside of the US.
Streaming
No Netflix or iPlayer and slow, throttled speeds
In addition to Betternet's unreliable speeds, the free app doesn't reliably work with popular streaming services. This is true for many similar free services, including popular VPN apps like Touch VPN.
Only the best VPNs for streaming can bypass the aggressive VPN blocks put in place by the biggest content platforms.
We have been able to watch US Netflix on occasion, but it's almost always blocked, bringing up the familiar proxy error message: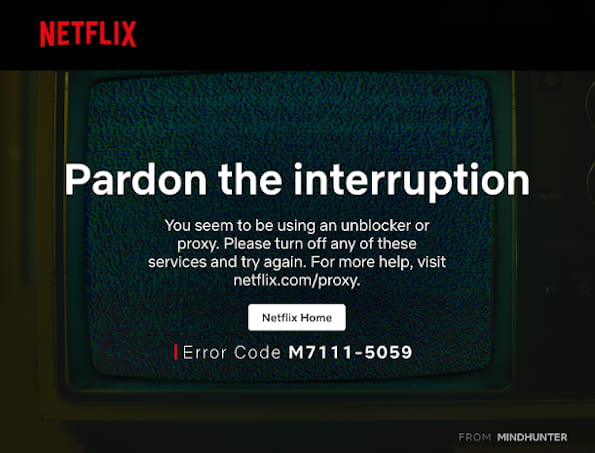 Netflix and other streaming sites actively block VPN traffic and most free VPNs don't put resources into getting around the blocks.
There are no free UK servers so it's impossible to watch BBC iPlayer, which requires a British IP address.
Torrenting
P2P is blocked on all servers
Betternet's FAQs state that it currently supports torrenting on Windows, macOS, Android, and iOS devices. Our tests have always found P2P traffic to be blocked, though.
Simply put, Betternet is not a good free VPN for anonymous torrenting. Even if it allowed P2P traffic, Betternet is not an ideal VPN for P2P users.
Firstly, the unreliable speeds quickly become a hassle, particularly if you're located far away from the free US VPN servers.
Secondly, Betternet's logging policy and the lack of a VPN kill switch is a problem for safe torrenting.
Server Locations
Only one server option available: US
1Country
1City
Not Disclosed IP Addresses
Betternet's free VPN limits users to just one country: the US.
The app is rather misleading about this, too. The Betternet website mentions 10 server countries, including the UK, Germany, and Hong Kong. But, if you try connecting to these countries from the app, you'll be asked to upgrade to a premium plan.
That may be fine if it's only US content you need access to but, if not, you'll need to try another VPN with more options.
Just be aware that Betternet doesn't allow you to choose a particular state or city within the US.
If you upgrade to Betternet's premium subscription you can access 72 countries and 26 US cities.
It costs $11.99 per month, or $2.99 a month if you subscribe to a yearly plan, and you can use the service on up to five devices at once.
Bypassing Web Censorship
No obfuscation technology and blocked in China
If you need a VPN for bypassing censorship in China, Betternet definitely shouldn't be your first choice (or even your 20th).
As a free user you can only connect to VPN servers in the US, which would bring your speeds down to halt.
Betternet doesn't come with any additional obfuscation tools to overcome aggressive Chinese Firewall blocks, either, so you likely won't even be able to connect. When we tried to connect from our Shanghai server, we found we couldn't use Betternet to beat China's censors.
Most free VPNs aren't suited to working in China, or other high-censorship countries like Iran and the UAE.
Device & OS Compatibility
Basic desktop and mobile apps only
Apps
Windows

Mac

iOS

Android
Betternet comes with custom VPN apps for Windows, macOS, Android and iOS devices.
You can't use it with Linux, routers, or any other devices like game consoles or streaming boxes (like Amazon Fire TV).
Betternet doesn't allow for manual configuration, either, so the native VPN apps are all you get.
Browser Extensions
Chrome
Betternet does come with a browser extension for Google Chrome, but there are no add-ons available for Mozilla Firefox, Safari, or Opera.
While the Chrome extension does encrypt browser traffic, you should take note that all other apps outside your web browser will be left unprotected.
Unlike the main desktop and mobile VPN apps, the browser extension comes allows you to connect to servers in multiple countries:
Canada
Germany
The Netherlands
Russia
But don't rush to download the Chrome extension. In fact, it suffers from two different types of security flaws: WebRTC leaks and DNS leaks.
WebRTC leaks expose your true IP address, and DNS leaks mean that your ISP (and anyone sniffing traffic between you and the DNS provider) can see all the websites that you're visiting.
Ease of Use
Simple apps that lack utility
How to Install & Set Up Betternet VPN
Betternet's custom VPN apps for desktop and mobile devices are really easy to install and use.
It's a case of downloading the relevant file from the website, clicking through a couple of installation prompts, and hitting 'Connect'.
There aren't really any settings to play with.
The virtual locations list is a little misleading as free users can't use any of them. If you click on one, the app will prompt you to upgrade to the paid plan.
Within the settings menu, you can choose to 'reconnect automatically' or just connect on 'unsafe WiFi hotspots'.
There's also the 'Prevent IP leak' setting, which we'd recommend you leave on for obvious reasons.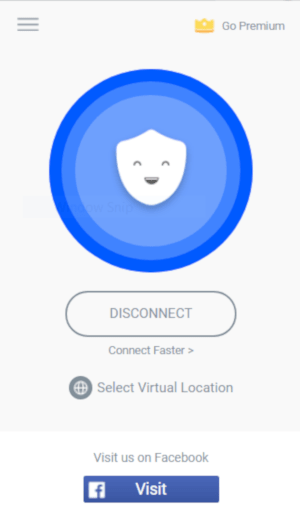 The Betternet browser extension for Google Chrome is easy to set up.
Click through to the Chrome Web Store from Betternet's website, and select 'Add to Chrome.'
You'll need to accept the permissions before you can add the extension to your browser.
Betternet's extension is just as easy to use as the desktop app. There's a connect button and a list of server locations to choose from – that's pretty much it.
All that said, we don't recommend downloading the extension as it leaks WebRTC and DNS requests, putting your personal data at risk.
Customer Support
Some FAQs are available but no email support
| Customer Support | Available in Betternet VPN |
| --- | --- |
| 24/7 Live Chat Support | No |
| 24/7 Email Support | No |
| Chatbot | No |
| Live Chat Support | No |
| Email | No |
| Email Support via Online Form | No |
| Tutorial Videos | No |
| Online Resources | Yes |
The FAQs are fairly well organized, with sections for each supported device, but some are out of date and display incorrect information.
If you do try to email support without a premium subscription you'll receive a short reply saying: "Sorry but we can't respond personally."
If you're struggling with any issues, you're pretty much on your own.
The Bottom Line
We don't recommend using Betternet
We do not recommend installing and using Betternet VPN. It isn't a particularly safe or private VPN service, let alone a reliable one.
Our speeds were throttled within an hour of use, and you can only connect to one server location (the US).
Betternet's browser extension for Google Chrome is particularly bad, suffering from not only DNS leaks, but WebRTC leaks too. It's definitely one to avoid.
Instead of using Betternet, use one of the safe free VPN alternatives listed below.
EXPERT ADVICE: Betternet isn't safe to use, and it's limited by a 500MB daily usage cap. We recommend using a fast, safe and cheap VPN like Private Internet Access.
PIA VPN is very fast, secure and it even unblocks content platforms like Netflix and Disney+. Try PIA VPN risk-free for 30 days.
Alternatives to Betternet VPN
Proton VPN
If you're looking for another free VPN with unlimited data, Proton VPN is a great choice. It's safe, secure, and private. There are three locations to choose from and the speeds are pretty fast, too. Read Proton VPN review
Windscribe
While Windscribe caps free user data to 10GB a month, it provides servers in 10 different countries, and allows you to drill down to city level in some of them, too. You can also use Windscribe Free to protect P2P traffic securely and safely. Read Windscribe review
---
User Feedback for Betternet VPN
Questions & User Reviews are shown in the original language of submission.