Disclosure: Top10VPN.com is reader-supported. We may earn commissions if you buy a VPN through links on our site.
Hotspot Shield Review
This score is calculated using our 10-step testing process.
Ranked #15 out of 74 VPNs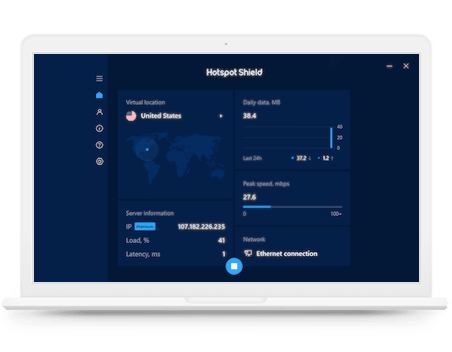 Read Hotspot Shield user reviews
Looking for secure, private internet access? Then Hotspot Shield VPN is a great choice – or so its website would have you believe.
It's one of the most popular VPN providers around with supposedly over 650 million customers, but can Hotspot Shield really be trusted? Or is it just another VPN that overpromises and under-delivers?
That was our number one question, but we were also left wondering:
Is Hotspot Shield safe?
Is it good for torrenting?
Is it a safe VPN for iPhone?
What protocol does Hotspot Shield use?
And, most importantly, is Hotspot Shield any good?
If you're anything like us, then you're in luck – you can find the answer to all these questions (and more) right here in our unbiased Hotspot Shield VPN review.
You might also be wondering if Hotspot Shield is free or not. There is a free version – Hotspot Shield Basic – but this page is strictly about the premium version.
You can read our review of Hotspot Shield's free version here.
Overview
Hotspot Shield Pros & Cons
Impressive download speeds
Real-time malware protection & no IP/DNS/WebRTC leaks
Currently working with Netflix, & torrenting
Fairly big VPN server network: 82 countries
User-friendly VPN apps for popular devices
Unreliable for use in China
Can't be installed on routers
Not enough transparency on Catapult Hydra protocol
Past controversies around the free VPN app
Based in privacy-unfriendly US
Hotspot Shield Key Summary
| | |
| --- | --- |
| Top Download Speed | 86Mbps |
| Logging Policy | Some User Logs |
| IP, DNS or WebRTC Leaks | No |
| Jurisdiction | US (Five-Eyes Member) |
| Servers | 3,200+ |
| IP Addresses | 3,200+ |
| Countries | 82 |
| US Netflix | Yes |
| Torrenting | Unlimited |
| Works in China | Unreliable |
| Support | 24/7 Live Chat |
| Cheapest Price | $2.99/mo over 36 Months |
| Official Website | Hotspotshield.com |
It may have had some privacy issues in the past, but there's no denying that Hotspot Shield is popular for a reason: it's a very, very fast VPN.
You can read more about that later on, but let's start with some background on this VPN service.
About & Logging Policy
Who is Hotspot Shield?
Hotspot Shield, first released in 2008, is owned by Pango (formerly AnchorFree).
Pango is based in the US, which has intrusive privacy laws and is part of the Five Eyes data-sharing membership.
The Pango group owns a few different VPN apps including Betternet, Hexatech, and TouchVPN.
In January 2019, Hotspot Shield released its annual Transparency Report. The report shows the number of data requests Hotspot Shield received from authorities around the world since 2016, and crucially that Hotspot Shield never handed over any data.
Logging Policy
Hotspot Shield logs more than we'd like:
Your IP address – encrypted, only for the duration of your session, and not linked with your activity while using the VPN.
Your approximate geographical location – derived from your IP address and used to connect you to the nearest VPN server.
Connection timestamps – used to monitor, support, and optimize VPN services, and stored for three years.
Bandwidth used per user, per session – used to monitor, support, and optimize VPN services, and stored for three years.
Device-specific information, such as device identifiers, browser types, device types and settings, operating system versions, mobile, wireless, and other network information (such as internet service provider name, carrier name and signal strength), and application version numbers
Non-personal logs of websites (domain names, not specific URLs) visited via Hotspot Shield's VPN servers – these are aggregated on a monthly basis.
While this sounds pretty worrying, Hotspot Shield assures users by saying:
"Even if a government agency physically seizes one of our VPN servers and succeeds in breaking disk encryption on those servers, they would not find any logs or information that would reveal what any individual user was browsing, viewing, or doing online via a VPN connection."
However, connection timestamps could potentially be used – alongside other data points – to prove that you have visited a certain website. This is fairly unlikely to happen, but we would rather Hotspot Shield didn't log this information for three years.
If you're interested in a provider that keeps absolutely no logs whatsoever, for any reason, then we recommend you take a look at our Private Internet Access review.
In 2017, Hotspot Shield was accused of 'unfair and deceptive trade practices' – these alleged practices only involved the free version of the app, but it was still a sizeable breach of trust. Those practices have since been halted, but to stay on the safe side stick with Hotspot Shield's paid version.
Speed & Reliability
One of the fastest VPNs we've tested
Hotspot Shield is one of the fastest VPN providers we've seen.
We experienced impressive download speeds on all the Hotspot Shield VPN servers we tested, but curiously the fastest VPN server wasn't the one closest to our physical location (the UK), but another situated in a nearby country (Germany).
It's worth testing out a couple of different nearby VPN servers to find the best speeds.
But no matter which server you choose, you'll be able to do pretty much anything you want to do online through Hotspot Shield without waiting around – it's particularly good for HD streaming.
Check out our speed test results using Hotspot Shield:
Speed results from our physical location in London (100Mbps fibre optic connection) to a Germany test server.
Before using Hotspot Shield:
91.51

96.45

Ping

ms

2
When connected to Hotspot Shield:
90.63

69.77

Ping

ms

37
Download speed without Hotspot Shield: 91.51Mbps
Download speed with Hotspot Shield: 90.63Mbps
Download speed loss when Hotspot Shield is running: 1%
Even if you connect to a more distant VPN server location, Hotspot Shield still delivers – our speeds dropped just 23% connecting from the UK to the US.
Find out the average download and upload speeds to expect when connecting from the UK to a Hotspot Shield VPN server in:
UK: 86Mbps (download) & 76Mbps (upload)
USA: 70Mbps (download) & 32Mbps (upload)
Singapore: 50Mbps (download) & 3Mbps (upload)
Australia: 17Mbps (download) & 8Mbps (upload)
Hotspot Shield's uploads (on nearby servers) are good enough for torrenting, but ping times are a little high, so there are better VPNs for smooth gaming.
Hotspot Shield doesn't use OpenVPN – we usually use this protocol for speed tests – and instead uses a proprietary VPN protocol, for which very limited technical information is available.
While Hotspot Shield is a super fast VPN, it's harder to say whether it's as safe and secure as the other top-tier VPN services.
If you're interested in knowing more about how we test VPN speeds, see our 'How We Review VPNs' guide.
Server Locations
Great VPN server network covering 82 countries
82
Countries
108
Cities
3,200+
IP Addresses
Hotspot Shield's very high speeds can be experienced when connecting to nearby VPN servers, and you shouldn't find yourself too far from one as there are now over 100 locations worldwide.
Hotspot Shield states that the number of server locations may differ from one supported device to the next as different servers are used for each app.
Hotspot Shield has over 3,200 individual VPN servers in its network, which is a very good number. These are a mixture of virtual and physical servers but Hotspot Shield isn't willing to reveal which are which due to "security reasons," which isn't as transparent as we'd like.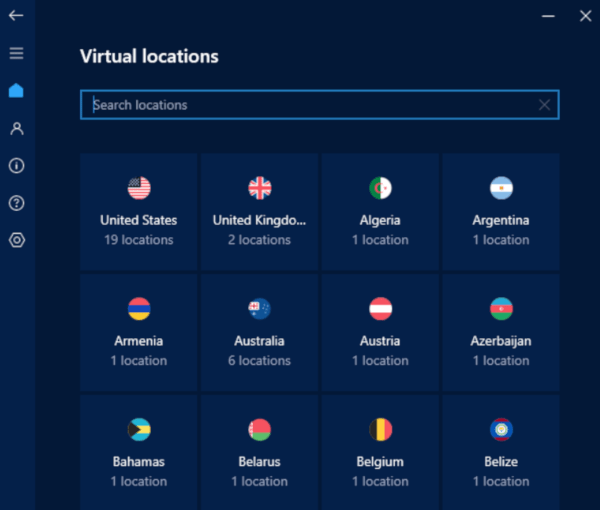 Hotspot Shield's VPN server network covers 82 countries around the world. It's not the biggest selection of VPN locations we've seen but Hotspot Shield's VPN servers are all very well spread out, so there are few gaps in the coverage.
You can get an IP address associated with popular countries like the UK, the US, Canada, and Australia, as well as some less common destinations like Ecuador, Egypt, and Thailand.
Hotspot Shield users can choose from servers in 19 different US cities, which is great news for North Americans as well as customers abroad looking for specific US locations.
There is also city-level choice in the following countries:
Australia (5)
Canada (3)
Italy (2)
Streaming & Torrenting
Works well for streaming and torrenting
Hotspot Shield is, more often than not, a reliable VPN option for streaming fans – it consistently works with US Netflix.
There are no dedicated VPN streaming servers like some other top VPN services, and while most of the VPN servers we've tested work well for streaming, accessing US Netflix sometimes requires some trial and error. Just try a couple of different US city-level servers and you should be able to find one that works.
We haven't been able to access BBC iPlayer through the VPN app for a couple of months, but Hotspot Shield has informed us that its engineers are working on a solution.
In the meantime, you can watch iPlayer shows through Hotspot Shield's Chrome browser extension – just make sure to use it alongside the main apps for maximum security and privacy.
Hotspot Shield is one of the best VPNs for unblocking Disney+, Disney's newly launched streaming service.
Thanks to Hotspot Shield's super fast download speeds, streaming video content in HD is easy and buffer-free.
Torrenting
Torrenting through Hotspot Shield works very well. Torrenting and P2P traffic is fully permitted and unrestricted on any of Hotspot Shield's servers.
Fast upload speeds, a VPN kill switch (for Windows users only), and effective DNS leak protection will be attractive to keen torrenters.
However, Hotspot Shield's lack of transparency over its proprietary VPN protocol means that we can't guarantee its the safest option for P2P. Its logging policy isn't the most privacy-friendly either.
Bypassing Censorship
Not recommended for China or other high-censorship countries
Hotspot Shield isn't a great option for those in highly censored countries as it doesn't come with extra obfuscation tools.
While some devices might still work in these countries, connections aren't guaranteed and may be intermittent. Hotspot Shield advises that if you find one device to be blocked you should try another.
In other words, connecting in high censorship countries will require trial and error, and may not even work at all.
The honesty is appreciated, but it doesn't change the fact that it probably won't be able to help you if you're in China (follow the links for our specific country guides), Pakistan, UAE, or any other nation with strict government-implemented web blocks.
Platforms & Devices
Coverage limited to most popular platforms, no router support
Apps
Hotspot Shield's VPN will work on your smartphone and desktop or laptop computer. It has apps for:
Microsoft Windows
Apple MacOS
iOS
Google Android
That's where device coverage ends, though. Hotspot Shield doesn't support manual configuration. That means you can't use it on less popular operating systems, like Linux.
You can use Hotspot Shield on up to five devices at any one time.
Games Consoles & Streaming Devices
Amazon Fire TV
Hotspot Shield provides a long list of unsupported devices:
Apple TV
Roku
Chromecast
Windows phones
Kindle devices
Blackberry phones
Rooted or jailbroken devices
Linux OS
Game Consoles
Custom router configurations
Direct VPN connectivity (without using the application)
However, it has recently brought out a custom VPN app for Amazon Fire TV Stick and Android TV. These apps are only available for Premium subscribers.
Due to Hotspot Shield's lack of router support you can't use it on any other streaming devices or games consoles.
Browser Extensions
Chrome
Hotspot Shield does provide a browser extension for Google Chrome users. This extension can spoof your location, block ads and trackers, as well as protect you from malware.
That said, Hotspot Shield's browser add-on is just a proxy and not a full VPN, so be sure to use the extensions alongside the main VPN app for total protection.
Hotspot Shield doesn't have browser extensions for Mozilla Firefox, Safari, or Opera at the moment.
Encryption & Security
Strong encryption but lack of details around its proprietary VPN protocol
Protocols

Proprietary

Encryption

AES-128

AES-256

Security

DNS Leak Blocking

IPV6 Leak Blocking

VPN Kill Switch

Advanced features

Ad Blocker

Split Tunneling
Please see our VPN Glossary if these terms confuse you and would like to learn more.
Hotspot Shield uses Catapult HydraVPN as its one and only VPN protocol – it's unique to Hotspot Shield, and there are not many details about how it works. It appears to be a secure proprietary security protocol, but we don't know how secure it is exactly.
The VPN apps give no option to change protocols to more familiar ones like OpenVPN or IKEv2.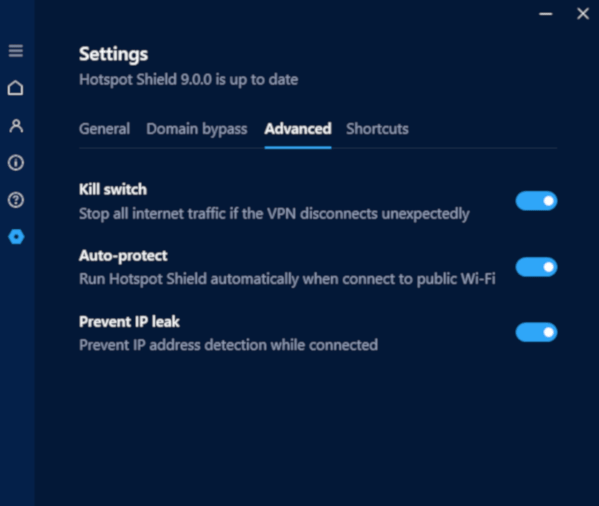 There was also a major security flaw discovered in February 2018 that allowed hackers to see your true location via your WiFi network name, but it was addressed and fixed. Read Hotspot Shield's clarification of what happened.
Hotspot Shield gets the rest right, though, with AES-256 encryption (it also uses AES-128), a VPN kill switch (for Windows PCs only at this time), and protection against IPv6 and DNS leaks. Here are the results from our leak test (we test from London, so you can see that it is effectively hiding our IP address):
As an added plus, Hotspot Shield provides real-time malware protection which performed well in recent tests by AV-TEST.
Ease of Use
Very simple apps with fast setup
How to Install & Set Up Hotspot Shield
Hotspot Shield's VPN apps are pretty easy to use and a new update to the Windows app makes for an even sleeker experience.
Expert users may well be left wanting, though, since there are so few advanced VPN settings or options to play around with.
Browser Extensions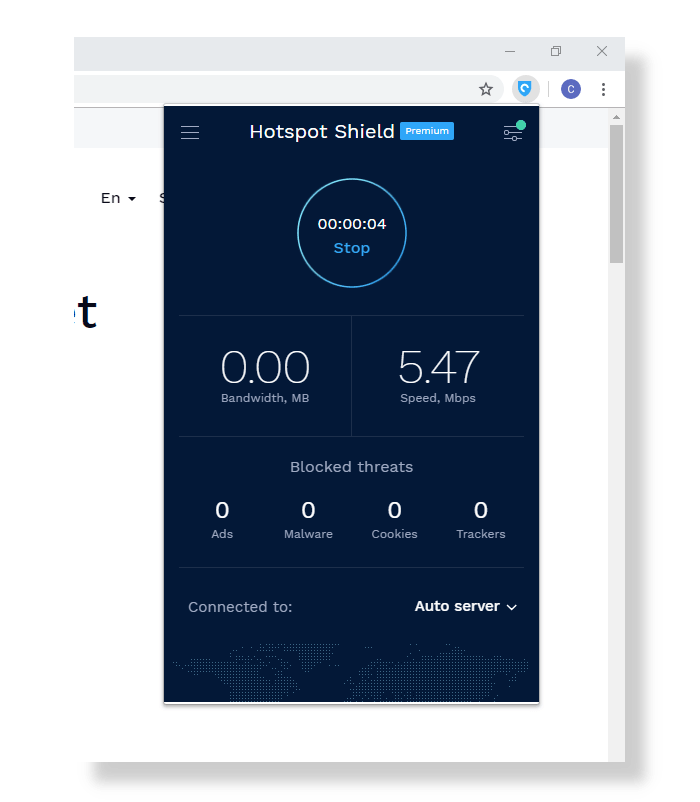 Hotspot Shield's browser extension for Google Chrome is really easy to set up. Just go to the Chrome Web store, download the extension, log in and connect.
Customer Support
24/7 live chat support available
| | |
| --- | --- |
| 24/7 Live chat support | Yes |
| Online Resources | Yes |
Hotspot Shield's around-the-clock live chat support is by far the best way to get your queries addressed and problems solved. Responses are well-informed and timely.
You can only access live chat through by logging into your account on the Hotspot Shield website, though, which means that those with queries before they buy may struggle to get an answer quickly.
Hotspot Shield's email support form is quite limited, with some queries restricted to premium subscribers. The knowledge base and FAQs, while nice to have, are also very basic when compared to other top-tier VPN providers.
Pricing & Deals
Great value for money on the three-year plan
Hotspot Shield Coupon
Hotspot Shield Pricing Plan
Hotspot Shield is fairly cheap, especially if you opt for a longer VPN plan.
While a 12-month plan is priced at a moderate $7.99 per month, Hotspot Shield's three-year plan costs just $2.99 per month – a very competitive price.
If you want to pay on a month-to-month basis, Hotspot Shield costs $12.99.
There is a free version of Hotspot Shield, but it comes with too many restrictions and we wouldn't recommend it due past user privacy controversies.
All plans have 45-day money-back guarantee
Payment & Refund Options
You can pay for Hotspot Shield using the following methods:
Major credit and debit cards
PayPal
You can't pay using more privacy-friendly methods such as Bitcoin or other cryptocurrencies, and there's no option to pay using international methods like AliPay either.
Hotspot Shield provides a 45-day money-back guarantee, which is generous, but it does involve submitting a form for review. Whether you receive a refund or not is up to Hotspot Shield, so canceling before your plan ends is not exactly risk-free.
There's a seven-day free trial, too, which allows you to test out the full-featured premium software without restrictions. You do have to submit your payment details, though.
The Bottom Line
Do We Recommend Hotspot Shield?
There's a lot to like about Hotspot Shield: it's one of the fastest VPNs we've ever tested, it has a sizable international server network, and it's good for streaming and torrenting.
Our only reservations lie around past controversies surrounding the free app, plus Hotspot Shield's lack of transparency regarding what protocol it uses. We still believe it's a very good VPN, but these are the factors holding Hotspot Shield back from reaching even greater highs.
Alternatives to Hotspot Shield
You won't find a safer, more trustworthy VPN than IPVanish. It's 100% no-logs and independently audited to prove as much, and its speed and reliability are a welcome bonus. Read IPVanish review
Put-off by Hotspot Shield's lack of router coverage? ExpressVPN allows for installation at router level and much, much more. Read ExpressVPN review
You've read our expert review - read on for reviews from real users.
We value your opinion, whether it's positive or negative. Please leave a helpful and informative review, and don't disclose personal information or use abusive language. All user reviews are moderated to ensure they meet our posting guidelines.
Already use Hotspot Shield? Tell us what you think.
When a review is marked "Verified Customer" it means we've verified that the reviewer has had a genuine experience with the company.
Best Positive Review
I Agree with you
I have used Hotspot Shield for many years and when tested against many of the big names it was always faster. I find it reliable and never need to use customer support anymore. It did not work well in China when I last tried to use it there.
Best Critical Review
Works great, but with quirks.
Verified Customer
The VPN functionality works as it should, but there are a few quirks that appear now and then, and some that have been around since I signed up. On Android 8.1.0, and prior versions: i) Despite the the fact that I have it set not to auto start on reboot, it does so. ii) The app continually restarts no matter that I quit it. I have to terminate it in Android settings. iii) When I do start it, even though I set it to auto turn-on with unsecured and secured wi-fi, and even mobile networks, it does not do so - I have to start the connection manually. I reported these three problems when I signed up, and just gave up waiting for them to be fixed. On Windows 10: i) Occasional cases where response times are awful, but I've never reported these; ii) A current problem from the latest version update, which I've reported as a bug, where the App auto starts and auto turns on even though all settings are contrary to that requirement. But, overall good enough and I stick with it.
Showing 3 out of 3 reviews
Verified Customer

When I was living in Mexico I remember that I was always blocked out of certain American radio stations and apps, like Tune In, but my nephew told me about Hotspot Shield, and ever since I started using it, it worked to bypass the international restrictions. I also liked how user friendly it is, and how it works silently in the background, without slowing down my laptop.

Good but not always fast enough

Verified Customer

I use hotspot shield for several years now, on occasion when certain website is blocked or of I want to see news from another country but it's only locally available. And finally I use it as a privacy shield. The only thing that I would like to improve is speed. Some servers are very slow, epsecially if you want to watch a video and not just read, thus making it unusable in those situations. Other than that is great.

Verified Customer

Love how it works. Super easy and quick. Sometimes you get lucky and Netflix can work for other countries.