Top10VPN is reader-supported. If you buy a VPN through our links, we may earn commissions. Learn more.
Hotspot Shield: Ranked #18 out of 99 VPNs that we tested
Superb download speeds: 89Mbps (peak local)
Currently working with Netflix and iPlayer
User-friendly apps for popular devices
Connect securely to 73 countries
Real-time malware protection
Based in privacy-unfriendly US
Past controversies around the free VPN app
No configurable settings on desktop client
Works with
Netflix, Amazon Prime Video, Hulu, BBC iPlayer, Sky, Now TV, HBO, SlingTV, Torrenting
Speed & Reliability
One of the fastest VPNs we've tested
Speed results from our physical location in London (100Mbps fibre optic connection) to a London test server.
Before using Hotspot Shield:
95.88

92.34

Ping

ms

7
When connected to Hotspot Shield:
88.89

59.05

Ping

ms

9
Download speed without Hotspot Shield: 96Mbps
Download speed with Hotspot Shield: 89Mbps
Download speed loss when Hotspot Shield is running: 7%
Hotspot Shield is one of the fastest VPN providers we've seen. We experienced lightning-fast downloads on all the servers we tested.
You'll be able to do pretty much anything you want to do online through Hotspot Shield without breaking a sweat – HD streaming, private torrenting, and lag-free gaming.
Hotspot Shield doesn't use OpenVPN – we usually use this protocol for speed tests – and instead uses a proprietary protocol, for which very limited technical information is available.
While Hotspot Shield is a super fast VPN, it's harder to say whether it's as secure as the other top-tier VPN services.
Server Locations
Large number of individual servers covering 73 countries
73
Countries
98
Cities
2,500+
IP Addresses
We mostly experienced Hotspot Shield's very high speeds when connecting to nearby server, and thankfully a recent update to the Windows app brings the total to 98 worldwide server locations. Unfortunately, MacOS users are still limited to just 25 countries.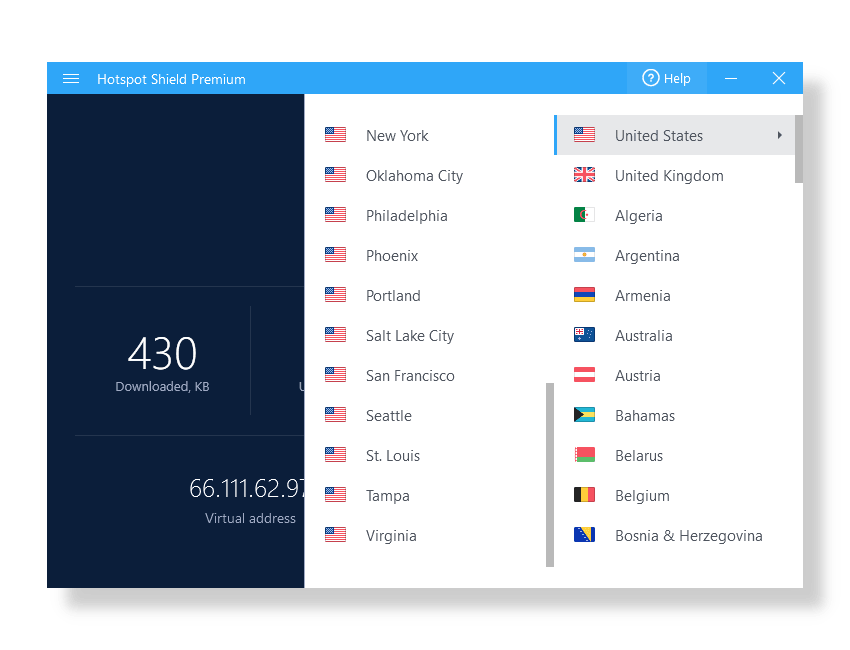 Hotspot Shield provides 2,500 individual servers – a very good number – which cover 98 cities in 73 countries around the world. The servers are all very well spread out, so there are few gaps in the coverage, with servers located in six continents.
The recent update to Hotspot Shield has also introduced 26 city-level servers in the US, which is great news for US users and those seeking a specific US location from abroad.
Streaming & Torrenting
Works effortlessly with streaming and torrenting services
Hotspot Shield works with US Netflix and BBC iPlayer. We've not had a single issue for at least six months now, making Hotspot Shield a truly reliable VPN option for streaming fans.
There are no dedicated streaming servers – but most servers we've tested work well for streaming, so just select a country and start watching.
Torrenting
Torrenting through Hotspot Shield works very well. Torrenting and P2P traffic is fully permitted and unrestricted on any of Hotspot Shield's servers.
Bypassing Censorship
Doesn't work in China or other high-censorship countries
Hotspot Shield isn't a great option for those in highly censored countries – it even says as much on its website.
The honesty is appreciated, but it doesn't change the fact that it probably won't be able to help you if you're in China, Pakistan, UAE, or seemingly any other nation with government-implemented web blocks.
Platforms & Devices
Coverage limited to most popular platforms, no router support
Apps
Hotspot Shield will work on your smartphone and desktop or laptop computer – it has apps for Microsoft Windows, Apple MacOS, iOS and Google Android.
That that's where coverage ends, though. There's no support for less popular operating systems, like Linux, and you can't install it on your router to cover streaming or gaming consoles.
Browser Extensions
Chrome
Firefox
Hotspot Shield does provide browser extensions, though, which is a big plus for Google Chrome or Mozilla Firefox users. These extensions can spoof your location, block ads and trackers, as well as protect you from malware.
That said, Hotspot Shield's browser add-ons are just proxies and not full VPNs, so be sure to use the extensions alongside the main VPN app for total protection.
Logging Policy
Logs IP addresses while connected, and based in Five Eyes jurisdiction
Hotspot Shield logs the following:
Your IP address – encrypted, only for the duration of your session, and not linked with your activity while using the VPN
Device-specific information, such as the unique mobile ID, hardware model, operating system version, language, and network information – upon opening the app but before connecting to the VPN, to improve the service and perform analytics
It's a longer list than we'd like to see, but we also feel confident that nothing is collected which could be used to link your identity to your activity. In fact, no activity is logged whatsoever.
If you're interested in a provider that keeps absolutely no logs whatsoever, for any reason, then we recommend you take a look at our NordVPN review.
In 2017, Hotspot Shield was accused of 'unfair and deceptive trade practices' – these alleged practices only involved the free version of the app, but it was still a sizeable breach of trust. Those practices have since been halted.
Jurisdiction
Hotspot Shield is based in the US, which has intrusive privacy laws and is part of the Five Eyes data-sharing membership.
In January 2019, Hotspot Shield released its annual Transparency Report. The report shows the number of data requests Hotspot Shield received from authorities around the world since 2016, and crucially that Hotspot Shield never handed over any data.
Ease of Use
Very simple apps with fast setup
How to Install & Set Up Hotspot Shield
Hotspot Shield's apps are so simple and easy to use that there's practically no room for error, even for complete beginners.
Expert users may well be left wanting, though, since there are so few advanced settings or options to play around with.
Browser Extensions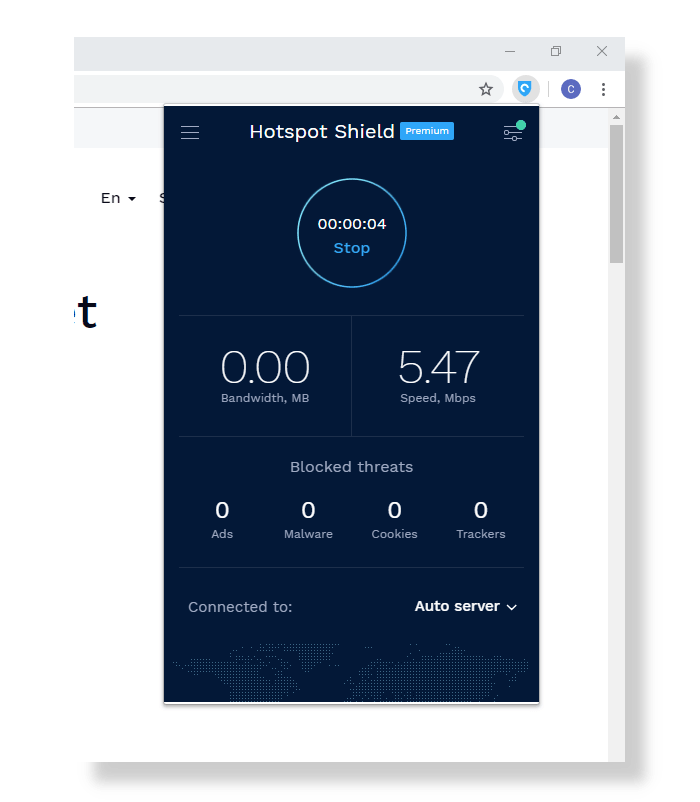 Hotspot Shield's browser extensions for Google Chrome and Mozilla Firefox are really easy to setup. Just go to the Chrome Web or Mozilla Add-Ons store, download the extension, log in and connect.
Customer Support
24/7 live chat support available
| | |
| --- | --- |
| 24/7 Live chat support | |
| Online Resources | |
The around-the-clock live support is by far the best way to get your queries addressed and problems solved with Hotspot Shield. Responses are well-informed and you don't even need to have an account to talk to a customer support agent.
Hotspot Shield's email support form is a lot more limited, with some queries restricted to premium subscribers. The knowledge base and FAQs, while nice to have, are also very basic when compared to other top-tier VPN providers.
Pricing & Deals
Great value for money on the two-year plan
Hotspot Shield Coupon
Hotspot Shield
Get 76% off Hotspot Shield's 3-year plan
Hotspot Shield Pricing Plan
While a 12-month plan is priced at a moderate $5.99 per month, Hotspot Shield's three-year plan costs just $2.99 per month – a very competitive price.
All plans have 45-day money-back guarantee
Payment Options
| | |
| --- | --- |
| Credit Card | |
| PayPal | |
| AliPay | |
| UnionPay | |
Hotspot Shield offers a 45-day money-back guarantee, which is generous, but it does involve submitting a form for review. Whether you receive a refund or not is up to Hotspot Shield, so it's not exactly risk-free. There's a seven-day free trial, too.
While Hotspot Shield offers all the most popular payment methods, there's no option to pay with cryptocurrencies like Bitcoin and Litecoin.
You've read our expert review - read on for reviews from real users.
User Reviews
Based on 26 reviews
5 star

(16)

4 star

(7)

3 star

(2)

2 star

(0)

1 star

(1)
Share your thoughts to help others
Best Positive Review
Always dependable!
Verified Purchase
When I was living in Mexico I remember that I was always blocked out of certain American radio stations and apps, like Tune In, but my nephew told me about Hotspot Shield, and ever since I started using it, it worked to bypass the international restrictions. I also liked how user friendly it is, and how it works silently in the background, without slowing down my laptop.
Best Critical Review
Works great, but with quirks.
Verified Purchase
The VPN functionality works as it should, but there are a few quirks that appear now and then, and some that have been around since I signed up. On Android 8.1.0, and prior versions: i) Despite the the fact that I have it set not to auto start on reboot, it does so. ii) The app continually restarts no matter that I quit it. I have to terminate it in Android settings. iii) When I do start it, even though I set it to auto turn-on with unsecured and secured wi-fi, and even mobile networks, it does not do so - I have to start the connection manually. I reported these three problems when I signed up, and just gave up waiting for them to be fixed. On Windows 10: i) Occasional cases where response times are awful, but I've never reported these; ii) A current problem from the latest version update, which I've reported as a bug, where the App auto starts and auto turns on even though all settings are contrary to that requirement. But, overall good enough and I stick with it.
Showing 1-3 of 26 Reviews
I have used Hotspot Shield for many years and when tested against many of the big names it was always faster. I find it reliable and never need to use customer support anymore. It did not work well in China when I last tried to use it there.

I used this whilst I was in China. It automatically runs when you boot up the computer. I was sent to Ghana or Nigeria, I can't remember where and booted up my laptop. One of these countries is on their 'don't use in this country' list so they continued to take my money but stopped my access as punishment. I explained to them what had happened after I discovered why I had not Internet access through the VPN but they couldn't give a damn. It was a good piece of software, but terrible inhuman service when you need to deal with actual humans.

It was great for protection, I didn't have to worry when I was downloading torrents, it was great! I would definately recommend hotspot shield to friends if they needed it.