Disclosure: Top10VPN.com is reader-supported. We may earn commissions if you buy a VPN through links on our site.
Hotspot Shield Review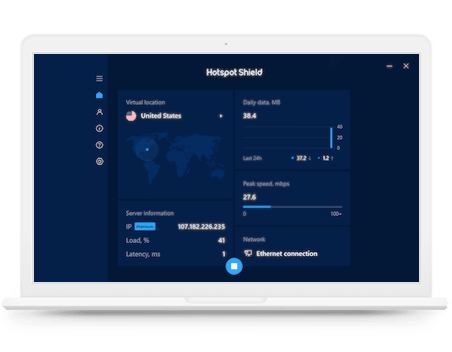 Our Verdict
Hotspot Shield is a fast and user-friendly VPN that easily hides your IP address and unblocks US Netflix. It has a large server network and custom VPN apps for most popular devices. While Hotspot Shield allows torrenting and P2P file-sharing, its logging policy is not ideal for complete privacy.
Hotspot Shield's VPN service is divided into two products: a free VPN, and a paid version called Hotspot Shield Elite. With over 650 million customers, it's one of the most popular VPN providers in the world, but can you really trust Hotspot Shield?
In this Hotspot Shield VPN review, we put both versions of the VPN through our advanced testing process to find out how they perform for speed, security, streaming, and more.
The free version of Hotspot Shield is an ad-sponsored VPN with a data limit of 500MB per day. Upgrading to the paid version will remove these ads and give you unlimited bandwidth, access to servers in 82 countries, and a range of bundled security features.
We found that Hotspot Shield is a very fast VPN thanks to its proprietary encryption protocol called Catapult Hydra. The apps are user-friendly, they unblock US Netflix, and allow P2P and torrenting traffic on all servers.
However, the company has an invasive logging policy and a controversial past when it comes to user privacy. There is no option to use the OpenVPN protocol and there is no VPN kill switch for macOS, Android, or iOS, which is a major security oversight for such a popular VPN.
Nevertheless, Hotspot Shield is still one of the best VPNs around. It's great for unblocking streaming services, and protecting your data on open public WiFi networks. However, it's not a service we can recommend for the highest levels of privacy.
Here's an overview of Hotspot Shield's pros and cons along with the key data we recorded during our review:
Hotspot Shield Pros & Cons
Impressive download speeds
Apps are free of IP, DNS & WebRTC leaks
Paid app unlocks US Netflix & allows torrenting
Good-sized VPN server network: 82 countries
User-friendly VPN apps for popular devices
Unreliable for use in China
Not enough transparency on Catapult Hydra protocol
Free app shares information with advertisers
Past controversies around the free VPN app
Based in privacy-unfriendly US
Hotspot Shield Key Summary
Data Cap
Speed
Logging Policy
Data Leaks
Jurisdiction
Servers
IP Addresses
Countries
US Netflix
Torrenting
Works in China
Support
Cheapest Price
Official Website
Premium
Free
None
500MB per day
87Mbps
44Mbps
Some User Logs
Some User Logs
No
No
US (Five-Eyes Member)
US (Five-Eyes Member)
3,200+
3,200+
3,200+
3,200+
82
82
Yes
No
Unlimited
No
Unreliable
No
24/7 Live Chat
Online Resources Only
$2.99/mo over 36 Months
-
Hotspotshield.com
Does Hotspot Shield protect your privacy?
Logging Policy & Jurisdiction
Hotspot Shield has been criticized in the past for its questionable logging policy.
Thankfully, the VPN doesn't keep any logs of your browsing history or online activity. However, the service collects plenty of other information and the privacy policy is often vague or convoluted.
According to its terms and conditions, Hotspot Shield Elite collects the following data:
Your IP address – encrypted, only for the duration of your session, and not linked with your activity while using the VPN.
Your approximate geographical location – derived from your IP address and used to connect you to the nearest VPN server.
Connection timestamps – used to monitor, support, and optimize VPN services, and stored for three years.
Bandwidth used per user, per session – used to monitor, support, and optimize VPN services, and stored for three years.
Device-specific information, such as device identifiers, browser types, device types and settings, operating system versions, mobile, wireless, and other network information (such as internet service provider name, carrier name and signal strength), and application version numbers.
Non-personal logs of websites (domain names, not specific URLs) visited via Hotspot Shield's VPN servers – these are aggregated on a monthly basis.
If you use Hotspot Shield Free, the service may also share even more data with third-party advertisers:
IMEI Number (your unique mobile ID)
MAC address
Unique advertising ID
City-level location
If you're looking for reassurance, Hotspot Shield states that:
…Even if a government agency physically seizes one of our VPN servers and succeeds in breaking disk encryption on those servers, they would not find any logs or information that would reveal what any individual user was browsing, viewing, or doing online via a VPN connection."
While it's encouraging that Hotspot Shield isn't able to link any behavior to your specific account, this level of data collection is still far too invasive for any user concerned about privacy or anonymity.
If you're using Hotspot Shield Elite, the company will be monitoring "the nature of the requests that you make to our servers (such as what is being requested, information about the device and app used to make the request, timestamps, and referring URLs)" along with a whole host of other information.

If you use the free version you'll also be sharing potentially personally identifying information with advertisers. As always, it's best to stay away from ad-supported services when trying to stay private online.
Connection timestamps could potentially be used – alongside other data points – to prove that you have visited a certain website. This is unlikely to happen, but we would rather Hotspot Shield didn't log this information for three years.
At the very least, it's clear that your IP address and website requests are being monitored at some point – even if in aggregate form. Combined with a worrisome past when it comes to user privacy, we cannot recommend Hotspot Shield for any user looking for high-level anonymity online.
However, if you're simply looking to access streaming services or encrypt your web traffic so you can use public WiFi safely, this VPN will do that.
If you're interested in a provider that keeps absolutely no logs whatsoever, then we recommend you take a look at our Private Internet Access review.
Where is Hotspot Shield Based?
Until recently Hotspot Shield was owned by Pango, formerly branded as AnchorFree. But as of July 2020 it has been aquired by Aura, a security company which owns Identity Guard and Five Eyes intelligence alliance. These countries work together to collect, share, and analyze mass surveillance data – this alone is a red flag.
Invasive jurisdictions like the US can compel supposedly privacy-focused companies like Aura to retain and share user information.
In January 2019, Hotspot Shield released its annual Transparency Report. The report shows the number of data requests Hotspot Shield received from authorities around the world since 2016 (227) – crucially, it also showed that Hotspot Shield didn't hand over any data.
However, Hotspot Shield hasn't released another transparency report to account for the time that has passed since then, so there's no way of knowing whether it has given up user data to any third parties.
Aura/ Pango's Controversial History
Pango provided an all-in-one subscription service to a number of online security and privacy products, including Hotspot Shield Elite, 1Password, Robo Shield, and Identity Guard. It costs $12.99 a month, or $95.88 a year.
Users could also purchase separate subscriptions to the individual products if they want.
The Pango group also owned a few different VPN apps including Betternet, Hexatech, and TouchVPN, which are not part of the main Pango subscription service. These services has since been brought within Aura.
General Catalyst, another investment firm whose portfolio includes Snapchat, Monzo, Deliveroo, and AirBnB.
A 2016 CSIRO report brought some of the company's questionable activities to light. Hotspot Shield's Android VPN app was highlighted for "injecting JavaScript codes for advertising and tracking purposes." Essentially, Hotspot Shield was using tracking codes to collect information about users in order to sell it to third-party advertisers.
The company was also exposed for redirecting user traffic through affiliate networks in order to profit from purchases made while using the VPN service. Furthermore, analysis of Hotspot Shield VPN's source code revealed it "actively use[s] more than five different third-party tracking libraries."
In 2017, Hotspot Shield was also accused of "unfair and deceptive trade practices" by the Center for Democracy and Technology (CDT). The CDT asked the Federal Trade Commission to investigate "undisclosed and unclear data sharing and traffic redirection."
The investigation relied on evidence that included Hotspot Shield's own marketing materials, which overstated the privacy and security of its VPN service in contradiction with its privacy policy.
Hotspot Shield didn't consider the logging of IP addresses collection of personal information, which is misleading and untrue.
The CDT's report mainly targeted the free version of the app, but it was still a sizable breach of trust.
Hotspot Shield's website materials and privacy policy have since been revamped to clearly show users what the VPN does and doesn't collect, along with how the free app is used in conjunction with advertising. There has also been a change in leadership since then.
Even so, we recommend sticking with Hotspot Shield's paid version to stay on the safe side.
It's hard to fully trust a company that has put profit before user privacy in the past, but with new management and an updated logging policy Hotspot Shield will be private enough for the majority of users.
How fast is Hotspot Shield?
Speed & Reliability
Hotspot Shield claims to be the "World's fastest VPN" thanks to its proprietary Catapult Hydra protocol.
Catapult Hydra is supposedly designed to fix the latency issues associated with other encryption protocols. Hotspot Shield claims this will significantly improve connection speeds when compared to other VPN providers.
We put this to the test by measuring the VPN's performance when connected to servers across various different countries in Hotspot Shield's network.
We found that Hotspot Shield is certainly one of the fastest VPNs you can buy, with top speeds on both local and international servers.
Whether you are looking to stream shows from other countries or torrent large files Hotspot Shield will do the job easily.
We experienced impressive download speeds on all the Hotspot Shield VPN servers we tested, and measured an average speed loss of just 5% on the four closest servers. Curiously the fastest VPN server wasn't always the one nearest to our actual location (the UK).
Unlike most VPNs, Hotspot Shield doesn't automatically connect you to the nearest or fastest VPN server upon startup – it always picks a US server. So for the best speeds take a look at the server locations list and pick a server closer to your physical location. Some trial and error is required because Hotspot Shield doesn't provide server load or ping time stats in the server list – the information is only available after you connect.
Even the free version of Hotspot Shield surpassed our expectations with a speed loss of around 5-10% to the US, which is the only location available for free users. If you live in or closer to the US you can expect even better speeds, while if you're further from the US than the UK is then you can expect a slight drop-off. The biggest difficulty we had was being able to finish the speed tests without the 500MB data cap running out, and this will definitely negatively affect your ability to stream and browse.
Local Speed Test Results
Before using Hotspot Shield:
95.97

98.36

Ping

ms

4
When connected to Hotspot Shield:
86.64

93.82

Ping

ms

15
Nearby Server Speeds
We tested Hotspot Shield's performance under two circumstances: local and international. A local test means we measured the difference in connection speed before and after connecting the VPN to a nearby server (London).
This is the best way to get the fastest speeds, but you wouldn't gain any of the geographic benefits of a VPN.
The difference in performance before and after connecting to the VPN is called the speed loss, which is measured as a percentage. This figure helps give you an idea of how a VPN might affect your speeds at home, regardless of how fast your connection speed is to begin with.
We began our testing with a download speed of 95.97Mbps. After connecting to Hotspot Shield's UK server this number dropped to 86.64Mbps – a percentage speed loss of 10%. On other European servers the speed loss dropped by just 1%. This is incredibly impressive when compared to most VPN services – even the best VPNs experience a speed loss of around 5-10%.
Connections to nearby servers were stable and reliable over time – we were able to connect consistently and did not experience any dropped connections during our testing.
International Server Speeds
To test international results, we repeated the same process while connected to Hotspot Shield servers in locations all around the world. This simulates the experience of accessing websites and streaming content outside of our home country.
We tested four additional VPN server locations: Germany, United States, Singapore, and Australia. Once more, Hotspot Shield didn't disappoint – it was almost as fast connecting out to the US as it was to some European servers. Speed loss is minimal, meaning that you can stream foreign content with ease. This makes Hotspot Shield one of the best VPNs for performance.
One thing to note – Hotspot Shield's uploads aren't quite as speedy as downloads, but they are still more than good enough for torrenting if you connect to a nearby server. Ping times are also a little high and the software isn't manually configurable, so Hotspot Shield isn't ideal for gaming. Whether you're into FPS, MOBAs, MMOs, or anything else, you can find the very best VPNs for gaming here.
Here are the average download and upload speeds you can expect when connecting from the UK to a Hotspot Shield VPN server in:
Germany: 93Mbps (download) & 95Mbps (upload)
USA: 79Mbps (download) & 43Mbps (upload)
Singapore: 68Mbps (download) & 18Mbps (upload)
Australia: 59Mbps (download) & 14Mbps (upload)
When connected to a US server, our average download speed was 80Mbps. This is a percentage speed loss of just 17% – an impressive speed, especially for the distance from our physical location.
We tested four servers located across the US, and here are the results:
Dallas: 88Mbps (download) & 31Mbps (upload)
LA: 84Mbps (download) & 27Mbps (upload)
New York: 62Mbps (download) & 66Mbps (upload)
Seattle: 92Mbps (download) & 27Mbps (upload)
Oddly, New York was the slowest, despite being closer to our physical location. Nevertheless, it still performed very well, as did all the other US servers.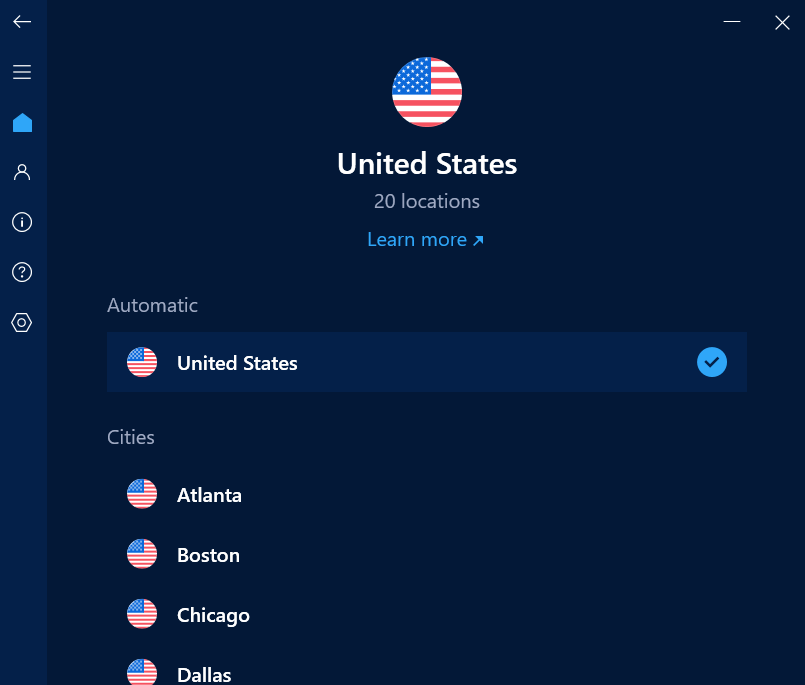 Across the world in Singapore we got download speeds of nearly 70Mbps. This speed is incredible given the physical distances involved. Likewise, in Australia speeds reached 59Mbps, a speed drop of just 39%, which is one of the best speeds into Australia we've ever recorded. Most other VPNs struggle to maintain even 50% of the original speed on this type of long-distance connection.
Switching between servers is also very fast, and typically takes only a few seconds. However, beware that the kill switch doesn't protect traffic when you change servers, so it's best to close down all your browser tabs and apps before you do change servers to ensure the highest levels of privacy.
Hotspot Shield's speeds are impressive in terms of both raw speed and reliability. Though short-term tests are not always reliable, Hotspot Shield was remarkably consistent in providing excellent connection speeds across the board. Not many VPNs on the market are able to deliver such reliably fast connections on demand.
No matter which server you choose, you'll be able to do pretty much anything you want to do with Hotspot Shield without waiting around – it's particularly good for HD streaming. Just make sure to test a couple of different nearby VPN servers to find the best speeds.
If you're interested in knowing more about how we test VPN speeds, see our guide How We Review VPNs.
How Fast Is Hotspot Shield Compared to Other VPNs?
To give the best comparison of VPN services we run an automatic custom VPN speed test tool.
It tests the ping, download and upload speed of each VPN four times per day, with speeds capped at 100Mbps (a number similar to what you might get on your home internet connection).
It shows the VPN's average speed loss compared to the connection with no VPN running. You can see how Hotspot Shield fared versus other popular VPNs over the past two months. The data below is taken from a New York to New York connection.
Use our Speed Test Tool to compare Hotspot Shield's speeds across different cities.
Thanks to its proprietary VPN protocol Hotpsot Shield is one of the fastest VPNs we've seen. Over the last few months it has maintained an average download speed drop of under 10% – beating even market leaders like ExpressVPN.
Is Hotspot Shield secure?
Encryption & Security
Protocols

Proprietary

Encryption

AES-128

AES-256

Security

DNS Leak Blocking

IPV6 Leak Blocking

VPN Kill Switch

Advanced features

Ad Blocker

Split Tunneling
Please see our VPN Glossary if these terms confuse you and would like to learn more.
Hotspot Shield's apps are safe in terms of encryption strength and security. The premium and free applications use secure AES-128 encryption and leak protection to protect your internet traffic while it travels through the network.
Importantly, Hotspot Shield doesn't use standard VPN protocols like OpenVPN, IKEv2, or L2TP. Instead, it employs its own unique protocol called Catapult Hydra. This comes with a range of pros and cons that we discuss later in this review.
We detected no IP, DNS, or WebRTC leaks when using Hotspot Shield's desktop and mobile applications. The browser extensions weren't as secure, though, leaking both DNS addresses and WebRTC requests. This means that websites may be able to see your true IP address, and your ISP the websites you are visiting. You can find our full leak testing results here.
The Windows app comes with a VPN kill switch that protects your data if your internet connection suddenly drops. This is disabled by default, and isn't currently available for MacOS, Android, or iOS, which is a major oversight for a VPN with such a large user-base.
Another gripe we have is that the kill switch doesn't kick in when you change servers, which temporarily exposes your true IP address. It may only expose your personal information for a couple of seconds, but it's still a privacy concern.
Windows users will find DNS leak protection enabled by default. IPv6 and WebRTC leak protection aren't built-in though, so privacy-conscious users may want to disable these capabilities in their browser. You can find detailed instructions for disabling WebRTC in our guide to VPN leaks.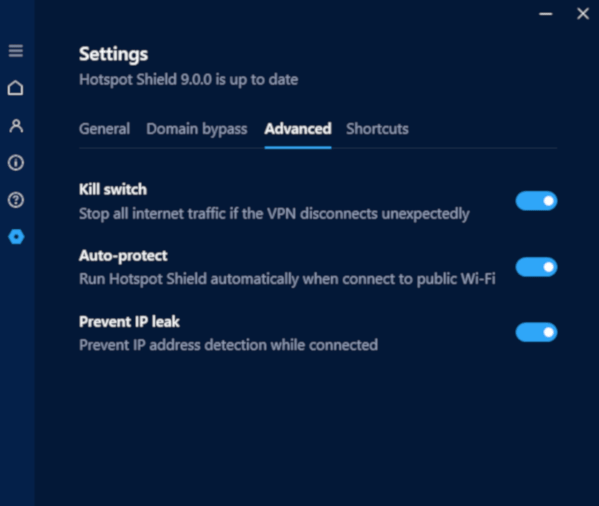 Hotspot Shield also offers various settings to specify when it should automatically connect to a VPN server. The app will connect by default when it detects an unsafe WiFi hotspot such as a free public network, or you can set it to automatically connect even when using known or "safe" WiFi networks. This is a welcome addition for a top-tier VPN provider.
However, if you're looking for lots of advanced features like split-tunneling, double-hop, manual configuration, or an ad-blocker, then Hotspot Shield isn't for you. NordVPN is a good alternative with plenty of extras.
That said, there is a 'domain bypass' feature that allows you to route certain websites outside of the VPN tunnel.
Hotspot Shield does not offer compatibility with Tor or any other third party proxies, which can be useful in countries with a heavily-censored internet.
In the past, Hotspot Shield Elite also came with real-time malware protection, which was designed to intercept malicious websites and protect against known phishing websites. An independent test by AV-TEST found it to block more than 50% of phishing pages and just about 10% of the malware pages presented, which is more than similar features offered by other popular VPN providers.
However, a member of the Hotspot Shield team told us that this feature has since been removed, without any official announcement. While this is disappointing, what's worse is that Hotspot Shield hasn't informed users of the change yet still promotes the feature on its website. We were told at the time that the website is still undergoing changes due to the rebrand from AnchorFree to Pango. Under Aura this still has not been removed.
It's also worth noting that security researchers found a major security flaw in Hotspot Shield's code in February 2018. This allowed hackers to see users' true location via their WiFi network name, but was later addressed and fixed. You can read Hotspot Shield's clarification of the incident here.
Hotspot Shield does provide strong encryption and robust security features in general, but issues with the VPN kill switch and a lack of advanced configuration options are worth keeping in mind for advanced users.
What Is Catapult Hydra?
Hotspot Shield doesn't give you a selection of encryption protocols to choose from, which may be disappointing for more advanced users. Instead, it always uses its proprietary Catapult Hydra protocol.
With more than 650 million users, it's surprising that Hotspot Shield doesn't offer at least a few other popular VPN tunneling protocols for situations in which their own protocol simply isn't the best option.
There's not a lot of information about Catapult Hydra available online. This is one of Hotspot Shield's biggest downfalls when compared to other VPN services that offer tried and tested protocols like OpenVPN as standard.
We do know that Hydra is optimized to give lightning fast speeds. This is due to its focus on the data transport aspect of VPN performance, which supposedly makes long-distance connection speeds 2.4x faster than connections using OpenVPN.
We spoke to a representative at Hotspot Shield to get a better idea of exactly how Catapult Hydra works. We were told:
"[Catapult Hydra] relies on OpenSSL library (same as used by OpenVPN). It's an enhancement of a transport protocol: it works inside the already established VPN tunnels to increase the speed of reliable data transfer.

In particular, it is an improvement of TCP protocol: when packets are randomly lost during the long distance connections, Catapult Hydra doesn't confuse this loss with last-mile congestion and doesn't decrease the throughput like old-style TCP.

These improvements are applied packets that are already encrypted within a secure tunnel. Catapult Hydra can increase throughput of any type of VPN tunnel, including OpenVPN and IPSEC."
According to Hotspot Shield's website, Catapult Hydra is based on TLS 1.2. It uses 128-bit AES encryption, 2048-bit RSA certificates for server authentication, and incorporates perfect forward secrecy. For casual users, this means that Hotspot Shield's encryption is more than secure enough to keep you safe.
One issue with proprietary technology like this is there's no simple way to see exactly what is going on behind the scenes.
We typically recommend OpenVPN as the most reliable and trustworthy protocol in the VPN industry. That's because OpenVPN is fast, secure, and open-source – so anyone can inspect the code for possible bugs or improvements.
In other words, most closed-source protocols cannot be peer-reviewed by independent security experts. This is one reason to be skeptical about VPN provider's proprietary technologies.
However, in the case of Catapult Hydra, Hotspot Shield claims that the code is evaluated by experts from some of the world's largest security companies, including BitDefender and McAfee. These companies use Hotspot Shield's Software Development Kit (SDK) to offer VPN services within their apps.
This means that although the code isn't publicly available, its functionality and security has been evaluated. These big security companies need to understand and trust Catapult Hydra in order to use it, and it's likely we can trust their opinion.
IP, DNS, or WebRTC Leaks
Security is about more than just the protocol in use. It has to be used properly, particularly when it comes to data leaks that might reveal your identity.
We tested Hotspot Shield's desktop client, mobile applications and browser extensions for data leaks.
Thankfully, we didn't experience any IP, DNS, or WebRTC leaks during our tests of the premium (and free) desktop and mobile applications. Our real IP address and location in the UK remained hidden, which means the VPN was protecting our identity.
Unfortunately, Hotspot Shield doesn't support IPv6 traffic yet, so if your ISP supplies you with an IPv6 address your personal data may leak. In order to prevent this you should disable IPv6 on whatever device you're using. This isn't ideal, but there are a handful of VPNs that support IPv6, including Perfect Privacy.
While the desktop and mobile apps didn't leak any of our private information, the same couldn't be said for Hotspot Shield's browser extensions. Both the Chrome extension and the Firefox add-on suffered from vulnerabilities.
We found the Chrome extension to leak DNS requests and the Firefox add-on to leak WebRTC requests – even with the WebRTC leak blocking feature enabled.
This means that your ISP can still see the websites you visit when you're connected to the Chrome extension, and your true IP address and location is exposed when you use the Firefox extension.
Many other VPNs have had WebRTC issues with Firefox recently due to the version 73.0 update, however there's an easy fix you can take to protect yourself. You can disable WebRTC at browser level by following these instructions:
Enter about:config in the address bar and hit enter.
Click I accept the risk!.
Enter media.peerconnection.enabled on the search bar and hit enter.
Right-click on the line listed and select Toggle. The Value should read false.
The chrome DNS leak is harder to resolve, so we don't recommend downloading it.
Trackers, Malware, and Permissions
It's not enough to know how a VPN encrypts your data – it's also important to know if it installs any unexpected extras on your device, including malware and trackers.
We used the εxodus tool to find out how many trackers and permissions Hotspot Shield's Android app uses, and were pretty shocked by the results.
The app's code contains seven trackers, which is more than the average for a top VPN. These trackers include:
Adjust
Bugsnag
Google Ads
Google CrashLytics
Google Firebase Analytics
Kochava
MixPanel
Most of these trackers let Hotspot Shield know how the users are interacting and engaging with the app. This helps produce marketing analytics profiles and also identifies how users respond to issues like crashes.
While this may aid app performance and usability it's by no means ideal for privacy. After all, VPNs are able to function well without trackers – for example Astrill's code contains zero.
The tool also found 13 permissions, which grant the app access to view network and WiFi connections, retrieve running apps, and prevent the phone from sleeping, amongst others. None of these are particularly concerning permissions, and most are common to many other VPN services.
Our independent investigation into Android app permissions concluded that Hotspot Shield "takes appropriate steps to mitigate the risks associated with the [identified] permissions and functions . . . especially as their claims are backed up by security and transparency audits."
We also put the Hotspot Shield .exe download file through two different virus and malware scanners to be sure it's safe to use.
Fortunately, we found that Hotspot Shield doesn't contain any viruses.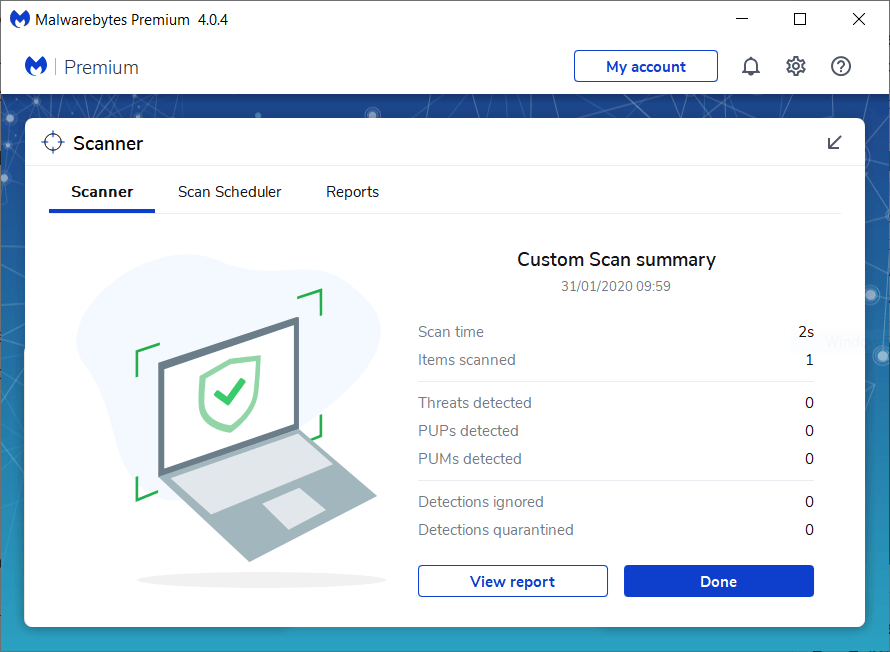 Overall, Hotspot Shield's security offering isn't quite on the same level as the very best VPNs on the market. The advanced features are limited to the Windows app, and the browser extension leaks personal data to third parties including your ISP. The abundance of third-party trackers used in the Android app and lack of transparency regarding Catapult Hydra is also concerning.
That said, Hotspot Shield will be secure enough for most, with top encryption ciphers, leak protection for the main apps, and a VPN kill switch for Windows.
Does Hotspot Shield work with Netflix?
Streaming & Torrenting
We tested Hotspot Shield's apps to check how the service works with popular streaming services like Netflix, BBC iPlayer, and YouTube.
We found that Hotspot Shield Elite consistently works with US Netflix. There are no dedicated US Netflix streaming servers, like some other top VPN services have, but connecting to the general US server works most of the time.
If the main US server doesn't unblock US Netflix, there are almost 20 US city locations you can try, and we've always found at least one that works with Netflix. It can involve some trial and error, though.
We were also able to unlock the following five Netflix libraries:
Australia
Brazil
Canada
Japan
UK
As with the US we just selected the country location and were able to watch geo-specific content immediately.
Unfortunately, the same can't be said for Hotspot Shield Free, which prevents you from accessing Netflix with a paywall that prompts you to sign up for a premium subscription.
Nevertheless, Hotspot Shield Elite is one of the best VPNs for unblocking Disney+, Disney's newly launched streaming service.
Thanks to Hotspot Shield's super fast download speeds, streaming video content in HD is easy and buffer-free.
After several months of not working with BBC iPlayer, the Hotspot Shield team has beaten the blocks and now you can watch all your favorite British TV shows hassle-free through the UK server.
In the past, Hotspot Shield used to only work with BBC iPlayer through the Chrome browser extension, which doesn't provide the same levels of security as the main VPN app.
Despite a lack of labeled streaming servers, Hotspot Shield has consistently worked to unblock the most popular streaming services for several months. While it's not the most private VPN around, Hotspot Shield is a reliable and fast VPN if you just want to stream your favorite shows.
Torrenting Is Fully Supported
Torrenting and P2P traffic is fully permitted and unrestricted on all Hotspot Shield's premium servers, though it's not supported by the free version of the VPN.
Hotspot Shield openly endorses P2P activity unlike some of its competitors – TunnelBear keeps its torrenting policy a near-secret on the website despite permitting it on every server. There are even instructions for anonymous torrenting on Hotspot Shield's website.
Fast upload speeds, a VPN kill switch (for Windows users only), and effective DNS leak protection all make Hotspot Shield Elite a good VPN for torrenting. The VPN effectively masks your IP address, which means your P2P activity will be hidden from your ISP.
You can also torrent on any supported device or platform, but unfortunately you can't use Hotspot Shield with Kodi.
That doesn't mean that you should rush to use Hotspot Shield for torrenting, though.
Hotspot Shield's lack of transparency over its proprietary VPN protocol means that we can't guarantee it's the safest option for P2P. The company's logging policy isn't the most privacy-friendly either.
While it's likely that Hotspot Shield Elite is a safe choice for users looking for safe P2P activity, we'd be reluctant to recommend it for torrenting over other VPN providers with stronger privacy policies.
Read our dedicated guide to torrenting with Hotspot Shield to learn more. Alternatively, check out our 2020 recommendations for the best VPNs for torrenting, if that's what you need.
Hotspot Shield offers 3,200+ servers in 82 countries
Server Locations
82
Countries
108
Cities
3,200+
IP Addresses
Hotspot Shield's VPN server network consists of 3,200 servers covering 82 countries around the world. While this is a great number of servers, it's not the biggest selection of VPN locations we've seen.
That said, Hotspot Shield's servers are all well spread out, so there aren't many gaps in the coverage. You can get an IP address associated with popular countries like the UK, the US, Canada, and Australia, as well as some less common destinations like Ecuador, Egypt, and Thailand.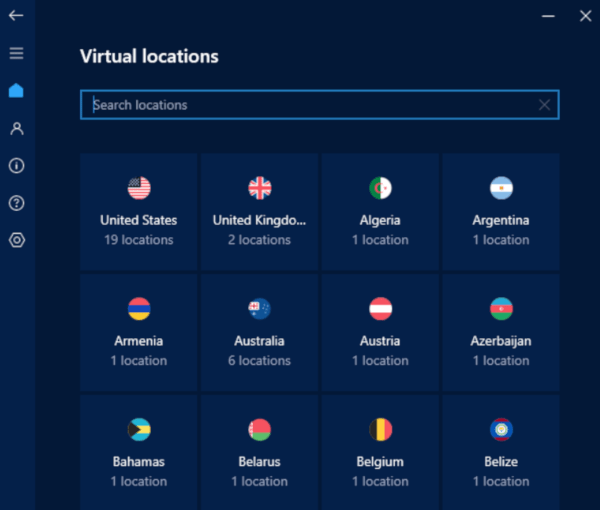 Hotspot Shield users can choose from VPN servers in 27 different US cities – including New York, Los Angeles and Dallas – which is great news for North Americans as well as customers looking to browse or stream from specific US locations.
Until a few months ago Hotspot Shield didn't have any other city-level choice, but we got in touch with the team and requested that it add city servers in Australia and Canada, as these are popular options. We were very pleased that Hotspot Shield took our feedback on board and now you can find city-level choice in the following countries:
Australia (5)
Canada (3)
Italy (2)
If you need even more city-level choice HideMyAss! has the most server locations we've ever seen from a VPN.
Hotspot Shield states that the number of server locations may differ from one supported device to the next, but when we checked all the apps showed exactly the same server location list.
Hotspot Shield uses a mixture of virtual and physical (bare metal) servers but isn't willing to reveal which are which due to "security reasons," which isn't as transparent as we'd like.
The IP addresses that Hotspot Shield assigns are dynamic and shared among multiple users at one time, meaning that you can easily hide in the crowd – ideal for privacy.
Hotspot Shield Free VPN users have no choice but to connect to the US VPN server. While this probably won't be an issue for those living in North America, it's far from ideal for those based in Europe, Asia, or Africa.
This VPN server limitation isn't made clear within the app, where you can see the full 'premium' server list regardless of which version you're using. If you try and click on a location other than the United States you're simply prompted to upgrade to one of the paid plans.
Unlike the premium version of the VPN service, free users of Hotspot Shield can't drill down to city-level in the US.
Catapult Hydra protocol works in China
Censorship
Hotspot Shield hasn't always been a reliable VPN for use in China and other high censorship countries, but a representative recently informed us that it had been working on a solution and that Hotspot Shield now works well to bypass the Great Firewall.
This is thanks to Hotspot Shield's "proprietary unblocking technology." There is no special configuration required on the user's side, which makes accessing blocked websites in China super easy.
Greatfire.org's Circumvention Central tool shows that Hotspot Shield's stability in the country is pretty high. There is also anecdotal evidence that users are succeeding in using the VPN in China.
We've seen Hotspot Shield working on our Schenzhen server, too.
Hotspot Shield's website, however, still claims that "connection is intermittent in countries where Internet Service Providers and Governments block VPN services." If one device doesn't work, it recommends trying another device on a different platform. This is because different platforms – Android vs. Windows, for example – use different servers to establish a connection.
With servers all over the world and lightning fast speeds, Hotspot Shield is an attractive option for those in other high-censorship countries like Iran and Russia, too.
However, beware that there's only a kill switch for Windows, so if you use another platform it might be safer to use one of our top recommended VPNs for China instead.
It's worth remembering that Hotspot Shield's own website is inaccessible in China, along with similar VPN websites. If you plan on using a VPN, make sure to download the appropriate software before you travel.
Custom VPN apps available for desktop, mobile & Android TV
Platforms & Devices
Apps
Windows
Mac
iOS
Android
Linux
Router
Hotspot Shield is compatible with most major platforms and devices, including Windows, Mac, iOS, and Android. You can also use the VPN on up to five devices at any one time on the paid plan.
It will work on your smartphone and desktop computer, and has downloadable apps for:
Microsoft Windows
Apple MacOS
iOS
Google Android
Linux
Amazon Fire TV Stick
Android TV
There are also browser extensions for Chrome and Firefox. That's where device coverage ends, though.
For a long time Hotspot Shield didn't have router compatibility, which meant you couldn't use it with games consoles or other unsupported media devices. This was a big gap in an otherwise comprehensive service.
Thankfull, Hotspot Shield has recently added router support. This means you can now use Hotspot Shield with your Playstation, XBox or Nintendo Switch. It also means you can connect far more devices in your home with one subscription.
There are installation guides available for the following routers:
It's possible to install Hotspot Shield on most routers provided they can be flashed with DD-WRT or FreshTomato. If you have issues with installation we recommend contacting Hotspot Shield support.
Linux support has just recently been added; someting we really like to see. Even some top tier providers like ExpressVPN still don't offer a custom GUI for this platform.
A simultaneous connection limit of five devices should be enough for most users, though alternative providers like Windscribe have no limit at all.
Games Consoles & Streaming Devices
Amazon Fire TV
Chromecast
Nintendo
PlayStation
Roku
Xbox
Hotspot Shield provides a long list of unsupported devices, including:
Apple TV
Roku
Chromecast
Windows phones
Kindle devices
Blackberry phones
Rooted or jailbroken devices
Linux OS
Game Consoles
Custom router configurations
Direct VPN connectivity (without using the application)
However, it has recently brought out a custom VPN app for Amazon Fire TV Stick and Android TV. These apps are only available for Premium subscribers.
Browser Extensions
Chrome
Firefox
Hotspot Shield provides browser extensions for Google Chrome and Mozilla Firefox users. These extensions can spoof your location, block ads, cookies, and trackers, as well as protect you from malware.
They also include Auto Protect and Bypass lists, which tell Hotspot Shield to automatically turn itself on or off whenever you try to access certain websites. This is useful for sites that don't work with a VPN, or services that need to see your true location. However, these features are quite hard to find – you need to click on 'Browser settings' in the extension's main settings menu, which will open up a browsing tab.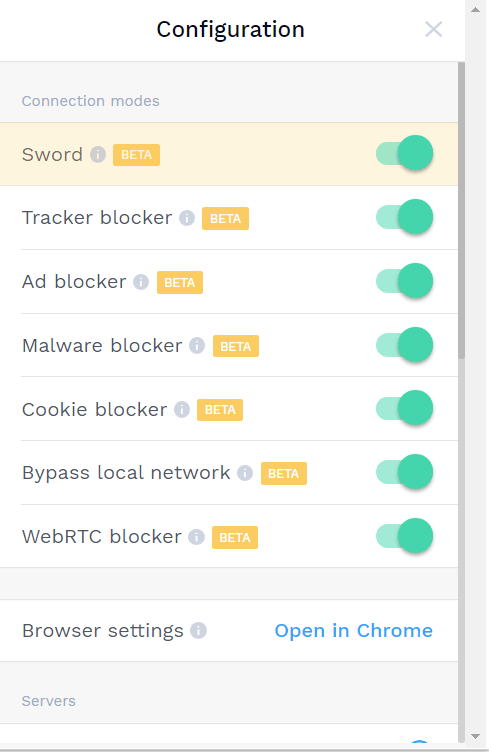 There's also a WebRTC blocker feature to prevent unwanted IP address leaks, however it's disabled as default on both extensions, and we found the Firefox add-on to leak WebRTC requests even with the feature enabled.
This combined with the DNS leaks on the Chrome extension means we don't recommend downloading the extensions. The desktop and Android apps are far more secure, even if they don't include the extra ad and cookie blockers. After all, Hotspot Shield's browser add-ons are just proxies and not full VPNs, which means they won't protect any traffic outside of your web browser.
Another reason not to use the extensions is that they only get access to nine locations, which is significantly fewer than available with the full VPN software.
Hotspot Shield doesn't have browser extensions for other popular browsers like Safari or Opera.
Hotspot Shield's apps are simple and user-friendly
Ease of Use
How to Install & Set Up Hotspot Shield
While they don't offer much in terms of advanced settings or customization, Hotspot Shield's apps are incredibly simple, intuitive, and easy to use.
To set up Hotspot Shield on your device just download the relevant VPN software either directly from the website or through an official app store.
Click through the installation prompts – they are very easy to follow – and log into the app with your email and account password. It's that simple.
Overall, Hotspot Shield has created an excellent user experience with its native apps. The main issue is a lack of advanced settings, especially in non-Windows versions of the app. MacOS users, for example, will find their only options are turning on push notifications and enabling automatic connection.
Windows & MacOS Client
The Windows app displays a central connect button, your selected VPN server location, and the amount of data transferred during the VPN session. When you connect, you'll also see your new IP address and the server load percentage.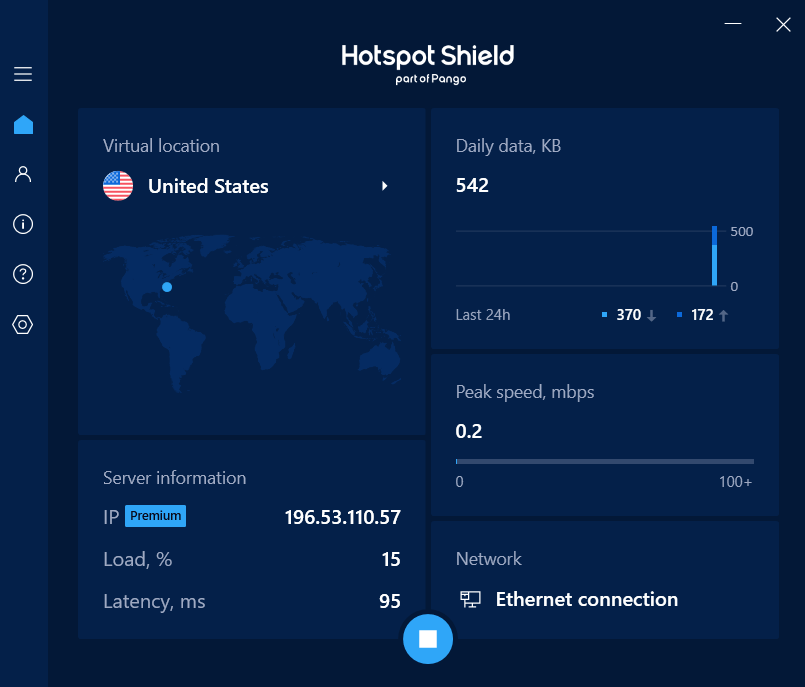 The app's main interface is straightforward, minimalist, and simple to navigate. You can quickly connect to a server with a single click, or manually select a server location by clicking on the sphere in the top-right corner.
To access the settings menu just click the cog symbol. The most important features can be found under the 'Advanced' tab – you'll want to make sure that the VPN kill switch (Windows only) and Prevent IP Leak features are toggled on in order to prevent personal data leaks.
If you want a more tailored VPN experience, you can play around in the General settings menu, where you can choose to start the VPN on launch and auto-connect.
There's also a domain bypass feature, which allows you to route certain websites outside of the VPN tunnel. This works a bit like split tunneling. It's useful for accessing local content on secure sites while you use the VPN to browse foreign content on other websites.
To see the full list of available server locations just click on the arrow next to the VPN's current virtual location. From there you can even choose specific cities in some countries.
The MacOS app is much simpler, with none of the advanced features that make the Windows app so comprehensive.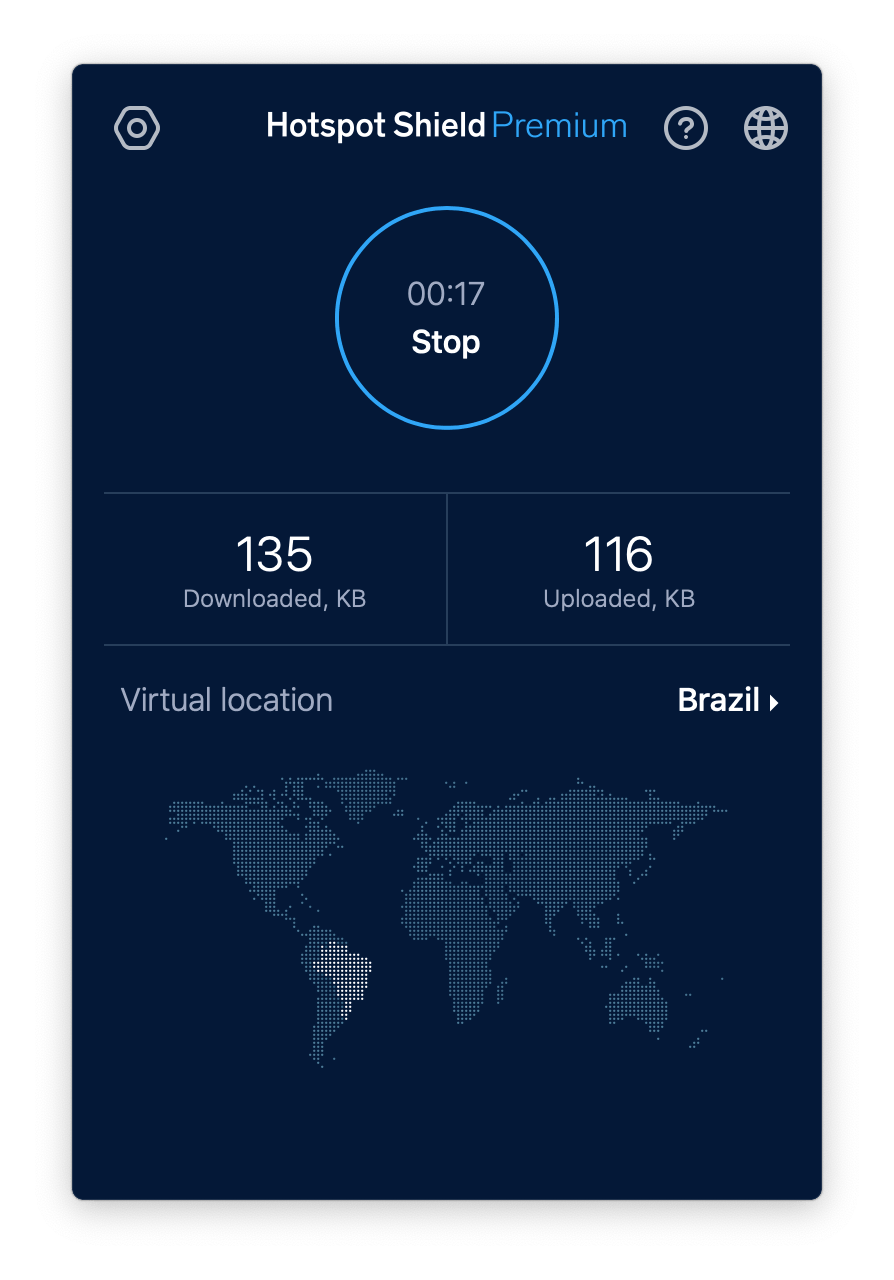 It's still very easy to use, with a central connect button, but it lacks a VPN kill switch and the domain bypass feature, which is disappointing.
Android & iOS
Hotspot Shield's Android application has a similarly clean and simple interface to the desktop apps. Once you start the application and press connect, your virtual location will be displayed below.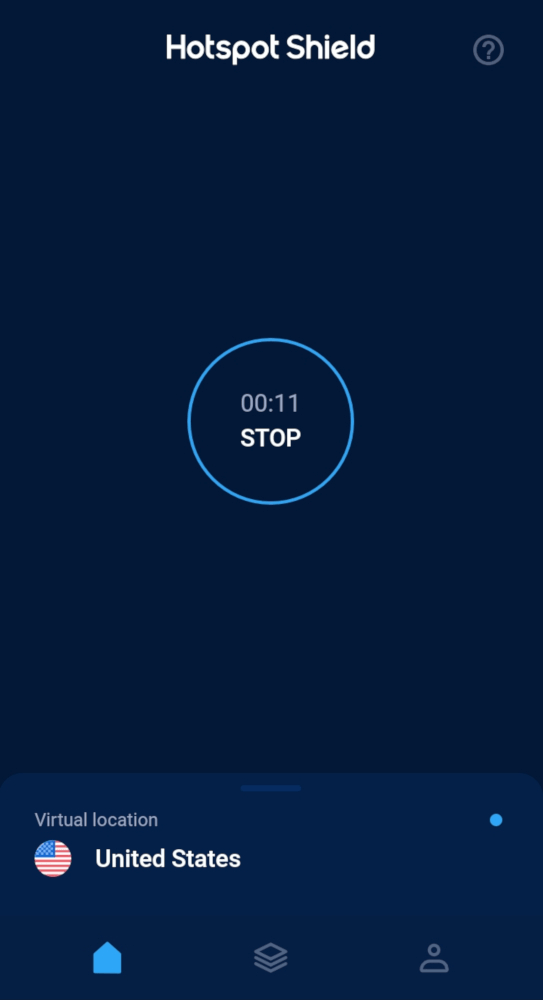 The settings menu also follows a similar pattern to the Windows client, with settings to automatically connect when your device turns on or when you connect to certain network types.
There's no kill switch setting, but you do get the option to turn the VPN off when your device is sleeping, which can help save battery.
Likewise, the iOS application is just as simple as the other clients. It displays a large connect button, a list of locations, and very few advanced settings.
The iOS app looks great and is simple to use, but it doesn't have any settings whatsoever. It's fairly typical for iOS VPN apps to be stripped back, but Hotspot Shield's is particularly bare.
24/7 live chat support available
Customer Support
| | |
| --- | --- |
| 24/7 Live chat support | Yes |
| Online Resources | Yes |
Hotspot Shield's around-the-clock live chat support is by far the best way to get your queries addressed and problems solved.
However, you have to subscribe to a Hotspot Shield Elite account before you can benefit from live chat.
That makes asking simple questions before you purchase a subscription a little harder than you'd expect. There is email support, but it's quite limited, and even then some queries are restricted to premium subscribers.
You should be able to find answers to basic questions in the knowledge base and FAQs section, which is fairly comprehensive and simple to navigate. Once you're a paying customer, you can access live chat support directly from the Hotspot Shield app, or via your account on the Hotspot Shield website.
The applications also display popular questions within the interface so you don't have to navigate to the Hotspot Shield website. You can get advice here quickly, and if that doesn't help, a contact button will open your browser at the Live Chat page for personalized assistance.
Thankfully, responses are well-informed and timely.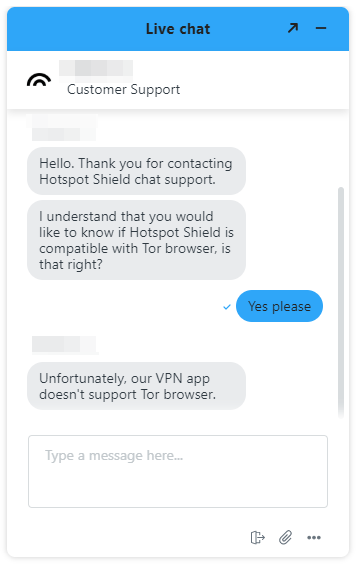 How much does Hotspot Shield cost?
Pricing & Free VPN
Hotspot Shield Coupon
Hotspot Shield Pricing Plan
Hotspot Shield is quite cheap, especially if you opt for a longer VPN plan.
You can choose from four different-length subscription plans with Hotspot Shield Premium. Each plan comes with the same features. As usual, you'll get the best value for money with a longer subscription plan.
While a 12-month plan is priced at a moderate $7.99 per month, Hotspot Shield's three-year plan costs just $2.99 per month – a very competitive price.
If you want to pay on a month-to-month basis, Hotspot Shield costs $12.99.
Oddly, Hotspot Shield's prices don't accommodate different currencies – you'll pay exactly the same price whether you use Euros or Dollars.
While these prices are reasonable for what Hotspot Shield has to offer, there are certainly cheaper VPN providers out there that still offer a premium service.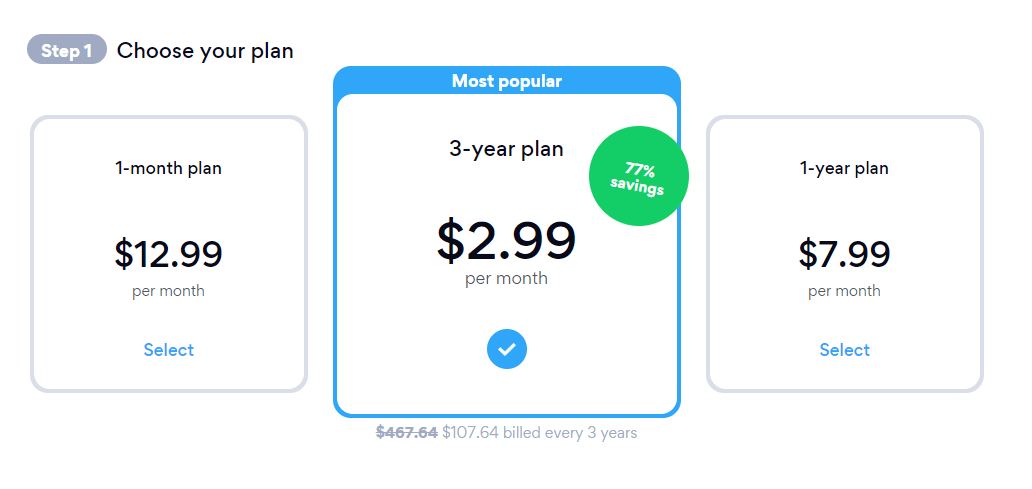 All plans have 45-day money-back guarantee
You can pay for Hotspot Shield Elite using the following methods:
Major credit and debit cards
PayPal
It doesn't accept any privacy-friendly methods such as Bitcoin or other cryptocurrencies, though, and there's no option to pay using international methods like AliPay either.
Hotspot Shield provides a 45-day money-back guarantee, which is generous, but it does involve submitting a form for review.
Whether you receive a refund or not is up to Hotspot Shield, so canceling before your plan ends is not exactly risk-free.
There's also a seven-day free trial, which allows you to test out the full-featured premium software without restrictions.
This is a great alternative to the subpar free VPN service, but it does require you to submit your payment details. Just remember to cancel before the seven days are up if you don't want to continue onto a premium subscription.
Hotspot Shield Free
You can use the free version of Hotspot Shield on Windows, MacOS, Android, and iOS devices, but it comes with lots of restrictions.
Hotspot Shield's free VPN is limited to 500MB of VPN data per day – that's barely enough for a 30-minute show on Netflix. There's also a lack of server location choice – you can only connect to a server in the US.
If you try to access Netflix's website (or any other popular streaming platform), you'll be met with a payment wall for its premium product. The custom apps for Android TV and Amazon Fire TV Stick aren't available for free users, either, and torrenting isn't possible.
If you use the Android app, you'll also experience annoying pop-up ads as you're browsing. This helps contribute to the overheads of the free app but can feel very intrusive, especially considering Hotspot Shield shares certain information like your city-level location with third-party advertisers.
Finally, if you require any assistance or run into any issues, Hotspot Shield's live chat agents won't be able to help you, as they attend to paying customers only. Even some email queries will go unresolved if you're a free user.
Generally, we recommend 'freemium' VPNs above stand-alone free services because they support the free service through their premium product. This is the case with Windscribe, ProtonVPN, and TunnelBear.
However, Hotspot Shield hasn't always adhered to this business model.
As we discussed earlier in this review, Hotspot Shield Free has been involved in a handful of privacy scandals, including injecting affiliate links into user traffic for profit and overstating the security and anonymity provided by the service.
While Hotspot Shield is now under new management and the logging policy has been rewritten, some of its previous privacy concerns still remain.
Though the free service is still fast, these restrictions mean you simply can't take advantage of all the benefits a VPN has to offer.
If you're looking to try a free VPN, it's worth looking at these far superior (and safer) free VPNs instead.
Do We Recommend Hotspot Shield?
The Bottom Line
There's a lot to like about Hotspot Shield Elite: it offers incredibly fast speeds, a sizable international server network, and a super simple interface. Even better, it's great for HD streaming and fast torrenting.
However, the company behind the service clearly has a controversial history that raises concerns about its ability to put user privacy, security, and anonymity first.
There is a lack of transparency regarding the intricacies of the Catapult Hydra protocol, and a lack of support for OpenVPN and manual configuration.
For these reasons, we would recommend Hotspot Shield only for certain users. The browser extensions leak personal data, and the privacy policy is not ideal for those that are primarily concerned with concealing their browsing activity or achieving high-level anonymity. For these purposes, there are better VPNs available.
Considering its speeds and unblocking capabilities, Hotspot Shield could be an ideal VPN for those looking to stream Netflix on a regular basis. If you're simply looking to secure your connection to public WiFi networks, it's also a strong choice.
Alternatives to Hotspot Shield
You won't find a safer, more trustworthy VPN than IPVanish. It's 100% no-logs and independently audited to prove as much, and its speed and reliability are a welcome bonus. Read IPVanish review
---
User Feedback for Hotspot Shield